Retractable USB-C Cable | Baseus Launched 65W 6-in-1 GaN Charging Station
As electronic products with USB port become more and more common in our daily lives, traditional power strip manufacturers began to add USB ports to their products. And this may allow you to charge your phone without a charger, but you still need a cable. In order to solve this problem, Baseus launched a 65W 6-in-1 GaN charging station with built-in retractable USB-C cable, to provide users with safer and more useful fast-charging power strips.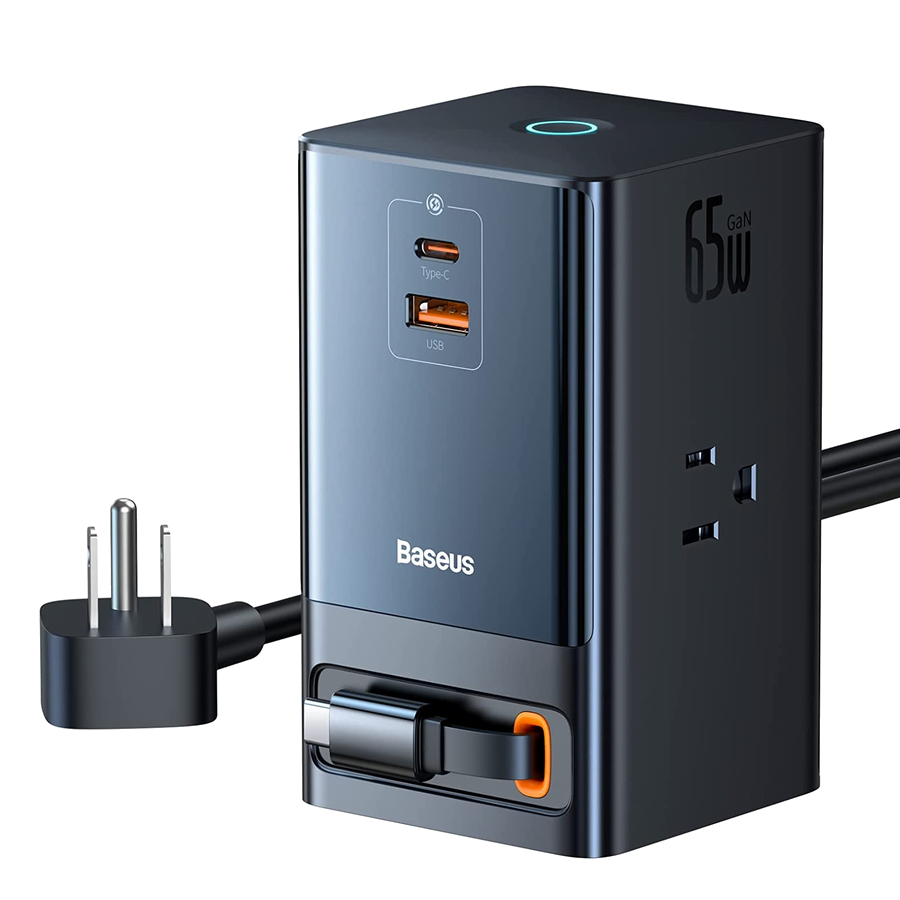 It adopts a vertical design, which can maximize desktop utilization, and the AC outlet and USB fast-charging module are located in different sides to avoid entanglement of plugs and cables.
Its digital control technology can detect overload, overvoltage, undervoltage, overcurrent, short circuit and other conditions in real time. The AC module adopts the master control chip to accurately detect the working status in real time. Once a fault is found, it will actively disconnect the power supply and report through the top indicator light.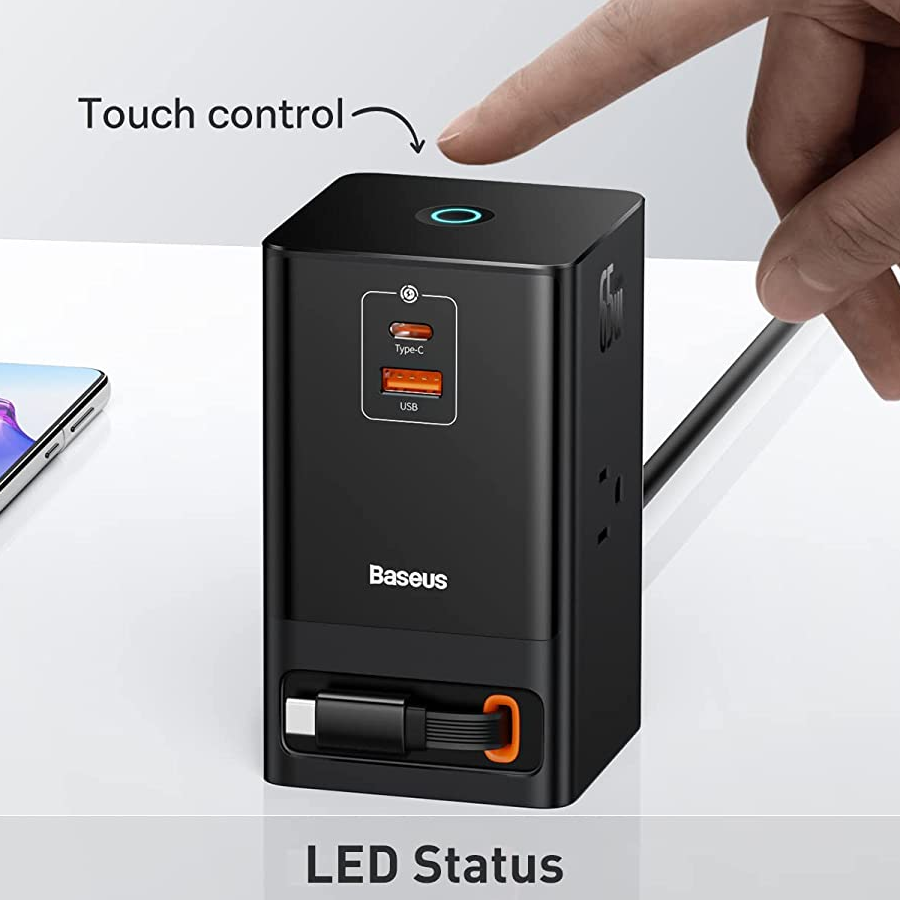 The touch controller is on the top. Compared with mechanical one, it is waterproof and dustproof, and there is no electric spark when power on. The controller integrates an indicator light that can shows three states - solid blue for normal charging, slow pulse for high power charging, quick pulse when over 1625W and will automatically turn off. Users can understand the working status intuitively.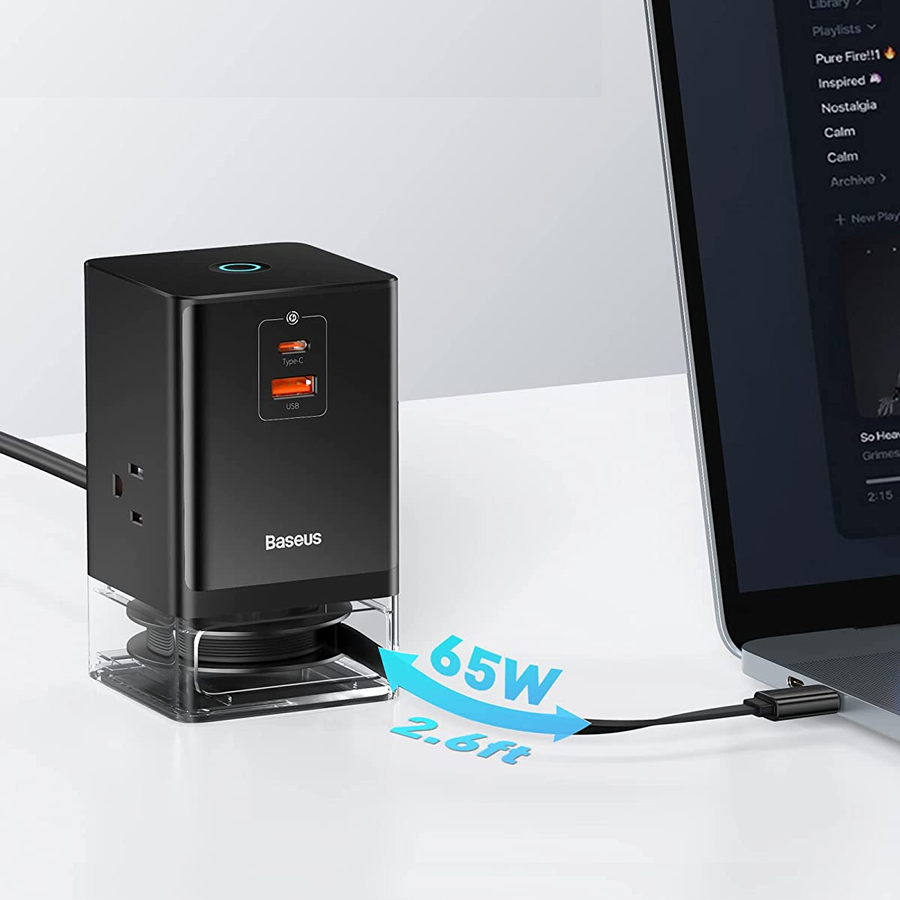 In order to get a more clean desktop ,the Baseus 6-in-1 charging station integrates a slot at the bottom with a 0.8m (2' 7.44") retractable cable supports 65W PD fast-charging output. You can easily pull out the cable at any length you want, and after you are done using, it can be easily retracted back in. The USB-C connector has a strong magnet inside, and the cable can be automatically attracted to the case after retracting.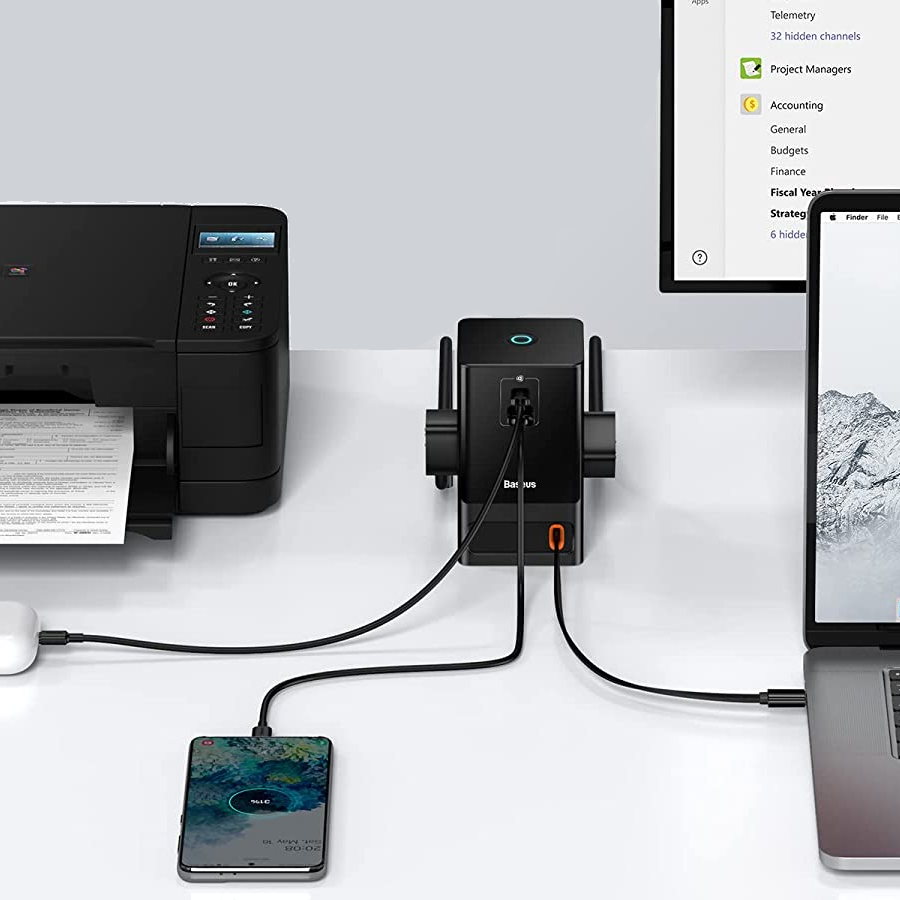 In addition to the built-in USB-C cable, it also has one USB-C and one USB-A port, which supports 65W PD fast charging output and support PD, QC, FCP, SCP, AFC, and PE+ protocols.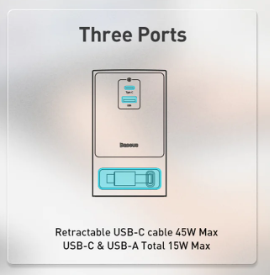 When charging three devices at the same time, the power can be deivided in to 45W and 15W in total.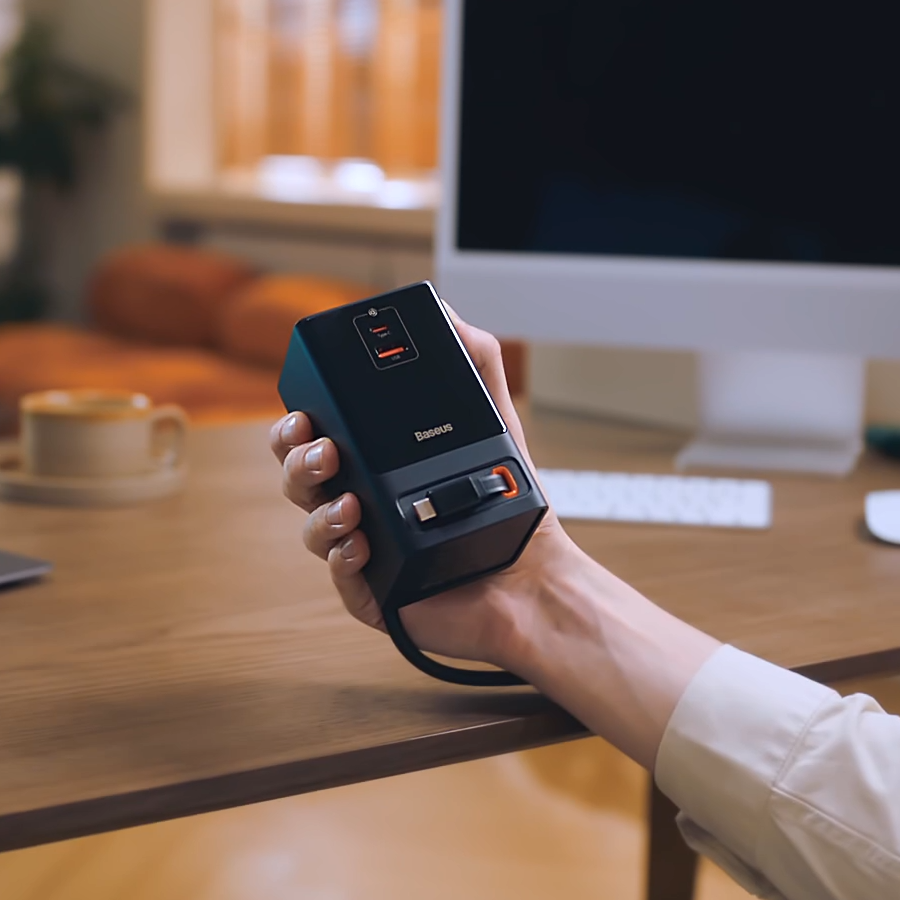 The undetachable power cord length is about 1.5m (ft) and supports input of 120V. And its bases GaN 5 technology takes the power density and conversion efficiency into next level, while bringing lower heat generation.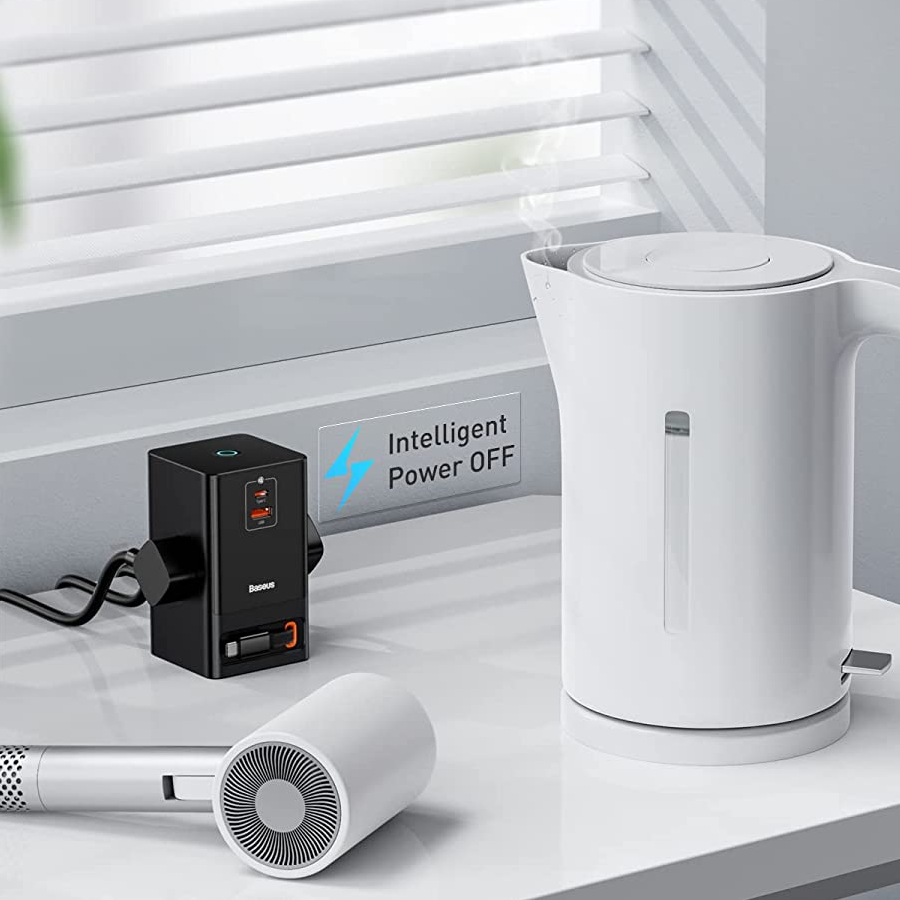 It also has three AC outlets with the maximum power consumption of 1625W, and integrates multiple protection measures. When a surge peak or overload is detected, the power supply will be cut off immediately. It can provide your electronic products 24/7 and alert the user of abnormal status through the rapid flashing of the LED indicator light.
Summary of ChargerLAB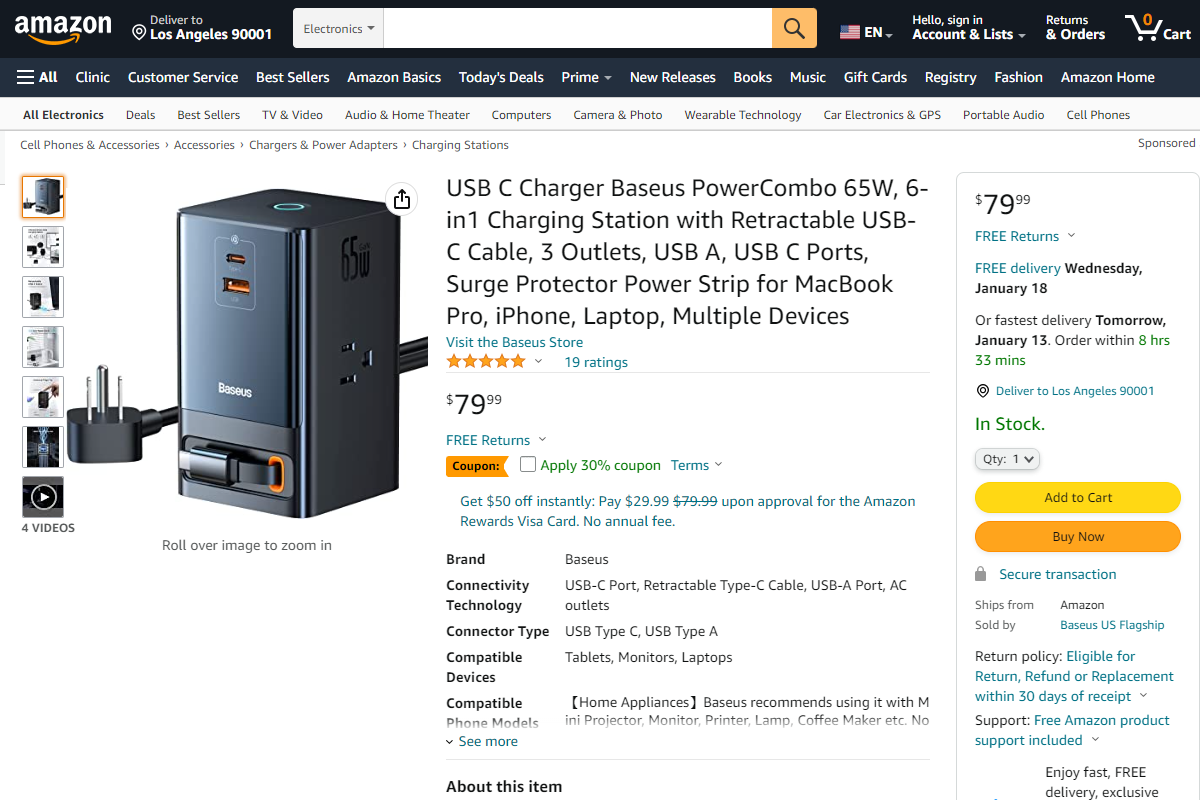 The Baseus 65W 6-in-1 GaN charging station has three AC outlets, one USB-C, one USB-A port, and a built-in retractable USB-C cable to charge and power up to six devices at a time. And is designed with over-power, overvoltage, short circuit, overcurrent, under voltage ,surge protection, grounding protection and made of fire-resistance material for your safety.
This product starts at $79.99 on Amazon US, you can click the link at the beginning or the end of the article to buy it.
Related Articles:
1. Teardown of Baseus 100W Slim Laptop Power Bank (Blade Series)
2. Teardown of Baseus Adaman 65W 20000mAh Digital Display Power Bank
3. Teardown of Baseus 20W 10000mAh MagSafe Wireless Power Bank (For iPhone 14/13/12)
The article is originally written by @
Joey
posted on Chargerlab. All rights reserved.