POWER-Z KM002C is now available on Amazon
With the release of the PD3.1 protocol, ChargerLAB has developed a tester, which is designed for PD3.1. We call it KM002C. As our latest tester, not only has the performance been greatly improved, but the appearance has been completely redesigned.
It has been loved by many engineers and geeks since its release. And it's widely used in the development of PD3.1 and the charging test of electronic devices.
Last year, We released this product in October. And now, it has available on Amazon.
You can click here to buy it on Amazon, priced at $99.99.
It continues the powerful functions of the previous generation, such as power detection, protocol detection, protocol triggering, PC software, PD protocol analyzer, etc.
This time, we've upgraded it in the following aspects.
1. The measuring range has been increased to 50V 6A to support higher power devices at present and in the future.
2. Compared with the previous generation, we added the support for PD3.1, QC4, QC5, UFCS, VOOC, VIFI, and other protocols.
3. The HID port has been upgraded from Micro USB to USB-C.
4. It adopts a 1.3-inch LCD display and brand new UI. The vivid color blocks and larger fonts make it easier to get what you need.
5. The ARM Cortex-M4 processor makes it more powerful. And we will continue to update the firmware to bring more new features.
6. It can detect the serial number of the Apple charger.
The tester adopts the unibody aluminum alloy and CNC technology, which feels like MacBook. It's pretty mini, only 36 x 37 x 8mm (1.42 x 1.46 x 0.31 inches). And the weight is only 15.9g (0.56 oz). So, you can easily put it in your wallet.
There're four golden buttons on the side, which are back, confirm, left and right, respectively. So, you can easily control the tester.
The other side is the HID port, which has been upgraded to USB-C. You can use it to connect PC and power supply. It's also equipped with bidirectional USB-C Male and Female that supports USB4.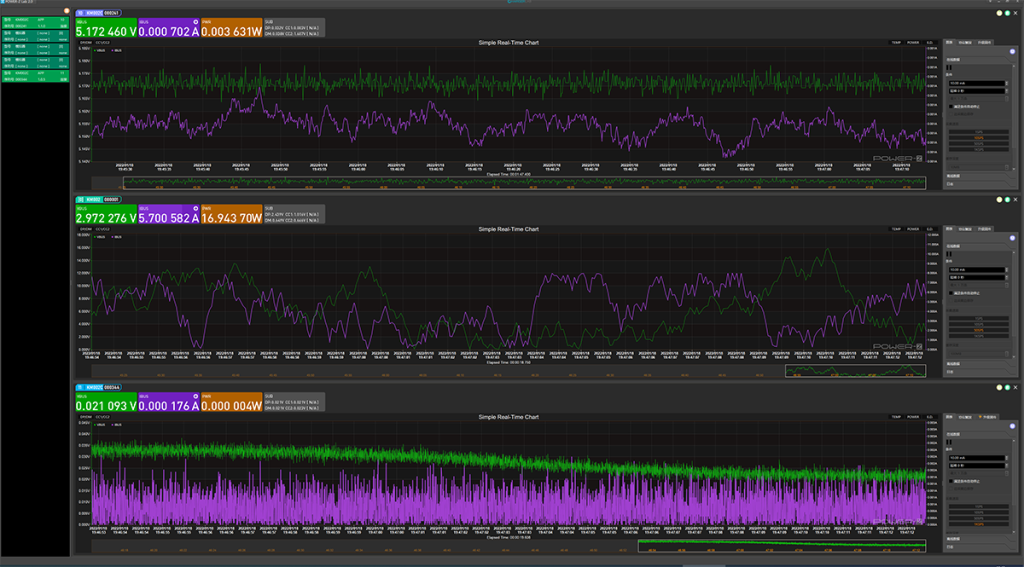 Finally, the PC software has been completely redesigned as well. The design style is the same as the tester, and different color blocks can help you easily monitor different data. You can see the real-time voltage, current, and power at the top. And the real-time curves are at the bottom, which is very intuitive.
You can also click the video below to see how to use it.
Of course, you can get the online English manual here.
We will update it from time to time, so there's no need to download it.
For the best user experience, we strongly suggest you use the Google docs APP or Computer browser to view it.
If you're interested in Power-Z tester, you can click here to buy it on our official Amazon store. 
Note: ChargerLAB is the only store of the Power-Z brand on the entire online platform. We have never authorized anyone to sell this product. (Including but not limited to Amazon, eBay, AliExpress, Wish, Walmart, Shoppe and Lazada), The products NOT sold in this store will be fake or counterfeit. It may not be able to upgrade normally. Consumers should be careful and do not be deceived.
本文系作者 @
Yi
原创发布在 Chargerlab。未经许可,禁止转载。