OPPO 50W SuperVOOC Car Charger CC001 Teardown
VOOC (Voltage Open Loop Multi-step Constant-Current Charging) is a fast charging technology developed by OPPO Electronics, first introduced in 2014. VOOC Flash Charge uses a special adapter and cables to charge devices safely at 25W without overheating. It was succeeded by SuperVOOC in 2018. Recently OPPO released a SuperVOOC car charger which has a maximum charging power of 50W, capable of charging OPPO R17 Pro to full battery in just 40 minutes. Its design takes influence from some of the fastest automobiles in the world, reminiscent of a high performance air-turbine. It costs 199RMB, which is about 30USD. And here is our teardown review.

I. Design
The OPPO 50W SuperVOOC car charger comes with a sleek box with carbon fiber pattern that indicates its performance.

Slides open reveals the car charger and a paper packet. The inner layer also has a unique 3D pattern which eludes premium.
There is a user manual inside the paper packet.

Model: CC001
Color: Black
Input: 12V-24V/5.5A
Output (SuperVOOC): 10V/5A (MAX)
Output (VOOC): 5V/4A (MAX)
Rated output: 5V/2A
Standard: Q/OPPO 206-2017
Manufacturer: Guangdong OPPO Mobile Telecommunications Corp., Ltd.
Manufactured on December 25, 2018.
The car charger has a fairly large size, the cigarette lighter plug part has a glossy cylindrical shape, while the tail is a larger carbon fiber textured spindle shape with a gold SuperVOOC logo, overall a very eye-catching look.

Laser engraved product specifications.

Positive and negative pins.

A circular ambient LED at the top lights up when it is connected. There is a LED indicator inside the green USB-A port which breathes when the charger is in standby mode.

II Teardown

Pry open the cover of the car charger reveals the internal PCBA. After disassembling the carbon fiber textured case, we can see the rest of the case is a unibody.

The PCBA can be completely pulled out after pressing the negative pins.

Front of the PCBA. From left to right are positive and negative input contacts, common mode inductors, input solid capacitors, MOS transistors, step-down inductors, output solid capacitors, MOS tubes, output sockets, etc. A large part of the components is reinforced with white glue.

On the back of the PCBA, there are two main chips on the left and right. The output socket board is a small circular PCBA that vertically soldered on the main board, which also houses circular ambient LEDs.

After cleaning off the white glue, let's take a look at the front side of the PCBA from multiple angles.

The USB-A output socket has a circular PCBA that is vertically inserted into the main PCBA and is a circular LED indicator board.

The positive electrode and the negative electrode are separated by a plastic plate.

The circular ambient light is formed by 6 LEDs.

The other side of the small board has no components, which is connected to the main PCBA through two solder joints, and the pads are gold-plated. The design date is November 27, 2018, version number REV0.1.

The main PCBA after removing the small board.

The positive and negative contact hardware is very thick and robust, accompanied by insulated spacers.

The positive contact is connected to the PCBA through a thick wire to ensure safe and stable transmission of large currents. The negative reeds adopt through-hole soldering which is firm and reliable.

The first component of the left with white heat shrink tubing is a common mode inductor for EMI filtering. Next to it is a 38V, 100μF chip solid capacitor. Since the charger draws pure DC power supply for the car battery, the capacitor doesn't need large capacity. At the same time, there is also an MLCC capacitor in parallel to increase capacity and improve reliability. On the right, we have two ON Semiconductor NTMFS5C670L, N MOS tube, current 68A, voltage 60V, 6.7 mΩ, for DC-DC synchronous rectification.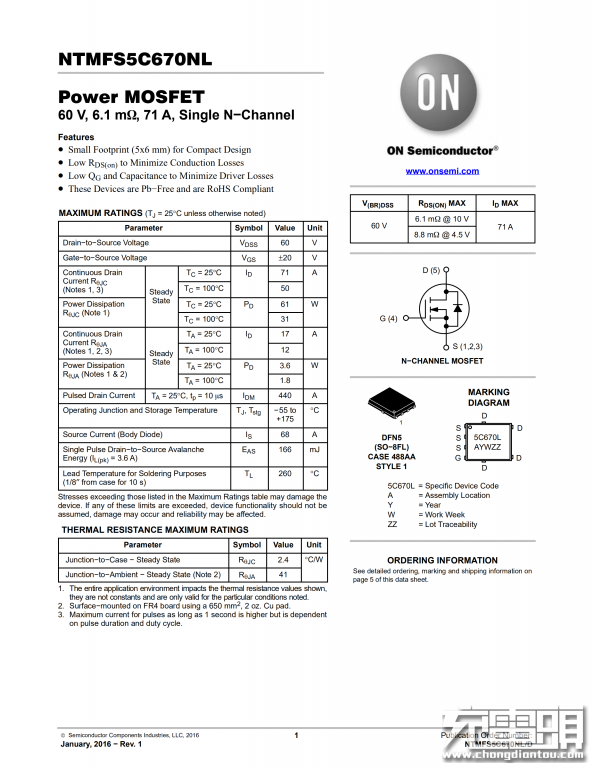 Detailed specification of the ON Semiconductor NTMFS5C670L.

Behold the strong magnetic surround inductance, you can imagine its performance. On the right is a 16V 330μF chip solid-state output filter capacitor, also connected in parallel with an MLCC capacitor. The USB-A output socket is protected by a plastic sleeve with a vertically mounted LED on each side for use as a standby breathing indicator.

AON7400A MOS tube, 30V 40A, for output safety protection.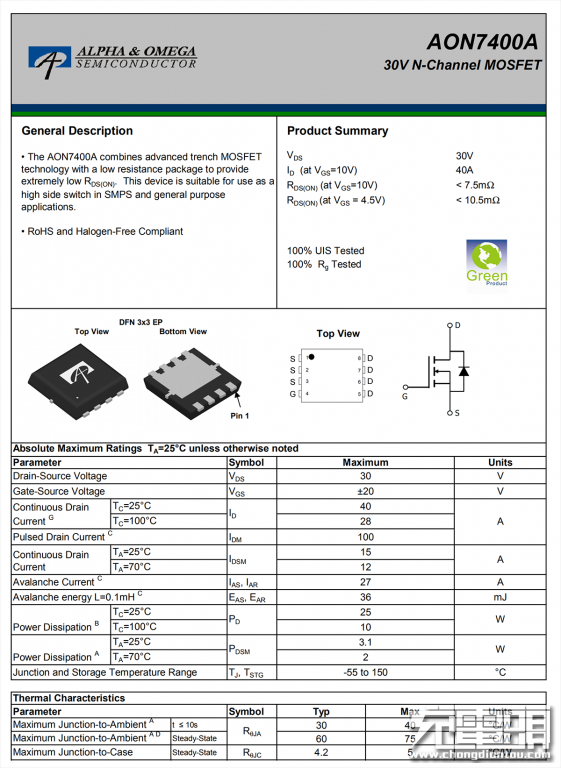 Detailed specification of the AON7400A.
Back of the main PCBA.
Positive and negative contact, reed using hole soldering. White Y high power chip fuse.

MP9928 synchronous rectification step-down controller chip. On the right side is a 5 milliohm sampling resistor for input current sensing.

The MP9928 is a high-voltage, synchronous step-down switching regulator controller that can directly step down voltages from up to 60V. The MP9928 uses PWM current control architecture with accurate cycle-by-cycle current limiting. It is capable of driving dual N-channel MOSFET switches. AAM Mode (Advanced asynchronous mode) enables non-synchronous operation and PFM mode to optimize light load efficiency.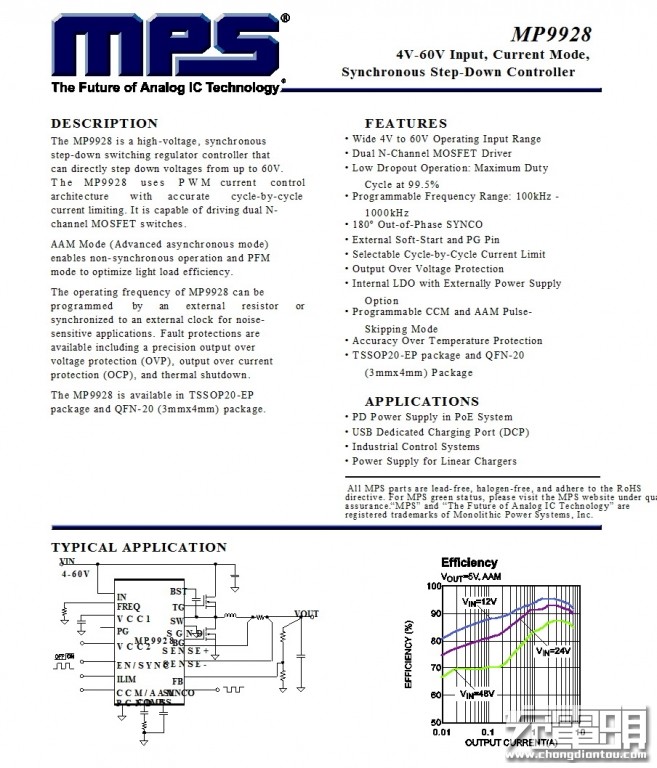 The MP9928 features two N-channel MOSFET drivers with a maximum duty cycle of 99.5%, a programmable operating frequency range of 100kHz-1MHz, inverting synchronous signal output, external soft-start and good signal output, selectable cycle-by-cycle current Limit, output overvoltage protection, internal LDO with externally power supply option, programmable CCM and AAM pulse-skipping mode, precise over temperature protection. The MP9928 can be used for PD output for PoE devices, USB chargers, industrial control systems, and power supplies for linear chargers. We have learned that the MP9928 is also used in Huawei 40W SuperCharge car charger and 22.5W SuperCharge car charger and other products, offering reliable performance.

The chip with VOOC logo is OPPO's custom fast charging control chip RK825 from Rockchip, which is one of OPPO's first VOOC certified partners. Another 5 milliohm sampling resistor below the RK825 is used for output overcurrent detection protection.

We have seen the use of RK825 in various OPPO fast charging products. It is the brain of the fast charging system with a comprehensive multi-protection mechanism to ensure high-power charging safety.

Part of the peripherals of the RK825.

USB-A port with 5 contact pins which are thicker than average to carry 5A current.

Widened gold-plated power contacts and additional fast charging identification contacts for detecting whether the cable supports SuperVOOC fast charging. Both the phones, cable and charger need to be compatible with SuperVOOC to enable fast charging with 5A current, otherwise the charger can only output 2A. SuperVOOC is backward compatible with VOOC and normal 5V/2A charging.

The USB-A port is from Wenzhou Yihua Connector Co., Ltd.

The outer ring of the car charger is made of metal with a light guide plate inside.

The opposite side.
The USB port cover is also made of metal, with circle pattern on the surface and an orange light guide plate on the outside.

The opposite side.

All the components.

III ChargerLAB conclusion

As an evolution of OPPO's VOOC fast charging technology, SuperVOOC pushes out 10V at 5A current. The OPPO 50W SuperVOOC car charger further enhances the SuperVOOC ecosystem by bringing faster charing experience to car owners.
The premium carbon fiber texture and ambient light bring stealth look and great usability.
The use of MP9928 to drive 2 5C670L MOS tubes for synchronous step-down rectification brings powerful performance. The custom VOOC fast charging controller chip RK825 provides multiple levels of security. The input end features enhanced EMI electromagnetic interference protection, and the use of high-quality components such as solid state and MLCC capacitors ensures reliability and durability.