Chengxinwei Launches CX8830 Fast Charging IC for Car Charges: Reducing BOM Cost and Supporting 7 Protocols
Shenzhen Chengxinwei Technology Co., Ltd. recently launched a highly integrated fast charging chip for car chargers, the CX8830. With the use of the CX8830, the number of components in a car charger can be greatly reduced, effectively reduces the BOM cost of the product. Furthermore, the CX8830 is also compatible with 7 charging protocols including QC3.0, QC2.0, FCP, AFC, APPLE 2.4A, BC1.2, and USB DCP, suitable for charging mobile phones such as Xiaomi, Huawei, Samsung, and Apple.
From the EVT unit we can see that the major feature of the Chengxinwei CX8830 is its minimal needs for compoents. At the front of the car charger PCBA there are only two capacitors and one inductor in addition to the positive and negative poles and the USB-A port.
The back of the PCBA is also very simple. There are only 9 RC components around the Chengxinwei CX8830, greatly reducing the BOM cost.

The size of the car charger EVT is tiny.

Using ChargerLAB POWER-Z FL001SUPER, we found the EVT based on CX8830 supports APPLE 2.4A, QC2.0, QC3.0, FCP, and AFC fast charging protocols.
The Chengxinwei CX8830 is a step-down DC-DC converter with input voltage up to 32V and capable of accurate constant voltage and constant current; it has built-in 50mΩ High-side PMOS and 30mΩ Low-side NMOS. It supports 3A continuous output current output with adjustable voltage, with up to 100% duty cycle.
Chengxinwei CX8830 has high performance load response and input voltage response capability, with precise constant voltage and constant current control loops to achieve very small load regulation and linearity adjustment; no external compensation is required, and it can rely on its own built-in stable loop for constant current and constant voltage control, and cable voltage drop compensation function is also available.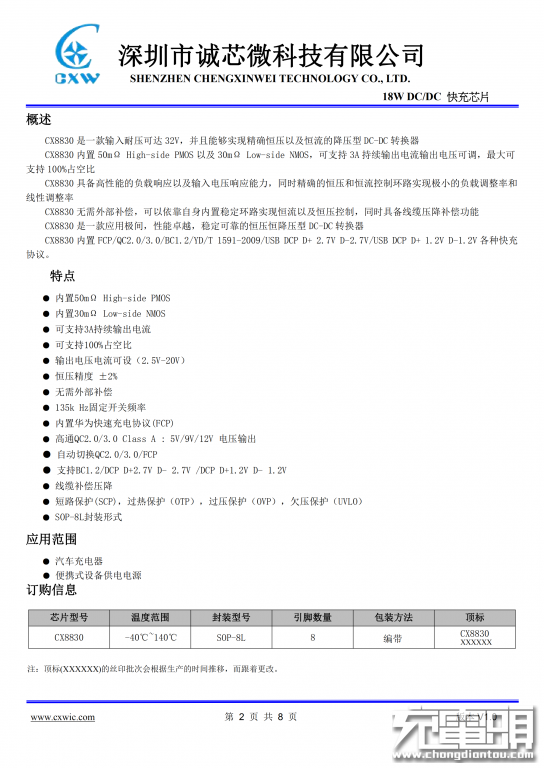 The Chengxinwei CX8830 supports Huawei FCP protocol, Qualcomm QC2.0/3.0 Class A, BC1.2, USB DCP and other charging protocols, and can automatically switch between QC2.0, QC3.0 and FCP fast charging, offering great compatibility for charging mobile phones.In addition, the Chengxinwei CX8830 provides short-circuit protection (SCP), over-temperature protection (OTP), over-voltage protection (OVP), undervoltage protection (UVLO) and other protection functions. It is a highly integrated and stable solution for fast charging car chargers.The Chengxinwei CX8830 is currently under mass production. For more information, please visit Chengxinwei official website: http://en.cxwic.com/

Source: chongdiantou