Native Union Dock Marquetry Wireless Charger Teardown Review
We did a teardown of a unique and premium wireless charging pad by Native Union, and was impressed by its beauty inside and out. Today we have the Dock Marquetry Wireless Charger from the brand. And here's our teardown.

I Unboxing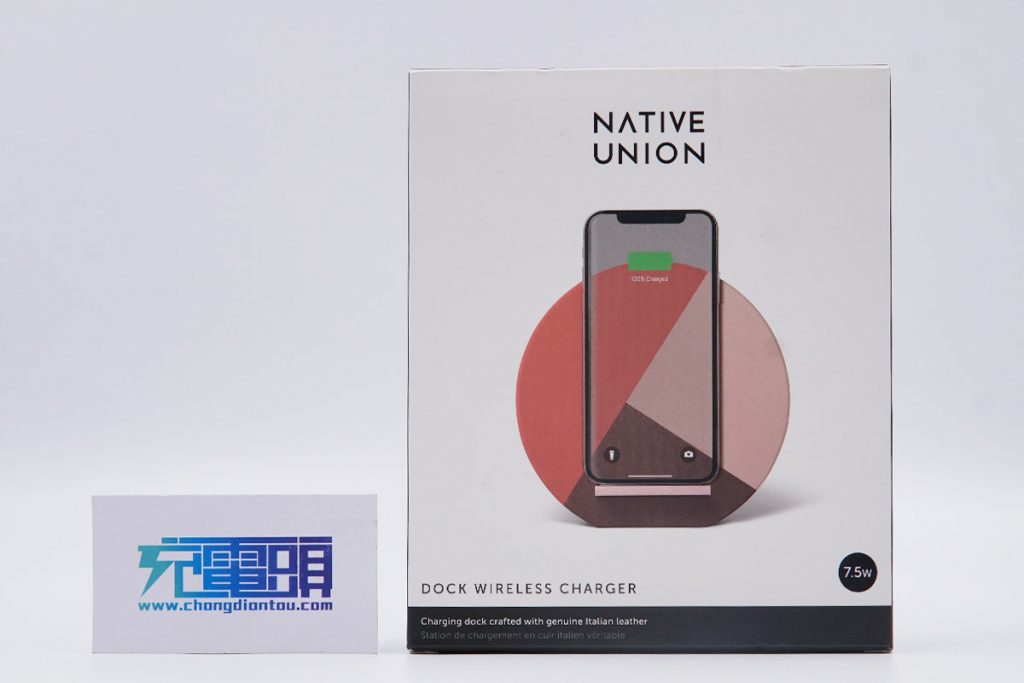 Product image in the front. It supports 7.5W wireless charging.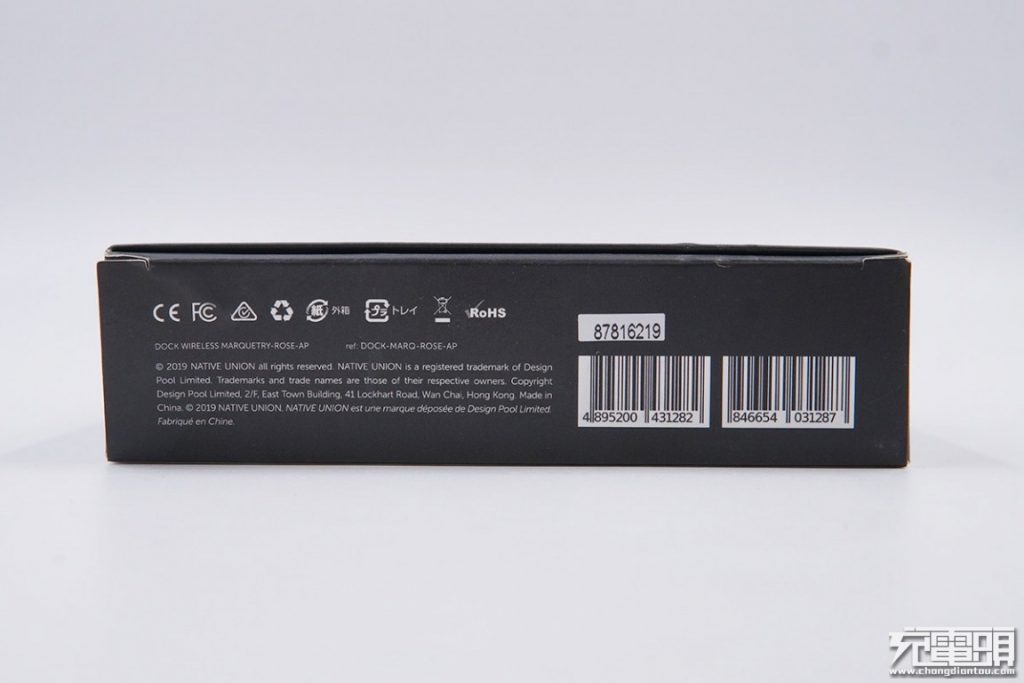 Certification and manufacturer's info.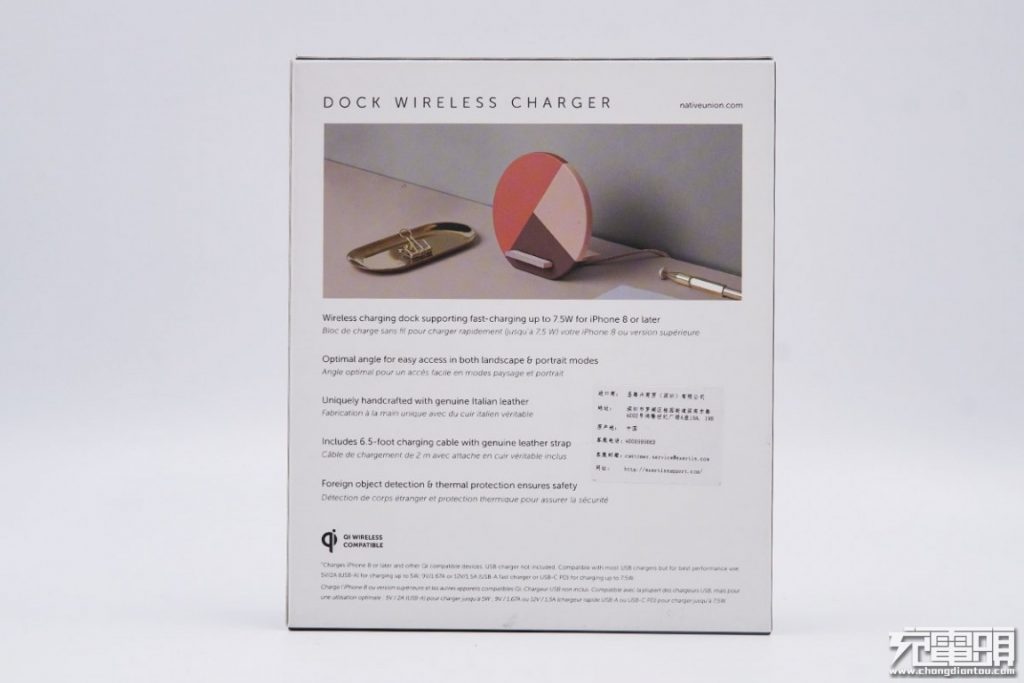 Specifications on the back. It is Qi-certified.Model: DOCKWLT02Input: 5V2A, 9V1.67A, 12V 1.5A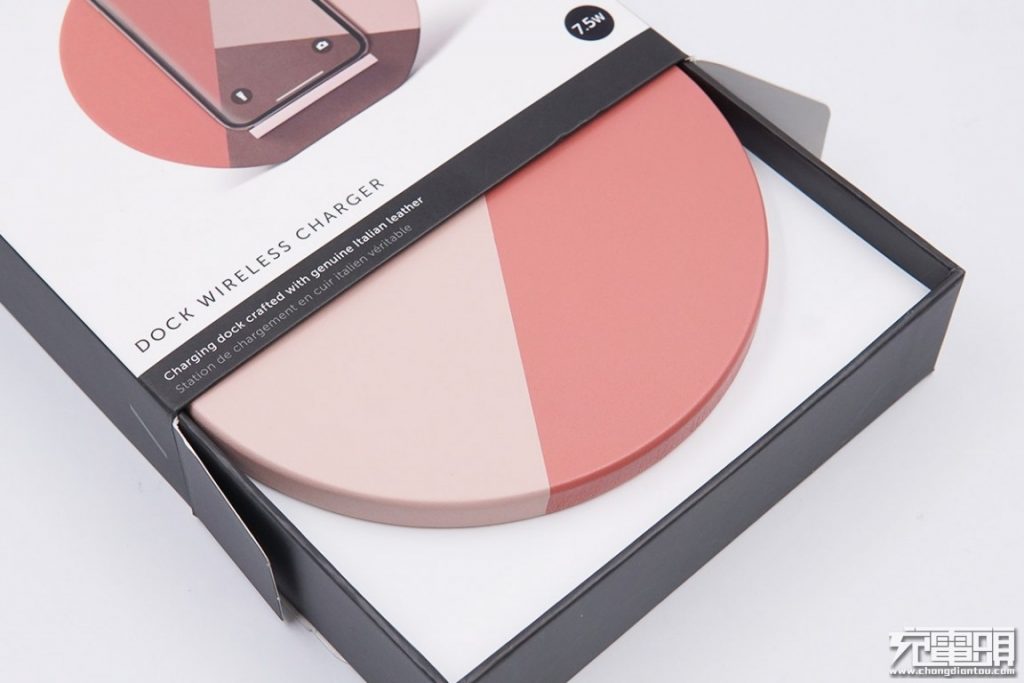 Slide open.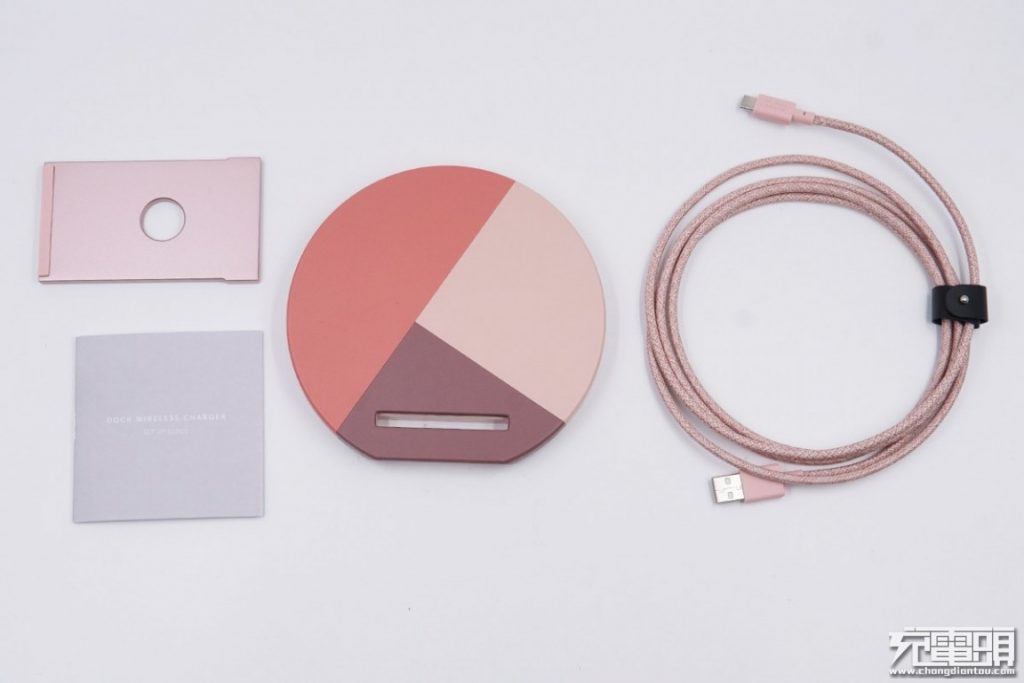 Package contents: wireless charger, metal stand, USB-A to USB-C cable, user manual.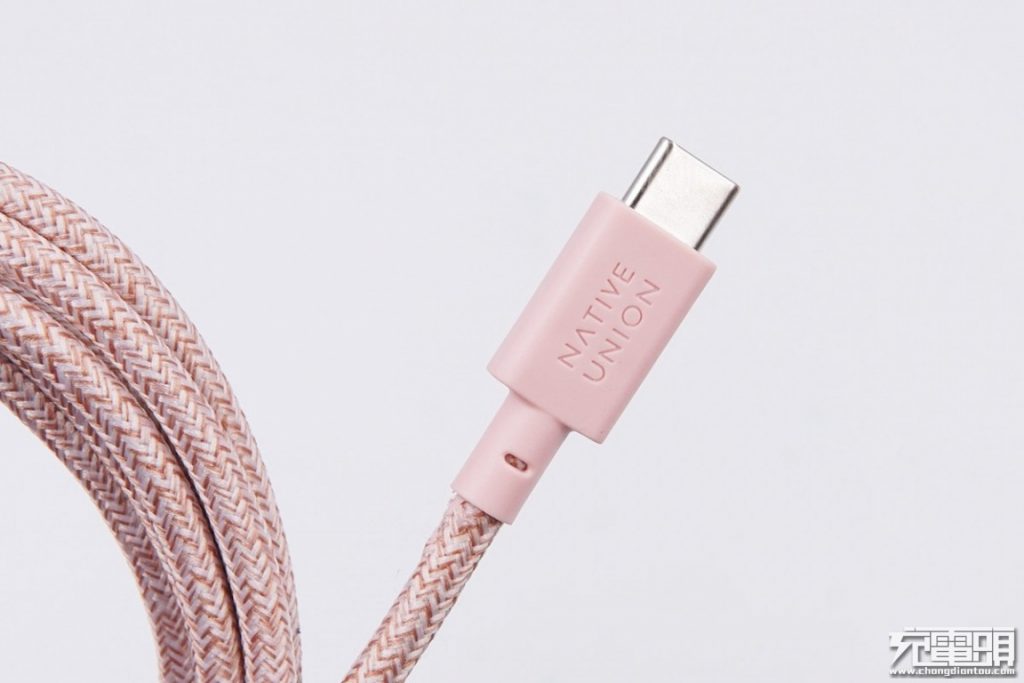 A nice braided USB-A to USB-C cable, 2m/6.5ft.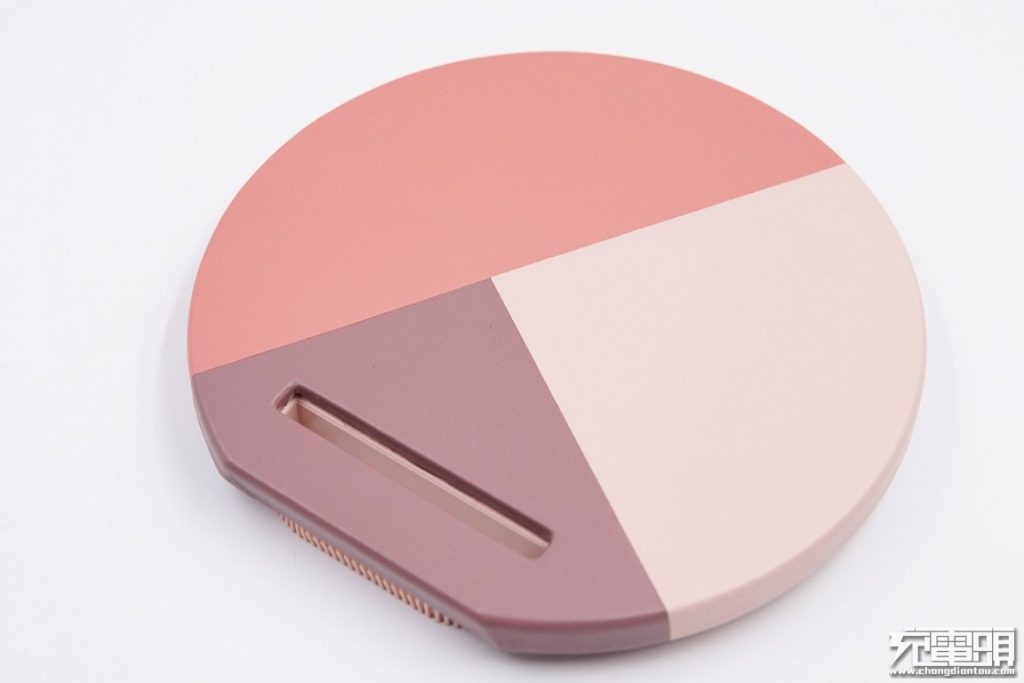 Three pieces of genuine Italian leather wrap the surface of the pad. Meticulously crafted.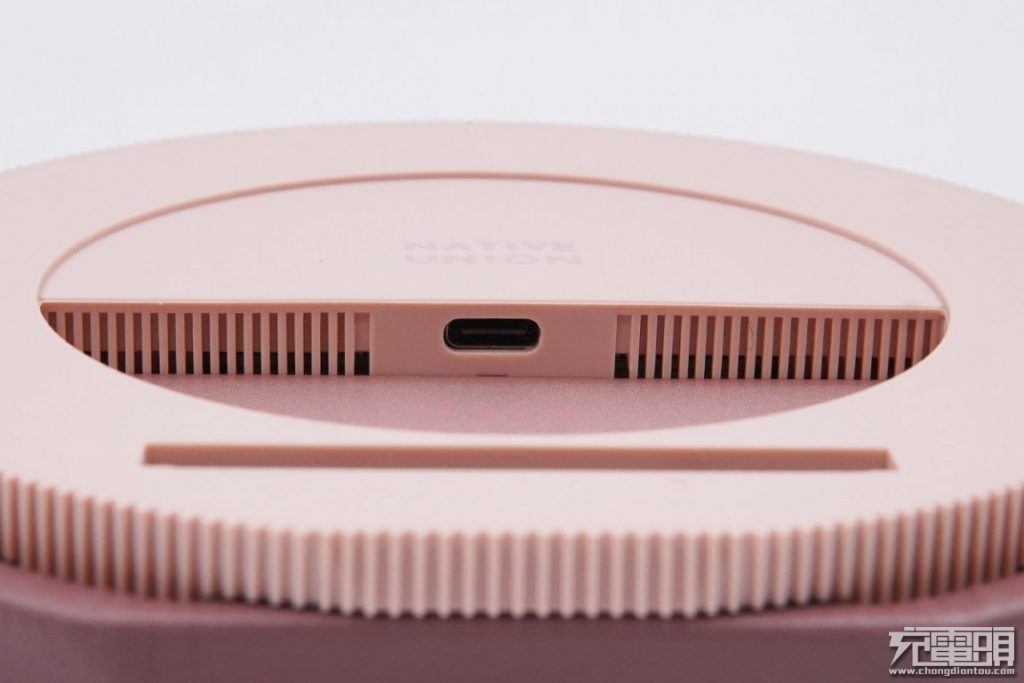 The hidden USB-C port.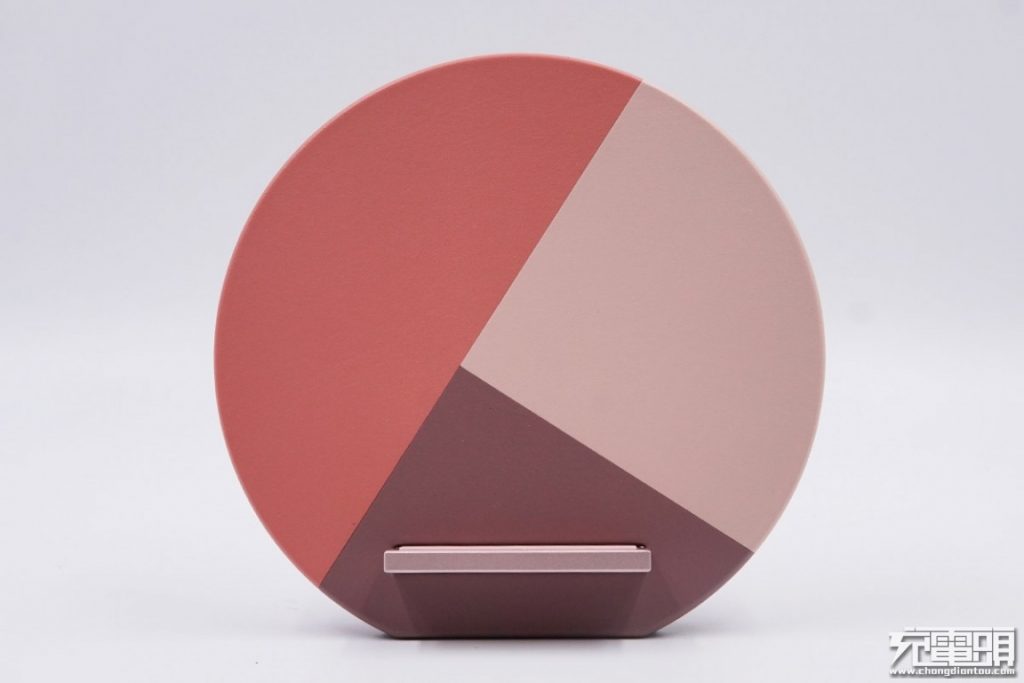 Insert the metal plate and the pad becomes a stand.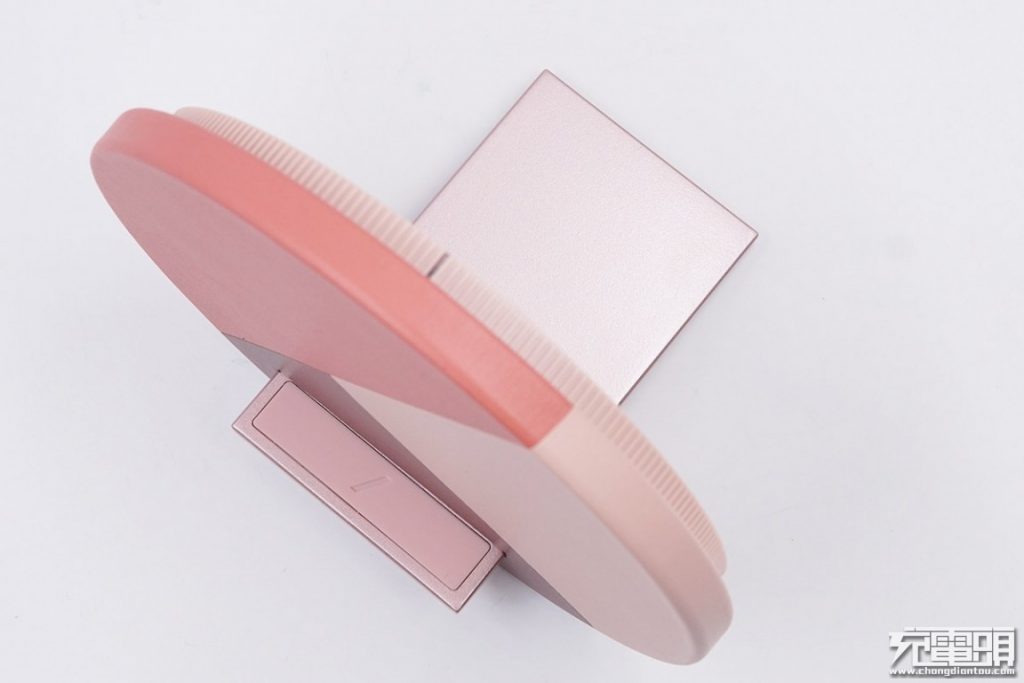 The metal is quite heavy and has anti-slip rubber pads.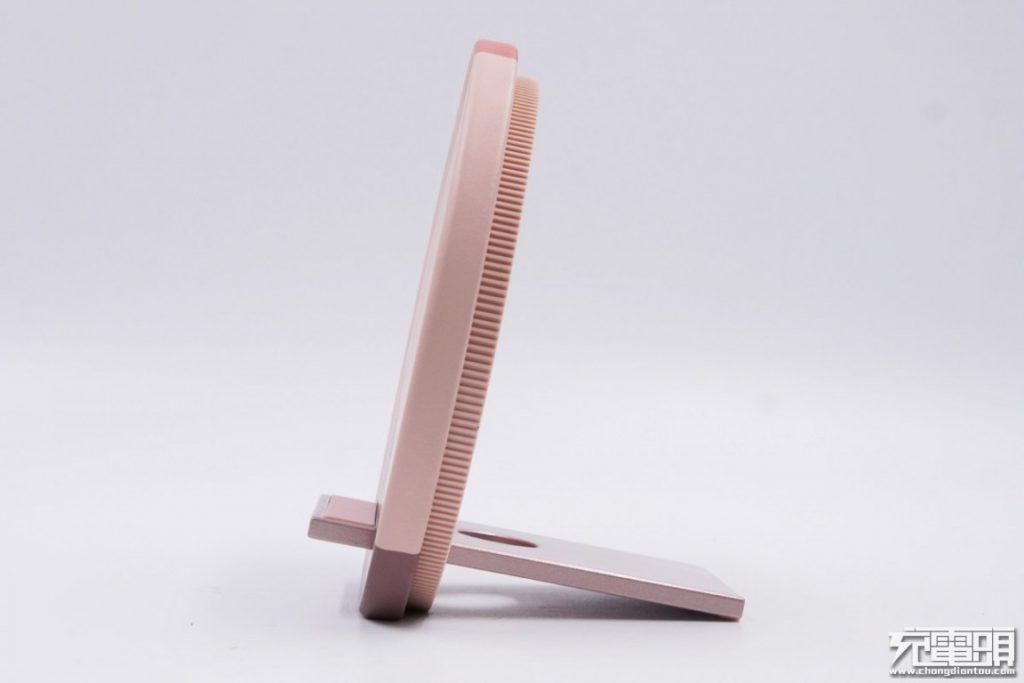 Side view. You can place the phone vertically or horizontally.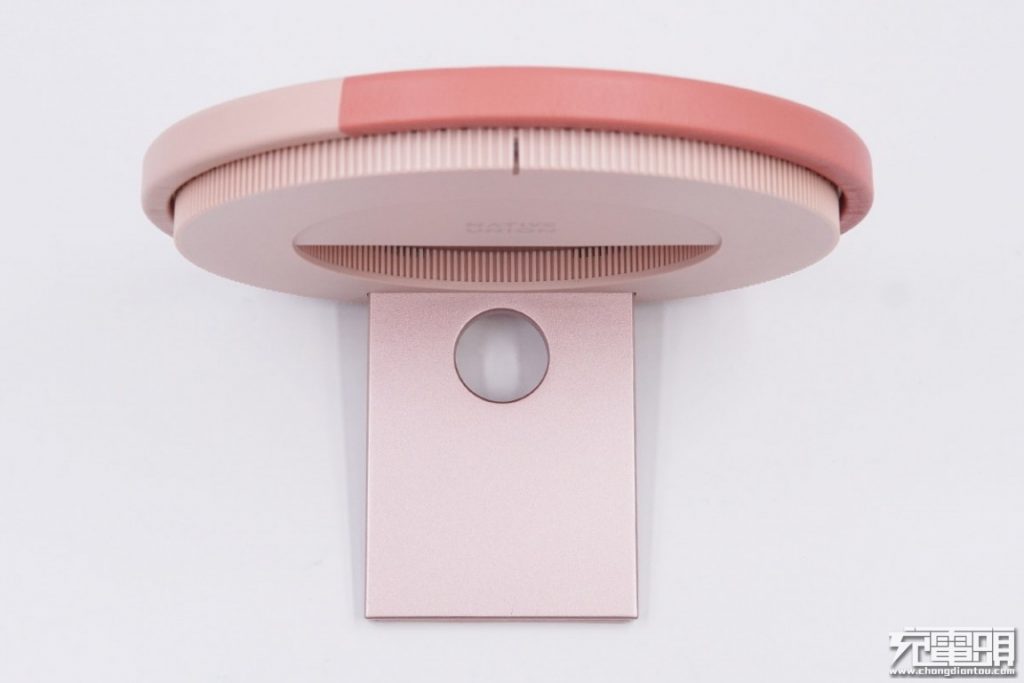 Top view. A round hole for elegance and cable management.

II Test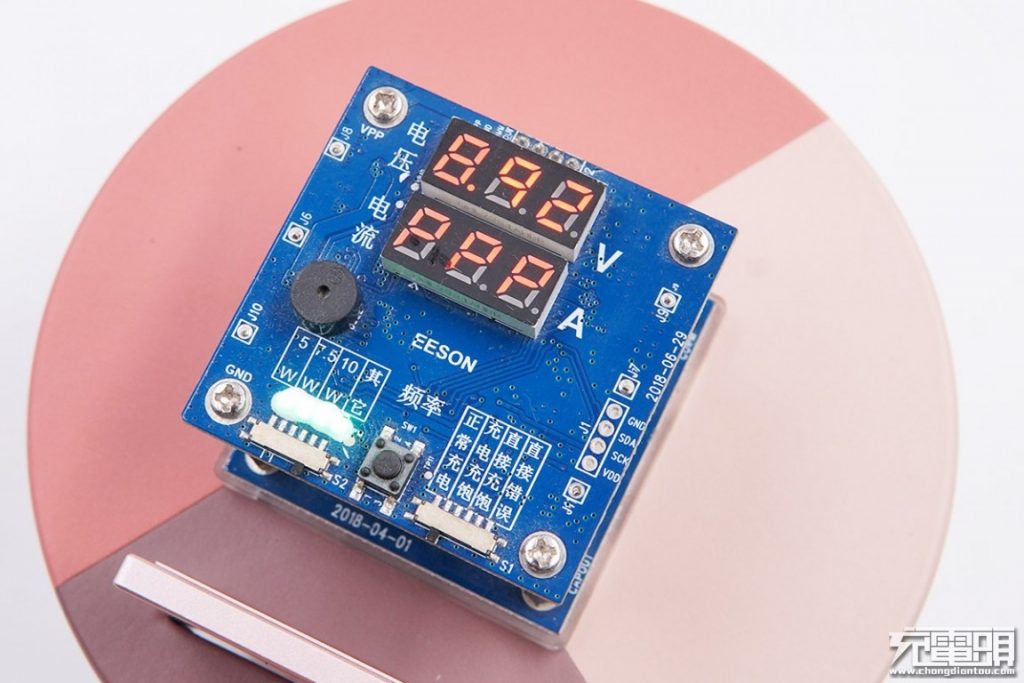 Using the wireless charging aging tester, we read a "PPP" which means it passed the 5W, 7.5W and 10W wireless charging. So it supports normal 5W, Apple 7.5W, and Samsung 10W wireless charging.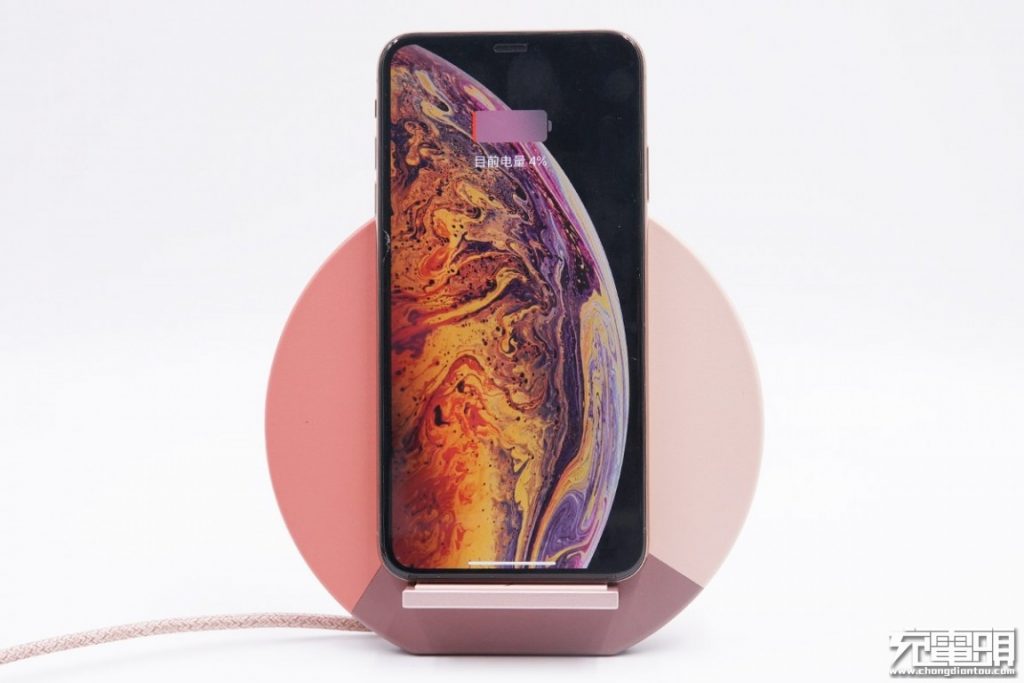 It starts charging instantly when we put the iPhone inside.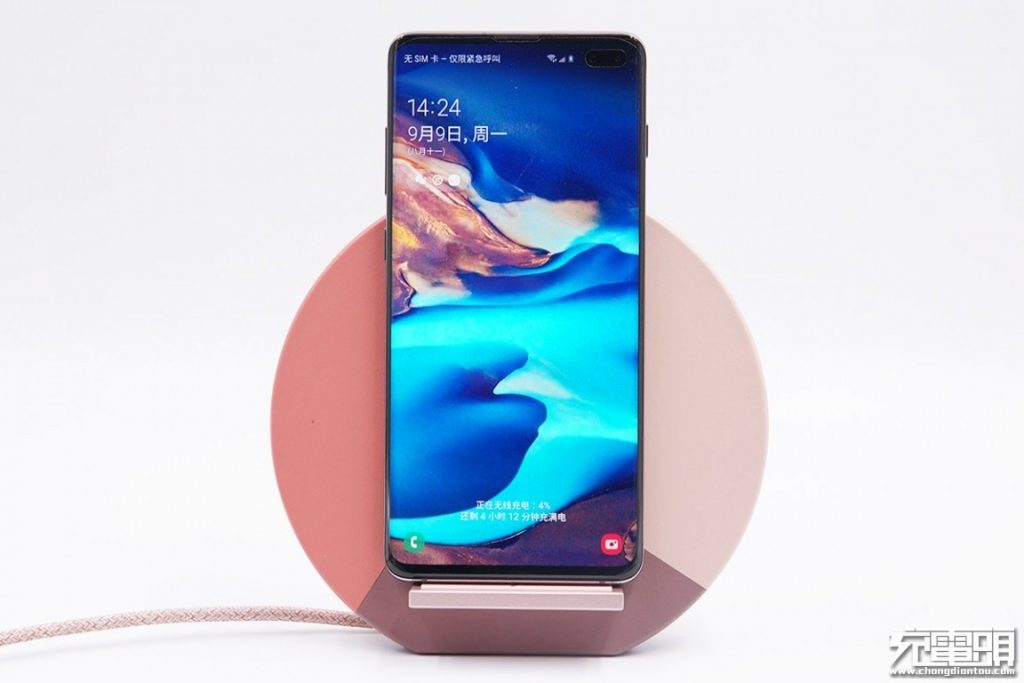 Our Samsung S10+ shows that it supports Samsung 10W wireless charging.

III Teardown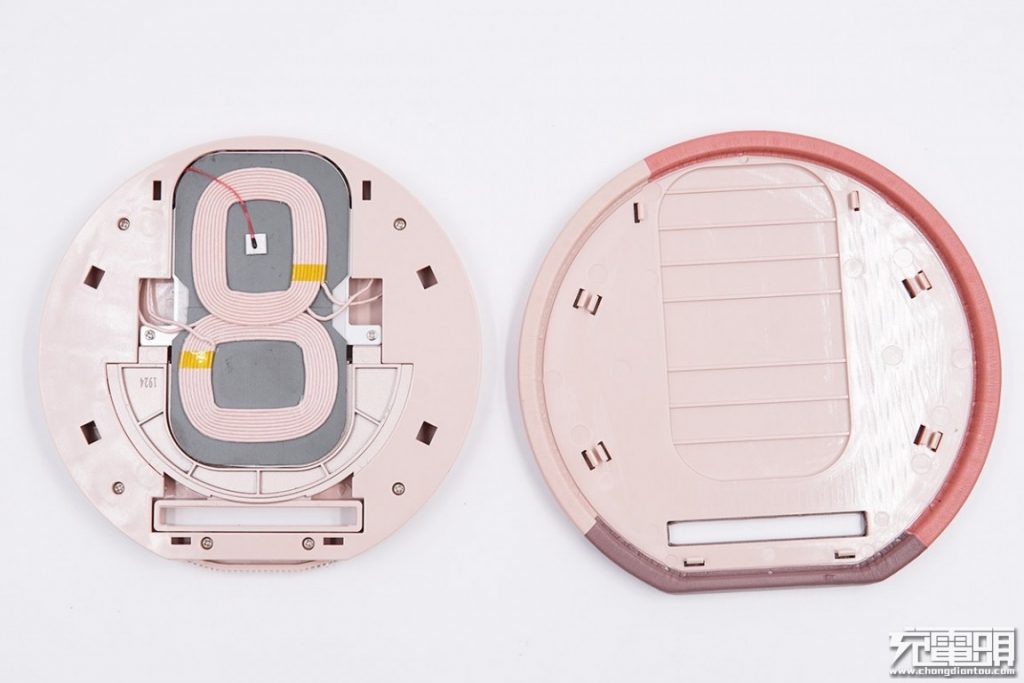 Remove the panel and we can see that there are two wireless charging coils inside.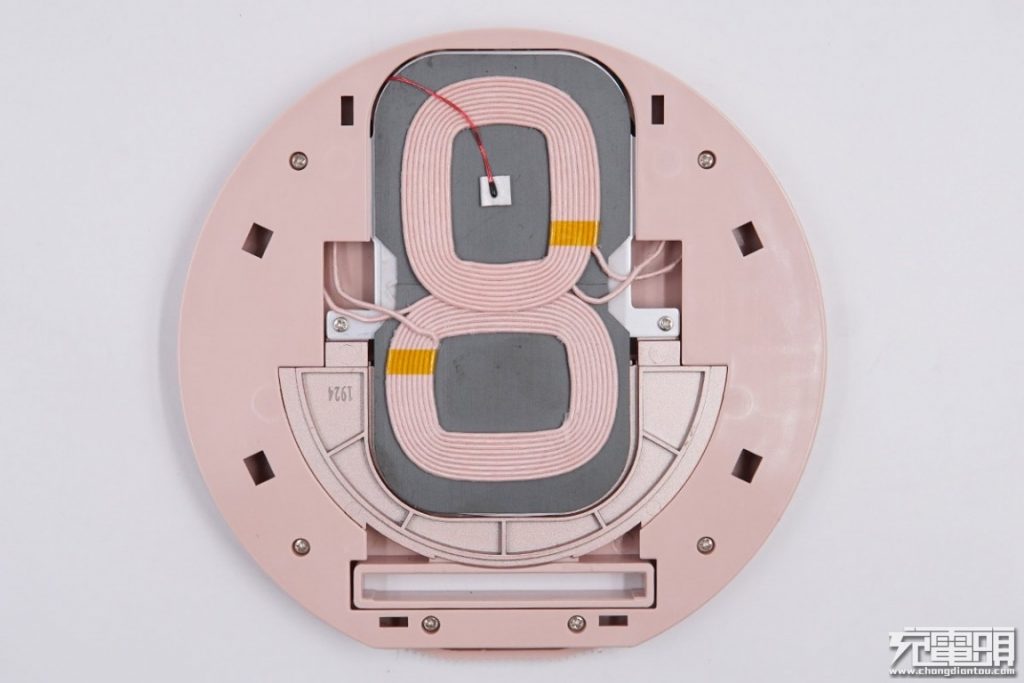 One horizontally placed and the other one in vertical.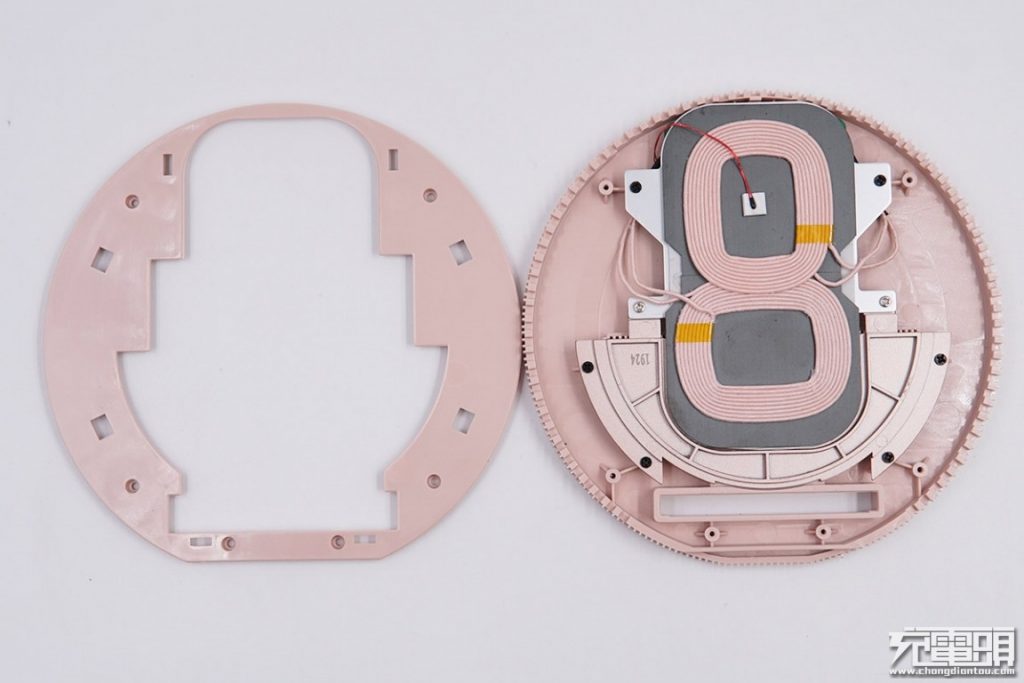 Remove the plastic middle frame.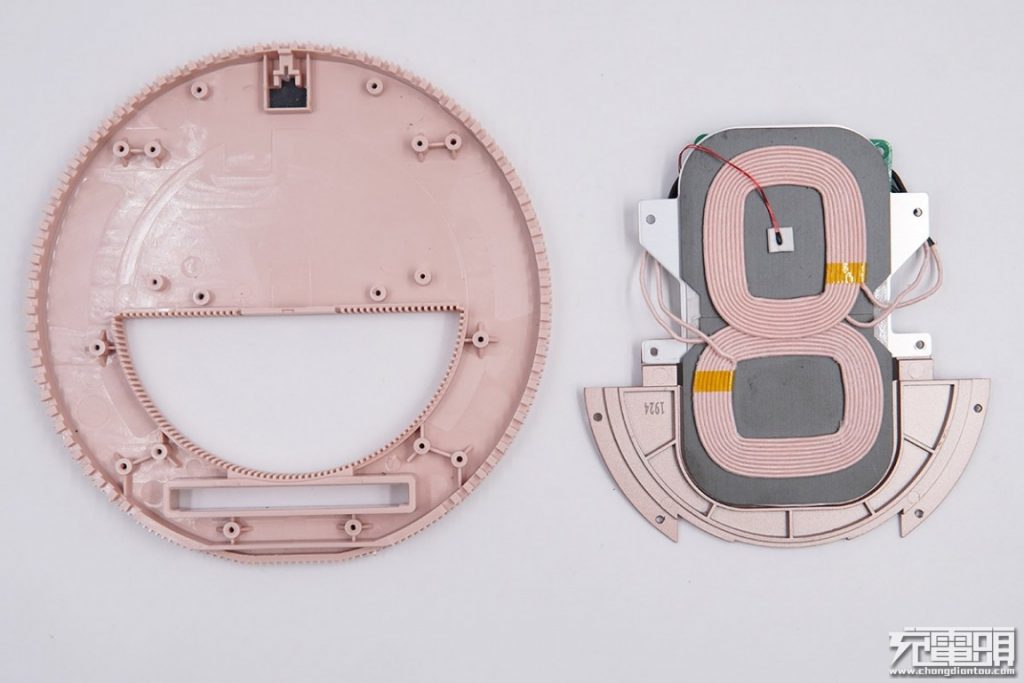 Remove the plastic base.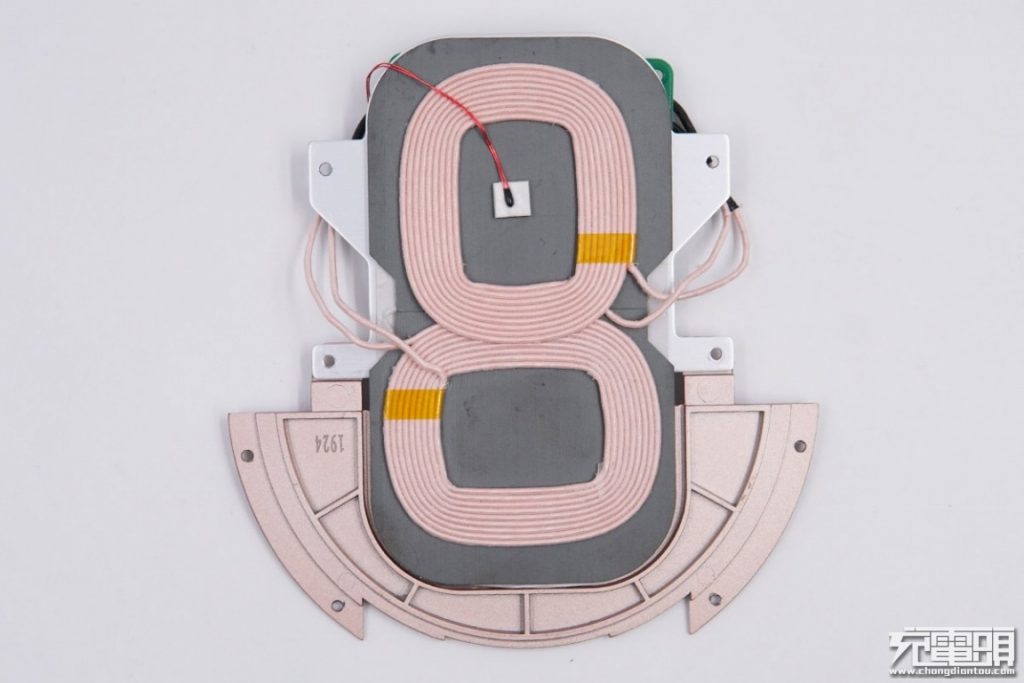 There is a thermistor on the vertically placed coil to detect the temperature during wireless charging.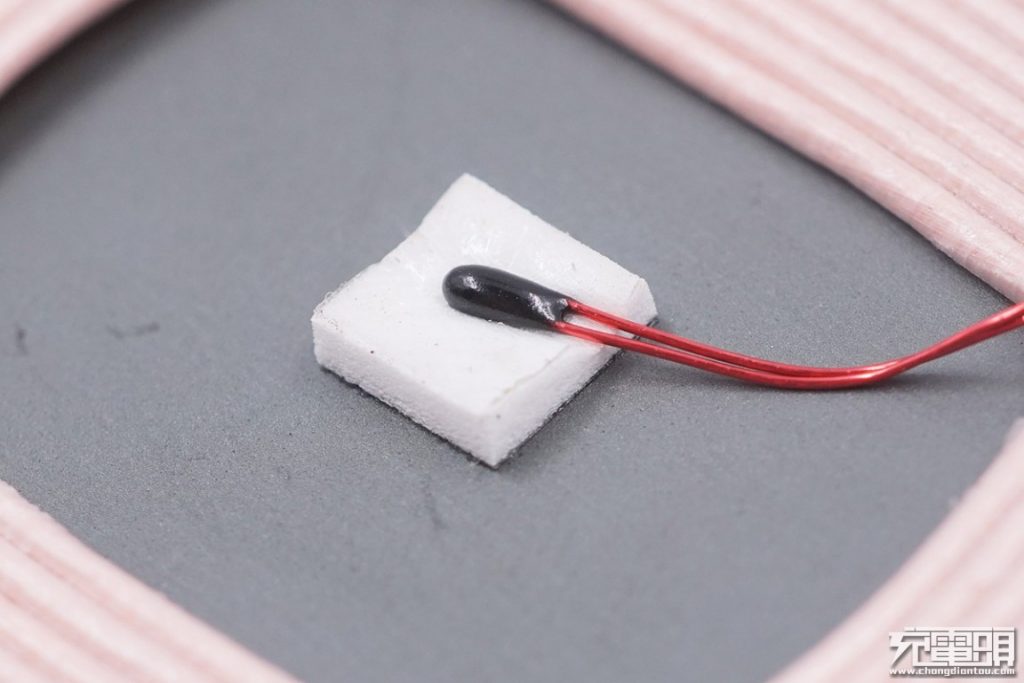 The thermistor is attached to a double-sided form tape, and it contacts the outer casing to detect the temperature during charging.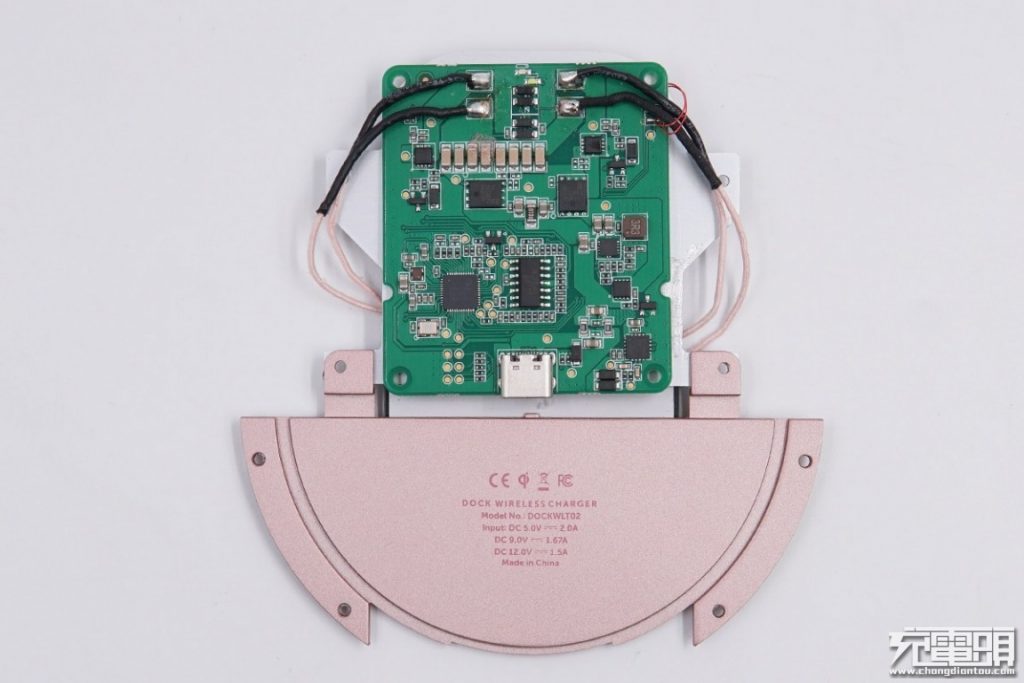 The back of the coil is a wireless charging circuit board, and the coil lead-out line is covered with a heat-shrinkable tube to strengthen insulation.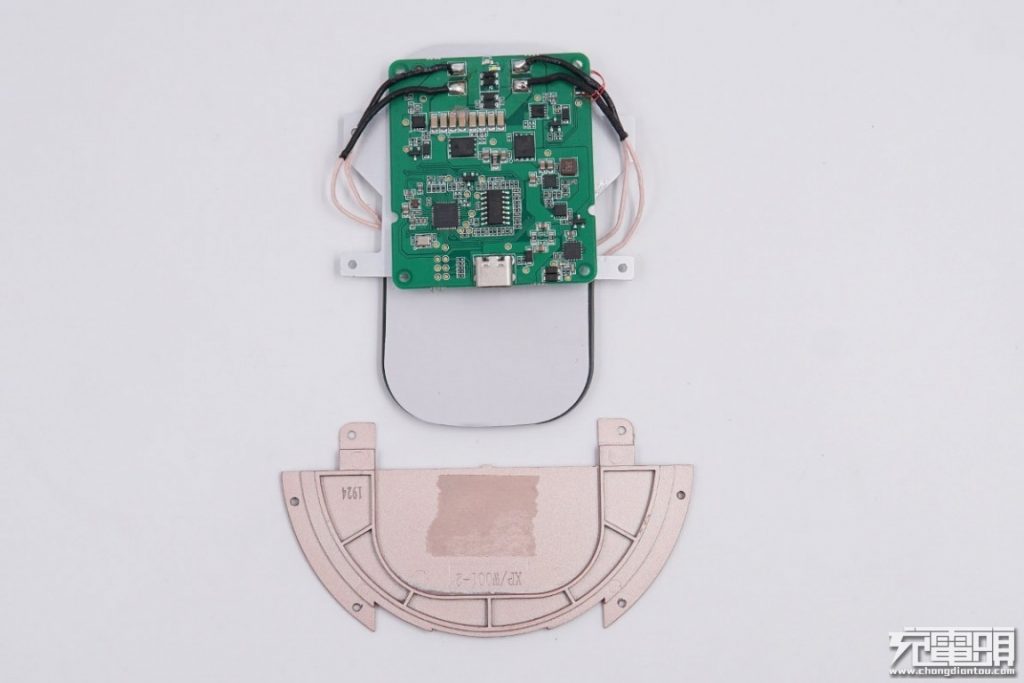 The magnetic spacer is fixed onto the outer casing by double-sided tape.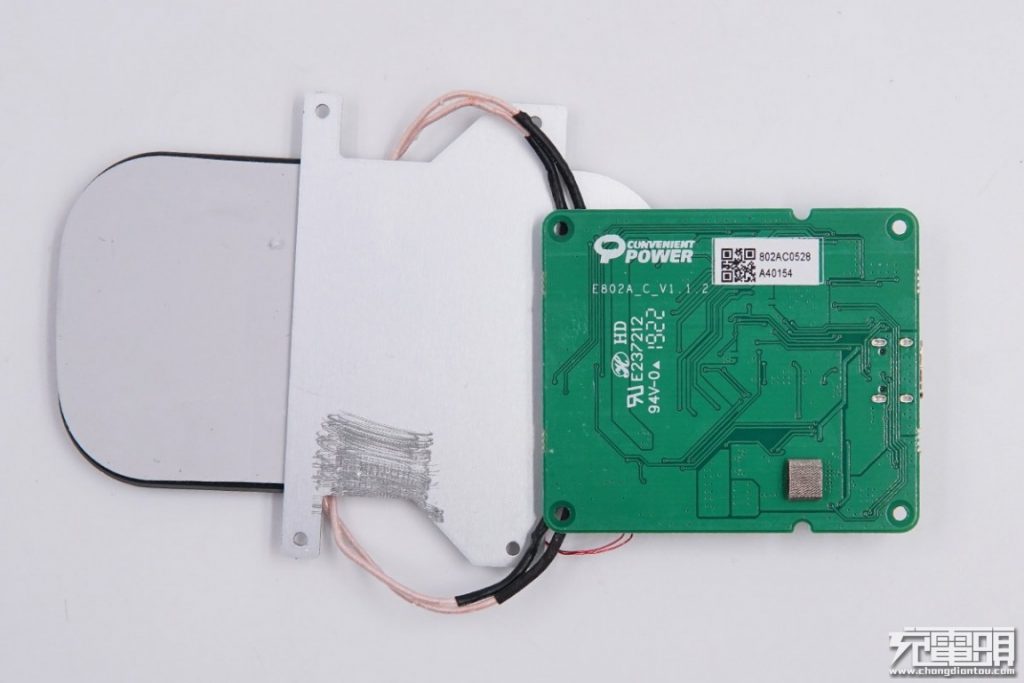 There are no components besides a conductive cloth tape on the back of the board that is in contact with the iron plate. We can see the logo of Convenient Power and the model of the wireless charger module: E802A.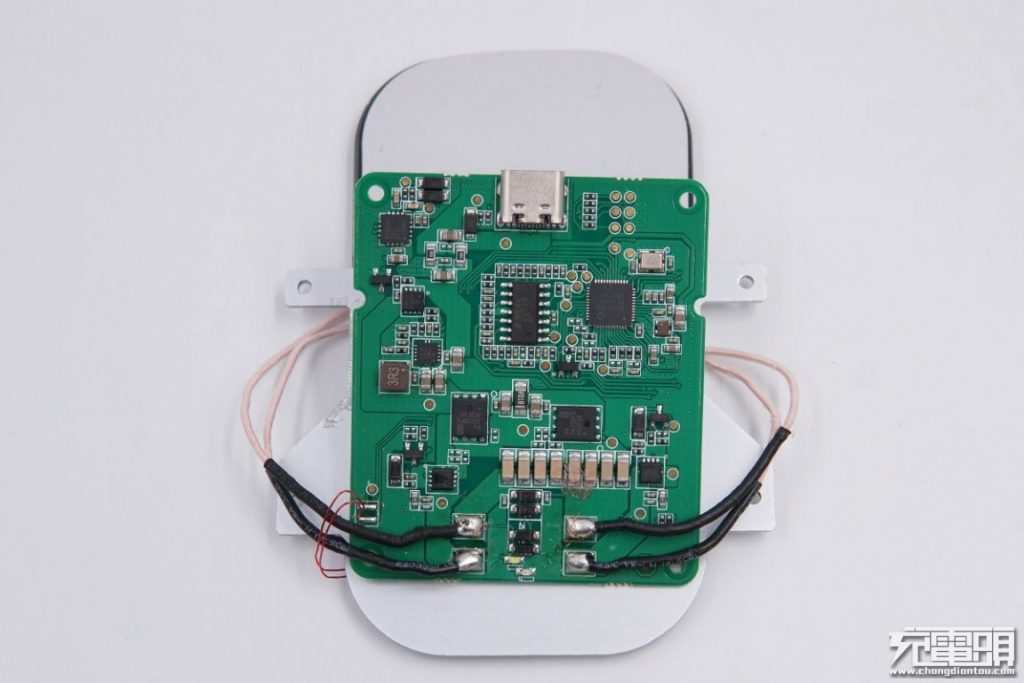 There is a main controller chip, fixed frequency voltage regulation and buck circuit, and two sets of coil driven MOS tubes.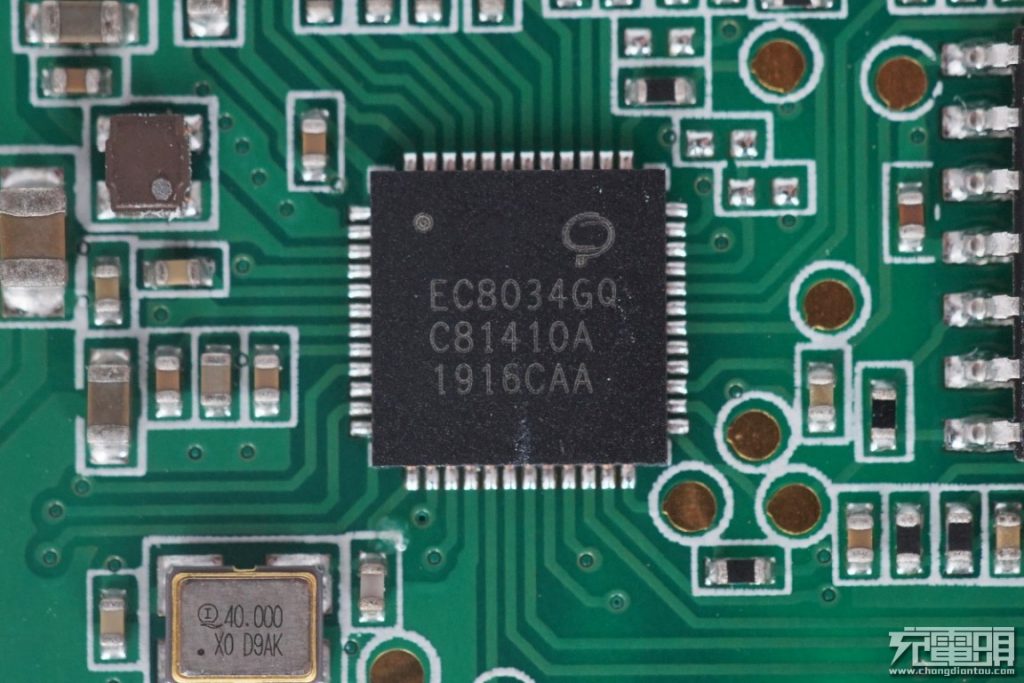 Convenient Power EC8034 is a highly efficient, Qi-compliant, magnetic inductive wireless power transmitter IC for application up to 15W with constant operation frequency and tune VPA voltage to control the amount of power mode. It is compatible with Qi-EPP/Samsung Fast Charge/Apple Fast Charge standards, with charging area up to 10mm*10mm, support input voltage 5V/9V/12V/15V, supports QC protocol, and provides 5W/7.5W/10W/15W output power.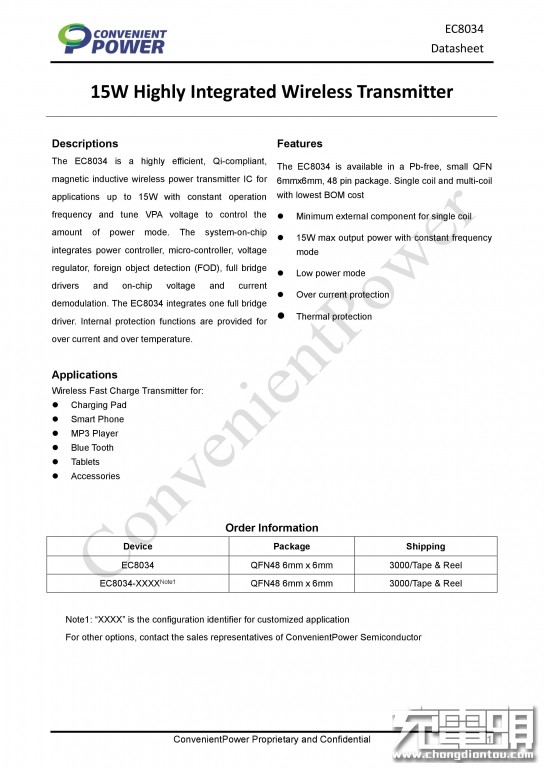 Detailed specifications of the Convenient Power EC8034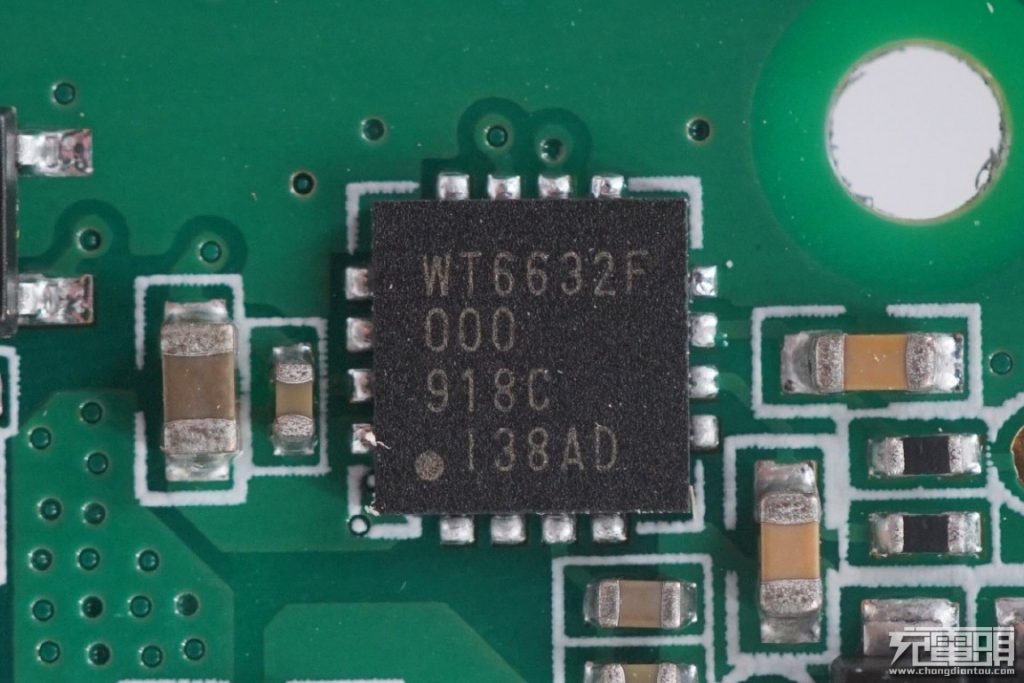 The WT6632F is a highly integrated USB Power Delivery (PD) controller that supports USB PD 3.0 specification designed for USB Type-C Downstream Facing Port (Source) charging applications such as travel adapters, charger, and power banks. The WT6632F minimizes external components by integrating USB PD baseband PHY, Type-C detection, shunt regulator, voltage and current monitors, and control circuits of blocking MOSFET, and an 8-bit MCU to allow small form factor and low BOM cost. It supports wide operation voltage range from 3V to 30V without the need of an external LDO. A Multi-Time-Programmable (MTP) ROM is provided for program code and user configuration data.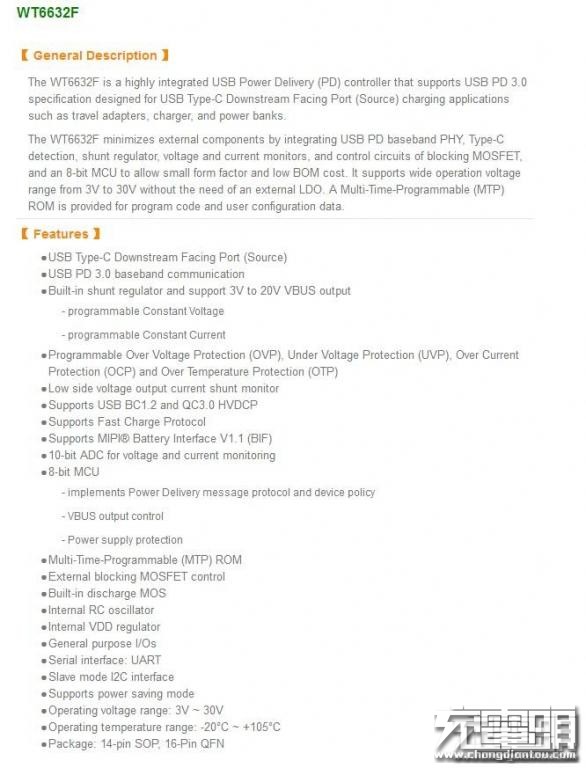 Detailed specifications of the Weltrend WT6632F.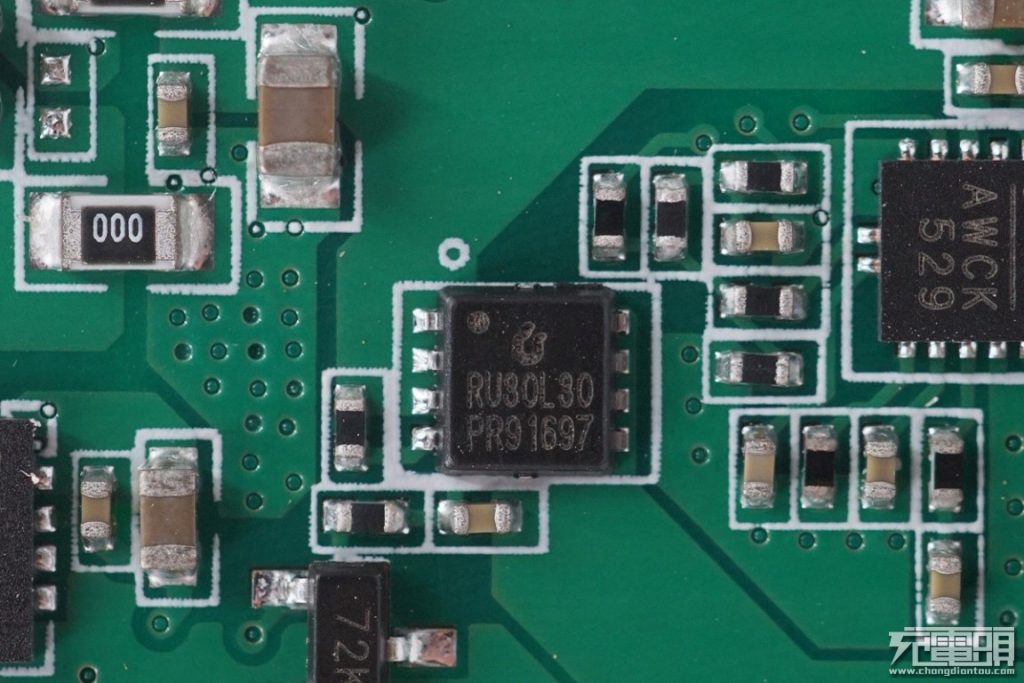 Ruichips Semiconductor RU30L30M PMOS, used for step-down pass-through switch, turns on at 5V input.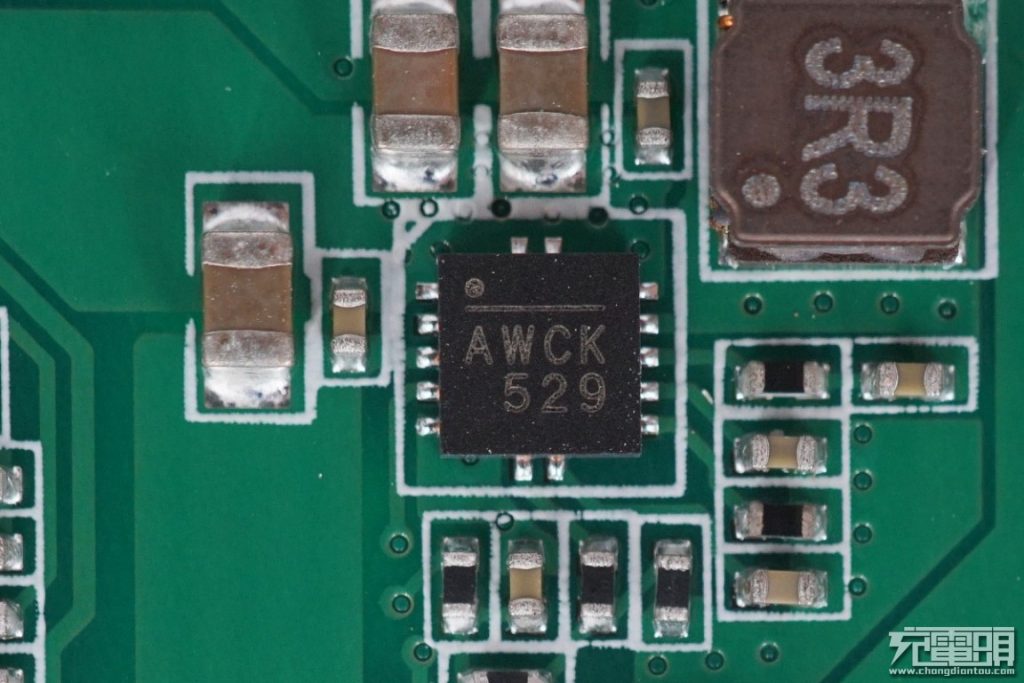 An MPS synchronous rectification step-down ICS with letter code AWCK, adjusts the output voltage for Apple's fixed-frequency voltage regulation charging.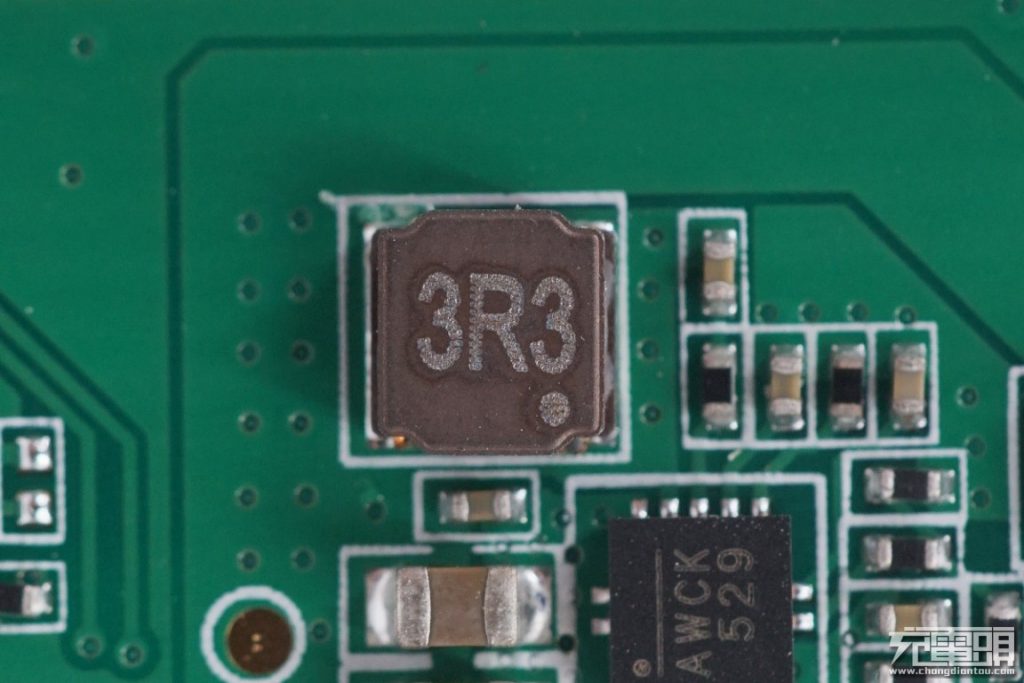 3R3 chip inductor.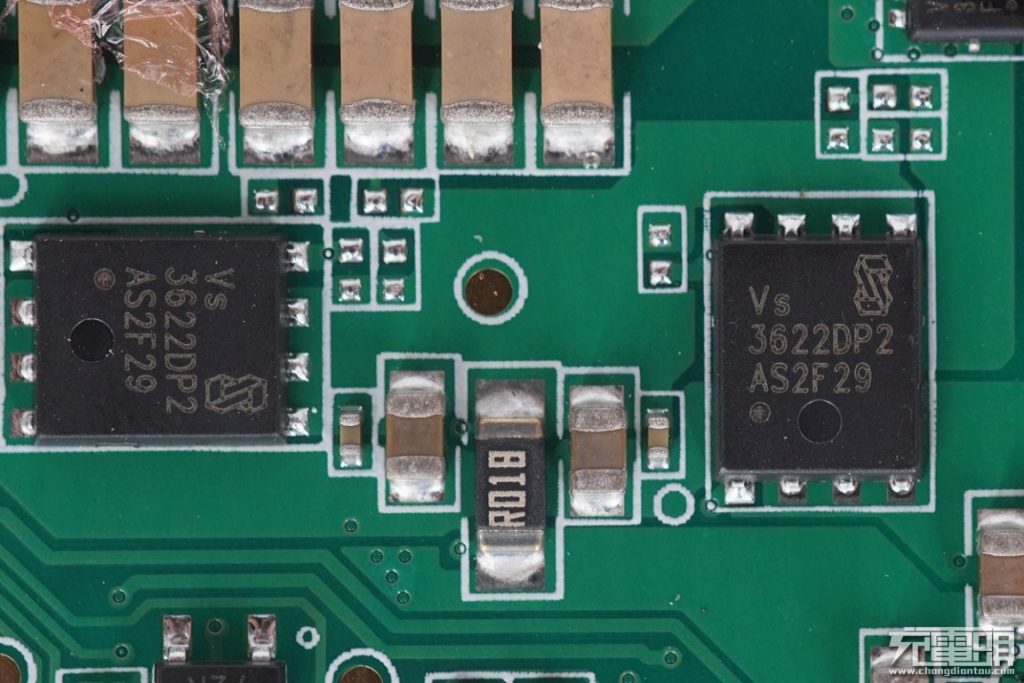 Vanguard Semiconductor VS3622DP2 dual NMOS tube to drive the wireless charging coils. The logic voltage is driven to better adapt to the wireless charging controller chip. With built-in dual MOS, two of them can form a complete full bridge. The R018 alloy resistor in the middle is used to detect the charging current.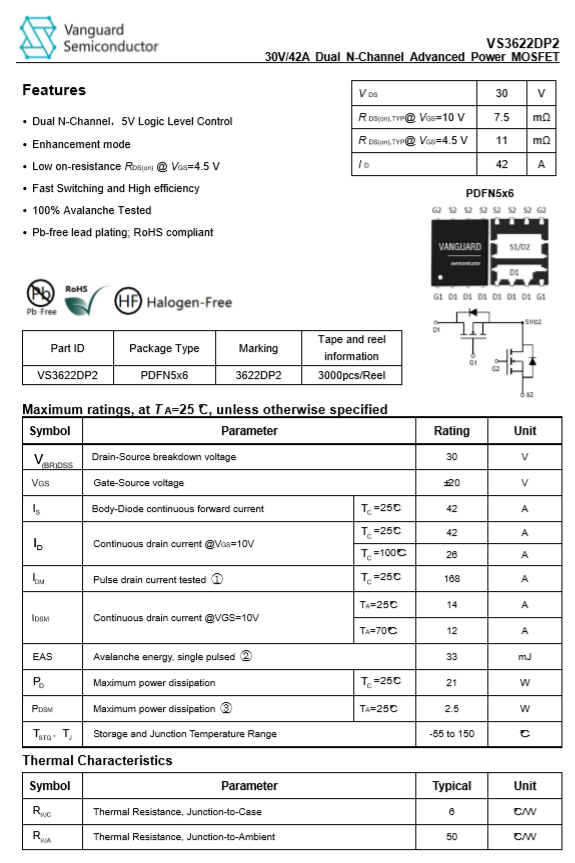 Detailed specifications of the Vanguard Semiconductor VS3622DP2.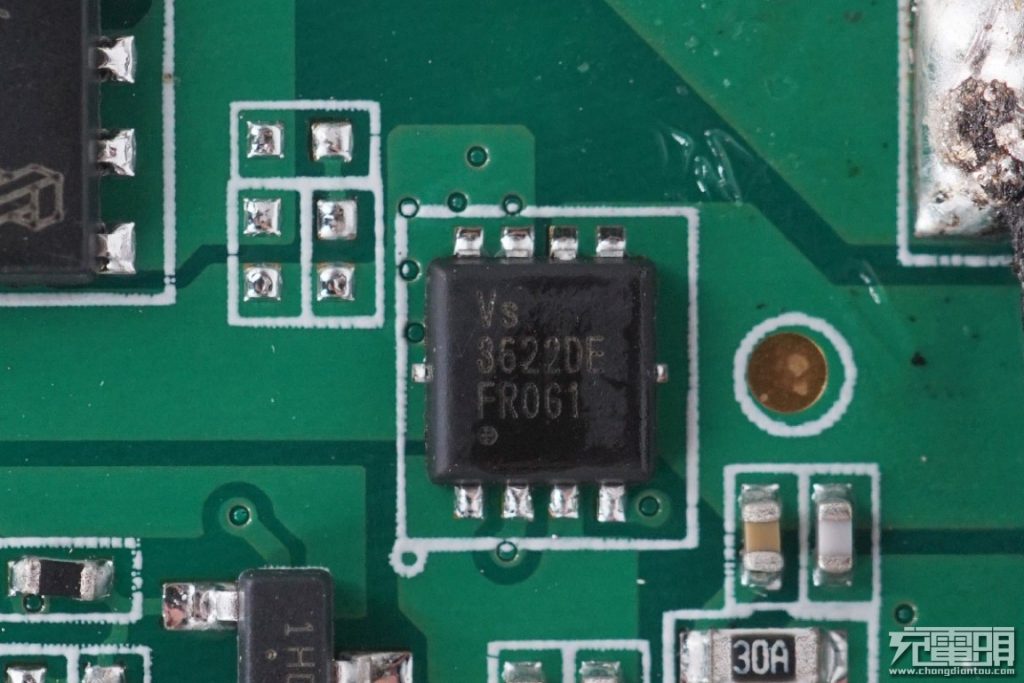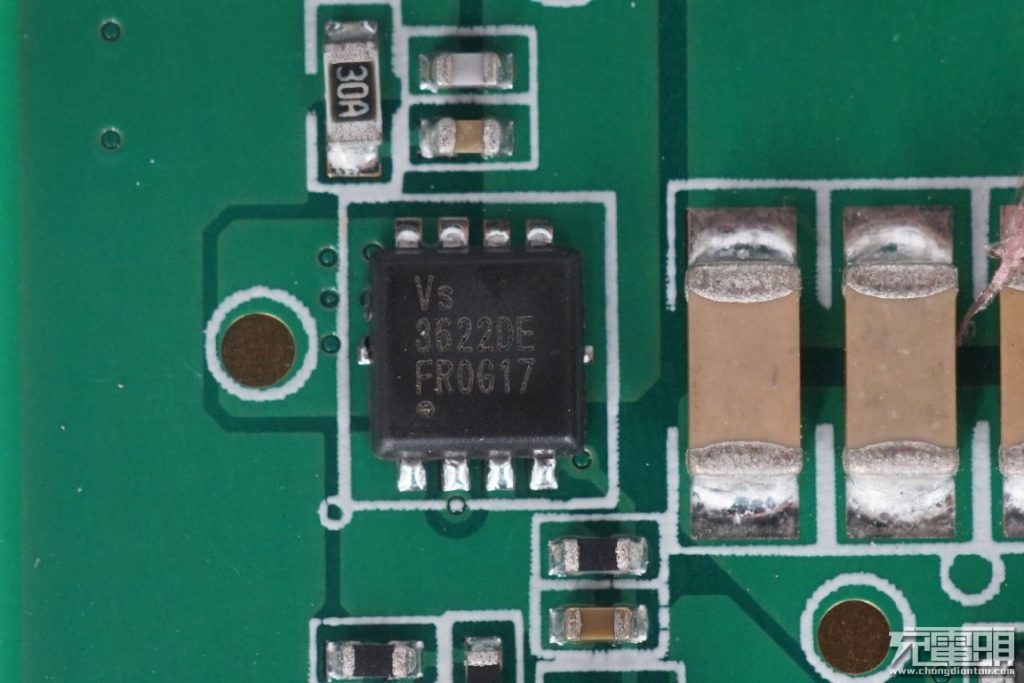 Two Vanguard Semiconductor Dual NMOS tubes. Logic voltage driven, for switching between two sets of coils.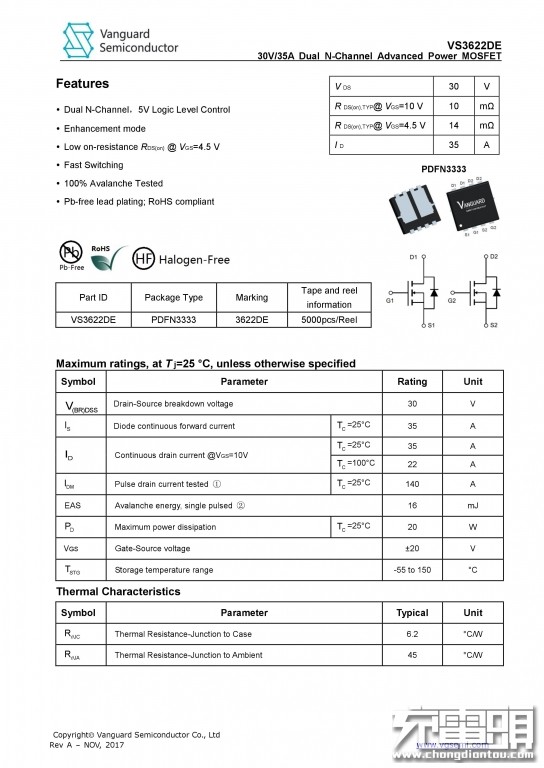 Detailed specifications of the Vanguard Semiconductor VS3622DE.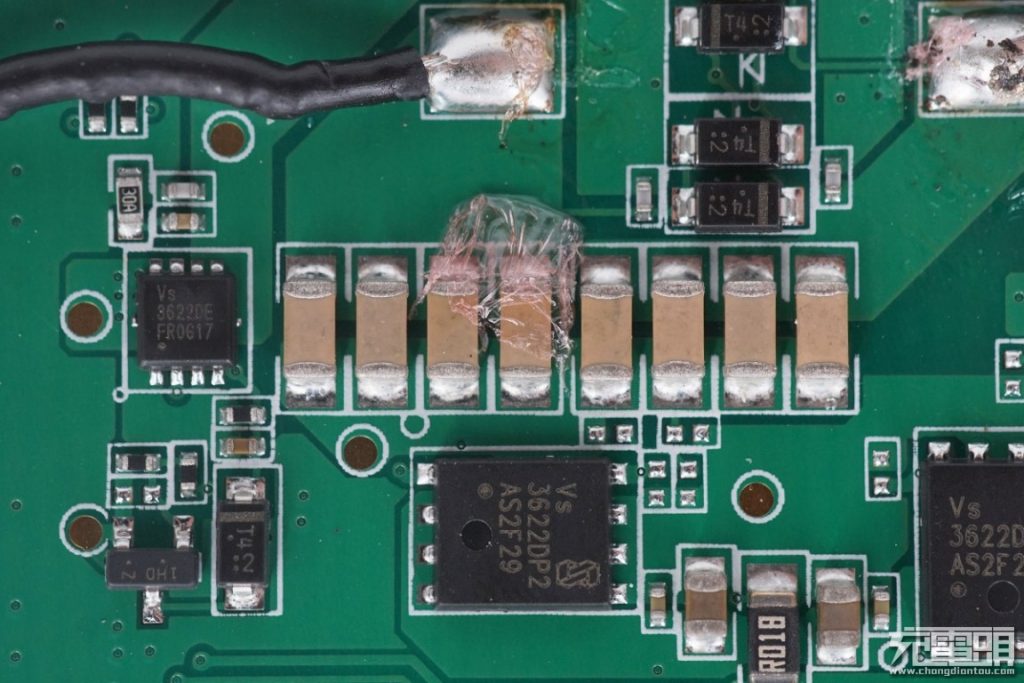 Four resonant capacitors are connected in parallel, and there are two groups, corresponding to two coils.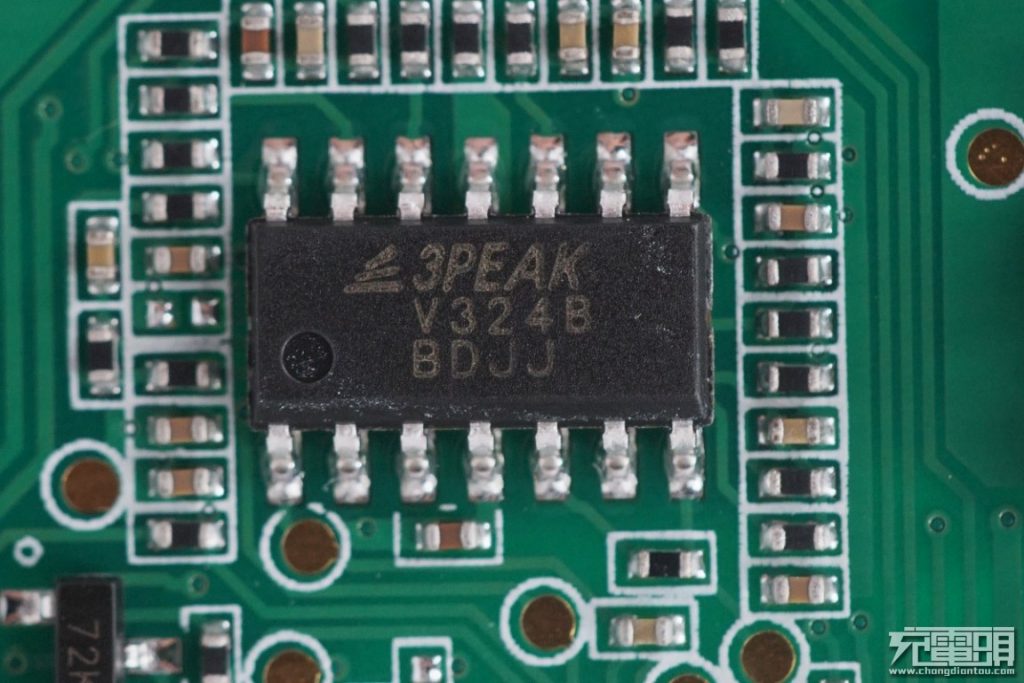 A 3peak V324B 4 op amp is used for signal demodulation.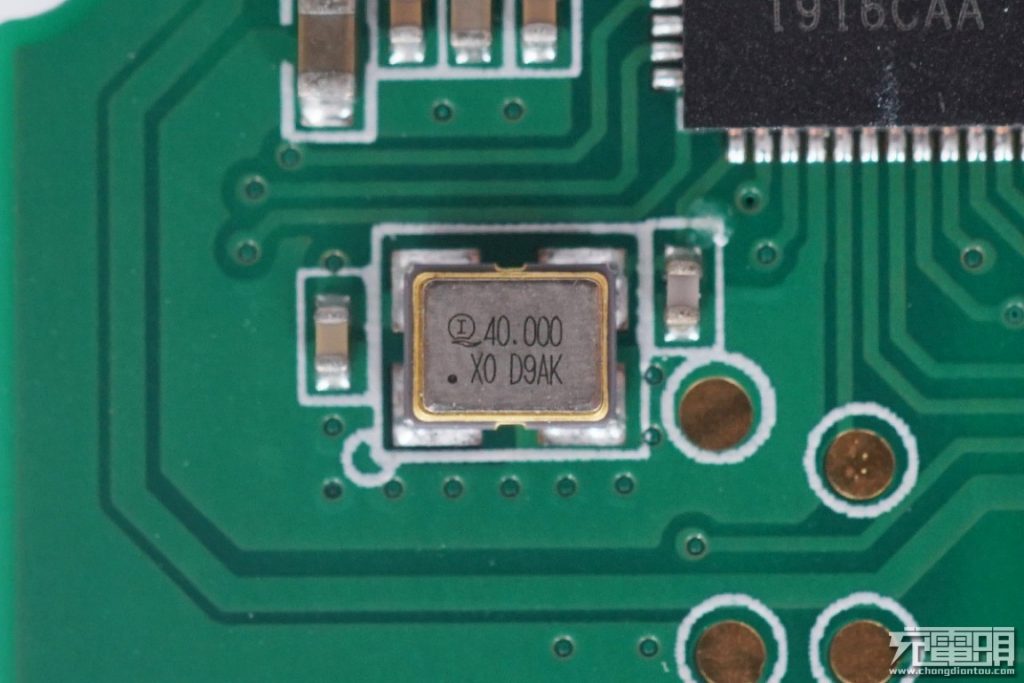 Passive crystal oscillator.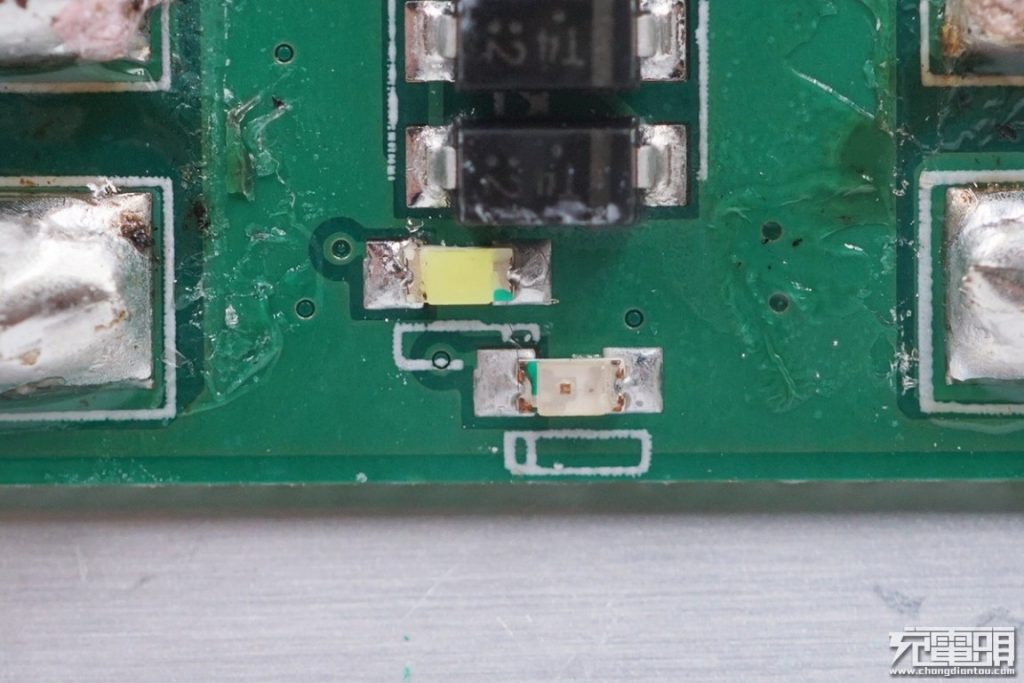 Two LED indicators.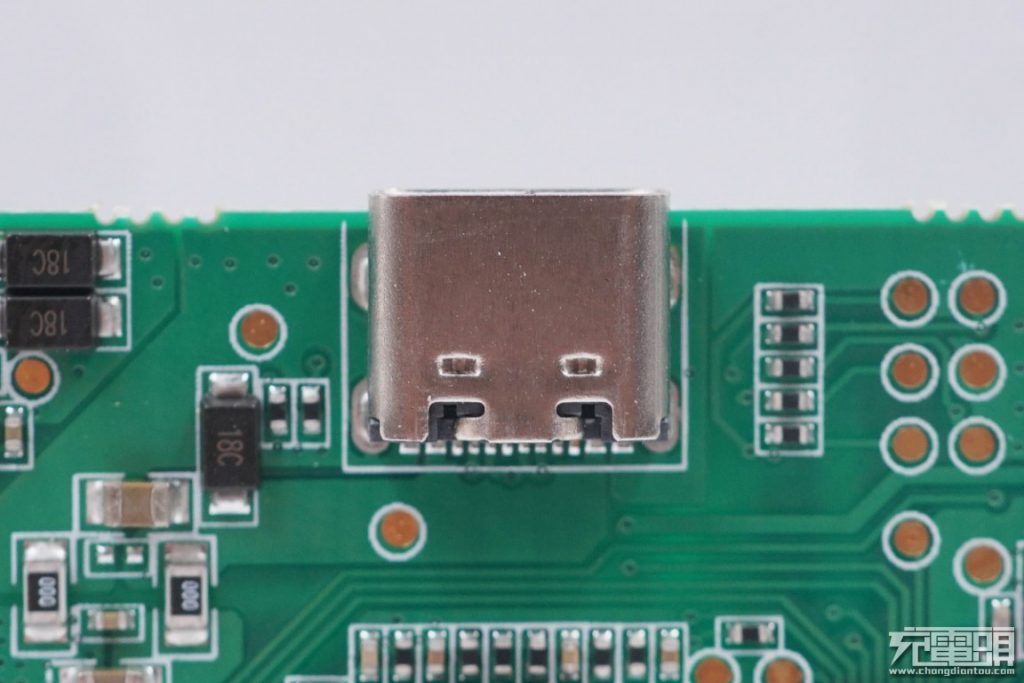 The USB-C port.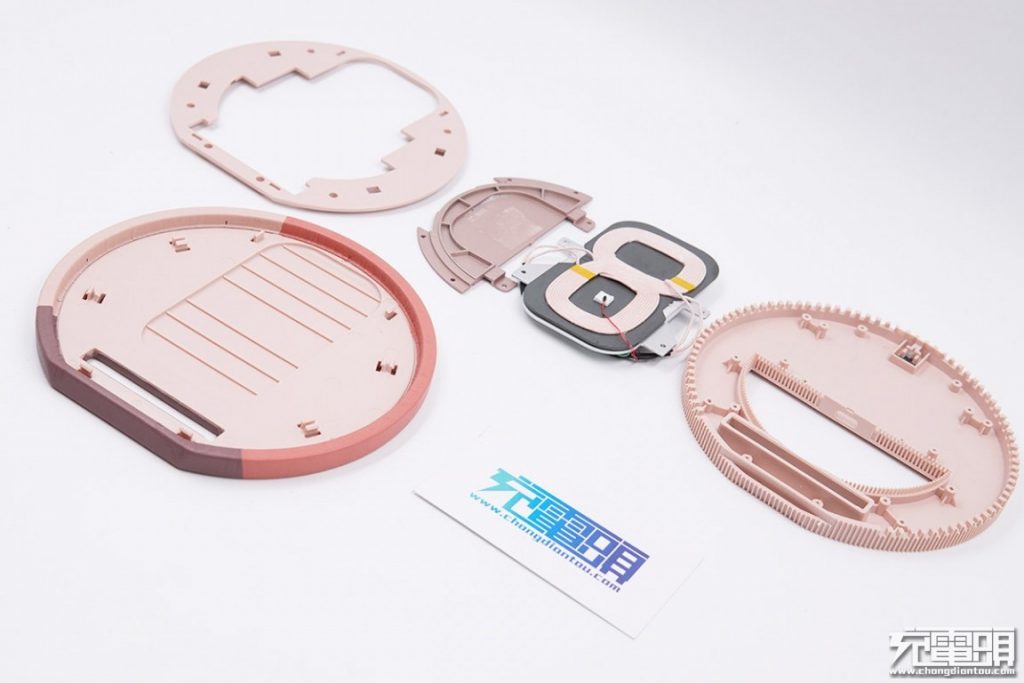 All the components.

III Conclusion

Continuing the premium fit and finish of Native Union, the Dock Wireless Charger is a top-notch dual-coil wireless charging dock. Meticulously crafted with three pieces of genuine Italian leather, it is satisfying to look at, and touch.Priced at $119.99, and doesn't even come with a charger (a PD or Quick Charge charger will do), the Drop is definitely not for those who are seeking the best cost-performance ratio. But for those who appreciate the originality of a design and would like to pay a premium for it, the Dock is a solid choice.

Pros:
Exquisite craftsmanship.
Elegant design and finish with high quality components.
10W wireless charging and USB-C input.

Cons:
Does not include a charger (a PD or Quick Charge charger will do).
Expensive.
Note: ChargerLAB is reader-supported. Our editors independently research, test, and recommend the best products. We may earn commissions on purchases made from links on our site.

Source: chongdiantou