Native Union Drop Wireless Charger Teardown Review: a Beauty More Than Skin Deep
I first came to know the brand, Native Union, was back in 2015 when I saw the Clic Marble, a case made for iPhone with true marble. It struck me with the unique aesthetic that set it apart from other tech accessories.
It's easy to be attracted by the intriguing design of the products from a niche premium brand, but some of them only possess quality at the surface level. Today we have the Drop Wireless Charger from Native Union, let's strip it down.

I Unboxing
Three color variants: slate, rose, and indigo. We have the rose (pink) version.

A tip on the right side to slide open.

Specifications on the back.

Drop Wireless Charger

Certification and manufacturer's info.

Slide open and behold the wireless charging pad. Package contents: Drop Wireless Charger, USB-A to USB-C cable, user manual. No charger included.

The surface is covered by a woven fabric with silicon tread on top for grip and air circulation. The base is made from a single piece of Aluminum. The whole thing is built like a tank.

CNC chamfered edges. Etched logo.

Non-slip rubber pad and specifications at the bottom.

Input: 5V2A, 9V1.67A, 12V1.5A.

The Drop Wireless Charger features a single LED indicator. Taking a look at the CNC chamfered edges (also known as the "diamond cut").

Height: 0.74in./1.9cm. Width: 3.5in./9cm. Weight: 3.4oz./97.5g.

It starts charging instantly when we put a Qi-compatible phone on top. The product has passed Qi EPP certification to ensure charging safety and charging efficiency.

The LED emit white light during operation.

Our Samsung Galaxy S10+ shows it gets fast charging when it is on the left of the pad.

And so does our iPhone Xs Max.

II Teardown
Removing the rubber pad on the bottom reveals four screws.

Unscrew and we can remove the top cover.

The wireless charging coil and PCBA are exposed.

The base is CNC machined and anodized from a single block of Aluminum. The cost is much higher than conventional wireless charging pad structure, but offers rigidity and better heat dissipation.

A light guide for the LED indicator.

The wireless charging module is composed of a wireless charging coil, a magnetic isolation sheet and a PCBA.

The front of the PCBA.

There are no chip components on the back of the PCBA.

The layout is very neat. This kind of design and finish is expected from a product made by LUXSHARE-ICT (OEM for Apple AirPods and the RIP AirPower). If Apple were to make its own basic single-coil wireless charging pad, I guess it would look like this internally (with black PCB of course).

RT7202 USB Power Delivery (USB PD) Type-C controller from Richtek for charging protocol communication.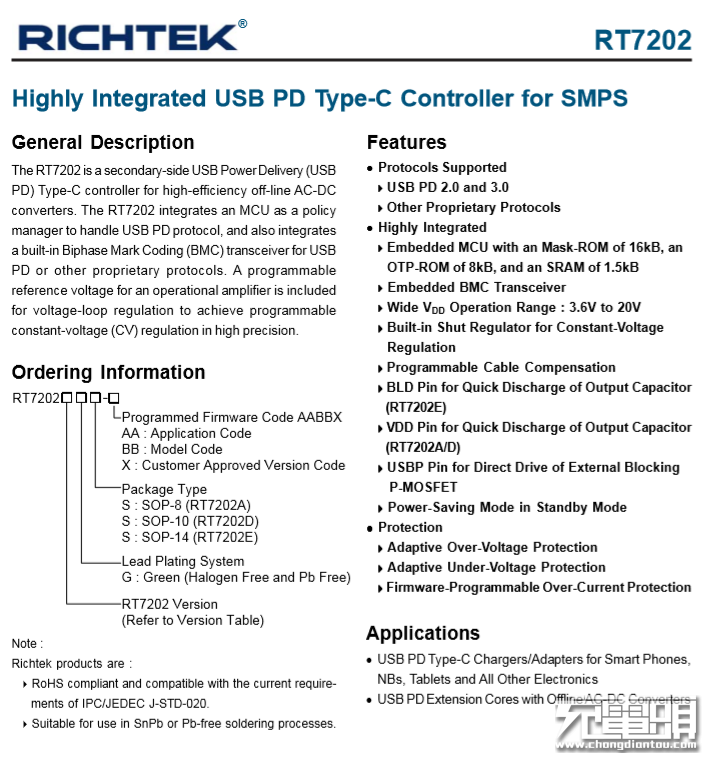 Detailed specifications of the Richtek RT7202.

The USB-C port.

Close-up of the USB-C port.

An active crystal oscillator that clocks the wireless charging controller IC.

Buck circuit for fixed frequency voltage regulation, a MOS tube and an alloy inductor.

The Richtek RT3181C is a wireless charging controller chip, and also a highly integrated 15W scalable wireless charging transmitter chip. It has complete built-in wireless charging power levels, built-in fixed frequency buck controller, external MOS and inductor to achieve Apple fixed frequency voltage regulation, on-chip voltage regulation, without the need for external voltage regulator components. An extended external power tube can be used for more powerful wireless charging. It supports programmable overheat protection, foreign object detection and fan speed control, indicators and buzzers.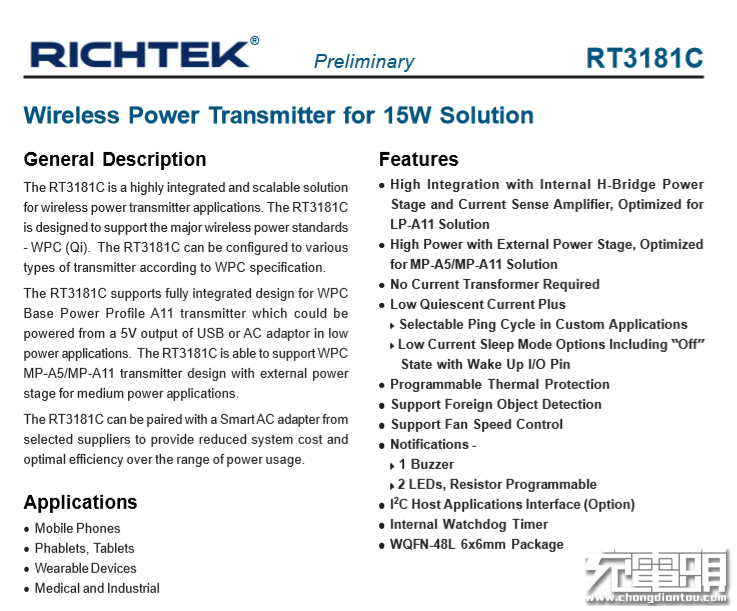 Detailed specifications of the Richtek RT3181C.

NCE 3401AY, FET. On the right side is the on-chip step-down buck inductor.

Vanguard Semiconductor VS3622DS, for synchronous buck conversion of fixed frequency voltage regulation.

VS3622DS dual NMOS transistor to drive the wireless charging coil.

The RT9612B is a high frequency, synchronous rectified, single phase dual MOSFET driver designed to drive the wireless charging power tube.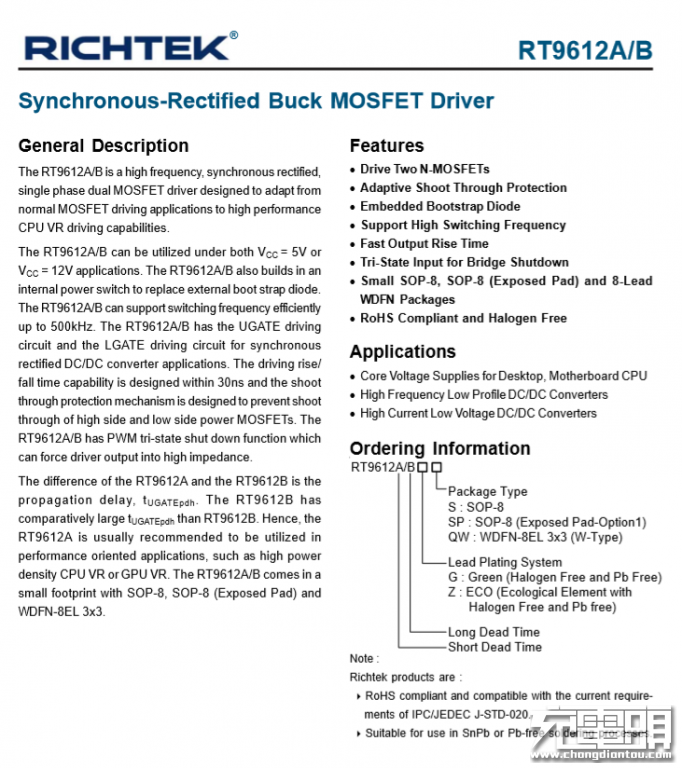 Detailed specifications of the Richtek RT9612B.

There are two of them, each in two groups, forming a complete H-bridge driver.

Five NPO capacitors are connected in parallel, and on the right side are two LED indicator with different colors.

Made by LUXSHARE-ICT (OEM for Apple AirPods).

All the components.

III Conclusion

Made by LUXSHARE-ICT, the Drop Wireless Charger by Native Nation is a top-notch single-coil wireless which is beautiful inside and out. I love the silicon tread design which is an elegant interpretation of "form follows function", and the CNC machined Aluminum base that is built to last. Placing it on my desktop, it brings some kind of Art Deco flair.
Priced at $59.99, and doesn't even come with a charger (a PD or Quick Charge charger will do), the Drop is definitely not for those who are seeking the best cost-performance ratio. But for those who appreciate the originality of a design and would like to pay a premium for it, the Drop is a solid choice.

Pros:
Elegant design and finish inside and out.
7.5W wireless charging for supported devices.
Practical and Art Deco.

Cons:
Does not include a charger (a PD or Quick Charge charger will do).
Expensive.

Source: chongdiantou