Microsoft Is Recalling and Replacing The AC Power Cords of Surface Pros
A reproduction article from Microsoft
For those who have purchased Microsoft Surface Pro devices:
There is essential information you need to know if you have the original Surface Pro, Surface Pro 2 or Surface Pro 3 devices.
Microsoft has announced a recall of the AC power cords for the original Surface Pro, Surface Pro 2, and Surface Pro 3 devices, and you may be eligible for a free replacement.
Not for the unit
This recall only applies to the removable cord that connects the power supply to an electrical outlet. The power supply unit is not included in the recall and replacement.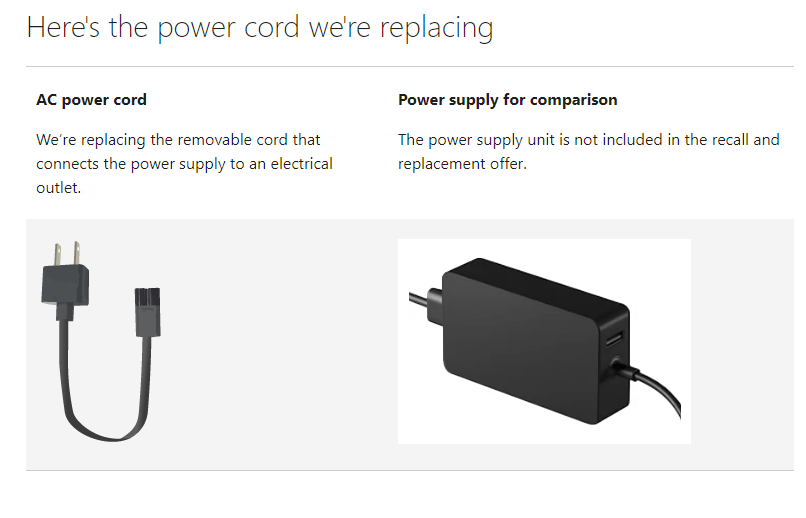 Please pay attention to what the recalled cords look like in the picture (not including the power supply unit on the right), and if you have the newer cords you don't need to replace them.  This recall applies to AC power cords for these devices sold before March 15, 2015: Original Surface Pro, Surface Pro 2 and Surface Pro 3.
Feel free for the recall
Microsoft will provide one AC power cord replacement free of charge for each of your eligible Surface Pro devices. No proof of damage is required to receive a replacement AC power cord. If you have more than one Surface Pro device, Microsoft needs a replacement order for each one.
Surface for Business customers who are placing bulk orders should contact Microsoft. There will be no charges for replacement AC cords for your eligible Surface devices.
How to
If you are affected, you can order a free replacement online by simply going to this website and logging in and following the instructions:
https://support.microsoft.com/en-us/surface/microsoft-ac-power-cord-recall-for-eligible-surface-pro-3-or-earlier-devices-4d46b233-acd2-9714-9ece-0ff48327fbc5
If you have any issues while ordering online, just give Microsoft a call.
A reproduction article from Microsoft
The article is written by @
Microsoft
posted on Chargerlab. All rights reserved.