Introducing the ACEFAST 15W Qi Fast Charging Auto-Align Car Phone Charger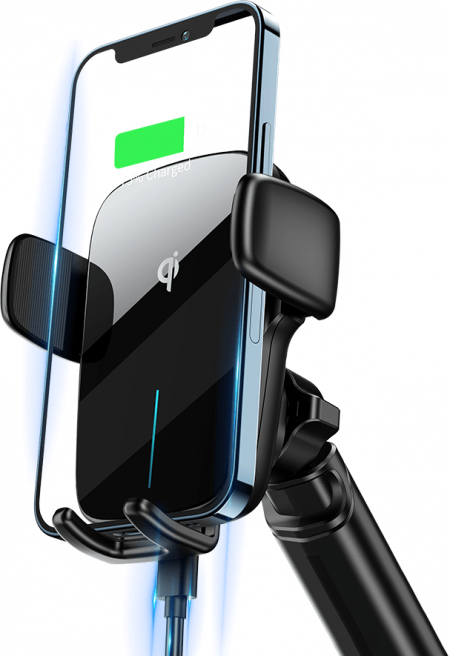 Qi wireless chargers have already begun to make their way into our workplaces and households. If you have a Qi-enabled phone, you should definitely invest in one of these chargers so that you can stay wire-free in the car as well. There are many on the market, but we want to talk about a new release, the ACEFAST 15W Qi Fast Charger with a very cool Auto-Align feature.
Wireless car chargers are a great investment for drivers who have long daily commutes to and from work. Aside from the fact that plugging and unplugging your phone can be a hassle, most car chargers come with a phone mount or holder that elevates your phone closer to eye level, preventing you from looking down when your eyes should be on the road.
In order to maximize the efficiency of wireless charging, the product designers at ACEFAST have come up with something very user-friendly.
The ACEFAST Wireless Car Charger automatically adjusts and aligns the phone's charging position.
What does that mean for you?
How about not having to worry about taking your eyes off the road to adjust your phone while driving? Safety and convenience are both addressed with this feature.
This means you can drive without being distracted and still benefit from an auto-aligning car charger that wirelessly charges your smartphone.
The ACEFAST 15W Qi Fast Charger is the cutting-edge standard for safety-conscious tech geeks and regular people too.
Which Type of Smartphone Mount Is Best?
When purchasing a smartphone mount, you should consider the following factors.
Using your smartphone while driving is much easier and safer when it is mounted where you can easily see and tap the screen without taking your eyes off the road for an extended period of time.
Finding directions, listening to your favorite music, or making phone calls are all examples of activities that can be done while driving. But we must emphasize, especially with making calls, you need to do this safely and never, under any circumstances text while driving. It is far too dangerous.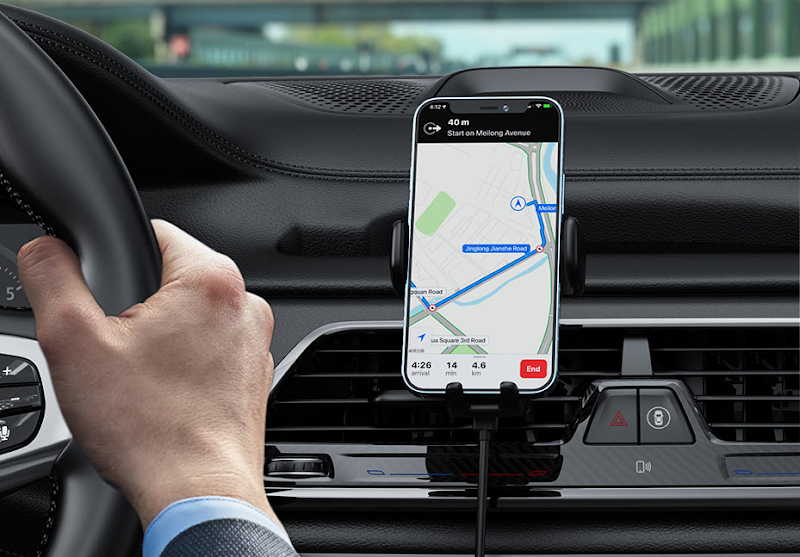 Safety Before Convenience
Using a good smartphone car mount will keep your phone steady in a convenient location while you drive—without interfering with your vision of the road—and is significantly safer than other options, such as holding the phone in your hand or looking down at a cupholder or dash bin.
While driving, wireless charging mounts, such as the ACEFAST wireless car charger, provide the added convenience of charging Qi-compatible smartphones.
There are two things you'll need to decide on: whether to get a dash/windshield mount or a car vent mount, and whether to get a tension-grip cradle or a magnetic grip for your phone. Both of these will depend on the design of your car's dashboard as well as your personal preferences.
How The ACEFAST 15 Qi Wireless Car Charger Works
Simply connect the ACEFAST wireless charger and QC3.0 charger adapter (not included) to the USB-C charging cable and turn on the device.
With the ACEFAST wireless car charger, the charging coil will automatically detect and adjust to align with the wireless charging coil inside the phone. The phone will be charged to improve the efficiency of wireless charging.
Single Touch Clamp And Release
With a single touch, you can automatically clamp or release the phone.
When you place your finger on the sensing area on the top of the phone holder, the phone holder will automatically open or clamp, depending on your preference.
As soon as you've opened the phone holder, place your phone in it for three seconds, and the phone holder will automatically clamp the phone in place.
Pressing your finger against the sensing area on top of the phone holder a second time and the phone holder will automatically open, allowing you to take out your phone in a convenient and quick manner.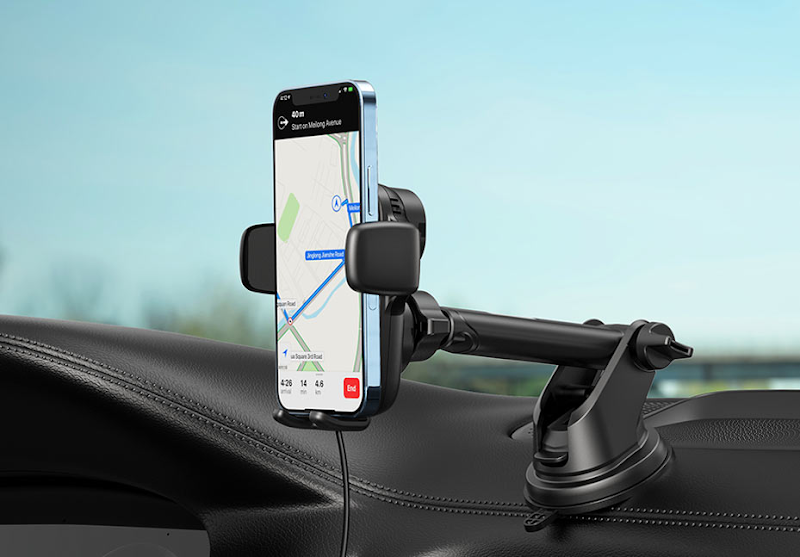 Fast Charging With 15W Capability
Another cool feature of the ACEFAST is 15W of wireless fast charging for cell phones that support Qi wireless charging. It must be used in conjunction with a charger adapter that supports QC3.0 (not included) in order to achieve 15W, 10W, and 7.5W fast charging. Speaking of fast charging, let's briefly touch on how wireless charging works.
Wireless Charging: How Does It Work?
Wireless charging technology, also known as inductive charging, has become increasingly popular. Inductive coupling is used to transfer energy from a base station to a compatible device when the base station generates an electric field.
Wireless chargers are less efficient than charging systems that use conductive couplings, but because they don't require you to plug them in, they are simple to use and incredibly convenient to have around the house, or in your car.
Instead of plugging in a charger, you can simply place your phone or another compatible device on the wireless charging base station, and the device will begin to charge on its own accord.
Wireless charging has been around for a lot longer than you might have imagined. It is possible that you've seen inductive charging in action while using an Oral-B electric toothbrush. Using this technology has been a Braun tradition since the early 1990s.
In 2009, the first cell phone with built-in inductive charging was introduced, despite the fact that other industries were slower to adopt the technology.
The Wireless Power Consortium (WPC) introduced the Qi standard in 2009, allowing interoperability between chargers and devices manufactured by various manufacturers. Of course, the ACEFAST 15W Qi Fast Charging Auto Align is the latest example of this technology for automotive applications.
The ACEFAST 15W Qi has a wide range of adoption, fitting virtually any brand smartphone.
Multiple Phones Supported By the ACEFAST 15W Qi Fast Charger
A 15-watt charger is suitable for the LG G7, G8, V30, and V30+, while a 10-watt charger is suitable for the Samsung S21, S20, S10, S9, Note20, Note10, and Note9, and a 7.5-watt charger is suitable for the iPhone 12 Pro Max, 12 Pro, 12 mini, 11 Pro Max, 11 pro, Xs Max, Xs, XR, and 8 Plus.
5W is compatible with all Qi wireless mobile phones, including the Samsung Galaxy S4.
Using a Wireless Charging Pad to Charge Your Phone While Driving
In some cases, the charging station is built into the vehicle by the manufacturer. If your vehicle does not come equipped with a wireless charging system, there are numerous aftermarket options.
If your phone does not support wireless charging and you do not want to upgrade, wireless charging adapters are an option. They are relatively inexpensive and can be found online. Some may be installed directly into a phone case, while others must be removed.
Powermat and Qi are the two wireless standards that are currently in use. Qi has risen to the top of the smartphone world in recent years, particularly since Apple began using Qi in its devices in 2017. If you have a phone that is Qi-compatible, you should look for a charger that is Qi-compatible.
Qi-based wireless chargers are popular and widely available. Like the ACEFAST 15W, Qi chargers can support all iPhone and iOS devices, and many Android devices, including Samsung smartphones.
Do you want to charge your phone without taking it out of the protective case? The ACEFAST wireless charger has you covered as it is capable of charging a cell phone while it is in a protective case, as long as the case is less than 6mm in thickness.
Please make sure there is no metal between the phone case and the ACEFAST charger.
Also, you can expand and contract the phone holder with a wide range of settings from 58mm to 85, allowing for virtually any mobile phone to be clamped with three installation options.
Installation Options
The ACEFAST 15 Qi Fast Charger has a large, grippy suction cup base that can be securely fixed to the windshield or center console of a vehicle.
The air vent clip can be securely clamped to the vehicle's air outlet, making it simple for the owner to install and use the ACEFAST 15 Qi Fast Charger in this position as well as the other two.
It is also lightweight and portable. The smartphone holder has a telescopic range of 58-85mm and can hold any mobile phone with a screen size ranging from 4.5 inches to 7.2 inches. Again, safety and convenience were top of mind when the designers at ACEFAST set out to build the most innovative fast charger on the market.
Wrapping Up
You can find the ACEFAST 15 Qi Fast Charger on Amazon.
It is priced at $32.99. And for a limited time, you can save 20% by ordering today using CODE: 5JJPPTBH.
Also, you can join the conversation on Facebook and follow them on Instagram for the latest deals and new product releases.
Until next time, happy charging and drive safely!
The article is originally written by @
Yi
posted on Chargerlab. All rights reserved.