Baseus Launched 65W Power Bank With Built-in Cable
Nowdays, as the performance of mobile electronic products increases, high-capacity power banks are becoming more and more popular. While it's easy to remember to bring a power bank when going out, we may always forget to bring the second important thing - the cable.
Recently, Baseus launched a 65W power bank with built-in cable on the Amazon US. The built-in USB-C cable can charge electronic products directly or charge itself. It can support 65W input/output power. The capacity is 20000mAh, which can provide long battery life support for notebooks and mobile phones.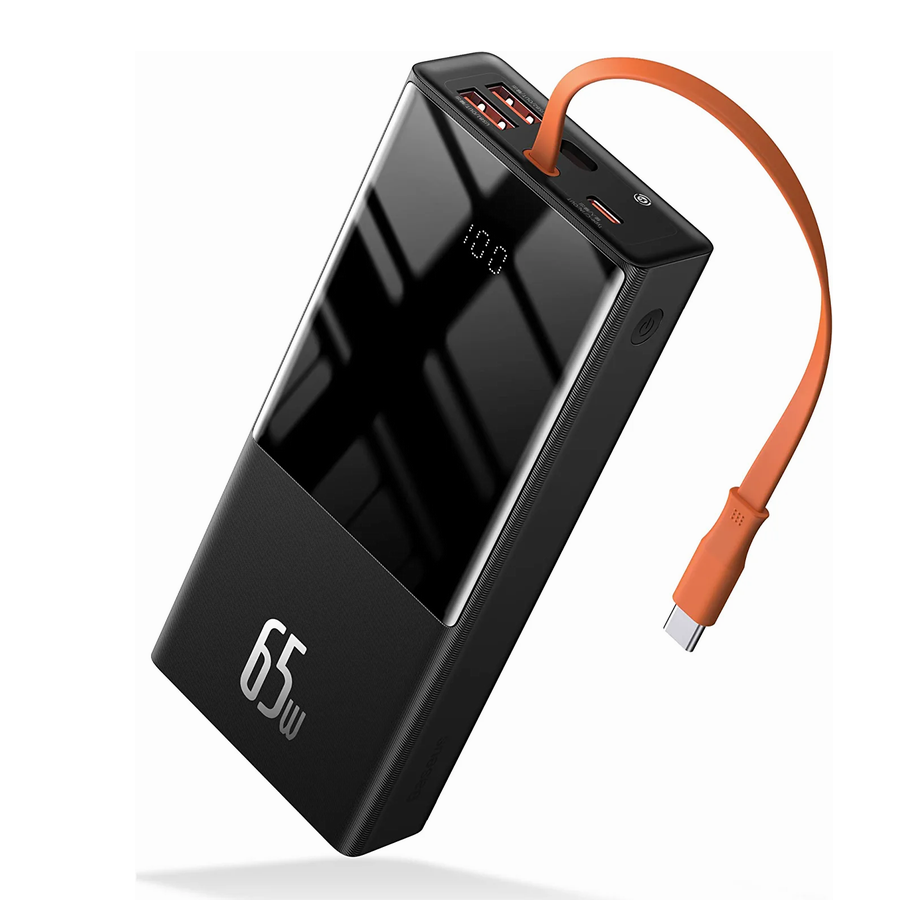 The size of this power bank is 7.32 x 3.07 x 1.65inches, and the weight is 1.04 lb. It adopts both matt and glossy design with an LED battery level indicator on the top.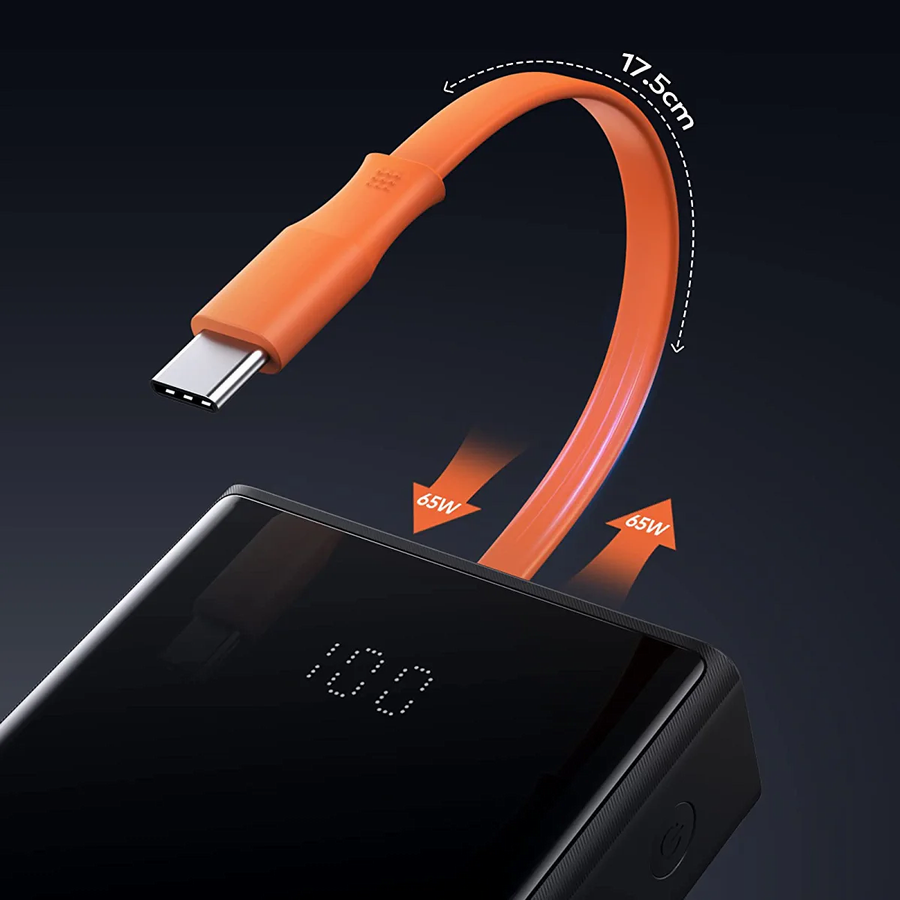 The built-in orange cable is made of TPE flexible material, which is easy to bend and carry around. The cable length is 6.89 inches, supports 65W PD output and 65W PD input.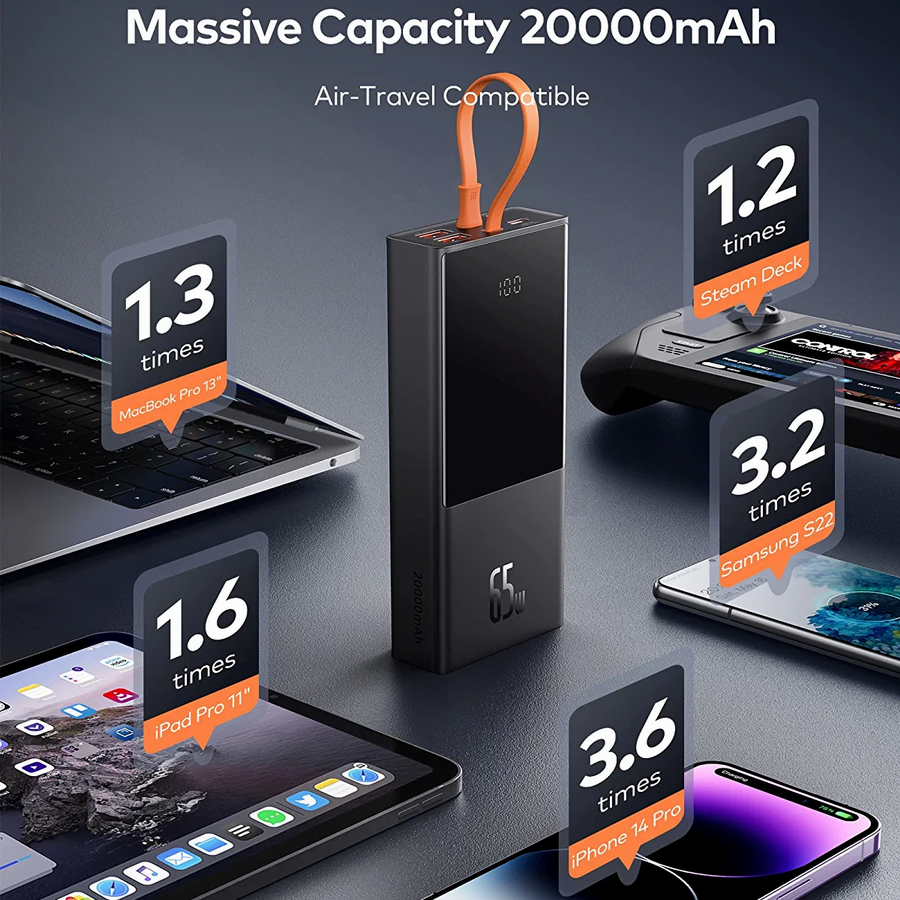 The 20000mAh battery is under the limit for air-travel world wide. It can theoretically charge the iPhone 14 for 3.6 times or the MacBook Pro 13" for 1.3 times.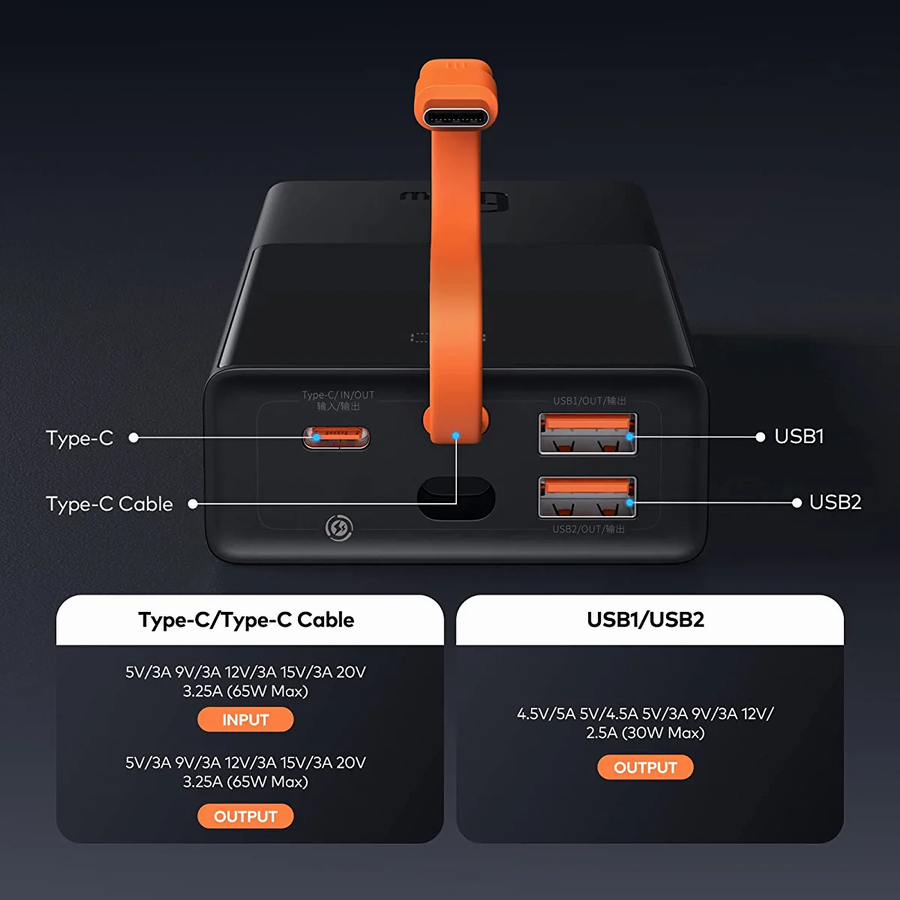 Besides the two-way USB-C cable, there're two 30W USB-A and one 65W USB-C ports for output, and the USB-C port can also provide 65W input. All ports can be fast charged when used alone.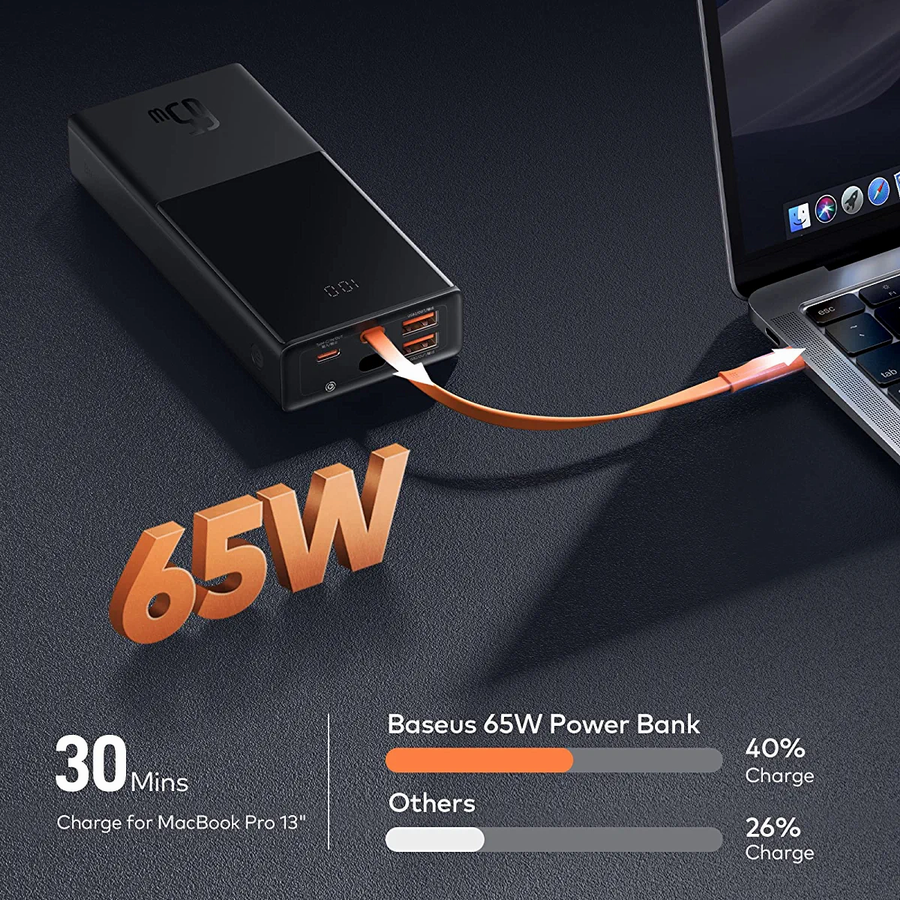 The USB-C port supports five fixed PDOs of 5V3A, 9V3A, 12V3A, 15V3A, and 20V3.25A.
It only takes 30 minutes to charge 40% of the MacBook Pro 13" or 50% of the iPhone 14 Pro.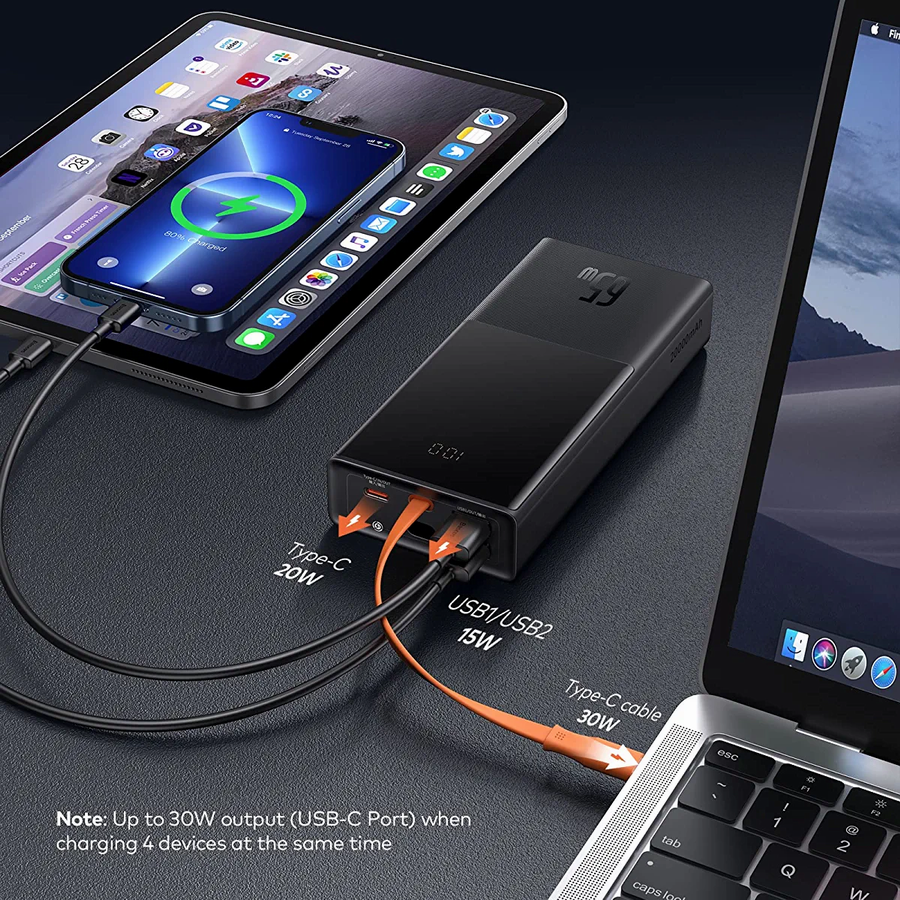 It can charge 4 devices simultaneously and adjustment the current distribution to meet the needs of every devices. The power distribution in detail is here on this picture.
Summary of ChargerLAB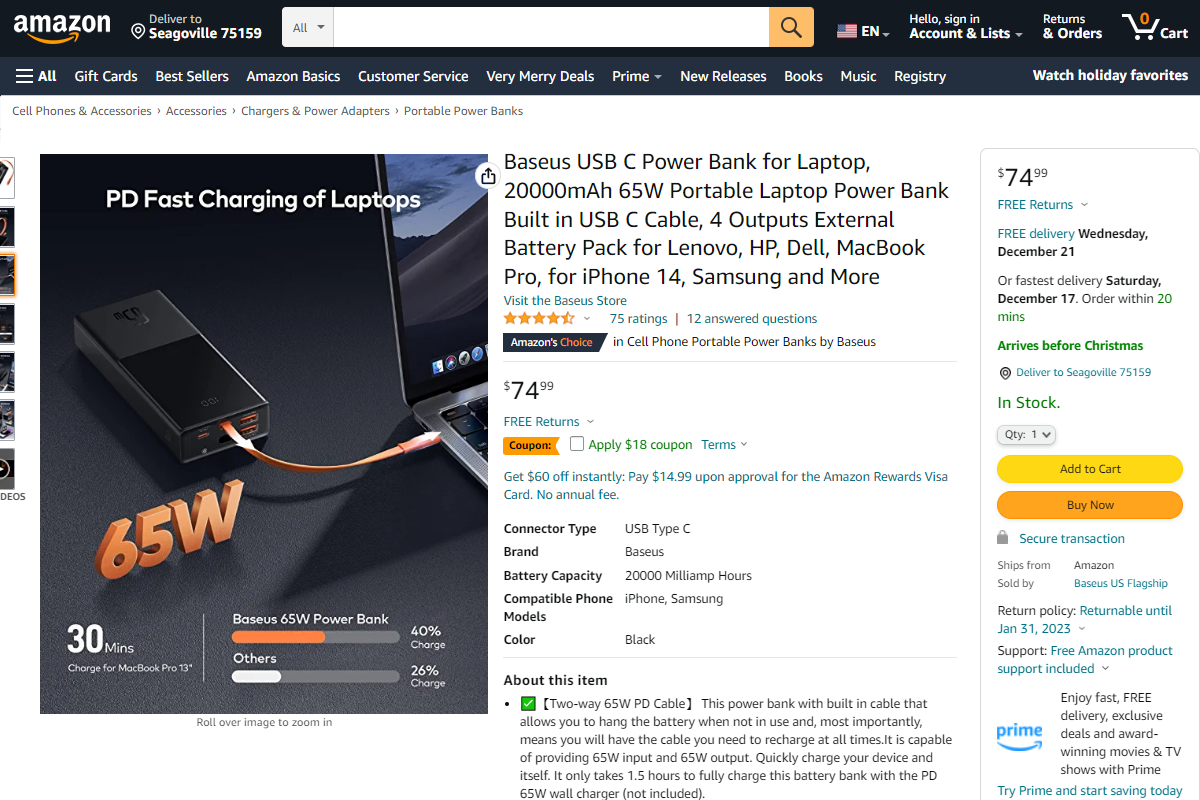 The Baseus 65W power bank with built-in cable not only comes with high power and large capacity, but also integrates the most forgettable part of the power bank—the cable.
It is priced at $74.99 on Amazon US, you can click the button on the beginning or the end of the article to buy one if you're interested.
Related Articles:
1. Teardown of Baseus 100W Slim Laptop Power Bank (Blade Series)
2. Teardown of Baseus Adaman 65W 20000mAh Digital Display Power Bank
3. Teardown of Baseus Adaman2 30W 10000mAh Digital Display Power Bank
The article is originally written by @
Joey
posted on Chargerlab. All rights reserved.