Innoscience Demonstrates the Ubiquitous Presence of GaN at APEC
The APEC (Applied Power Electronics Conference) was held in Florida, USA from March 19th to 23rd. It is jointly organized by the Institute of Electrical and Electronics Engineers Industrial Applications Society (IEEE-IAS), the Power Electronics Society (PELS), and the Power Sources Manufacturers Association (PSMA). The exhibition is currently the largest and highest-level event in the field of power electronics and power supplies worldwide. Companies and organizations from various countries will showcase new products and technologies related to power electronics, making it an important platform for professional exchanges among electronic industry professionals worldwide.

As a high-tech enterprise that aims to build a global energy ecosystem with high-performance, low-cost silicon-based GaN power solutions, Innoscience showcased various multi-domain application solutions and new products at APEC with the theme of "Fill the world with GaN". The company highlighted three main application scenarios for gallium nitride, which became a major focus at the event.
8 inch GaN-on-Si IDM
In the product exhibition area, Innoscience showcased its silicon-based GaN wafers and GaN chips ranging from 30V to 700V for high, medium and low voltage applications. The company focused on introducing its 40V VGaN bidirectional switch series, SolidGaN half-bridge series, and new Toll/TO package.
(1)The new TO220/TO252 package was based on the InnoGaN planar structure, can achieve better heat dissipation conditions and reduce common-mode noise, making EMI easier to handle.
(2)The Solid GaN products, including the ISG3201 100V high-integration half-bridge GaN IC and the ISG6252 650V half-bridge GaN IC, can simplify peripheral circuits, significantly reduce parasitic inductance in the drive and power circuits, and reduce board space (compared with silicon), making the system more efficient and effectively reducing temperature rise.
(3)Innoscience displayed its industry-leading VGaN bidirectional series product, which adopts a WLCSP package and can replace two Silicon chip with one VGaN chip. The product has been successfully introduced into oppo/realme mobile phone motherboards, saving space on mobile phone PCBA and reducing the temperature during charging, resulting in a more efficient and safer charging method.
InnoGaN in Life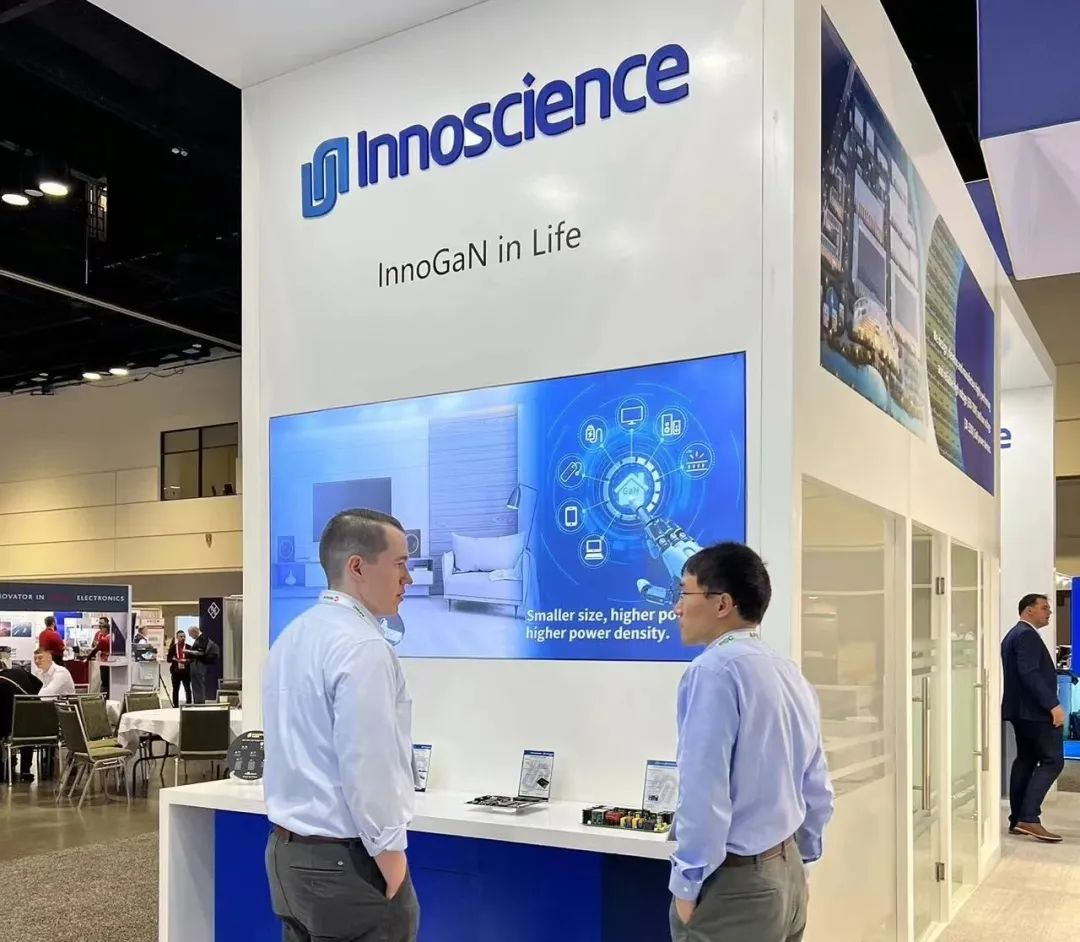 In the consumer field, Innoscience showcased several products at APEC. These included the Realme GT2 phone featuring Innoscience VGaN technology, Anker's 65W full-GaN fast charger, and small-sized fast charging products ranging from 30W to 65W from brands such as Sharge, Baseus, UGREEN, Belkin, and Nubia. Innoscience also exhibited its highly efficient solutions for 30W to 300W GaN fast chargers and adapters, a 200W LED power supply, and a 2kW portable power station to enhance the user experience.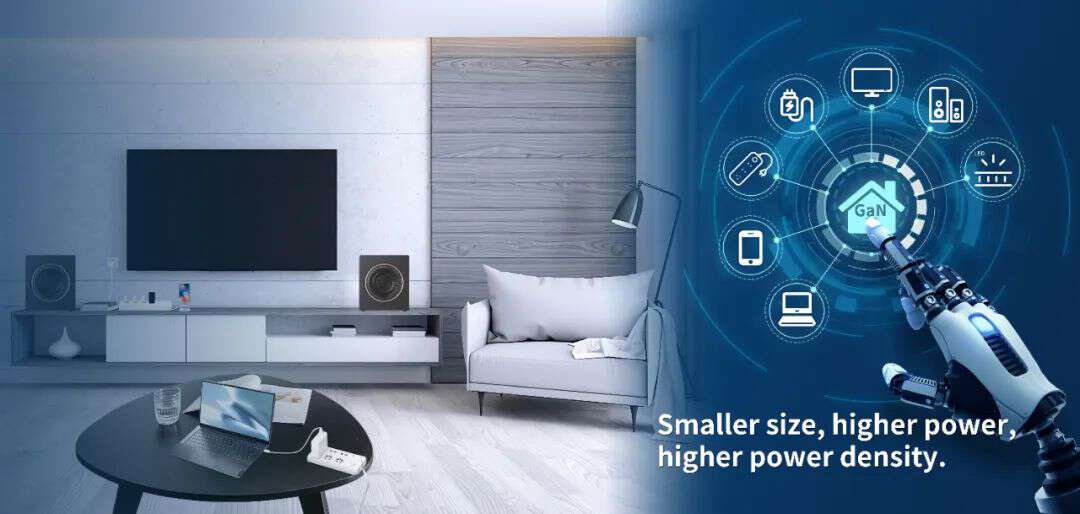 Realme GT 2
The Realme GT2 phone has Innoscience's bidirectional chip (VGaN) built inside, which replaces two SiMOS with one GaN chip, resulting in a 50% reduction in size and higher efficiency.
2KW portable power station
In addition, Innoscience displayed a 2KW portable power station solution designed by Semitronic (Innoscience value-added distributor), using Bridgeless topology and full-bridge LLC topology design, providing a reference for a highly efficient and small-sized portable outdoor energy storage product.
500W Class D
Lastly, Innoscience demonstrated its 500W Class D amplifier solution, developed jointly with its partner, which provides an ultimate audio experience and higher efficiency for audio equipment.
InnoGaN in Datacenter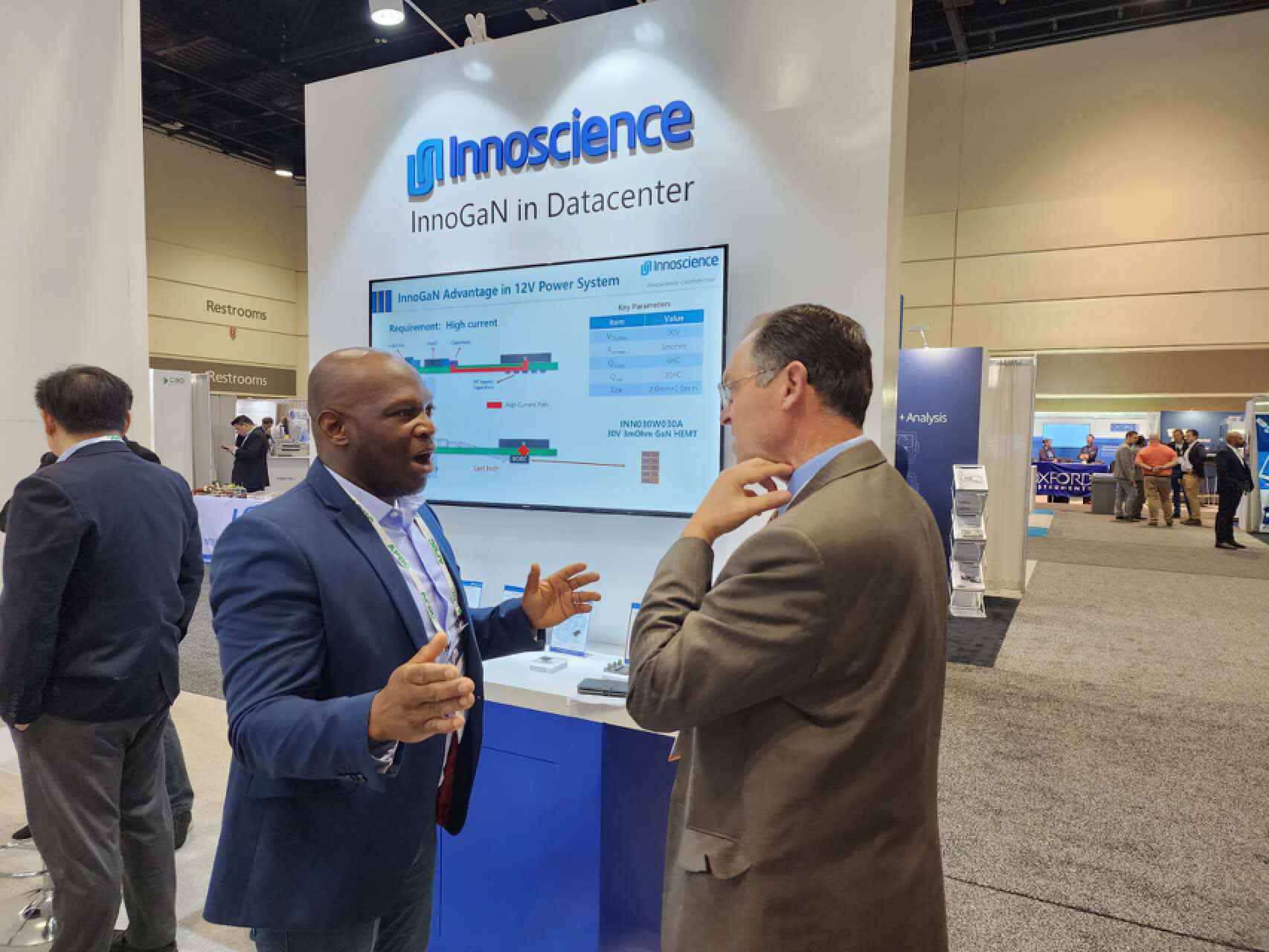 Innoscience also made a comprehensive layout for data center power supply at APEC. The company can provide customers with a complete GaN power supply solution. In this area, Innoscience showcased various products such as 2KWPSU and 4KW PFC solutions for the AC-to-DC part of PSU power supplies, 420W/600W/1000W power modules for the 48V-to-12V conversion process, as well as Oring, Hotswap, Vcore power supply and other solutions. These solutions aim to improve the power density and efficiency of the power supply chain and reduce system losses by 50%.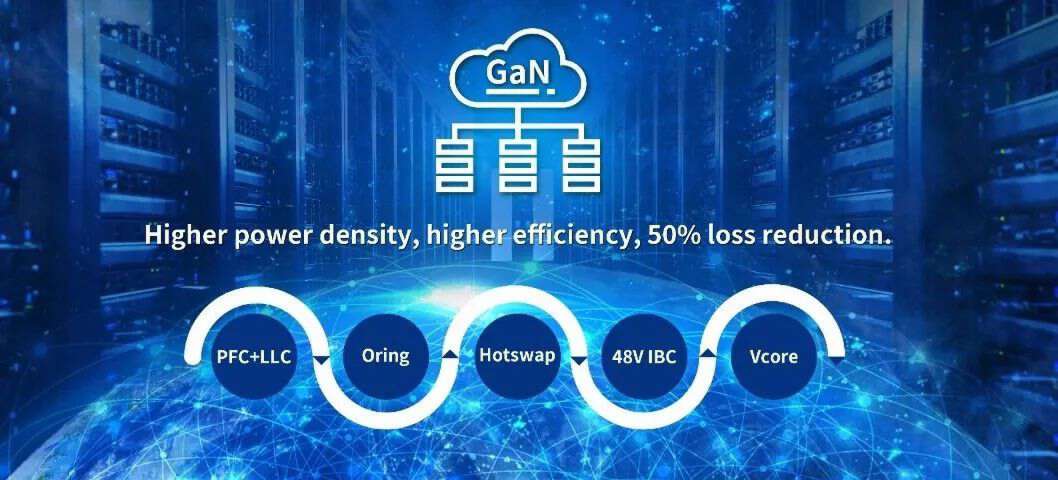 2KW Titanium PSU and 4KW PFC
Innoscience showcased a 2KW Titanium PSU and 4KW PFC solution for front-end AC/DC power conversion at APEC. The peak efficiency of the 2KW PSU is up to 96.2%, and the overall efficiency meets the titanium energy efficiency standard, with a power density far exceeding traditional Silicon solutions. This solution meets the higher power density requirements of data center power supply units for cloud computing and artificial intelligence.
1KW 48V-12V DC-DC Modular Power Supply
The company also displayed its 1KW 48V-12V DC-DC modular power supply, which uses Innoscience SolidGaN ISG3201 (with integrated half-bridge and driver) to achieve the best performance in terms of efficiency and size, with a power density of up to 2150 W/in3.
Additionally, Innoscience released Oring, Hotswap, and VCore solutions, providing an efficient, low-loss reference design for GaN solutions throughout the entire chain of data center power supply.
InnoGaN in Automotive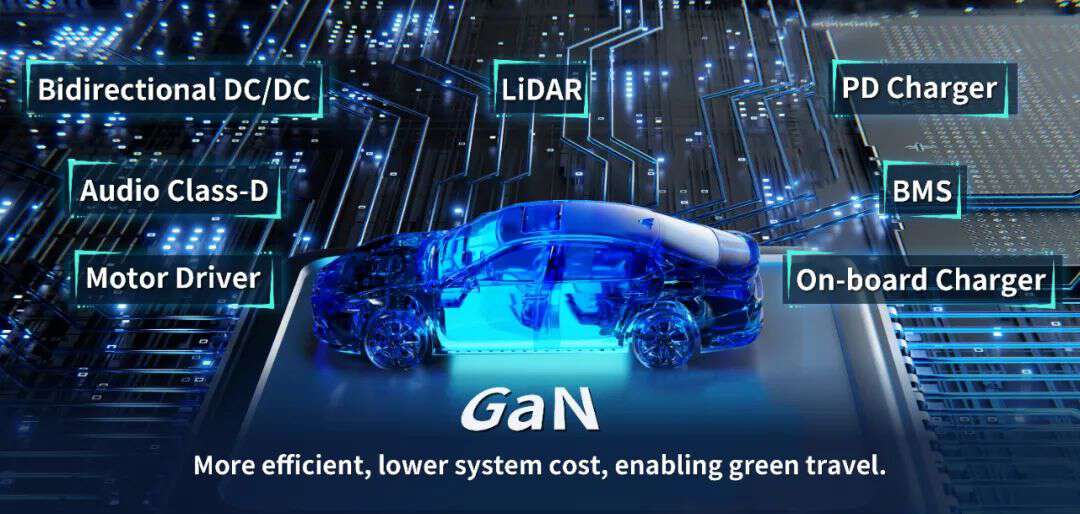 The automotive industry has shown a very positive response to GaN technology, and not long ago, Tesla announced that it would reduce Silicon chips by 75% in its electric vehicles, which could be a good signal for GaN. At APEC, Innoscience showcased products and solutions related to autonomous driving in the automotive electronics area.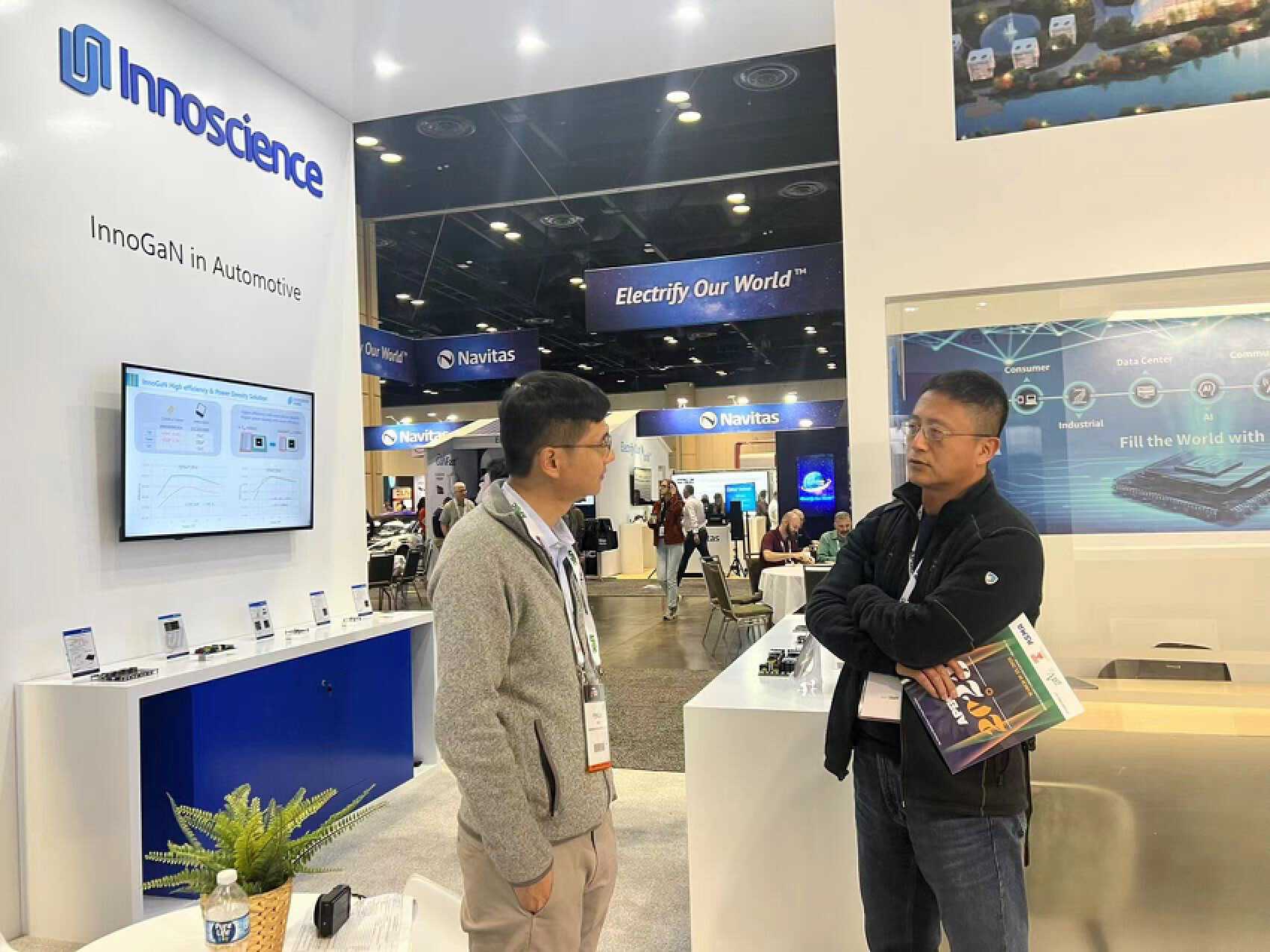 Innoscience exhibited a laser radar using Innoscience's 100V low-voltage chip, a 2.4 kW 48V bi-directional DC/DC power module, a 1kW motor drive, and a 150W car charger to comprehensively reduce system losses and enable green travel.
LIDAR System
The LIDAR system featuring Innoscience's 100V GaN chip provides faster and more accurate feedback.
2.4KW 48V-12V Bidirectional DC/DC
The 2.4KW 48V-12V bidirectional DC/DC is used for mild hybrid and energy storage applications, and the Buck full-load efficiency is 1.5% higher than current Silicon solutions.
150W Buck Boost
The high-power compact 150W buck boost used for in-car chargers has good system efficiency and temperature performance.
1KW Motor Drive
The 1KW motor drive uses three Innoscience SolidGaN ISG3201 (with integrated half-bridge and driver) and features a simple design, small size, excellent heat dissipation performance, and a peak efficiency greater than 99%.
Technology Sharing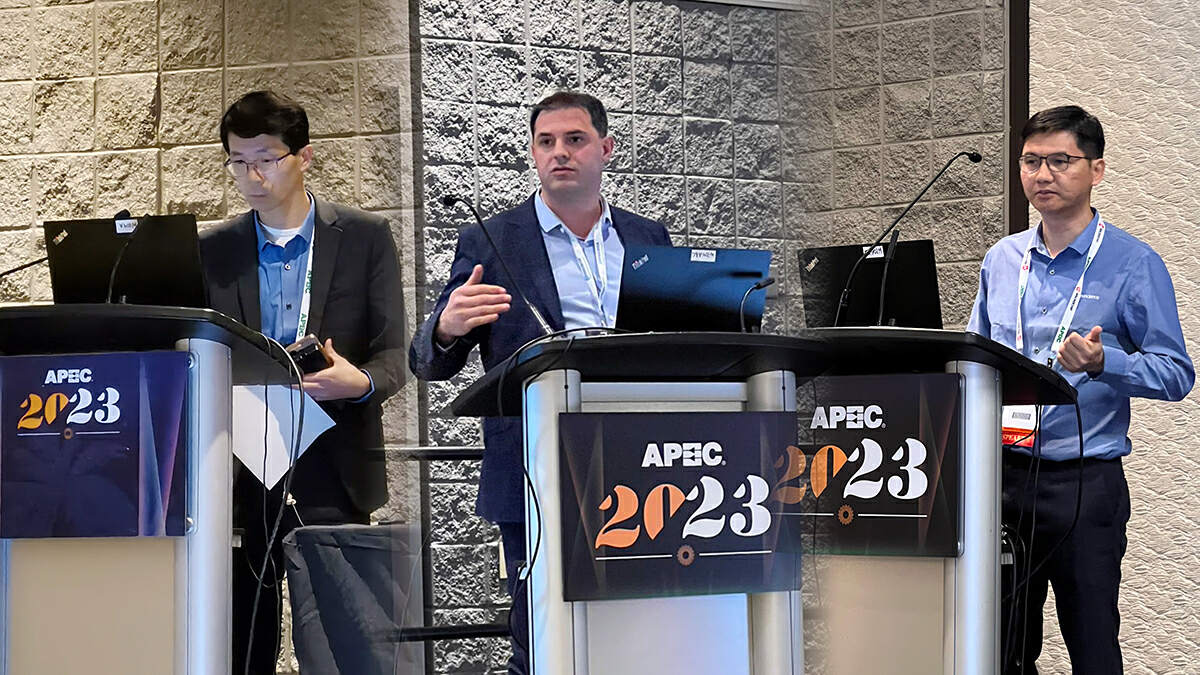 As a leading 8-inch GaN IDM enterprise, Innoscience's Dr. Denis Marcon and Dr. Kong Pengju were invited to attend three academic conferences. During the conferences, Mr. Chen Min, the Vice President of Innoscience, also attended as the chairman of the "Hybrid/Switched Capacitor Converters" conference and hosted it.
March 21st
On March 21st, Dr. Denis Marcon gave a speech on the topic of "Promoting GaN in the Market." He pointed out that the market already has a good understanding of the performance and applications of gallium nitride, but its price, production capacity, and standardization of package remain major obstacles to its large-scale application. In response to these pain points, Dr. Marcon focused on introducing Innoscience's huge advantages in production capacity and price, as well as the standardized package of Innoscience products at low and high voltage. He used the smartphone market as an example to demonstrate the advantages of GaN in performance and reliability, and pointed out that only Innoscience can currently meet the required production capacity for such a large market.
March 22nd
On March 22nd, Dr. Kong Pengju, the Vice President of Innoscience's product line, gave a technical report on "The applications of GaN in Low Voltage." He analyzed the issues facing the promotion and application of low-voltage gallium nitride products and provided solutions that Innoscience has developed for these issues. He used Innoscience's latest 100V half-bridge integrated ISG3201 as an example to demonstrate the product's advantages in ease of use and performance, and showed test results and data to demonstrate the optimizations made by the Innoscience product team in various aspects.
March 23rd
On March 23rd, Dr. Kong Pengju, the Vice President of Innoscience's product line, also gave a report on the application of GaN in the 48V-12V converter for automotive use. The report targets the mild hybrid electric vehicle market and comprehensively demonstrates the advantages of gallium nitride in this application, using a large amount of test data to illustrate the superior performance of Innoscience's 48V-12V converter. The report highlights Innoscience's V-GaN's huge advantage over silicon devices in this application.
Dr. Lei Feng, Chief Marketing Officer at Innoscience: "GaN is truly everywhere, as we hope to show visitors at APEC. We'll be debuting new products including an integrated SolidGaNTM product, which integrates two 100V low Rdson GaN devices in half bridge and a gate driver into one compact package., We also keep enriching our product offering in industry standard packages (DFN, Toll, QFN), a new TO252 and TO220 family dispels the myth that GaN devices must come in exotic wrappers!" Emphasizing this last point, Innoscience will keep pushing forward the standardization of GaN device packages. Having second sources for parts will further reassure customers and speed the transition to GaN.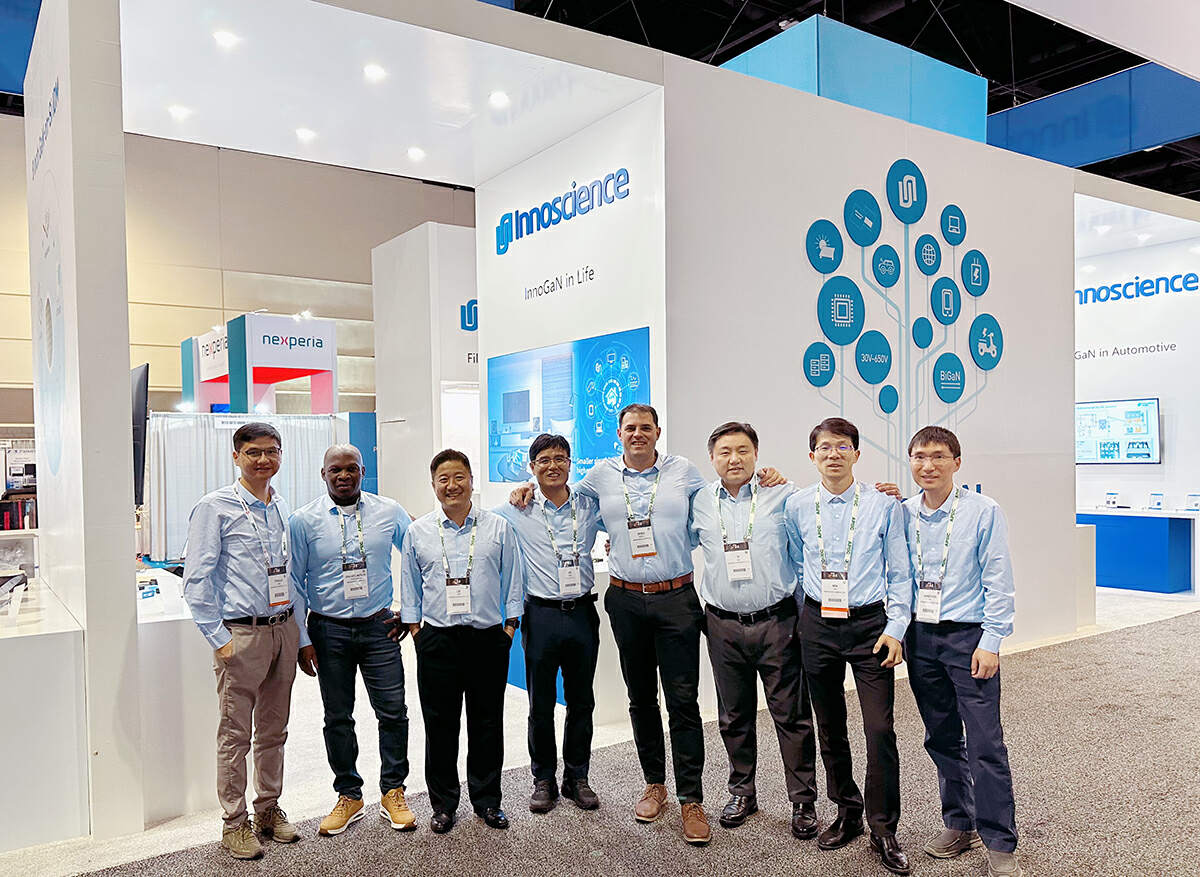 During the exhibition, Innoscience showcased a total of 37 GaN application solutions and created three major application scenarios, fully demonstrating the vision of "creating a green, efficient new world with GaN". The company received high attention at the exhibition.
About Innoscience
Innoscience is an Integrated Device Manufacturer (IDM) founded in December 2015 with investment from CMBI, ARM, SK and other prestigious investors. With the development of new technologies, the electric power grid and power electronic systems across the world are undergoing a massive transformation. Their vision is to create an energy ecosystem with effective and low-cost Gallium-Nitride-on-Silicon (GaN-on-Si) power solutions. In November 2017, Innoscience first established a mass production 8-inch wafer line for GaN-on-Si devices in Zhuhai. As a cutting-edge GaN technology provider, Innoscience's 1,400+ employees and over 300 R&D experts are dedicated to delivering high performance and high reliability GaN power devices that can be widely used in diverse applications including cloud computing, electric vehicles (EV) and automotive, portable devices, mobile phones, chargers and adapters.
Related Articles:
1. The New Innoscience 40V Bi-GaN Enhancement-mode FET
2. Analysis of Innoscience 200W GaN Charger Module
3. Unleashing the Power of GaN Technology: A Look at Innoscience's VGaN in OnePlus 11R
本文系作者 @
Joey
原创发布在 Chargerlab。未经许可,禁止转载。