MOMAX iPower Stone Mini: Powerful and Portable Charging for Outdoor Adventures
In March 2023, MOMAX released the iPower Stone Mini Portable Power Station. Compared to the bulky and cumbersome traditional portable power stations, the MOMAX iPower Stone Mini Portable Power Station is small and sleek in design, with a large 40000mAh battery capacity and 2C2A port configuration which supports 100W bi-directional fast charging. It is an excellent choice for camping, outdoor activities, and self-driving travel.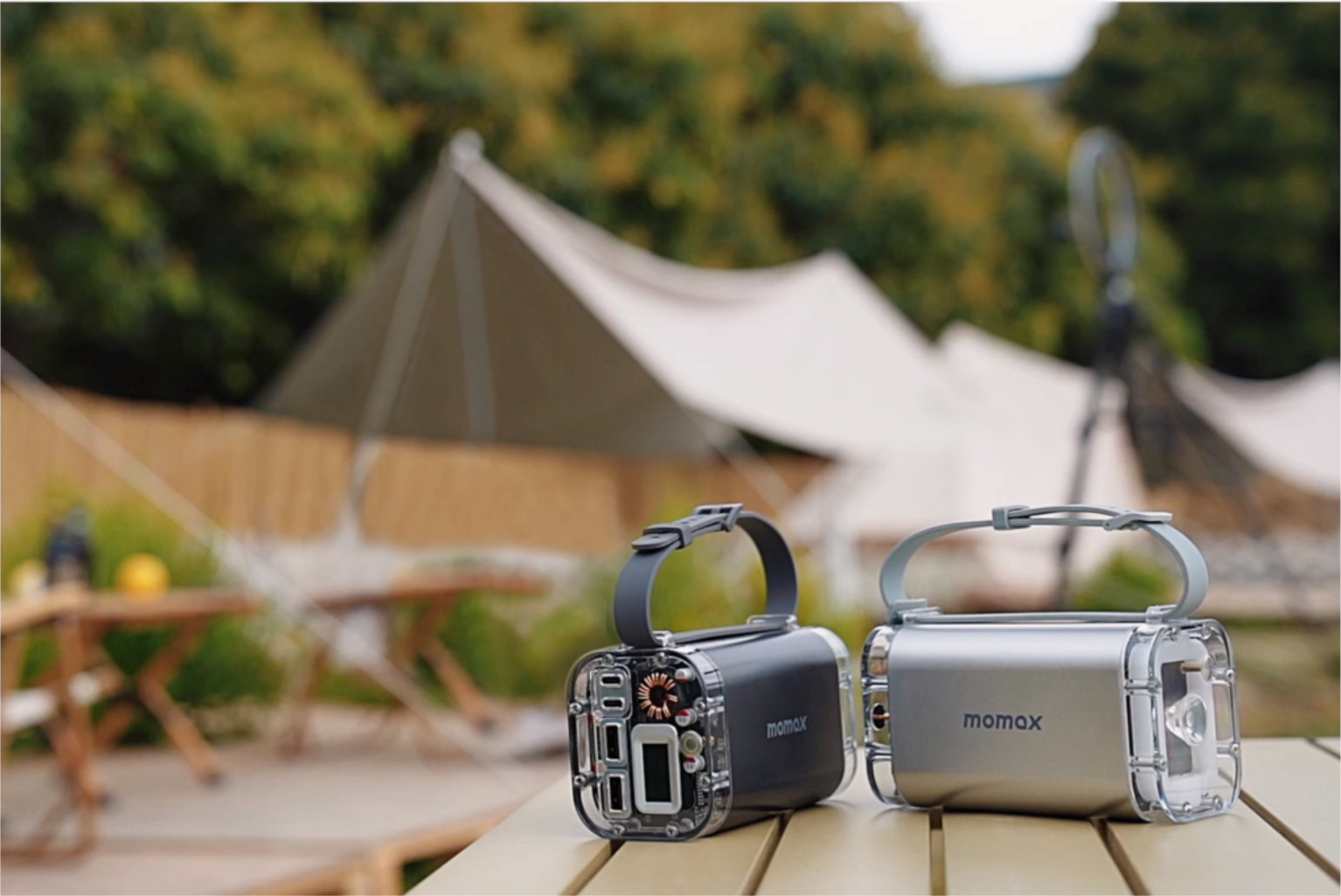 The MOMAX iPower Stone Mini Portable Power Station is a high-capacity energy storage product specifically designed for consumer electronic products. Unlike traditional portable power stations, it gives up the 220V power inverter AC output function and focuses solely on charging USB devices.
Actually, for many outdoor activity users, they do not require a 220V power inverter AC output function but rather a high-performance and highly-capable charging device that can power their digital devices. Traditional portable power stations cannot cater to these specific user needs. The transparent and waterproof MOMAX iPower Stone Mini Portable Power Station is a specialized product for people who are looking for a highly portable and reliable USB charging solution. Its highly-focused design and outstanding performance make it an ideal choice for digital users who require an efficient and effective charging solution.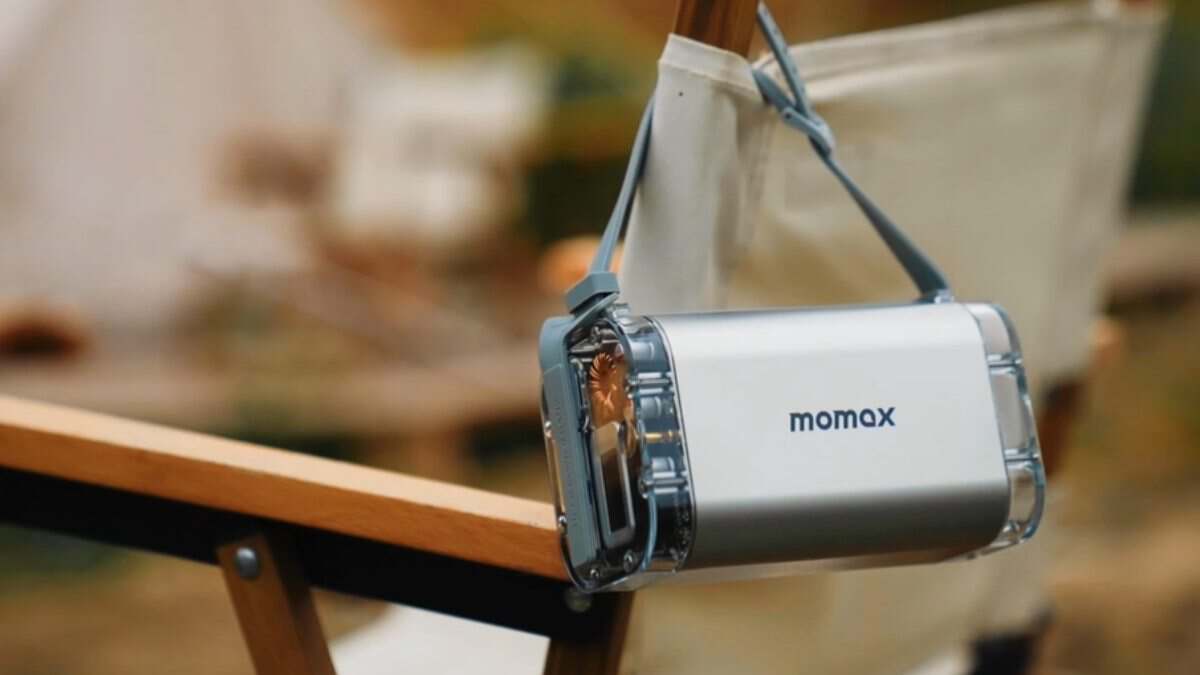 Made with metal material, the core of the MOMAX iPower Stone Mini Portable Power Station is a battery pack with a capacity of up to 40000mAh. The transparent shells on both ends are the charging module and the lighting module, the joint utilizes screw, waterproof rubber ring, sealant and other techniques to enhance the protective ability of the device. The overall design is small and delicate.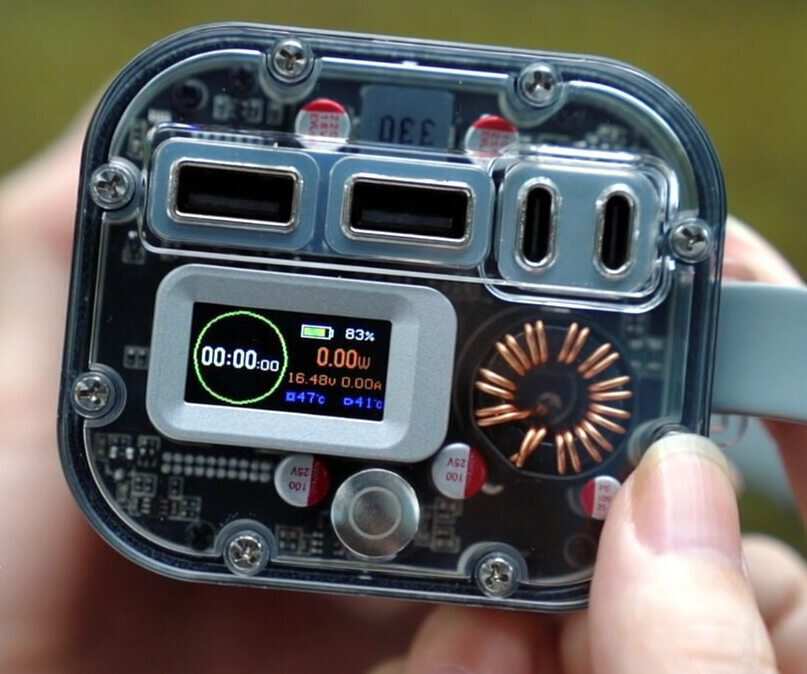 Performance-wise, it is equipped with four USB output ports which consists of two USB-C and two USB-A ports. It supports 100W fast charging output and input when using a single port. The output panel features an intelligent full-color monitoring screen, which displays information such as time remaining, remaining power, battery voltage, battery current, chip temperature, and battery temperature.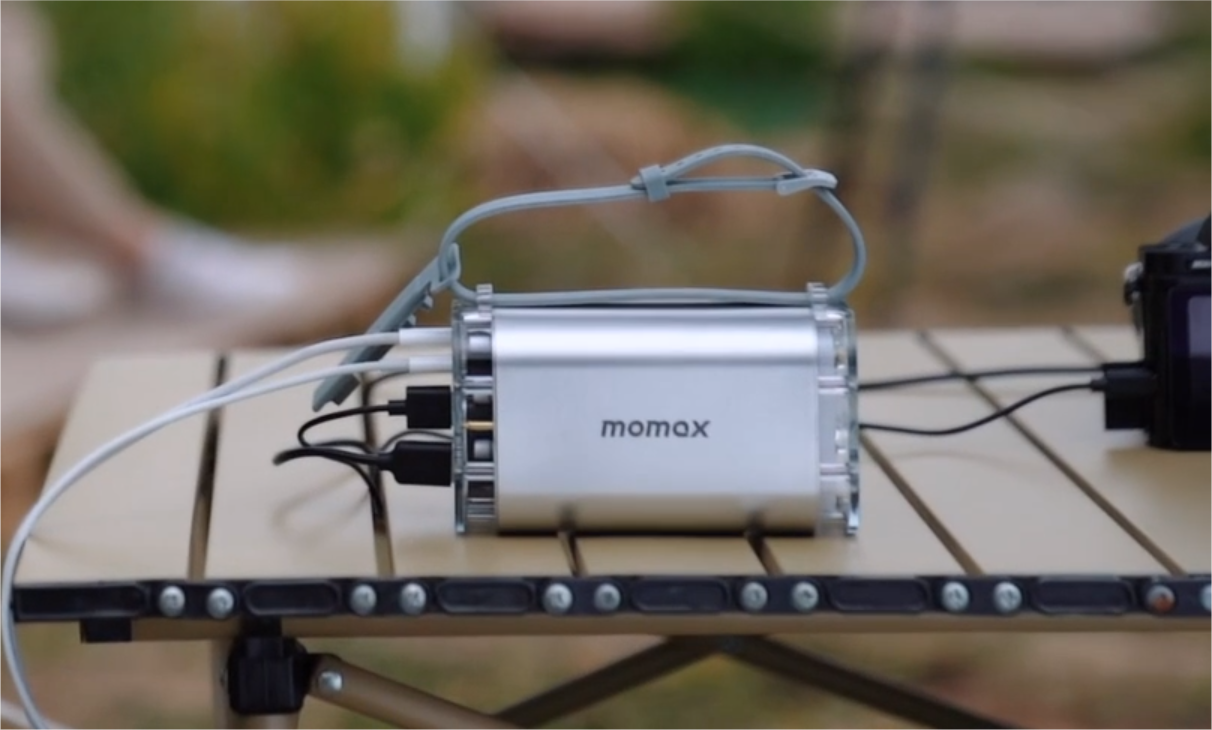 With its multiple output ports and high wattage, the MOMAX iPower Stone Mini Portable Power Station's maximum 100W power output specification can meet the power needs of laptops. The four output ports can simultaneously charge up to four devices without having to wait, including phones, cameras, audio equipment, and laptops.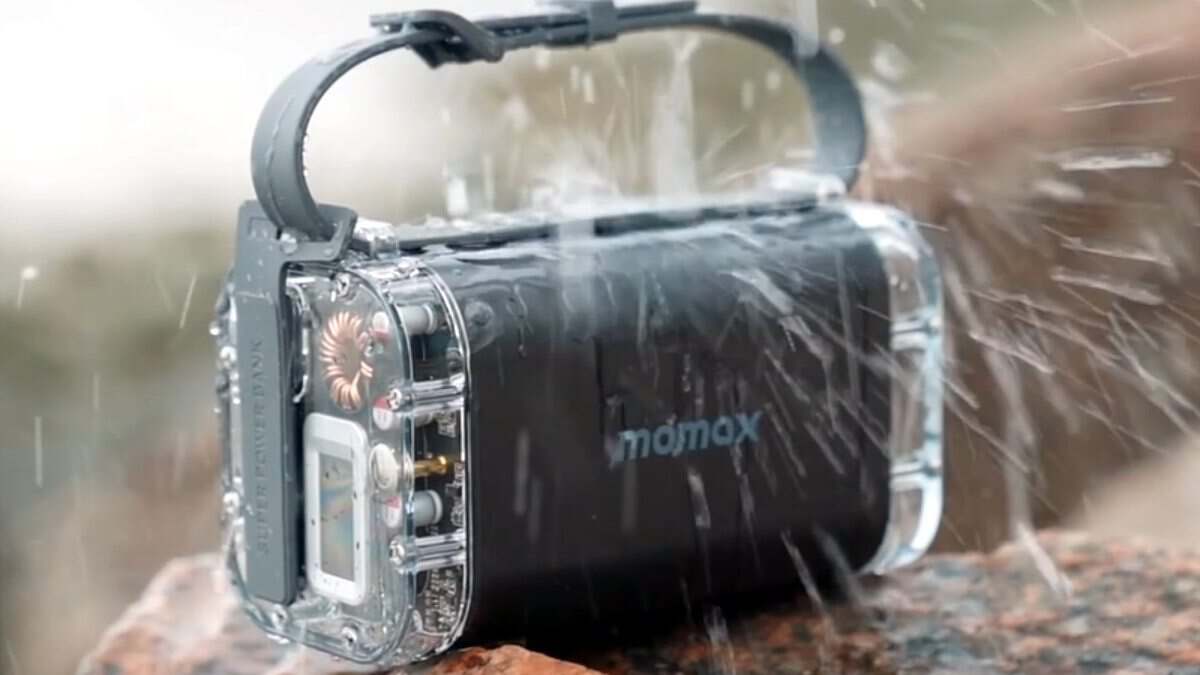 It features an IP67 protection level, which is waterproof and dust-proof for outdoor usage, while also being equipped with rubber protection cover to enhance the protective effect of the port. The device also has a rubber handle with a buckle for easy carrying and fixing on tent poles or tabletops.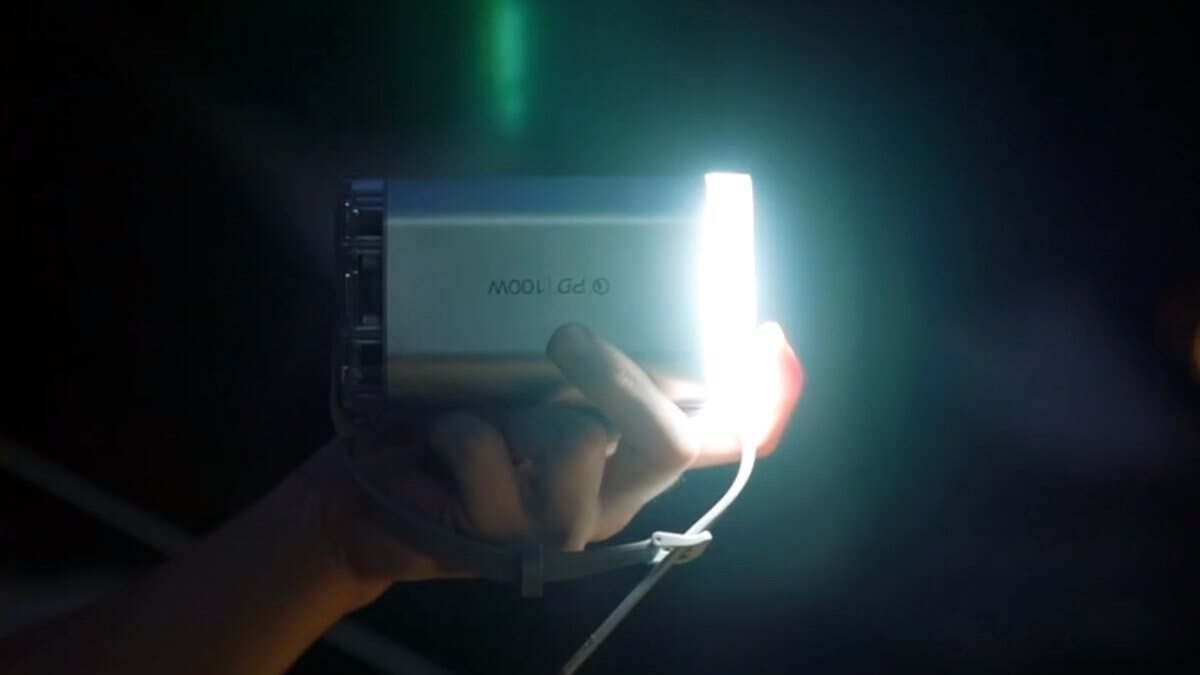 On the other side of the device is a multifunctional lighting module with a maximum brightness of 500 lumens. The center uses a high-concentration spotlight for flashlight use, with a soft light ring around it for close-range illumination. It offers five levels of light source modes to choose from.
Summary of ChargerLAB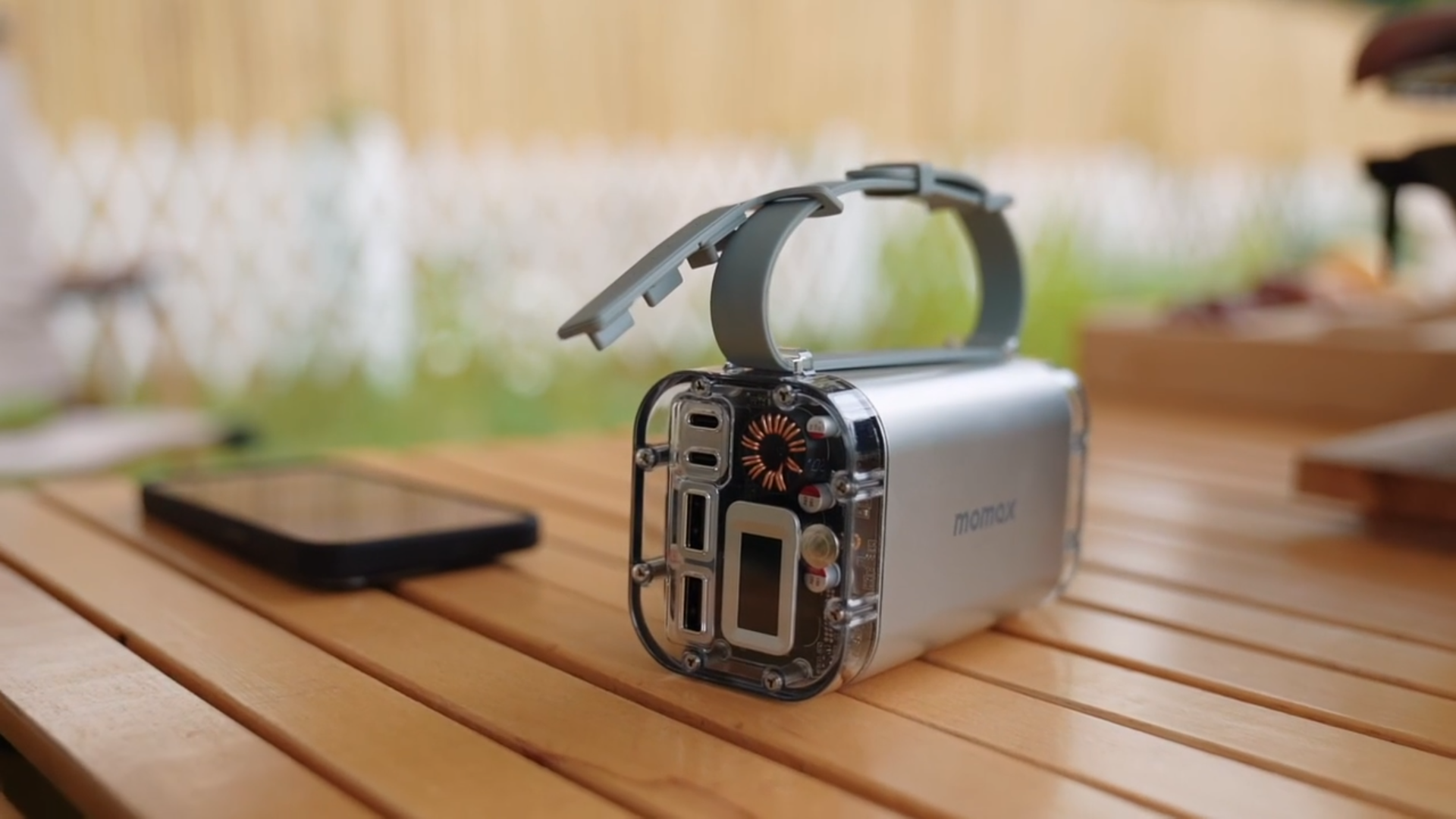 The MOMAX iPower Stone Mini Portable Power Station features a 40000mAh built-in battery pack and a multi-functional information screen that allows users to monitor its work conditions. Its 2C2A port configuration supports 100W dual-direction fast charging, and it also offers five-level light source modes. With an IP67 waterproof and dustproof rating and a compact size, it is highly portable and suitable for outdoor activities.
In conclusion, the MOMAX iPower Stone Mini Portable Power Station is a highly efficient and convenient device that is perfect for those who enjoy outdoor activities and require a reliable power source to keep their electronic devices charged. Its sleek and compact design, along with its numerous features, make it a top choice for camping, self-driving travel, and other outdoor activities where reliable and portable energy is necessary. Thanks to its high-power capacity, multiple output ports, and intelligent monitoring technology, this device is a must-have for anyone who values convenience and efficiency while being mindful of their impact on the environment.
Related Articles:
1. MFi Certified & Cordless | MOMAX Launched GOLINK Apple Watch Magnetic Wireless Charger
2. Transparent | MOMAX Launched Dual Magnetic Wireless Charging Stand
3. Review of MOMAX Airbox Charging Station(A Foldable Power Bank)
本文系作者 @
Joey
原创发布在 Chargerlab。未经许可,禁止转载。