Injoinic IP2191 Becomes the First CTTL-Certified VOOC Chip
On November 6, 2018, OPPO Guangdong Mobile Communications Co., Ltd. and the industry's leading digital-analog hybrid chip design company, Shenzhen Injoinic Technology Co., Ltd. announced the formal signing of an intellectual property license agreement. The two sides will establish an intellectual property strategic partnership to promote win-win cooperation in the field of fast charging technology and accelerate the development of the VOOC ecosystem.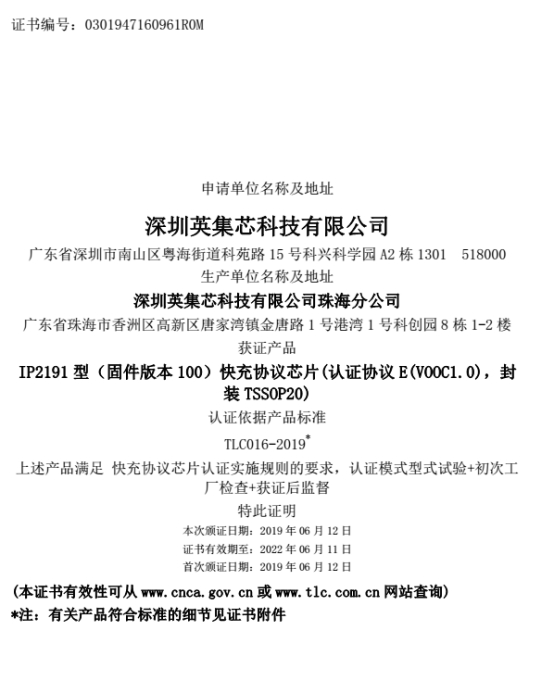 VOOC (Voltage Open Loop Multi-step Constant-Current Charging) is a fast charging technology developed by OPPO Electronics, first introduced in 2014. VOOC Flash Charge uses a special adapter and cables to charge devices safely at 25W without overheating. It was succeeded by SuperVOOC in 2018. Being one of the fastest charging protocols, VOOC also features five-level protection, making it one of the fastest and safest fast charging technology in the world, leading and promoting the development and popularization of fast charging technology in the intelligent terminal industry. VOOC flash charging technology is also the recommended standard for low-voltage and high-current charging technology in the communication industry standard "fast charging technical requirements and test methods for mobile communication terminals" of the People's Republic of China.

Injoinic has been focusing on high-performance, high-quality SOCs. The cooperation between the two parties will successfully integrate OPPO's leading fast charging technology and Injoinic's deep understanding of customer's needs as the upstream IC design house. As the leader of phone accessory solutions, Injoinic will rapidly boost the VOOC fast charging ecosystem. To build a high-quality VOOC flash charging technology ecosystem, and continuously enhance the industry influence of VOOC flash charging technology, so that more consumers can enjoy the ultimate charging experience brought by VOOC flash charging technology.

The IP2191 is the industry's first fast-charge protocol chip that is licensed in the mobile phone accessories market which is also certified by CTTL laboratory. The certification number is 0301947160961R0M.

It is reported that Injoinic will release a number of VOOC-certified chips in the near future, aiming at applications including chargers, car chargers, power banks, and other fields. Stay tuned for the latest industry news at ChargerLAB.com!
Source: chongdiantou