IKEA NORDMÄRKE Triple Wireless Charging Pad Teardown Review
As an early adopter of the Qi wireless charging standard, Swedish furniture giant IKEA introduced its first furniture line that offers wireless charging for phones and other devices back in 2015. IKEA's wireless charging collection includes wireless charging pads, lamps, bedside tables and desks. Our teardown comes a little late, but here's our inside look at the IKEA NORDMÄRKE triple wireless charging pad.
I Design
It comes with IKEA's minimalistic cardboard box with clear lid.

Specifications on the back (Mainland China version). Size: 31*13*2cm (12*5*1in), cord length 2.0m. Material: polycarbonate plastic, ABS plastic, synthetic rubber. Made in China.

The NORDMÄRKE is designed by David Wahl.

Package contents: wireless charging pad, power adapter, user manual, and installation guide.

The included power adapter. Model: KMV-190-330-CN. Input: 220-240V, 50/60Hz, 0.18A, PF: 0.95. Output: 19V (Max), 1.74A, 33W.

It has a DC barrel jack, sadly not a USB-C port.

The NORDMÄRKE has a pill-shaped form factor with integrated cable design.

There are three wireless charging areas on top, and the three crosses indicates the center position of the wireless charging area while keep your phone on the right spot.

Taking a look at its sides.

Extra USB-A port for charging output.

The stickers on the back could be placed better.

It is Qi certified.

II Test

With ChargerLAB Power-Z KT001 USB tester, we know that its USB-A port supports Apple 2.4A, Samsung 5V2A, and USB-DCP-5V-1.5A.

It can charge three devices wirelessly at the same time while charging a fourth device through its USB-A port.

Using the wireless charging aging tester, we read a "PFF" which means it passed the 5W test but fails the 7.5W test and 10W test. So it only supports normal 5W wireless charging.

III Teardown

Remove the rubber pad on the bottom and remove the screws.

Remove the top cover.

The USB-A port is capable of 5V2A charging.

Remove the back cover and we can see that there are 3 independent PCBA wireless charging transmitter modules inside, which are connected in parallel by wires.

The three PCBA modules are exactly the same.

A wireless charging module includes a PCB circuit board, a coil, and a magnetic isolation piece.

There is no information behind the PCB and it is stuck to a magnetic shield.

A temperature probe is attached to the center of the coil to monitor the temperature rise during operation.

The coils adopt a double-layer structure, and the coil stubs are protected by heat-shrinkable tubes.

The IDT P9030 is a highly-integrated single-chip Qi standard-compliant wireless power transmitter IC for power transmitter design A1. The device operates with a 19V adapter, and supplies an integrated half-bridge inverter for DC/AC conversion. It controls the transferred power by modulating the switching frequency of the half-bridge inverter from 110kHz to 205kHz at a fixed 50% duty cycle as specified by the Qi standard for an "A1" transmitter. The transmitter contains logic circuits required to demodulate and decode Qi-compliant message packets sent by the mobile device to adjust the transferred power.
It is a true single-chip for wireless power transmitter solutions. With 5W specification, and up to 7.5W wireless power transfer in proprietary mode, it packs features including main controller, signal demodulation circuit, MOS driver and power MOS to minimize circuit design and reduce component count.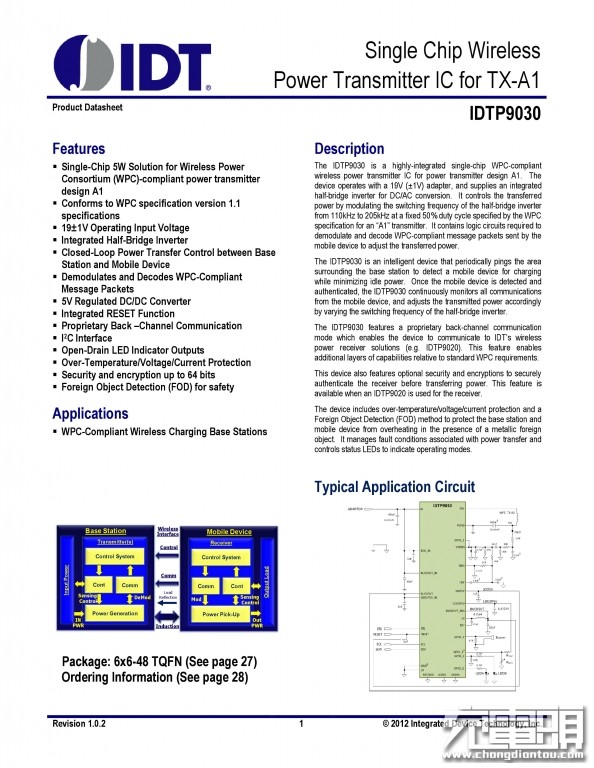 Detailed specifications of the IDT P9030.

A flash memory chip to store wireless charging configuration data.

Close-up of the cable socket.

The solder joint is full and the wireless charging coil has a common mode choke to block high frequency noise.

Three NPO ceramic capacitors.

PCBA date code: 20141118ZH.

Close-up of the LED indicator.

Looking at the USB output module, the PCBA board and the USB female socket are distributed in a "T" shape.

The chip with "AHUE" letter code is an MPS MP2312 2.1A high efficiency synchronous buck converter for USB port 5V output.

Detailed specifications of the MPS MP2312.

The chip with "198AC" letter code is a USB automatic identification IC.

6R8 alloy inductor.

Close-up of the cable socket.

Close-of the USB female socket.

The USB output module.

All the components.
IV Conclusion

The IKEA NORDMÄRKE triple wireless charging pad can charge three devices wirelessly at the same time while charging a fourth device through its USB-A port. The entry-level 5W wireless charging speed is definitely not designed for those who want to wirelessly charge their devices in a hurry. However, it is a nice solution to wireless charge multiple devices over night when speed simply doesn't matter.
The minimalistic design of NORDMÄRKE blends perfectly into almost every home set-ups. However, we are let down by its use of DC barrel jack which limits the use of the pad and its included power adapter.
The use of IDT wireless charging solution reduces the number of the components and keeps the cost down while offering high efficiency and great compatibility.

Pros:
Triple wireless charging and USB-A wired charging.
Meaningful and simple design.
High efficiency and great compatibility.

Cons:
5W slow wireless charging.
DC barrel jack power adapter.

Source: chongdiantou