Google Pixel 18W PD Charger (TC G1000) Teardown Review
The 18W PD charger (TC G1000) has been the in-box charger for three generation of Pixel phones (including the Pixel 3a series). As we are hoping the upcoming Pixel 4 to have higher charging capability and a more powerful in-box charger, let's take an in-depth look at this good old charger.

I Design
Minimalist design with a matte finish. Length: 1.6 in (40.0 mm). Width: 1.0 in (24.8 mm). Height: 2.0 in (52.0 mm). Weight: 2.1 oz (59.5 g).

US AC prongs, unfoldable.

Single USB-C port.

Model: TC G1000-US. Input: 100-240V, 0.5A, 50-60Hz. Output: 5V/3A, 9V/2A. The charger has a DOE Energy Efficiency Level VI, and is UL certified. It is made by Phihong (one of the world's largest adapter manufacturers).

II Test

With ChargerLAB Power-Z KT001 USB tester, we can read the PDO which shows that it supports USB PD 2.0 protocol with 5V/3A and 9V/2A, 18W max output.

It charges the Xiaomi Mi8 at 8.86V 1.77A 15.7W, under USB-PD fast charging protocol.

III Teardown

Pry open the cover of the USB-C port.

And pull out the internal PCB board directly.

The pins inside the housing and the PCB board use contact connection.

Some components are covered with glue, looking so neat overall.

Slow-blow fuse at the AC input side.

An electrolytic capacitor from AiSHi for input filter, 400V, 18μF.

Filter capacitor from Koshin, 400V, 10μF.

A solid state filter capacitor for utput filter, 12V, 560μF.

There is a chip on the back of the PCB board, which is covered with glue and two silicone thermal pads. The main controller chip from PI can be identified.

The SC1224K from PI is used as the main controller chip.

A Weltrend WT6630P is used as the USB-C port output controller.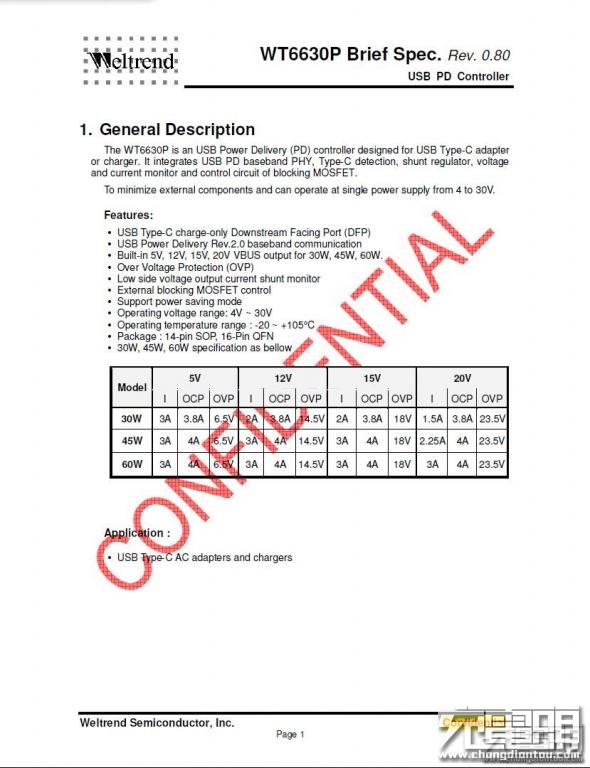 The WT6630P is a highly integrated USB Power Delivery (PD) controller that supports USB PD 2.0 specification designed for USB Type-C Downstream Facing Port (Source) charging applications such as travel adapters, charger, and power banks. It minimizes external components by integrating USB PD baseband PHY, Type-C detection, shunt regulator, voltage and current monitors, control circuits of blocking MOSFET, and an 8-bit MCU to allow small form factor and low BOM cost. It supports wide operating voltage range from 4V to 30V without the need of an external LDO. An One-Time-Programmable (OTP) ROM is provided for program code and user configuration data. The WT6630P is certified by USB Implementers Forum (USB-IF) for USB Type-C.

Synchronous rectifier from Sinopower, model SM1A63NHUB.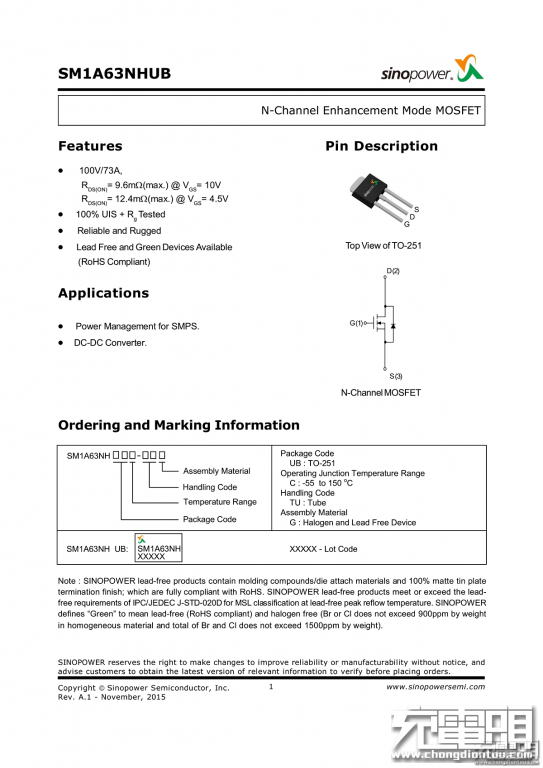 Detailed specification of the Sinopower SM1A63NHUB.

The USB-C port output VBUS switch is also from Sinopower.

Input rectifier bridge with letter code HY6D ABS210.

IV Conclusion

Made by Phihong, the Pixel in-box charger is a top-notch 18W PD charger with high quality components and neat layout. It is relatively compact and does not get hot when charging. The use of PI and Weltrend chips deliver high performance and high efficiency. But for $35 (includes a 1m USB-C to USB-C cable), I personally prefer Apple's 18W PD charger ($29, no cable) which is also a PD-only charger but uses even better Japanese capacitors.
It is almost certain that the in-box charger that comes with the Pixel 4 will still be a PD-only charger. But we hope it will be updated to support the newer PD 3.0 PPS with a higher wattage.

Pros:
Elegant design inside and out.
High quality components.
Stable performance with high efficiency.

Cons:
Relatively expensive ($35, includes a 1m USB-C to USB-C cable).
Only supports USB-PD 2.0 fast charging protocol.

Source: chongdiantou