GaN Plus SiC | Pisen Launched 65W GaN Charging Station
Established in 2003, Pisen is a Chinese-based high-tech enterprise that specializes in research, development, design, production, and sales. The company offers an extensive range of products, encompassing electronic accessories, smart household appliances, car supplies, and more.
And recently, the company unveiled its latest product, the Pisen 65W GaN Charging Station, which combines a high-power four-port fast charging module with a power strip. This integration not only reduces the overall size of the device but also enhances its fast charging capabilities.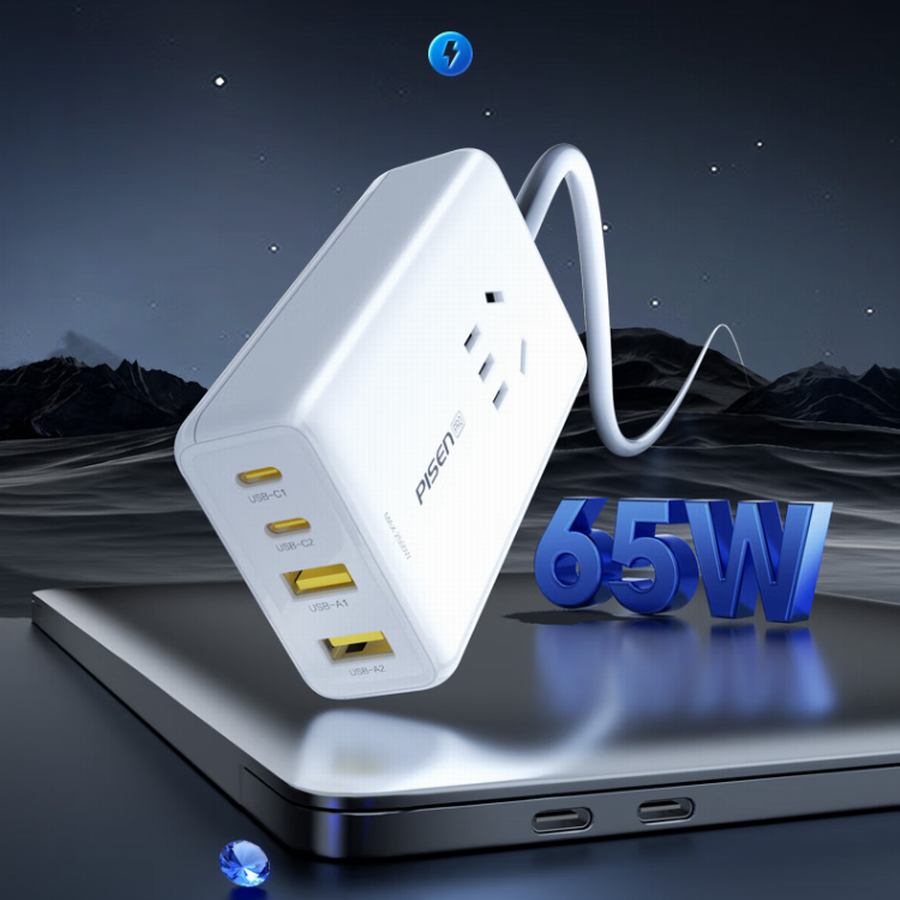 Belonging to the esteemed PISEN PRO product line, the Pisen 65W GaN Charging Station stands out with its exceptional design and premium materials. The shell of the device showcases a sleek and elegant appearance, achieved through the application of a high-grade glossy surface treatment. The distinctive yellow color of the USB ports signifies their compatibility with fast charging technology.
Internally, the charging station incorporates a cutting-edge technological solution that combines GaN and SiC materials. This advanced combination enables the device to operate at high frequencies, delivering exceptional efficiency, compactness, and low-temperature performance. As a result, the charging station can provide substantial power output while maintaining a small form factor.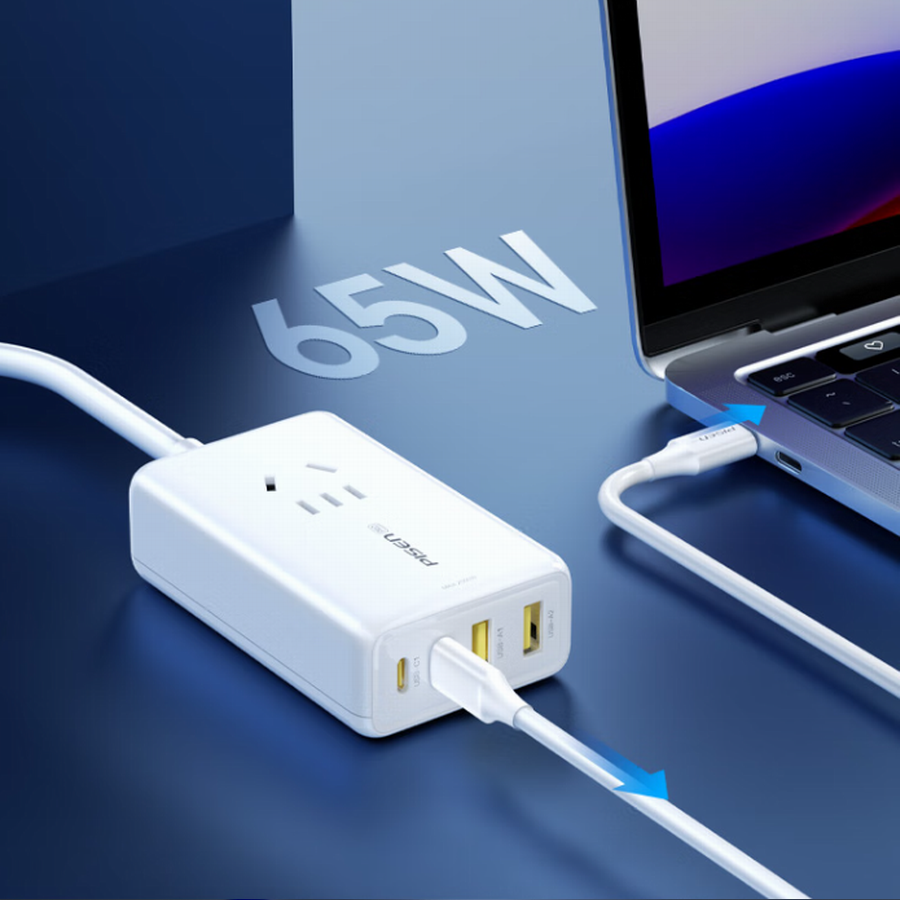 The USB-C1 and USB-C2 ports, when used individually, both support a 65W power output. Users can enjoy the convenience of fast charging without any compromise in performance. These ports are also fully compatible with the USB PD standard, which ensures widespread compatibility with various consumer electronic devices. For example, it can charge a MacBook Pro 13 up to 69% in one hour, or provide a 60% charge to an iPhone in 30 minutes.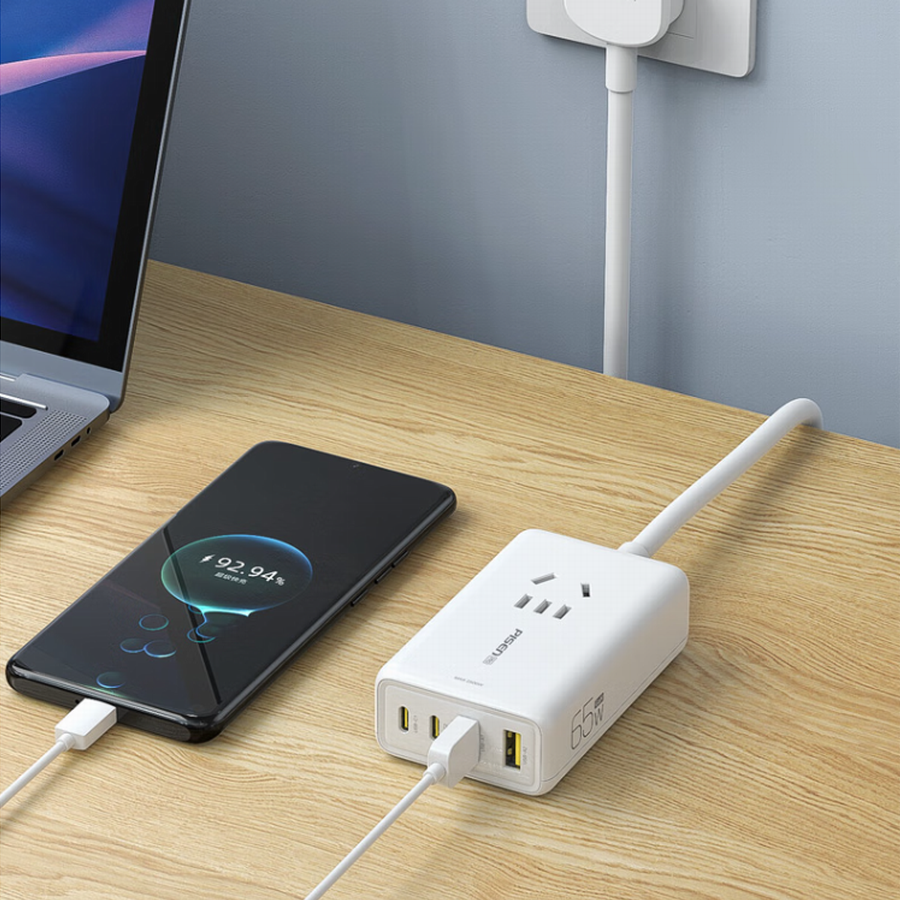 The USB-A1 and USB-A2 ports, on the other hand, deliver a maximum output of 22.5W each. One of the standout features of these ports is their support for Huawei's Super Charge Protocol. In 30 minutes, users can charge their Huawei smartphones up to approximately 54%.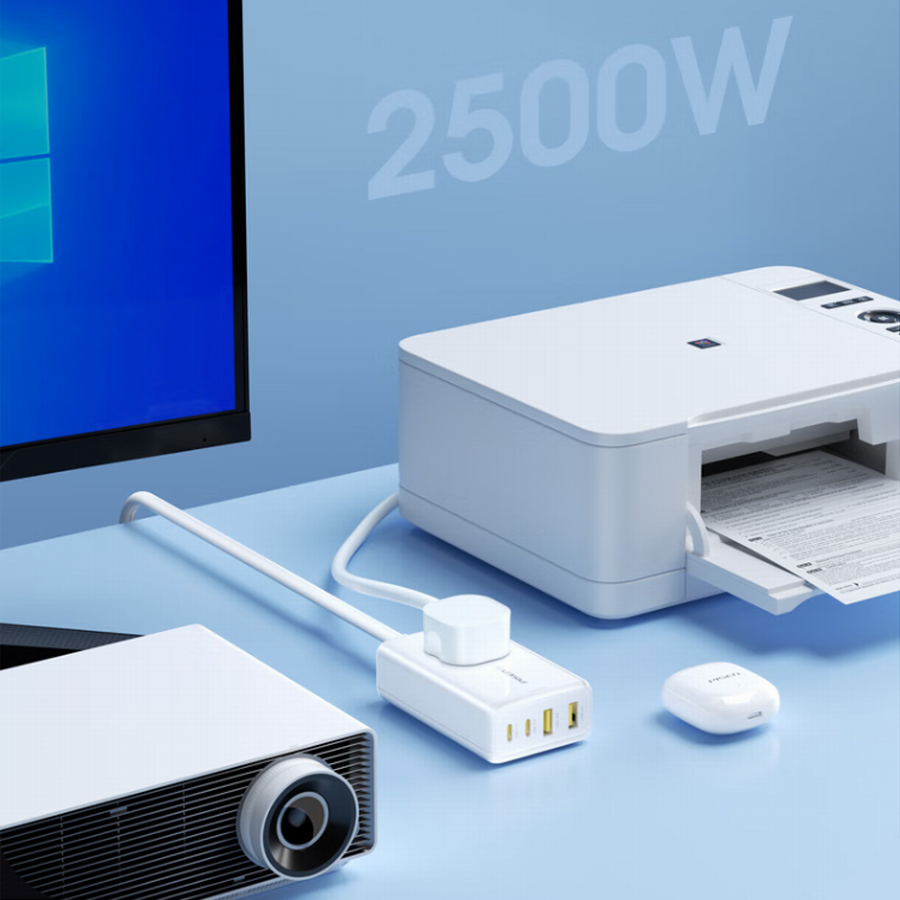 The compact size of the charging station, measuring 95 x 57 x 30mm, makes it highly portable and convenient for travel. Its top section features a three-prong AC socket, and the internal structure incorporates a seamlessly integrated nickel-plated copper metal piece. With a maximum power consumption of 2500W, the charging station can effortlessly supply power to various household appliances. Additionally, the device comes with a 1.5m three-prong power cord, providing flexibility and ease of use.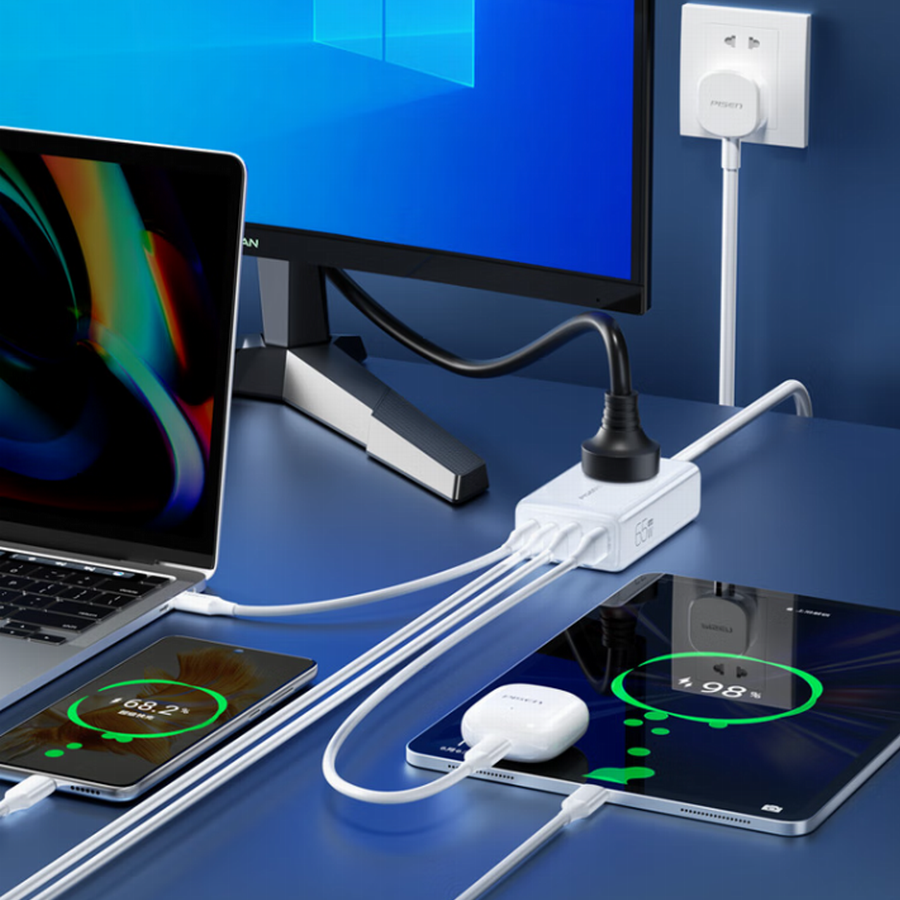 When it comes to charging multiple devices simultaneously, the USB module within the charging station offers intelligent power distribution. It supports various power allocation strategies such as 65W, 30W+30W, 45W+18W, and 45W+5V3A, catering to diverse charging requirements. With two USB-C ports, two USB-A ports, and an AC socket, users can conveniently power up to five devices simultaneously, addressing the power needs of their desktop or workstation effectively.
Summary of ChargerLAB
In summary, the Pisen 65W GaN Charging Station showcases an innovative design that incorporates the synergy of GaN and SiC materials. This unique integration allows for a compact size and impressive charging performance. With its multiple fast-charging ports, compatibility with various devices, and intelligent power distribution, the charging station offers a practical and efficient solution for charging multiple devices simultaneously. Pisen continues to demonstrate its commitment to delivering high-quality charging technology, making the GaN Charging Station a noteworthy addition to their product lineup.
his product is currently available for sale exclusively at Pisen's official store on JD.com in China, with a promotional price of 159 yuan ($22). It is offered in two color options, black and white, and comes with a complimentary 1.2m dual USB-C 5A cable.
Related Articles: 
1. Unboxing of UGREEN 4-Outlet Extension Cord Power Strip
2. 6-in-1 Charging Station | Charging Review of UGREEN 200W Nexode Desktop Charger
3. Classic Design | Bull Launched Retro Power Strip
The article is originally written by @
Joey
posted on Chargerlab. All rights reserved.