Fusion Port Design | Huawei Launched 88W 2-in-1 Charger
As one of the world's leading technology companies, Huawei has been at the forefront of smartphone innovation, providing consumers with cutting-edge technology that enhances their daily lives. Among its many achievements, Huawei is one of the earliest smartphone brands to promote fast charging technology. The fast charging technology has been constantly updated, and the previous generation Huawei fast charging technology was 66W supercharge, which has been used until now.
In March 2023, Huawei launched the P60 series of camera flagship smartphones, among which the P60 Pro and P60 Art models have been upgraded to 88W supercharge. Huawei also released a 88W 2-in-1 charger, which adopts USB-A or USB-C fusion port design and supports 88w supercharge and 65W PD output, as well as UFCS fusion fast charging.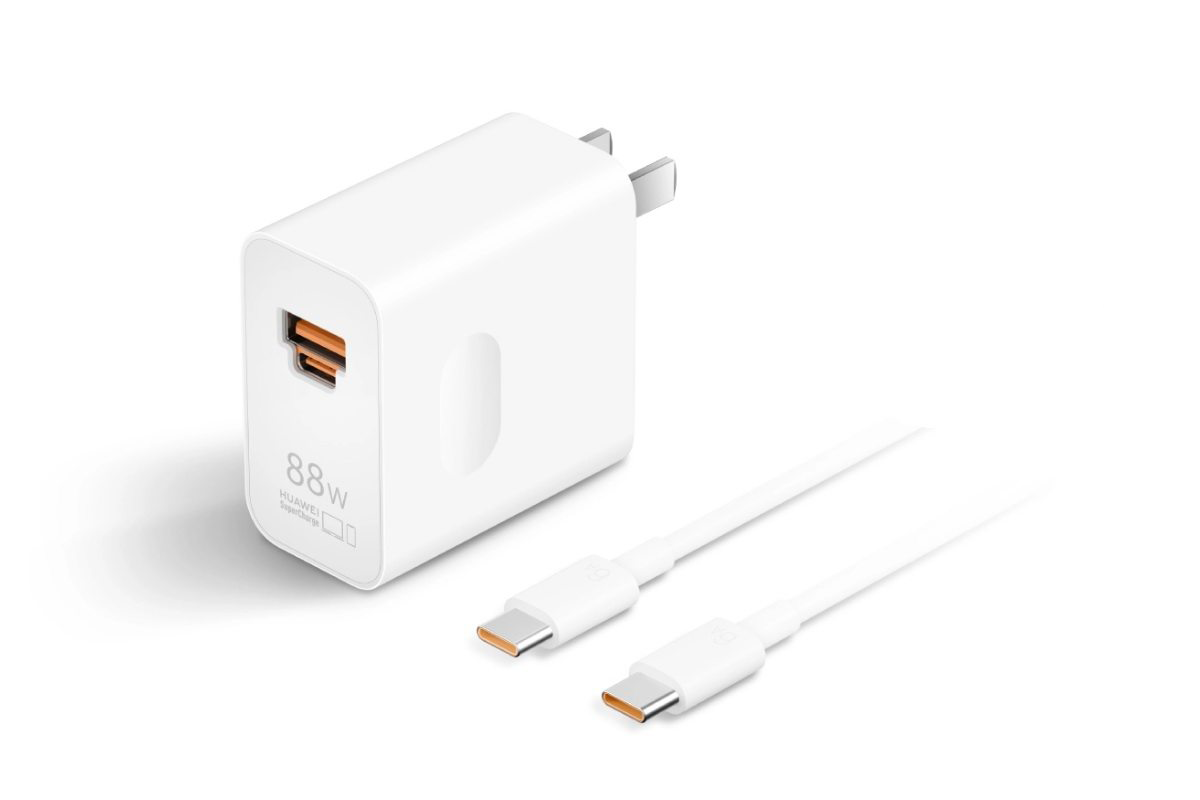 The volume of the Huawei 88W 2-in-1 Charger is exactly the same as that of the 66W charger included with Huawei phones, with a size of about 50 x 50 x 28mm (1.97 x 1.97 x 1.10 inches), which is 70cm³, with a power density of 1.26W/cm³. In terms of input, it adopts a fixed two-prong design, and supports wide voltage of 100-240V~50/60Hz 2.4A.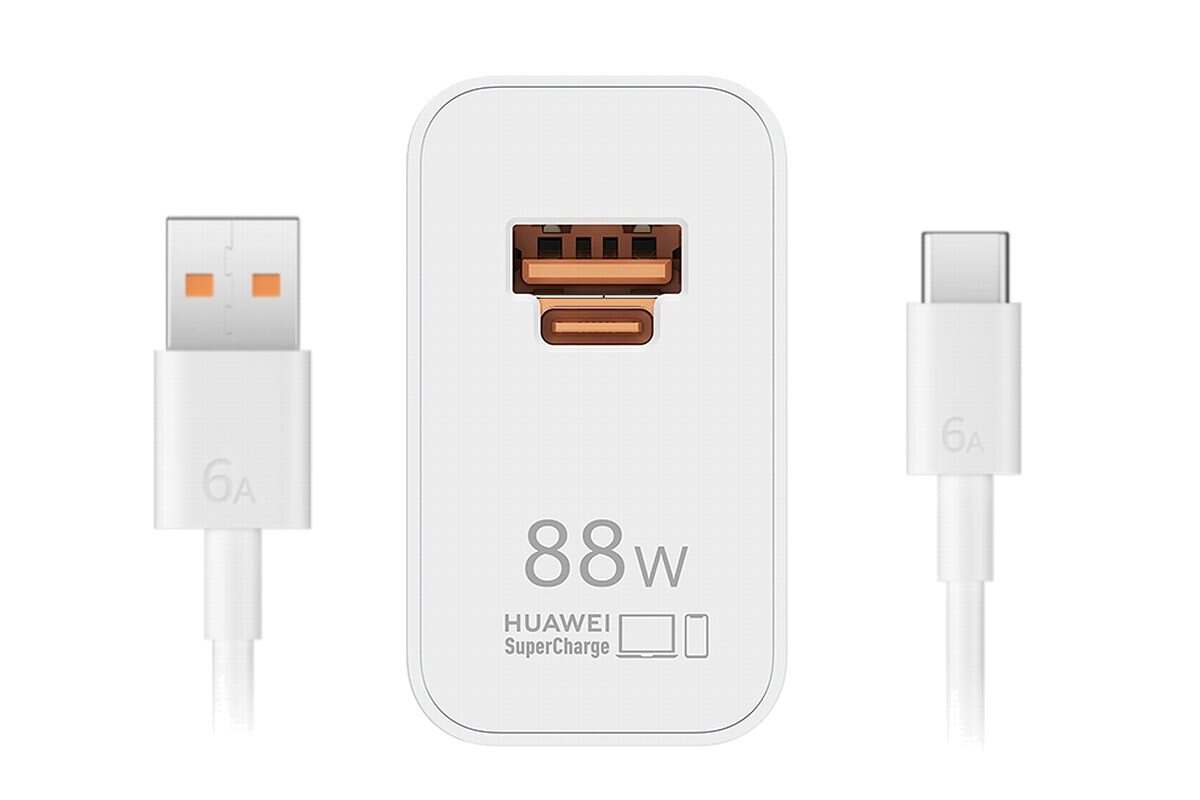 The biggest feature is its use of a fusion port design, with USB-A and USB-C ports tightly encapsulated together, allowing it to support common cable types on the market such as USB-A to USB-C, USB-C to USB-C, USB-A to MicroUSB, USB-A to Lightning, USB-C to Lightning, greatly improving compatibility.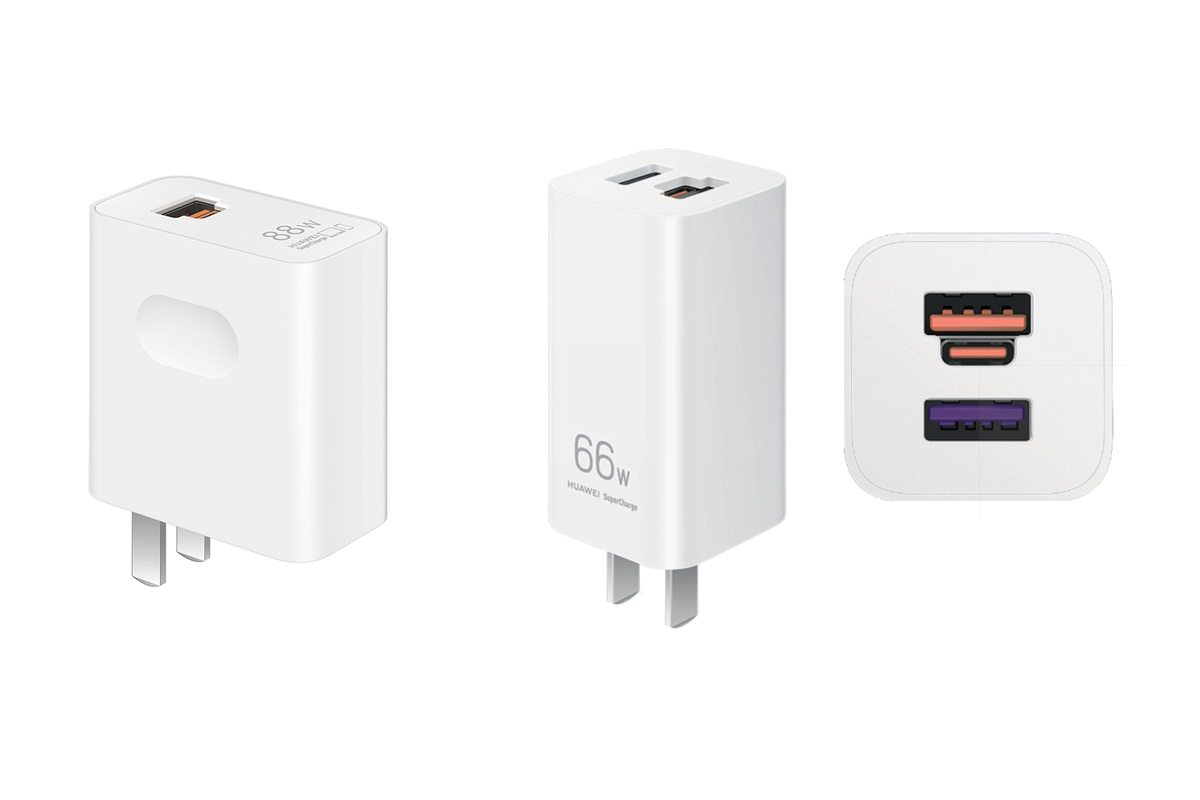 In fact, Huawei had already launched a charger with a fusion port design all the way back to 2021, with an port configuration of 2A1C, with one USB-A port and one USB-C port close together. Although both ports cannot be used at the same time, this USB-A or USB-C design can increase port compatibility without significantly changing the internal circuit, achieving higher power density, smaller size, and lower heating than common multi-port chargers.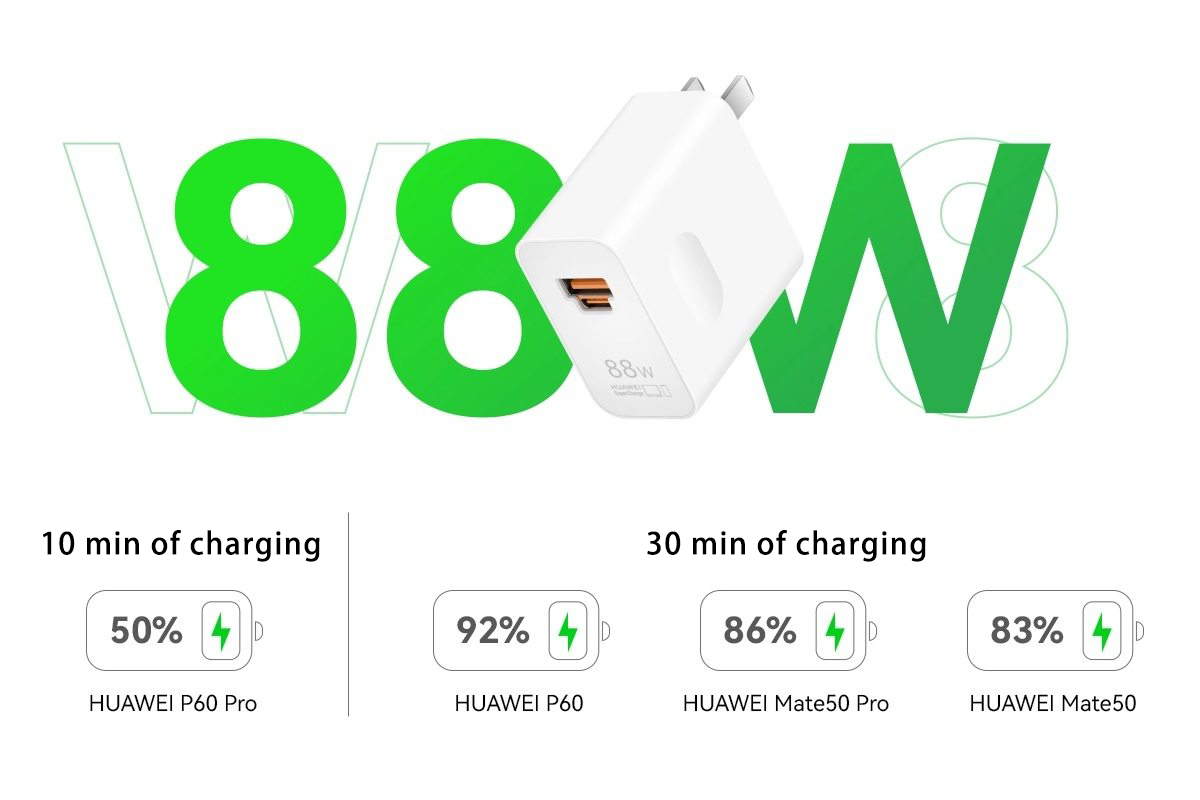 Both ports of the Huawei 88W 2-in-1 Charger have Huawei's latest 88W supercharge private protocol, which can trigger the 88W supercharge for P60 Pro and P60 Art, and charge P60 Pro up to 50% in 10 minutes. It is also backward compatible with Huawei's 66W, 40W, and other supercharge protocols and supports high-power supercharge protocols for all Huawei flagship smartphones.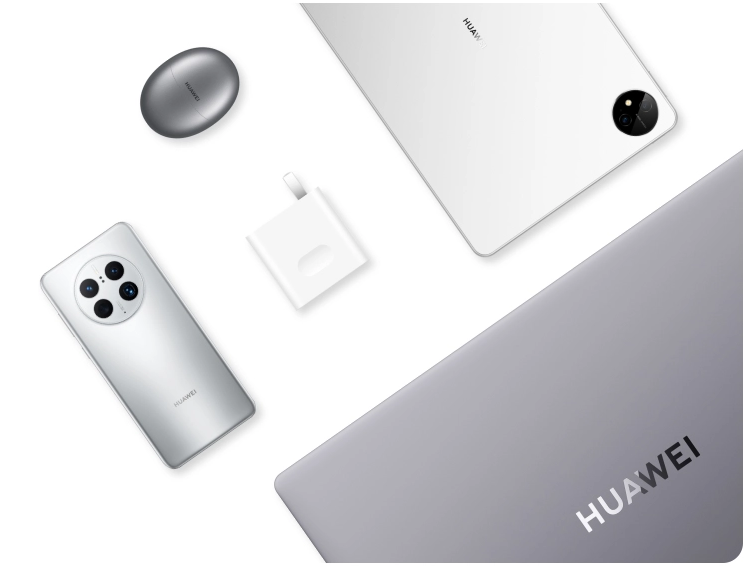 The USB-C port of the Huawei 88W 2-in-1 Charger also supports 65W USB PD, 3.4-21V PPS, 88W SCP, FCP, QC, and other fast charging protocols, while the USB-A port supports 88W SCP, QC, FCP, and other fast charging protocols. In addition, it also supports the UFCS fusion fast charging led by China, providing a good fast charging experience for cross-brand devices.
Summary of ChargerLAB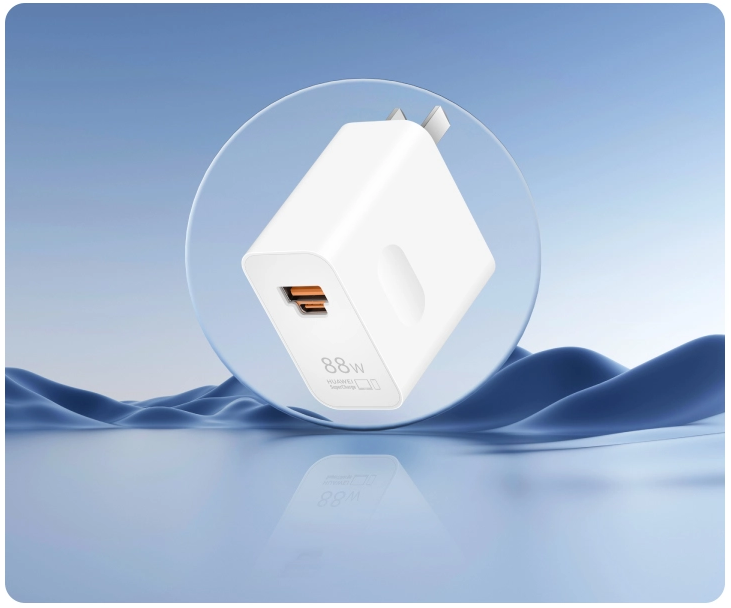 The Huawei 88W 2-in-1 Charger is the first accessory in Huawei's 88W supercharge ecosystem. It adopts USB-A or USB-C fusion port design and supports multiple specifications of USB-A and USB-C cables. Both ports support 88W supercharge output. In addition to the private protocol, it also supports 65W PD universal fast charging and UFCS fusion fast charging. It can provide high-speed charging services for digital products such as ultra-thin laptops and tablets.
In conclusion, Huawei's investment in fast charging technology has been a driving force in the industry's evolution. With the release of its latest 2-in-1 charger, Huawei continues to set the standard for innovative smartphone accessories that enhance users' experience. Whether you're a Huawei enthusiast or not, the company's commitment to excellence is undeniable. The new charger is just another example of Huawei's unwavering dedication to providing the best possible technology to its customers.
Related Articles:
1. Teardown of Huawei 90W GaN Charger (For MateBook 14s)
2. The Platinum Standard | Huawei P60 Series Launch Event
3. Review of Huawei HW-200325CP1 65W Charger(0.92W/cm³ Power Density)
The article is originally written by @
Joey
posted on Chargerlab. All rights reserved.