Exploring These Magnetic Phone Coolers for iPhone 15 Series
Introduction
The iPhone 15 Pro and 15 Pro Max, equipped with the advanced 3nm A17 Pro chip, have a common issue - they tend to get hot during gaming and even regular use. This problem is due to factors like a single-layer motherboard and limited heat dissipation methods. While Apple has recently released iOS 17.03 to address this concern, the phones still tend to run hot under heavy load, impacting the user experience.
That's where magnetic phone coolers come in. They're like little fans or cooling pads that attach to your iPhone. They help to cool the phone down and keep it that way. And compared to traditional cooling back clips, magnetic coolers offer several advantages: they don't interfere with the use of side buttons, have a minimal impact on the camera, and provide other benefits.
However, it's essential to note that if you're using an Android phone and wish to employ this advanced cooling method, you'll need special magnetic plates to use it effectively. This makes it less universal compared to the traditional back clip method.
In today's guide, we'll check out these cool magnetic phone coolers for your iPhone 15 Pro. They're categorized into two types: those with charging capabilities and those without. We'll give you advice and tips on what to look for when you're buying one, so your phone stays chill even when you're pushing it to the max. Let's get started!
Magnetic Phone Cooler
Benks
Benks Whirlwind Phone Cooler
This cooler from Benks immediately catches the eye with its cool circular design. The edges of its circular stand are chamfered for improved grip and comfort. Despite its weight of 70.9g, it's lighter than the MagSafe Battery Pack by around 40g. Plus, its built-in silent fan ensures that it won't disrupt your gaming or voice chat with noise.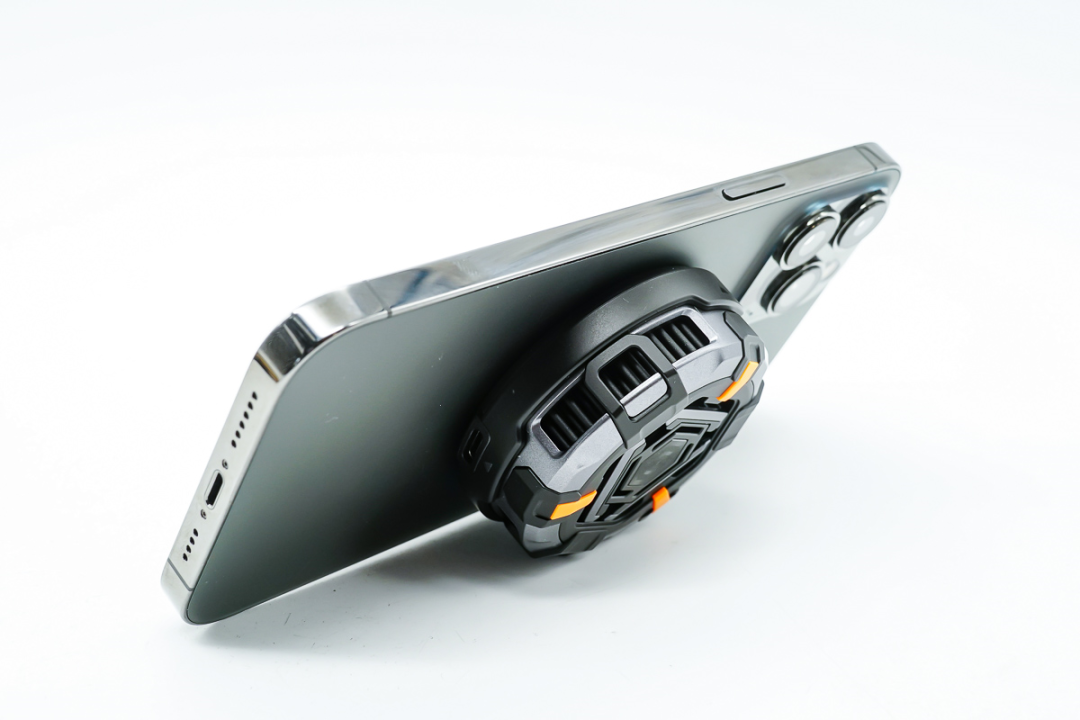 It uses a USB-C port, which means you can share a cable with your iPhone 15. ChargerLAB measured its power consumption at around 7W, and in just ten seconds, you can feel a noticeable drop in temperature, meeting the official claim of "rapid cooling in 5 seconds." Besides cooling, it can also serve as a phone stand. When not in use, you can even stick it to the refrigerator for storage – a common scenario for such gadgets that often end up sitting idle.
Black Shark
Black Shark Magnetic Phone Cooler
While Benks, an experienced mobile accessory manufacturer, is certainly trustworthy, if you're interested in a magnetic phone cooler designed by a phone manufacturer, take a look at this Black Shark product. It shares a similar circular design with a weight of about 73g, and a green LED indicator lights up when you plug in the USB-C cable. Additionally, it has an input power of 10W.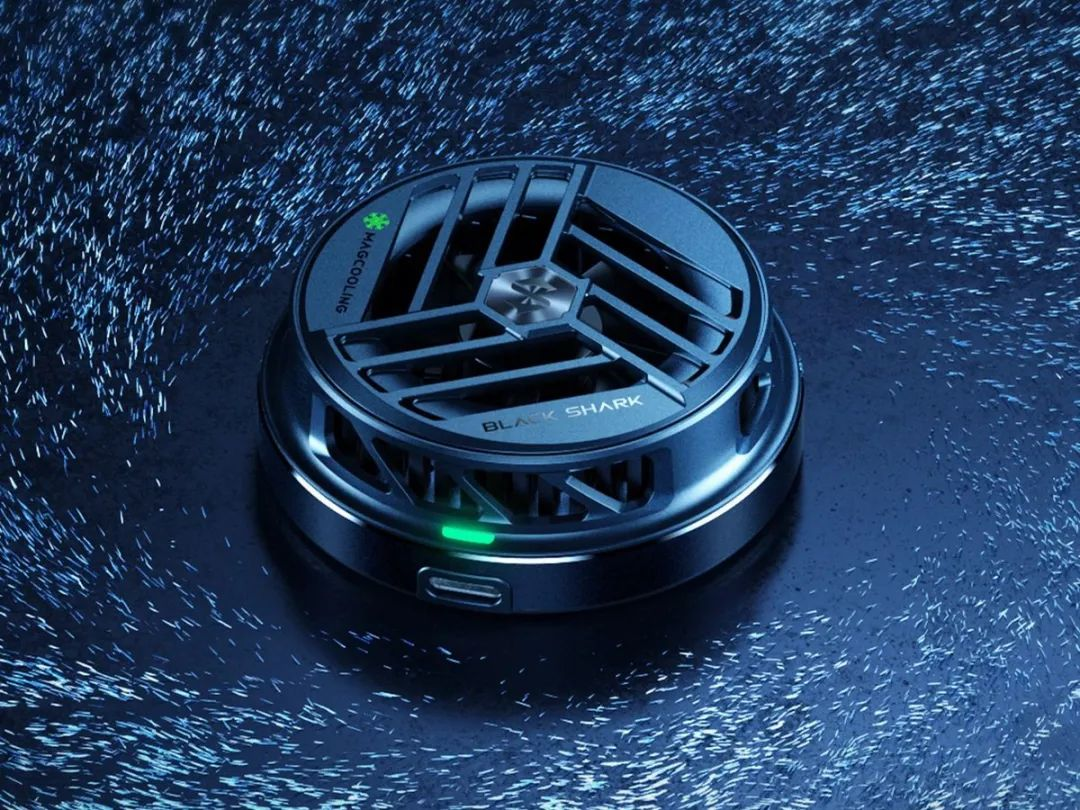 It features a built-in 5-blade fan with a maximum speed of 7200rpm, complemented by multiple metal columns for efficient heat dissipation. To accommodate phones and tablets that lack a magnetic area, Black Shark includes a special magnetic sticker with each cooler. Simply attach it to the back of your other electronic devices like applying a screen protector, and you can use the cooler without a hitch.
Black Shark Magnetic Cooler 3Pro
Just as the name suggests, it's the advanced model in the Black Shark phone cooler series. It appears more refined and stylish on the outside, with a manual switch on the side. Additionally, the circular ring on the top is actually an RGB light that offers 11 optical colors. It also comes with a magnetic sticker.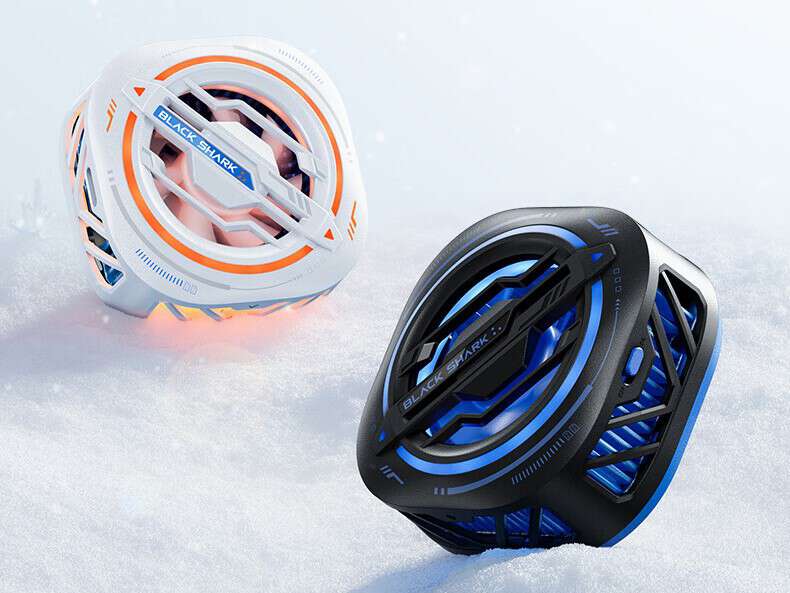 In terms of performance, it has a power output of 20W and features seven fan blades with a speed of 6500rpm. According to our tests, it provides good cooling. Moreover, it can be connected to the specially designed Black Shark app for controlling fan speed, scheduling shutdowns, and managing the mentioned RGB light effects.
Flydigi
Flydigi B6X Magnetic Phone Cooler
The Flydigi B6X is actually their fifth-generation cooler. It incorporates overclocking cooling and intelligent variable frequency technologies, effectively preventing internal condensation and significantly enhancing cooling. It also has RGB lighting on top, which changes to warm colors during demanding gaming sessions and reverts to normal in other situations.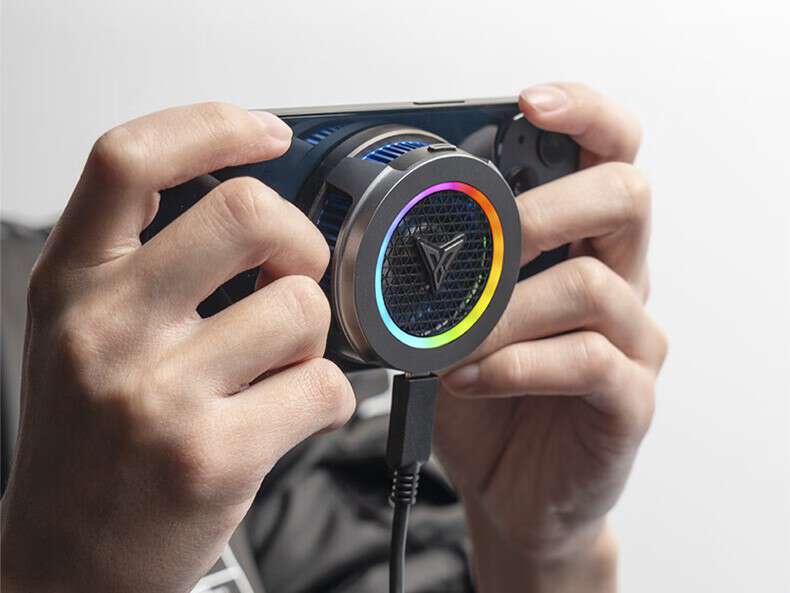 In terms of performance, it also has a maximum power output of 20W and comes with a magnetic sheet for Android phones and tablets. It can be connected to the Flydigi Game Center app to control fan speed and RGB lighting. However, it's worth noting that it weighs 93g, which might be a concern for users who play games for extended periods.
Razer
Razer Phone Cooler Chroma
While many products have RGB lighting, few are experts in this field. Who is the professional in the RGB arena? The answer is clear - Razer. Their Razer Phone Cooler Chroma comes with 12 built-in RGB LED lights, offering up to 16.8 million custom lighting effects. For those who don't know, Razer Chroma RGB is a lighting technology that allows users to customize and synchronize RGB lighting on their Razer products, such as keyboards, mice, headsets, and mousepads.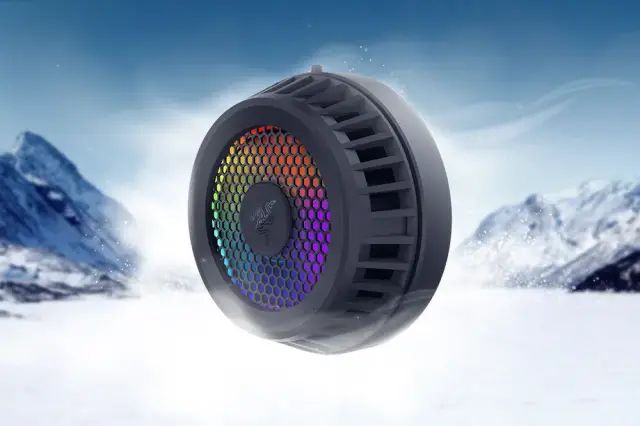 In terms of performance, it features a seven-blade fan with a speed of 6400rpm and a maximum noise level of 30dB. It uses a thermoelectric cooler and an aluminum heatsink to dissipate heat. Like Black Shark and Flydigi, users can adjust the fan speed through Razer's own app.
Magnetic Phone Cooler with Charging Capabilities
Magnetic coolers are great, but they can be inconvenient in practice. High-performance gaming can drain your battery quickly, and traditional phone coolers, which occupy the back of the phone, leave you with only wired charging as an option. Adding the Magnetic Phone Cooler's own power cable can make things messy. That's where coolers with charging capabilities come in!
Benks
Benks MagClap Biliz Cooling Wireless Charger
This Benks cooler, which we've actually took apart before, looks somewhat like Iron Man's energy source – the arc reactor. It's constructed from PC+ABS+aluminum alloy materials and features a combination of three colors: purple, silver, and black. It weighs 89.2g, but considering it can wirelessly charge, that's acceptable.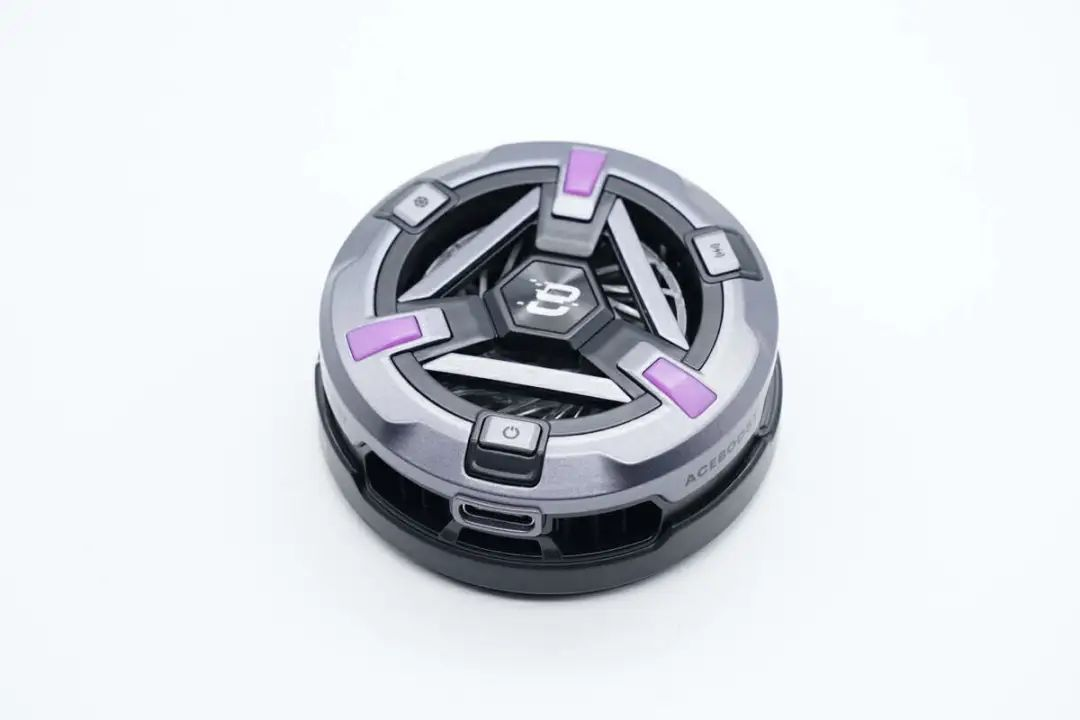 In our tests, without the cooler, the phone's temperature increased by 15.8°C, but with Benks' product, it only increased by 1.6°C, demonstrating excellent cooling. TEC semiconductor cooling technology and a 6900rpm cooling fan combine to achieve this remarkable effect.
MOMAX
MOMAX Play Magnetic Wireless Phone Cooler
The standout feature of the MOMAX cooler is its semi-transparent design, allowing you to see the internal wireless charging coil and magnetic components, similar to our AK001.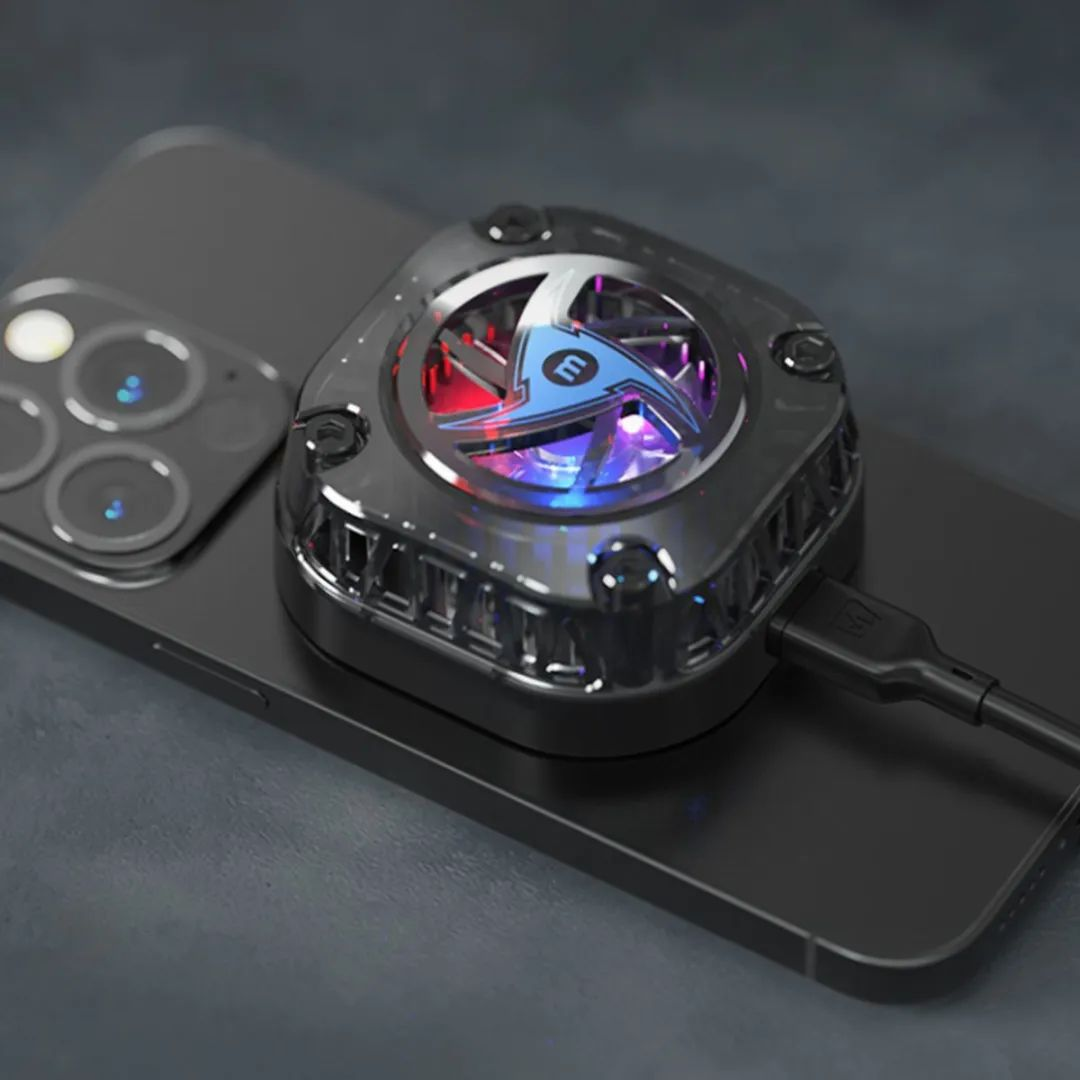 It can reach a maximum speed of 6000rpm. The bottom features a 6W semiconductor cooling module and a 15W Qi wireless charging module, which is sufficient for iPhone 15 series users. Additionally, it can switch between "cooling mode" and "charging+cooling mode" with a single button, making it user-friendly.
OnePlus
OnePlus 45W Liquid Cooler
Next up is a product from another familiar smartphone manufacturer, OnePlus. What sets it apart from the previous products using thermoelectric cooling technology is that it employs liquid cooling. This approach has two significant advantages. Firstly, the fan module can be placed in the cooling pump, reducing noise levels. Secondly, it significantly reduces the weight on the phone, reducing strain on the wrist.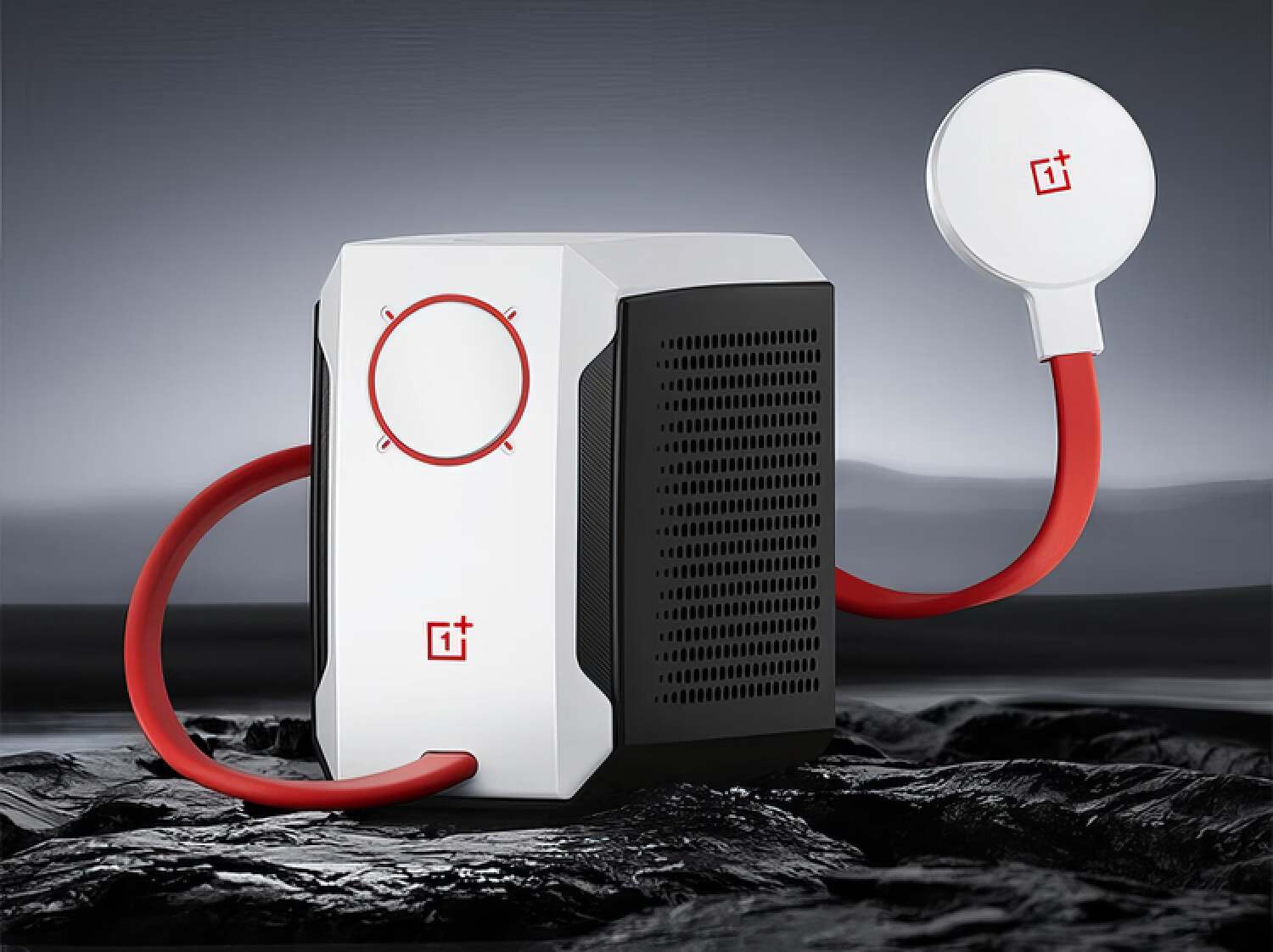 As the name suggests, it has a maximum power output of 45W, and it offers four power levels for cooling. The magnetic end is compatible with the iPhone 12-15 series and various Android models.
In our tests, without the cooler, the phone's temperature increased by 14.9°C, but with OnePlus' cooler, the temperature actually decreased by 7.3°C, delivering outstanding results. Overall, this cooler is a great choice for hardcore gamers, game streamers, and similar users.
Summary of ChargerLAB
When it comes to selecting a magnetic cooler for the iPhone 15 series, compatibility is generally not an issue. However, in most cases, you'll need to remove your phone case because, like CPU coolers in PCs, it must make good contact with the heat source to work effectively. For other phones, you may need to use the included magnetic sticker.
In terms of aesthetics, if you're like most people and want to ensure your device stays cool during gaming without affecting brightness and frame rates, then coolers with RGB lighting are recommended. You know, every true gamer will tell you that RGB equals performance! But if you simply want to prevent your brand-new iPhone 15 from overheating while shooting videos outdoors in the summer, you might consider the low-profile options like the Benks Whirlwind Phone Cooler and the Black Shark Magnetic Phone Cooler.
In terms of performance, the top choice for those prioritizing cooling and overall user experience is undoubtedly the OnePlus 45W Liquid Cooler. Among the other options, the key factor is power; higher power results in better cooling effects.
In terms of functionality, the Benks MagClap Biliz Cooling Wireless Charger, MOMAX, and OnePlus' coolers have a significant advantage. They not only cool the phone but also offer MagSafe charging. However, in terms of cooling performance, they may not match standard magnetic phone coolers. Additionally, Black Shark, Flydigi, and Razer provide apps for their products, allowing users to adjust fan speeds and RGB lighting, making for a user-friendly experience.
Related Articles:
1. iPhone 15-Ready: Choosing the Perfect MagSafe Power Bank
2. Suitable for iPhone 15 | A Carefully Selected Car Charger Buying Guide
3. Compatible with iPhone 15 | A USB-C Flash Drive Buying Guide
The article is originally written by @
Joey
posted on Chargerlab. All rights reserved.