Compatible with iPhone 15 | A USB-C Flash Drive Buying Guide
Introduction
As we all know, upgrading the storage on an iPhone has historically required spending an additional $100 or more, which is significantly higher than Samsung or Google options. Consequently, many people tend to purchase a flash drive with a Lightning port instead. However, what you may not know is that flash drives with similar specifications, but featuring a Lightning port, can be considerably more expensive than those with a USB-C port.
All of this changed with the release of the iPhone 15 series. Now, Apple users can expand their phone's storage with cost-effective USB drives. Combined with the continuous upgrades of the Files app on iOS, both functionality and usability have greatly improved in recent years. However, it's essential to note that this latest USB-C port is quite unique, and not all USB-C flash drives are compatible with the iPhone 15 series. Below, ChargerLAB introduces several well-reputed and high-quality USB-C drives currently available.
Product Introduction
Kingston
Kingston DataTraveler microDuo 3C USB Flash Drive
One of the standout features of this USB drive from Kingston is its compact and delicate design, appearing as if the drive contains only two ports and nothing else. The colorful cap resembles the classic iMac G3 and can rotate to protect the USB connector. Moreover, the cap has a top hole for a lanyard, making it convenient to carry and less likely to get lost – especially useful for such a tiny drive. It offers various capacity options from 64GB to 256GB and comes with a 5-year warranty and free technical support.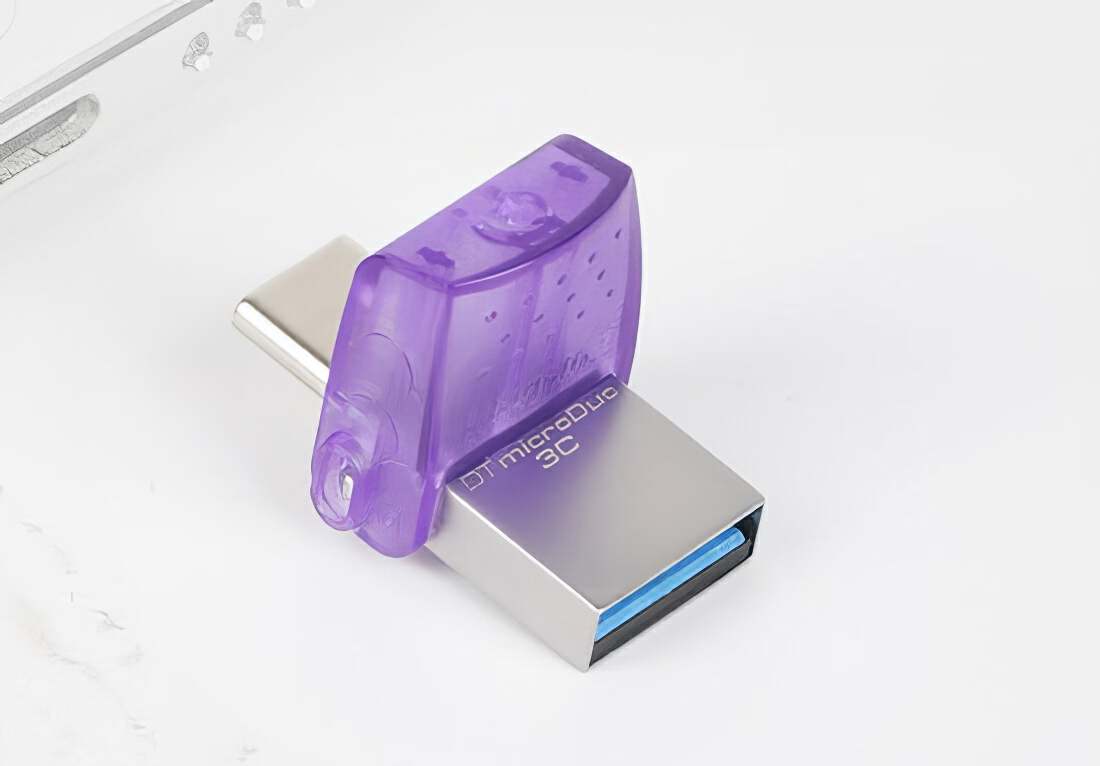 In terms of performance, its USB-A and USB-C ports not only support phones and MacBook models, including the iPhone 15 series, but also common devices like PCs, smart TVs, and speakers. However, it's essential to note that its transfer specifications are USB 3.2 Gen1, with a read speed of 200MB/s, which is far from the 10Gb/s of the USB-C port on the iPhone 15 Pro series. Nevertheless, this level of performance is considered average for a USB drive, not too shabby.
MOVESPEED
MOVESPEED Solid State Flash Drive USB 3.2
As shown in the images, this drive from MOVESPEED features a sleek, streamlined design resembling a sports car. Its matte metal casing is highly durable and comfortable to the touch. The caps at the front and rear, resembling car engine hoods, provide excellent protection against impacts and dust. It is available in four capacities: 128GB, 256GB, 512GB, and 1TB, and, similar to Kingston, offers a five-year warranty.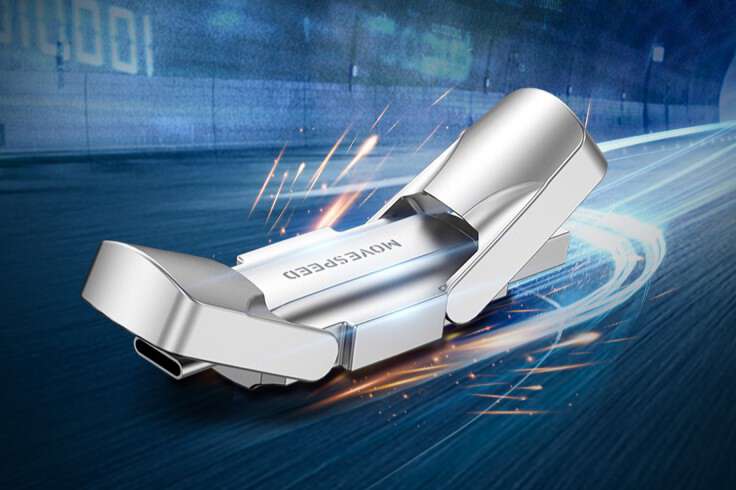 Its performance takes a step further, reaching the level of USB 3.2 Gen2 with a maximum read speed of 520MB/s and a maximum write speed of 450MB/s. User tests in the comments section have shown write speeds of around 350MB/s. So, if you're a tech enthusiast like me, with a substantial collection of photos and videos to store, and you don't mind trying out a lesser-known brand, this USB drive is a solid choice.
Samsung
Samsung Type-C USB 3.1 Flash Drive
If you have concerns about unknown brands, consider this Type-C USB 3.1 Flash Drive from Samsung. Its streamlined body design features a cap that separates from the main body, with both parts having lanyard holes to prevent any loss. Weighing 3.4 grams, its size falls between the MOVESPEED and Kingston drives. It is available in three capacities: 64GB, 128GB, and 256GB, and offers a 5-year limited warranty.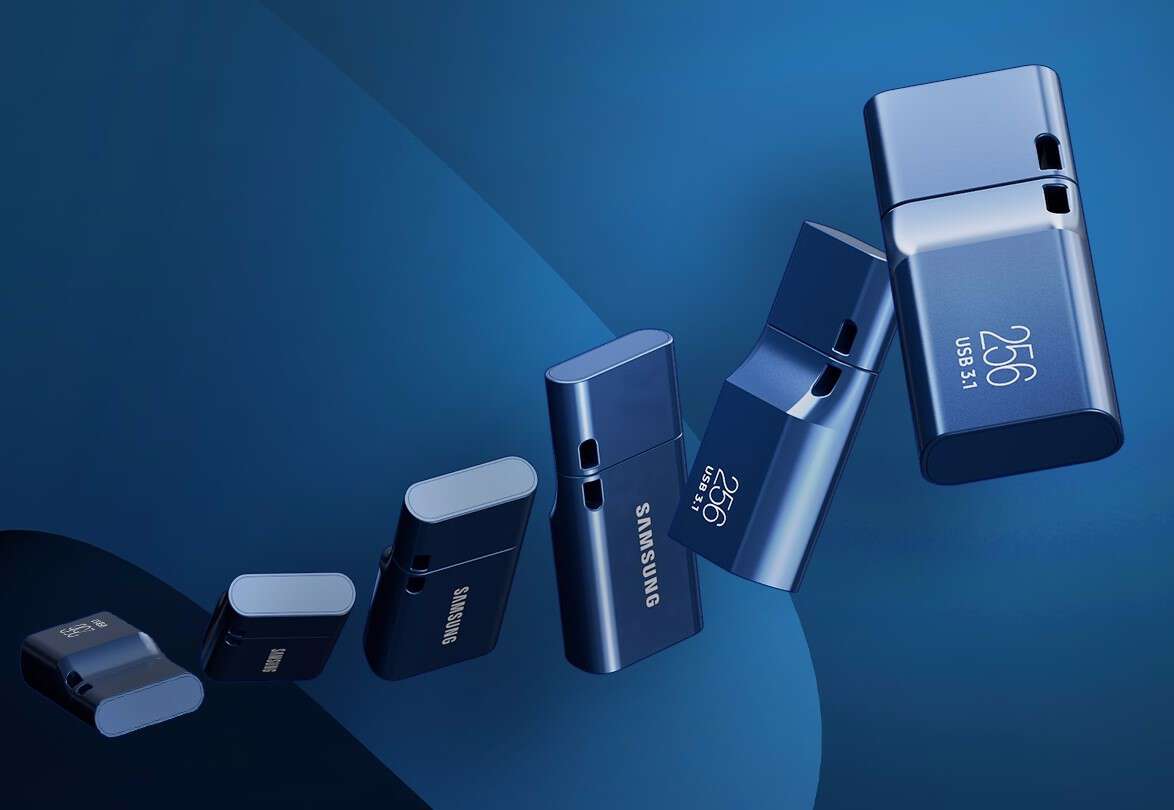 Its transfer specifications are USB 3.1, with a maximum read speed of 400MB/s. However, it's important to note that on Amazon's official website, it claims write speeds of up to 300MB/s, but many user tests have achieved only about 60MB/s. Therefore, if you're purchasing for an iPhone 15 or 15 Plus, and you're a fan of the Samsung brand, this drive's performance should suffice.
SanDisk
SanDisk Ultra Dual Drive Luxe USB Drive
This SanDisk USB drive has a size that's more similar to typical USB drives. Its rotating cap design can only protect one side of the port at a time. The lanyard hole on top is the largest among these drives, making it very user-friendly. The product offers six options ranging from 32GB to 1TB and also comes with a 5-year limited warranty.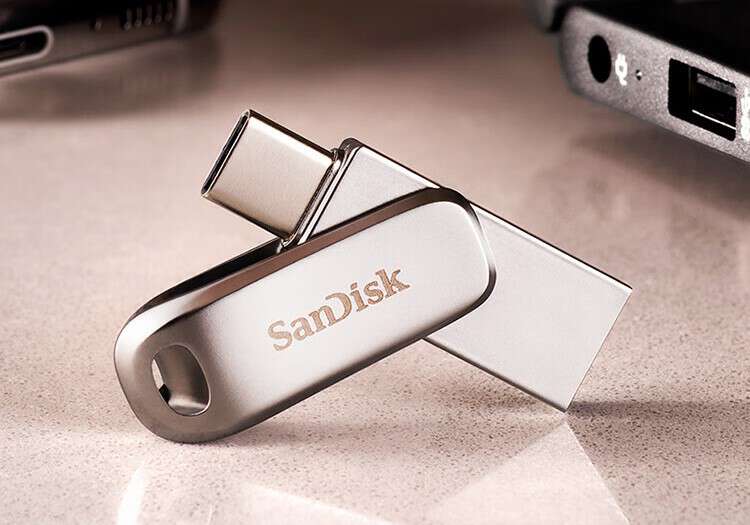 In terms of performance, it offers read speeds of up to 150MB/s, with lower write speeds that vary depending on capacity. So, if you need either 32GB or 1TB, two less common storage options, and don't mind waiting a bit longer when copying files, then this drive is suitable for you.
SanDisk iXpand Flash Drive Luxe
This drive is somewhat unique. If you only have an iPhone 15 series phone, this drive is not recommended. It belongs to SanDisk's iXpand series, specifically designed for Lightning devices. One of its models is even available at the Apple Store. It features both a rotating cap and a removable cap, and the removable cap can be fitted onto either side, making it very user-friendly. It only offers a 2-Year Limited Warranty.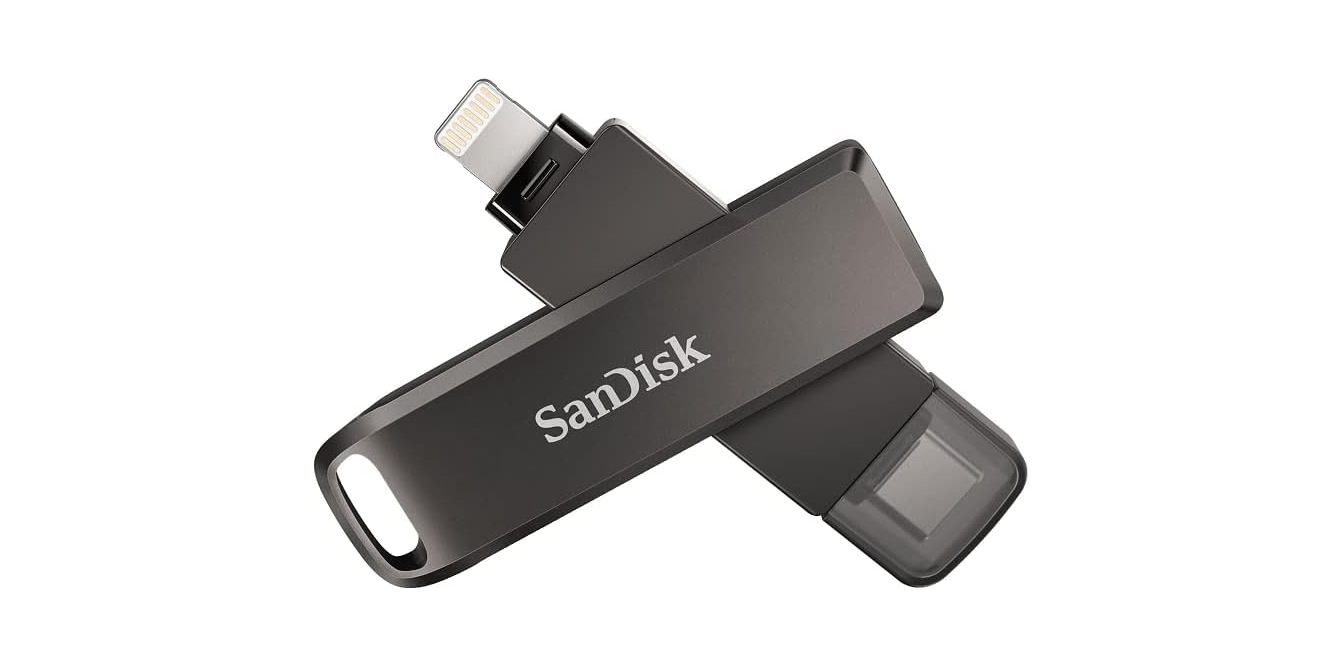 In terms of specifications, it has a USB-C and a Lightning port, with no specified read/write performance on Amazon and the official website. According to user tests, it achieves write speeds of not higher than 100MB/s. The advantage of this drive is its port configuration, which is very convenient for users who own both older and newer iPhones for easy file backup. Of course, the prerequisite for purchasing it is that you don't intend to use it on a computer that doesn't have USB-C port .
Summary of ChargerLAB
Regarding the selection of USB drives, most high-performance USB drives on the market are USB 3.2 Gen1 (formerly known as USB 3.0 or USB 3.1 Gen1), with a theoretical maximum transfer rate of 5Gbps. In practice, it's challenging to achieve these speeds, which is why we try to provide user-tested data in our list.
Regarding warranties, apart from SanDisk's iXpand Flash Drive Luxe, the other four drives all come with a 5-year warranty. This period is more than sufficient for average users, given the substantial increase in average storage capacity in recent years. Therefore, users seeking stability should prioritize models with 5-year warranties.
In terms of compatibility, users with computers should prioritize flash drives with USB-A ports. Otherwise, all the products on our list are safe choices.
Considering transfer speeds, Kingston, SanDisk, and Samsung offer read speeds between 150-200MB/s, with actual write speeds lower, making them suitable for iPhone 15 and 15 Plus users. In contrast, the MOVESPEED Solid State Flash Drive USB 3.2 offers write speeds of around 350MB/s, making it suitable for 15 Pro series users who want to record 4K 60fps videos in ProRes encoding.
Additionally, it's important to note that Apple officially supports USB drive formats such as APFS (Apple-specific), exFAT, and FAT32. NTFS is only readable, so if you have multi-platform transfer needs, it's advisable to format your USB drive as the universal exFAT or FAT32.
Related Articles:
1. iPhone 15-Ready: Choosing the Perfect MagSafe Power Bank
2. Suitable for iPhone 15 | A Carefully Selected Car Charger Buying Guide
3. Exploring Eleven USB4 Cables for iPhone 15 Series and More
The article is originally written by @
Joey
posted on Chargerlab. All rights reserved.