Exploring the New MacBook Air 15" and the Advanced 70W USB-C Power Adapter
On June 5, Apple held its highly anticipated WWDC23 event and unveiled the brand-new Apple Vision Pro headset, which seemed to bring the tech industry back to the good old days for VR of 2016. Additionally, Apple updated three hardware product lines: the MacBook Air 15", Mac Studio, and Mac Pro. They also introduced the 70W USB-C Power Adapter as an optional accessory for the MacBook Air 15". As ChargerLAB, we naturally pay special attention to the MacBook Air 15" and its power adapter.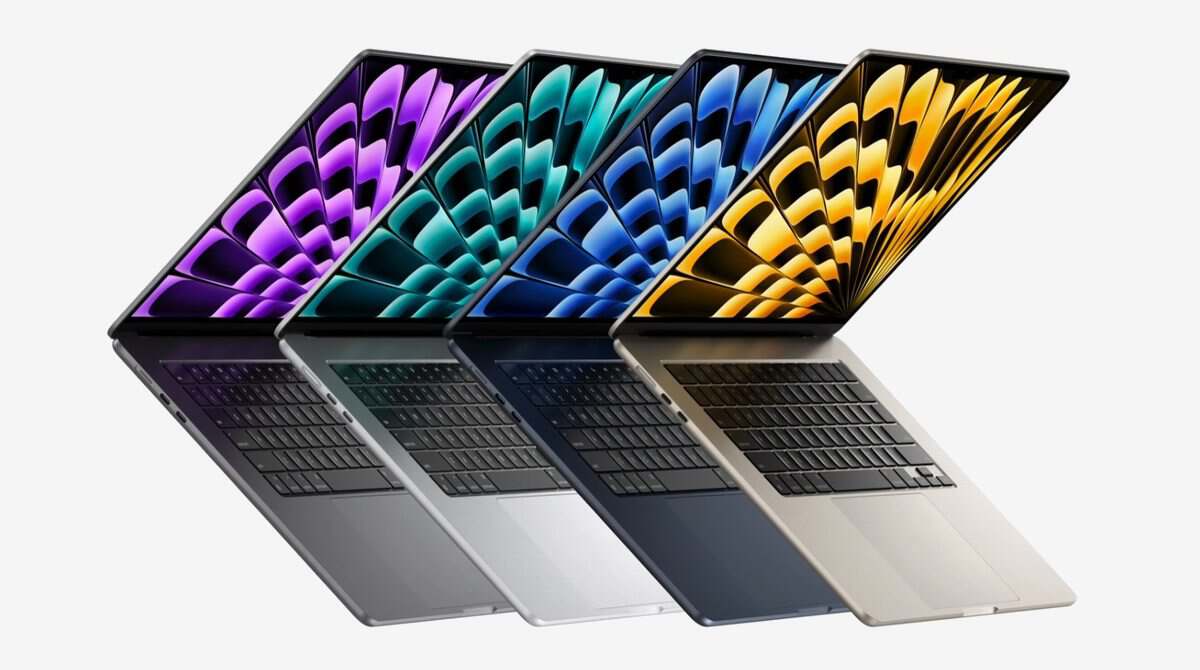 The MacBook Air 15" is positioned as a lightweight and portable laptop, with a thickness of 11.5mm and weighing approximately 1.51kg. Apple claims it to be the thinnest 15-inch laptop in the world. It is available in four color options: Midnight, Starlight, Space Gray, and Silver.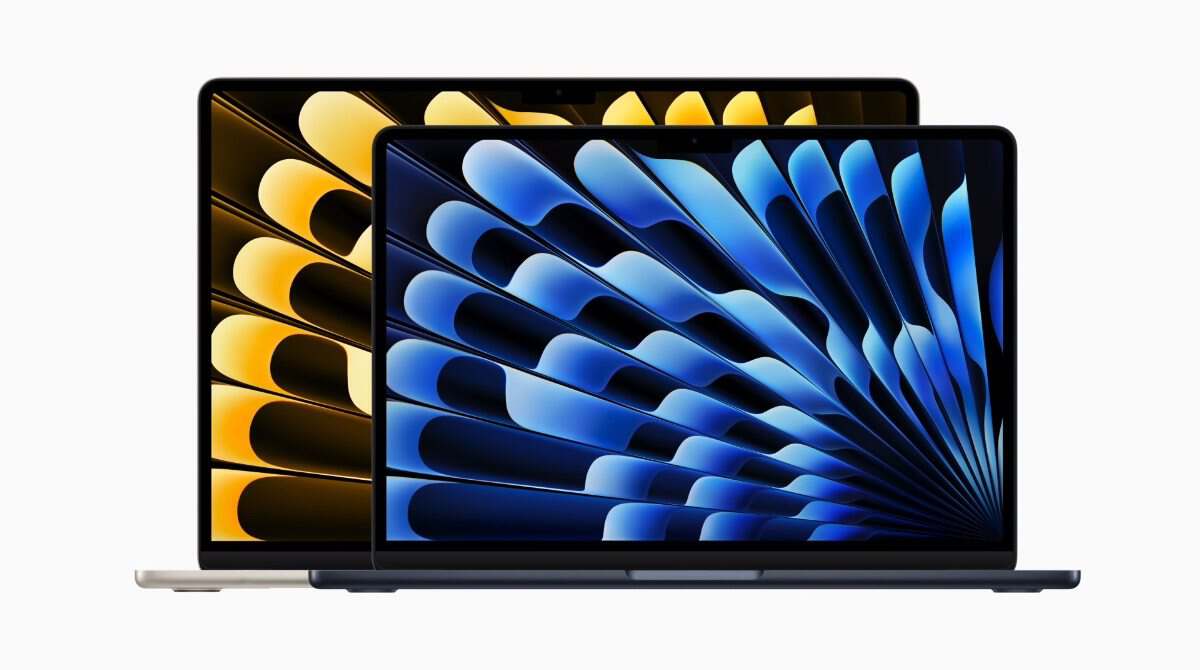 The latest 13" model offers significant benefits to consumers compared to its previous 13-inch generation. The most noticeable change is the increase in screen size, providing a more immersive viewing experience. With a 15.3-inch Liquid Retina display featuring a resolution of 2880x1864, 224 PPI, and support for 1 billion colors, P3 wide color gamut, and 500-nit brightness, users can enjoy sharper, vibrant visuals with excellent color accuracy. Whether it's watching movies, working on creative projects, or multitasking, this upgraded model delivers a larger, high-resolution display that enhances the overall visual experience.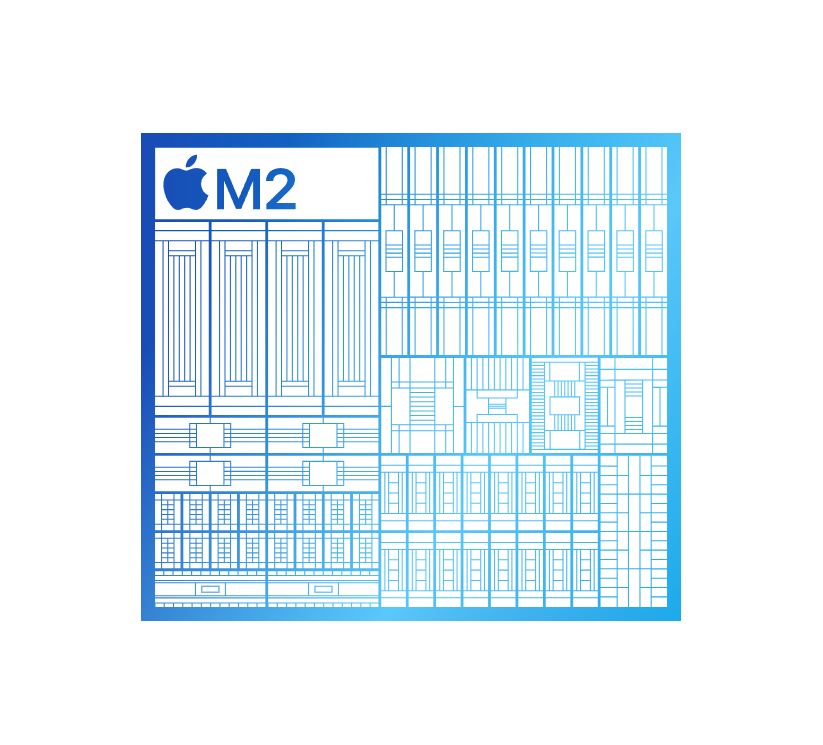 Traditionally, portable business laptops have had relatively modest performance, but this one is different. It still incorporates the powerful Apple M2 8-core processor found in the 13" version, with four performance cores and four efficiency cores. Compared to the top-of-the-line MacBook Air model with an Intel processor, it delivers a 12-fold performance increase, providing strong performance for this thin and light device. It also maintains the classic, fanless, and passive cooling design unique to Apple, ensuring zero noise to keep users focused on their tasks.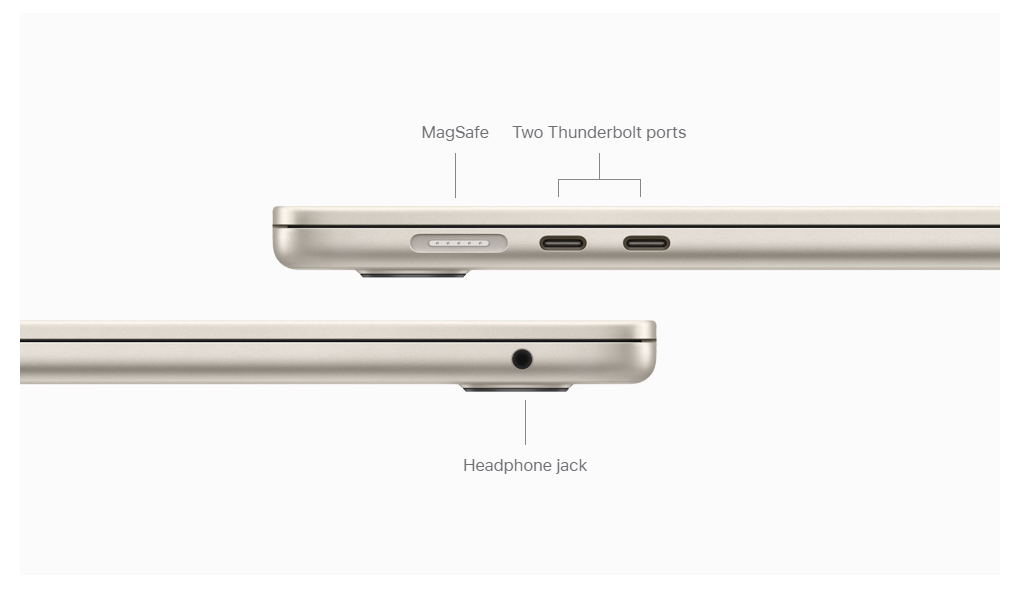 In terms of connectivity, it features two Thunderbolt 3 / USB4 full-function USB-C ports with a maximum speed of 40Gbps. They support DP video transmission and USB PD fast charging. Additionally, it is equipped with the convenient and user-friendly MagSafe 3 connector. This connector brings multiple benefits to consumers. It offers a convenient and user-friendly charging experience as the magnetic cable automatically aligns and attaches to the port. This feature enhances durability by reducing strain on the charging port and cable. Additionally, the magnetic connection improves safety by preventing accidental device falls or damage caused by cable trips or pulls. On the other side of the device, there is a 3.5mm audio jack, but no commonly used ports such as USB-A or HDMI are provided.

Regarding battery life, it has a built-in 66.5Wh battery, providing a maximum of 18 hours of battery life. It comes with a USB-C to MagSafe charging cable and a 35W Dual USB-C Compact Power Adapter in the package.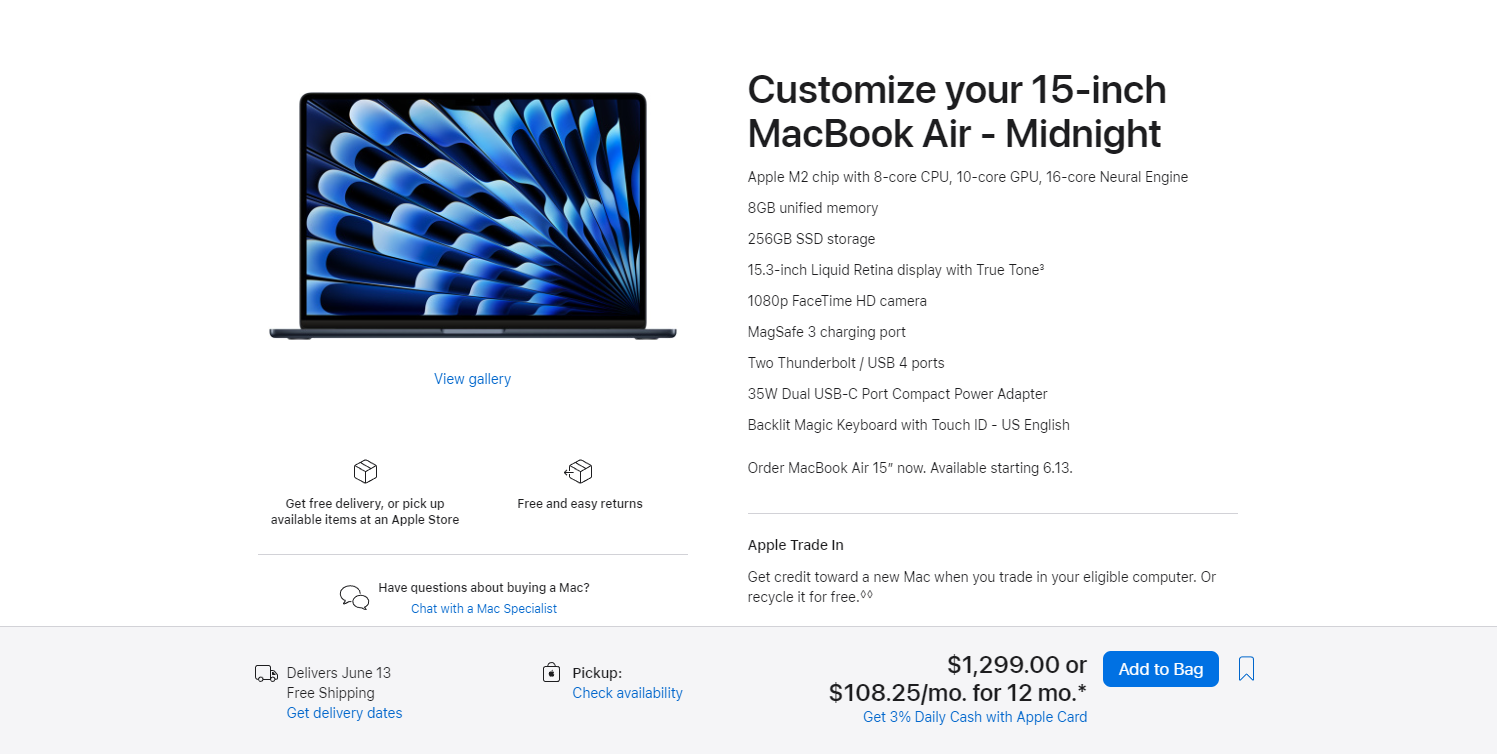 The base configuration for the MacBook Air 15" includes 8GB of memory and 256GB of SSD storage. The highest configuration offers up to 24GB of memory and 2TB of storage. The starting price is $1,299, which is $200 higher than the 13" version with the same memory and storage configuration. It is now available for pre-order and will go on sale on June 13, 2023.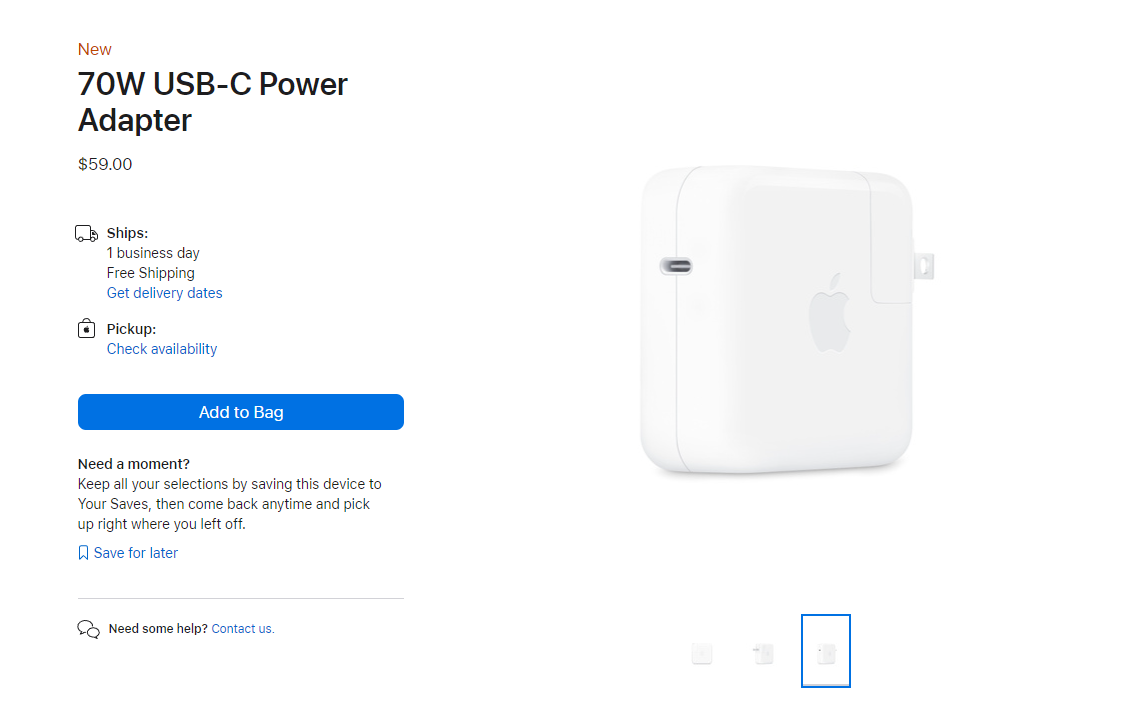 In addition, Apple has also released a new 70W USB-C Power Adapter specifically for the new MacBook Air. Users can purchase it separately at their own expense. It is currently available on the Apple official website for $59. The adapter is designed to provide faster charging speeds while still accommodating high loads.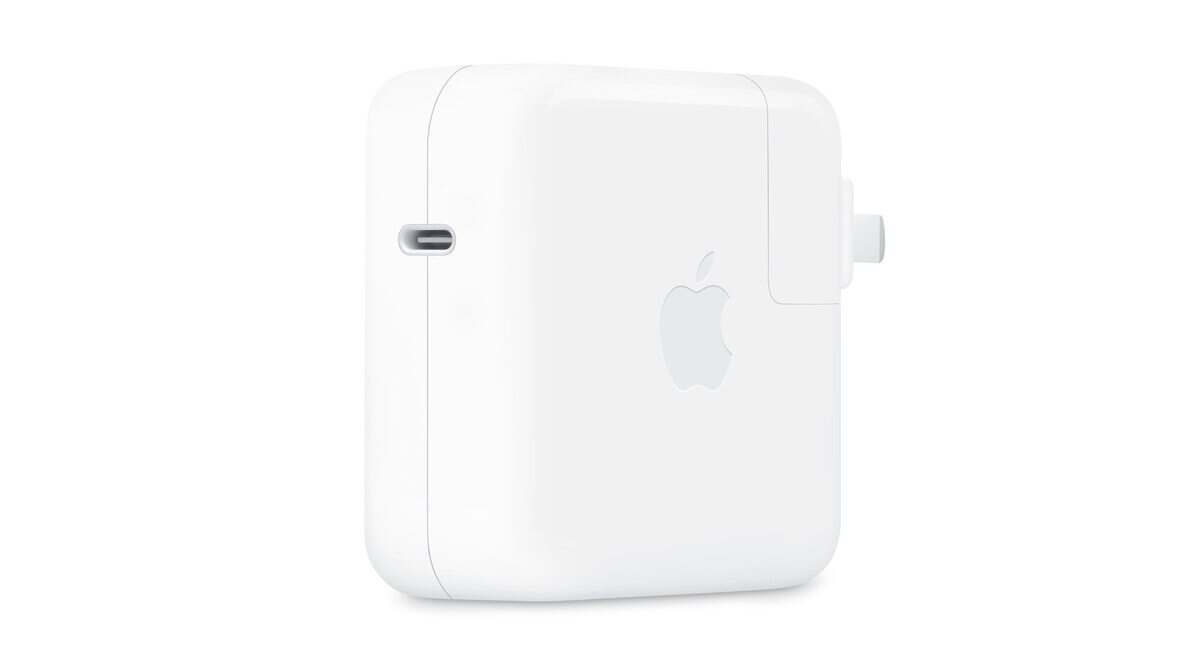 It adopts a single-port output layout, and the white rubber surrounding the USB-C port follows the same manufacturing process as Apple's 67W, 96W, and 140W power adapters. It is different from the discontinued older models like 67W and 96W, which used a metal process.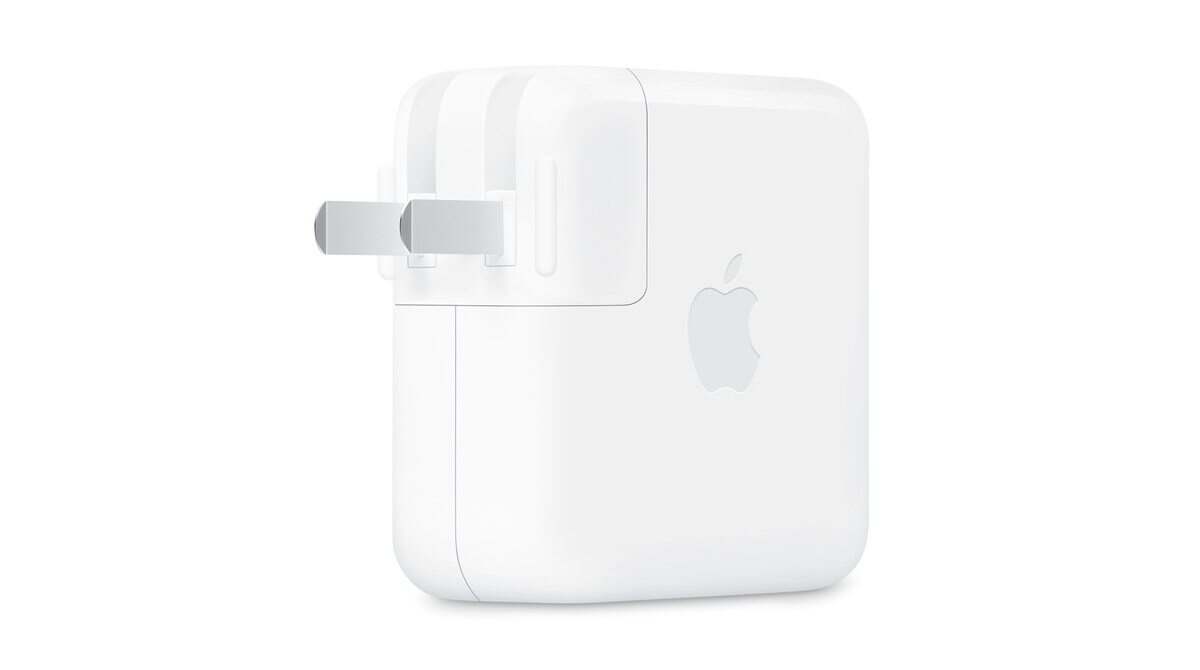 The power adapter continues to feature a glossy white shell with the Apple logo and retains the detachable folding plug design. As for performance, the exact size and PDO info are not yet known. You can continue to follow ChargerLAB for updates on this information.
Why Upgrade to 70W?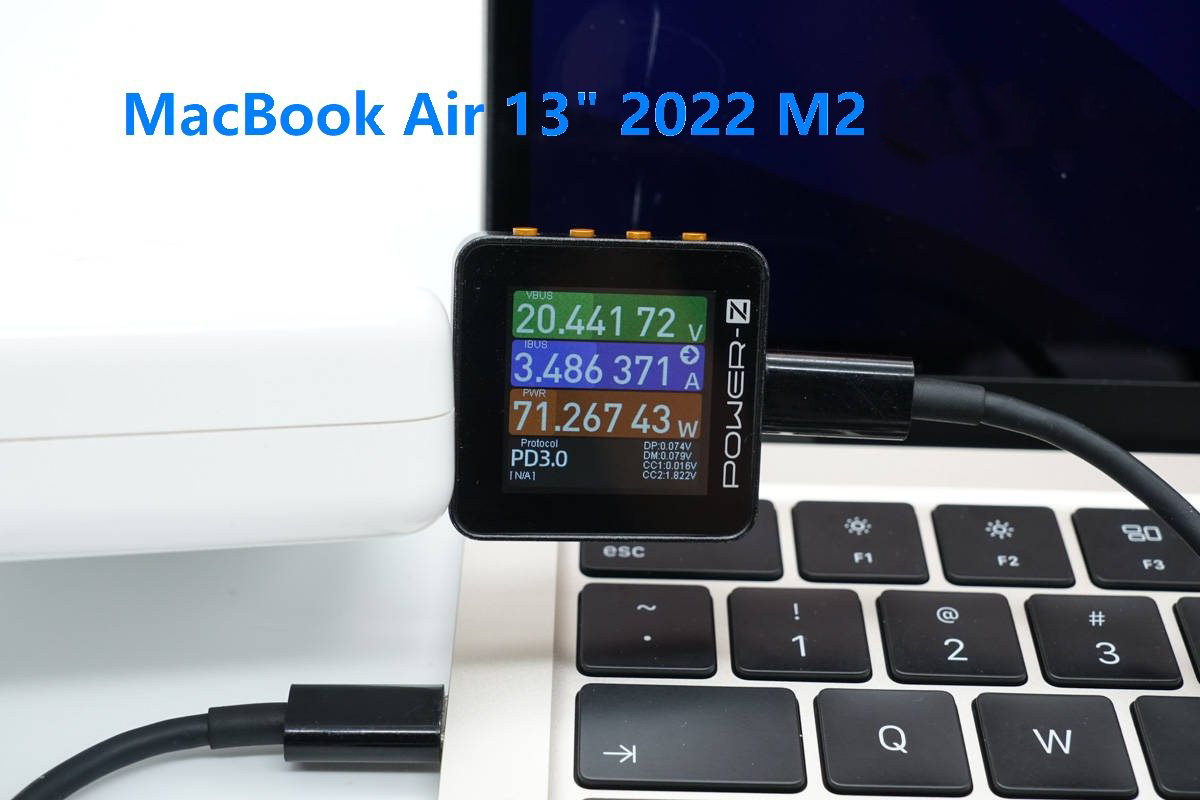 Last year, ChargerLAB conducted in-depth charging review on the MacBook Air 13" (2022 M2) and found that its peak charging speed already exceeded 70W. This made the 67W charger from Apple insufficient, and the larger 96W charger was somewhat awkward in terms of size.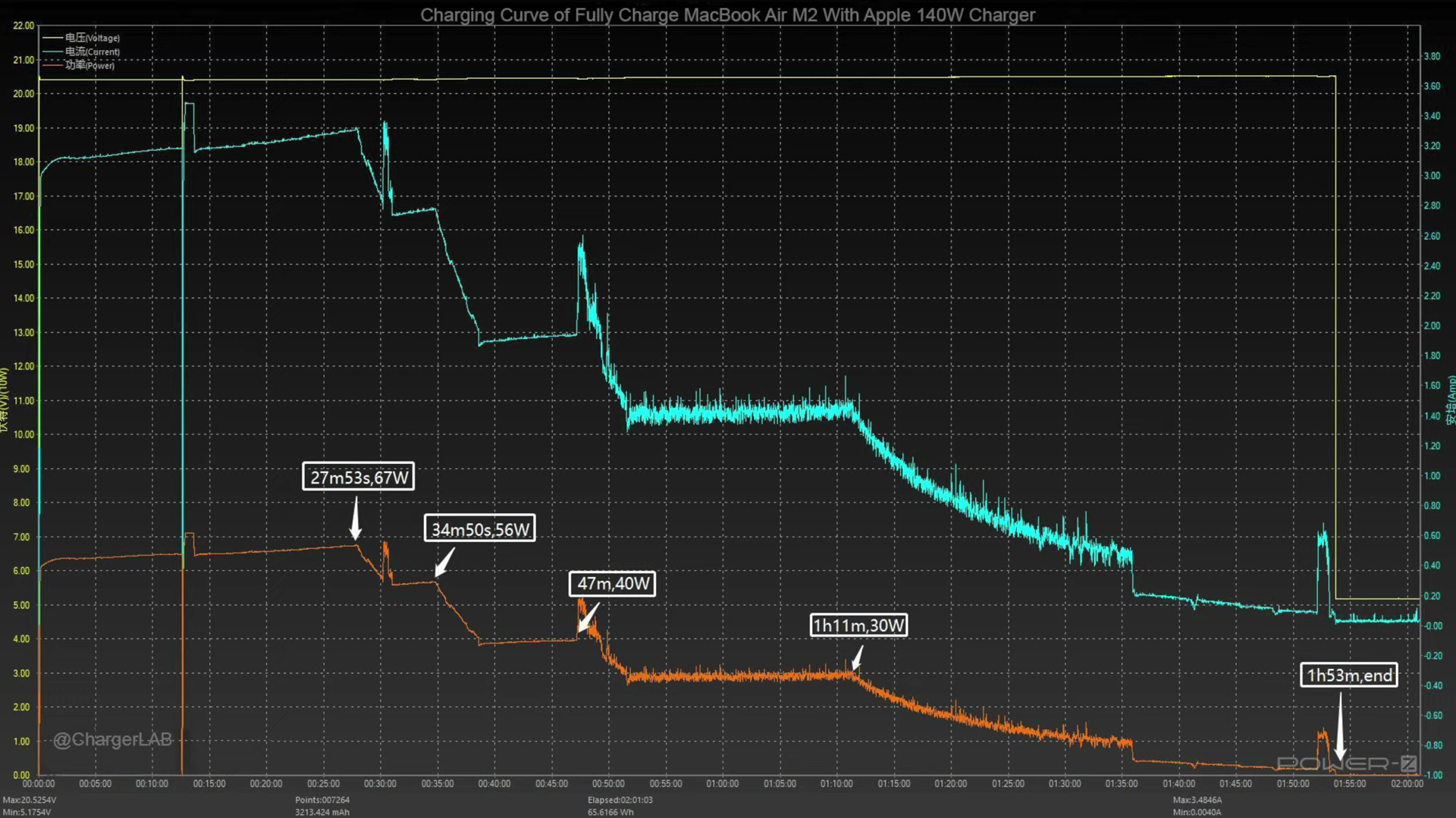 Based on charging tests from 0% to 100% with the Apple 140W power adapter, the peak power and sustained power of this old MacBook Air already exceeded the 67W limit. Therefore, it is reasonable for Apple to release a 70W charger to better adapt to this thin and portable laptop.
Summary of ChargerLAB
The new MacBook Air 15" is equipped with the powerful Apple M2 processor, showcasing that a lightweight laptop can also deliver impressive performance and exceptional battery life. Compared to the previously released 13" version, the MacBook Air 15" offers a larger screen for improved interactive experience and enhanced productivity efficiency. In terms of connectivity, although it lacks HDMI and USB-A ports, the two powerful 40Gbps Thunderbolt/USB-C ports can solve almost all external connection issues through a docking station, eliminating bottlenecks. Additionally, it retains the convenient and user-friendly MagSafe 3 connector.
It also comes with a 35W Dual USB-C Compact Power Adapter as standard, and for users seeking faster charging speeds, Apple has prepared the new 70W USB-C Power Adapter. In terms of mid-to-high-power USB-C chargers, Apple has iteratively upgraded from the 61W (A1718), 61W (A1947), and 67W (A2518) models. With the introduction of the 70W adapter, the fate of the 67W charger will follow that of the 61W model and be discontinued.
Related Articles:
1. Charging Review of Apple MacBook Pro 13" (M2, 2022)
2. Charging Review of Apple MacBook Air 2022 With M2 Chip
3. Charging Review of Apple 140W USB-C GaN Power Adapter
The article is originally written by @
Joey
posted on Chargerlab. All rights reserved.