Enhance Your Commute with the Baseus 15W Electric Wireless Car Charger
In the world of mobile accessories, Baseus has carved a reputable name for itself, known for its innovative and high-quality products. With a rich history of delivering cutting-edge solutions, Baseus has become a leading brand in the market.
Driving and charging phones is a common scene during commutes, leading to the rapid development of the car vent phone mount market, especially for phones with wireless charging capabilities. Recently, Baseus introduced the 15W Electric Wireless Car Charger, which features an automatic motorized arm mechanism for securely holding the phone and providing wireless charging. It's a device that combines convenience, functionality, and style for an enhanced driving experience.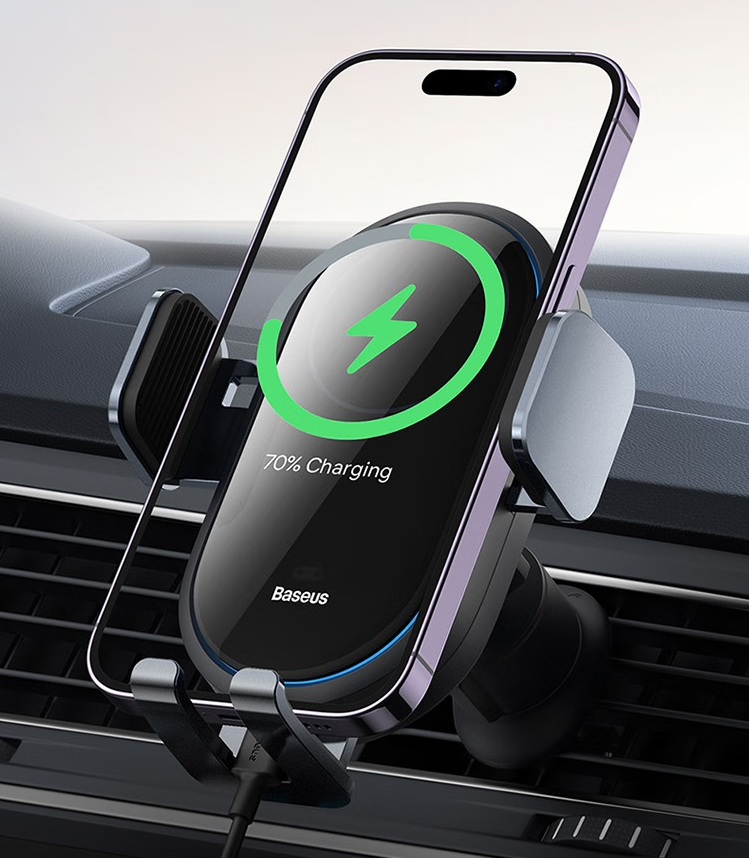 The Baseus 15W Electric Wireless Car Charger is installed firmly on the car's air vent using an elastic mechanical bracket. It incorporates a built-in 15W Qi standard wireless charging module, supporting up to 15W wireless charging for Android phones and up to 7.5W wireless charging for iPhones. The mirror panel is surrounded by a blue light ring, which quickly illuminates during charging and flashes when in standby mode. This allows users to precisely place their phones in dim environments and can also serve as ambient lighting for the car. The charger also features a control button on the side, which can be double-clicked to activate or deactivate the lighting effect.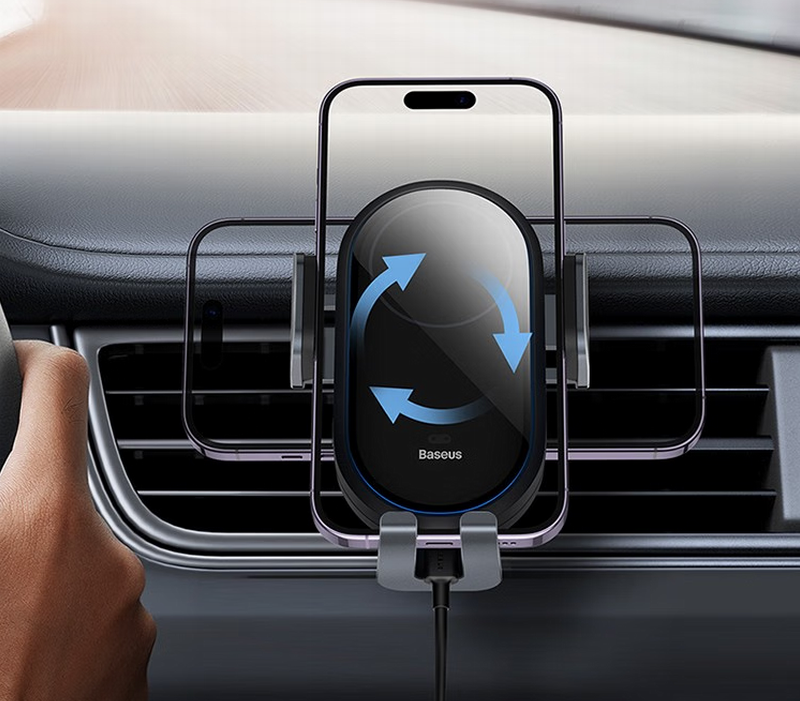 This car charger adopts a three-point clamping design for a secure and stable hold. It can perfectly fit phones ranging from 5.4 to 6.7 inches and is equipped with rubber pads to prevent scratching the phone. It also includes a universal ball joint, allowing for both horizontal and vertical placement. At the bottom, there is a cable insertion point, so even when the phone is clamped, users can still use faster wired charging for quick power replenishment, giving the flexibility to choose the charging method.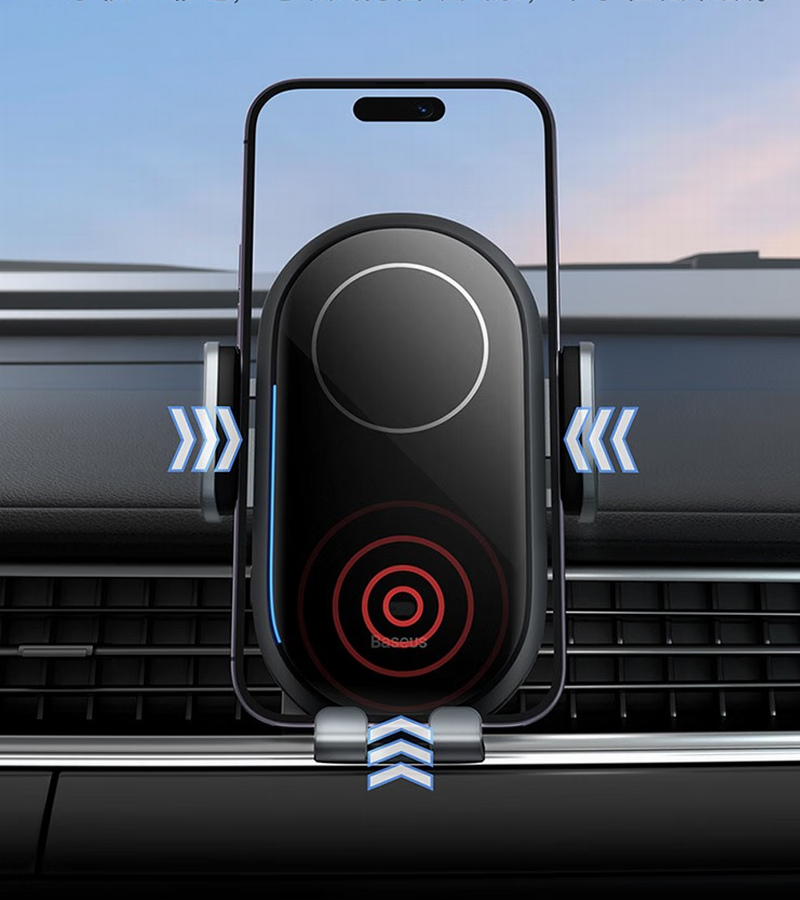 The mirror panel of the charger houses an intelligent infrared sensor. When the phone is placed, the motorized arm automatically clamps it and starts wireless charging. To remove the phone, users simply need to lightly touch the button on the back, and the motorized arm will release it. With the built-in capacitor design, the arm can still be controlled to remove the phone even after the car engine is turned off.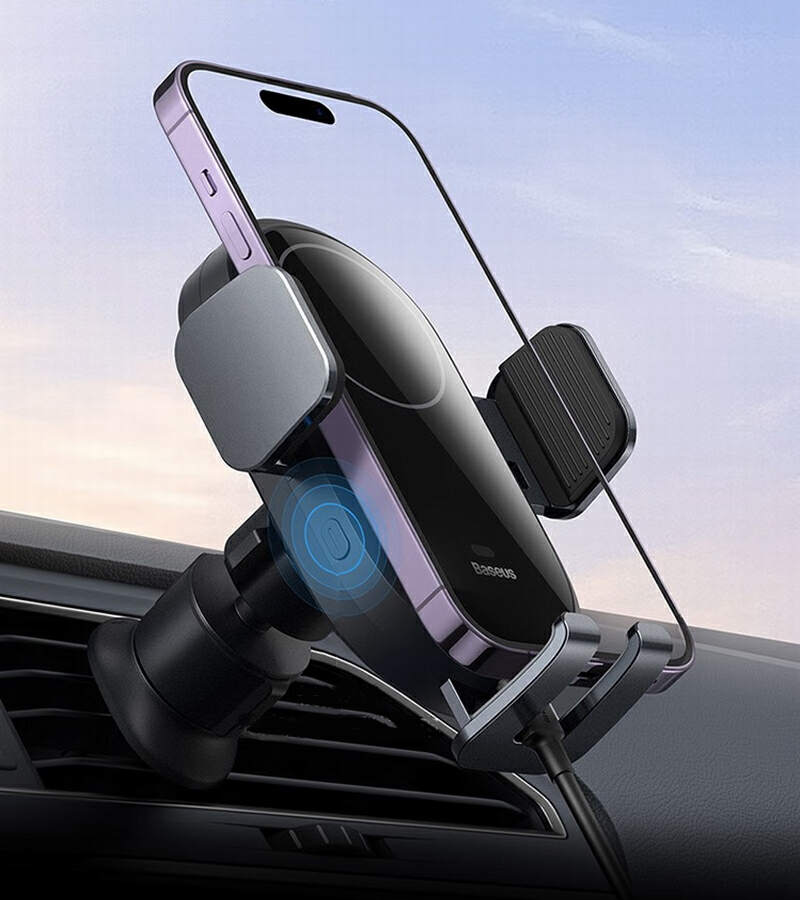 Additionally, it features controllable charging design, with a manual charging switch located on the side of the device. By pressing and holding for 3 seconds, users can deactivate or activate the wireless charging function. This allows the charger to be used solely as an electric bracket, suitable for scenarios where wired fast charging is preferred or when the phone is already fully charged to avoid overcharging situations.
Summary of ChargerLAB
With the Baseus 15W Electric Wireless Car Charger, the hassle of charging your phone during your daily commute becomes a thing of the past. Baseus continues to push the boundaries of mobile accessories, offering users a seamless and convenient charging experience. The sturdy and versatile design, coupled with its advanced features like the automatic clamping mechanism and customizable charging options, make it a standout choice for those seeking a reliable and efficient car charger.
As Baseus stays true to its commitment to innovation and customer satisfaction, we can expect to see more groundbreaking products that cater to the evolving needs of mobile device users. Whether you're a frequent traveler, a busy professional, or simply someone who values convenience, Baseus is a brand that you can rely on to enhance your charging experience both at home and on the road.
The Baseus 15W Electric Wireless Car Charger is currently available for purchase only at the Baseus auto supplies flagship store on JD, a popular online marketplace in China, and the price is set at 259 yuan ($37).
Related Articles:
1. Baseus Launched Transparent 2-in-1 Wireless Charger
2. Review of IKEA SJÖMÄRKE Wireless Charger
3. Review of SliceCharge 3 Pro Wireless Charging Station
The article is originally written by @
Joey
posted on Chargerlab. All rights reserved.