Built for Gamers | Colorful Unveils iGame G-ONE PLUS All-In-One Computer
In the field of computers, there is a type called "all-in-one" that combines the monitor and PC into one unit. Most users have the impression that all-in-one computers are average in performance and not cost-effective, only suitable for simple office tasks. However, the well-known gaming hardware manufacturer Colorful has broken this notion by introducing the iGame G-ONE PLUS all-in-one computer. It retains the sleek design of an all-in-one while being equipped with high-performance hardware configurations like the i9 processor and RTX 3060 graphics card. The base of the computer also features wireless charging, providing convenience for users.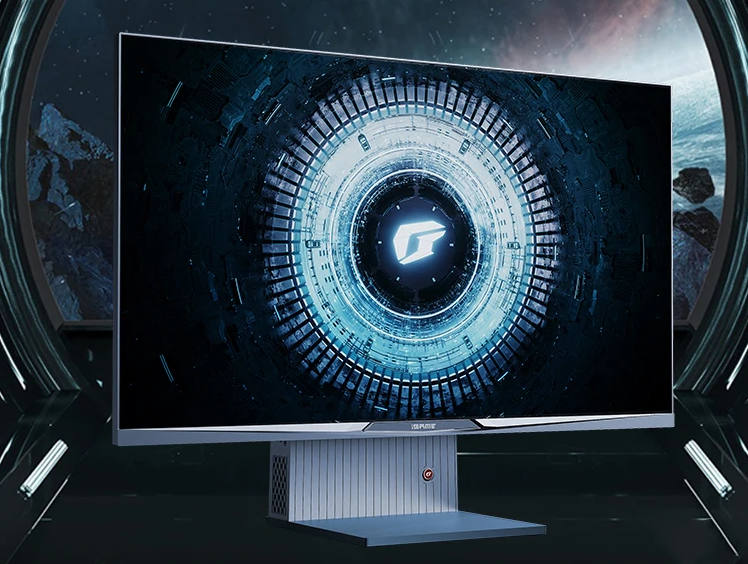 The Colorful iGame G-ONE PLUS all-in-one computer adopts an L-shaped body with clean lines, giving it a strong and powerful appearance. For the top-tier model, it is equipped with an i9-12900H 14-core 20-thread processor, delivering a performance of up to 90W. The entire series is equipped with an RTX 3060 Laptop dedicated graphics card, providing a maximum power of 140W and supporting GPUDirect. In terms of storage, the top model offers 32GB of 3200MHz DDR4 memory and a 1TB PCIe 4.04 M.2 solid-state drive, with an additional M.2 PCIe 4.04 port for easy expansion.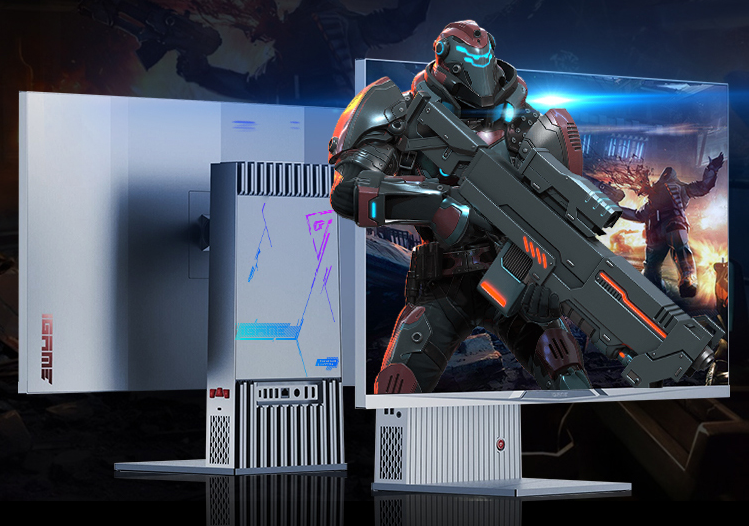 Featuring a large 31.5-inch IPS screen with a resolution of 2560*1440, the screen has a high refresh rate of up to 165Hz. It also supports adjustable angles of -5° to +15° for tilting and a ±15° adjustment for horizontal viewing. The monitor also integrates high-power dual speakers and a built-in camera module at the top, featuring a push-up design that can be retracted when not in use. Plus it supports face recognition unlocking and has stereo microphones for audio recording.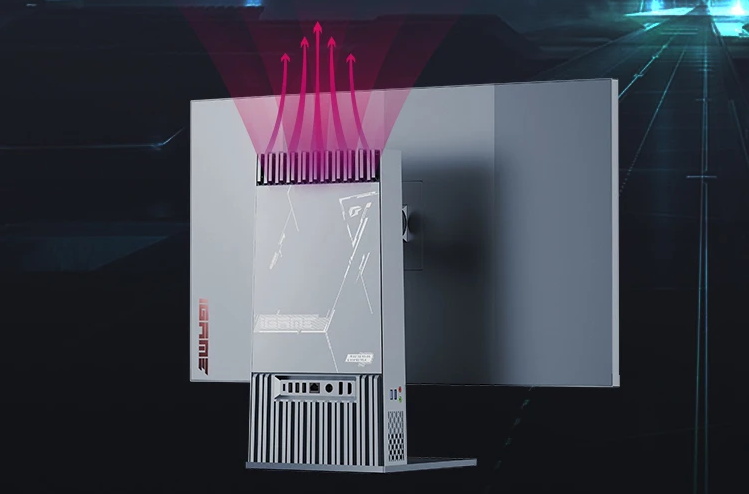 The motherboard, graphics card, and processor are all housed within the vertical stand of the all-in-one computer, which adopts a rectangular honeycomb cutout design to improve the efficiency of airflow intake. This innovative design allows for a steady flow of fresh air into the system, ensuring optimal cooling performance even during demanding tasks. The CPU and GPU are equipped with 10mm x 4 + 8mm x 1 heat pipes, enabling rapid heat transfer and effectively dissipating heat to maintain stable operating temperatures. Complementing the heat pipes, the all-in-one computer features dual turbocharged internal fans, which operate quietly while efficiently expelling hot air from the system.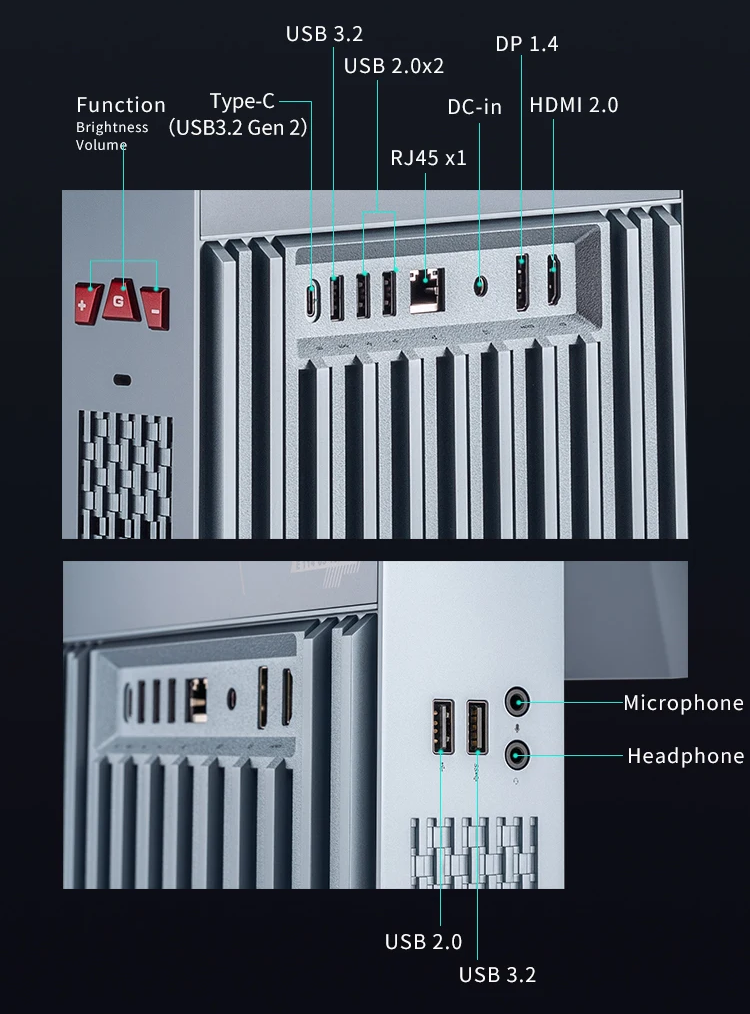 On the left side of the stand, there are three multifunctional buttons for adjusting the monitor's brightness and volume. The right side features two USB-A ports, one of which is USB3.2, and two 3.5mm audio jacks for connecting headphones and microphones. The back of the computer has one USB-C USB3.2 Gen2, one USB-A 3.2, two USB2.0, one RJ45, DC power in, one DP1.4, one HDMI2.0, and supports WiFi 6E + 2.5Gbps high-speed network.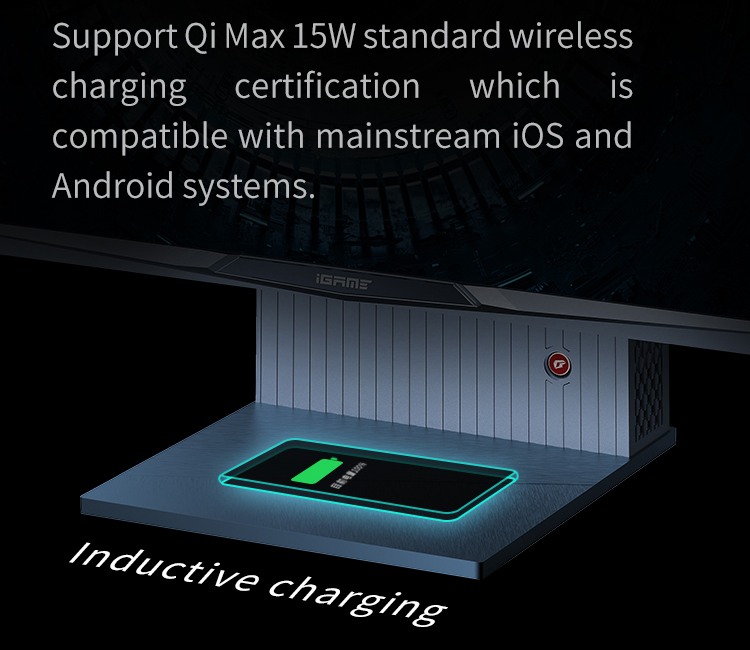 The all-in-one computer's flat and wide base includes a built-in wireless charging module with a maximum charging power of 15W. It is designed to be compatible with various wireless charging power standards, including 10W, 7.5W, and 5W. And devices that support the Qi wireless charging standard, such as smartphones, TWS earbuds, and wearable devices, can be effortlessly charged by simply placing them on the base. This convenient feature eliminates the need for additional charging cables or adapters, allowing users to seamlessly replenish the battery of their digital devices while enjoying the all-in-one computer's functionalities.
Summary of ChargerLAB
In conclusion, the Colorful iGame G-ONE PLUS all-in-one computer is targeted at gaming hotels, esports education, and individual gamers seeking a combination of simplicity and high performance. With its minimalist design philosophy, there is no need for large casings or cluttered cables, resulting in a clean and elegant workspace that elevates the overall aesthetic. Its hardware configuration rivals that of high-performance PCs, and its efficient cooling design ensures optimal gaming experiences, whether immersing oneself in AAA titles or engaging in exhilarating esports battles. Furthermore, the inclusion of wireless charging on the base allows for convenient charging of smartphones and other digital devices during gaming sessions, without the need for additional desktop accessories.
Related Articles: 
1. New Gamer on the Block | ASUS Launched the Rog Ally Handheld Gaming Console
2. Computer Case With 60W Fast Charging: Meet the ROG Hyperion GR701
3. Teardown of ASUS ROG Thor 1600W Titanium Power Supply
The article is originally written by @
Joey
posted on Chargerlab. All rights reserved.