Experience Unmatched Portability with the Anker 621 Power Bank
Do you ever need to go out for a short period of time and find that your phone is out of battery? What should you do? I believe most people would bring a cable and a power bank, but most power banks are bulky and the cables are difficult to organize. This goes against the common "travel light" lifestyle these days. Anker has a rich product line of power banks, ranging from high-performance and high-power options to compact and portable ones. To meet the charging needs in various situations, Anker has once again created a portable and travel-friendly power bank for iPhone users, and it is called the Anker 621 Power Bank.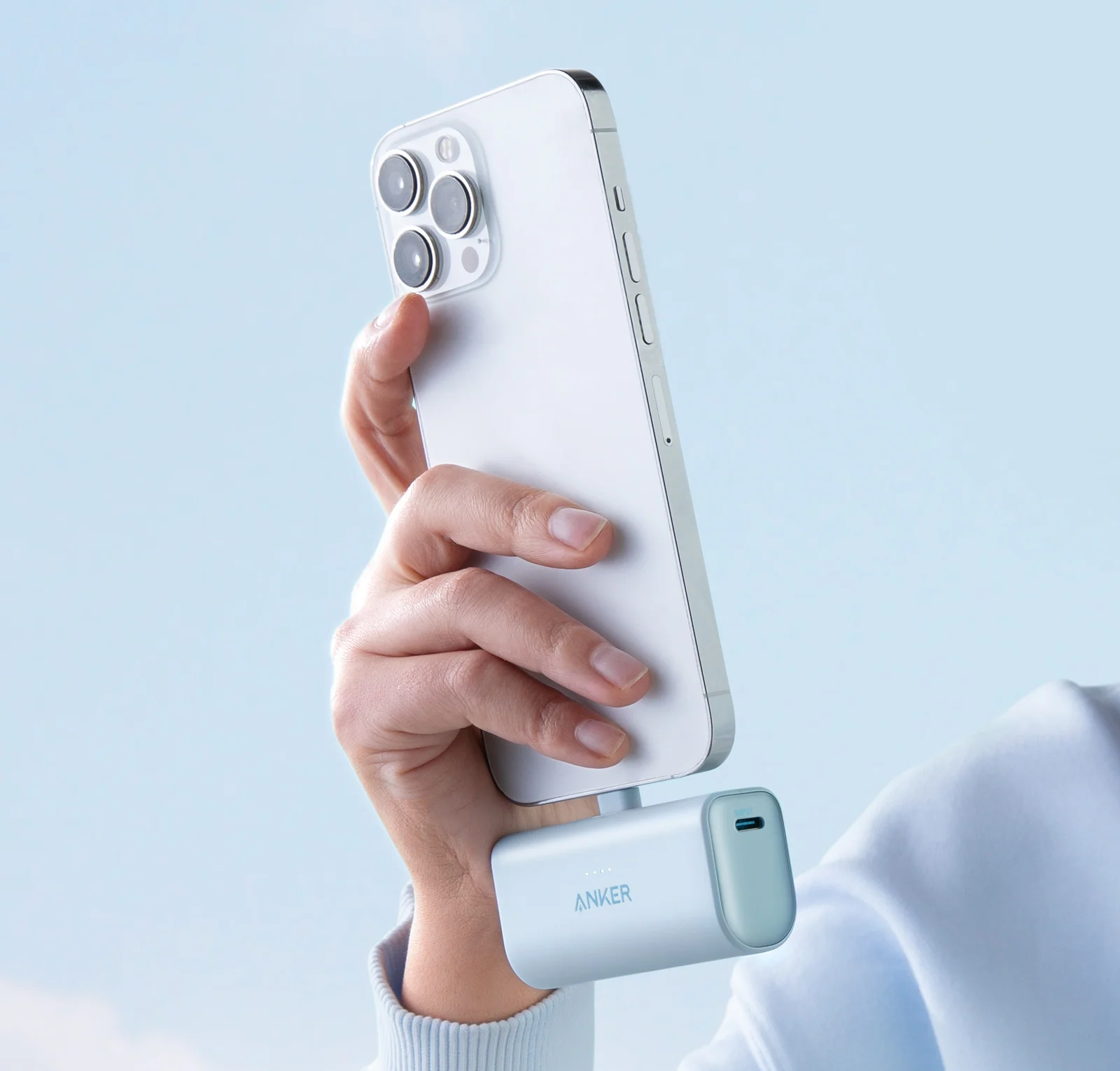 The Anker 621 Power Bank, identified by the model A1645, is a remarkable portable power bank that sets itself apart with its built-in Lightning charging connector. This innovative feature eliminates the need for carrying an extra cable when you're on the go. Simply pull out the connector, and you can instantly charge your iOS devices such as iPhone and iPad.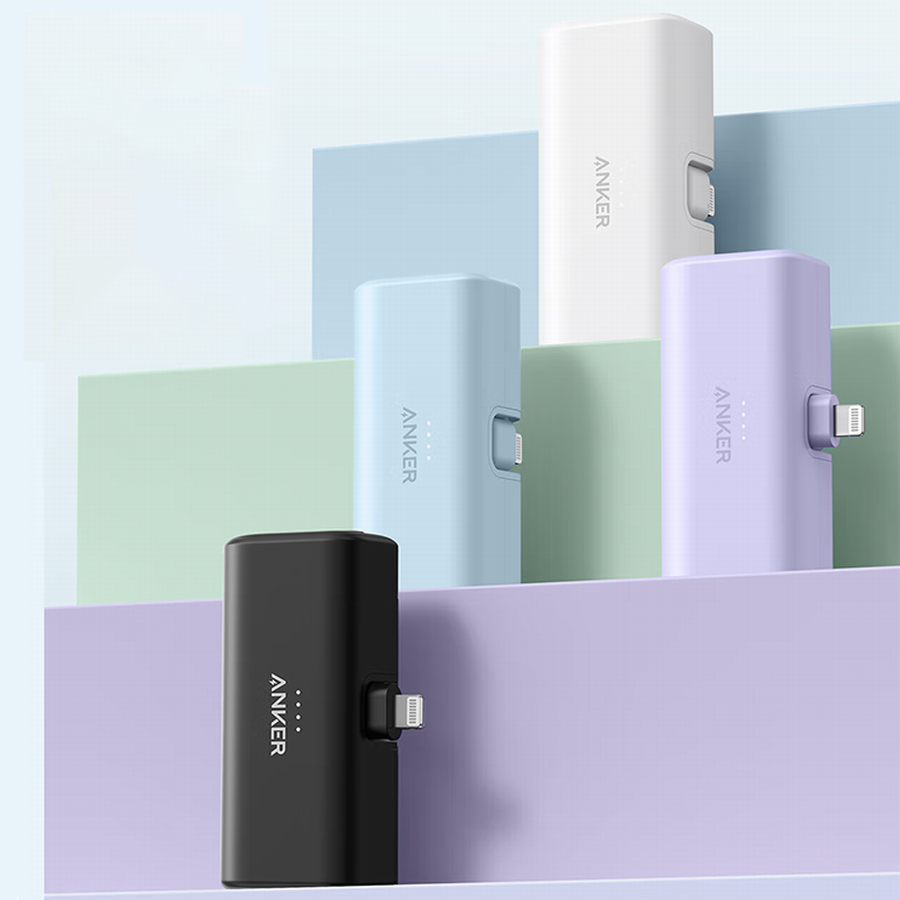 This power bank has a smooth texture, providing a pleasant tactile experience. The matte finish shell not only adds a touch of elegance but also integrates four white battery indicator lights, allowing users to easily monitor the remaining power. In terms of color, it takes inspiration from the trendy Morandi color palette, offering four stylish options: a sophisticated dark gray, a classic Anker white, a refreshing glacier blue, and a charming lilac purple.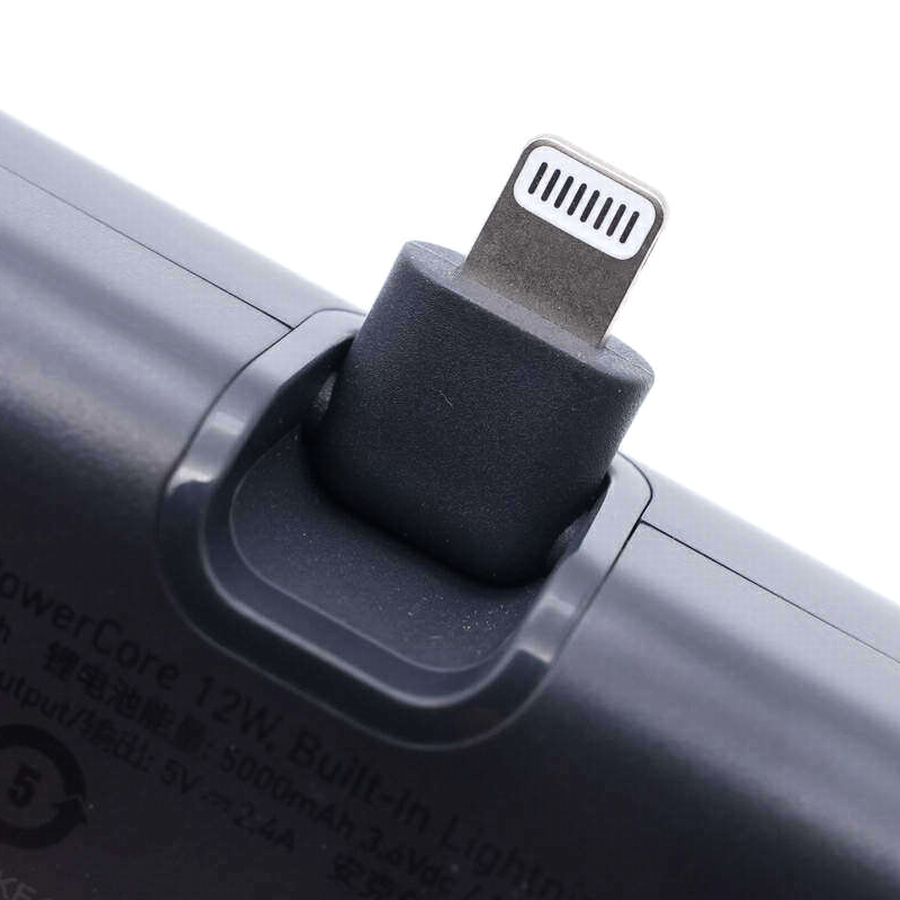 The built-in Lightning connector has passed the official Apple MFi certification, ensuring safe charging without harming the device. It is compatible with iOS devices and can continue to be used stably after system upgrades. The maximum output power is 12W, which can quickly and efficiently power your iPhone. The connector also features a foldable design. When in use, simply gently pull it out and plug it into your phone for charging. When not in use, press it to retract it into the shell, protecting other devices in your bag from scratches and making it easy to carry.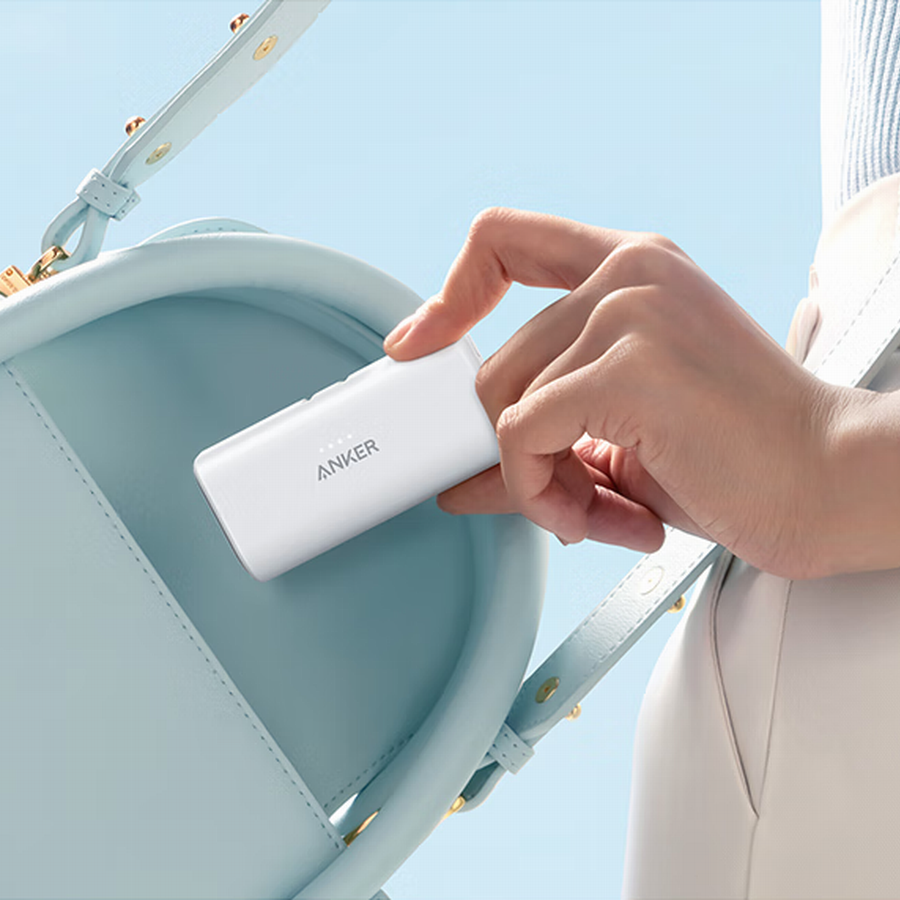 The Anker 621 Power Bank truly excels in its compactness, resembling the size of a lipstick, with dimensions of just 77 x 36.8 x 25mm (3.03 x 1.45 x 0.98 inches). Weighing a mere 98.5g (3.47 oz), it effortlessly fits into any bag or pocket, making it incredibly convenient for travel or daily use. Say goodbye to cumbersome charging solutions and embrace the freedom of convenient power.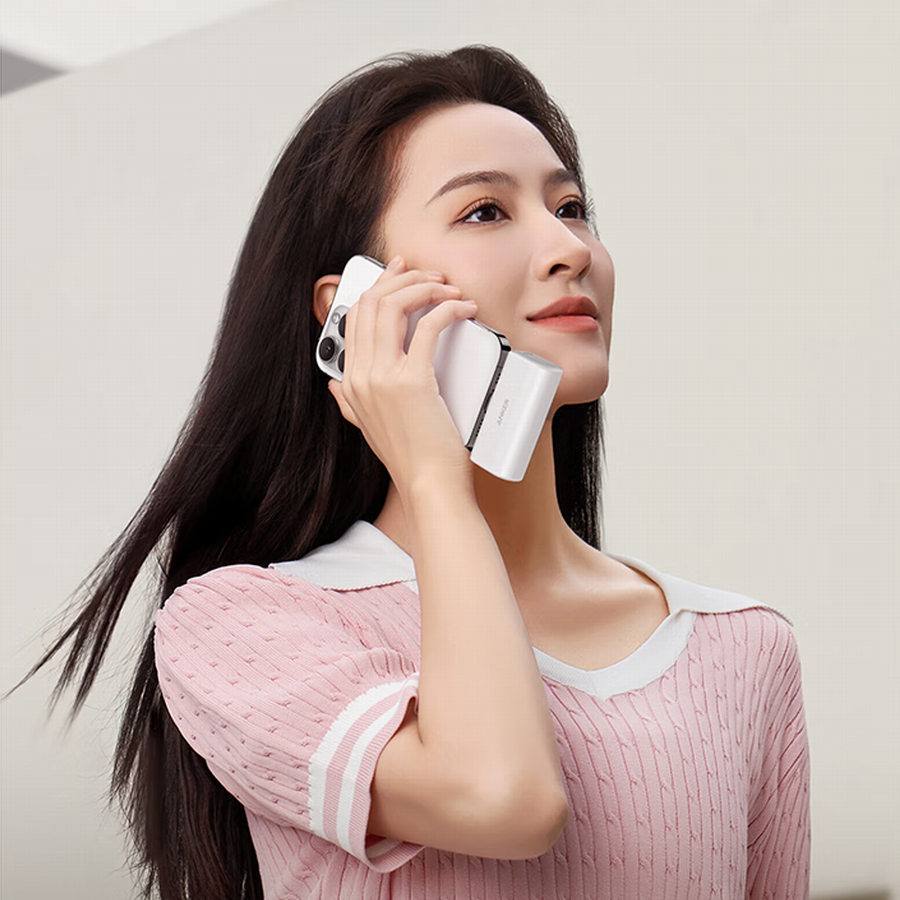 Internally, it adopts a 21700 high-energy density lithium battery cell with a capacity of 5000mAh. It can serve as a second battery for your phone, providing power backup for emergencies when going out. It can charge your phone approximately 0.8-1 times, alleviating worries about low battery.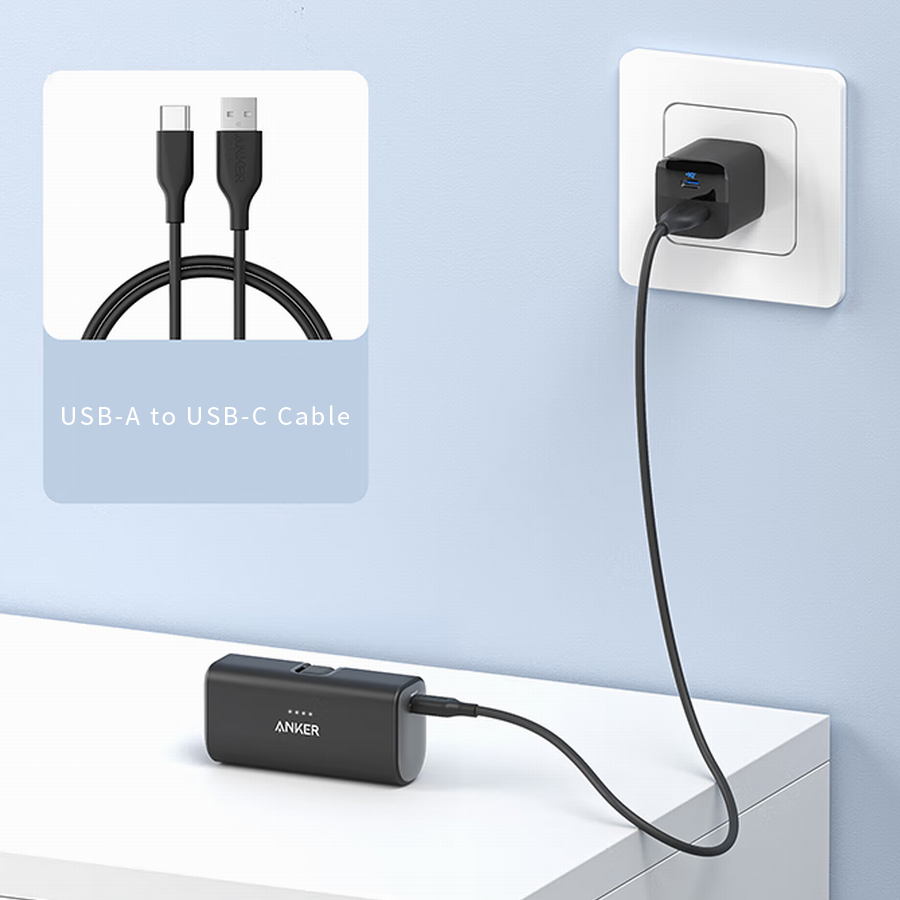 To ensure convenient self-charging, this power bank features a USB-C input port on its side, capable of delivering a maximum power of 5V3A (15W). This allows for relatively fast and efficient recharging of the power bank itself. Additionally, the package includes a 0.6m USB-A to USB-C short cable, specifically designed for easy carrying and compatibility with mainstream chargers.
Summary of ChargerLAB
In conclusion, the Anker 621 Power Bank's main selling point is its ability to provide power backup for iPhone users while prioritizing lightweight and easy portability. With its built-in 5000mAh capacity battery, it caters to the charging needs of short trips, all while weighing less than a hundred grams and being as small as a lipstick. The integrated retractable Lightning connector, which is Apple MFi certified, allows for convenient charging of iPhones without the need for carrying extra cables. It enables worry-free, travel-light experiences with abundant battery power, stay connected and empowered with this remarkable portable charging companion by your side.
In addition, this outstanding product is now available on Amazon US, with a price tag of $31.99. Interested readers can simply click on the buttons provided at the beginning and end of the article to make a purchase. Grab yours today and enjoy worry-free charging wherever your adventures take you!
Related Articles: 
1. Transformers Inside | Anker Launched 65W GaNPrime 733 Power Bank
2. Power Bank & Charger Combined | Anker 511 Pro Power Bank Experience
3. Teardown of Anker 140W PD3.1 Power Bank (737 Power Bank)
The article is originally written by @
Joey
posted on Chargerlab. All rights reserved.