Dual-Certified Charging Powerhouse: MOMAX Folding MagSafe 2-in-1 Wireless Charger for Apple Devices
iPhone, AirPods, and Apple Watch, portable devices from Apple, now fully support magnetic wireless charging technology. These devices automatically align and attach to the charging coils when they are in close proximity, eliminating the need for precise placement. Recently, MOMAX introduced the Q.Mag Go Folding MagSafe 2-in-1 Wireless Charger, which utilizes Apple's MFM (Made for MagSafe) + MFW (Made for Watch) dual-certified original modules and features a "box" design, providing Apple enthusiasts with a high-quality magnetic wireless charging experience.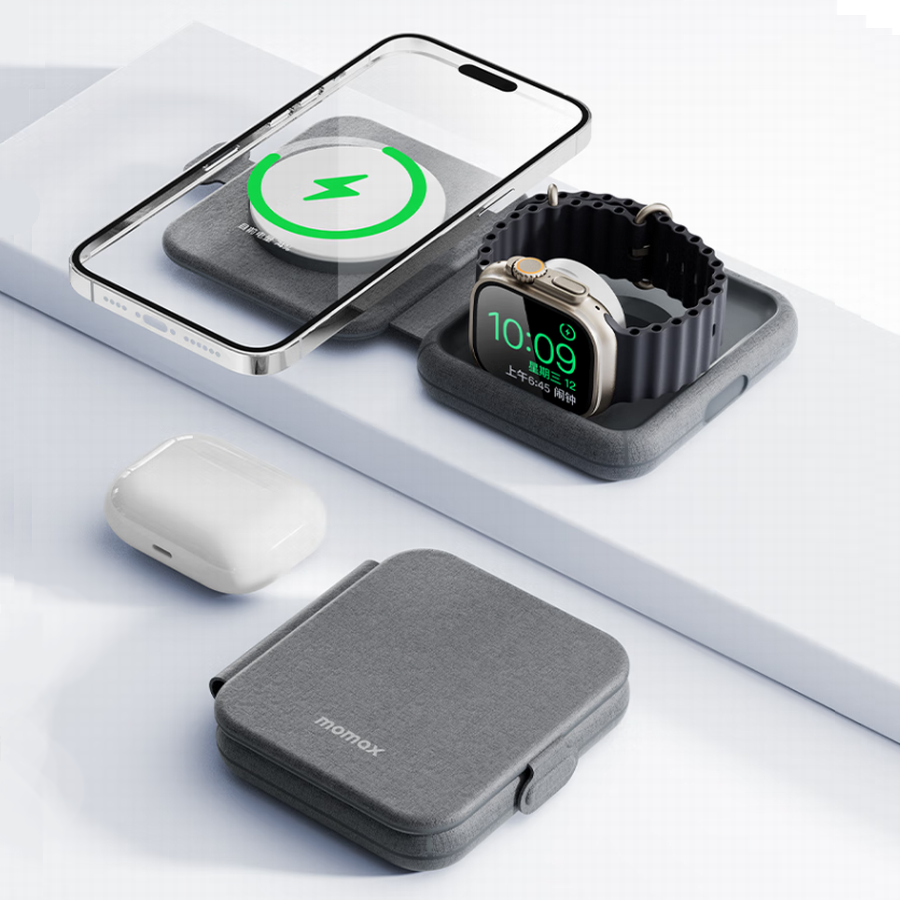 The MOMAX Q.Mag Go Folding MagSafe 2-in-1 Wireless Charger, model UD30, is a uniquely designed dual fast-charging product. The interwoven texture on the surface creates a delicate leather-like feel. The device is made of ABS+PC+PU materials and features a "box" design with a magnetic closure, ensuring durability and impact resistance.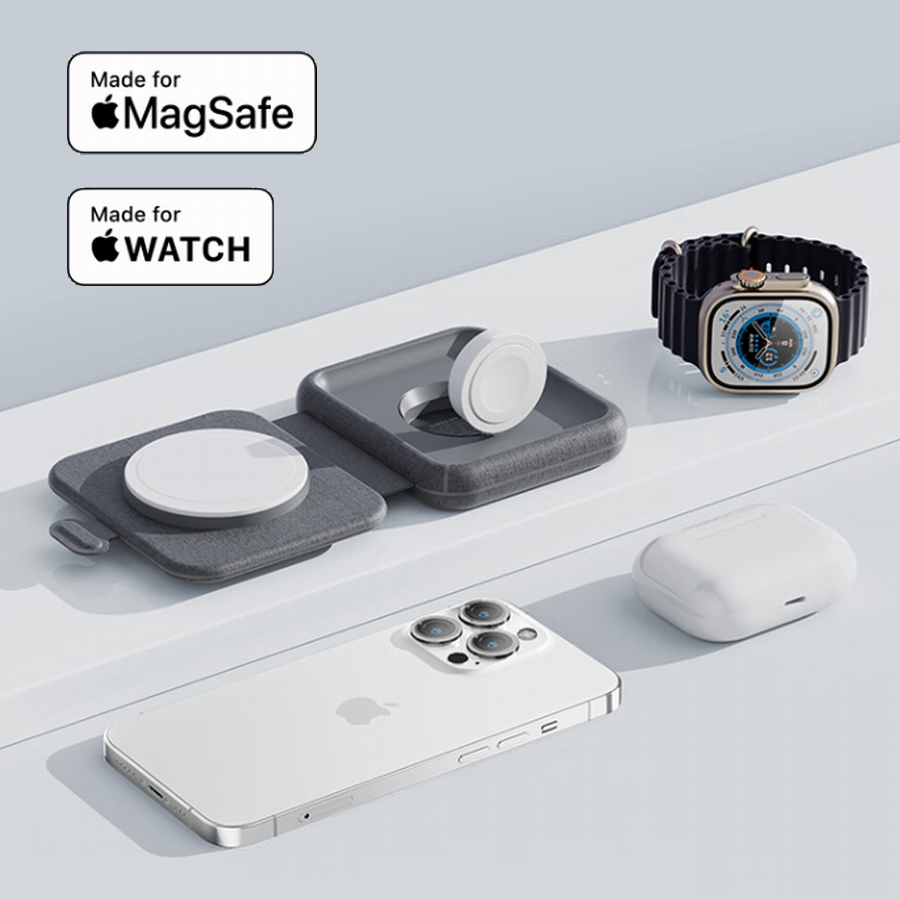 And this wireless charger is equipped with dual-certified wireless charging modules, Made for MagSafe and Made for Watch, ensuring full compatibility with iOS systems. It offers faster charging speeds and comparable compatibility to Apple's original products. The watch charger supports both standing and flat charging modes, providing versatility for various charging scenarios.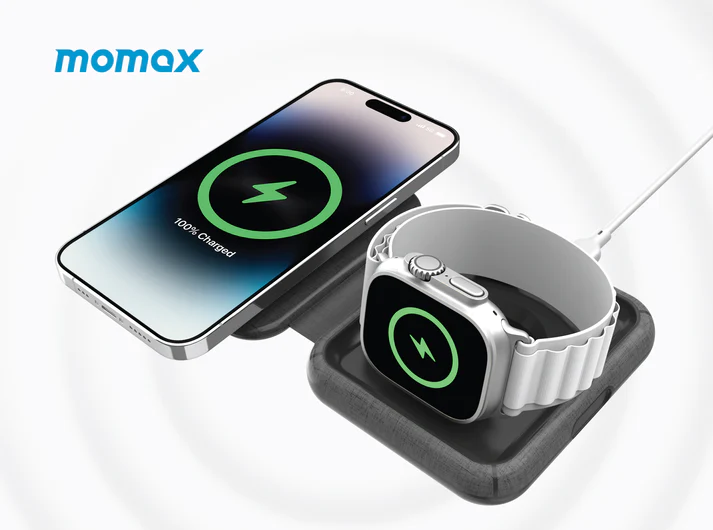 The left side of the image represents the magnetic wireless charging area for smartphones, capable of providing 15W MagSafe fast charging for the iPhone 12-14 series. It can charge the iPhone 14 up to 80% in approximately 1.5 hours and provide 5W wireless charging for AirPods wireless earphones. The right side represents the charging area for the watch, supporting fast charging for Apple Watch Ultra/S8/S7 and standard charging for Apple Watch S1/S2/S3/S4/S5/S6/SE/SE2. It can charge the Apple Watch S8 up to 80% in about 45 minutes.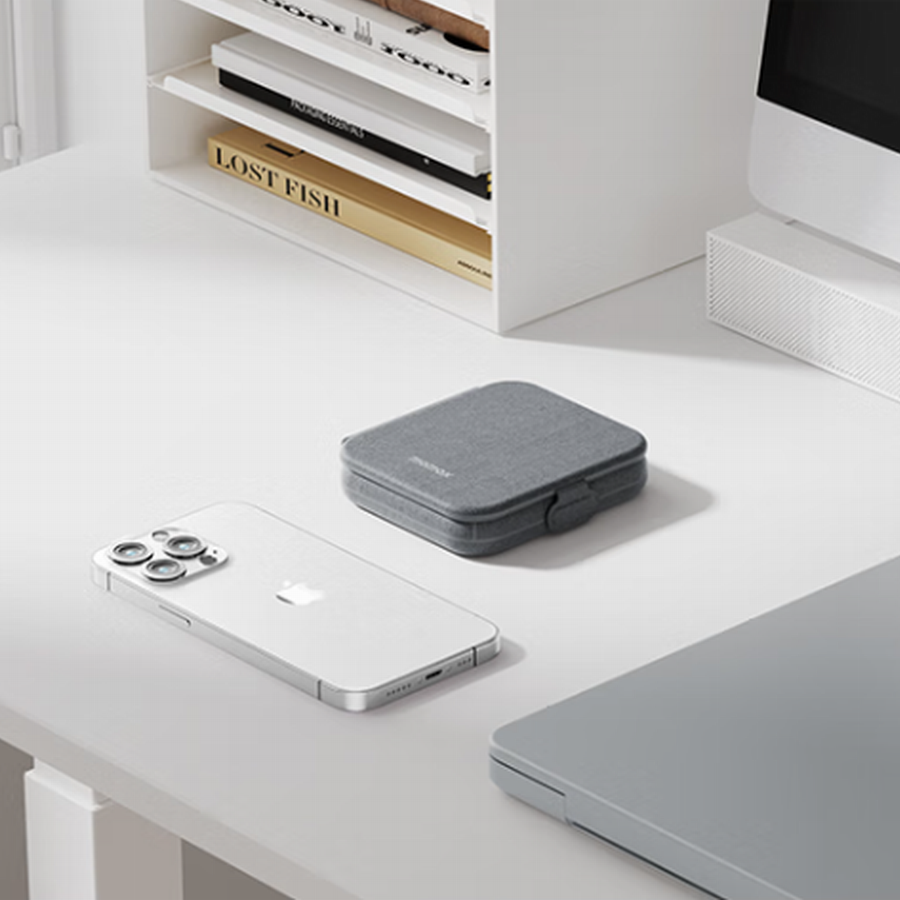 In other words, it caters to the charging needs of the three most commonly used portable electronic devices: phones, earphones, and watches. It eliminates the hassle of dealing with cables and allows for convenient charging by simply placing the devices down. It enhances the overall tidiness and simplicity of desktops for home and office use. It also eliminates the need to pack various charging accessories when traveling, improving the daily charging experience for digital devices.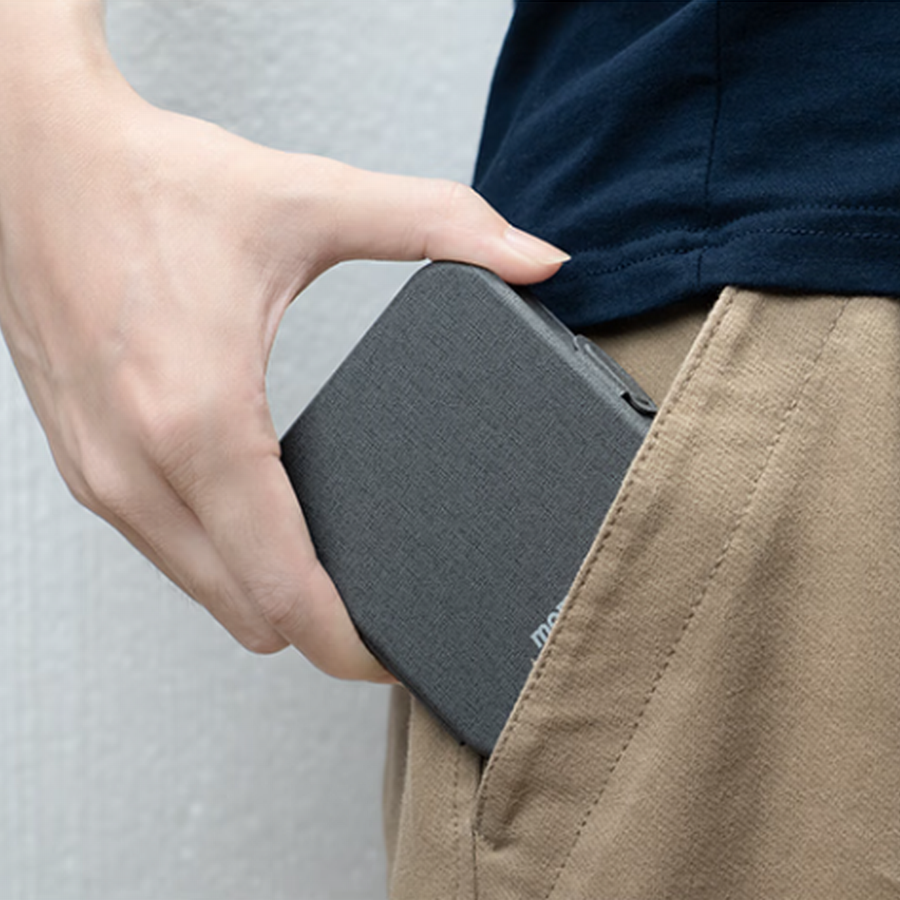 Thanks to its thoughtful "box" design, which allows for easy folding, the device boasts compact dimensions of a mere 85 x 94 x 21.5mm (3.35 x 3.70 x 0.85 inches) when folded. Additionally, weighing only 134g (4.73 oz), making it effortlessly portable in pockets and backpacks. Adding to its convenience, the device utilizes a USB-C port for input, ensuring compatibility with a wide range of devices. It supports input power delivery options (PDOs) of 5V3A and 9V3A, offering efficient and fast charging capabilities. To further enhance user experience, the package includes a dual USB-C cable, providing immediate and hassle-free connectivity options.
Summary of ChargerLAB
To sum it up, MOMAX's Q.Mag Go Folding MagSafe 2-in-1 Wireless Charger is a decent choice in the world of charging. With its advanced magnetic wireless charging technology and dual-certified modules, it offers seamless and efficient charging for iPhone, AirPods, and Apple Watch users. The sturdy "box" design, combined with its compact size, ensures durability and easy portability. Whether you're at home, in the office, or on the go, this wireless charger provides a convenient and hassle-free charging experience for all your essential devices.
As a leading brand in the industry, MOMAX has consistently delivered innovative and reliable charging solutions. With this product, MOMAX once again showcases its commitment to providing cutting-edge technology with user convenience in mind. And as for now, the Q.Mag Go Folding MagSafe 2-in-1 Wireless Charger is exclusively available on MOMAX's official website at a price of $125. For those intrigued by this device, we encourage you to visit their website and explore its features firsthand.
Related Articles: 
1. Teardown of MOMAX 100W 7-in-1 GaN Charging Station (With Wireless Charging)
2. MFi Certified & Cordless | MOMAX Launched GOLINK Apple Watch Magnetic Wireless Charger
3. MOMAX Airbox Go Power Capsule: A Convenient Solution for Charging Anxiety and Cable Management
The article is originally written by @
Joey
posted on Chargerlab. All rights reserved.