Check Out These Seven Useful USB-C Hubs for the iPhone 15 Series
Introduction
The iPhone 15 series, featuring the transition to USB-C, has made a significant leap in expandability compared to its predecessors. When coupled with a USB-C hub, users can connect various peripherals, including keyboards, mice, monitors, SD/TF cards, external hard drives, and even Ethernet cables. In a previous article, we shared our experience with the iPhone 15 Pro Max using a USB-C hub with an Ethernet port. Today, we will introduce several well-reputed USB-C hubs that support the iPhone 15 series. They are listed in alphabetical order.
It's worth noting that when connecting a substantial number of peripherals to the iPhone 15 series via a USB-C hub, the limited output power of approximately 5W may cause some accessories to function abnormally. In such cases, it is strongly recommended to connect additional power sources, such as power adapters or power banks.
Product Introduction
Anker
Anker 332 USB-C Hub (5-in-1)
In terms of design, the Anker USB-C hub departs from the conventional square shape seen in the market, opting for a more rounded and ergonomic design with a smooth texture, making it comfortable to hold and easy to carry.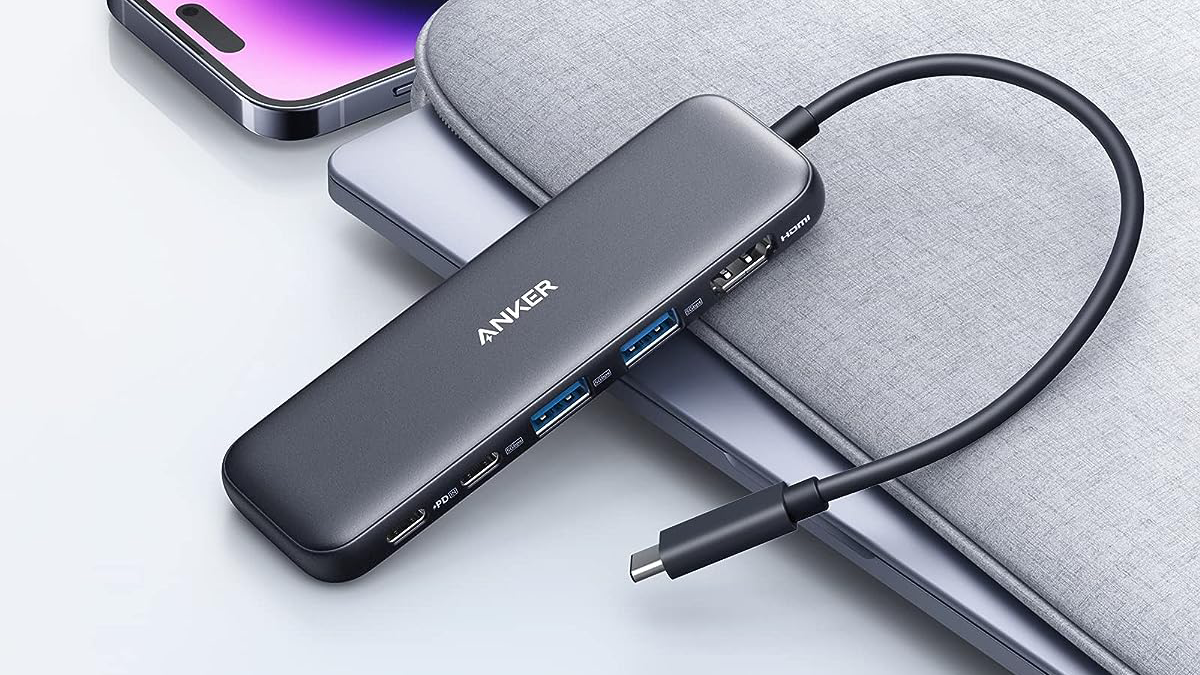 This USB-C hub features two USB-C ports, two USB-A ports, and an HDMI port supporting 4K@30Hz. USB-C1 port is only suitable for 100W PD charging and doesn't support data transfer, while USB-C2 and the other two USB-A ports support high-speed 5Gbps data transmission for devices like mice and hard drives. Moreover, it offers an impressive output of up to 85W, suitable for powering not only the iPhone 15 series but also meeting the needs of most business laptops.
Anker 552 USB-C Hub (9-in-1)
If the five additional ports are insufficient for your extensive array of electronic devices, consider the 9-in-1 hub. It takes design a step further with a premium gray-black contrast and includes a circular switch. Its output cable is woven for enhanced durability.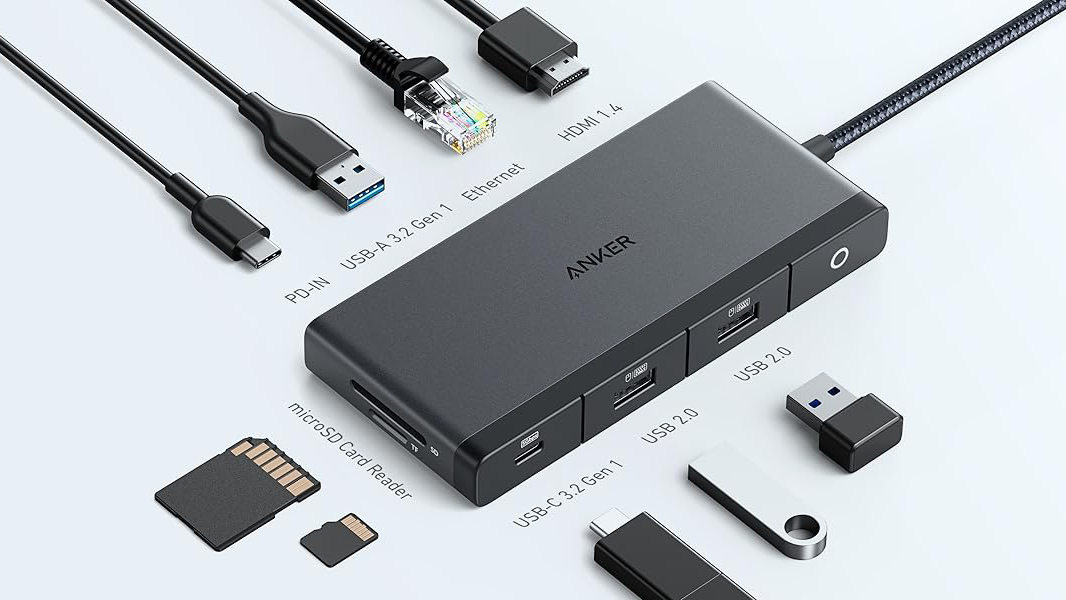 In terms of specs, it features three USB-A ports (one being USB 3.2 Gen1), two USB-C ports, an HDMI 1.4 port supporting 4K@30Hz, an Ethernet port with a transfer rate of up to 10Gbps, making it suitable for maximizing the transmission capabilities of the iPhone 15 Pro series. It also offers a maximum input and output power of 100W and 85W, making it an excellent choice for users with more extensive expansion needs and a generous budget.
Baseus
Baseus 7-in-1 USB-C Hub
This Baseus USB-C hub is constructed from aluminum alloy, which is good for heat dissipation. Its output cable, like the Anker 552, is woven for durability. It features a blue indicator light to indicate normal operation. Additionally, when not in use, you can neatly stow the output cable in the device's groove, effectively transforming it into a hanging cord for convenient storage.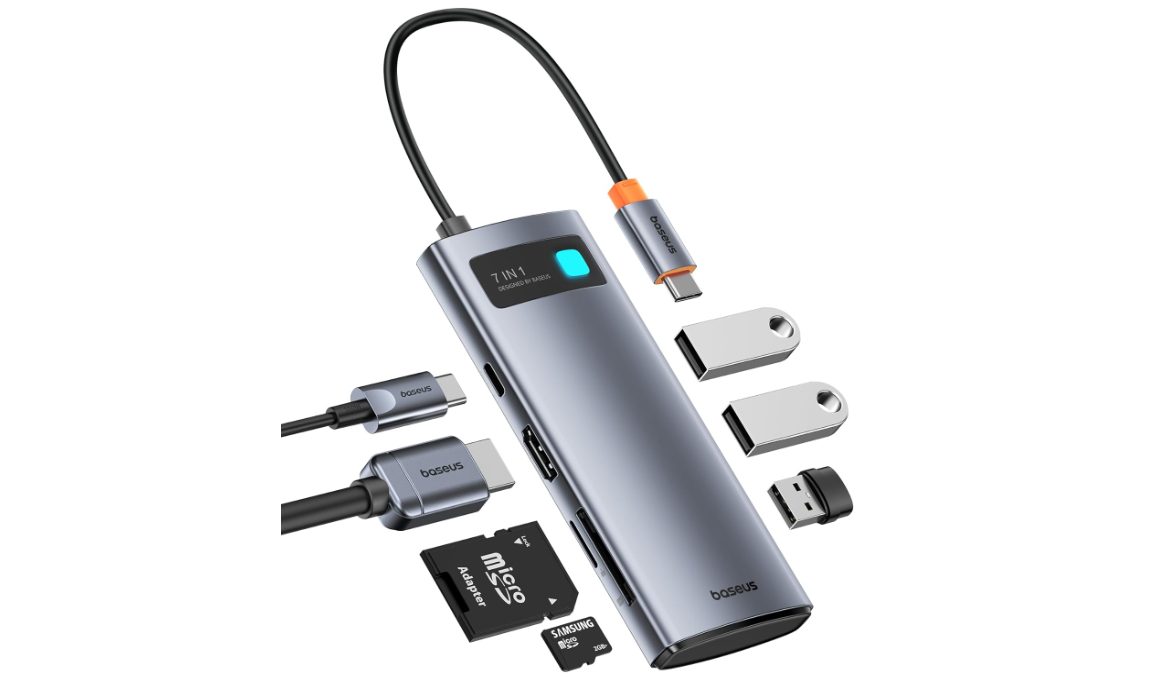 In terms of performance, it features three USB-A ports with 5Gbps specifications, a PD 100W input USB-C port, and two SD card readers. Notably, its HDMI port surpasses the previous two, supporting 4K at 60Hz.
Belkin
Belkin 7-in-1 USB-C Hub
This hub from Belkin is entirely constructed from metal, enhancing both the tactile feel and heat dissipation. All its ports are conveniently placed on one side of the device for a clean and clutter-free user experience.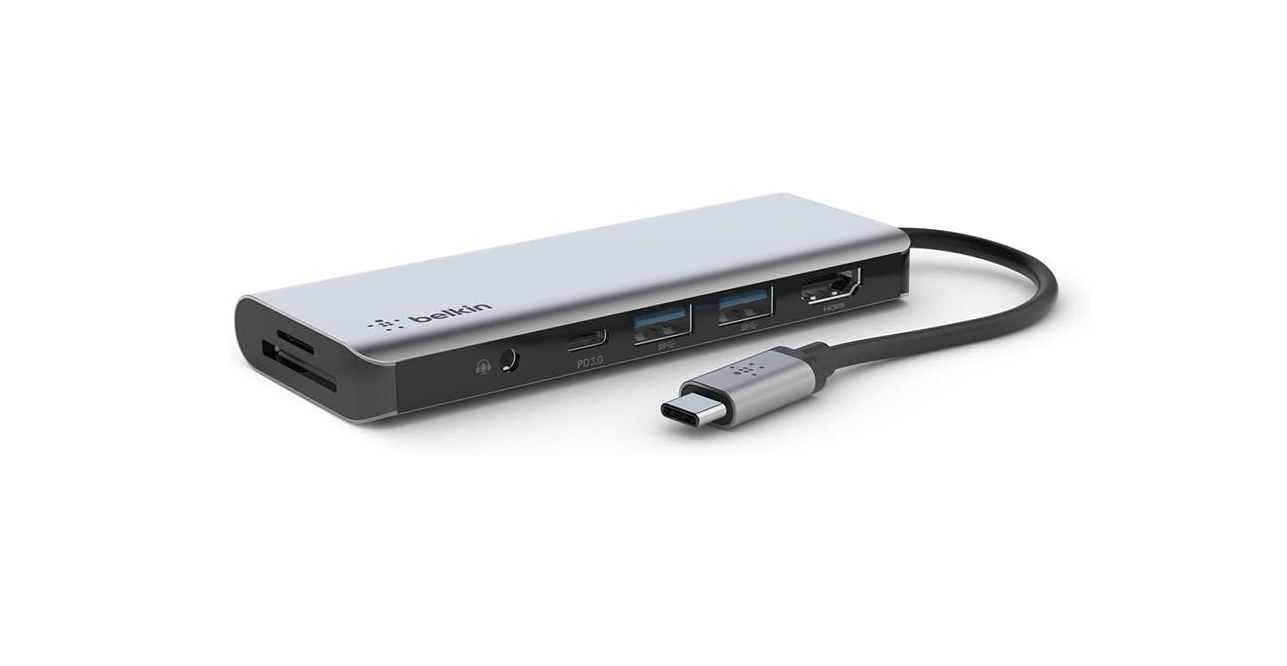 It features a 4K@30Hz HDMI port, two 5Gbps USB-A ports, a 100W input and 85W output USB-C port, and SD/TF card slots. What sets it apart is the inclusion of a 3.5mm audio jack, ideal for the iPhone series that hasn't had this feature for seven years. Of course, it can also connect to computers, tablets, and other devices.
DockCase
DockCase USB C Visual Smart Hub 7-in-1
This hub from the lesser-known brand, DockCase, is somewhat unique. While it's made from aluminum-zinc alloy, its surface feels like glass. Its most notable feature is the colorful display on top, allowing users to view various device connection protocols, real-time bandwidth, screen mirroring specs, and charging power. The display can also rotate 90 degrees, bearing a striking resemblance to our own ChargerLAB POWER-Z KM003C.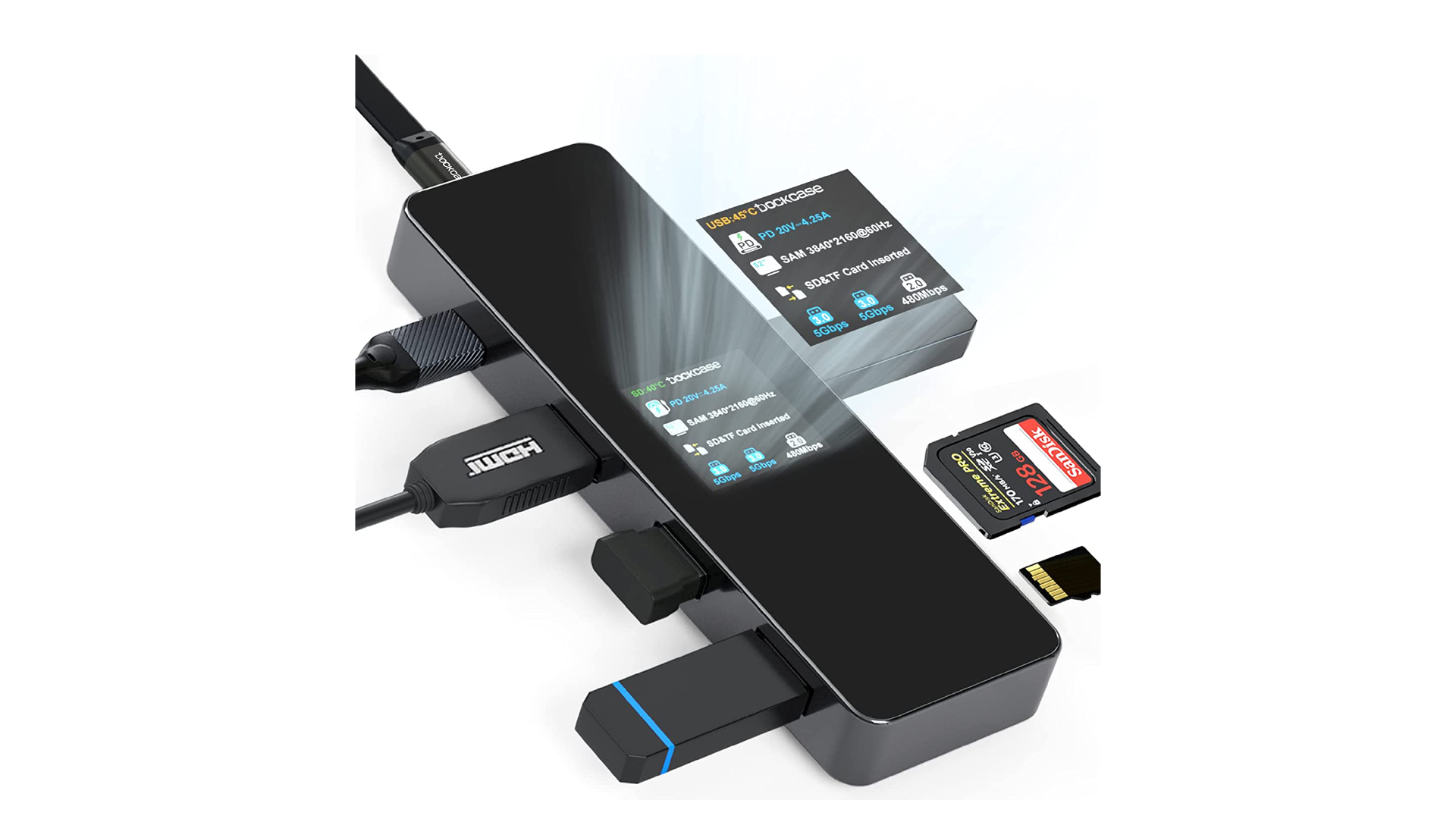 It offers a 100W PD input USB-C port, three USB ports with 5Gbps transfer specifications, and a 4K@60Hz HDMI port, along with two SD card readers and a gigabit Ethernet port. It is compatible with common devices like tablets and computers, but it should be noted that it requires additional power to work correctly with the iPhone 15 series.
MOMAX
MOMAX ONELINK 8-in-1 USB-C Hub
The MOMAX hub is made of ABS and aluminum alloy and features a striped design resembling a mini travel case. Its output cable is woven for durability. One of its unique functions is the presence of a screen-off button, which allows users to quickly turn off screen mirroring during meetings to safeguard sensitive work files.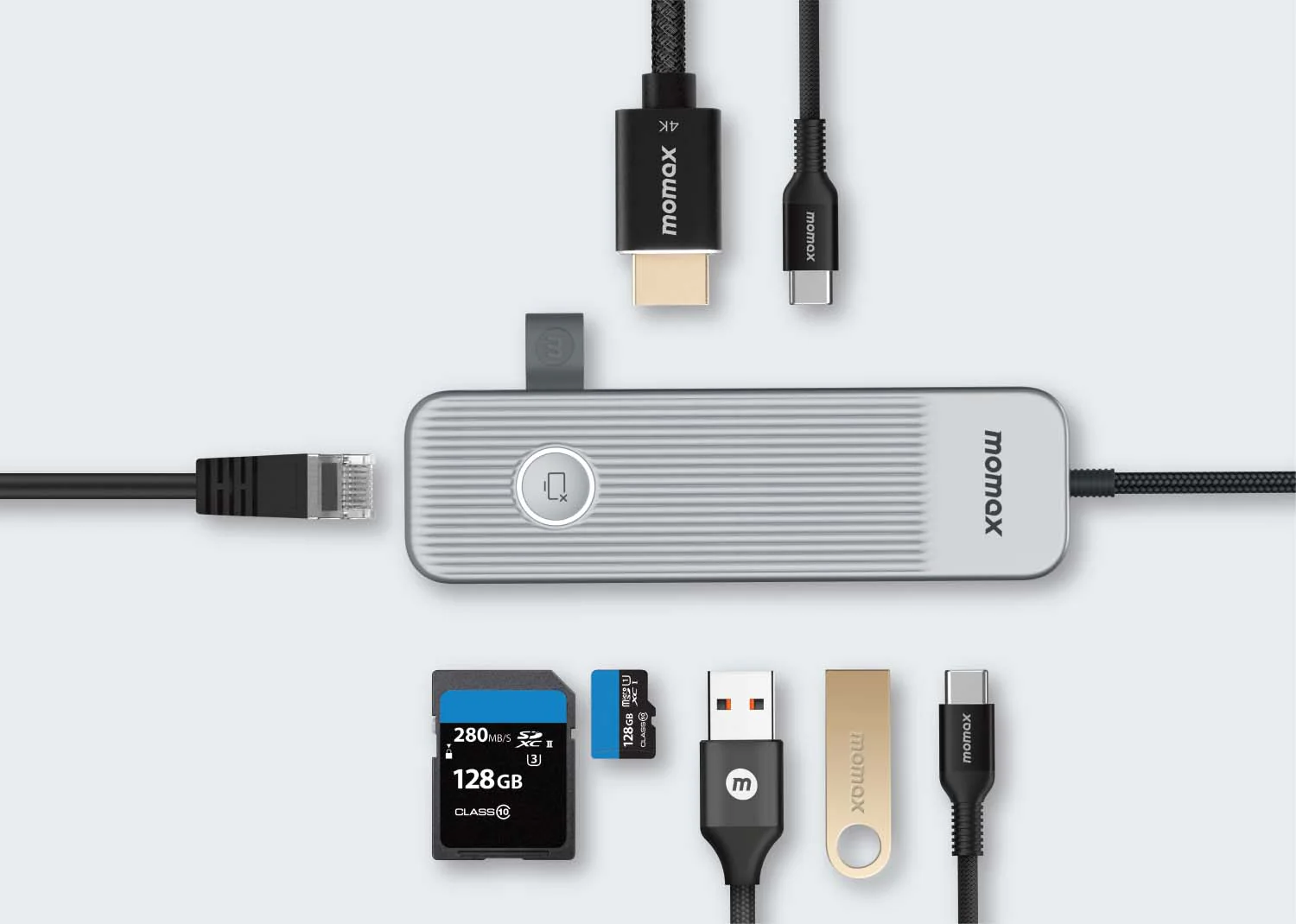 It includes a PD 100W charging USB-C port, a 4K@60Hz HDMI port, three USB ports with 5Gbps specs, SD/TF card slots, and an RJ45 Ethernet port. The side rope can also serve as cable management, allowing you to secure the USB-C output cable when not in use, ensuring a tidy and organized desktop.
UGREEN
UGREEN 9-in-1 USB C Hub
Just like the Anker 552, this UGREEN hub also offers nine ports, including an Ethernet port. Moreover, its USB-C output cable can be conveniently stored in a specially designed groove at the bottom when not in use, making it very user-friendly.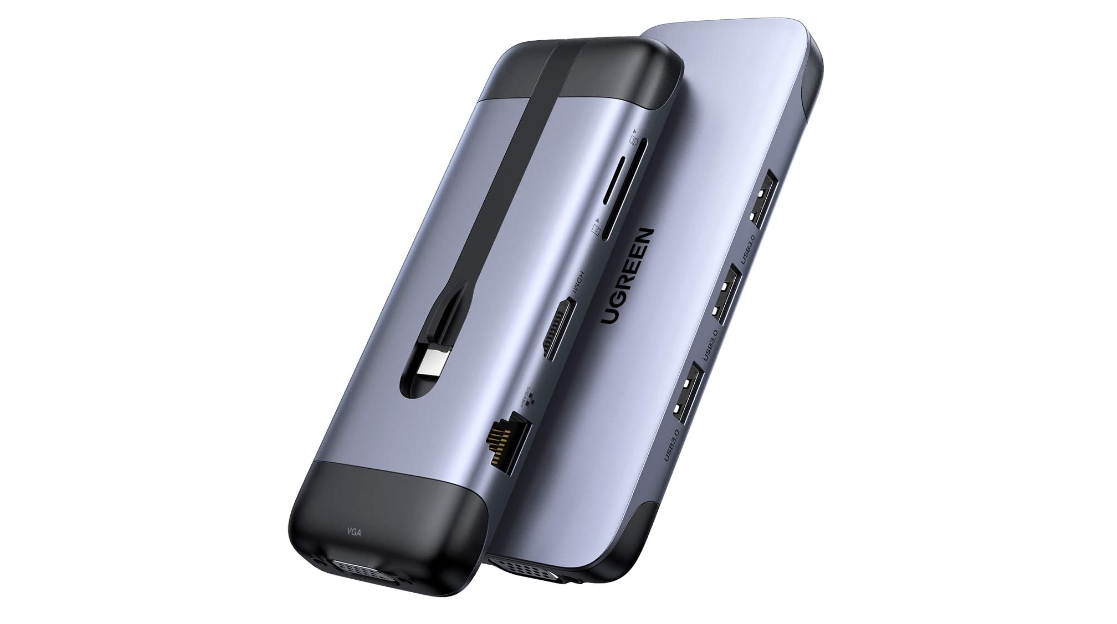 Its USB ports support PD 100W input, and it features TF/MicroSD card slots for reading photos, videos, and other data. The three 5Gbps USB-A ports can not only transfer data but also expand connectivity for peripherals like mice and keyboards. Its most notable feature is the presence of both HDMI and VGA video output ports, which means you can connect a new 4K30Hz monitor and an old 1080P monitor simultaneously, making it very practical. It is also compatible with the iPhone 15 series.
Summary of ChargerLAB
In summary, these USB-C hubs offer various advantages in terms of appearance and functionality. Let's analyze their strengths.
Let's start with the variety of interfaces. If you have a multitude of electronic devices or accessories, you might consider Anker 552 and UGREEN, both of which offer as many as nine ports. MOMAX's hub features a one-click screen-off function for added privacy. Apart from Anker 332, all the other hubs come with SD/TF card slots, which are crucial for photography enthusiasts who frequently use cameras. Belkin's 7-in-1 USB-C hub, with a 3.5mm headphone jack, is suitable for users who want to enjoy better audio quality with wired headphones on the iPhone 15 series. Those seeking a high-speed and stable wired network connection on the iPhone 15 can choose from Anker 552, MOMAX, and UGREEN. Additionally, UGREEN's hub includes a VGA port, which is worth mentioning.
It's worth noting that MOMAX and DOCKCASE hubs require additional power connections to function correctly with the iPhone 15.
Related Articles:
1. Exploring Eleven USB4 Cables for iPhone 15 Series and More
2. Apple Unveils Four USB-C Accessories for iPhone 15 Series
3. Perfect for iPhone 15 | A USB-C Cable with LED Display Buying Guide
The article is originally written by @
Joey
posted on Chargerlab. All rights reserved.