Best Chargers for Your Phone and Laptop (2022)
It's been a while since we last recommended a charger, and the fast-charging market has changed a lot. Most users now use PD chargers and USB-C cables to charge their devices. And also, chargers are getting smaller and more efficient with the help of GaN components.
So, today, we gonna recommend some best chargers for your phone and laptop, which can be divided into low power (below 65w) and high power (beyond 65W).
Smartphone / Low-power Charger
Single port
1. Apple 20W (A2244)
As the standard charger for iPhone and iPad, this charger supports PD2.0 and can fast charge many small devices, like your Android phone, toothbrush, and some gadgets that support PD charging. The stable performance, low temperature, and high quality make it at the top of Amazon Best Sellers all year round.
Output: 5V3A, 9V2.22A
Size: 41 x 42 x 27mm (1.61 x 1.65 x 1.06 inches)
Weight: 58g (2.05 oz)
2. Anker 20W (A2637)
If you think that the Apple 20W charger is relatively big, and want to keep the same size as the Apple 5W charger while maintaining high power, then you can consider the Anker 20W 511 Charger (Nano Pro).
Its price is almost the same as Apple's 20W charger, but the size is half of it. It has four different colors, and the metallic top surface makes it even more stunning when taken out.
Output: 5V3A, 9V2.22A
Size: 30 x 29 x 29mm (1.18 x 1.16 x 1.16 inches)
Weight: 34g (1.2 oz)
3. AOHI 30W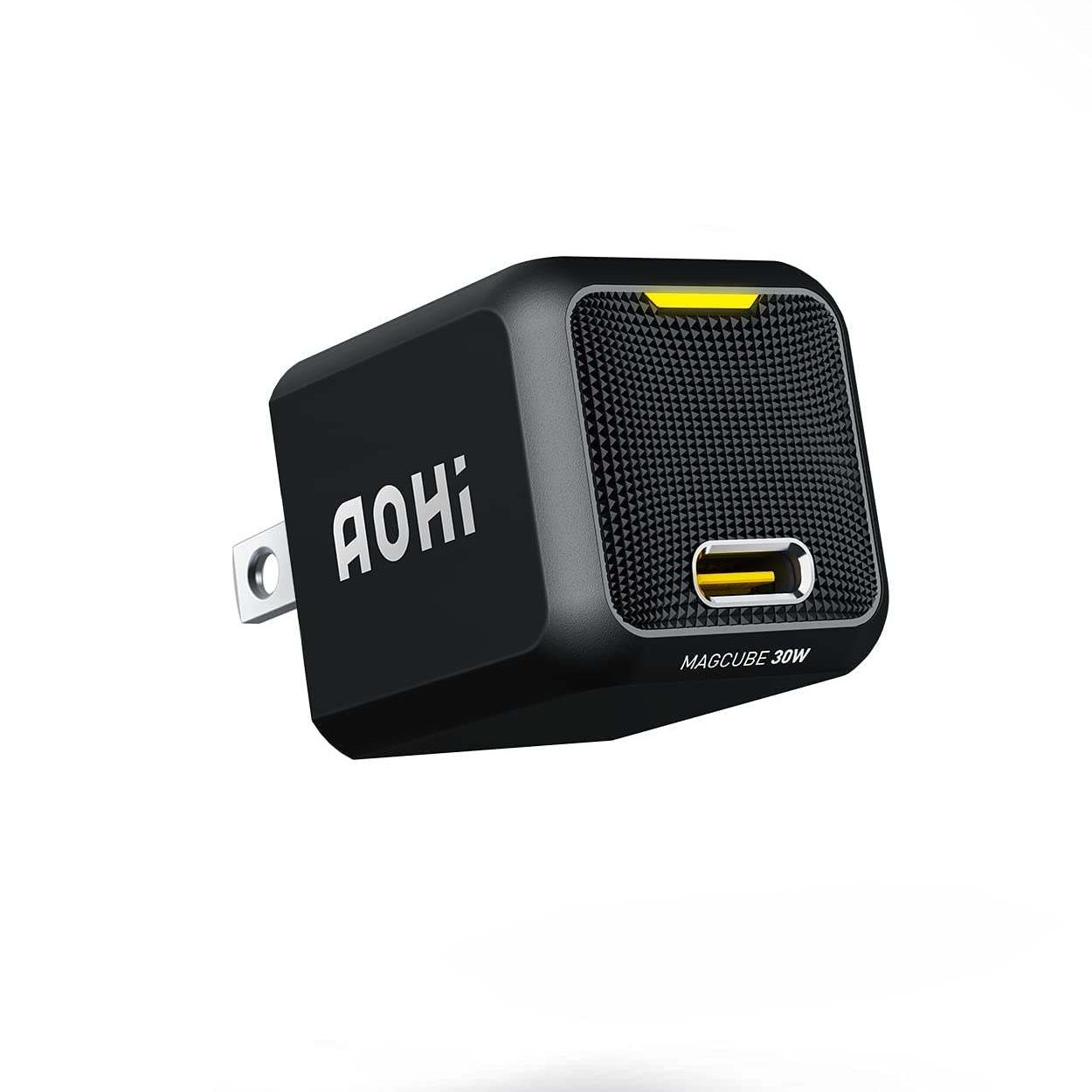 We've tested the peak power of the iPhone 13 Pro Max, which can be up to 27W. And for some Android phones, like Google Pixel, 20W is not enough to get the highest speed. So, a 30W charger is necessary in some cases.
Thanks to the compact internal design, this Aohi 30W charger is ultra small. Its power density is about 1.18W/cm³, only 28% of the size of Apple 30W. The Led light can make it easier to check the current charging status at a glance.
Output: 5V3A, 9V2.22A, 9V2.77A, 15V2A, 20V1.5A, 3.3-11V3A
Size: 28 x 28 x 32mm (1.1 x 1.1 x 1.26 inches)
Weight: 40.2g (1.42 oz)
Multi-port
1. Apple 35W (Compact and Traditional)
We've tested the recently released two Apple 35W chargers equipped with dual USB-C ports. The most critical feature it supports is the adaptive power distribution, which won't have a "reconnection" issue when connected to the second device. After taking it apart, the internal components and advanced topology are also very impressive.
Output: 5V3A, 9V3A, 15V2.33A, 20V1.75A
Size:
Compact: 49 x 49 x 28mm (1.92 x 1.92 x 1.1 inches)
Traditional: 56 x 56 x 28mm (2.2 x 2.2 x 1.1 inches)
Weight:
Compact: 104g (3.67 oz)
Traditional: 116g (4.09 oz)
2. UGREEN 40W (CD243)
We've recommended this charger, equipped with two USB-C outputs. Both of them have the same performance. It also integrates two independent circuits, achieving 20W+20W output (40W in total). Because of two independent circuits, two devices can be charged without interfering with each other. Some frequent problems of multi-port chargers won't exist, such as reconnection, repeated handshake, etc.
Output: 5V3A, 9V2.22A, 12V1.67A
Size: 59.3 x 52 x 27.5mm (2.33 x 2.05 x 1.08 inches)
Weight: 125g (4.41 oz)
Laptop / High-power Charger
Single port
1. Apple 140W (A2452)
As the industry's first charger that supports PD3.1, Apple's 140W is also Apple's first charger that uses GaN components. Its size is quite big, but after taking it apart, we found its internal components are excellent. The customized controllers and Japanese Rubycon capacitor make it still maintains Apple's consistent high quality and stable performance.
Output: 5V3A, 9V3A, 15V5A, 20.5V5A, 28V5A
Size: 96 x 75 x 28mm (3.78 x 2.95 x 1.1 inches)
Weight: 277g (8.01 oz)
2. Anker 65W (A2663)
140W charger might be too large for some laptops, like MacBook Air. The Anker Nano II 65W Charger (715) will be a good choice if you don't want to bring a giant brick.
This charger was released last year, but it's still one of the best-selling products. You can simply put it in your hand and take it wherever you want.
Output: 5V3A, 9V3A, 15V3A, 20V3.25A
Size: 44.2 x 36 x 41.5mm (1.74 x 1.42 x 1.63 inches)
Weight: 107g (3.77 oz)
Multi-port
1. Shargeek 100W (S100P)
For some electronics fanatics, tons of products need to be charged. So, we can see more and more multi-port chargers in the market. The Shargeek 100W charger adopts yellow surface with many tiny grooves, which can hold it more tightly and enhance heat dissipation.
It has three USB-C ports and a USB-A port, which can fast charge four devices at once. It also integrates Navutas GaNFast GaN power IC, which is why it can be 30% smaller than the Apple 96w charger.
Output:
USB-C1 / USB-C2: 5V3A, 9V3A, 12V3A, 15V3A, 20V5A, 3.3~21V/5A
USB-C3: 5V3A, 9V2.22A, 12V1.5A
USB-A: 4.5V5A, 5V4.5A, 9V2A, 12V1.5A
Size: 77 X 59 X 29mm (3.03 x 2.32 x 1.14 inches)
Weight: 214.5g (7.57 oz)
2. UGREEN Nexode 100W (CD226)
Except for Shargeek, UGREEN also has a similar 100W charger. This UGREEN Nexode 100W charger comes with three USB-C and one USB-A. We can call it an "all in one" charger. You can easily put it into your bag when you go out and charge your phone, laptop, earphones, or tablet at once. Pretty convenient. Unlike the Shargeek charger, the corners are rounded and continue UGREEN's design style. You can choose any charger you'd like.
Output:
USB-C1 / USB-C2: 5V3A, 9V3A, 12V3A, 15V3A, 20V5A
USB-C3: 5V3A, 9V2.5A, 12V1.88A
USB-A: 4.5V5A, 5V4.5A, 5V3A, 9V2A, 12V1.5A
Size: 69 x 69 x 33mm (2.72 x 2.72 x 1.3 inches)
Weight: 221g (7.8 oz)
Summary by ChargerLAB
These are the best chargers for your phone and laptop in 2022. It can be seen that fast charging is entering our daily life. Not only can we use one charger to charge many devices from different brands, but we also use one charger to solve all charging needs.
How about you? Do you have any recommendations? Which charger do you use in your daily life? Feel free to leave your comments down below and discuss them with others.
Related Articles:
1. Why iPhone 13 Users Need a Multi-port USB PD Fast Charger?
2. More Dual USB-C Chargers From Anker, UGREEN and Baseus (For Your iPhone 13 and More)
3. Behind the Scenes - How to Tear Down the Chargers? @ChargerLAB
The article is originally written by @
Yi
posted on Chargerlab. All rights reserved.