More Dual USB-C Chargers From Anker, UGREEN and Baseus (For Your iPhone 13 and More)
With the increasing number of iPhones and other USB PD devices, we need more chargers to satisfy our charging needs.
But it also brings a new problem. We have to use more space and a larger power strip to use those chargers. So, the multi-port charger is here to solve this problem.
Recently, some well-known charger manufacturers, such as UGREEN, Baseus, and Anker, have launched a new generation of multi-port chargers. 
We picked up three 40-45W chargers, which can fast charge two iPhones at the same time while the size is relatively small. Let's go ahead and take a look.
1. UGREEN 40W Dual USB-C Charger
Purchase link: https://amzn.to/3z7tHFu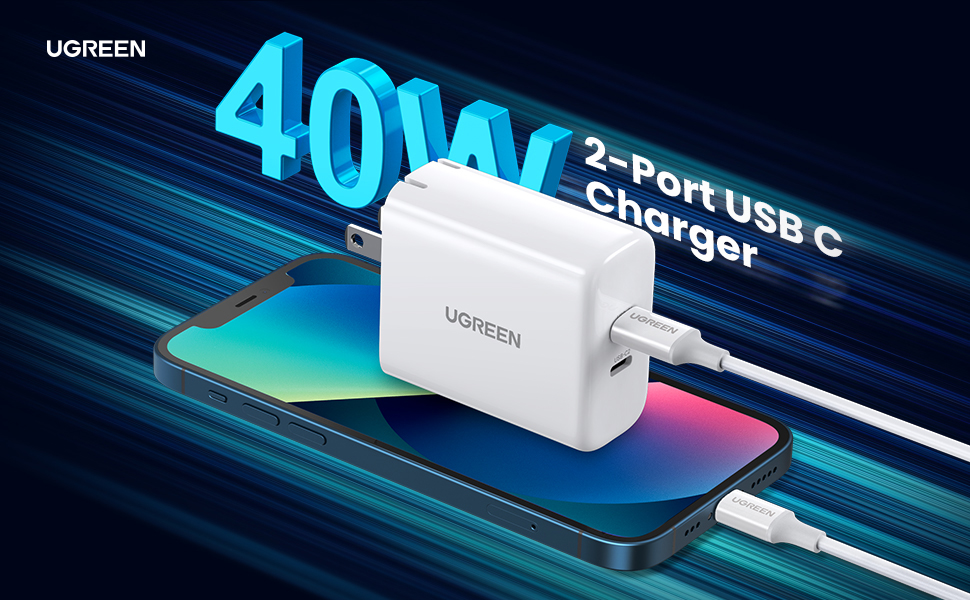 The model of this charger is CD243, which adopts the pure white shell.
There are two USB-C outputs, both of which have the same performance.
Both support three fixed PDOs of 5V3A / 9V2.22A / 12V1.67A.
It also integrates two independent circuits, achieving 20W+20W output (total 40W).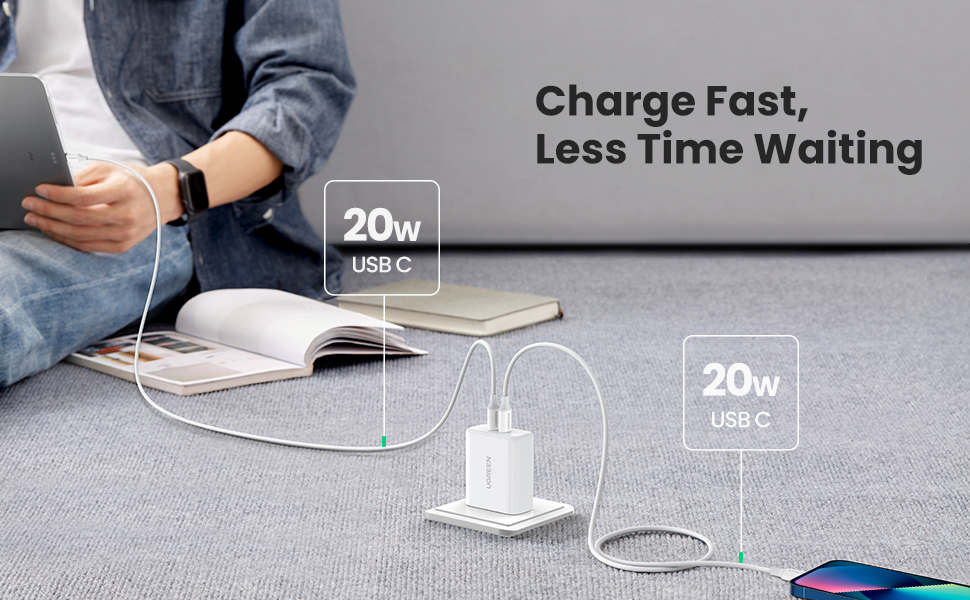 The size of the charger is 59.3mm*52mm*27.5mm (2.33*2.05*1.08 inches), weight is 125g (4.41 oz), and the power density is 0.47W/cm³. 
It can support wide input of 100-240V~50/60Hz, which can adapt to the global electrical grid.
It also adopts foldable pins, which can prevent the scratching of other objects.
Because of two independent circuits, two devices can be charged without interfering with each other. Some frequent problems of multi-port chargers won't exist, such as reconnection, repeated handshake, etc.
2. Baseus 45W Dual USB-C Charger
This Baseus charger adopts a "strip" design. The charger size is 62.41mm*30.18mm*32.21mm (2.46*1.19*1.27 inches), the power density is 0.74W/cm³, and the weight is only 89g. 
The reason why it can be so small is because of the internal PCB design and the built-in GaN components.
Those two USB-C ports have the same specs, and both can support four PDOs of 5V3A / 9V3A / 12V3A / 15V3A / 20V2.25A and one PPS of 3.3-11V3A. So, you can choose anyone to achieve 45W output.
When two devices need to be charged, the output will be intelligently adjusted to 30W+18W. For example, we tried to charge MacBook and iPhone at the same time. Both devices can activate the PD fast-charging protocol. The power is 29.21W and 18.04W, respectively.
3. Anker 40W Dual USB-C Charger - 521 Charger (Nano Pro)
Purchase link: https://amzn.to/3sDu4Xj
The model of this charger is A2038. And we can also call it Anker Nano Pro 40W or 521 Charger. It belongs to the Anker Nano pro series. And the size is 34.8mm X 34.1mm X 66.4mm (1.37*1.34*2.61 inches). So, the power density is 0.5W/cm³.
It can satisfy charging two devices while keeping the small size and portability. 
You can choose four colors: Arctic white, glacier blue, cool lavender, and black ice.
When you charge one device, you can choose any port, and both can support 40W output. 
It also supports four fixed PDOs of 5V3A / 9V3A / 15V2.66A / 20V2A and one PPS of 3.3-16V 2.5A.
So, you can even charge your laptop or Android phone that supports the PD protocol in an emergency.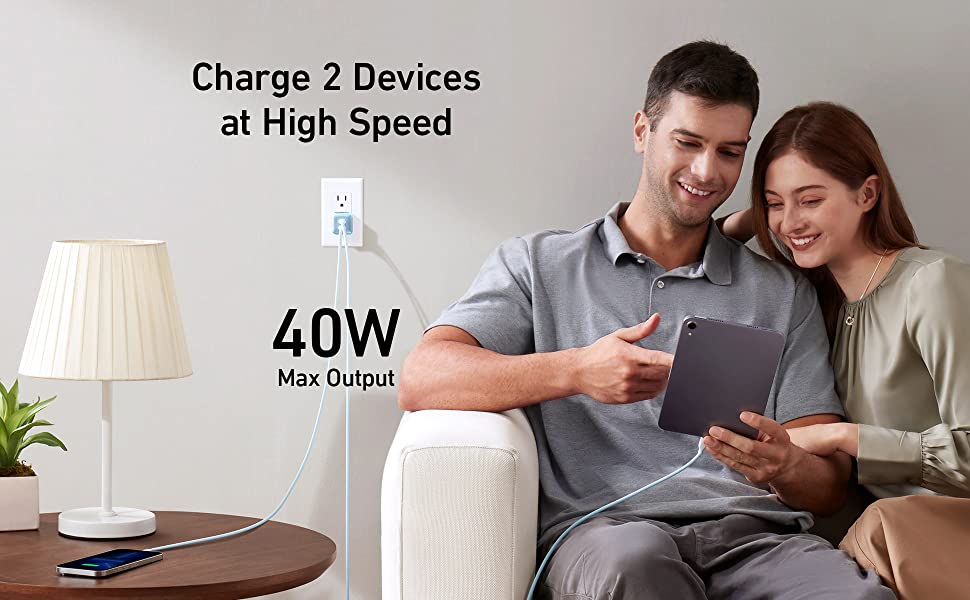 When you need to charge two devices at the same time, the output will be automatically adjusted to 20W + 20W. You can charge your iPhone & iPhone, iPhone & iPad, and iPhone & Mac at the same time.
Summary of ChargerLAB
UGREEN, Baseus, and Anker are all leading brands in the charger industry. In order to solve the disadvantage of the original charger that can only charge one device at a time, they have released those dual-port chargers, allowing users to get rid of the terrible experience of 5V slow charging. 
The above three chargers have different specs and are suitable for different users. Feel free to check it out and choose one by yourself according to your own needs.
The article is originally written by @
Yi
posted on Chargerlab. All rights reserved.