Apple iPhone 15 Pro Charging Test - ChargerLAB Compatibility 100
Introduction
Not long ago, we did the ChargerLAB compatibility 100 test for both 15 Pro Max and 15. The results demonstrated consistent and excellent compatibility. Since then, many people have left comments on our YouTube and official website, expressing their interest in seeing the charging compatibility of the pro model. Therefore, today, we will examine whether its compatibility matches that of the Pro Max.
Charging Compatibility Test
ChargerLAB will conduct a comprehensive test on the compatibility of the iPhone 15 Pro, evaluating its performance with a selection of more than 100 charging devices. These devices include Apple chargers, third-party chargers, power banks, and portable power stations, aiming to cover the majority of users' charging scenarios.
Apple Chargers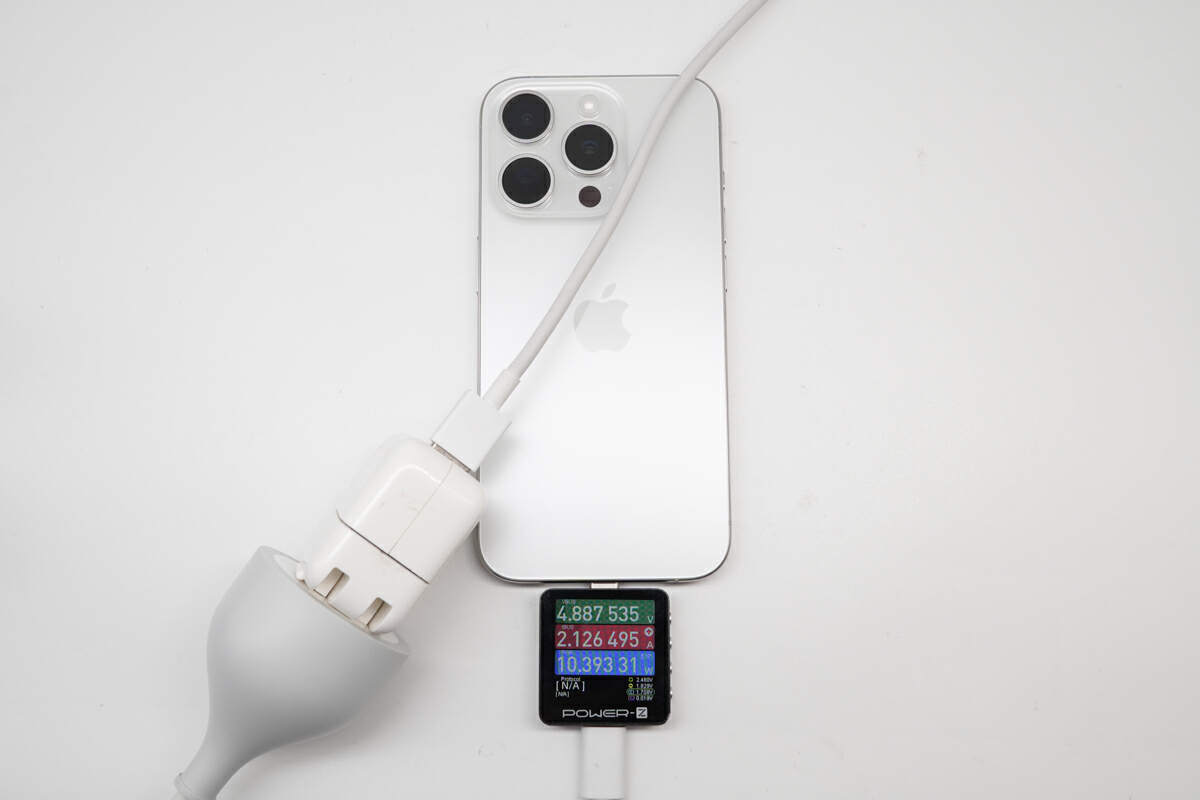 First, let's take the Apple 10W charger (model: A1357) as an example. ChargerLAB POWER-Z KM003C shows that it can deliver 4.89V 2.13A, equivalent to 10.39W of power to the iPhone 15 Pro.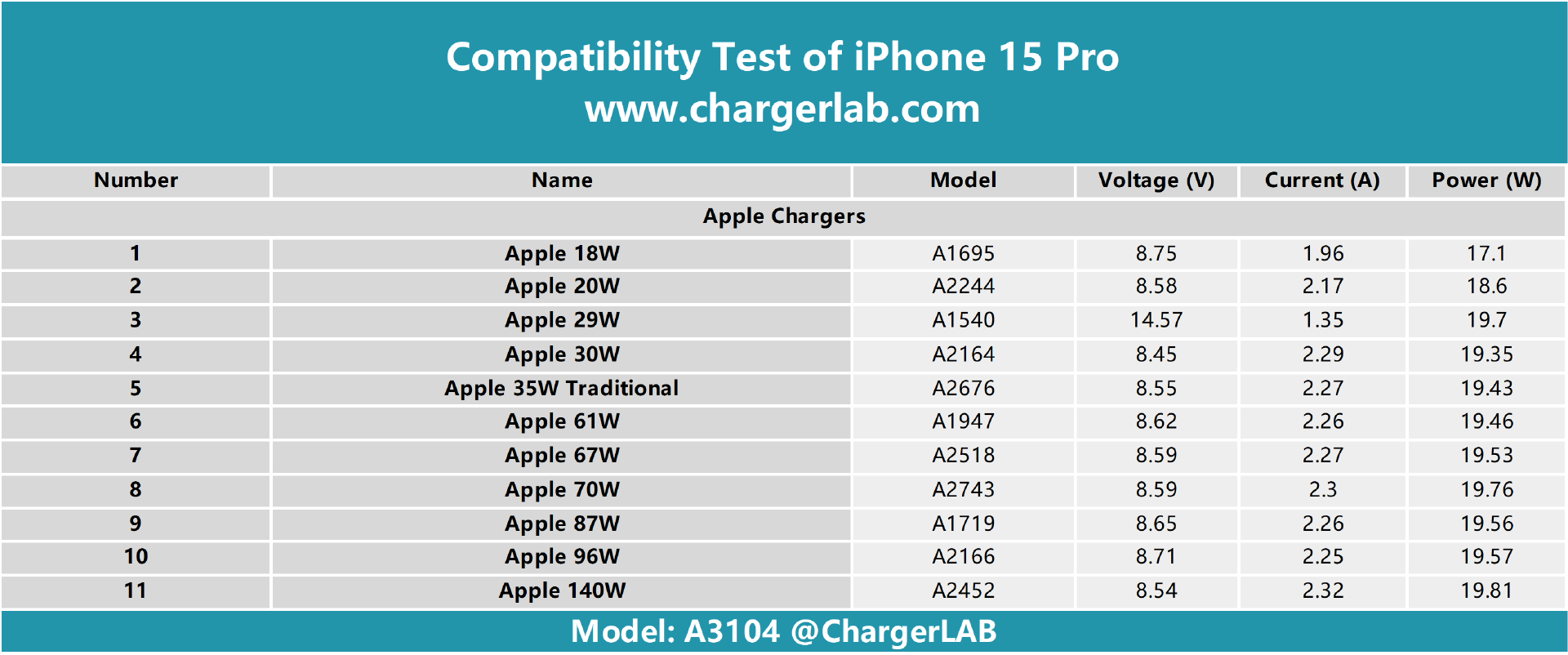 We tested all the Apple fast chargers we have. And we can see that just like the 15 Pro Max's test, only the 29W one reaches a power of more than 20W with relatively high voltage and low current, while the others are at the 9V2A level.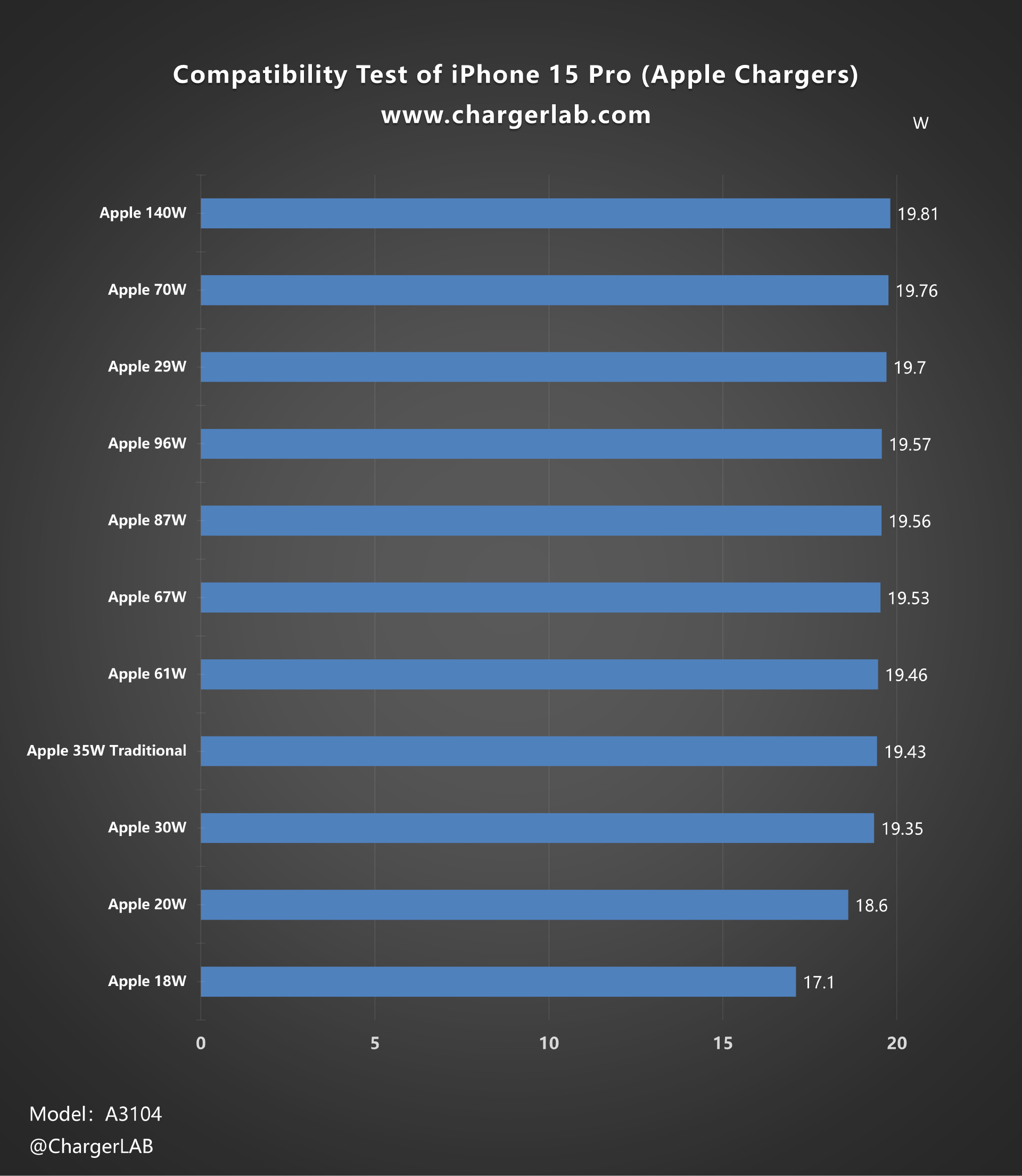 Create a bar chart to visualize the tested charging power. It's evident that almost all chargers consistently hover around the 20W level. For chargers with an output power of 30W or more, the bottleneck is the phone's charging strategy, while for those with a maximum output power of 20W or less, the bottleneck is the charger's own maximum output power.
Third-Party Chargers
In this test, we are only assessing the charging compatibility performance of third-party chargers when paired with USB-C to USB-C cables (with some margin of error).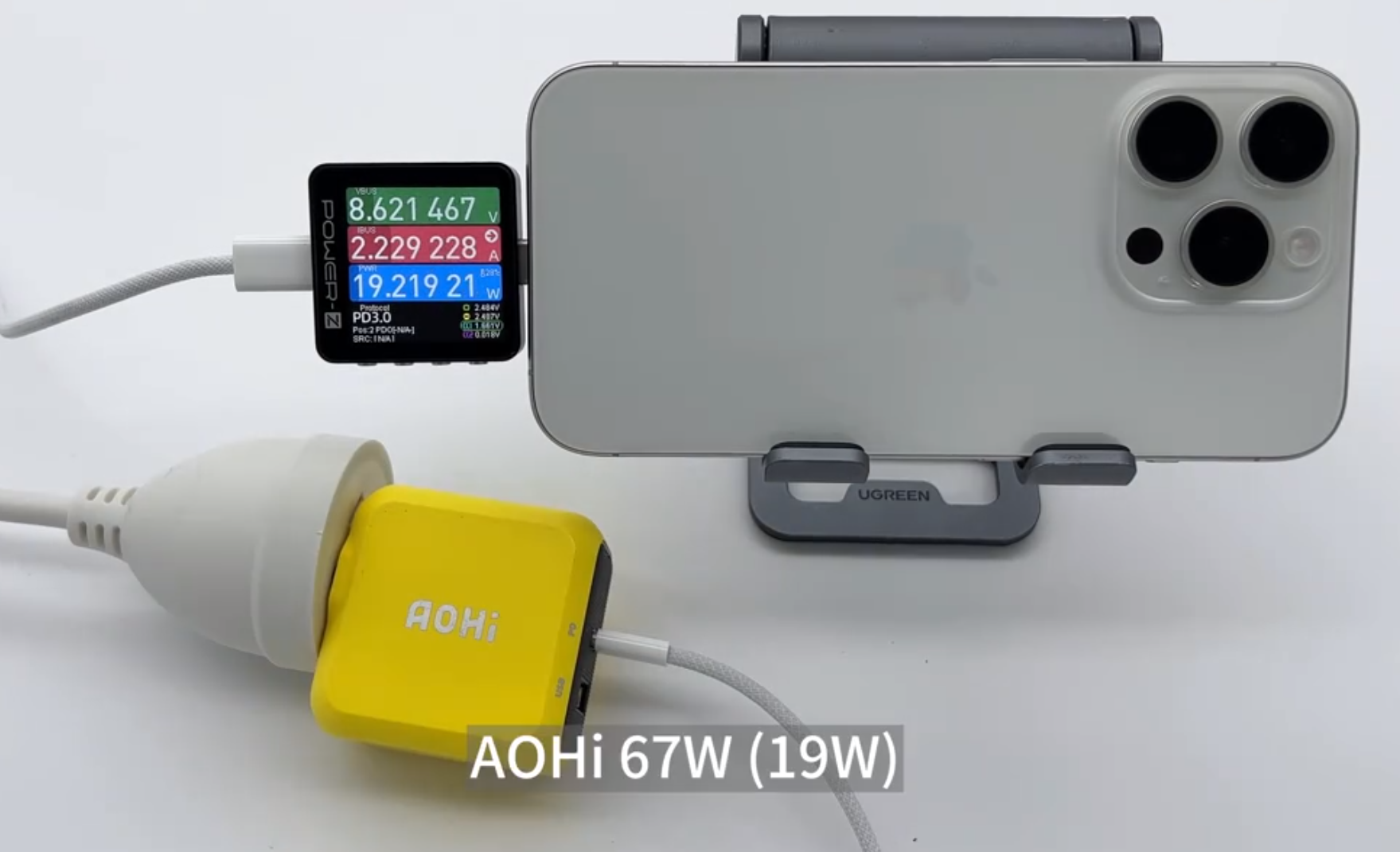 Next, let's take the AOHi 67W charger (model: AOC-C011) as an example. It can deliver 8.62V 2.23A, equivalent to 19.22W of power to the iPhone 15 Pro.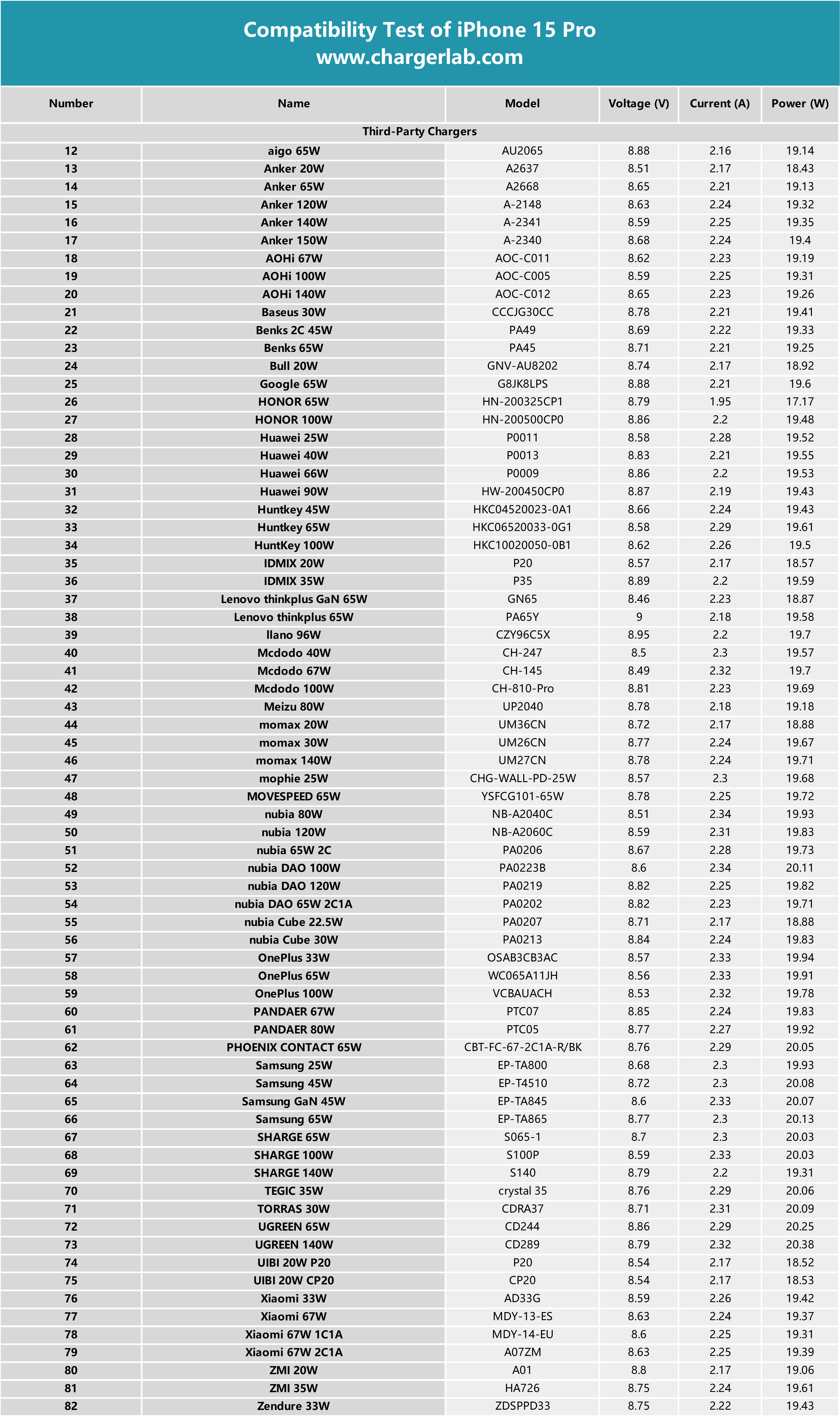 Summarizing the data into a table, it's clear that all of them trigger 9V2A, and the special 15V condition of Apple's 29W charger doesn't happened here. This is because Apple's 29W charger has a unique PDO, which is 14.5V2A.
Plotting the data into a bar graph, we can see that this time, the charging power of the iPhone 15 Pro also stays at the 20W level. However, the HONOR 65W charger is an exception, consistently delivering only 17W, ranking at the bottom.
Power Banks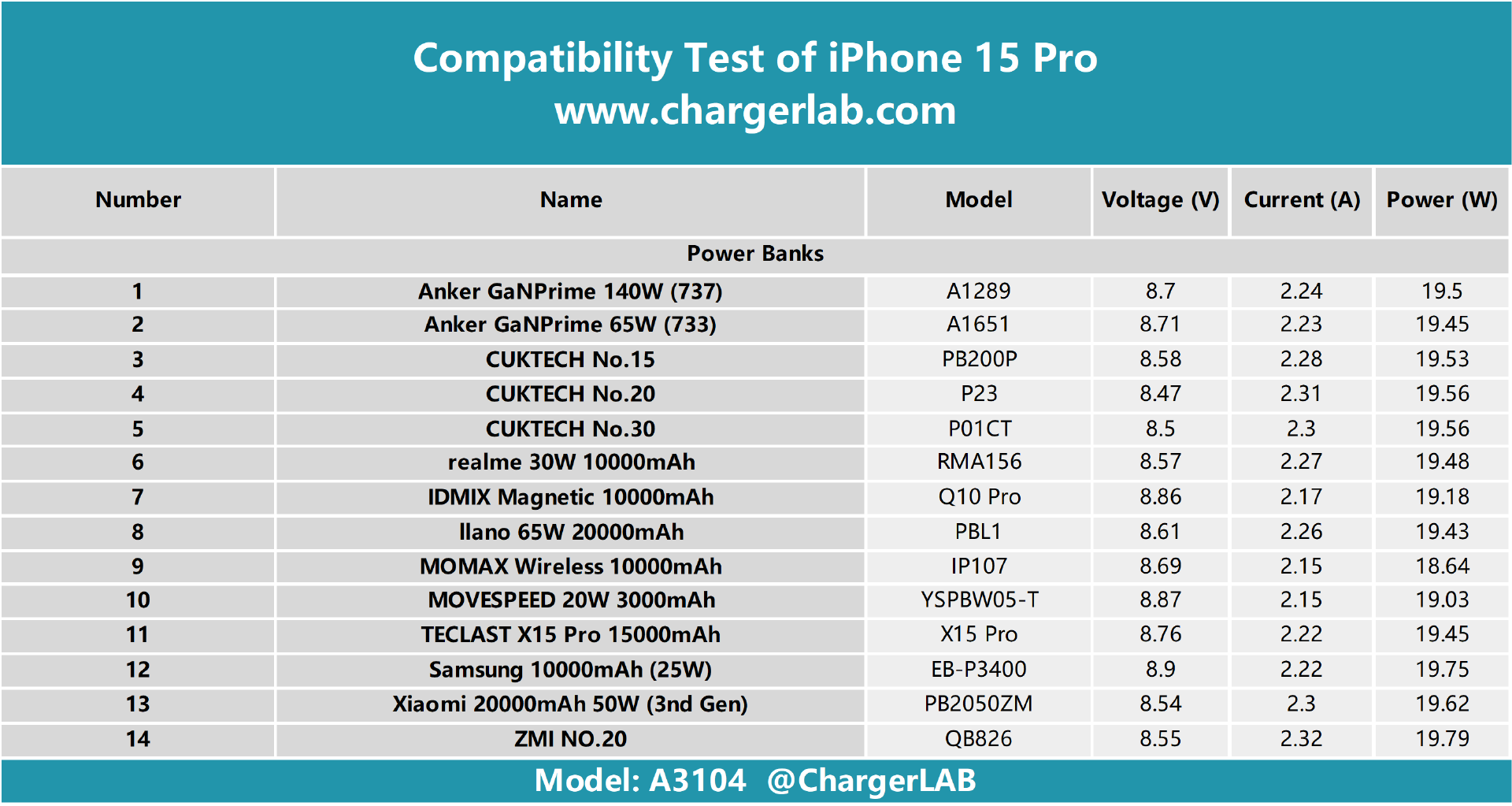 Next up, let's take a look at the power banks. All the tested devices trigger 9V2A, including the IDMIX Magnetic 10000mAh, which had only 5V2A in the previous test of the 15 Pro Max.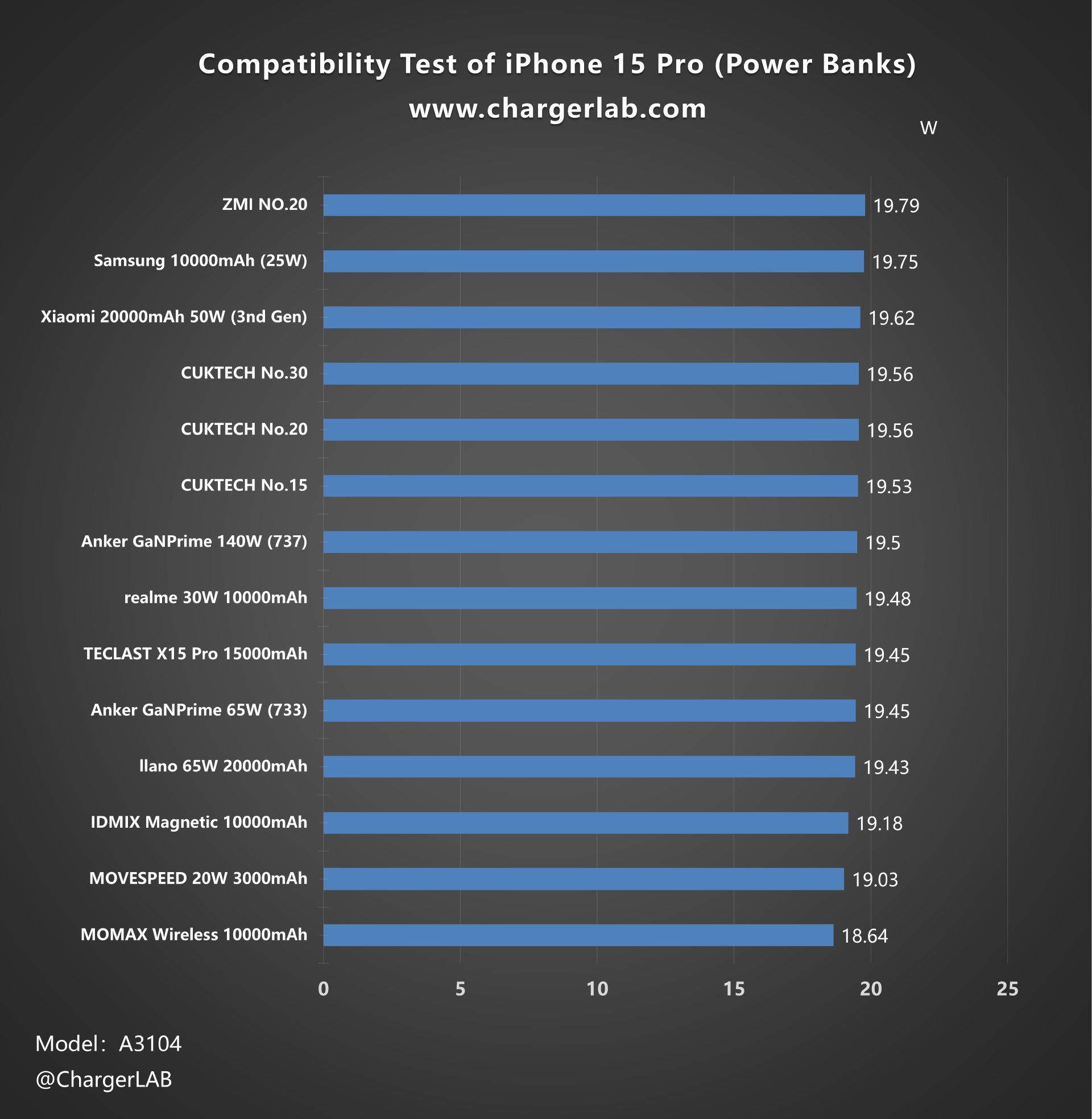 Once again, plotting the data into a bar graph, the power output remains around 20W. So, power banks that support the PD 9V2A level can meet the iPhone 15 Pro's charging needs.
Power Stations

Lastly, we have power stations. These devices generally have 60W/100W USB output ports. As expected, all the devices tested triggered the 9V level, with no 5V level detected.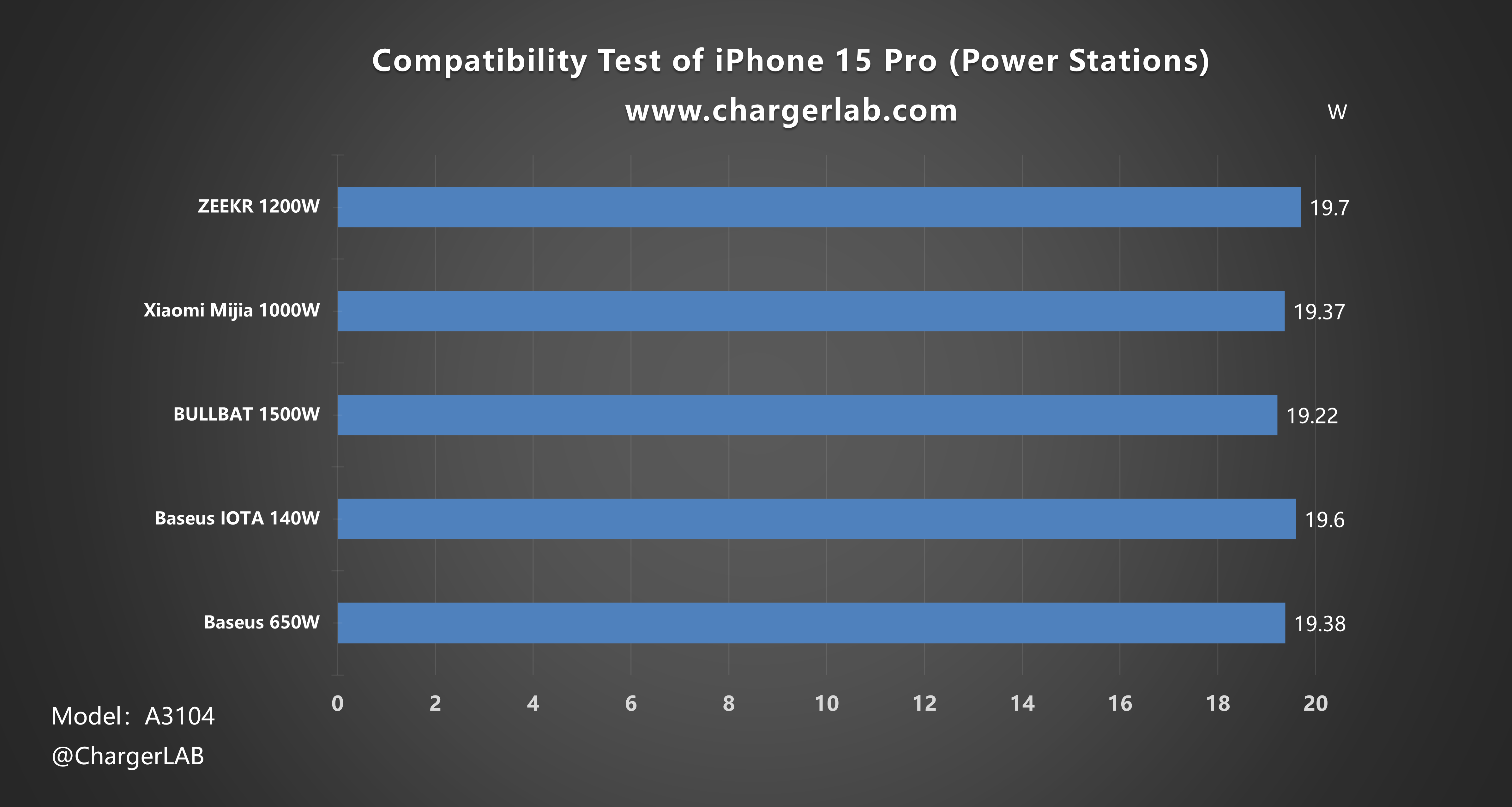 Plotting the data into a bar graph, the iPhone 15 Pro's charging power remains around 20W, showing no significant variation when compared to other chargers, and power banks.
In summary, the iPhone 15 Pro also demonstrates decent performance when used with both Apple's charger and third-party chargers rated at 20W or higher. It consistently achieves a maximum charging power of approximately 20W, showcasing its usual excellent charging compatibility. However, it lags behind some Android competitors that offer faster charging speeds. We anticipate that Apple will address this limitation in future generations to align with users' expectations.
On a positive note, the inclusion of the new USB-C port enhances the convenience of charging and data transfer. It also improves compatibility with third-party chargers, cables, and docks, thereby extending their lifespan. In conclusion, the iPhone 15 has successfully passed the ChargerLAB Compatibility 100 Test, and the compatibility test report issued by us is provided below.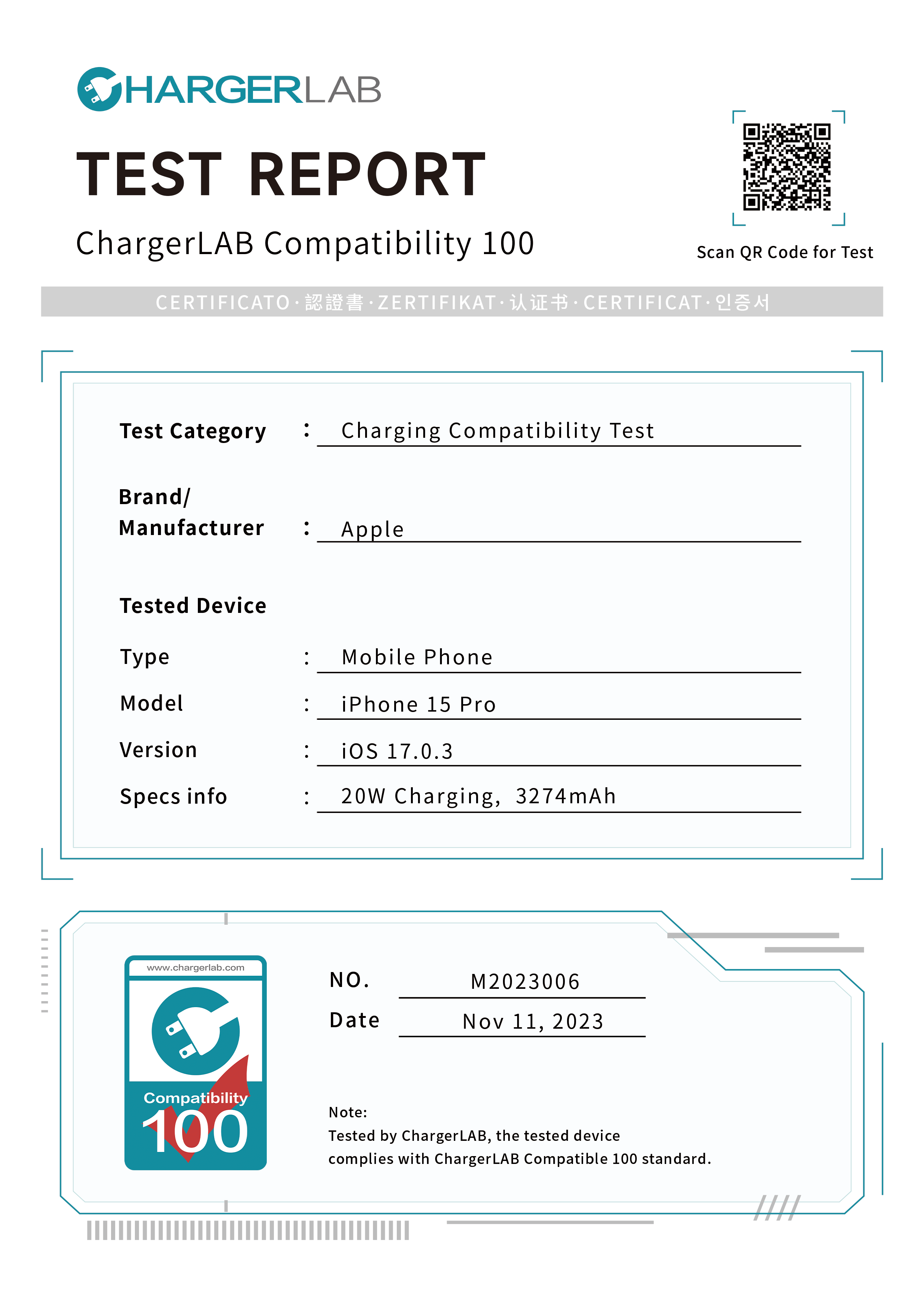 Related Articles:
1. Apple iPhone 15 Charging Test - ChargerLAB Compatibility 100
2. How Fast Apple iPhone 15 Pro Is Charged? - ChargerLAB Compatibility 100
3. How Fast Apple iPhone 15 Pro Max Is Charged? - ChargerLAB Compatibility 100
The article is originally written by @
Joey
posted on Chargerlab. All rights reserved.