REDMAGIC DAO 150W GaN Desktop Charger ChargerLAB Compatibility 100
Introduction
Previously, we presented a ChargerLAB Compatibility 100 video of the REDMAGIC DAO 150W GaN Desktop Charger. Through the video, we believe that everyone has gained some understanding of this charger. Now, we present it in a textual format to provide a more detailed insight into its charging compatibility.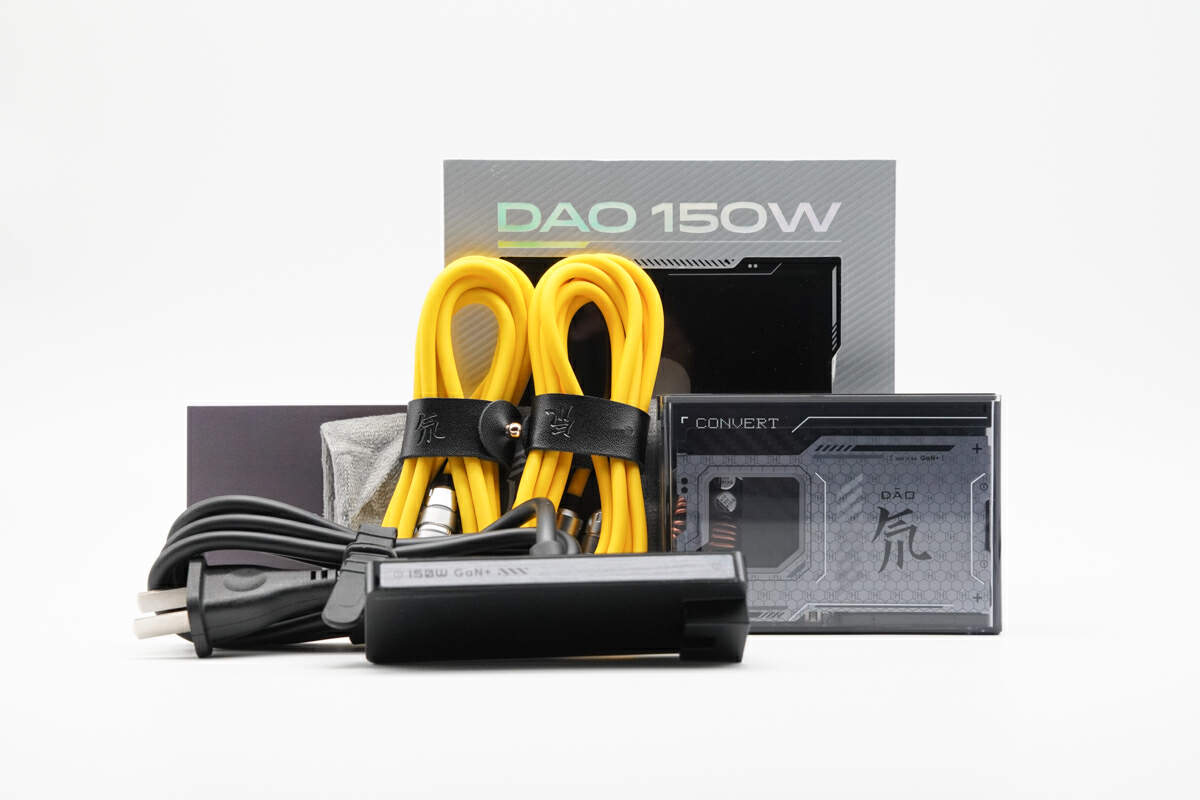 It features a full-color digital display and a custom modular design. It's worth noting that this charger was launched on KICKSTARTER on August 8th at 20:00. ChargerLAB was among the first to get their hands on this charger. It adopts a transparent space silver design and can support DC 150W+PD 3.1 140W output, making it compatible with mainstream laptop brands.
Charging Compatibility Test
Next, ChargerLAB will conduct a comprehensive test on the compatibility of the REDMAGIC DAO 150W GaN Desktop Charger, evaluating its performance with a selection of more than 100 charging devices. These devices include phones, laptops, tablets, and game consoles, aiming to cover the majority of users' charging scenarios.
DC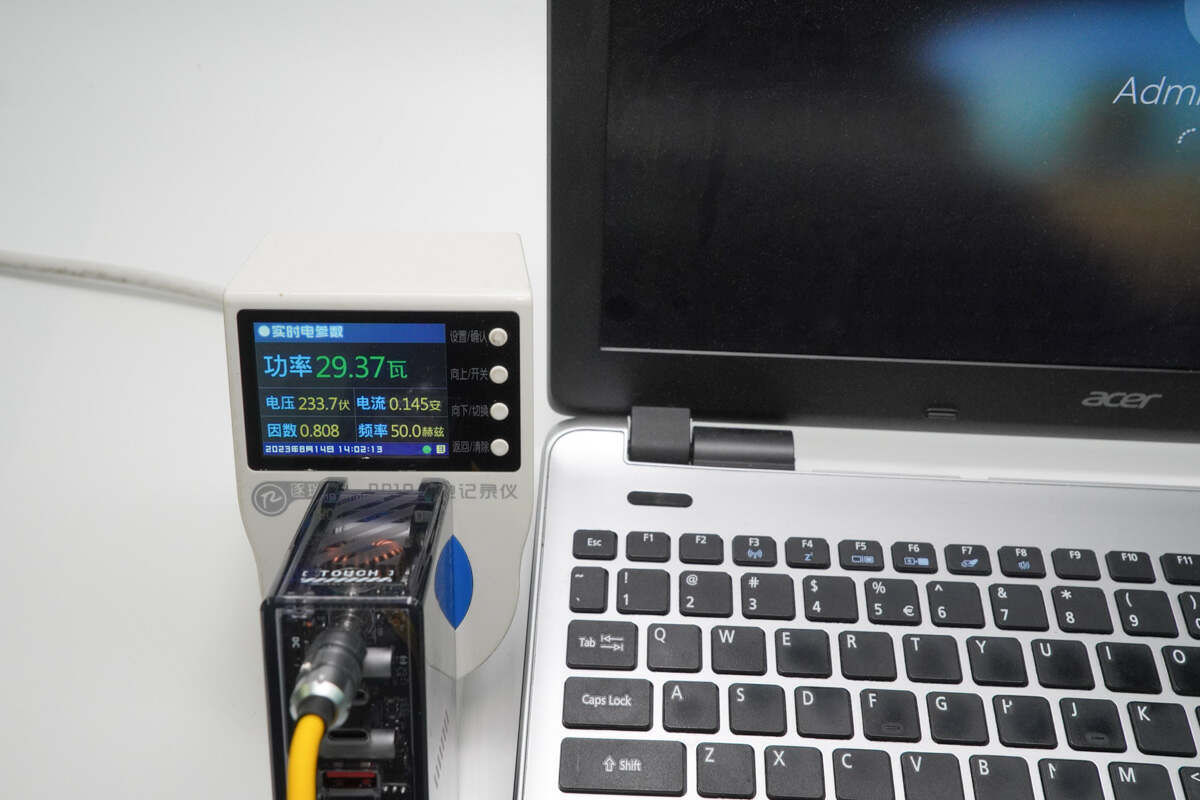 First, let's take a brief look at the compatibility of the charger's unique output port - DC. It can provide 30W of power for our 2014 Acer laptop, which is quite good. However, for other laptops equipped with DC ports, users can choose compatible DC charging cables for the best charging experience.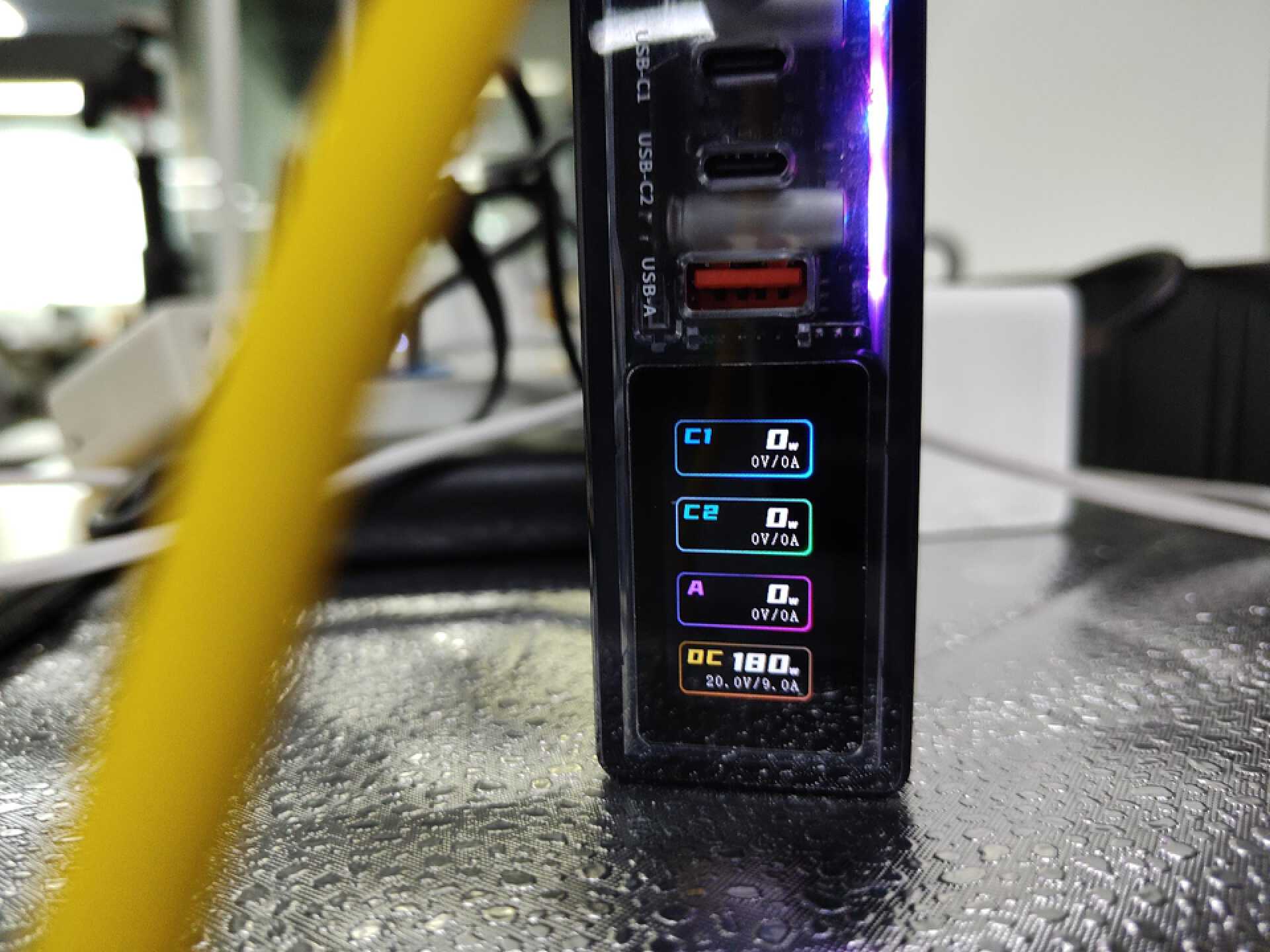 Furthermore, it can provide an impressive output power of up to 180W for portable power stations equipped with DC input ports, exceeding the rated 150W, leaving a strong impression.
Phones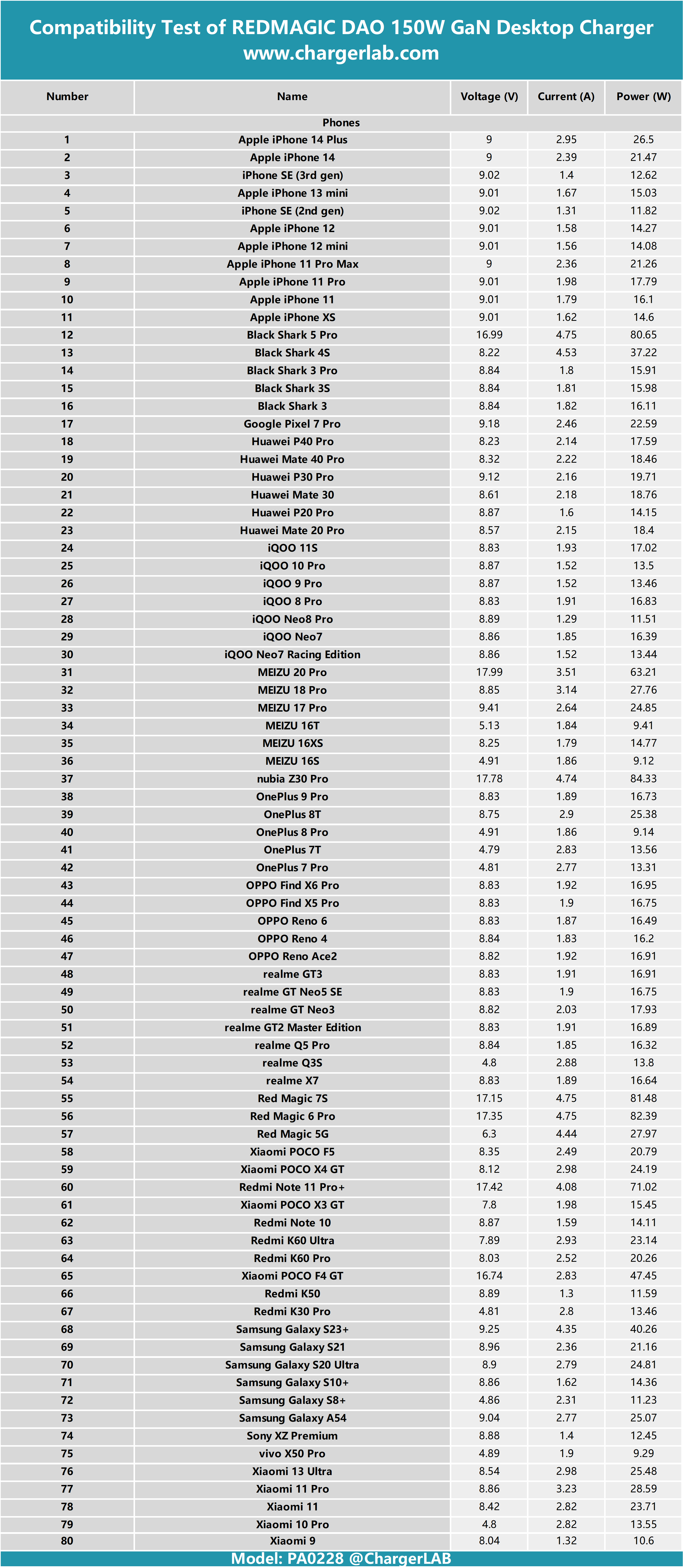 Starting with phones, summarizing the test data in a table, you can see that most phones trigger a 9V voltage value, with phones with good compatibility triggering a 20V voltage value.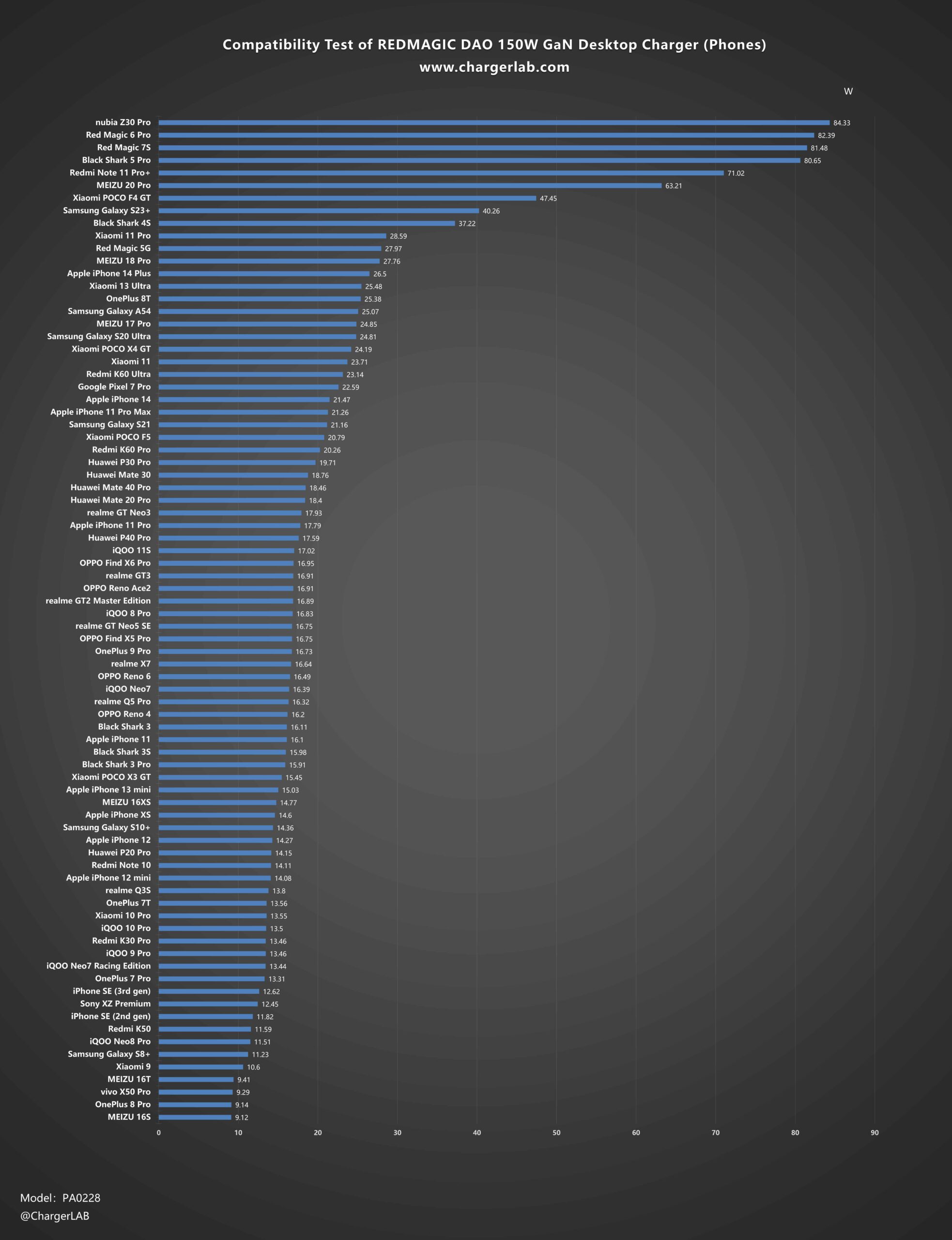 Drawing a bar chart, the charging power of the Nubia Z30 Pro is 84.33W. From the bar chart, it can be seen that models with higher PD compatibility achieve a good charging experience.
Wearable Devices

Next up are wearable devices, summarizing the test data in a table. All models trigger a 5V voltage value, with current below 1A.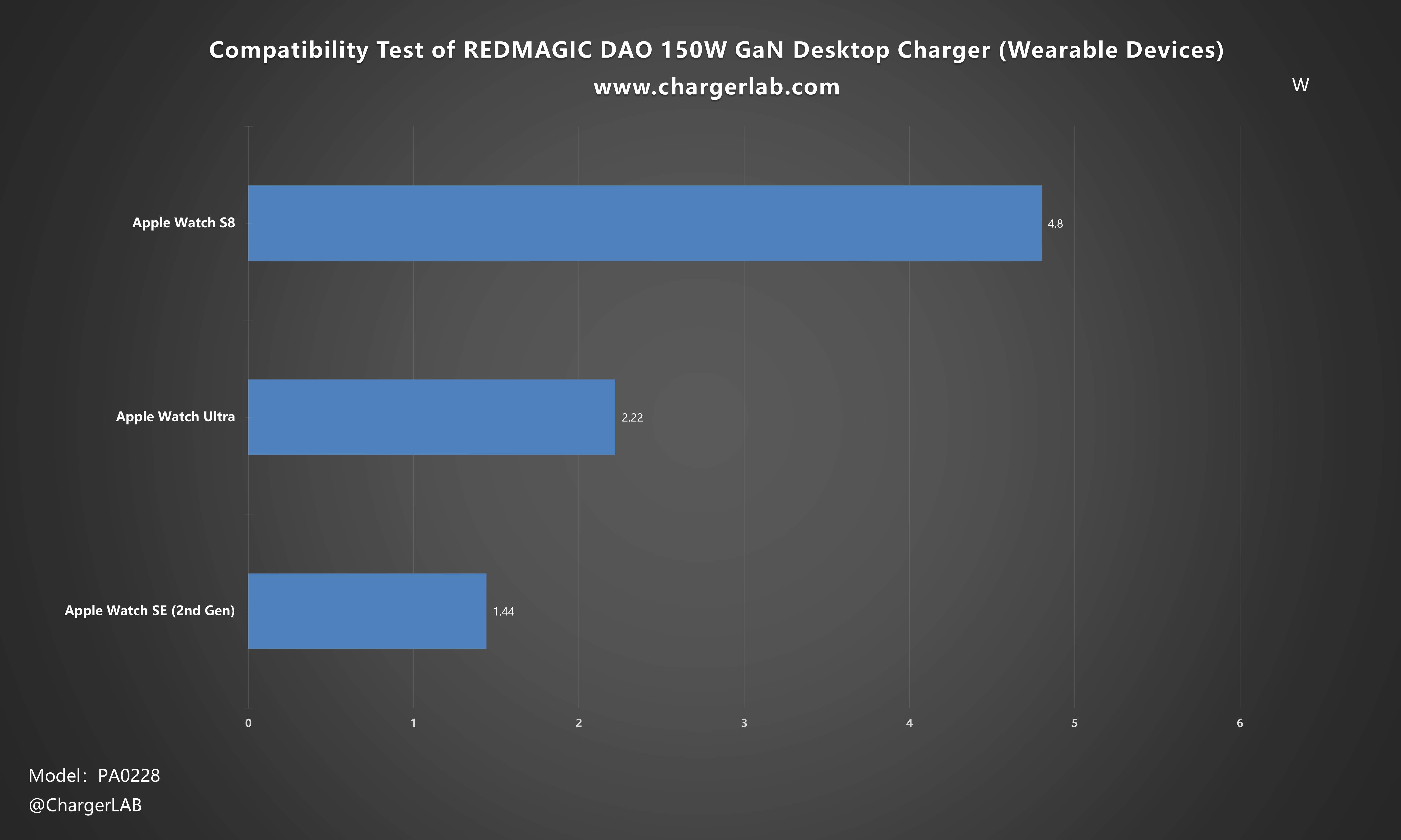 Drawing a bar chart, the highest power is still the Apple Watch Ultra at 4.8W, while the other two watches are around 2W.
Tablets

Summarizing the test data into a table, Apple tablets trigger a 15V voltage value, while Android tablets trigger a 9V voltage value. However, the current for the Samsung Tab S8 is an astonishing 4A, much higher than other models.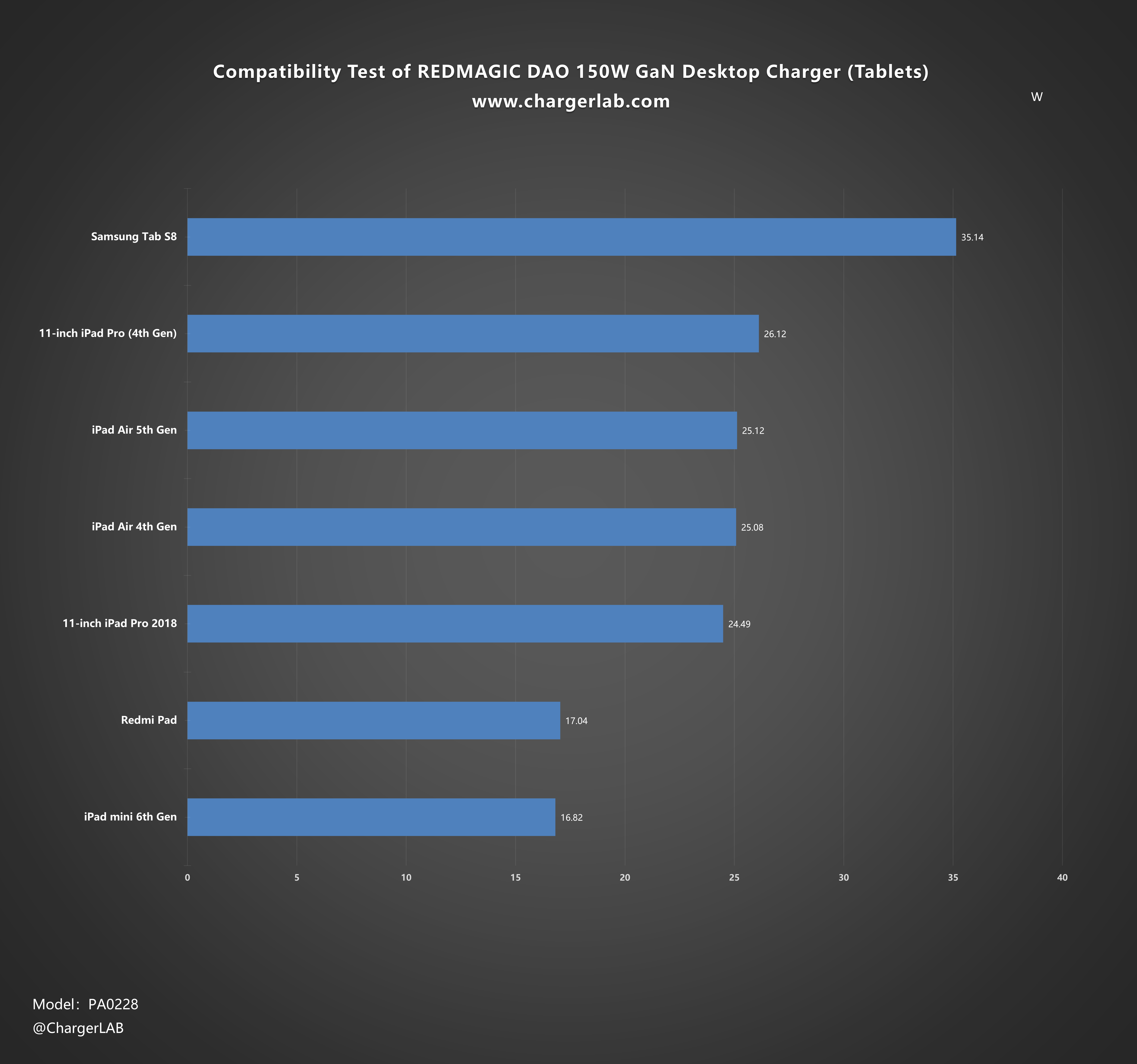 Drawing a bar chart, the Samsung Tab S8 naturally has the highest charging power at 35.14W. Apple tablets mostly achieve higher power levels, except for the iPad mini 6, which is limited to 16.82W due to its own maximum charging power.
Game Consoles

Once again, summarizing the test data into a table, regarding game consoles, three models trigger 15V and 20V voltage values.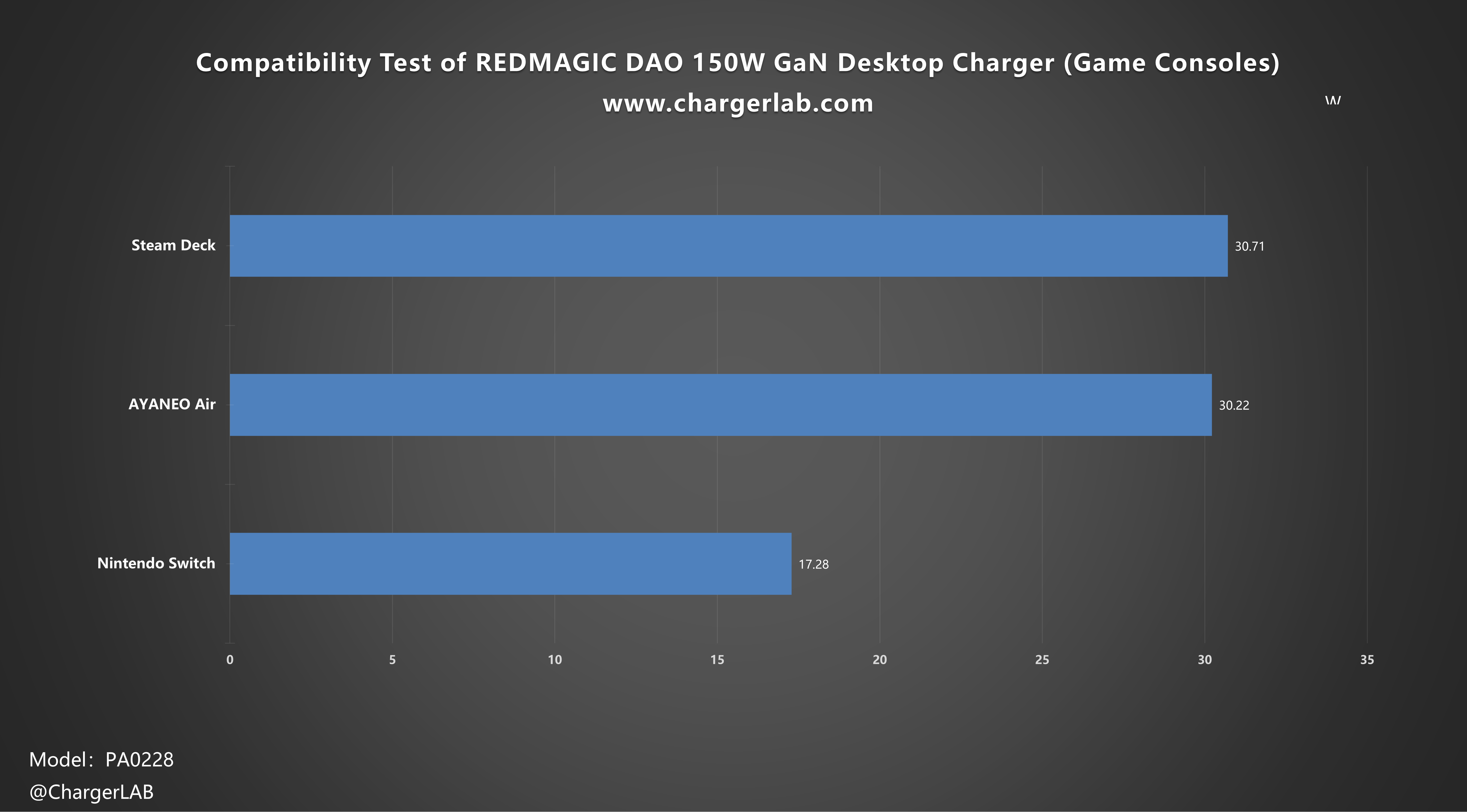 Drawing a bar chart, in the game console compatibility test, the Steam Deck achieves the highest charging power at 30.71W, while the lowest is the Switch TV mode at 17.28W, within the typical TV mode power range.
Laptops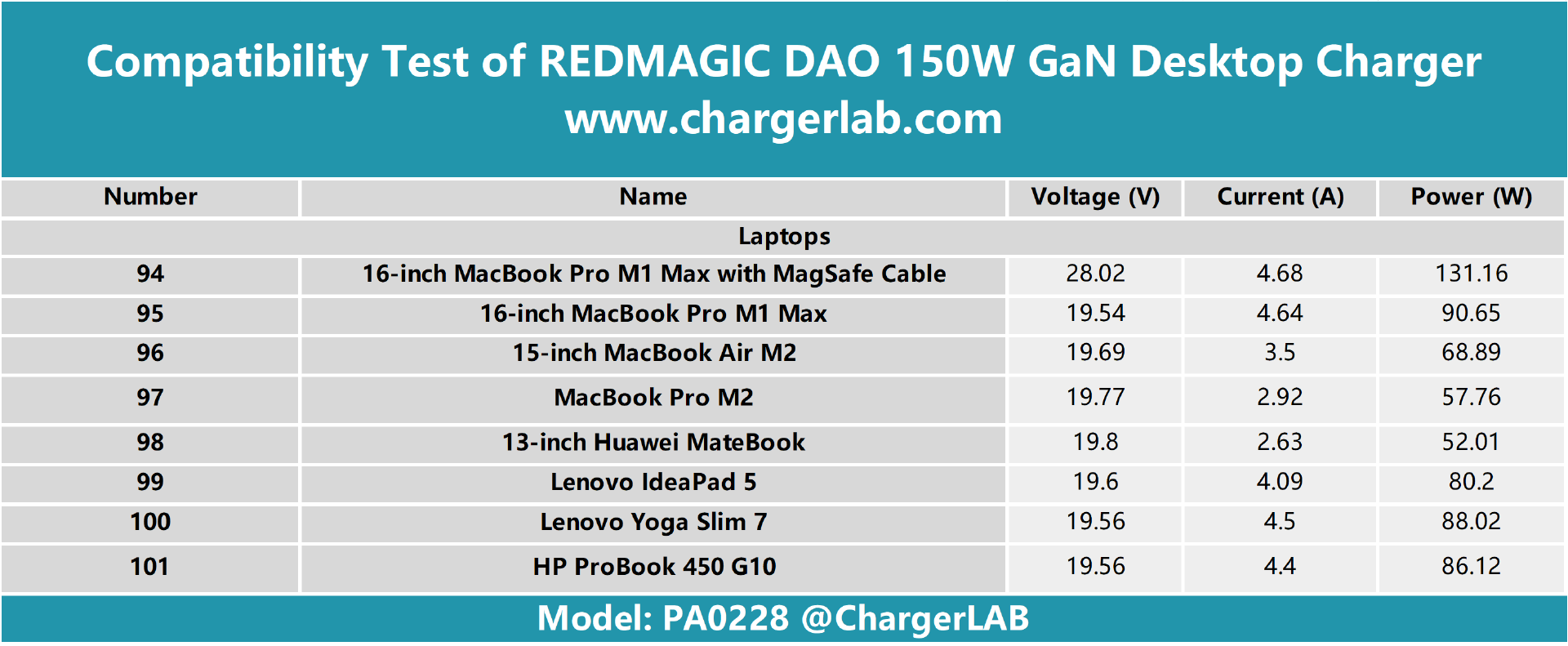 Summarizing the test data into a table, all eight tested laptops can trigger a 20V voltage value, with charging power exceeding 50W or more.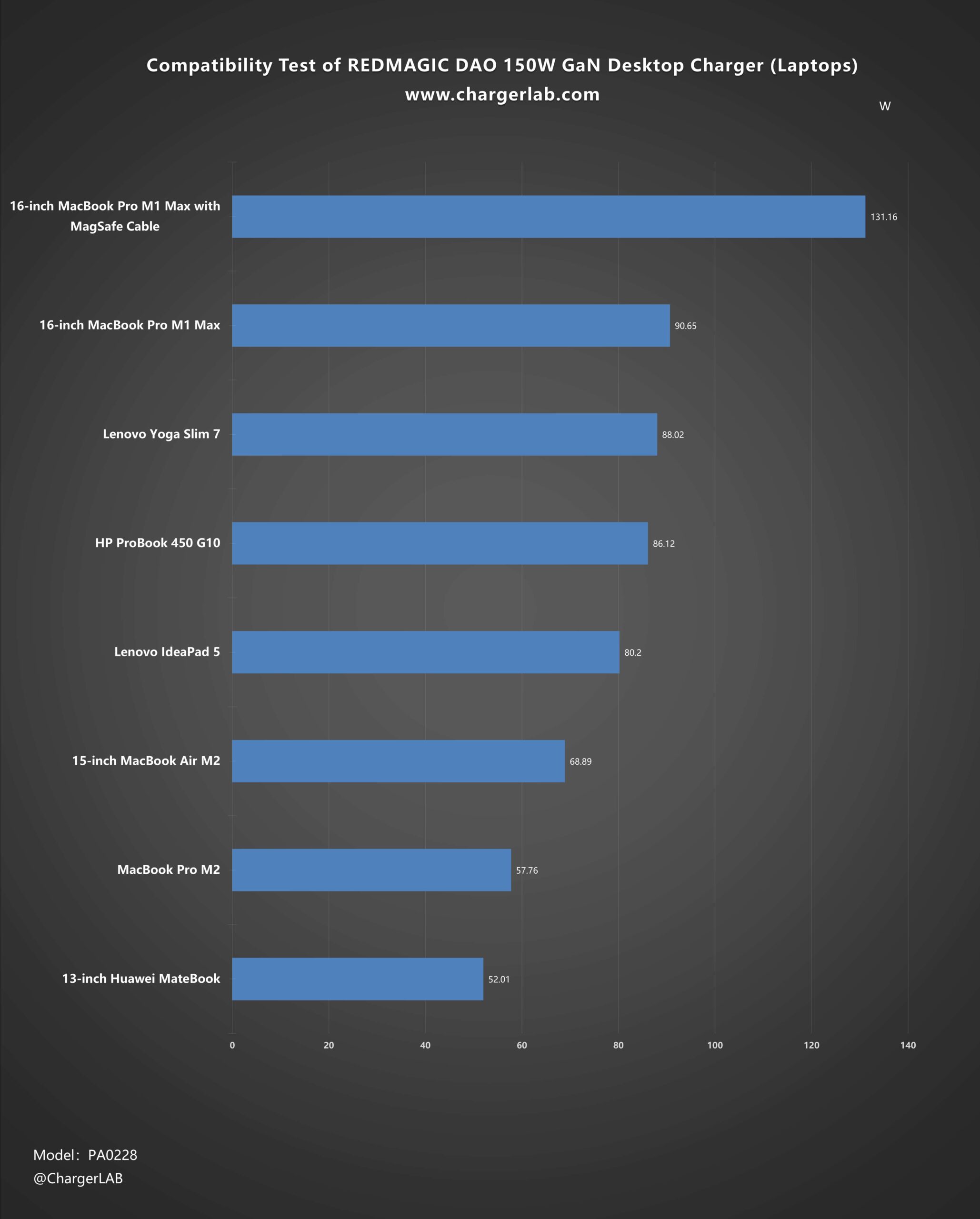 Drawing a bar chart, the highest charging power is achieved by the 16-inch MacBook Pro M1 Max with MagSafe cable at 127.54W, which decreases to 90.2W when using a USB-C cable, showing a noticeable difference.
To sum it up, when it comes to charging performance, the REDMAGIC DAO 150W GaN Desktop Charger excels. Both USB-C1 and C2 ports support blazing-fast 140W charging, while the USB-A port provides a 30W charge. Whether you're charging your smartphone, tablet, or laptop, the compatibility tests showed impressive results. However, if you're looking to charge power banks and laptops that support PD 3.1 140W, it's advisable to pair them with high-quality or original cables for optimal performance.
Furthermore, users have the option to purchase DC adapter cables that are compatible with various laptops, allowing for charging speeds of up to 150W (tests have even shown higher power). This ensures an excellent charging experience for laptop users.
In conclusion, the iREDMAGIC DAO 150W GaN Desktop Charger successfully passed the ChargerLAB Compatibility 100 Test. Below is the compatibility 100 test report issued by us.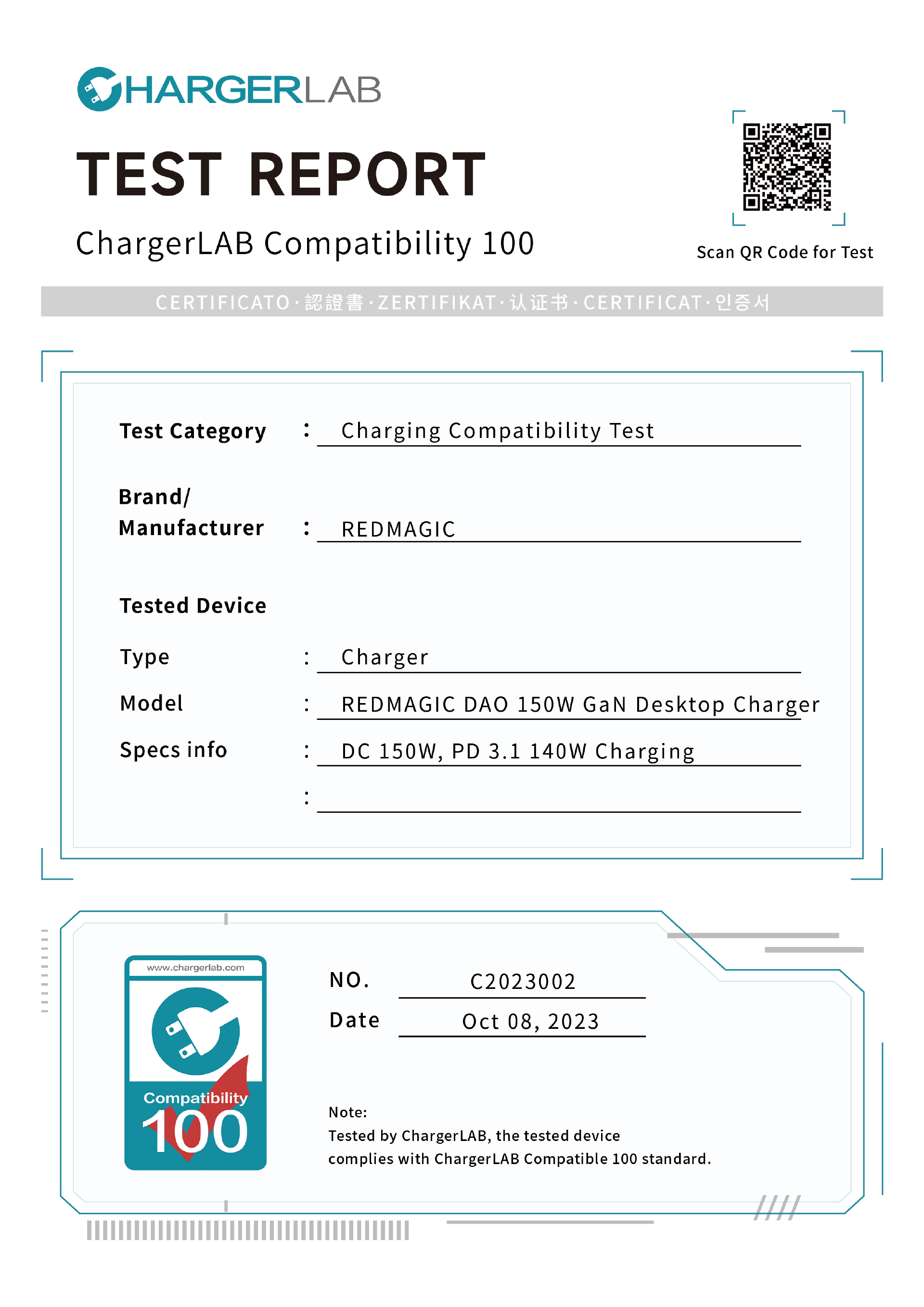 Related Articles: 
1. Review of REDMAGIC 150W GaN Desktop Charger From DAO Series
2. Fully Charged in 12 Mins | Tegic Quickbee 2-in-1 Multifunctional Power Station
3. REDMAGIC DAO 150W GaN Desktop Charger - ChargerLAB Compatibility 100 (Video)
The article is originally written by @
Joey
posted on Chargerlab. All rights reserved.