Review of Baseus A3 Car Vacuum Cleaner
Introduction
These days, an increasing number of individuals are opting to replace their conventional fuel-powered vehicles with environmentally friendly electric cars. This shift in preference brings about significant changes in driving experiences and car usage habits. However, one aspect remains unchanged: the challenge of keeping the car's interior clean from dust and food residues. While many car owners resort to using household vacuum cleaners or wet cloths for cleaning, they often struggle to reach certain areas like the gaps in the steering wheel, car doors, and seats.
But fear not, because ChargerLAB has recently acquired the Baseus A3 Car Vacuum Cleaner. This innovative device is designed to tackle various types of dirt, including human hair, floating dust, and larger debris within the car. With its exceptional suction power of 15,000Pa and an impressive battery life of up to 45 minutes, this portable vacuum cleaner promises outstanding performance. Now, let's delve into the effectiveness of this convenient car cleaning solution.
Product Appearance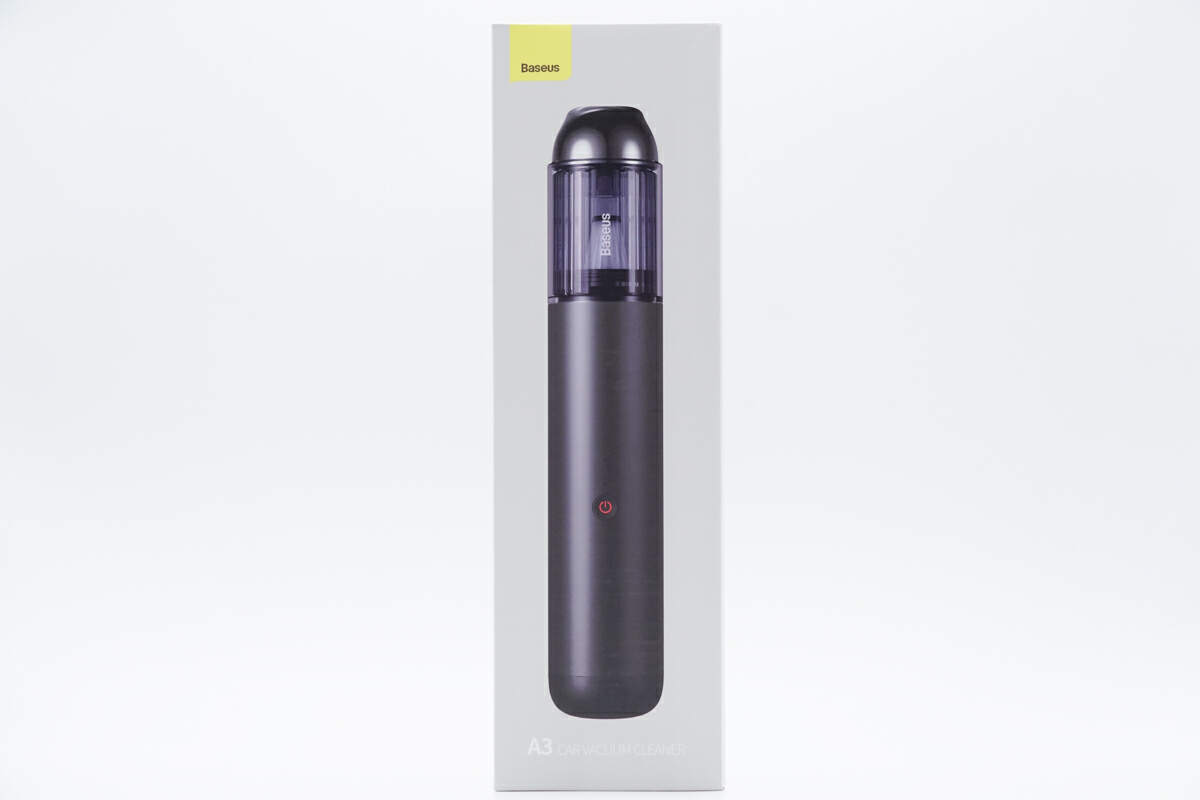 The packaging box adopts the classic design of Baseus's old product. The model is CRXCQA3, it has four 2000mAh battery cells with an rated power of 135W.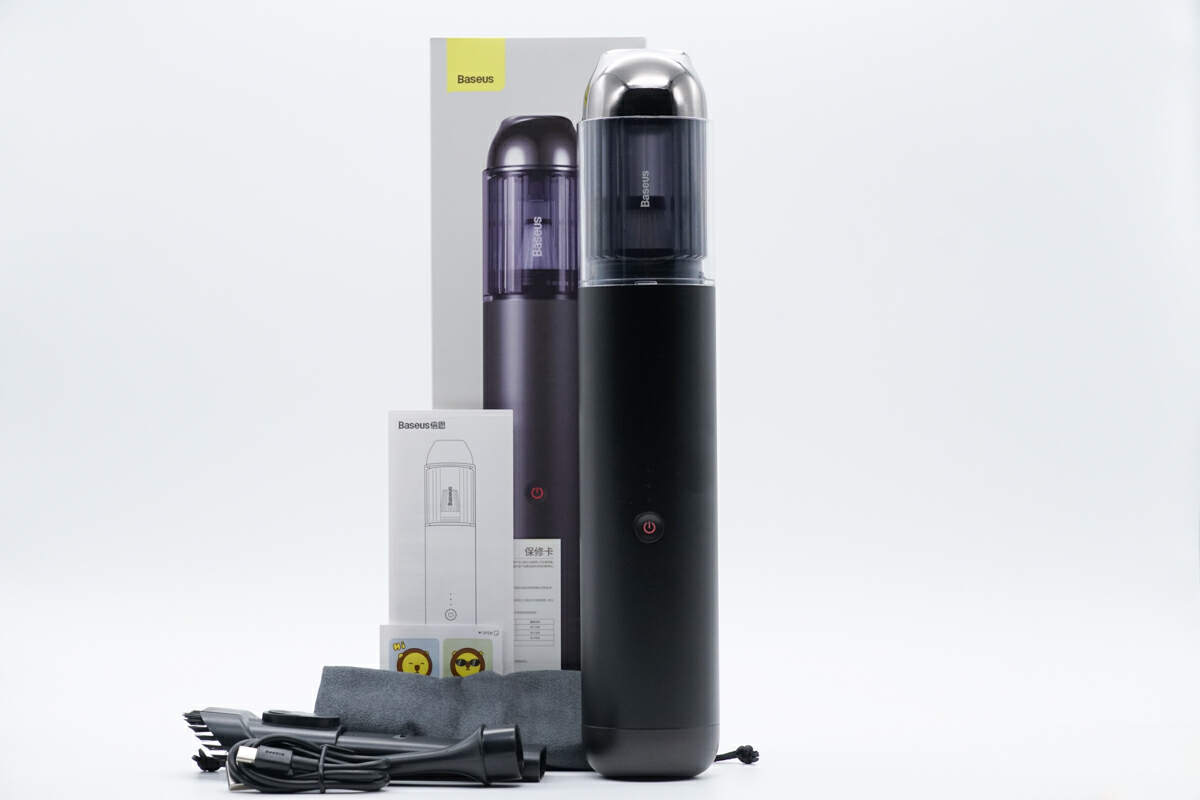 Take out all the items from the package, which includes the vacuum cleaner, a 2-in-1 brush attachment, an air-blowing pipe, a charging cable, a flannel storage bag, and some documents.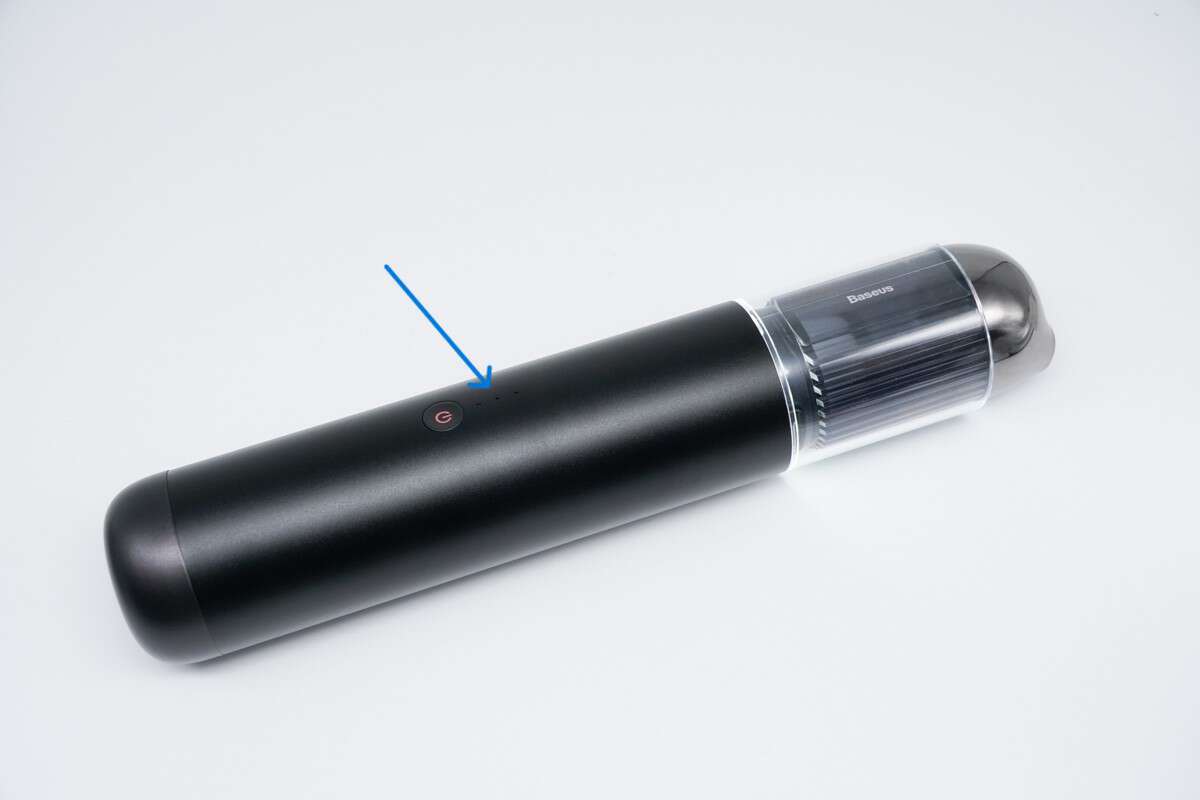 The product features an overall cylindrical design, complemented by a matte aluminum alloy casing that undergoes anodization treatment on the surface, making it more durable and providing a comfortable grip. In the middle, there are three battery indicator lights, a power button, and a USB-C charging port. The blue indicator light displays the remaining battery level, and the button allows for switching between standard and high suction modes. Additionally, a long press of three seconds can toggle the illumination light on and off.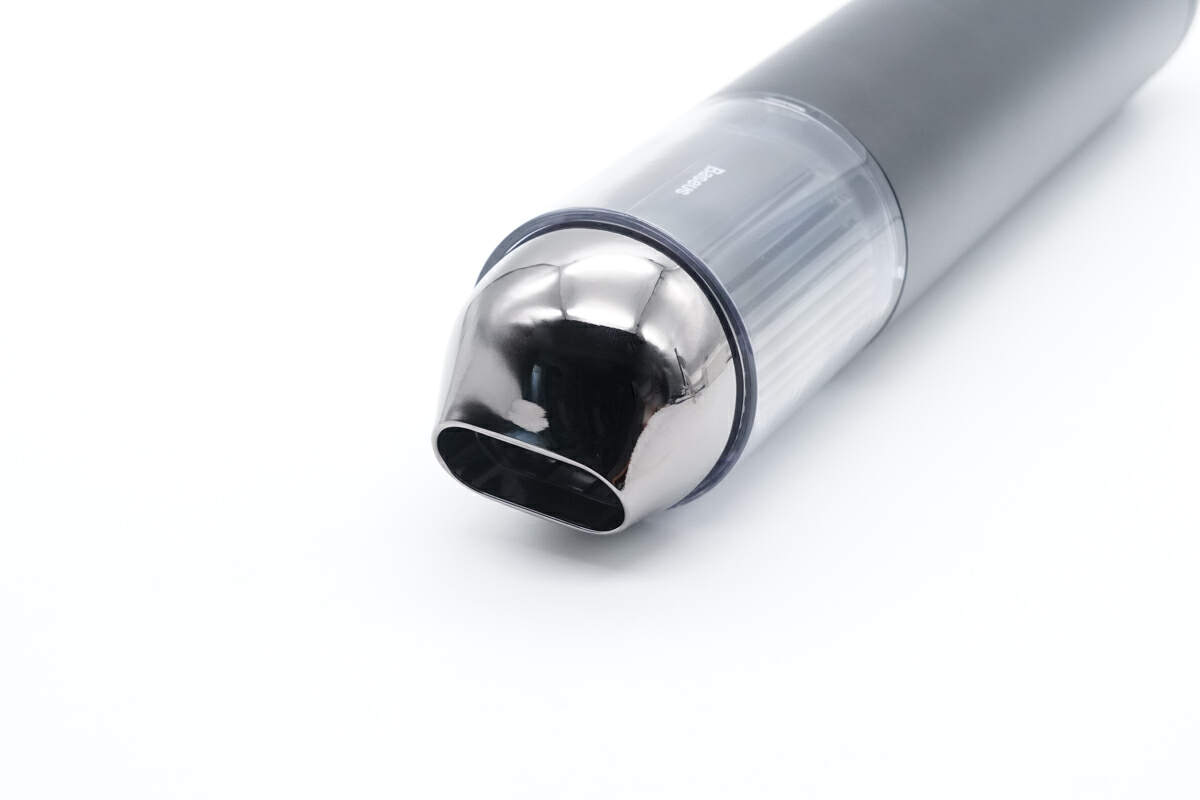 At the top, you'll find a mirrored suction port and a transparent dust bin, providing a clear view of the amount of dust accumulated inside the vacuum cleaner for convenient and timely cleaning.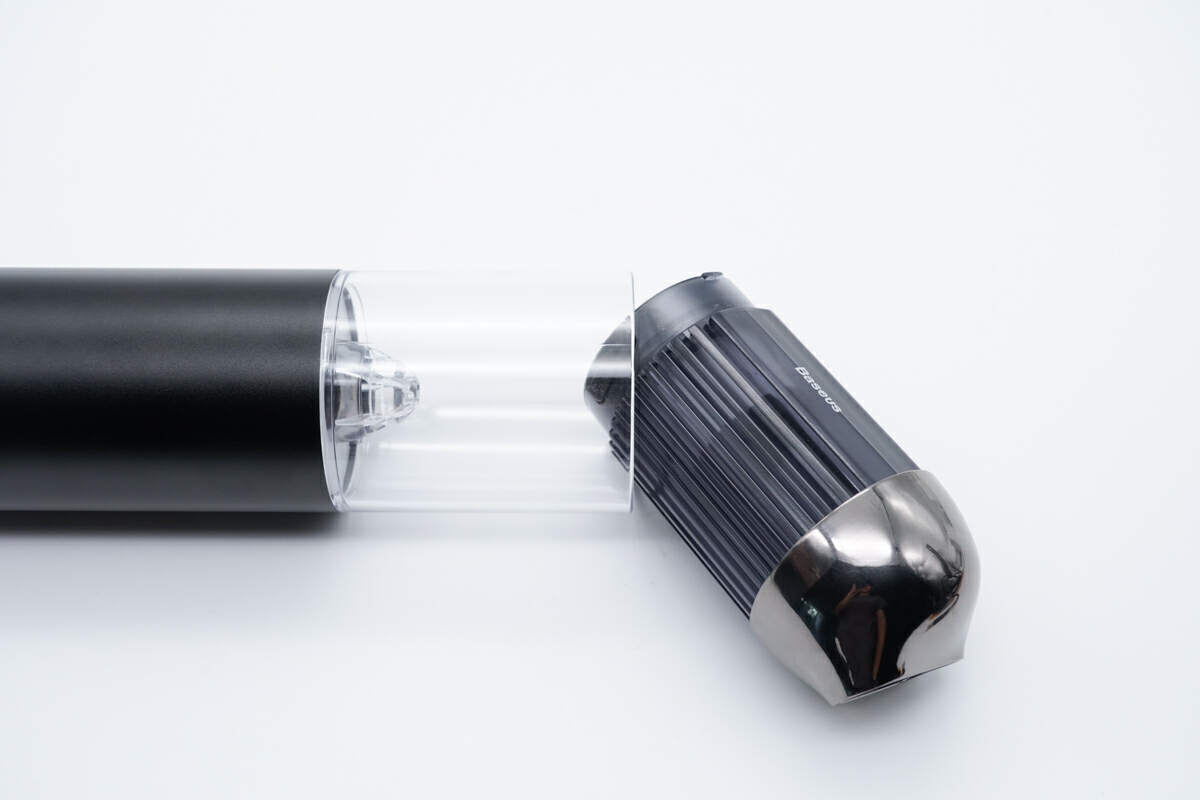 The dust bin is designed with a rotary knob, which can be easily disassembled by rotating it counterclockwise.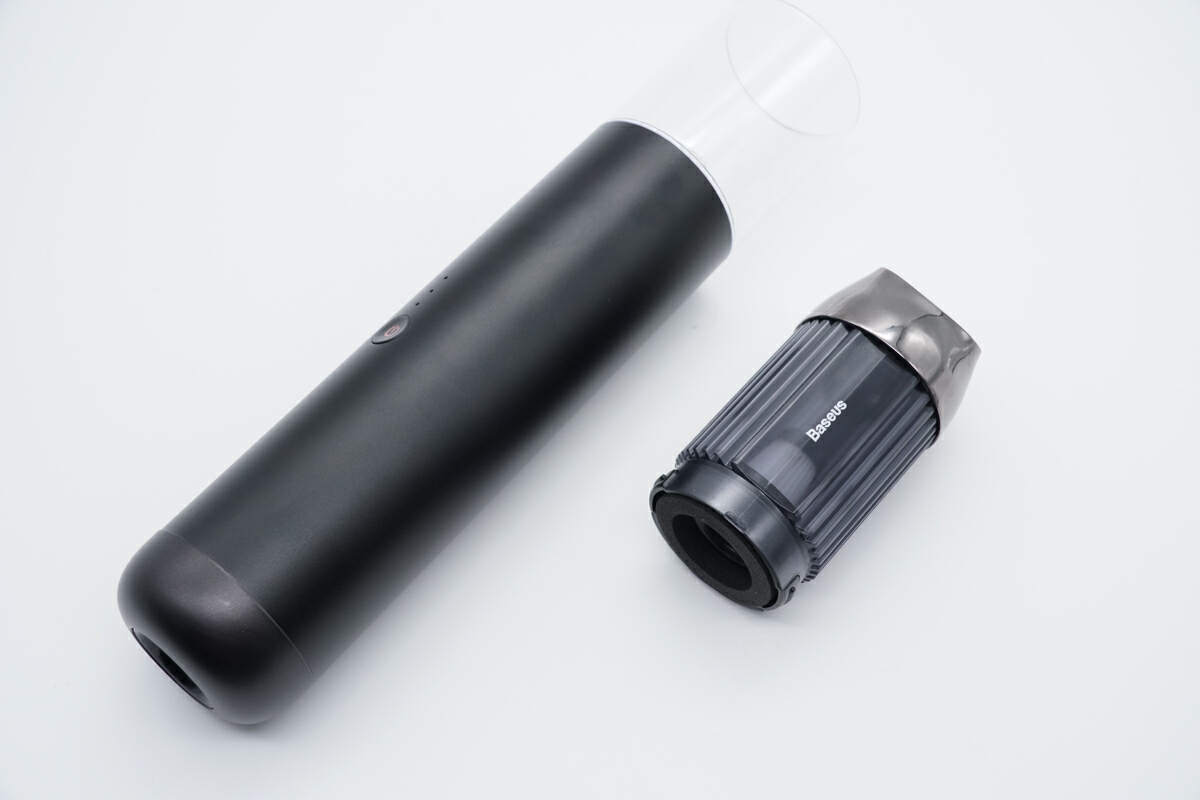 Furthermore, the outer layer reveals a steel filter. After removing the inner layer HEPA filter cartridge, it can be directly washed with water.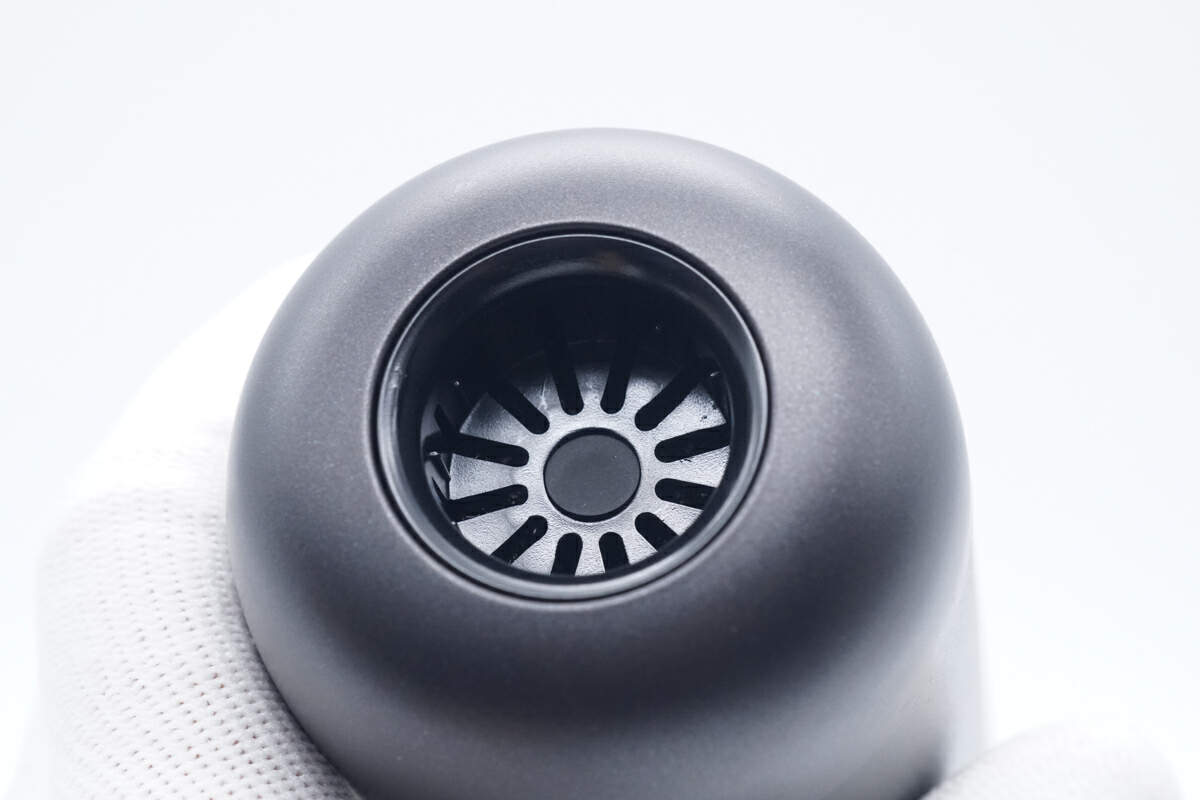 The bottom part serves as the air outlet and is equipped with a dust-proof sponge to prevent obstructions caused by foreign objects.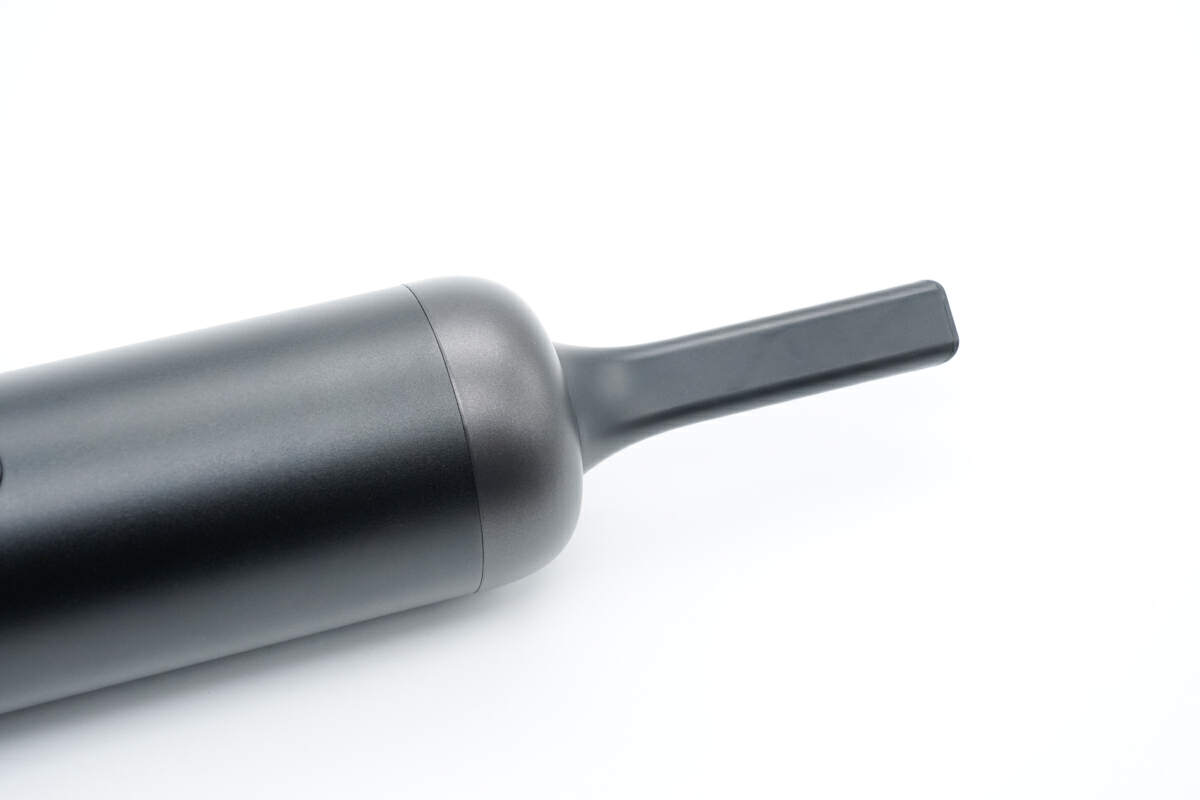 Additionally, a blowing pipe can be attached at the bottom to facilitate the thorough cleaning of hard-to-reach areas within the car.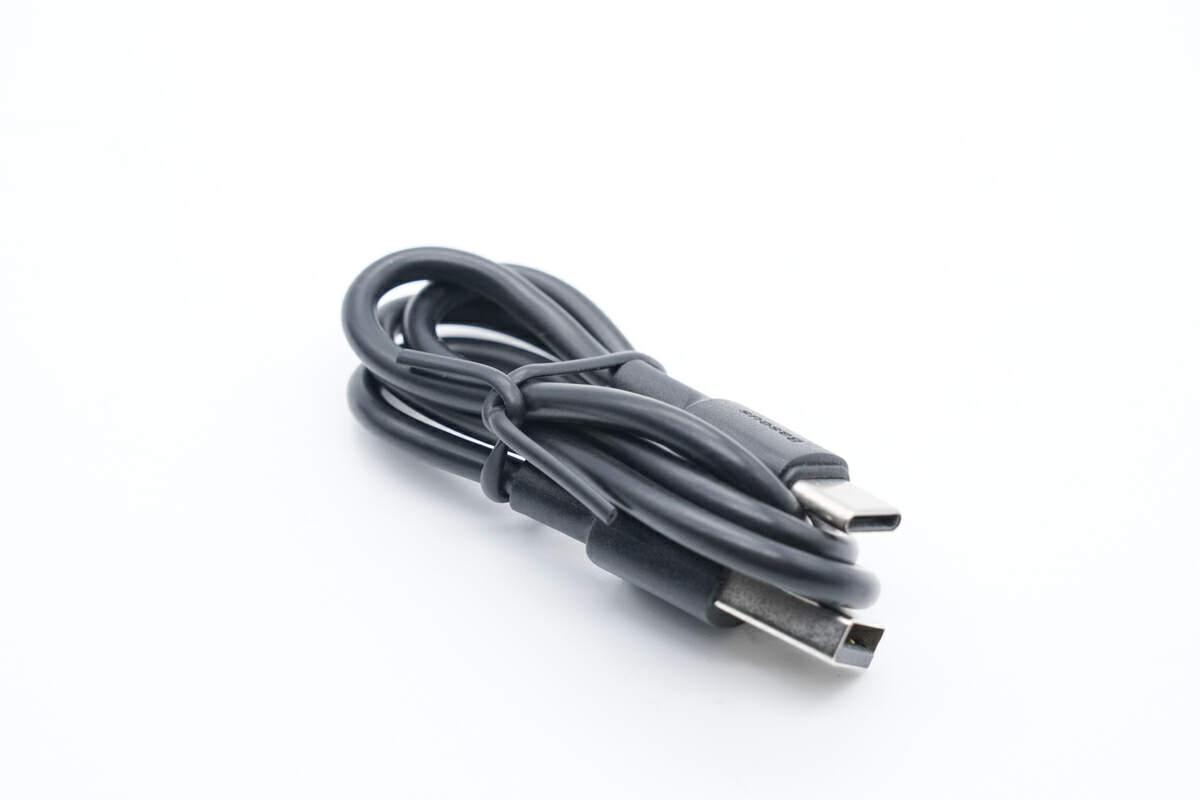 The included cable is a USB-A to USB-C cable.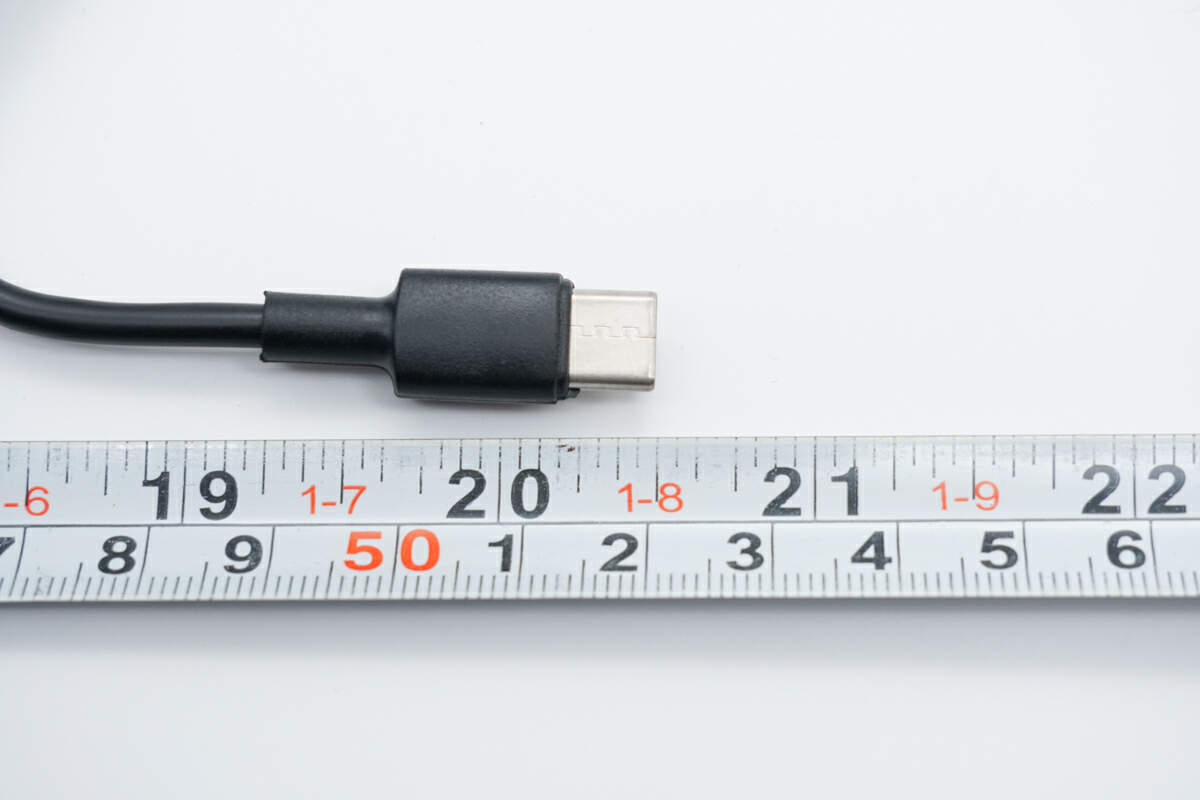 The overall length of the cable is about 50cm (1.64 ft).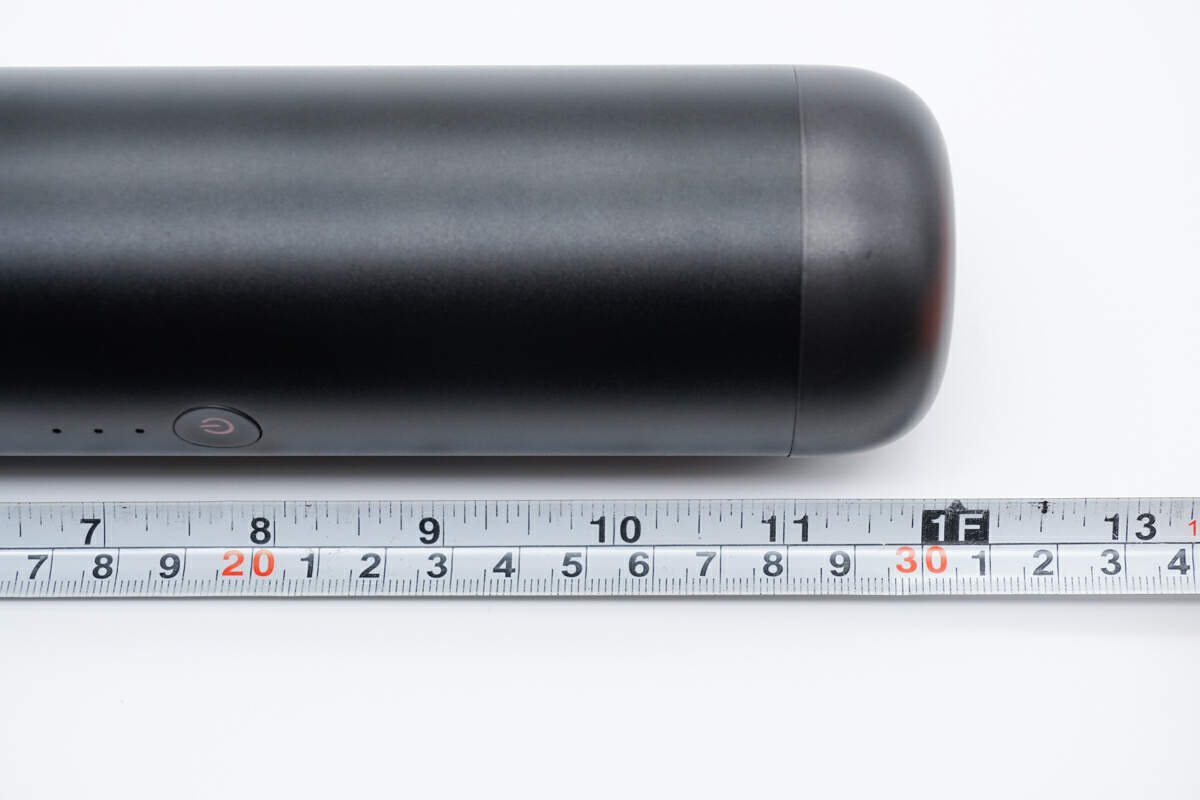 And the lenght of the vacuum cleaner is about 30cm (0.98 ft).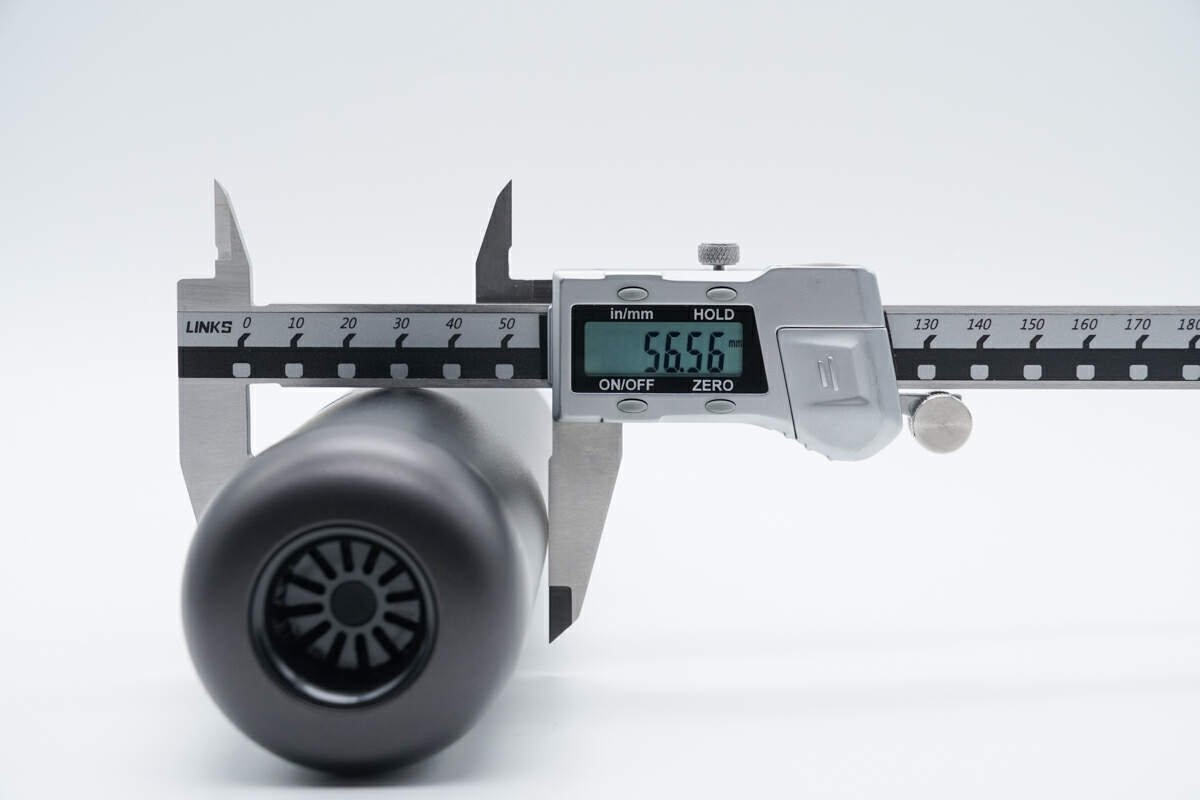 The diameter is approximately 56.5mm (2.22 inches).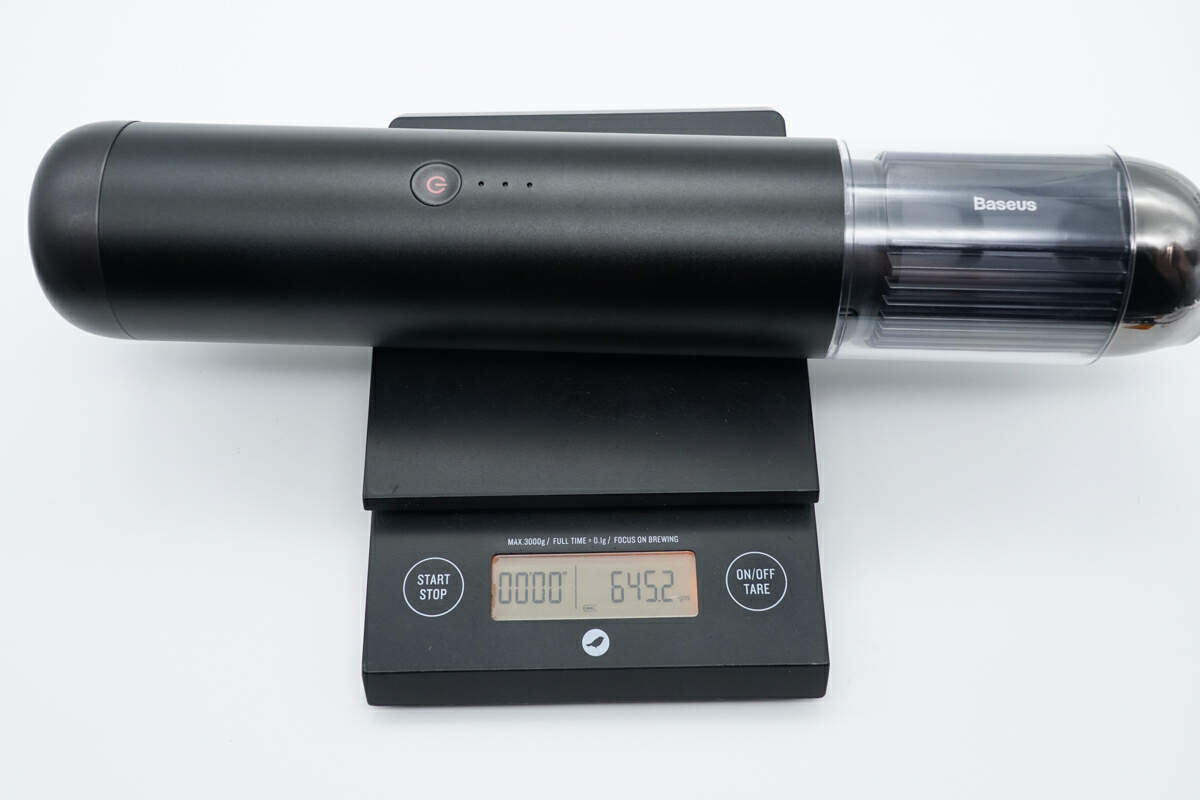 The weight is about 645g (22.75 oz).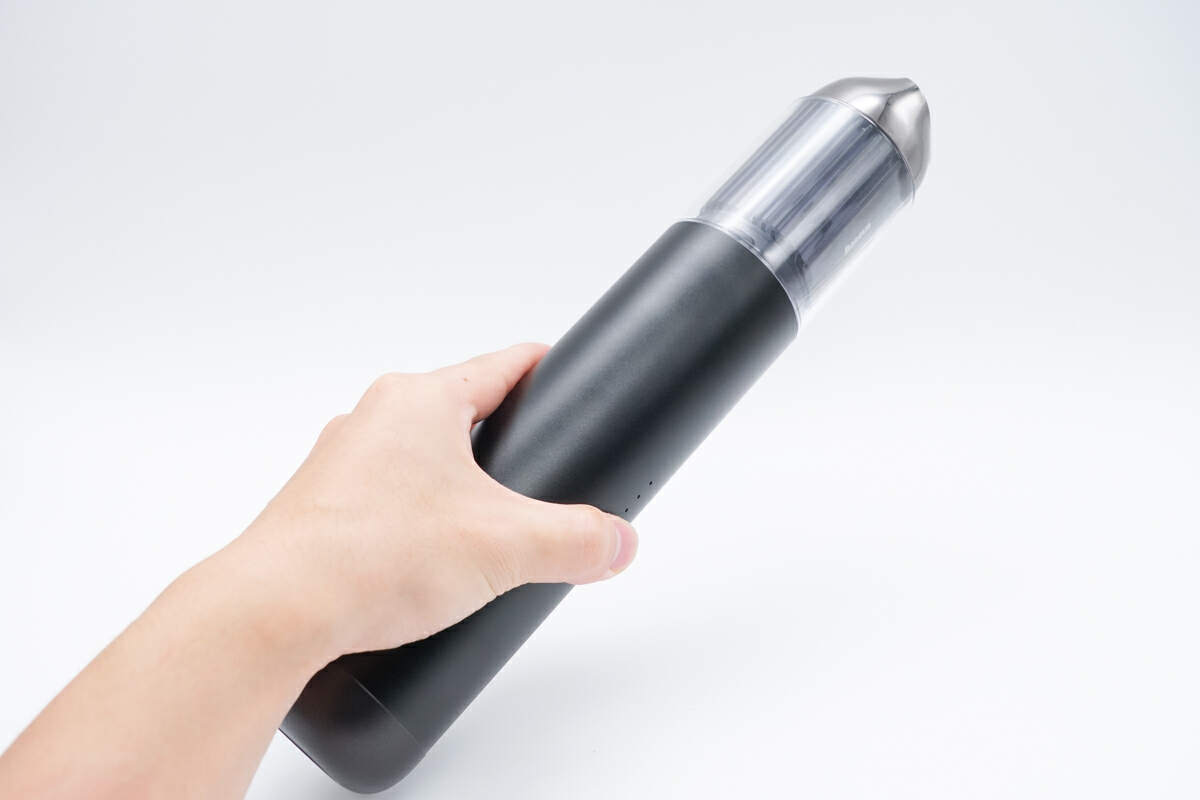 All of this means you can hold it with one hand easily.
Test
After a brief overview of its appearance, let's check out the actual cleaning performance and see how it fares.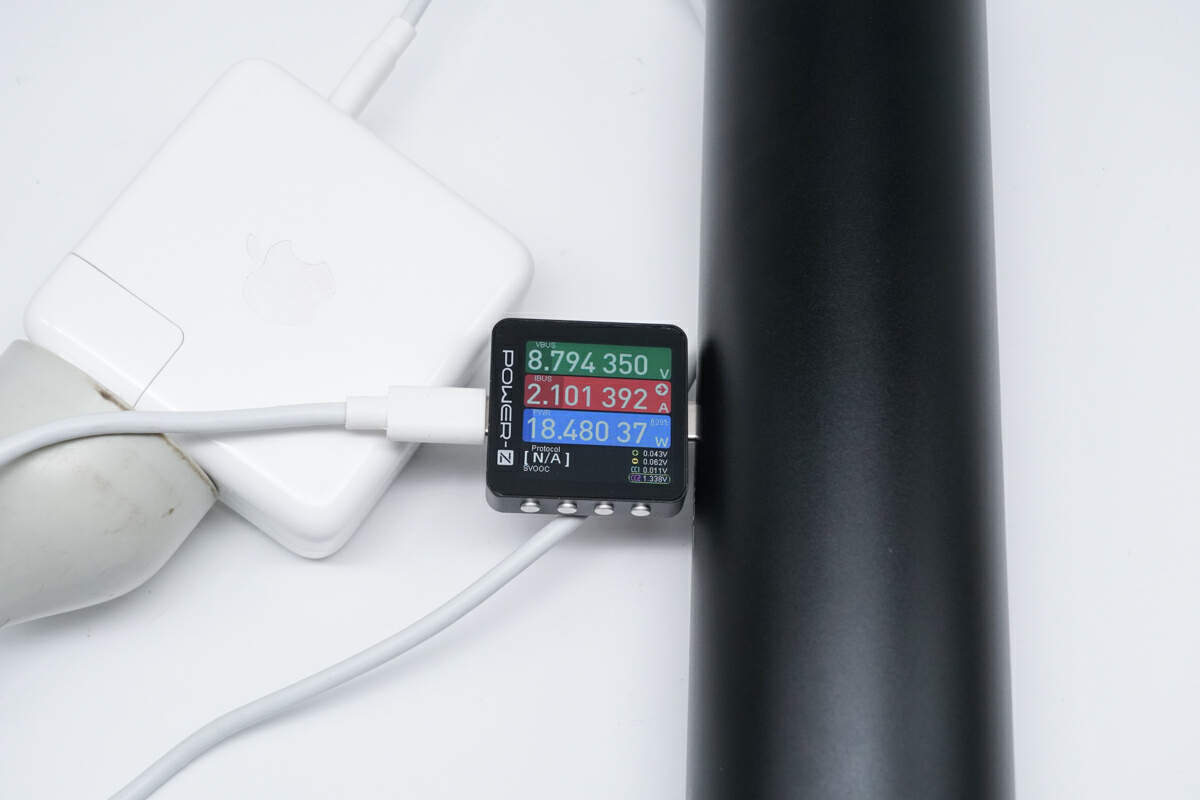 The ChargerLAB POWER-Z KM003C shows the charging power can reach 18W, which is pretty impressive for a small vacuum cleaner.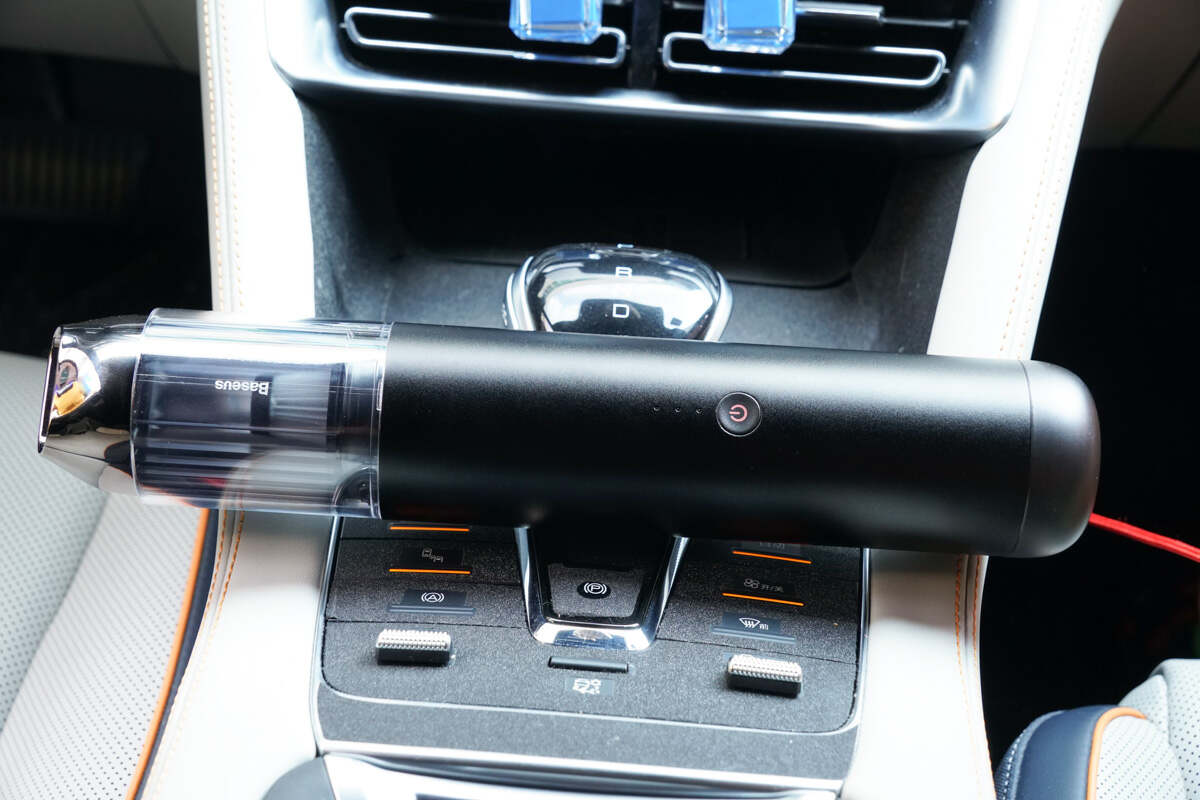 In terms of principle, it is no different from a regular vacuum cleaner. It is equipped with a high-performance brushless motor, capable of reaching a speed of up to 80,000 RPM (revolutions per minute). As claimed by the manufacturer, it can generate a maximum suction power of 15,000 Pa.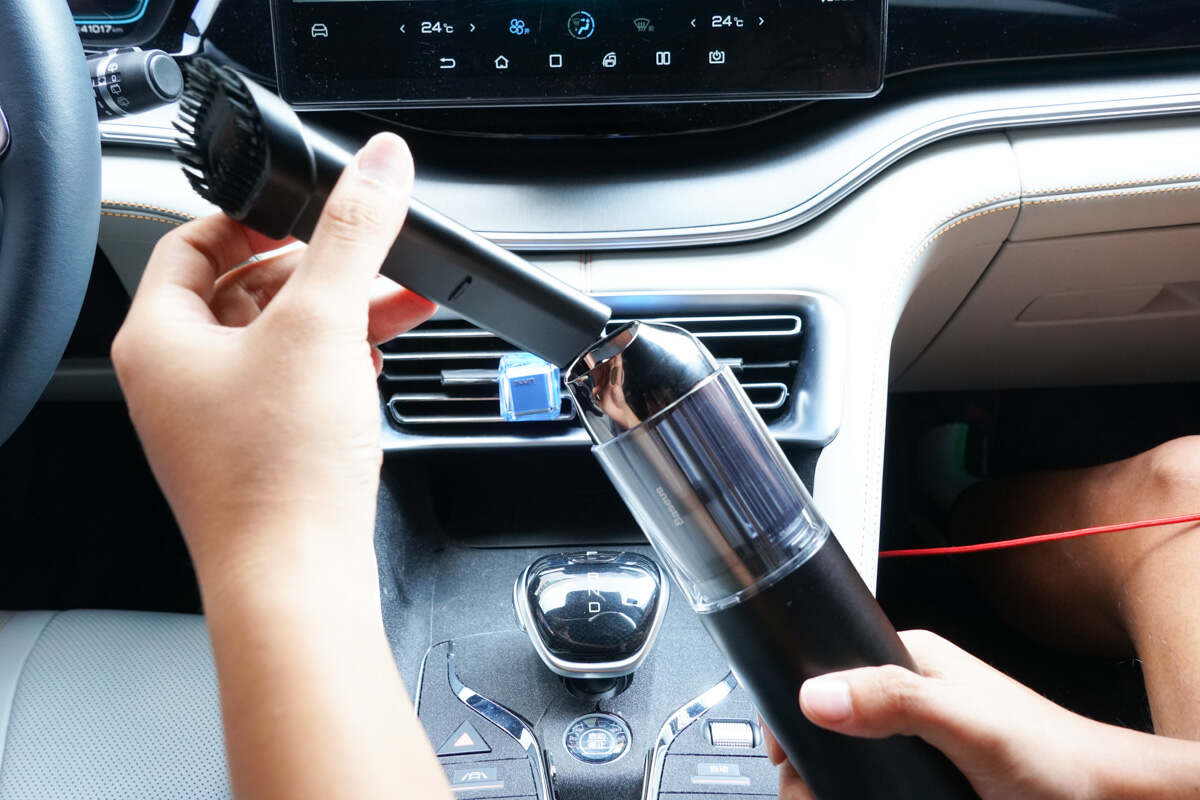 When dealing with narrow spaces within the car, you can assemble the included 2-in-1 brush attachment for cleaning purposes.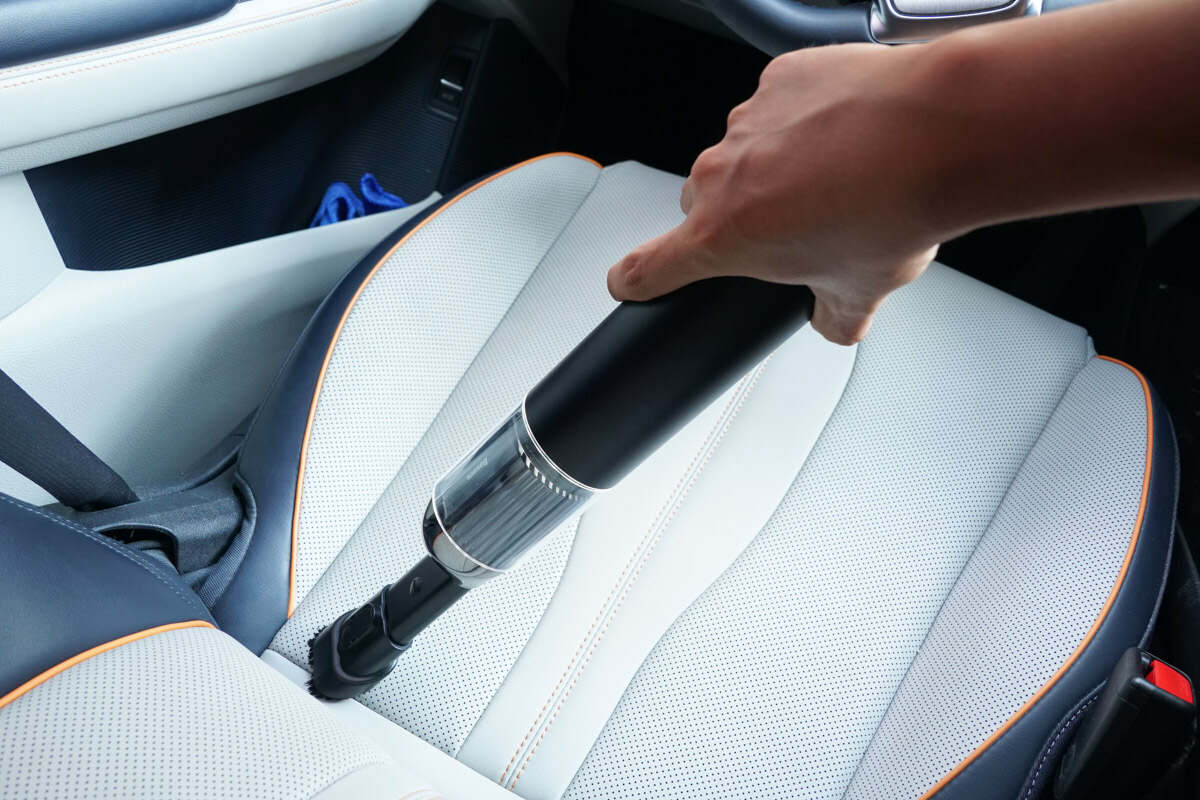 For instance, areas like the crevices in the seats or gaps in the car doors can be effectively reached and thoroughly cleaned with the help of the attachment, efficiently removing dust and residues.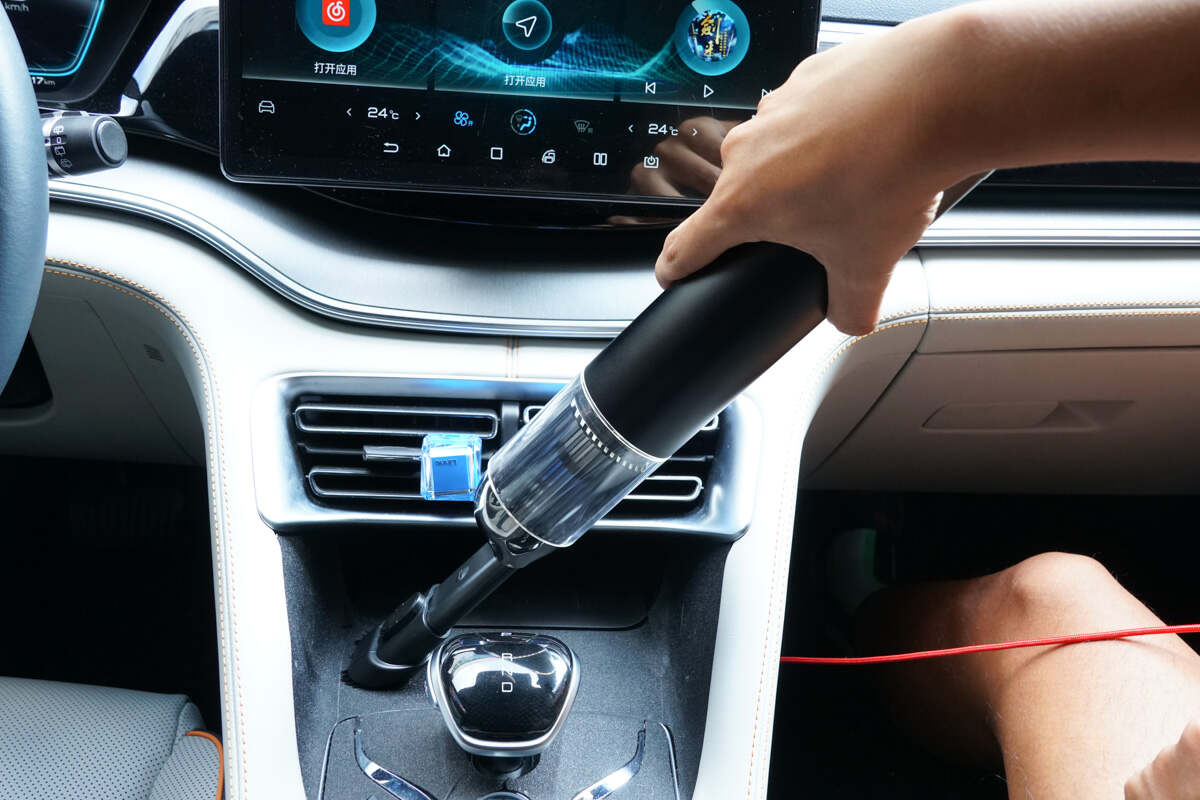 It effortlessly handles the gaps beneath the air conditioning vents where larger debris like food residues or fragments can accumulate. Switching to the high-speed mode ensures efficient cleaning, with a suction power of up to 15,000 Pa.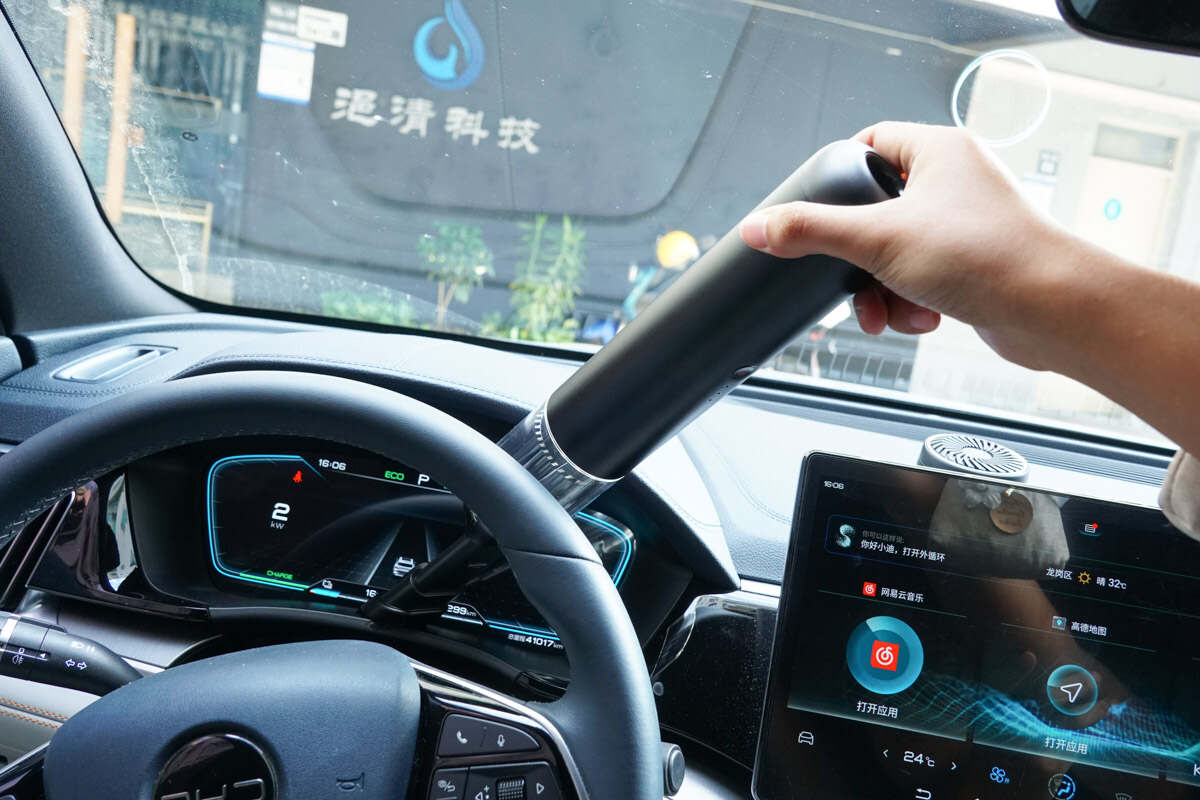 By extending the 2-in-1 brush attachment to its maximum length, you can effectively clean the deep crevices between the steering wheel and the central control panel. It also proves useful for removing particles from screens without worrying about scratching them.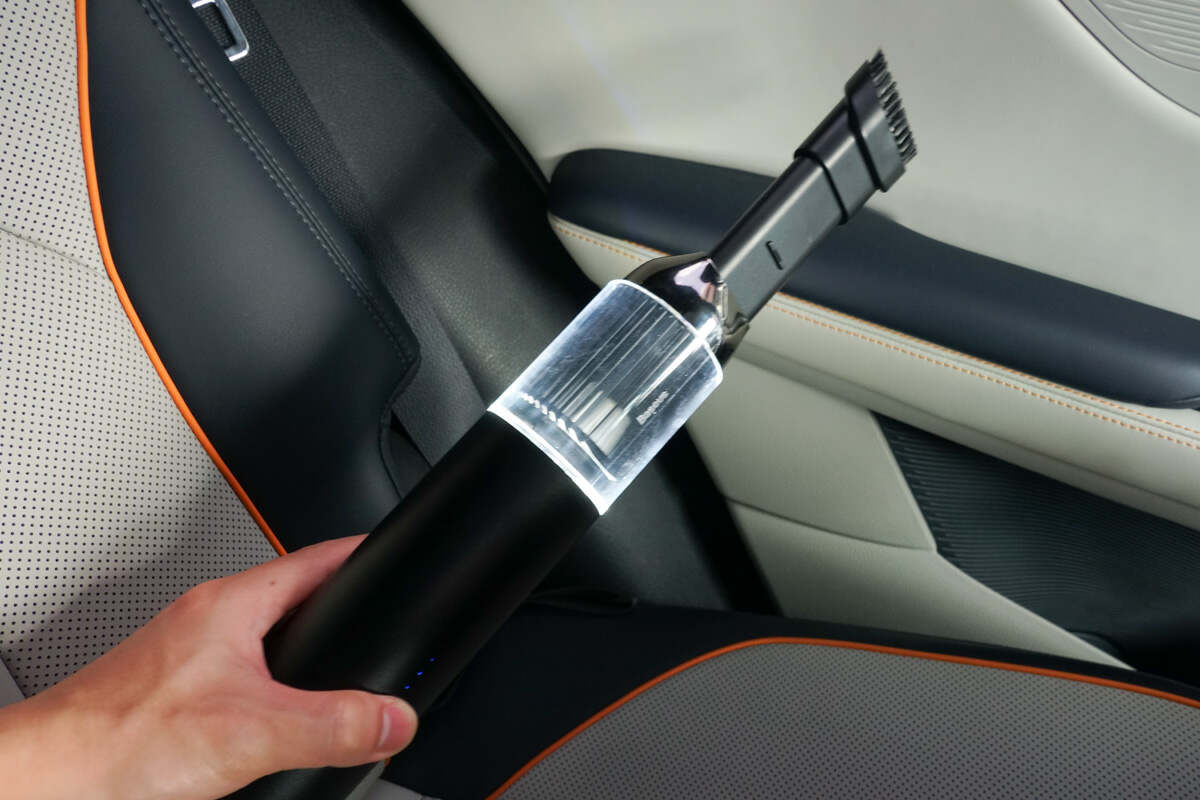 Through the transparent walls of the dust bin, you can see the results of the cleaning process, as it accumulates the collected dust, lint, and other debris, giving you a sense of accomplishment.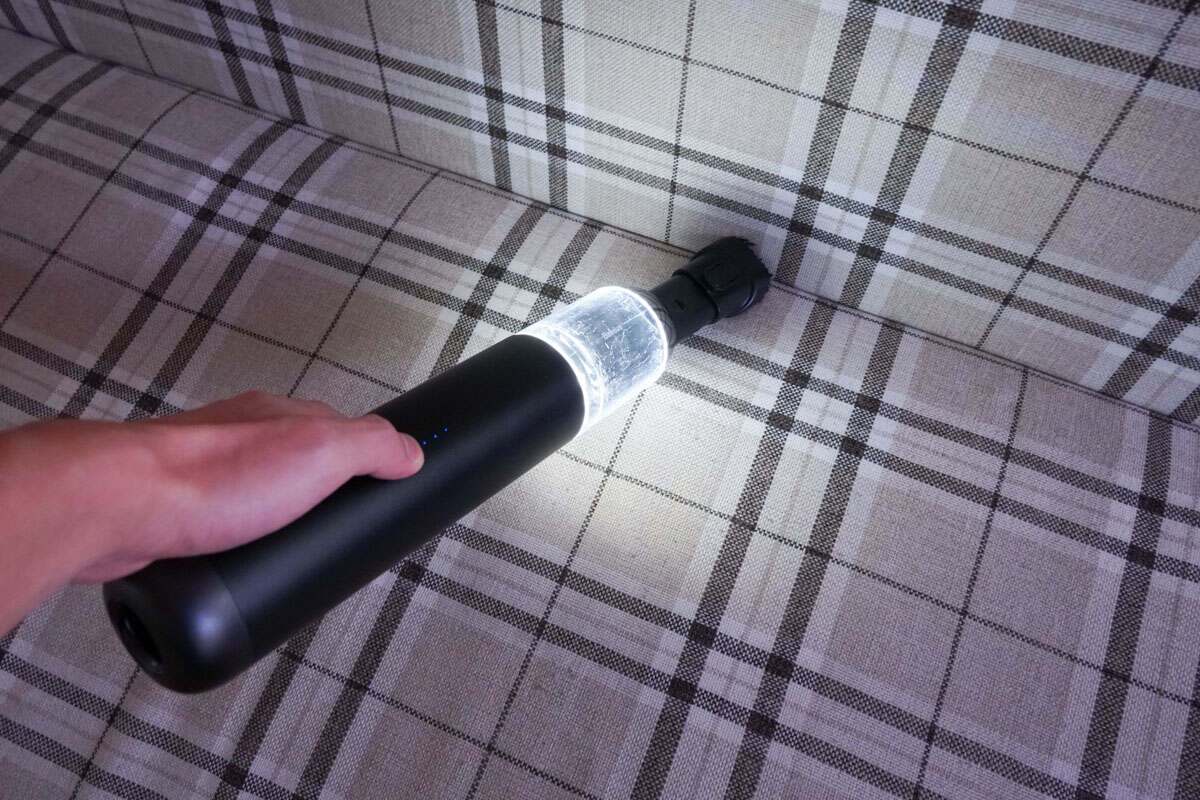 Additionally, for nighttime use, a long press enables the illumination light, providing added convenience.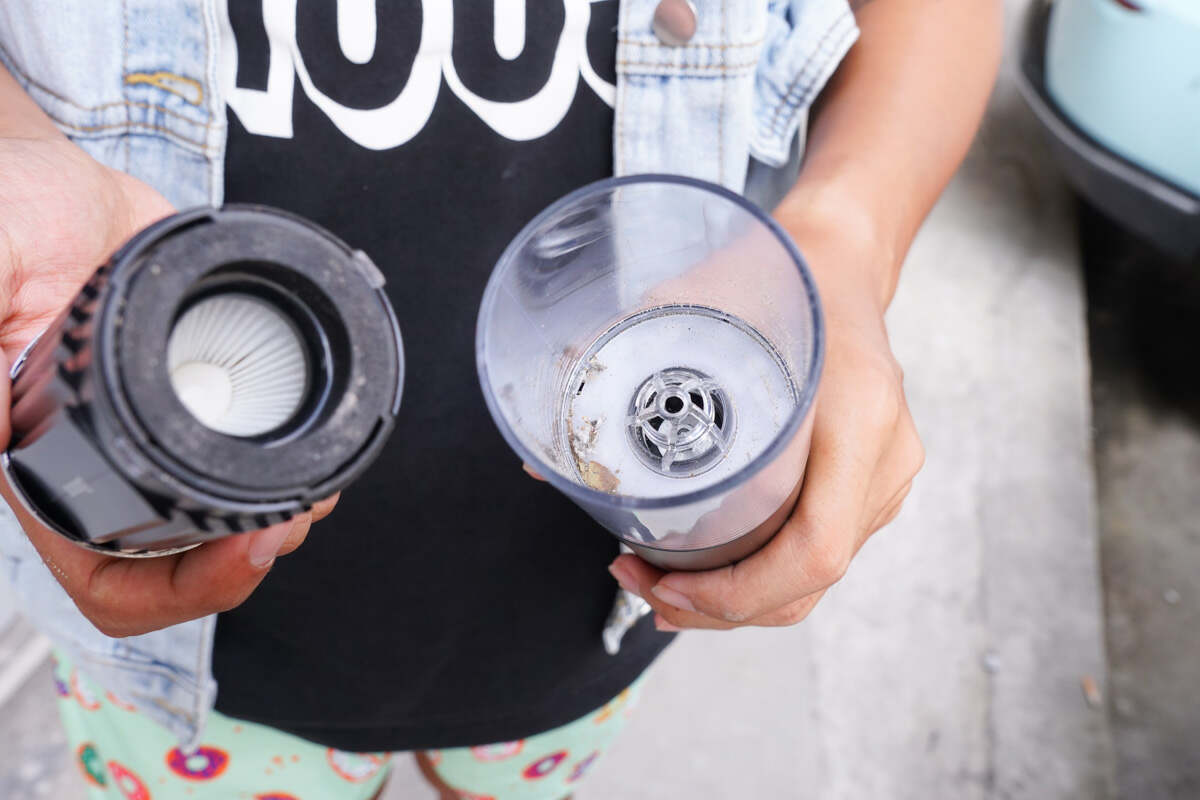 Finally, the dust bin can be easily opened by rotating the rotary knob, allowing for straightforward cleaning and washing operations.
Full Charging Test
Next, we'll use the Xiaomi 65W charger to fully charge the Baseus A3 Car Vacuum Cleaner. The cleaner will be put into a 25°C (77℉) thermotank throughout the test. Then ,let's check out the charging curve made by the PC software of POWER-Z.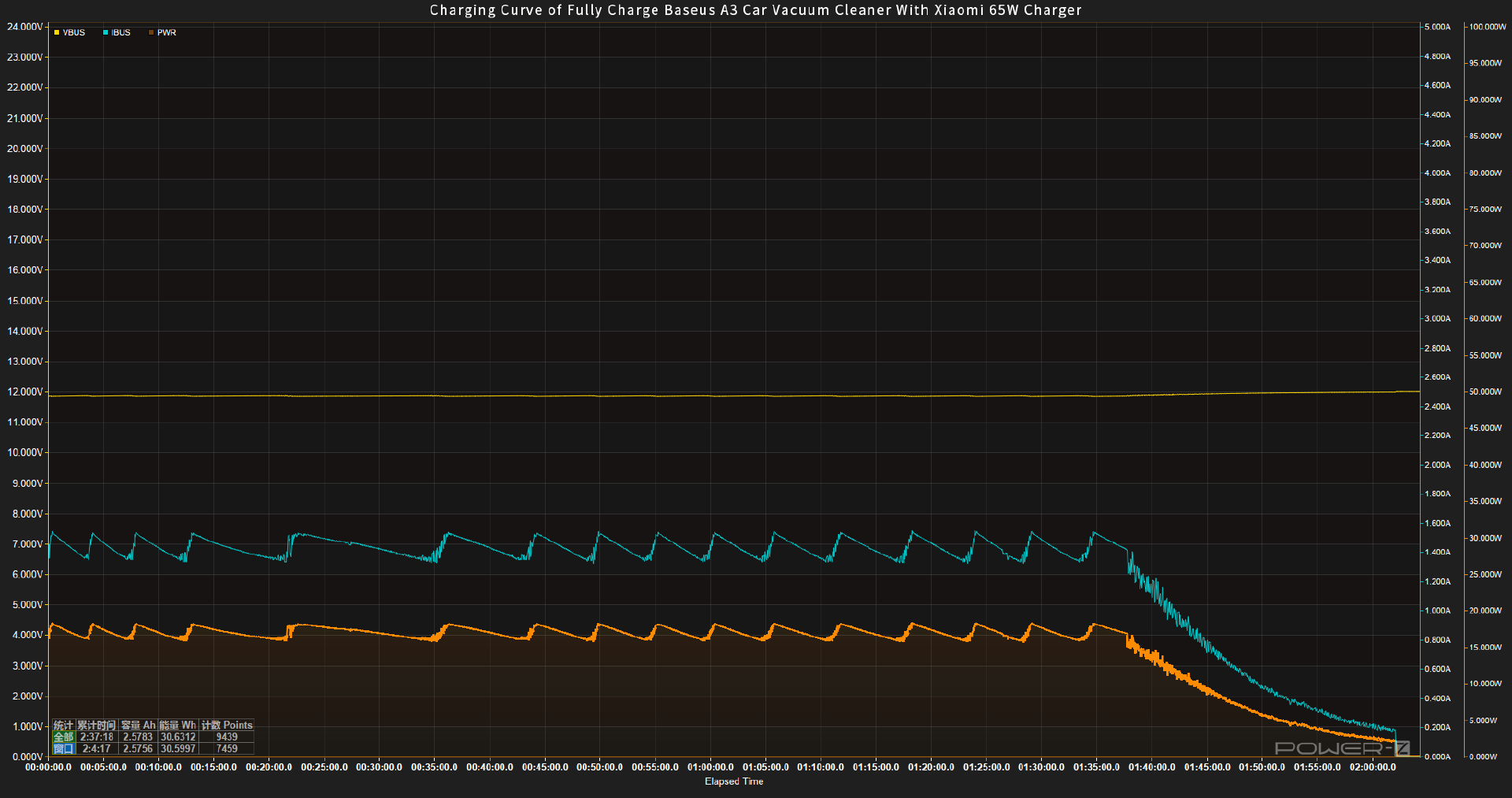 Firstly, the voltage remains stable at 12V, while the current fluctuates within a range of approximately 1.5A throughout the entire process. The power output remains consistent at around 18W and lasts for approximately 1 hour and 35 minutes. Then, the current gradually approaches 0A, with a total runtime of approximately 2 hours and 2 minutes.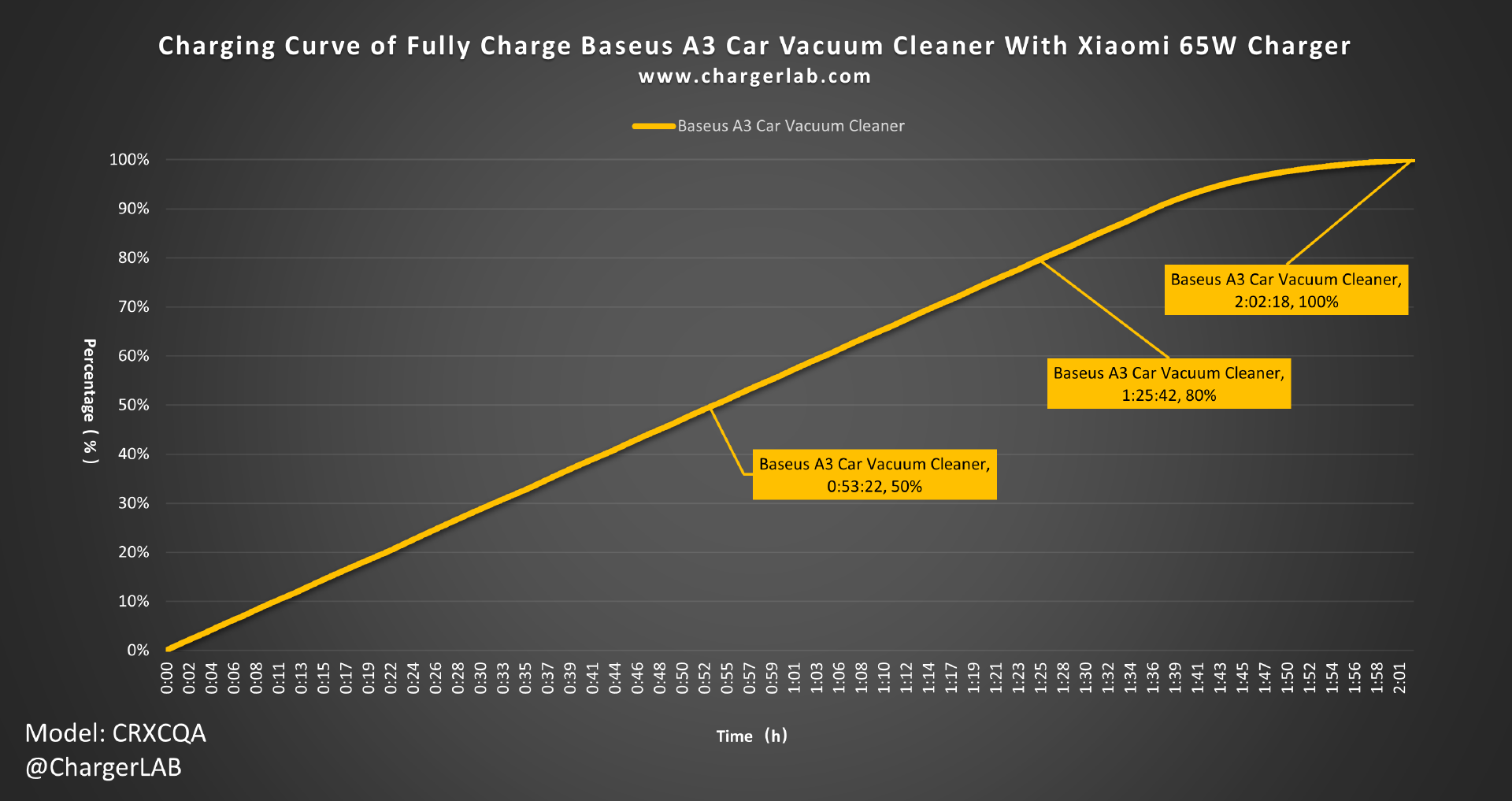 We also plot it into another curve to see how fast it can be. The Xiaomi charger can charge it to 50% in 53 minutes and 80% in 1 hour and 25 minutes, and it reaches 100% in 2 hours and 2 minutes.
Summary of ChargerLAB
Firstly, during the cleaning process, it was tested and found to provide a high-speed mode runtime of 20-25 minutes, which, when combined with the 2-in-1 attachment, can easily handle most types of stains. Additionally, the dual filtration system consisting of a steel filter and a removable HEPA filter cartridge can be easily washed, making the whole process even easier. Its usage is similar to that of a typical household vacuum cleaner, requiring no learning curve. With a powerful suction of 15,000Pa, it can meet the cleaning needs of both car interiors and desktop surfaces.
In terms of charging, it is compatible with mainstream power adapters, and the presence of a USB-C port means you can conveniently use a regular smartphone charger. While it may take around two hours to fully charge, which is longer than modern Android smartphones, you can easily charge it while driving and leave it be, making it highly convenient. If you're interested, you can click the buttons at the beginning or end of the article to purchase one for $99.99.
Related Articles:
1. Teardown of MOMAX MoVe 100W Triple Ports Car Charger (2C1A)
2. Teardown of BMW 18W Dual USB Car Charger (1A1C)
3. Meizu 16s Charging Test: 22W Max PE Quick Charge
The article is originally written by @
Joey
posted on Chargerlab. All rights reserved.