Xiaomi Launched 67W 3-in-1 GaN Charger
In February 2023, Xiaomi's 67W fast charging line-up welcomed a new member, the long-awaited 67W 3-in-1 GaN charger. This means that Xiaomi's mainstream fast charger has completed its transition from 65W to 67W power range, with product lines covering single-port, dual-port, and triple-port chargers.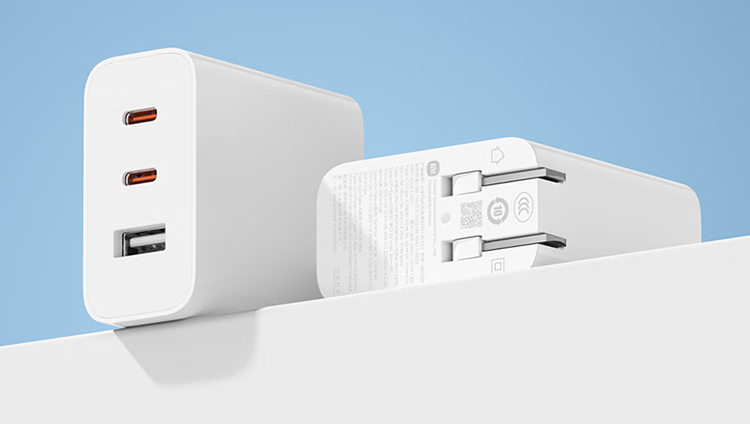 The Xiaomi 67W 3-in-1 GaN charger's model is A07ZM. It has a simple and minimalist design, consistent with the overall style of the Xiaomi fast charging family. It is equipped with two USB-C output ports and one USB-A output port, and with a foldable plug design for the input.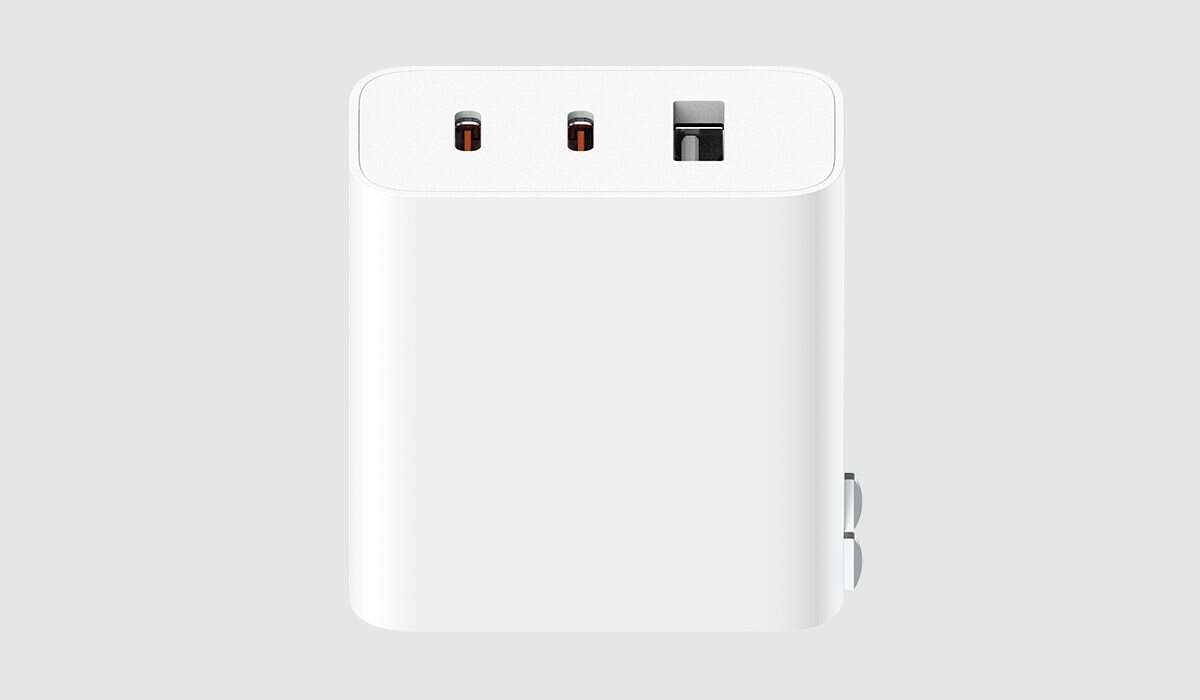 When the two USB-C ports are used separately, they both can get the maximum output of 67W, with six fixed PDOs of 5V3A, 9V3A, 11V6.1A, 12V3A, 15V3A and 20V3.25A. The USB-A port has a maximum output of 22.5W, with four fixed PDOs of 5V3A, 9V2.5A, 10V2.25A and 12V1.87A.
The internal design of the charger adopts GaN technology, with excellent thermal conductivity, high temperature resistance, and high conversion efficiency, allowing for further reduction of the charger's size to just 53 x 28 x 54mm(2.09 x 1.10 x 2.13 inches), which is 79.98cm³, and a power density of approximately 0.83W/cm³.

For multiple device charging, the charger intelligently adjusts the output performance of the ports, and it can support fast charging for up to two devices simultaneously. For example, when using all three ports, the power can be divided into 45W, 6W and 6W. You can learn more about the power distribution above.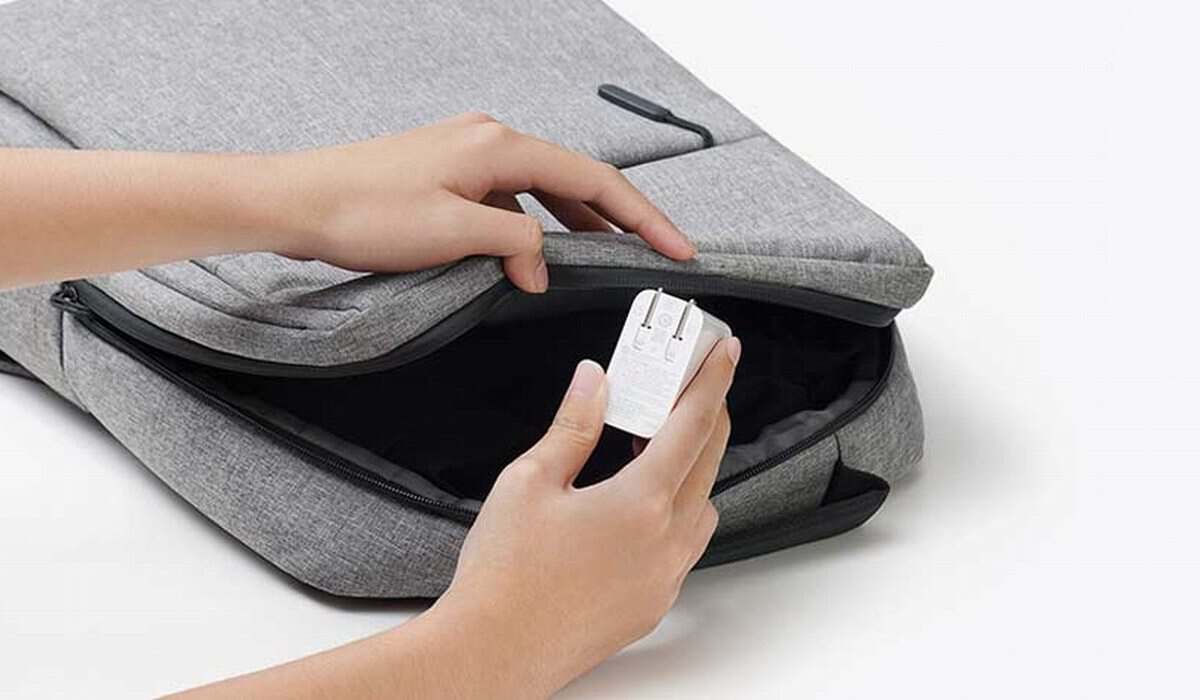 For input, the charger uses a foldable plug design for convenience when carrying it around. It does not adopt a wide voltage design and only supports 200-240V ~ 50Hz.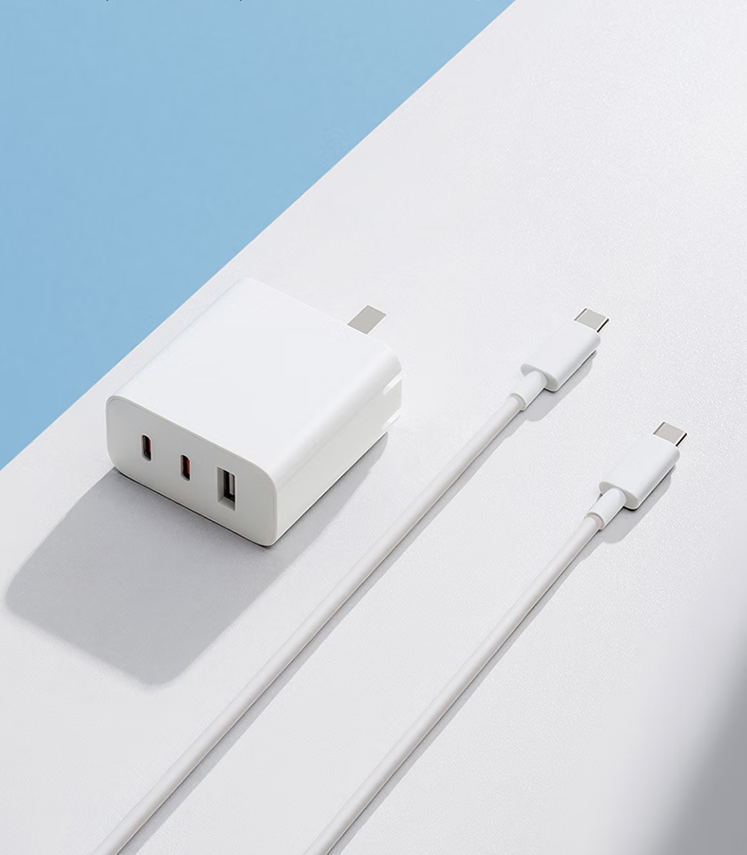 The Xiaomi 67W 3-in-1 GaN charger comes with a dual USB-C cable that supports a maximum current of 6A, with a length of 1.5m (4.9 ft), providing wider usage range compared to commonly used 5A cables.
Summary of ChargerLAB
In summary, 65W is a versatile power range, especially for multi-port products. The "two USB-C one USB-A" (three-port charger) is currently the most comprehensive product. The Xiaomi fast charging line-up has transitioning from non-GaN to GaN, and from the modified USB-A port to the universal USB-C port. The mainstream power has also been upgraded from 65W to 67W. This shows that the Xiaomi fast charging line-up has completed its strategic adjustments.
It prioritizes low heat and multiple ports, as seen from its power density of 0.83W/cm³ and non-wide voltage design. It does not pursue extreme specs.
Related Articles:
1. 120W Charging | Charging Review of Xiaomi Redmi K60 Pro
2. Teardown of Xiaomi 210W GaN Charger (For Redmi Note 12 Discovery Edition)
3. Teardown of Xiaomi 50W Wireless Charging Stand Pro (For Xiaomi 13)
The article is originally written by @
Joey
posted on Chargerlab. All rights reserved.