TEGIC, the Rising Star
A reproduction article from TEGIC
Who We Are
Hello, I'm Hardy, from Shenzhen, China.
2017, San Jose Convention Center, California, 5000 developers from all over the world gathered here, and I am one of them.
At that time, I was just a student who had just graduated from St. Louis University;
I was just a tech enthusiast; I had just started a tech media platform with my friends.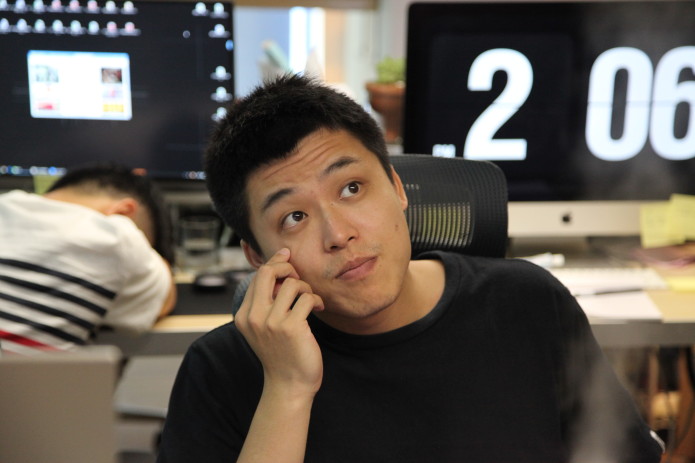 We always pay attention to the latest technological developments, are familiar with the latest digital products on the market, and can always pick out a bunch of problems with these products.

We felt that the whole technology and electronics industry was too mediocre, so we had an idea to develop our own products, from design to production, completely under our own control.

In July 2018, TEGIC was established.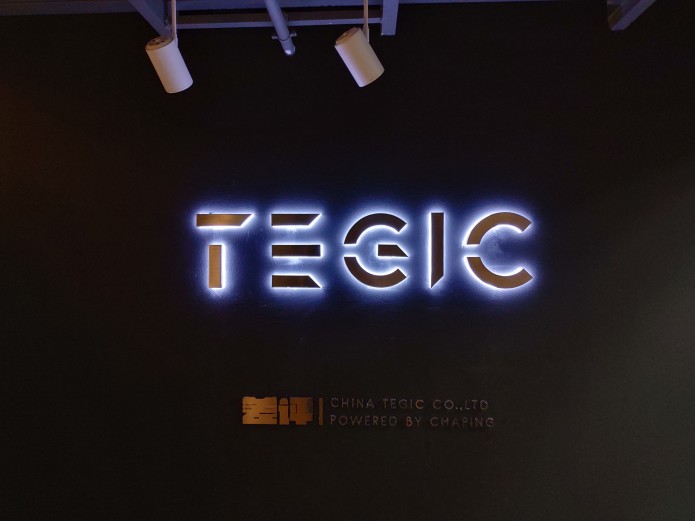 In January 2019, through a lot of difficulties, our first product came out, which is ONIX 1.0, a 4-in-1 multifunctional data cable. At that time, we also raised our first start-up capital through crowdfunding.

We are still very grateful to our strange friends who gave us great support when we didn't know anything.

Looking back at some of the products we have made over the years, there are some that the market has recognized. But there are more, some failed projects. We have built an archive for these projects, and if you are interested, you can open this link to check it out.
https://www.tegicdesign.com/archive
These are the products we produce and sell. If there are creative products that are not produced, there are countless more.

If I were to say a few words to myself in 2017, I would definitely caution myself that it is always easy to criticize others, but it is much harder to do it yourself.

Please stay humble, for you will encounter all kinds of crises. But don't worry, please hang in there. When that product comes along, you will definitely reap great satisfaction.
What We Want To Do
If you look closely at our historical products, you will find that TEGIC's early products were limited to cables, power banks and chargers, which are the basic product types of 3c digital accessories.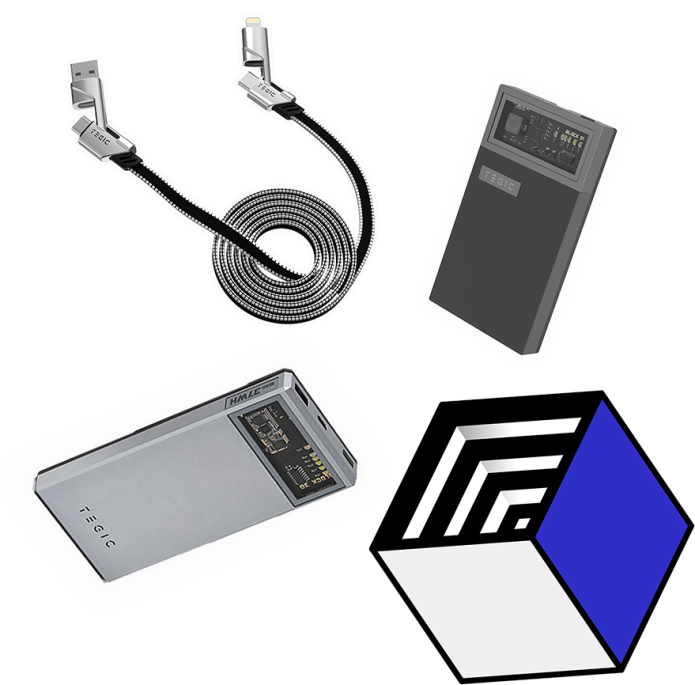 If you compare what we are doing to building a house, then what we did before is to build a solid foundation for the house. And what we want to do next is to integrate our expression into the shape of this building.

So, starting from this year, we have some clearer goals for TEGIC's future products.

The keyword "desktop revolution". No need to struggle to find the power port and you do not have to face a bunch of cables all day long, so your personal computer desktop becomes simple and useful. This is what we want to do next.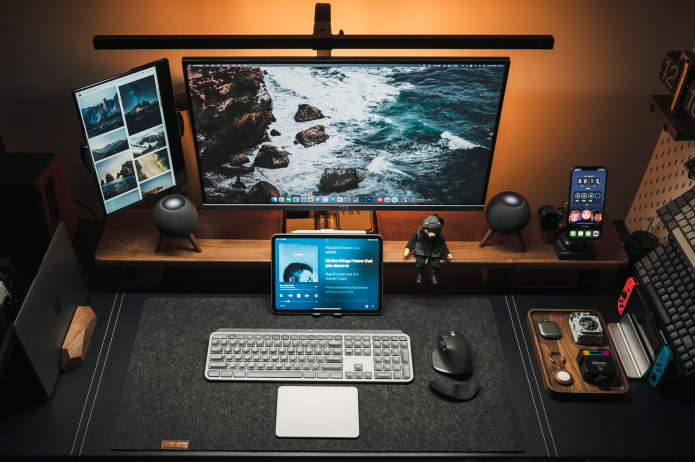 Our lives are becoming more and more inseparable from our phones, even when we are working in front of the computer, and from time to time, we need to pick up the phone to check the information.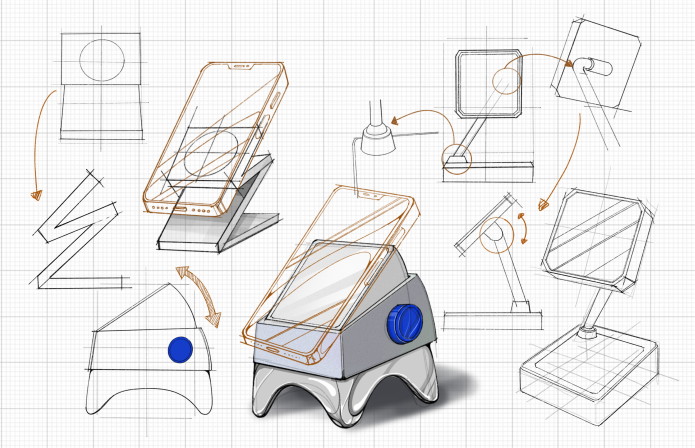 So at the beginning, we wanted to make a desktop phone stand to free your hands. It is better to have a magnetic suction function so that it is more convenient to pick up;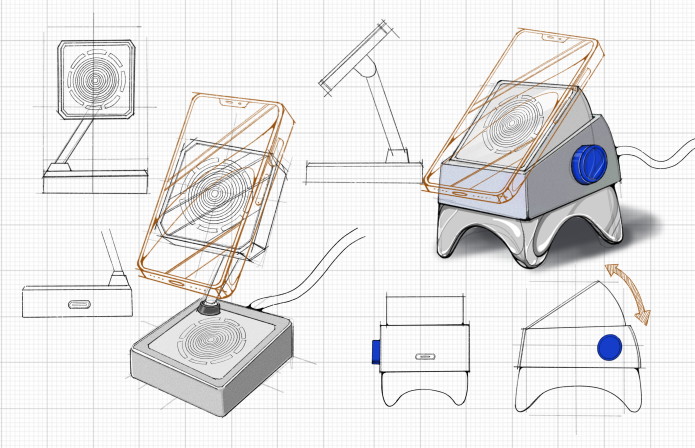 and then we thought it would be better if it could also charge at the same time. Of course, the premise is not to add more charging cables, so we designed the magnetic charging function;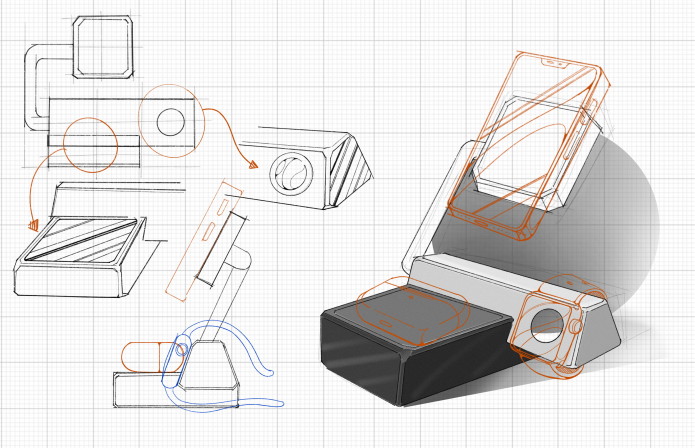 finally, we thought, can we make it serve more devices and kill the cables of other devices? So it became a 3-in-1 multifunctional magnetic charging stand.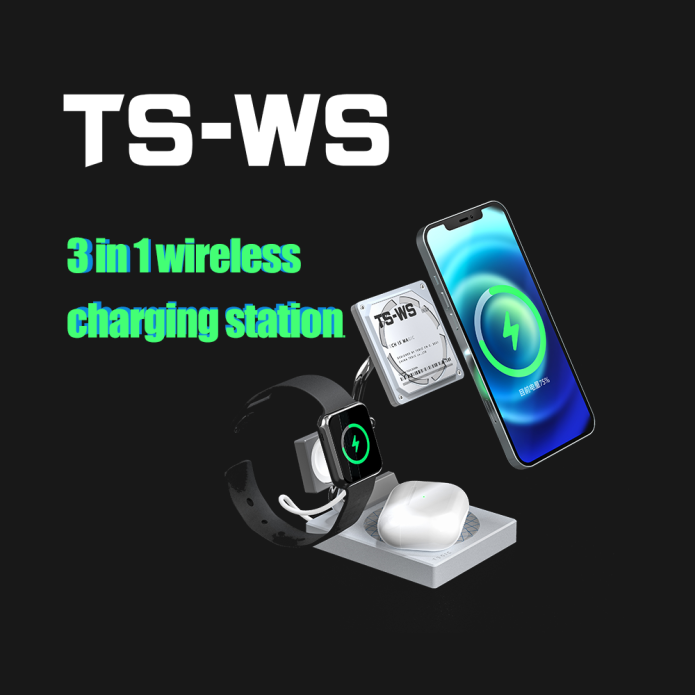 This is the latest product we want to bring to you this time, TS-WS.
Product Features
3 in 1 multifunctional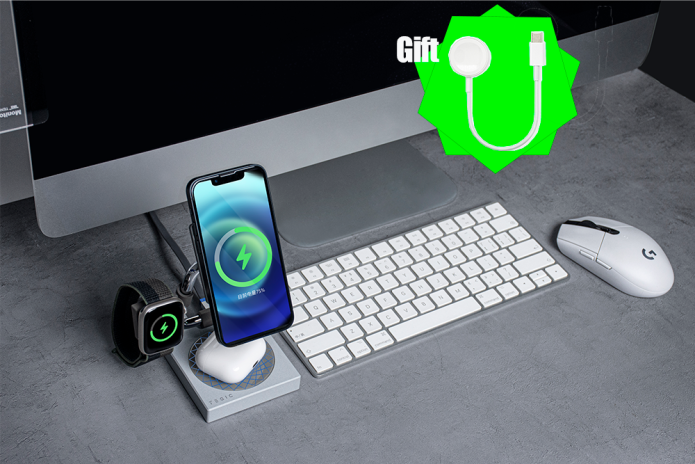 It is a convenient and practical home office essential smart electronic product. It can support three devices charging at the same time: a phone with a wireless charging function, plus a wireless charging headset, and your Apple Watch. For each TS-WS product, we include a short Apple Watch charging cable.
Modular Design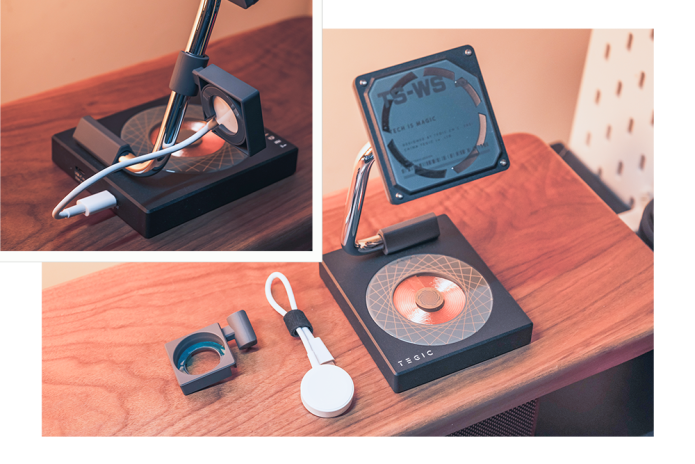 If you don't need the Apple Watch charging stand, you can disassemble it. With the extra type-c port in the base, you can connect additional devices according to your needs—modular design to meet the functional needs of different users.
Flexible panel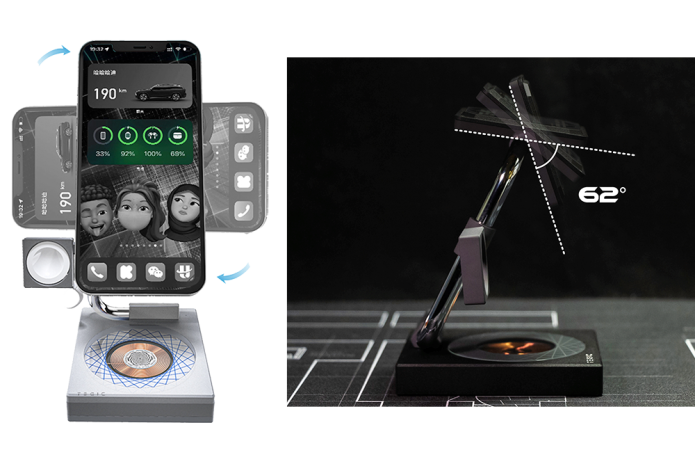 The top magnetic panel design can support up to 15W wireless charging output. In addition, the flexible structure design is more in line with our daily needs. Whether you want to brush the drama horizontally or read the text vertically, a gentle turn, charging constantly, you can also adjust the front and back, easily change the perspective, and make all aspects of the section charging posture more flexible.
High Strength Magnetism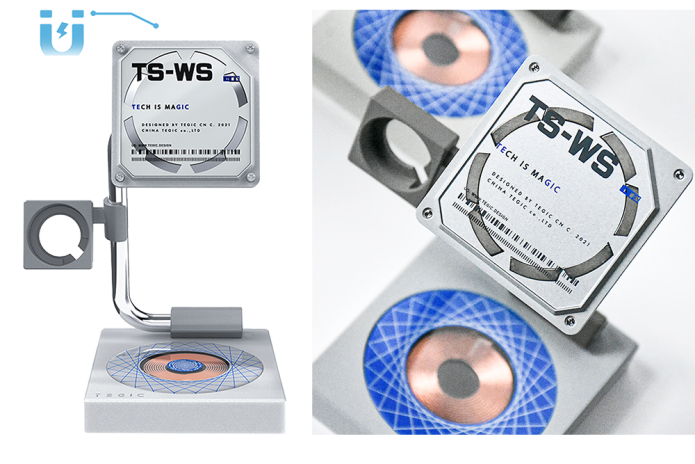 We also enhanced the top magnetic panel. As long as it is a magnetic series phone, it can firmly stick to the panel even with the phone case (within 1.33mm thickness).
If it is not a self-contained magnetic suction phone, do not worry, we have specially prepared an additional magnetic suction patch for each product. No matter what phone you use, with TS-WS custom magnetic patch, your phone can also have "attractive".
Nano silicone bottom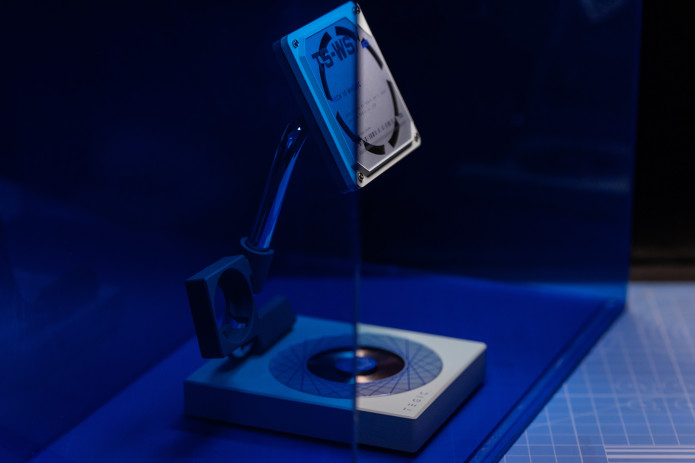 The bottom is designed with a large piece of nano-silicone. The characteristics of nano-silicone can make the product placed on the desktop, increase the friction between the desktop, and stronger adsorption so that the bottom is more stable.

The biggest feature of this material is that when you drag the bottom horizontally, it is difficult to move, even if the external force is strong.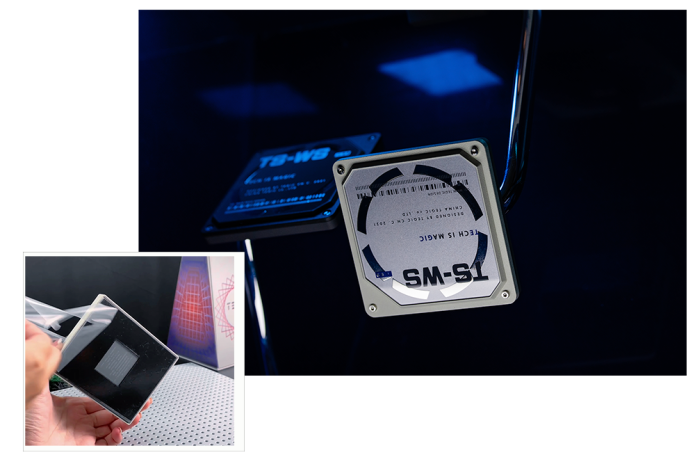 However, when you want to fix TS-WS somewhere else, you only need to apply a force in the vertical direction, a gentle pull, and you can make it detach from the desktop, and there will be no glue sticking to your desktop at all. If the nano silicone sticks to dust, it can be recovered by gently wiping it with a damp paper towel.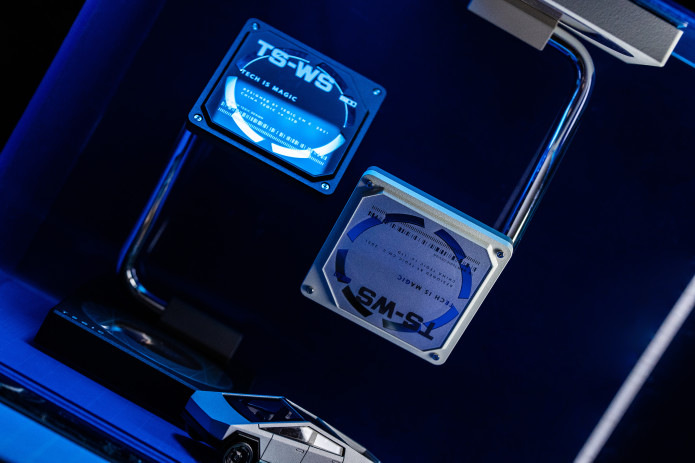 Crafted design
TS-WS is not only a 3-in-1 wireless charging stand. There are many interesting designs in it. Tempered glass intertwined with a lot of metal to create a crafted design and a modular, customizable, and humanistic premium user experience.
With a black and white design, you can say goodbye to the dull single and choose the most suitable for your desktop style.
In addition to the powerful magnetic beads on the phone charging induction panel with a maximum charging power of 15W, a whole piece of flat tempered glass is inlaid, and the silkscreened text pattern adds a bit of youth/trendiness to the stand.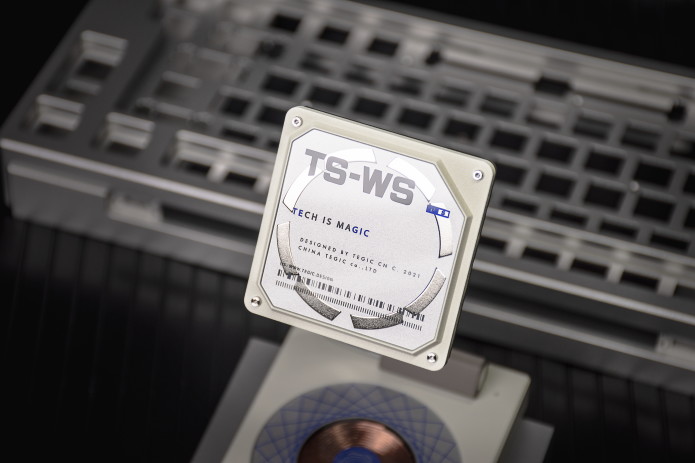 And the bottom of the maximum 5W headphone charging panel is equipped with a magnetic suction function and supports Qi-standard wireless charging of cell phones. The tempered glass used here is 2.5D, with a flat middle and rounded edges, commonly used in cell phones and cell phone tempered film, which we have transposed to the charger. You can see the Leeds coil without the silk package through the tempered glass. The copper native color of the coil comes through with a strong metallic feel.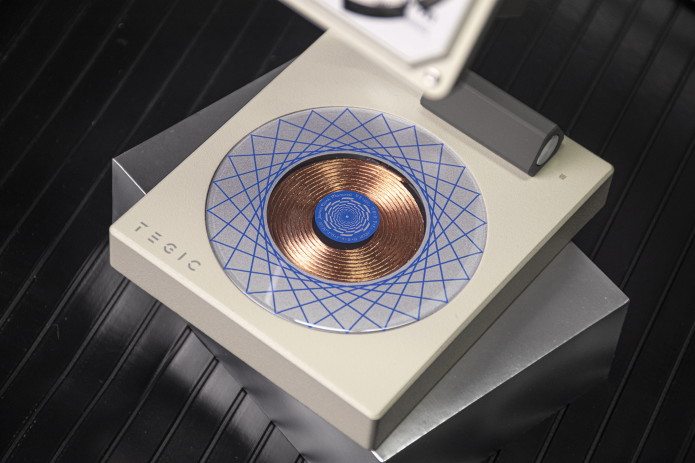 Here is a little easter egg: the tempered glass is silkscreened with Maxwell's equations, conveying the fascinating relationship between the electric and magnetic fields.
The TS-WS is made of CNC aluminum alloy, with perfectly polished chamfers and openings; the surface coating is anodized and then sandblasted, with larger particles but evenly distributed and delicate, bringing a frosted texture similar to that of hard cardboard.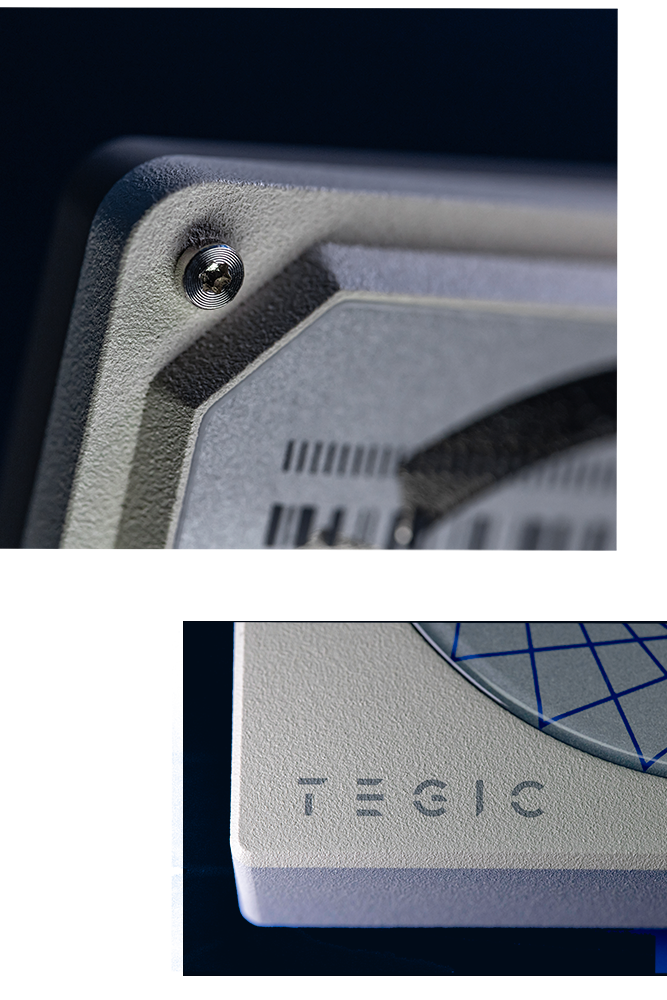 Because the base is all metal, so the product has a low center of gravity. Even with the stainless steel connecting rod connecting the base to the charging plate, plus the weight of the phone, there will be no tipping or tilting the situation. Do not worry about falling and damaging the device.

Next to the stainless steel rod, we set a square laser micro-hole indicator. When using only the phone charging panel, the indicator is blue; when using only the headset charging dock, the indicator is green; when both are used simultaneously, the indicator is superimposed as cyan.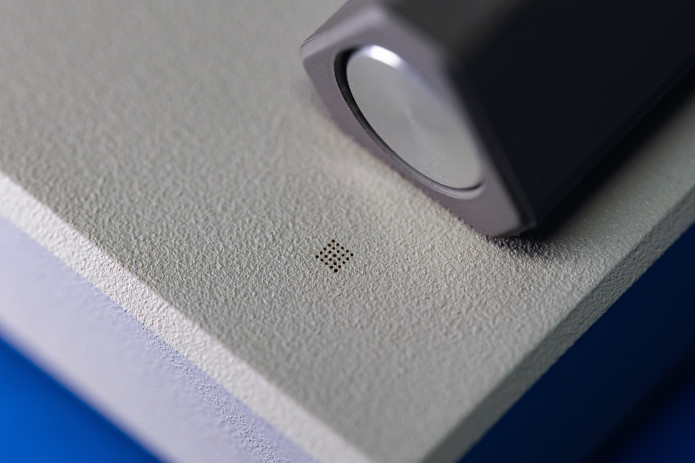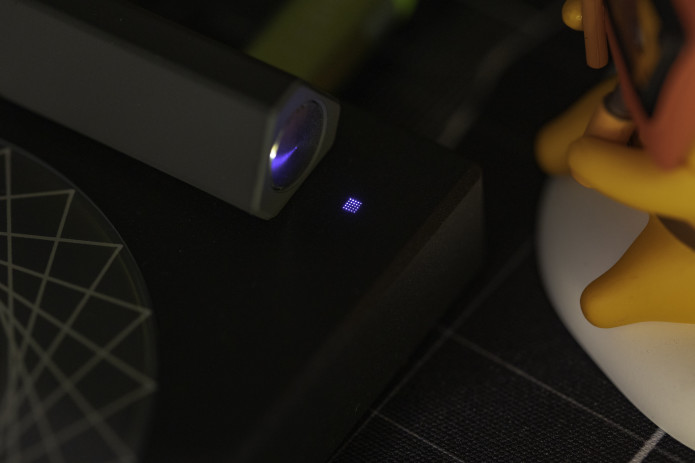 We wanted to hide this indicator, so we did not install LED lights but used laser micro-hole, a very difficult process. During the production, we also scrapped a lot of bottom shell material.

You will not understand or even say, "Oh my God, Hardy, I will not even notice this small hole, save your breath".

But that's us. We're people who spend a lot of time and energy on the little things. This hidden light may just be our way of saying, "Only those who look closely can find the shimmering light in the darkness of life".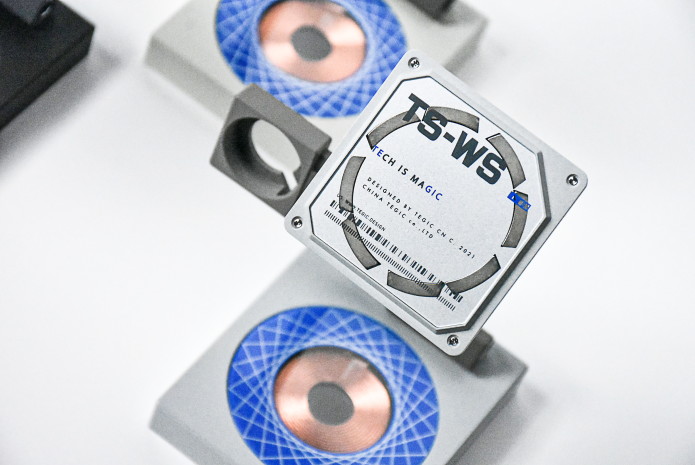 What You Will Get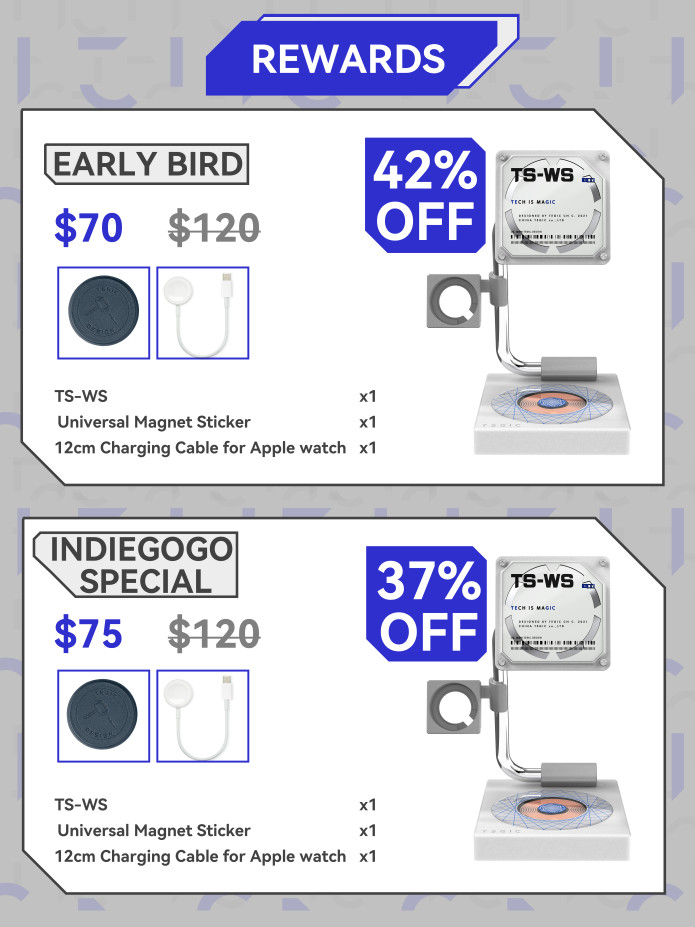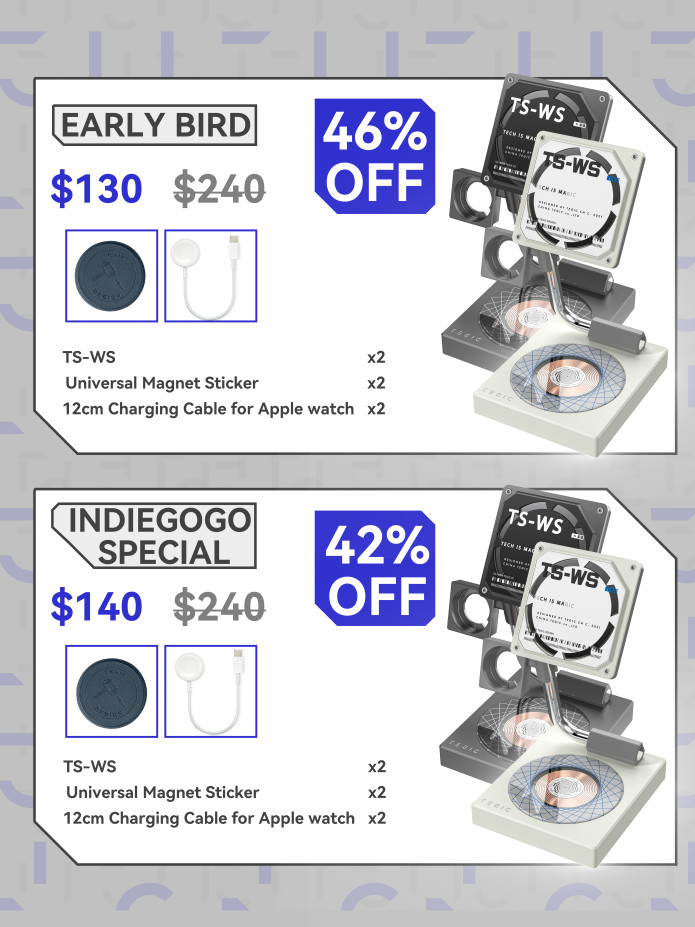 Our products are currently being crowdfunded.
If you are interested, you can click here to support us.
https://www.indiegogo.com/projects/3-in-1-wireless-charging-station/x/26728564#/
You will also get access to all our new products for the next two years. To reveal in advance, we have two new products already in development. The QUICKBEE Super Capacitor Charging Station and the Magnetic Fluid Audio. And many more new products to look forward to.
Fan Show
In our first batch of trial production TS-WS, a lot of Chinese fans have already got it in advance. They took a lot of pictures of TS-WS. Not only did they take exceptionally good photos, but each one's desktop is also highly individual.
We hope that our products will become more valuable on your desktop.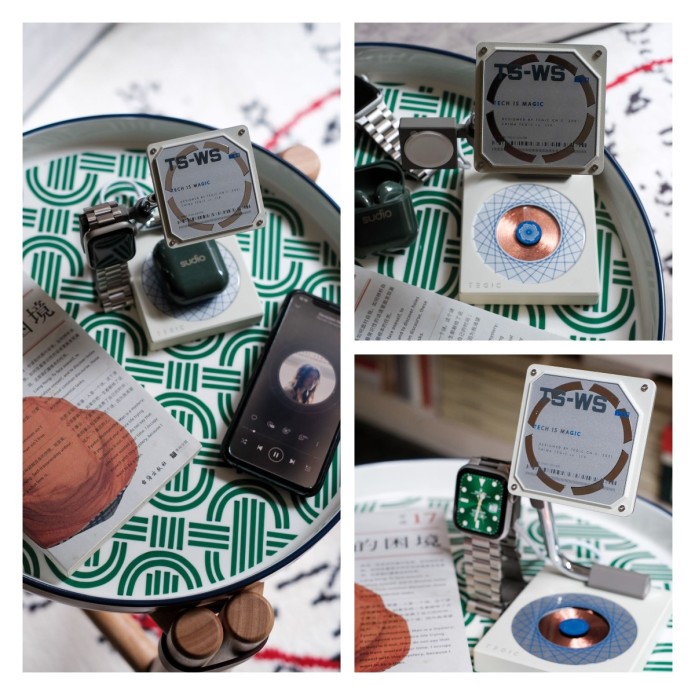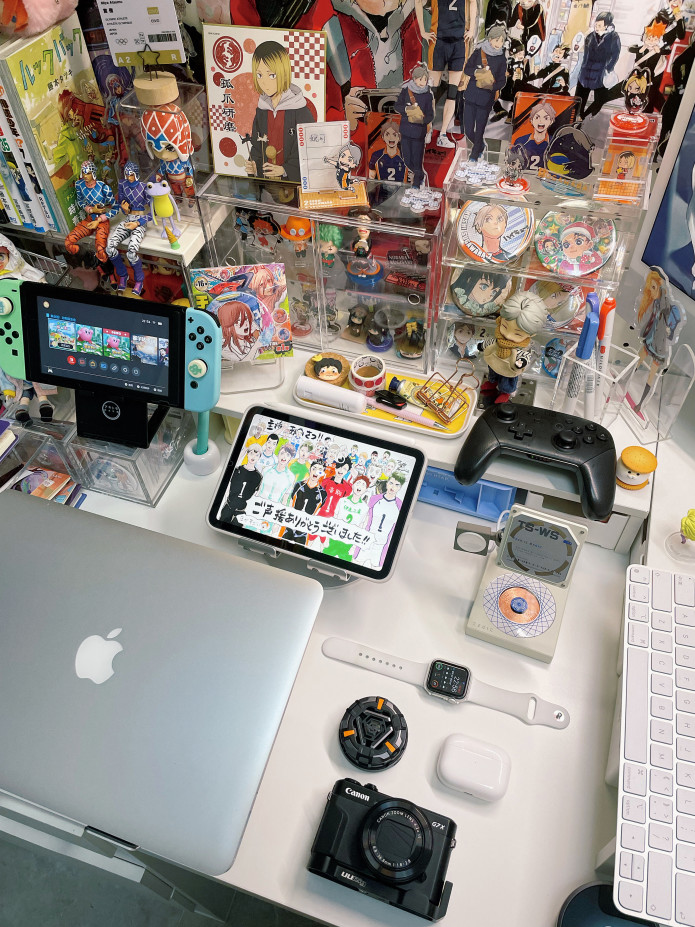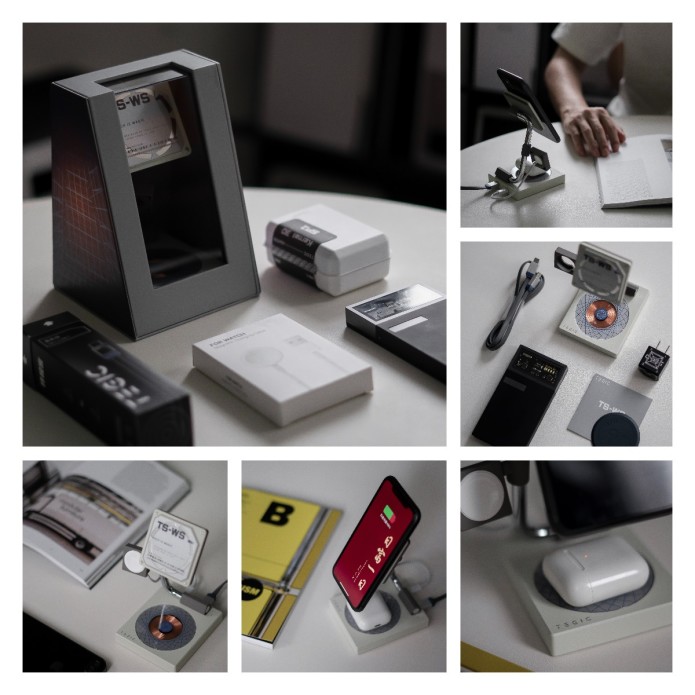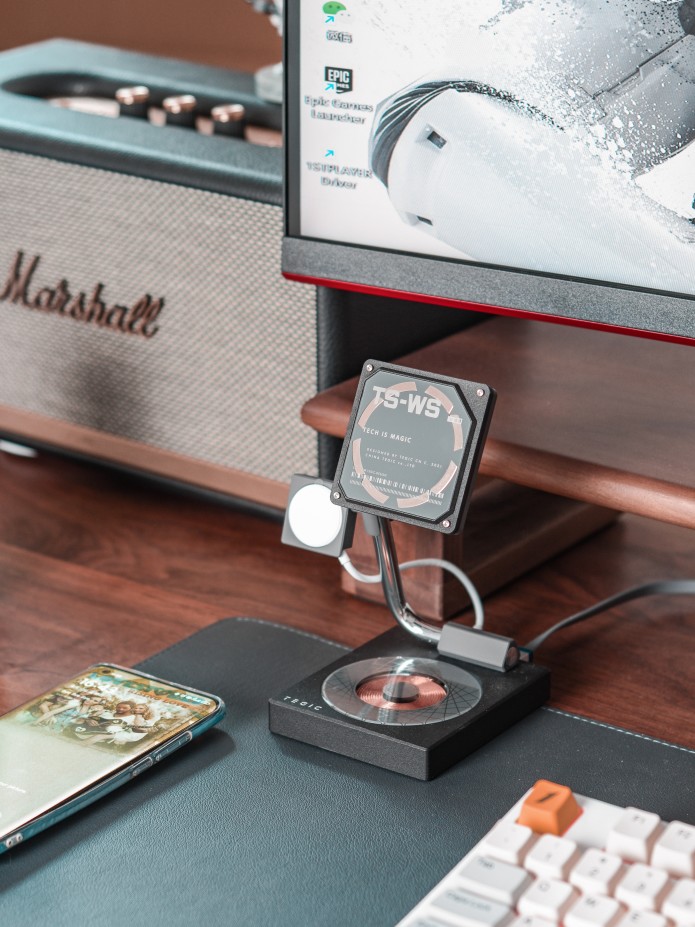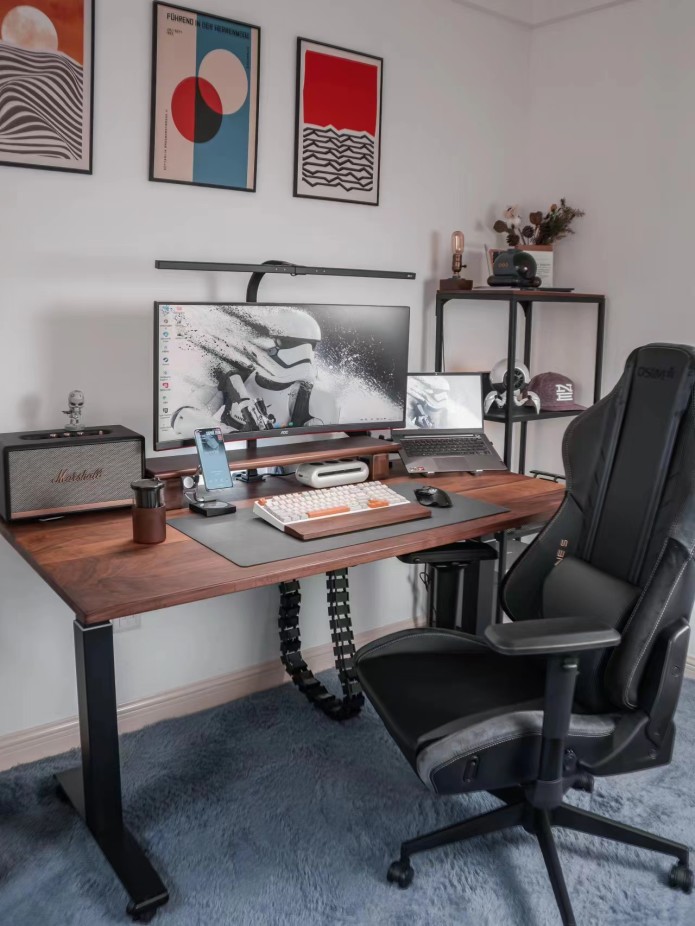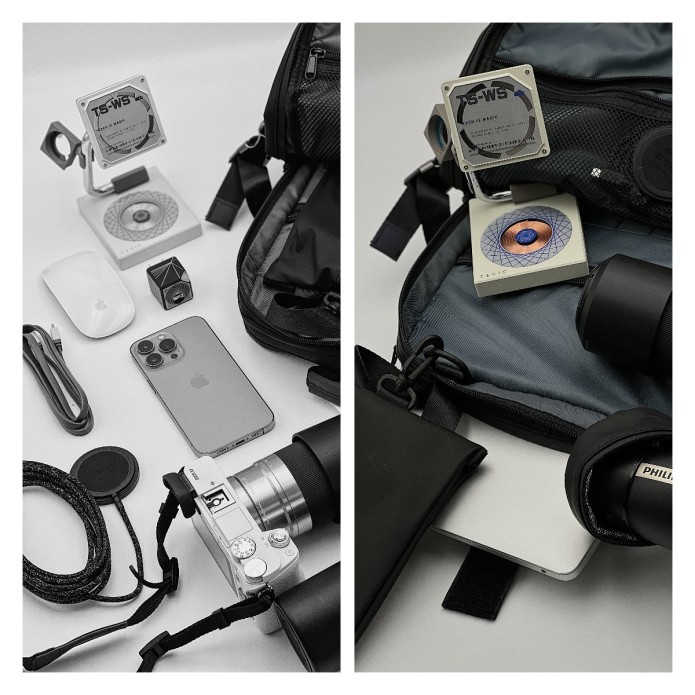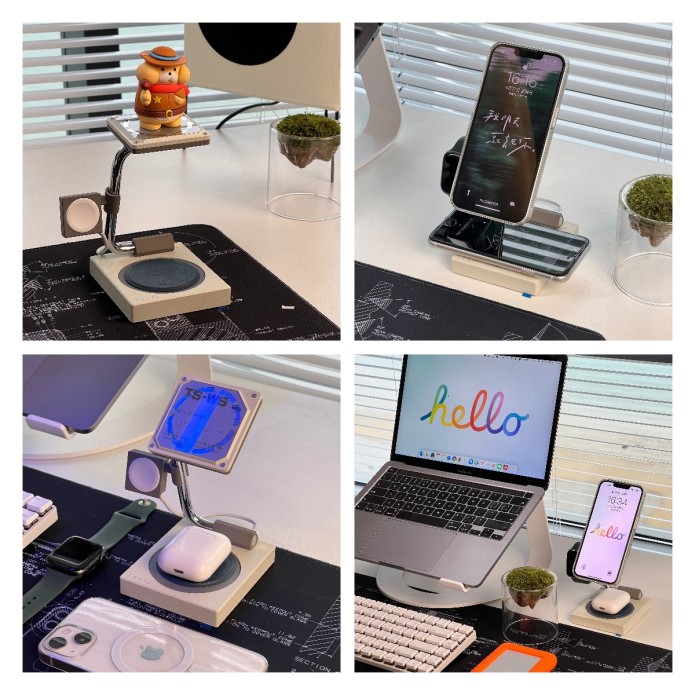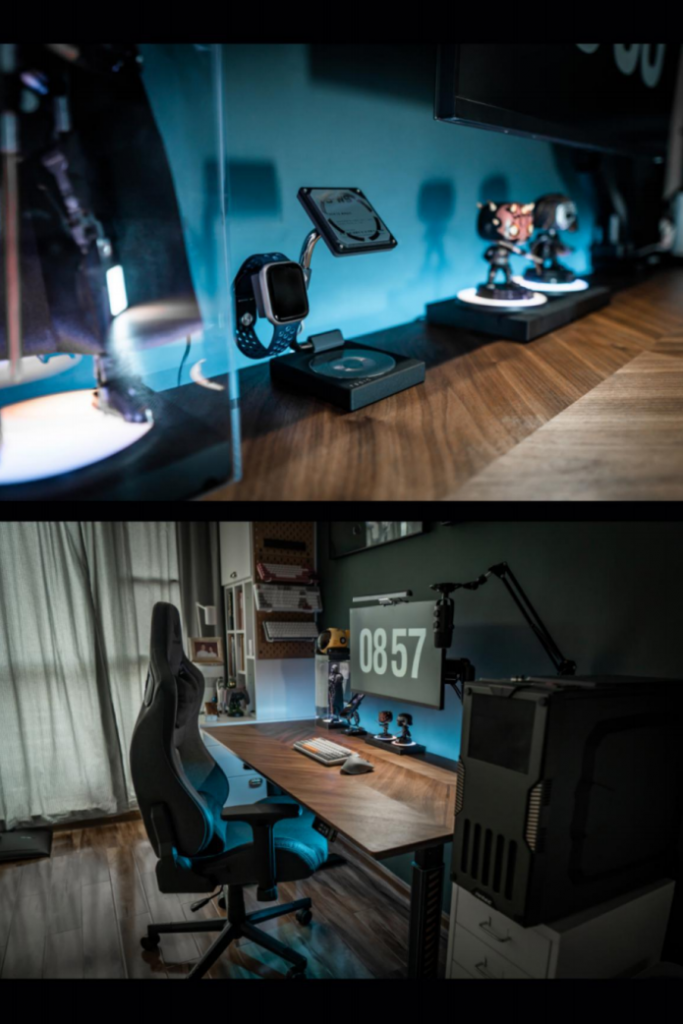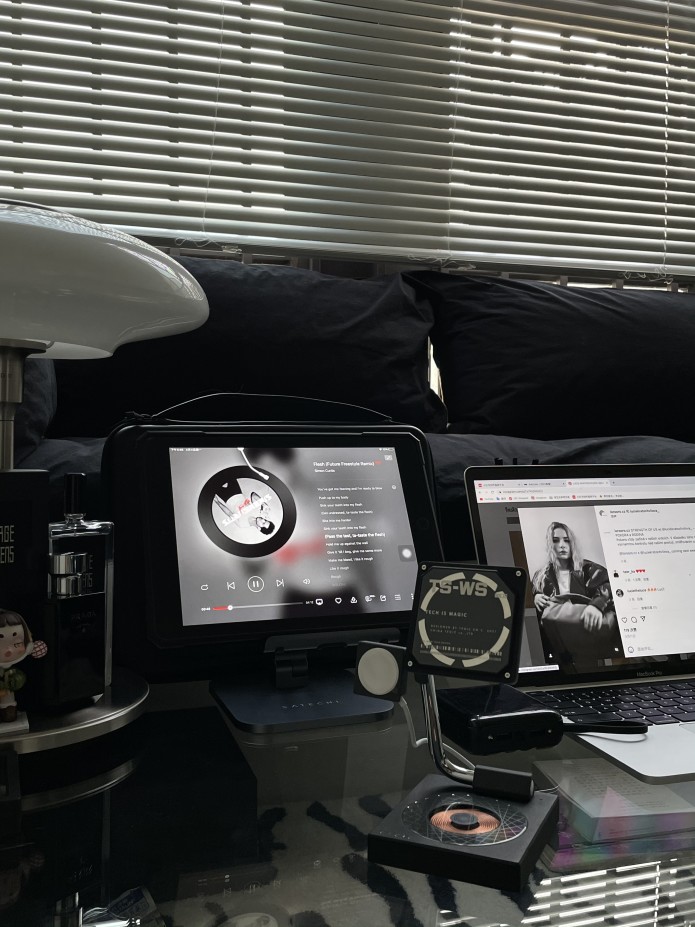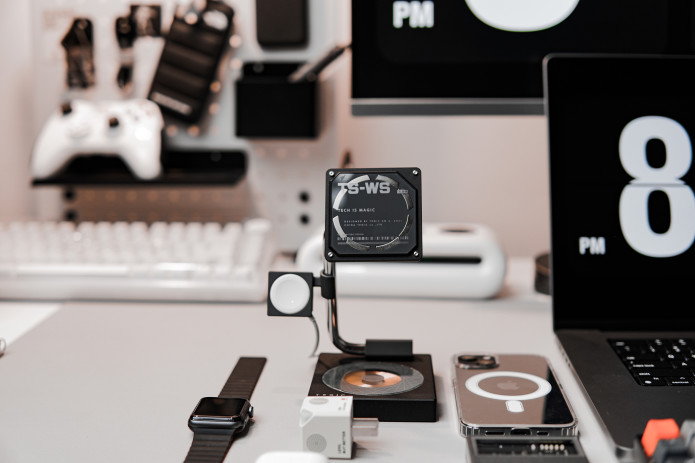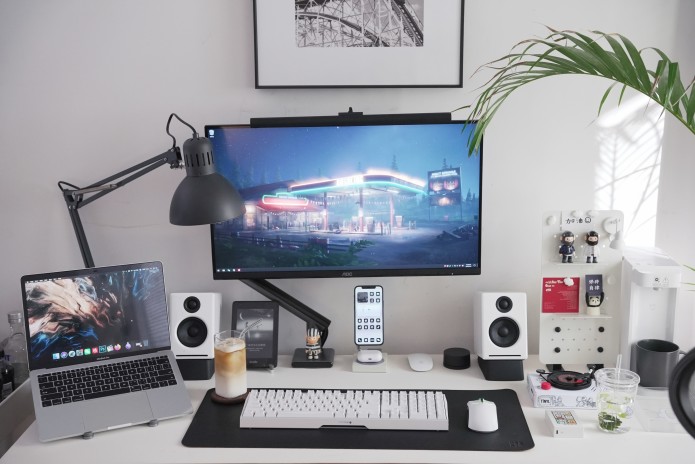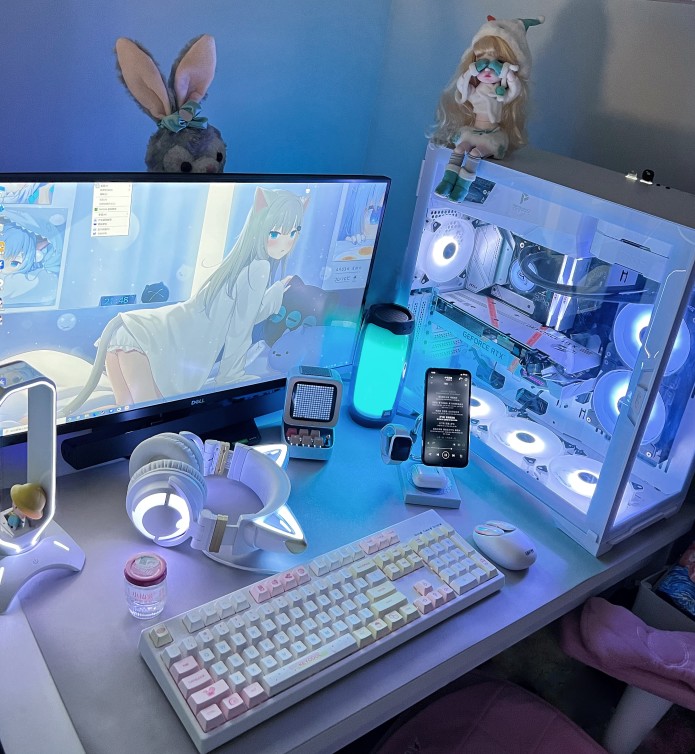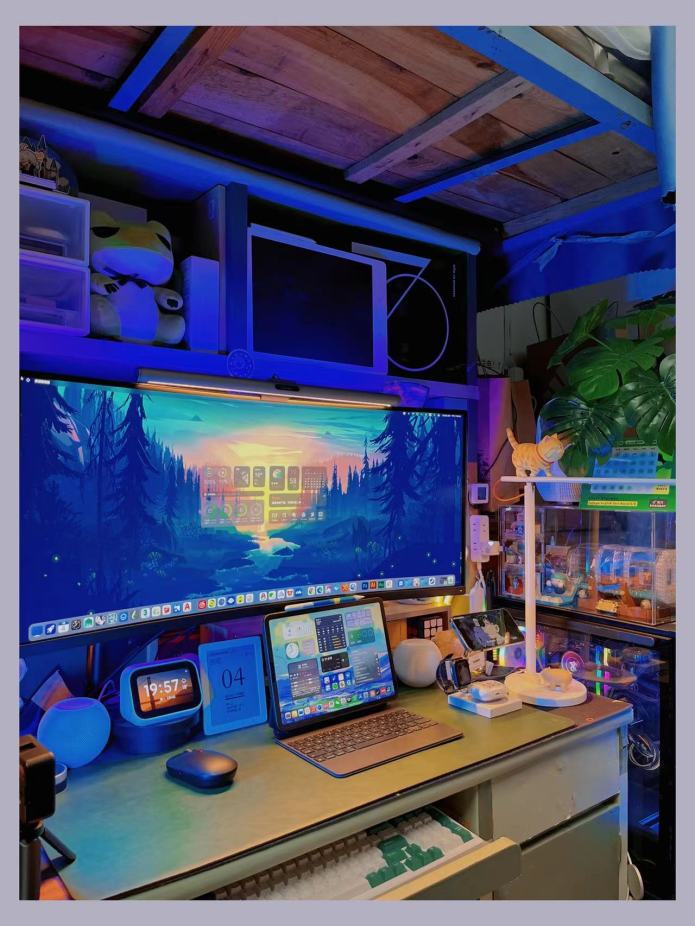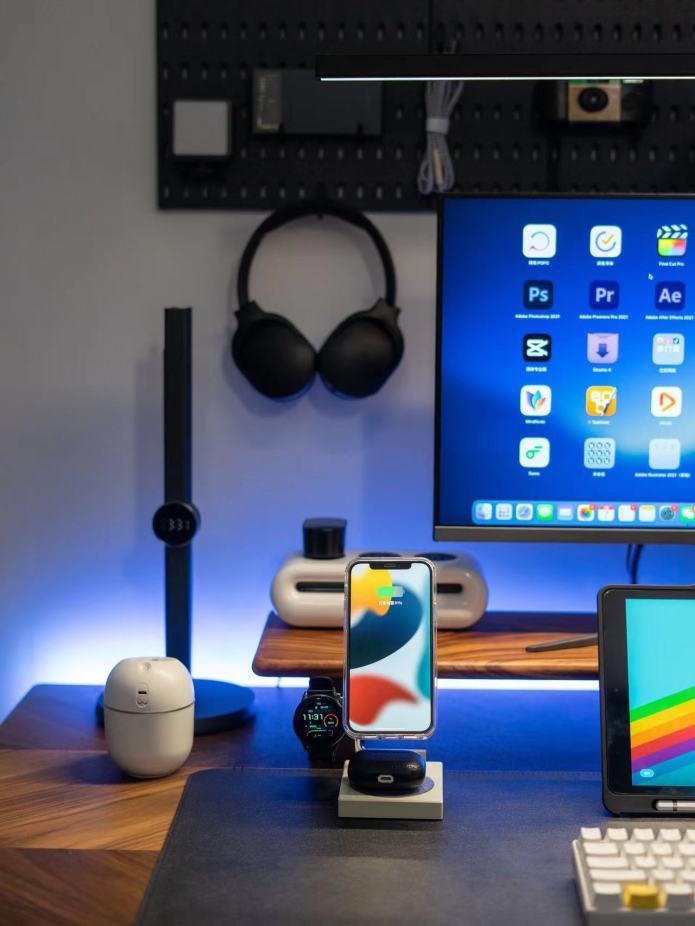 A reproduction article from TEGIC
The article is originally written by @
Jeffrey
posted on Chargerlab. All rights reserved.