ELECJET Launches the PowerPie, the World's First 20000mAh Bidirectional 45W PD PPS Fast Charging Power Bank
ELECJET, the professional charging peripheral brand, launches today its latest power bank, the PowerPie, which is the world's first 20,000mAh bidirectional 45W PD PPS fast charging power bank, and also the first power bank to support Samsung Galaxy Note 10+ 45W charging. It also supports PD fast charging for Apple's latest iPhone 11 series, as well as Apple's full range of MacBooks.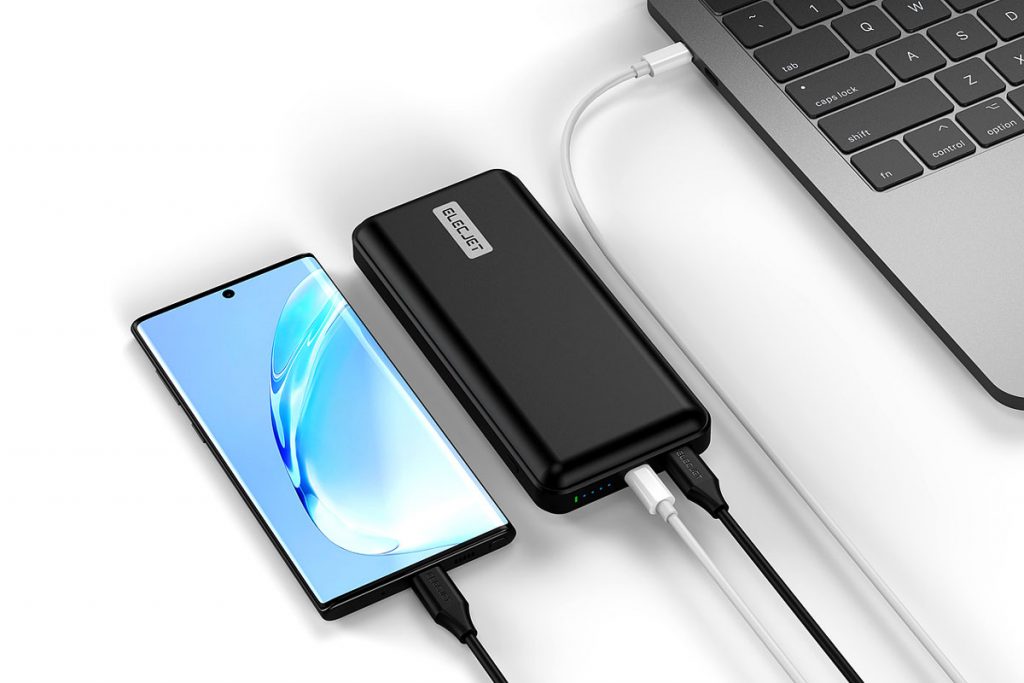 Previously, ELECJET launched their Apollo Traveller graphene composite power bank, which attracted the attention of global media and enthusiasts with its unique 18-minutes-to-full feature. For the PowerPie this time, the main selling points are the bidirectional 45W PD fast charging and high-wattage PPS support.
According to ELECJET, the brand is more focused on notebook peripheral solutions than traditional mobile accessory brands. And it has accumulated a series of expertise and patents in the area of high-wattage charging and discharging. For notebook charging, although there is the unified USB PD protocol, each brand has different electrical design and charging strategies. Therefore, how to achieve optimal charging performance is a challenge for charging strategy, material and structure selection, and temperature control. First of all, in order to optimize the charging strategy to better match different notebooks, the ELECJET team purchased more than 60 models of notebooks and established a compatibility library for testing. Not only are the ELECJET power banks built strictly in compliance with the USB-PD specification, but they also went through a complete suite of compatibility test and performance optimization to achieve the goal of "fully compatible, fully optimized." In terms of materials, structure, as well as temperature control, it took nearly a year and a half for the ELECJET team to polish and optimize the product, including the overthrow of the original plan. From 5W charging to QC, and then to PD, ELECJET has always focused on the charging field, kept polishing and perfecting products, with a heart for craftsmanship. In fact, 70% of the company's employees are R&D personnel. This is the reason why the ELECJET team was able to make the PowerPie support Samsung Galaxy Note 10+ 45W charging just a few days after the phone was released.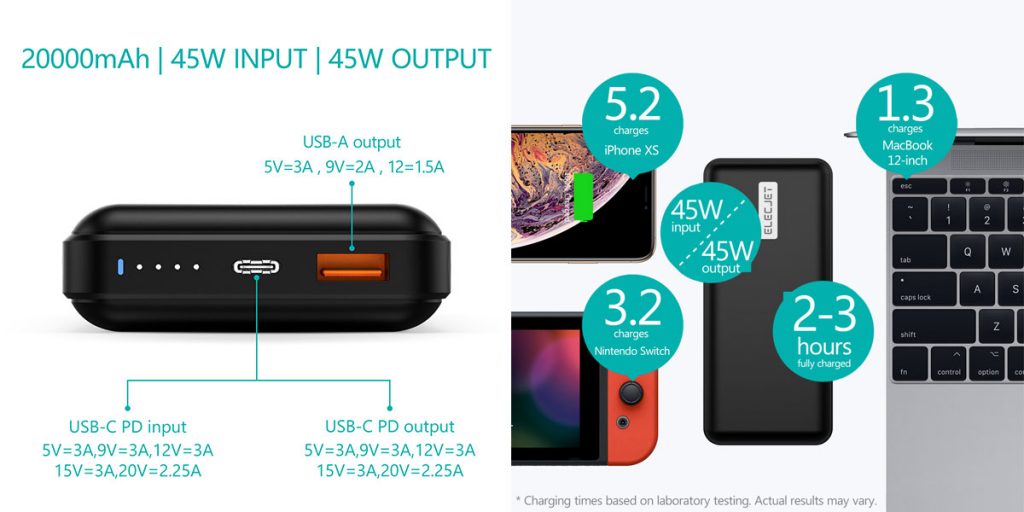 In terms of specs, the PowerPie has a bidirectional 45W fast charging USB-C input and output port, supporting the latest USB PD 3.0 PPS and QC protocols at 5V/3A, 9V/3A, 12V/3A, 15V/3A, and 20V/2.25A. Besides, it is equipped with a USB-A output port that supports QC3.0 protocol, supporting 5V/3A, 9V/2A and 12V/1.5A with maximum 18W output. The two ports are independent, which do not interfere with each other, and can output the maximum power of 45W+10W at the same time. Moreover, the PowerPie also supports Pass Through Charging. Thanks to the in-house JetSafe power management technology and a built-in graphite heat sink inside, the ELECJET PowerPie maintains full-speed 45W fast charging throughout a full charging circle, which takes around 2.5 hours.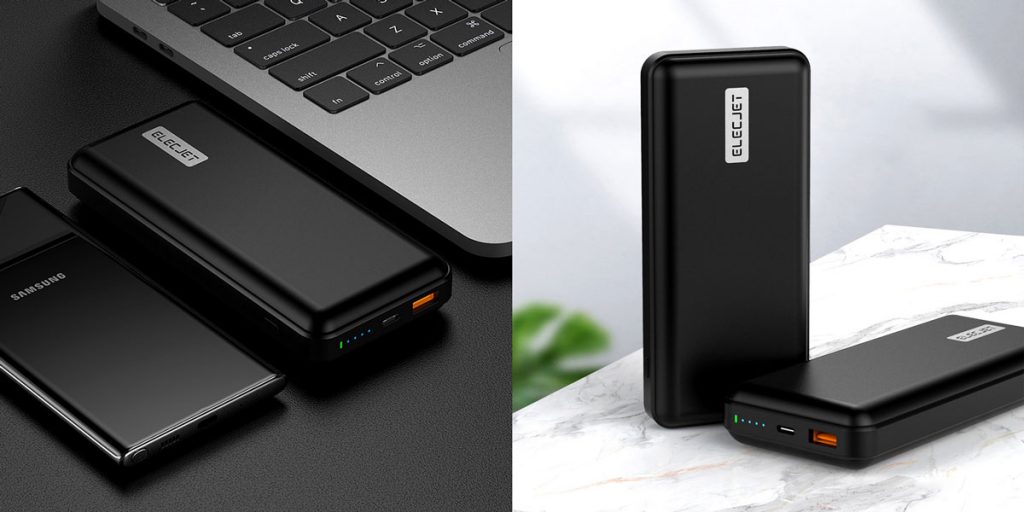 On the outside, PowerPie continues the low-key professional look of ELECJET's design language, with a rounded and sandwiched rectangular (as the name PowerPie suggests), finished with a comfortable baby skin coating and a metal brand nameplate. There is an LED power indicator on the side along with a dedicated PD fast charging LED indicator.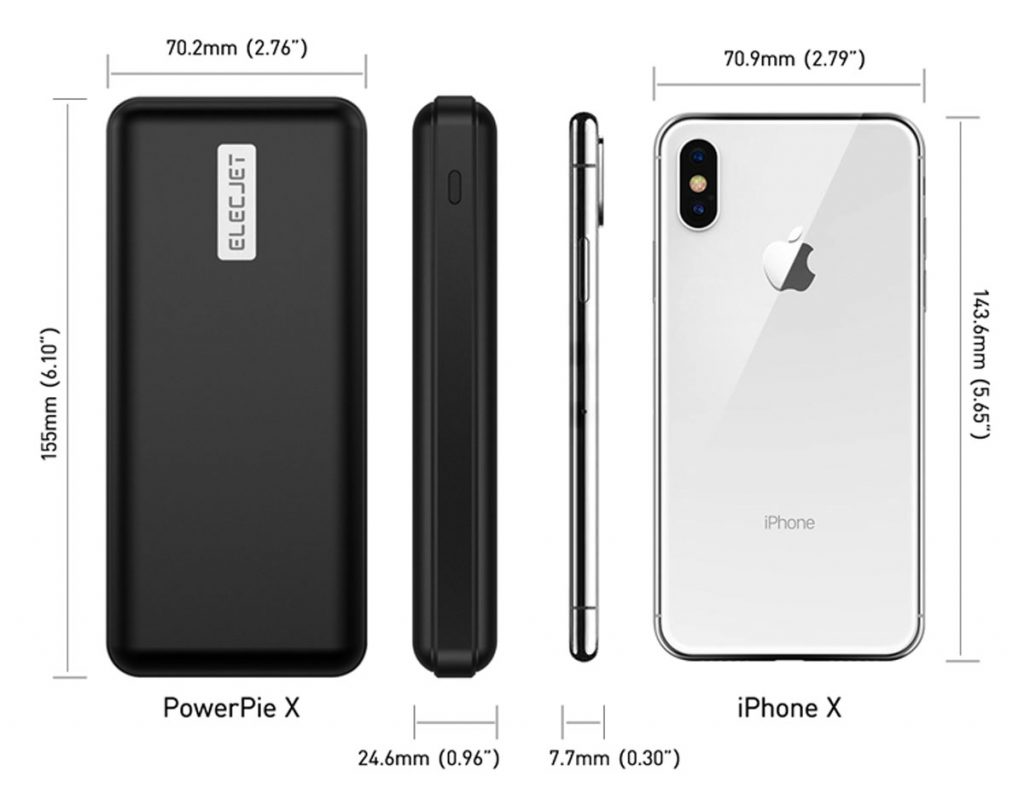 In terms of size, the PowerPie measures 155x70.2x24.6mm (6.10x2.76x0.96inch), which is slightly larger than an iPhone X. It weighs 388 grams (13.7oz). Among the 20000mAh high-wattage power banks, the PowerPie is at an excellent level in term of volume and weight control.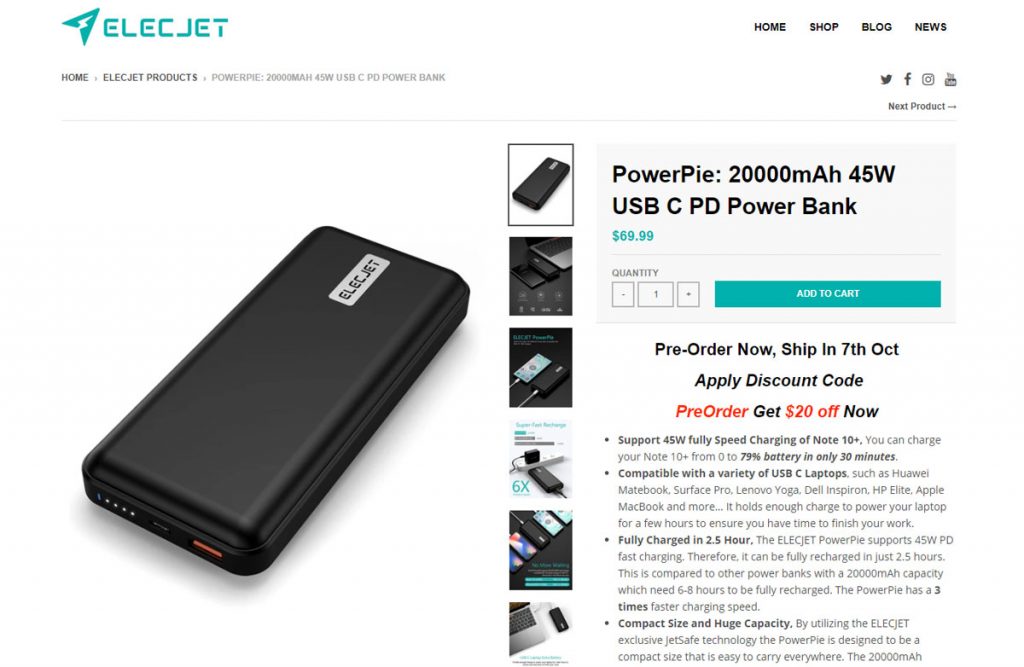 The ELECJET PowerPie has already started pre-sale at ELECJET's official website. The overseas pre-sale price is 49.9 US Dollars (Original Price 69 USD Dollas) including the international shipping fee. Shipping is expected to start on October 10. Visit ELECJET official website for more details.
Source: ELECJET