Best Buy Insignia Launches A New 35W Dual USB-C Charger
At the WWDC22, Apple released two new 35W dual USB-C port chargers in one fell swoop. Following the trend, many famous brands worldwide have launched their 35W dual USB-C port charger, too.
Insignia is a brand owned by Best Buy, a leading American multinational consumer electronics retailer headquartered in Richfield, Minnesota. Recently, INSIGNIA launched a 35W dual USB-C port charger, priced at $34.99.
The Insignia 35W has a white shimmer flame-retardant shell, with the logo INSIGNIA printed on the side. The charger size is 39.87 X 38.86 X 31.75 mm (1.56 X 1.52 X 1.25 inches), with a volume of 49.19 cm³ (3 in³) and a power density of 0.71W/cm³.
The other side is printed with the 35W, with the watch, phone and tablet three device icons to indicate that it can charge these devices. The prongs are foldable and more convenient.
It adopts two blue USB-C ports, with two icons of watch and phone up and down.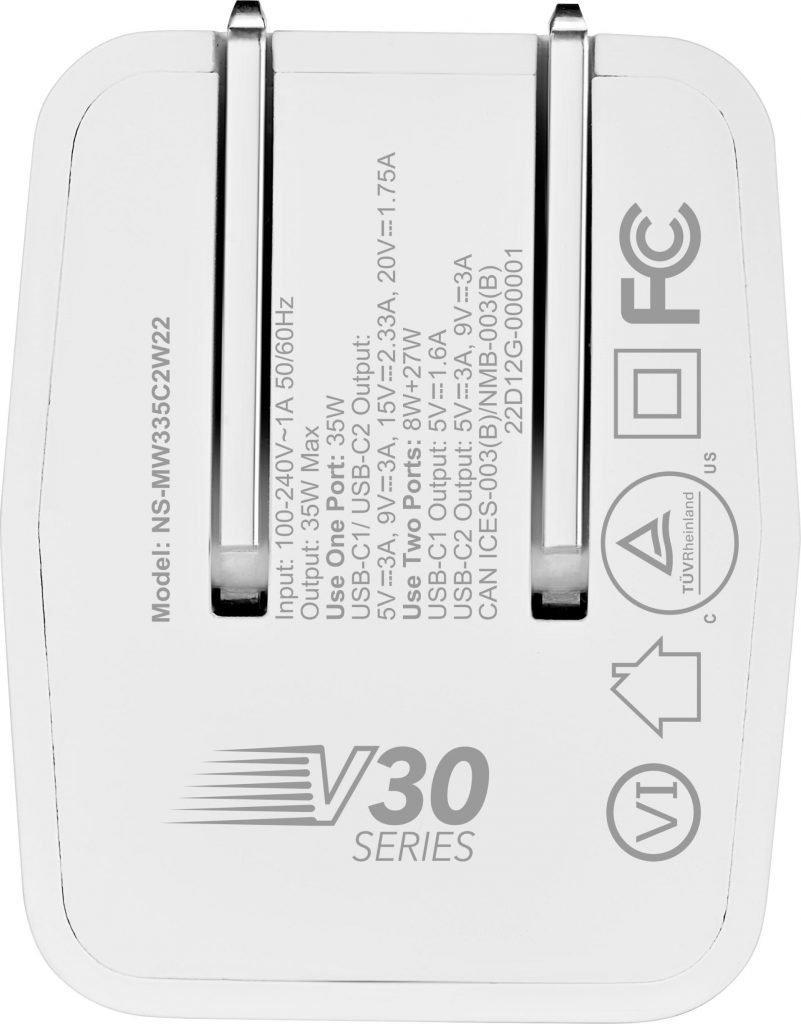 Here are the specifications.
Model: NS-MW335C2W22
Input: 100-240V~1A 50/60Hz
Single port output: 35W
USB-C1/C2: 5V3A / 9V3A / 15V2.33A / 20V1.75A
Dual-port output: 8+27W
USB-C1: 5V1.6A
USB-C2: 5V3A / 9V3A
Summary of ChargerLAB
The new Insignia 35W dual USB-C charger is equipped with two USB-C ports. Either USB-C port can support up to 35W PD fast charging separately with 15V / 20V high voltage level, which can also charge the iPad or MacBook in addition to phones.
As a multi-port charger, it also supports dual devices charging together, with a power distribution of USB-C1's 5V and USB-C2's PD fast charging.
Related Articles:
1. Same but Different | Teardown of Apple 35W Dual USB-C Traditional Power Adapter
2. Completely Different | Teardown of Apple 35W Dual USB-C Compact Power Adapter
3. What's Difference Between Two Apple 35W Charger (Compact and Traditional)
The article is originally written by @
Jeffrey
posted on Chargerlab. All rights reserved.