Belkin 30W 2-Port PD Car Charger with USB-C Cable In-depth Teardown Review
Today we have a dual port car charger from Belkin with a very versatile 18W USB-C and 12W USB-A (1A1C) configuration. Here's our in-depth teardown review.

I Unboxing
Classic Belkin packaging with green accents and a window to showcase the car charger and the cable inside.

Specifications on the back. It can fast charging your PD-capable devices at 18W with its USB-C port.

Slides open and we are greeted by the car charger and the cable laying inside a plastic tray.

Package contents: car charger, USB-C to USB-C cable, and user manual.

A braided USB-C to USB-C cable with laser engraved studio by Belkin logo. It feels pretty nice.

The car charger comes in a black glossy finish. Studio by Belkin logo on the side.

Model: F8J251. Input: DC 12V. USB-A output: 5V/2.4A. USB-C output: 5V/3A and 9V/2A.

A small LED indicator on top of the USB-A and USB-C ports.

Size comparison with RMB 1 yuan coin.

The LED indicator emits green light when the car charger is turned on.

II Review
Using ChargerLAB Power-Z KT001 USB power tester, we know that its USB-A port supports Apple 2.4A protocol only.

And its USB-C port supports USB DCP protocol.

PDO information reveals the USB-C port supports USB PD 3.0 output in 5V/3A and 9V/2A, 18W max.

It weights 26.2g/0.92oz.

III Teardown
The casing uses ultrasonic welding technology, which is relatively rare for car chargers. Generally, ultrasonic welding is more common in AC to DC chargers. A white reflector is placed next to the internal PCBA to reflect light through small holes on the port panel.

Take out the internal PCB board. We can see there are two main controller chips and a protocol chip on the back of the PCB board.

The output protocol chip for the USB-C interface comes from Hynetek, model HUSB338L. This is a high performance, highly integrated USB Type-C Power Delivery controller chip that integrates protocols such as PD3.0, PD2.0, PPS, HVDCP, and BC1.2. At present, HUSB338L has passed USB PD2.0 certification (TID No. 1000151, XID No. 0005398) and USB PD3.0 certification (TID No. 1000189, XID No. 0005399). It is available in SOP-14L and QFN-16L packages, suitable for applications including power adapters, car chargers, mobile power supplies and more.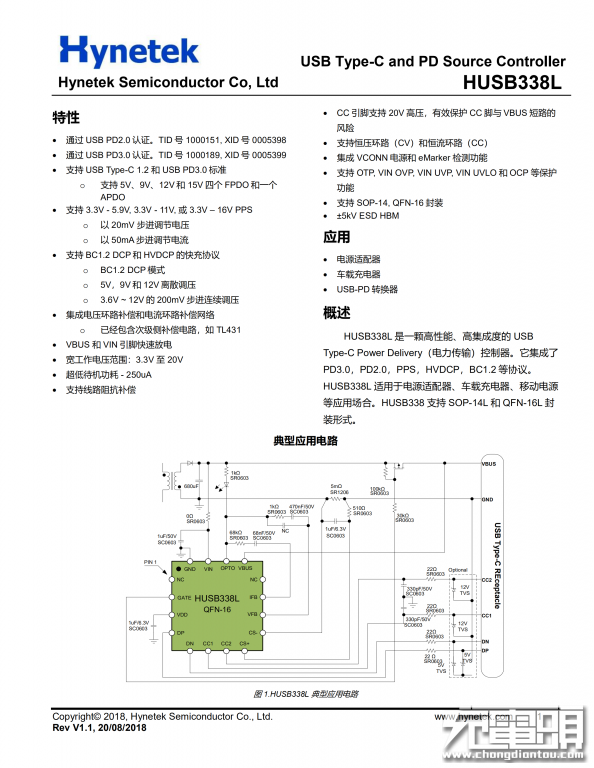 Detailed specifications of the Hynetek HUSB338L.

In addition, the USB-C port uses a Techcode TDM3307A as a VBUS switch.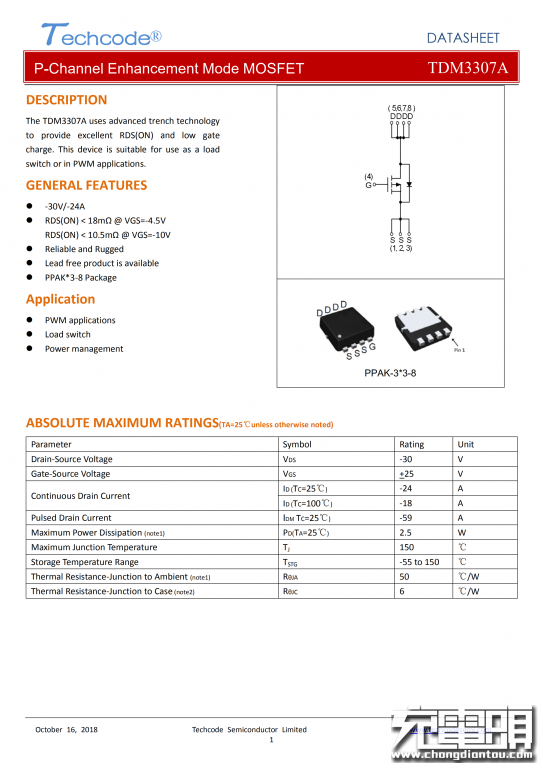 Detailed specifications of the Techcode TDM3307A.

The main controller of the car charger is a CX8850 from Chengxinwei. It is a step-down DC-DC converter with input voltage up to 40V and capable of accurate constant voltage and constant current; it has built-in 20mΩ High-side NMOS and 20mΩ Low-side NMOS. It supports 4A continuous output current output with adjustable voltage, with up to 98% duty cycle.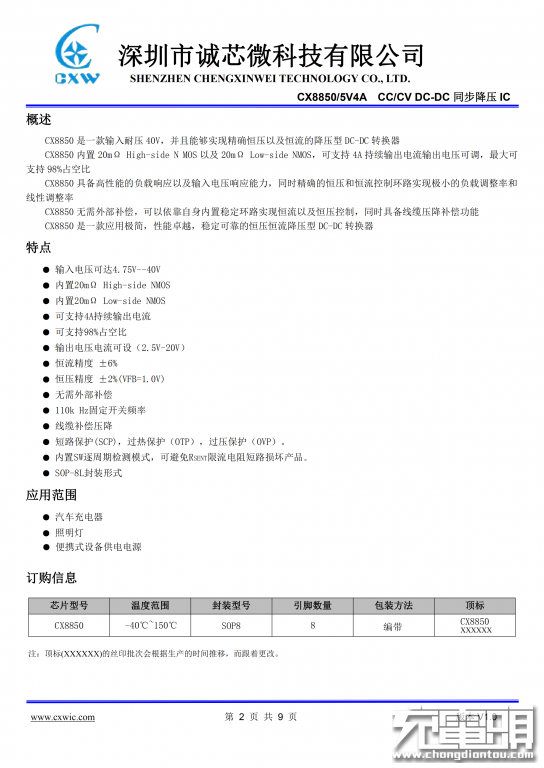 Detailed specifications of the Chengxinwei CX8850.

Another Chengxinwei CX8850 for main control. The Belkin car charger uses two CX8850 controller chips to achieve two independent outputs.

The LED indicator.

From right to left: output filter inductor, input filter electrolytic capacitor, two buck inductors, two output filter solid capacitors, and two output ports. Glues are applied between the step-down inductor and the output filter capacitor to provide heat dissipation and fixation.

The USB-C port is soldered onto the small daughter board which is soldered to the main PCB.

The positive pin is directly connected by a spring, and a metal baffle is welded to the rear of the spring to enhance reliability, and prevent the spring is from being deformed under excessive pressure.

The input filter electrolytic capacitor comes from AiSHi, 35V 10μF.

3R3 filter inductor.

The filter capacitor for USB-C output is 16V 470μF, and the filter capacitor for USB-A output is 6.3V 330μF.

Close-up of the USB-C port.

Close-up of the USB-A port.

All the components.

IV Conclusion

The Belkin 30W 2-Port PD Car Charger continues the high quality of Belkin with solid build and good components. By using solutions from Hynetek and Chengxinwei, the Belkin car charger has a simplified internal design with lower costs, but does not sacrifice safety features. The separate 18W USB-C and 12W USB-A (1A1C) output configuration offers great compatibility for both new and old devices.

Pros:
Solid build.
Good components.
Separate 18W USB-C and 12W USB-A (1A1C) output.

Cons:
The USB-A port is 5V/2.4A only (no QC).

Source: chongdiantou