Aurora Color | MOVESPEED Launched 65W GaN Charger
You may not be familiar with MOVESPEED, a consumer electronics brand similar to Baseus, specializing in manufacturing and selling mobile accessories and gadgets. They have recently launched a range of high-performance portable power banks that cater to the needs of smartphone and laptop users, as well as compact portable power stations for outdoor use, meeting various charging requirements in different scenarios. Additionally, MOVESPEED also offers a series of high-performance chargers. Recently, they have introduced a brand new 65W GaN charger.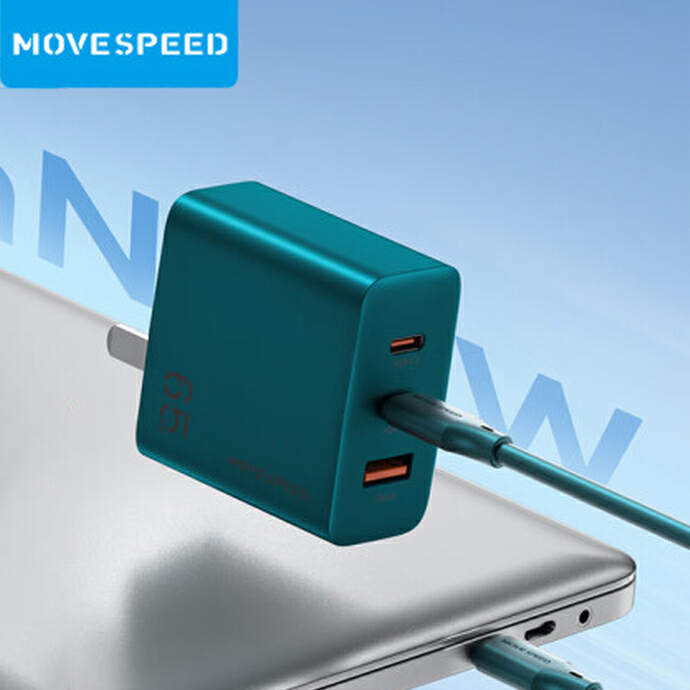 MOVESPEED is a wholly-owned brand of AOHAI Technology, which is a leading manufacturer of original chargers for many international smartphone brands. AOHAI has strong technological development capabilities and excellent quality control, and they are also an outstanding publicly listed technology company. Moreover, their own brand, AOHi, is also well-known to us. Therefore, it is not surprising that MOVESPEED has a mature technology research and development chain as well as a product quality assurance system.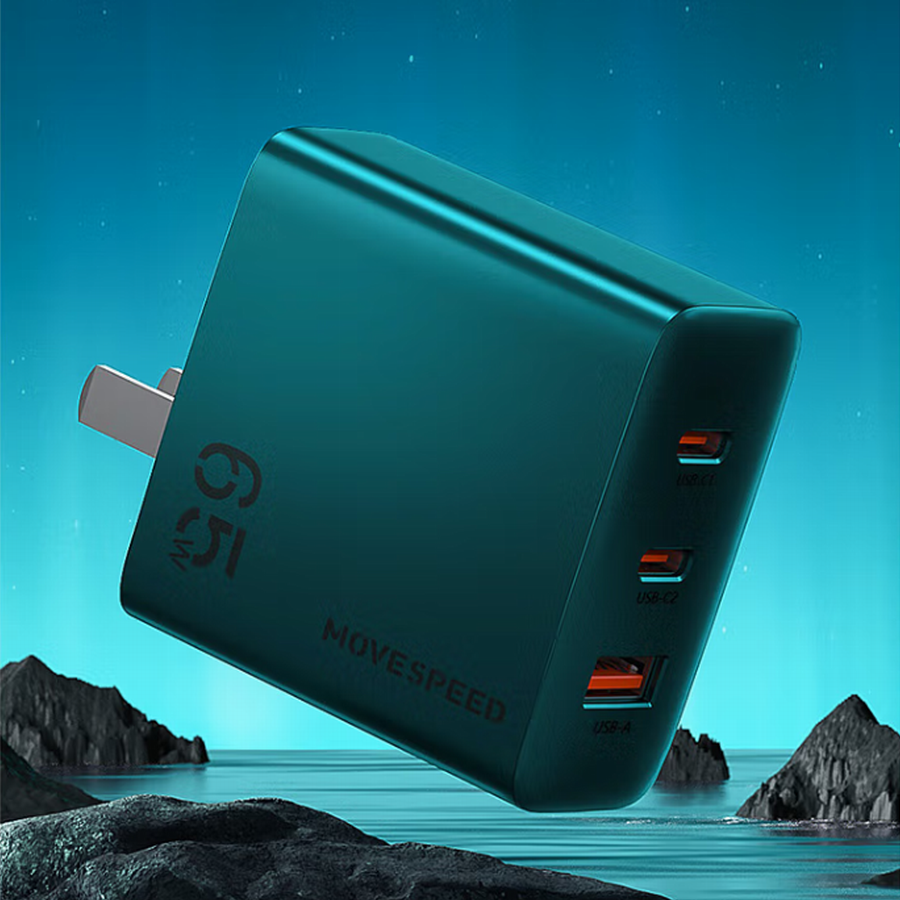 The 65W GaN charger from MOVESPEED represents their relentless pursuit of excellence in chargers, including the chip, power, design, and user experience. The model is YSFCG104-65B and it features a unique aurora color coating, making it very eye-catching. Internally, it adopts gallium nitride technology and supports 65W fast charging output. Despite its small size, it can provide a lot of power, with high conversion efficiency, and multiple output ports to meet the charging needs of multiple devices.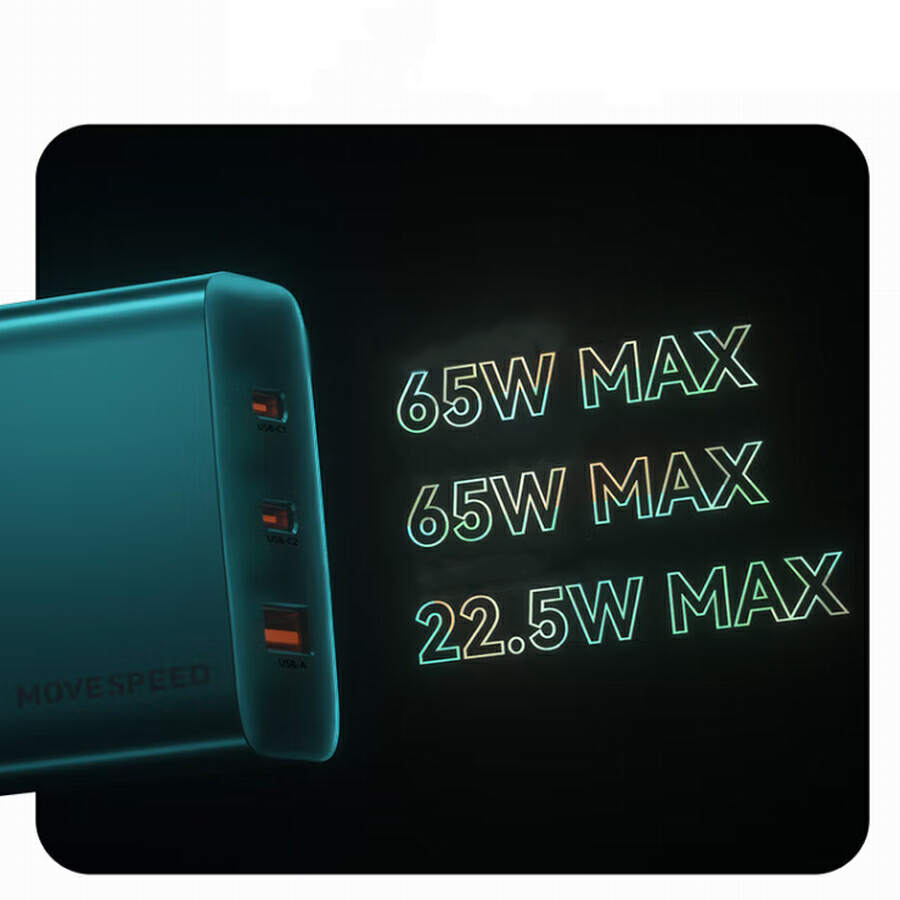 Each of its three ports supports fast charging output when used individually. Both USB-C1 and USB-C2 ports support a maximum of 65W fast charging output, which means both ports can deliver optimal charging experience. The PDOs are as follows: 5V3A/9V3A/12V3A/15V3A/20V3.25A. The USB-A port supports 22.5W multi-protocol fast charging. The charger can charge a MacBook Air 13 to 75% in 1 hour and an iPhone 13 to 60% in 30 minutes.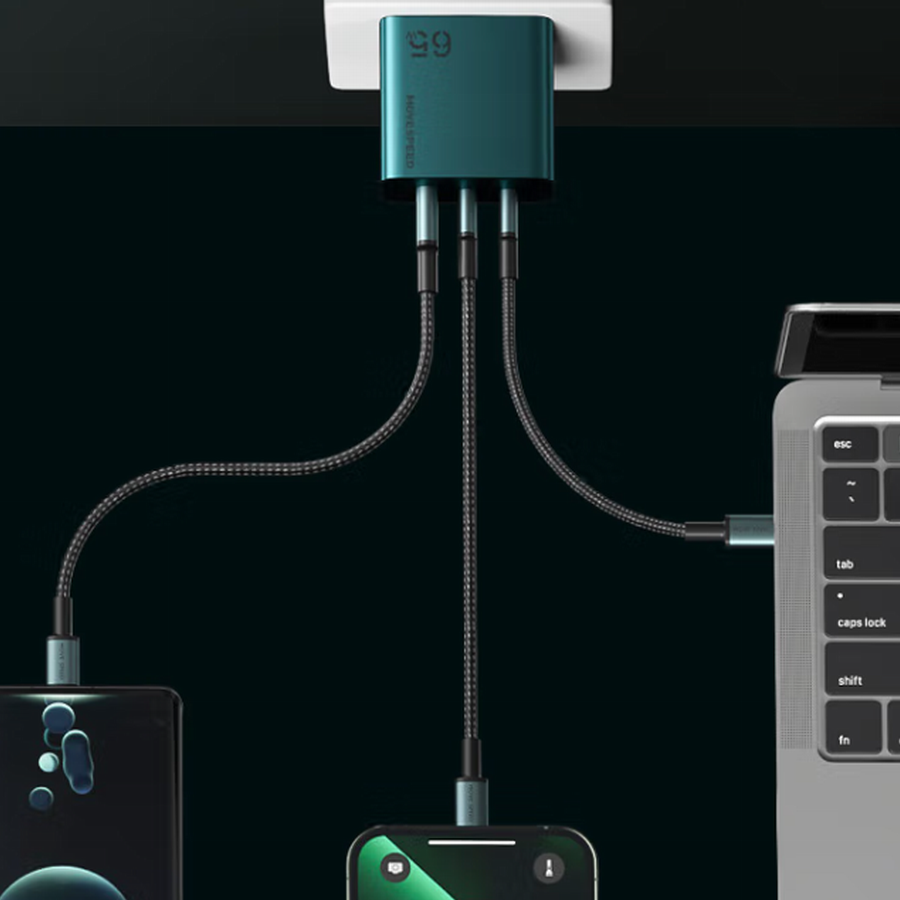 As a high-performance charger with multiple output ports, it naturally supports simultaneous charging of up to three devices, automatically adjusting the output performance based on the needs. It supports various power output strategies, such as 65W, 45W+20W, 45W+18W, and 45W+5V3A.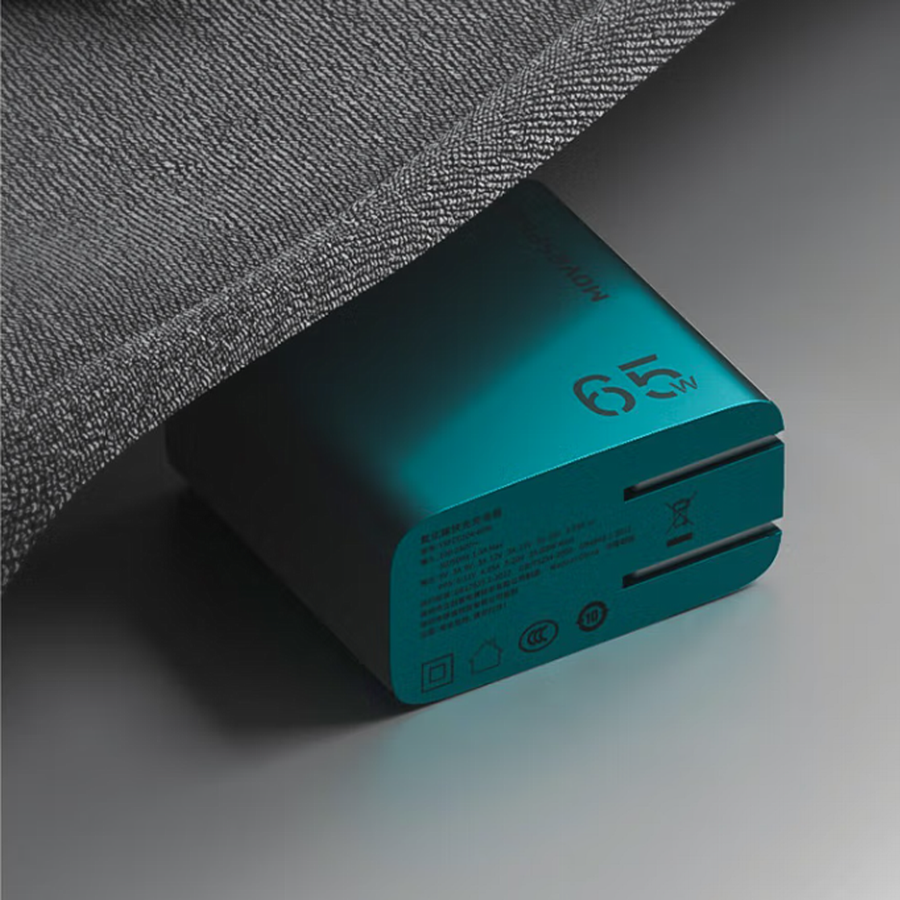 The charger's body size, excluding the prongs, are 53.8 x 53 x 28mm (2.12 x 2.09 x 1.10 inches), with a volume of 79.83cm³, resulting in a power density of approximately 0.81W/cm³. It weighs 111g (3.92 oz). In terms of input, it adopts a foldable prong design, making it convenient for travel, and it supports a voltage range of 100-240V~50/60Hz, eliminating compatibility concerns during international travel.
Summary of ChargerLAB
In conclusion, the MOVESPEED 65W GaN Charger features a striking aurora color coating and utilizes gallium nitride technology. Despite its small size, it achieves a power density of 0.81W/cm³. It is equipped with foldable prongs and supports a wide voltage range, making it more convenient for travel. It has two USB-C ports and one USB-A port, with both USB-C1 and USB-C2 supporting 65W output, making it widely compatible with mainstream consumer electronics products. It can charge up to three devices simultaneously. Currently, this product is only available for sale in China and comes with a 1.5m dual USB-C cable as a bonus. The price is set at 149 yuan ($21).
Related Articles:
1. The listed company "Move Speed" released the 20W PD fast charger, designed for iPhone12
2. HP Launched 65W Dual USB-C GaN Charger
3. Teardown of Baseus 65W GaN Pro 2C1A Charger (The Third Generation)
The article is originally written by @
Joey
posted on Chargerlab. All rights reserved.