29% OFF! | Unboxing of the ChargerLAB POWER-Z KT002
Introduction
About a year ago, we released our most powerful tester ever - ChargerLAB POWER-Z KM003C. However, what new fans may not know is that we also sell another tester on Amazon with a completely different style - KT002. It shares most features of KM003C but focuses on USB-A devices and is much cheaper, priced at $69.99.
What's more, it even got a limited-time discount, priced at only $49.99, with a limited quantity available. So, today, we will do a simple unboxing and introduce how to use it.
Product Appearance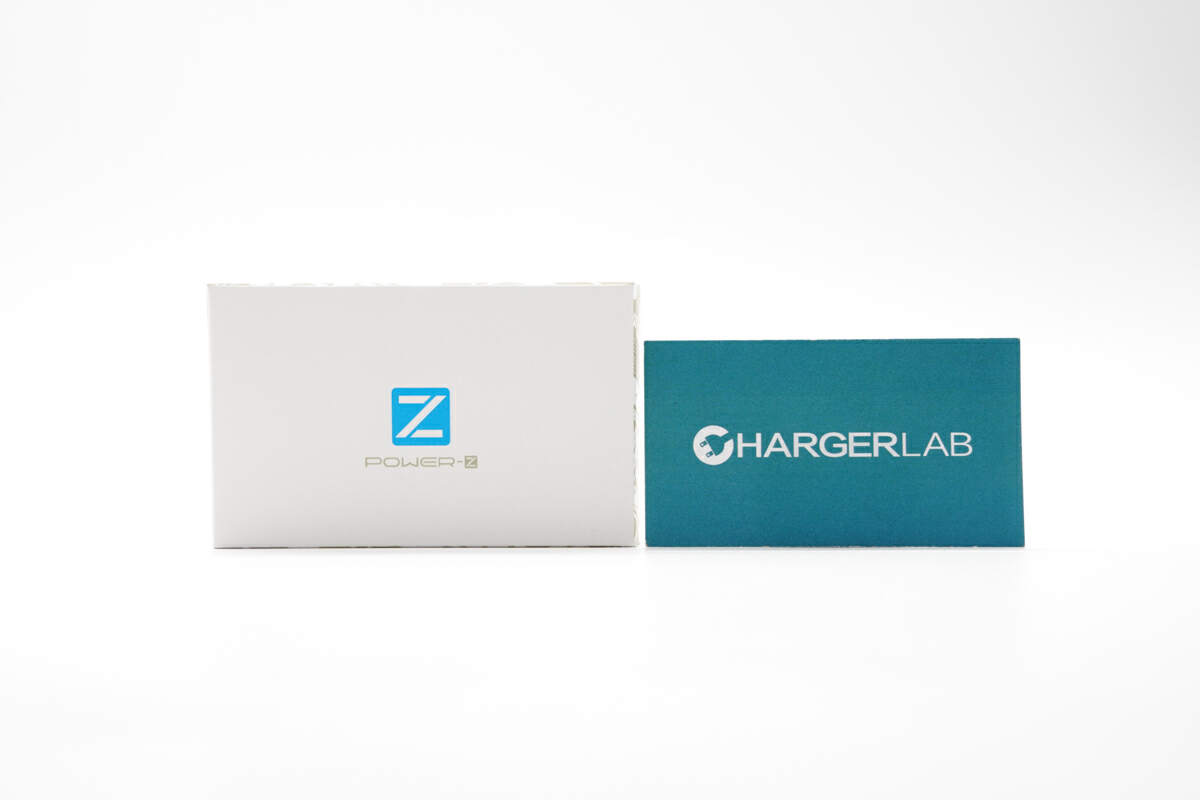 The packaging box follows the classic blue and white design of POWER-Z.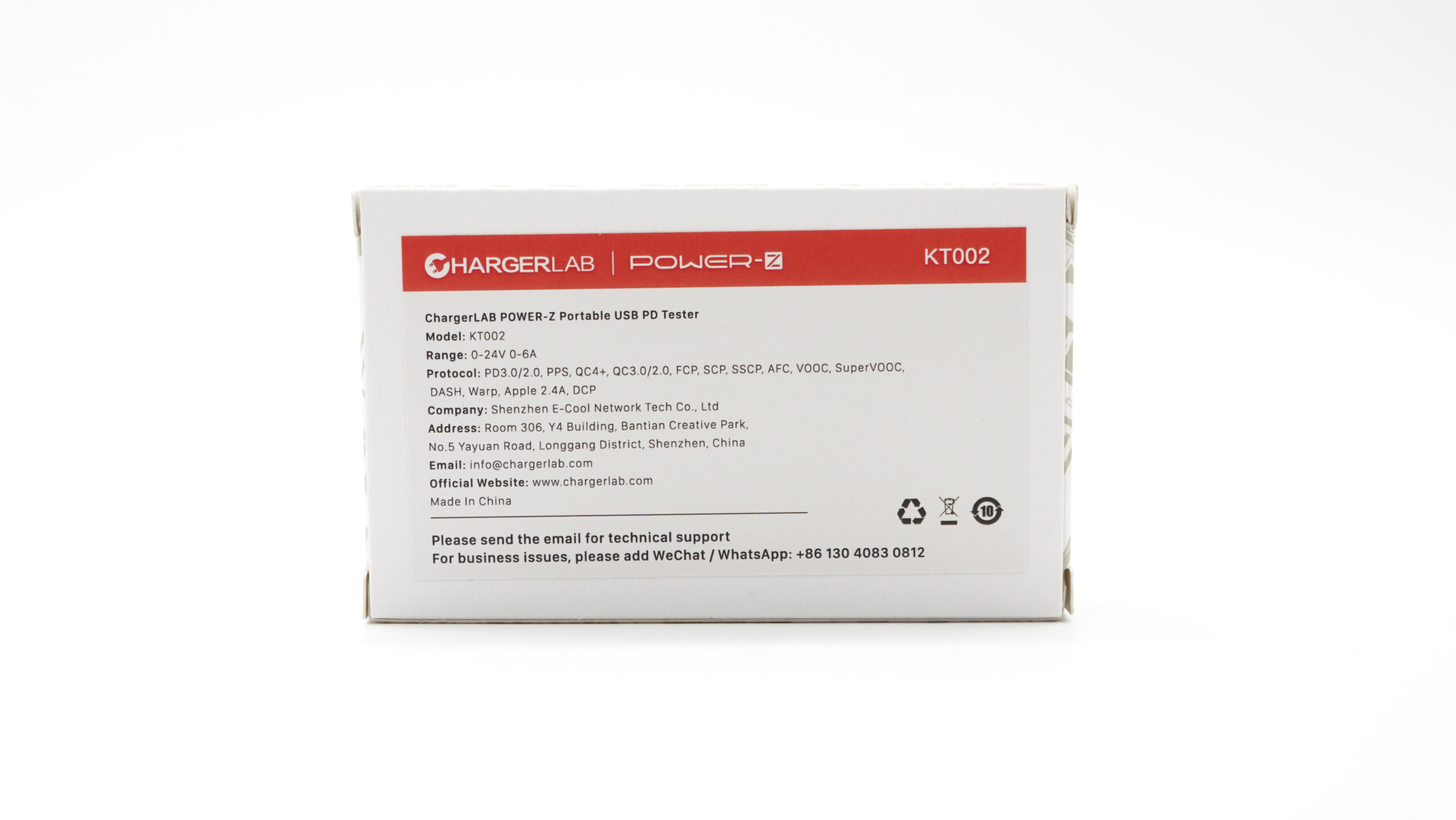 The top of the back has a red background color to match KT002's color scheme. The most significant difference from KM003C is that its supported range dropped to 0-24V and 0-6A. And it supports PD3.0/2.0, PPS, QC4+, QC3.0/2.0, FCP, SCP, SSCP, AFC, VOOC, SuperVOOC, DASH, Warp, Apple 2.4A, DCP fast charging protocols, but it does not support the latest PD3.1 and QC5.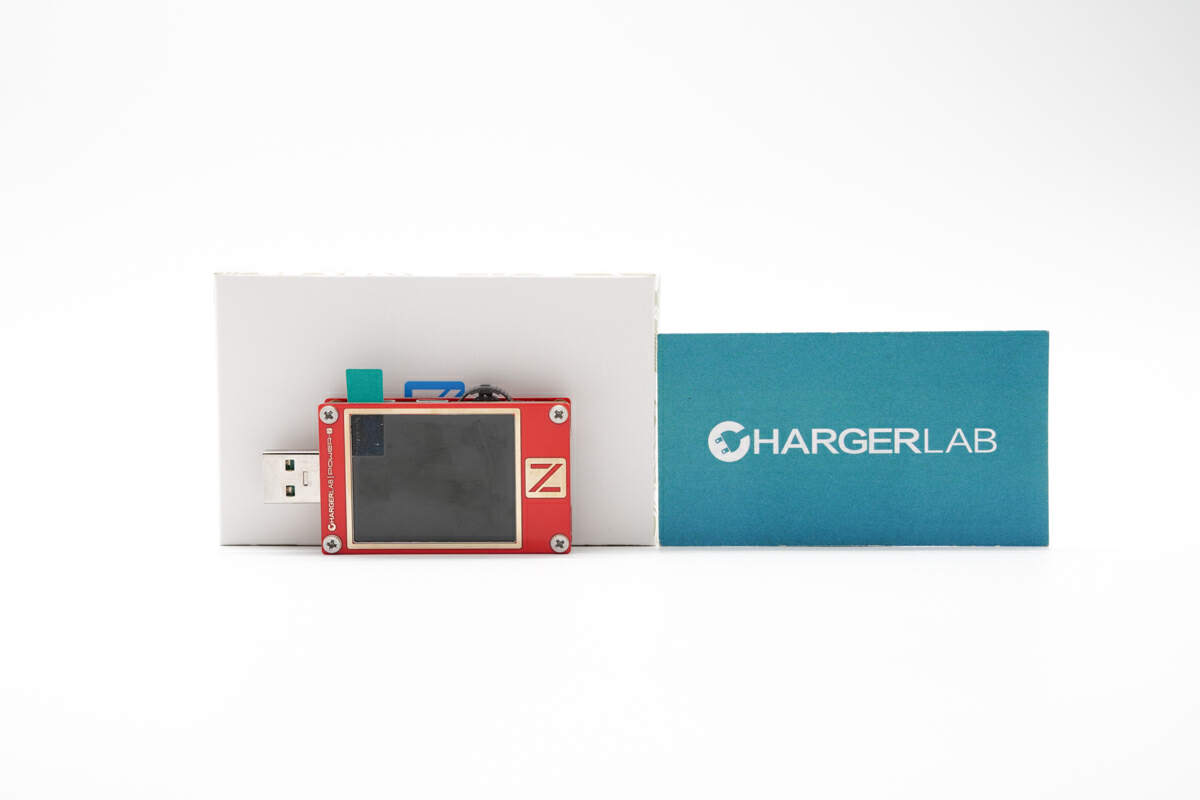 And it only contains the tester itself.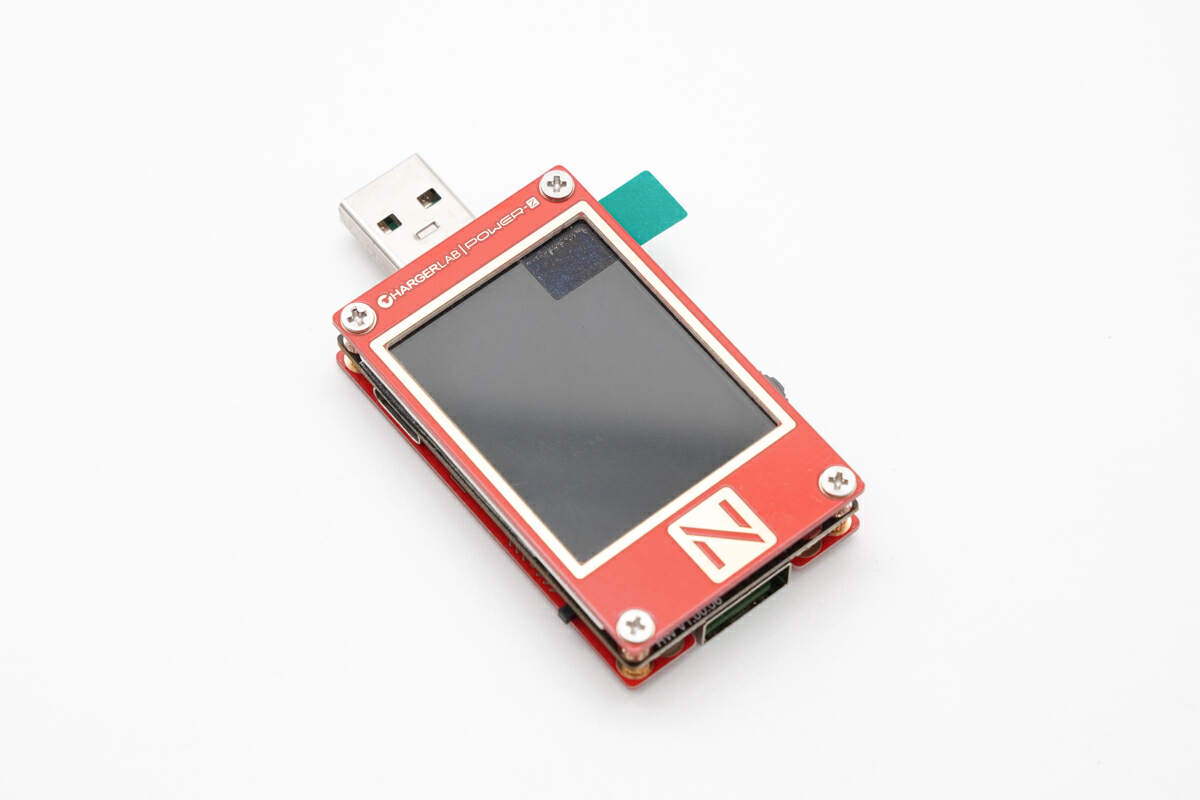 It got a 1.8 inch TFT display that supports gravity rotation. As mentioned earlier, its top and bottom are USB-A male and female connectors, respectively. In addition, the green sticker on the screen's edge is part of a screen protector, which we have secured between the screen and display for better protection. We strongly recommend keeping it that way.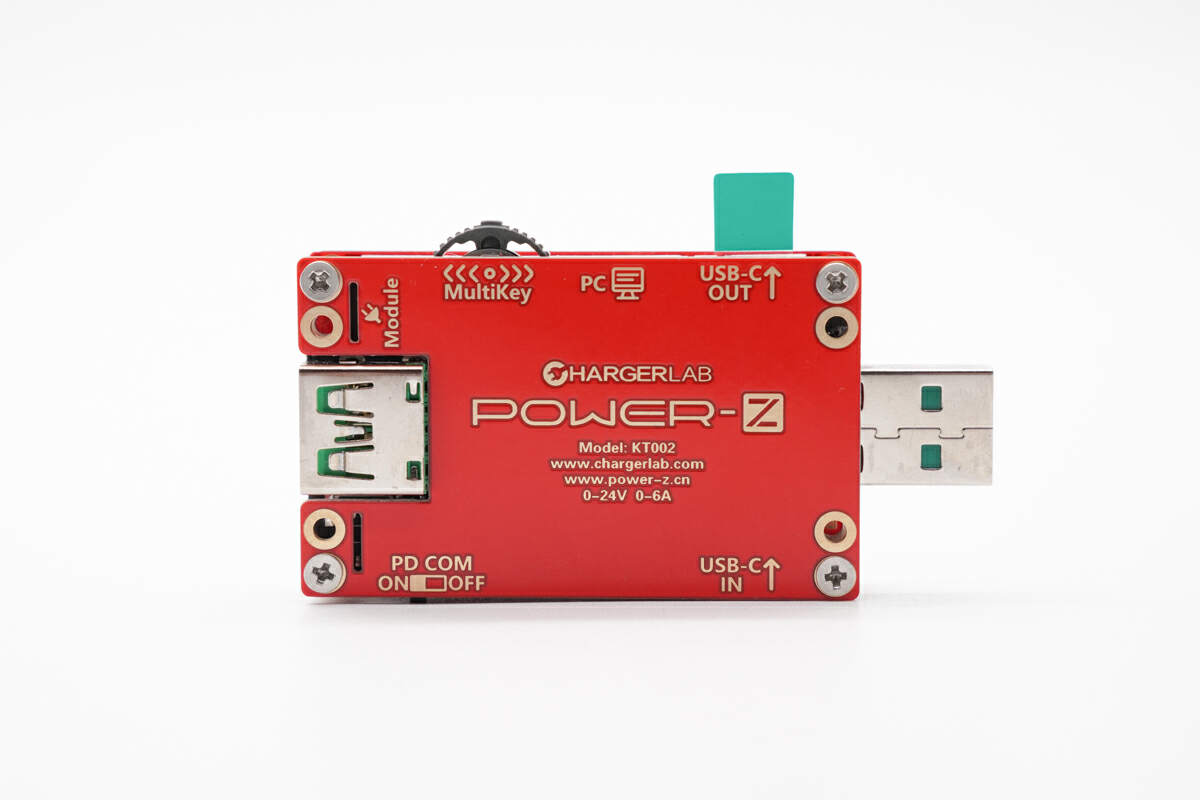 Flip to the back. There are many ports here, and we have labeled the purpose of most of them. It's important to note that the PD toggle switch in the bottom left corner is for the PD triggering feature. After use, you should switch it back to the "OFF" to avoid interfering with normal communication between the charger and the phone.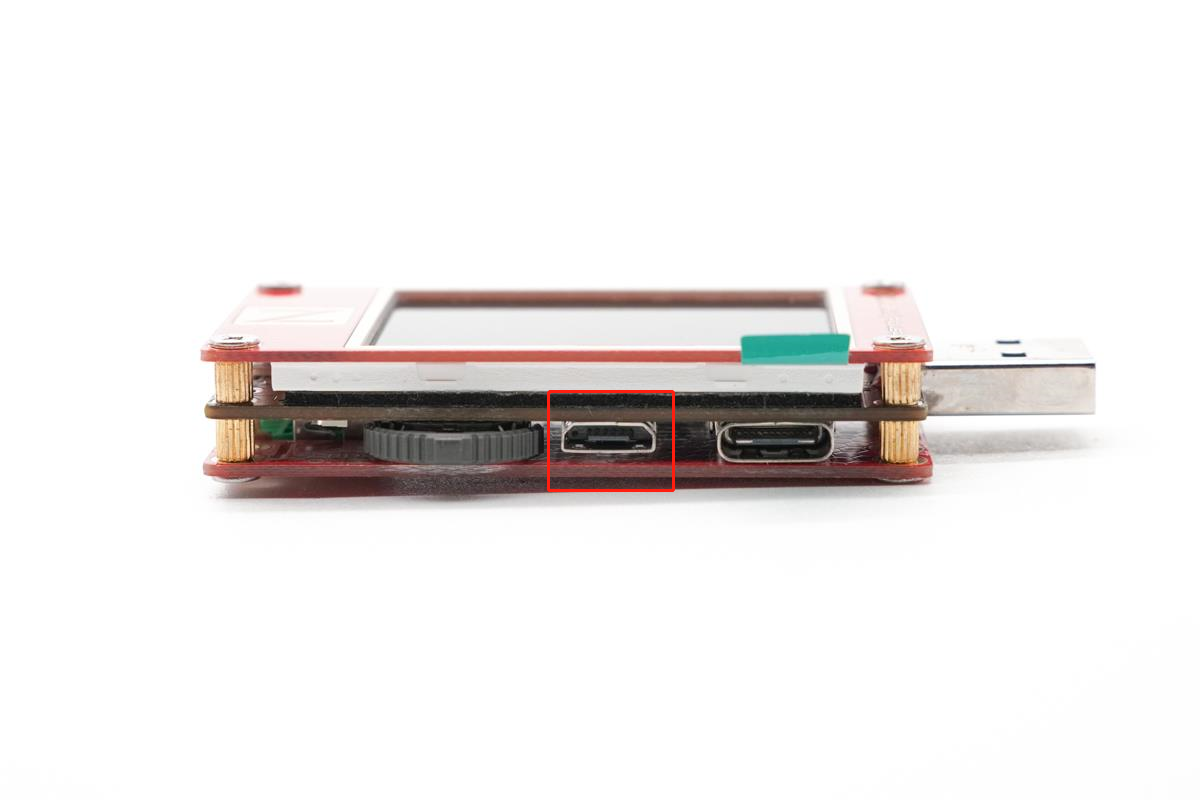 It consists of three PCB layers, with four metal pillars used to hold them together, giving it a geeky appearance. Additionally, its HID port is different from KM003C; it's a MicroUSB port, so make sure you have the right cable for the job.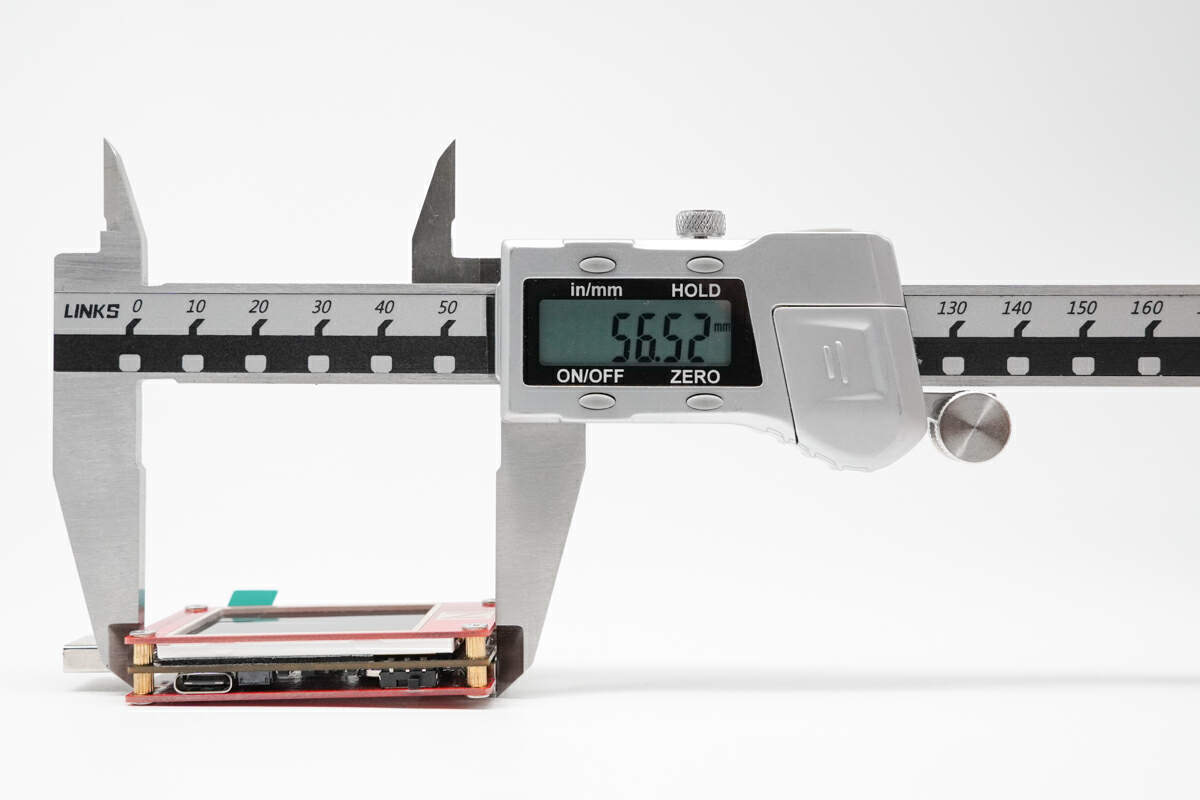 The length of the tester is about 56.5mm (2.22 inches).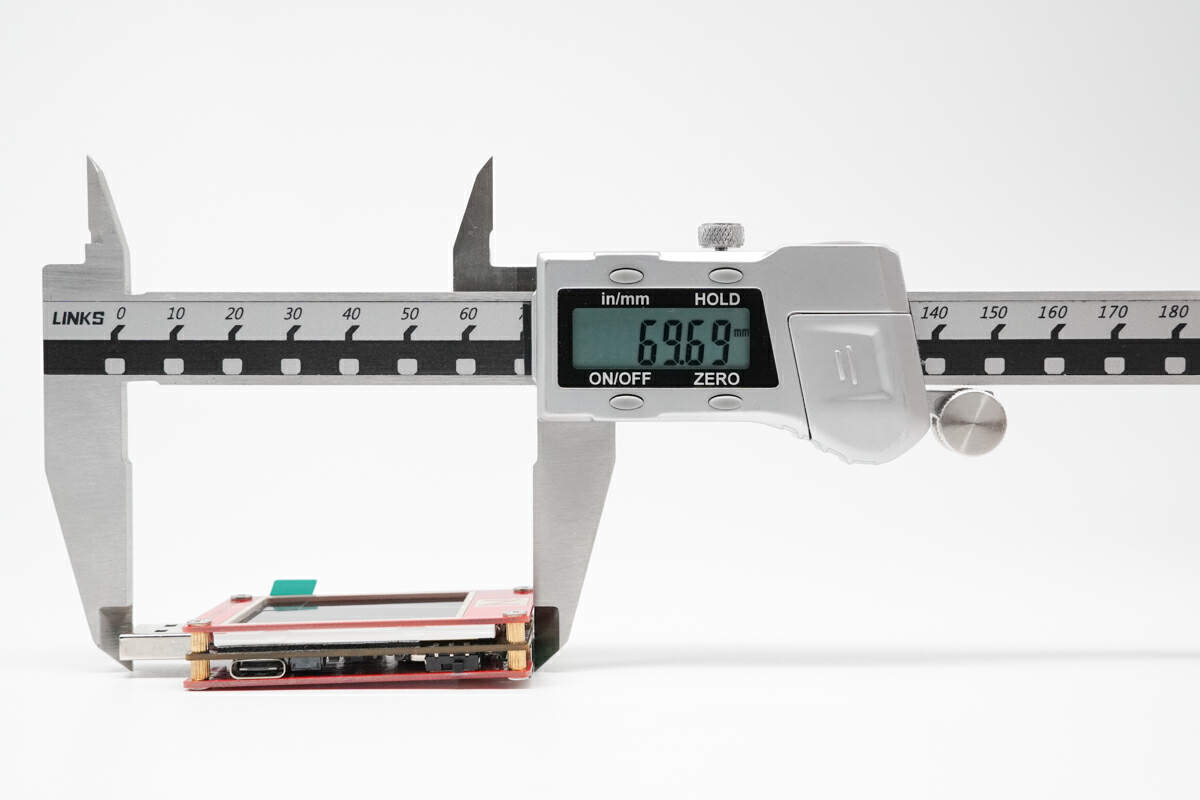 After adding the USB-A connector, the length becomes 69.7mm (2.74 inches).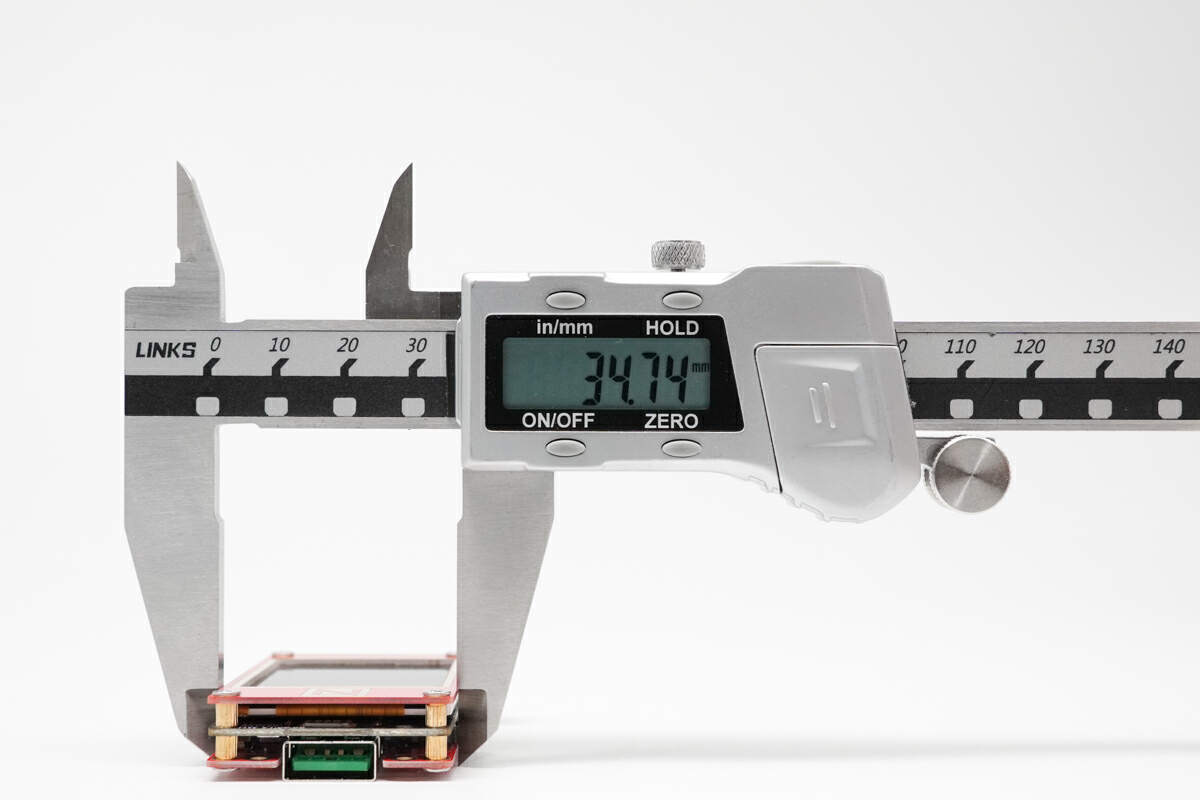 The width is about 34.7mm (1.37 inches).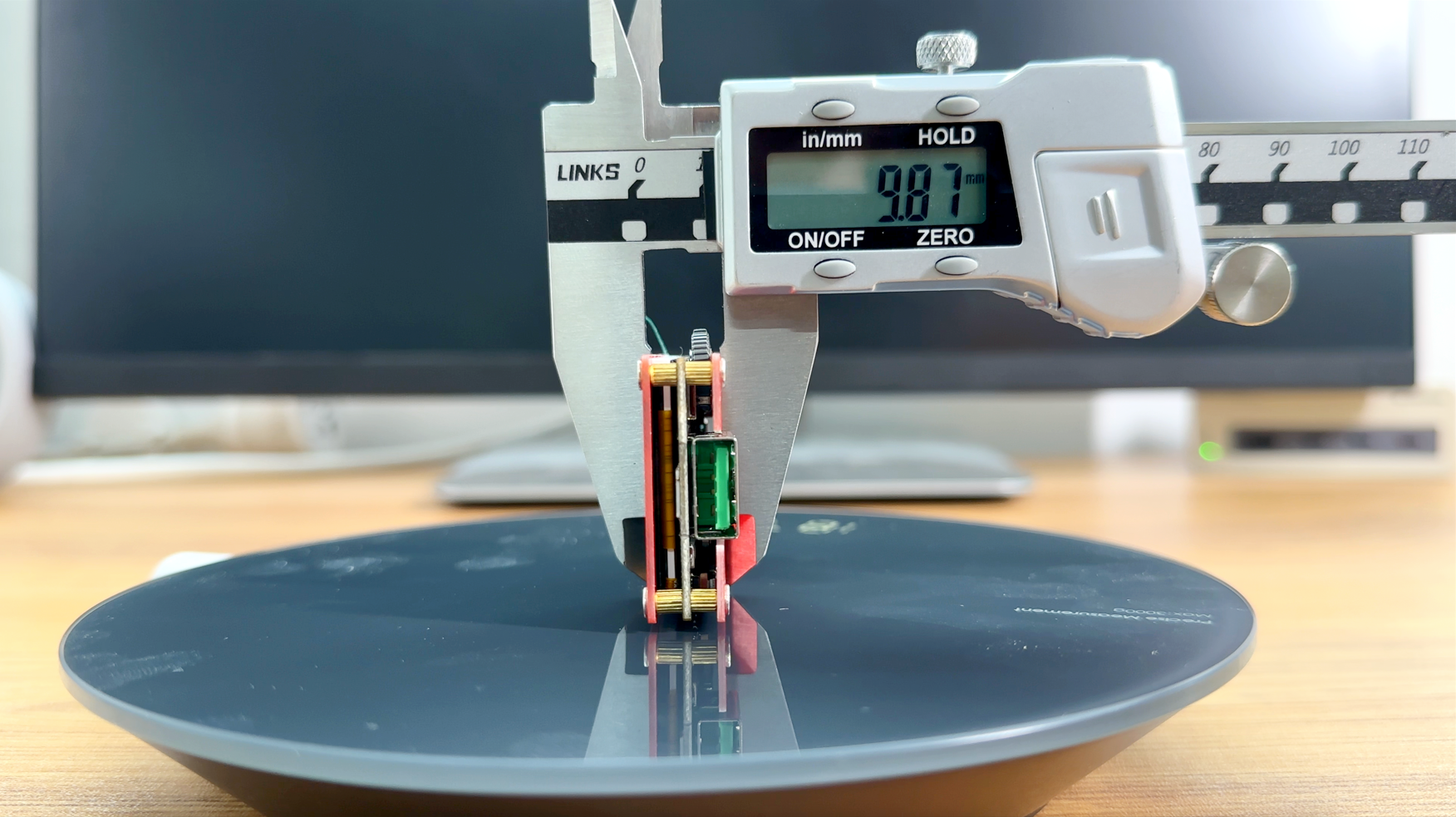 The height is about 9.9mm (0.39 inches).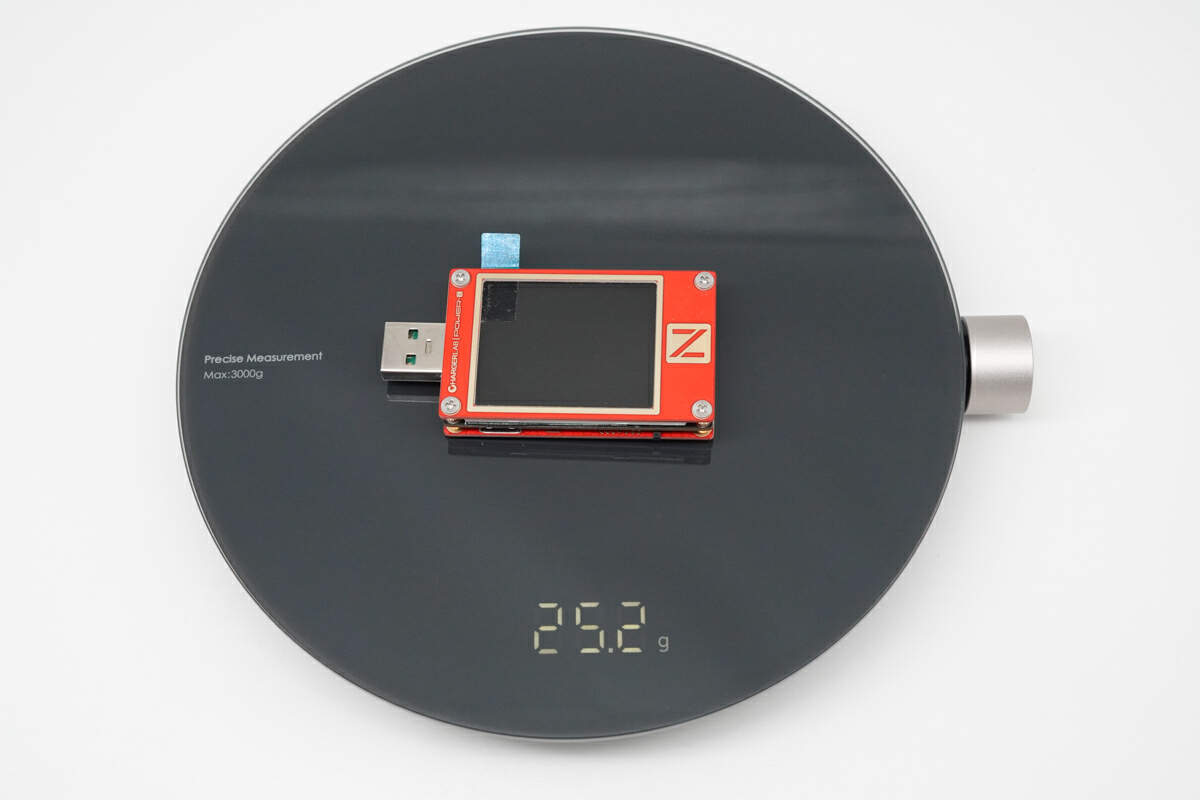 And the weight is 25.2g (0.89 oz).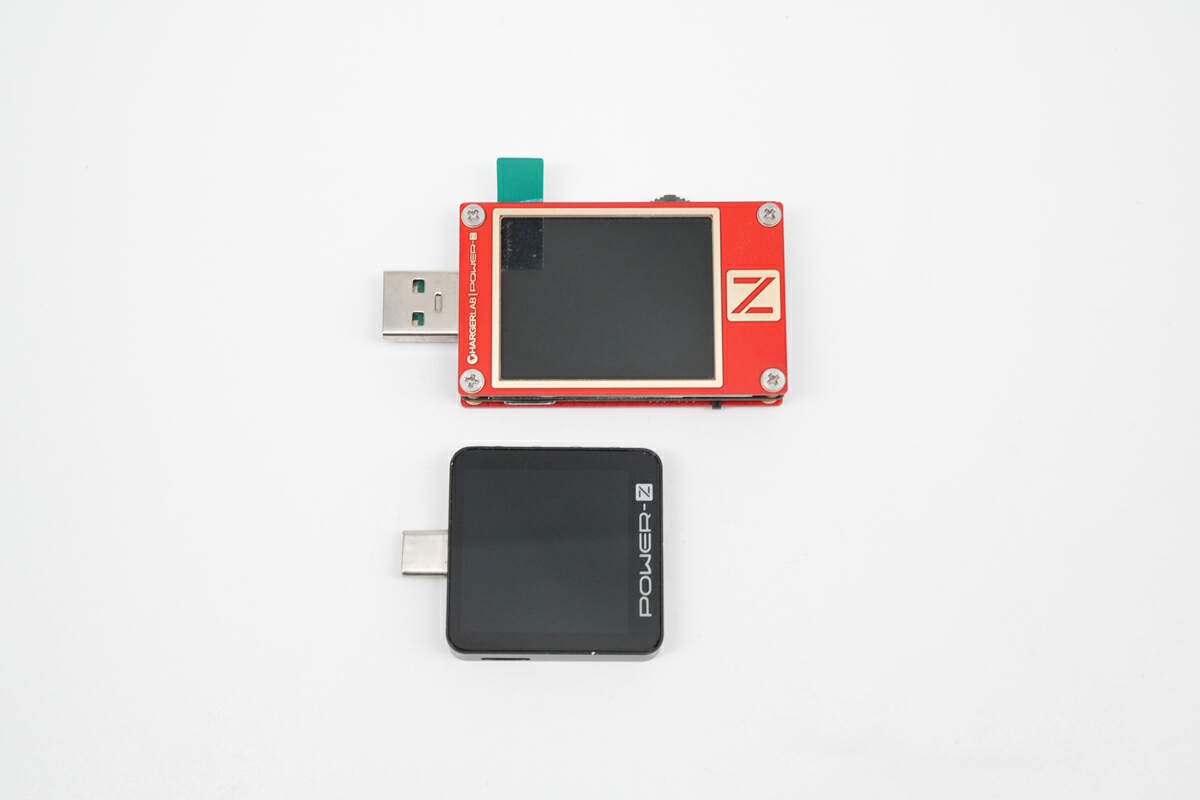 Compared to KM003C, the most obvious advantage of KT002 in terms of appearance is its larger screen, making it easier to read the test data.
UI & How to Use
In addition to basic appearance and specs info, the most important aspects are the UI and how to operate the tester. Let's take a look.
Short Press
Since it has only one button - MultiKey, the operation is a bit complex, and we will break it down into three sections. First is the short press.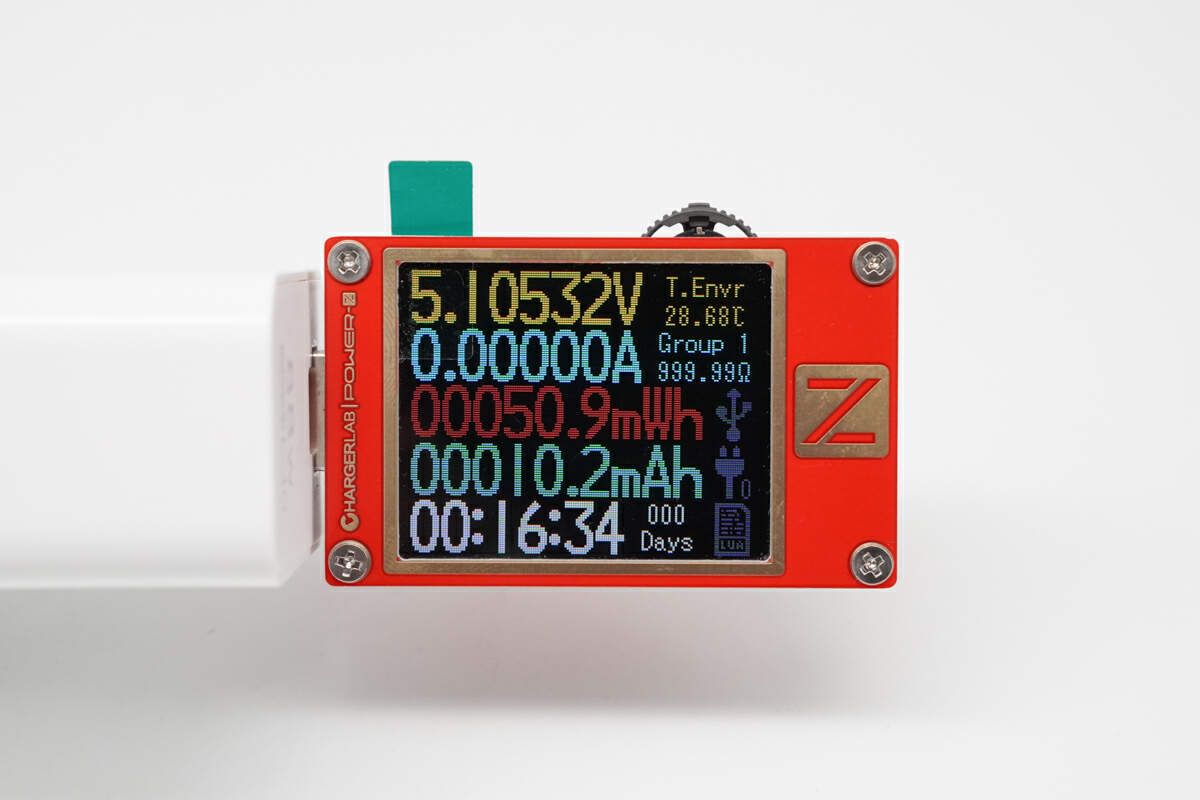 When plugged in, you'll see the first home page, which includes things like voltage, current, energy, and the elapsed time.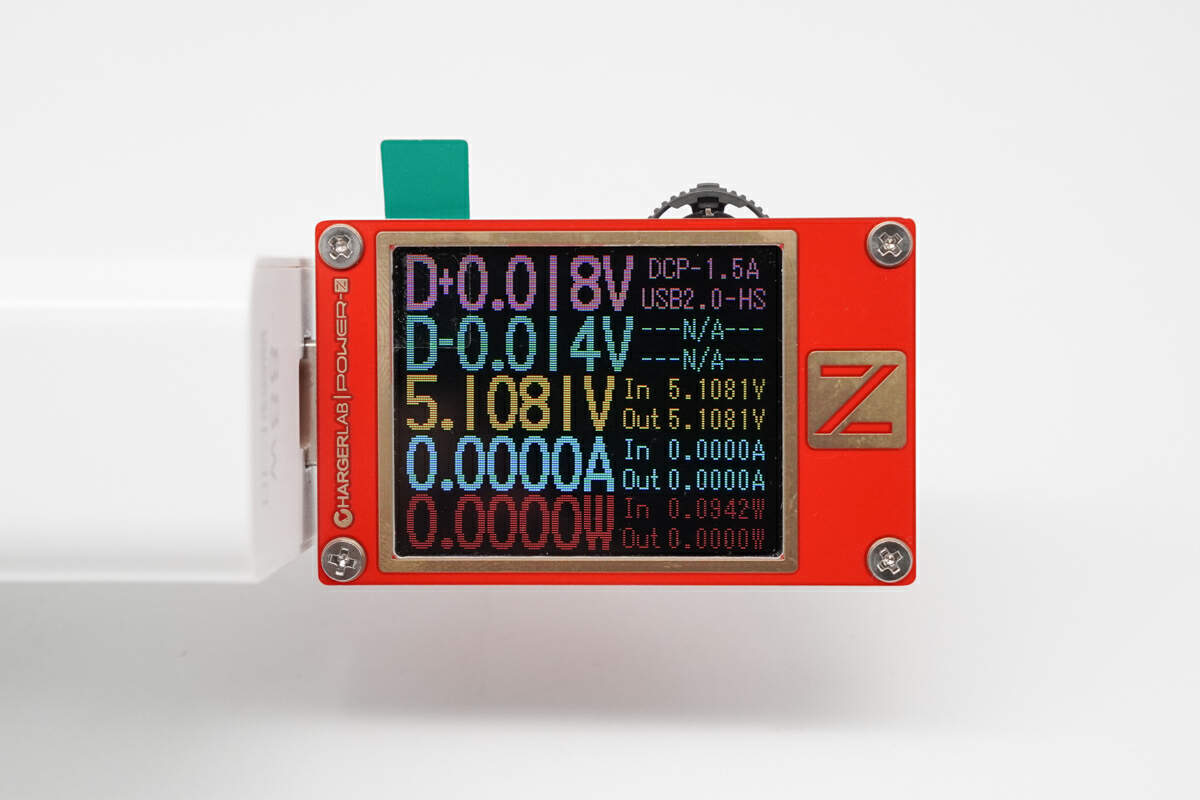 A short press on the top MultiKey will take you to the second page, which adds D+, D-, real-time power, and more detailed voltage and current info.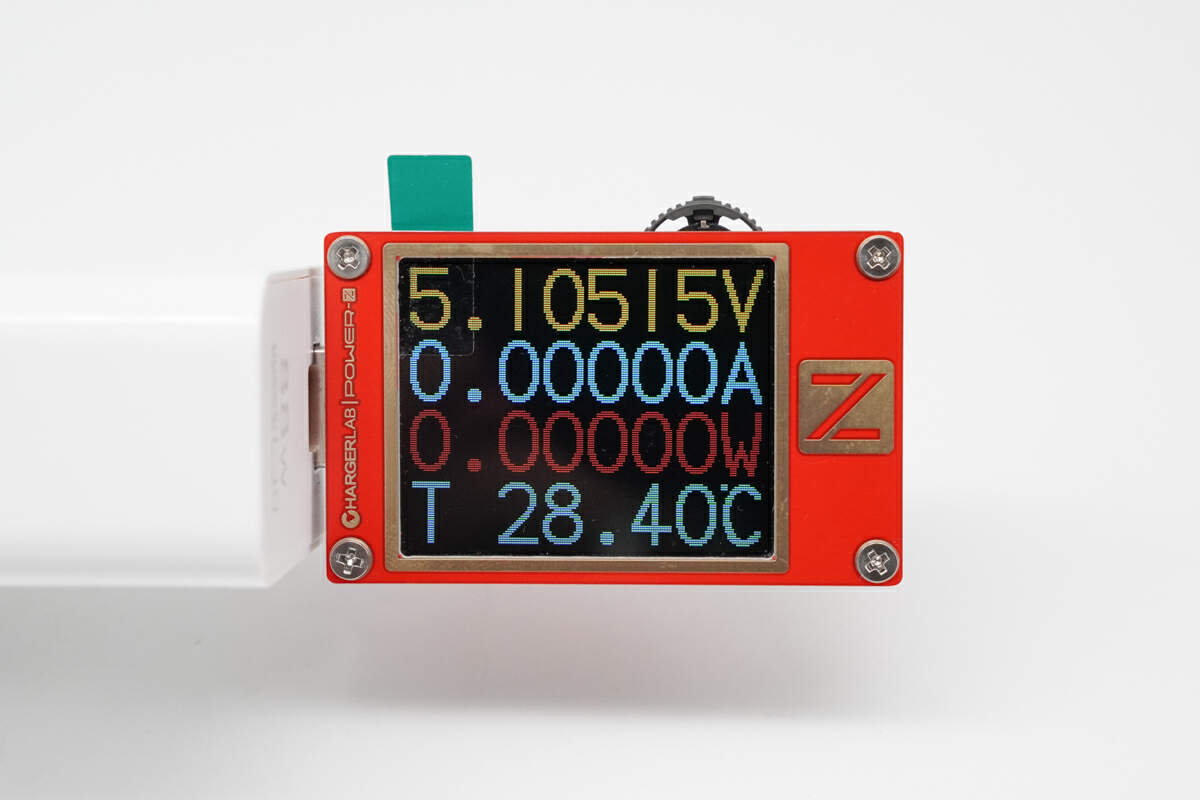 If you don't need so much detailed data, the next page will do the trick with only the basic info - voltage, current, power, and internal temperature.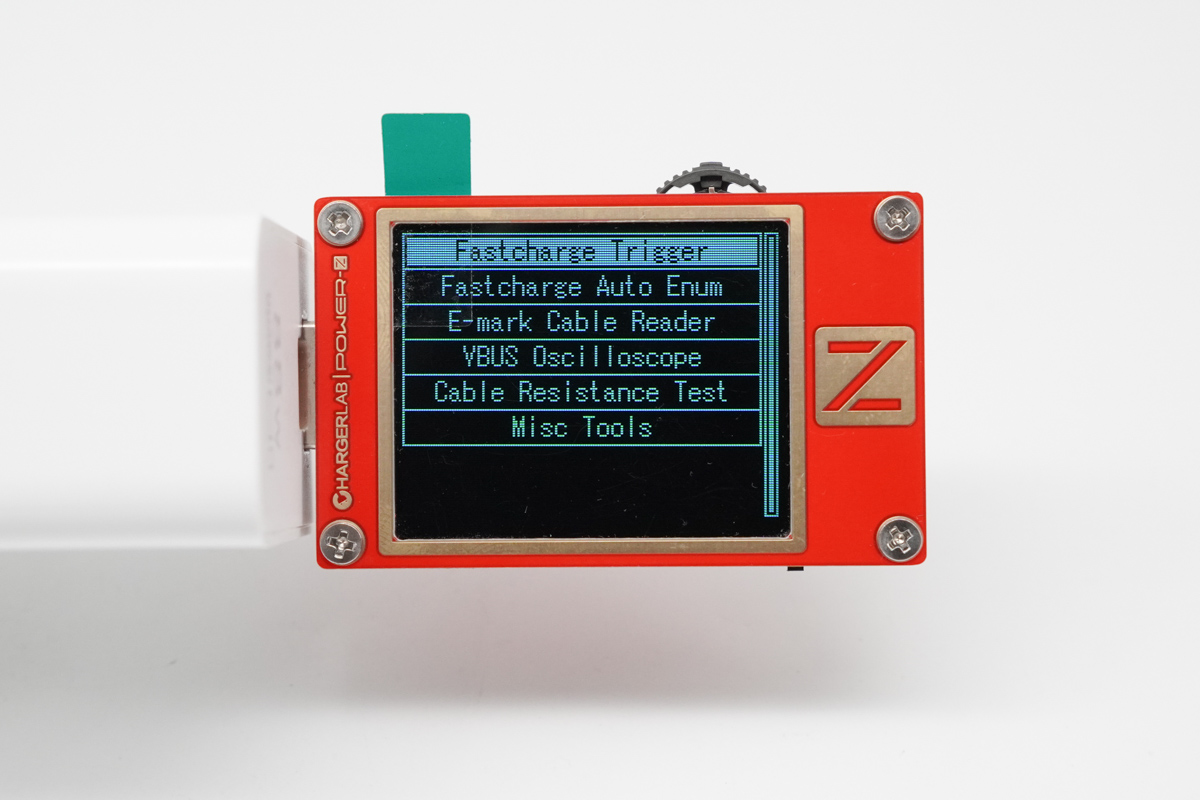 Since this button is dial-shaped, you can also push it left and right. When pushed to the left, you will enter the protocol trigger page, including manually trigger protocol (Fastcharge Trigger), automatically trigger all protocols (Fastcharge Auto Enum), and other tools. In this mode, pushing the dial left and right becomes vertical navigation, and double-clicking returns to the home page.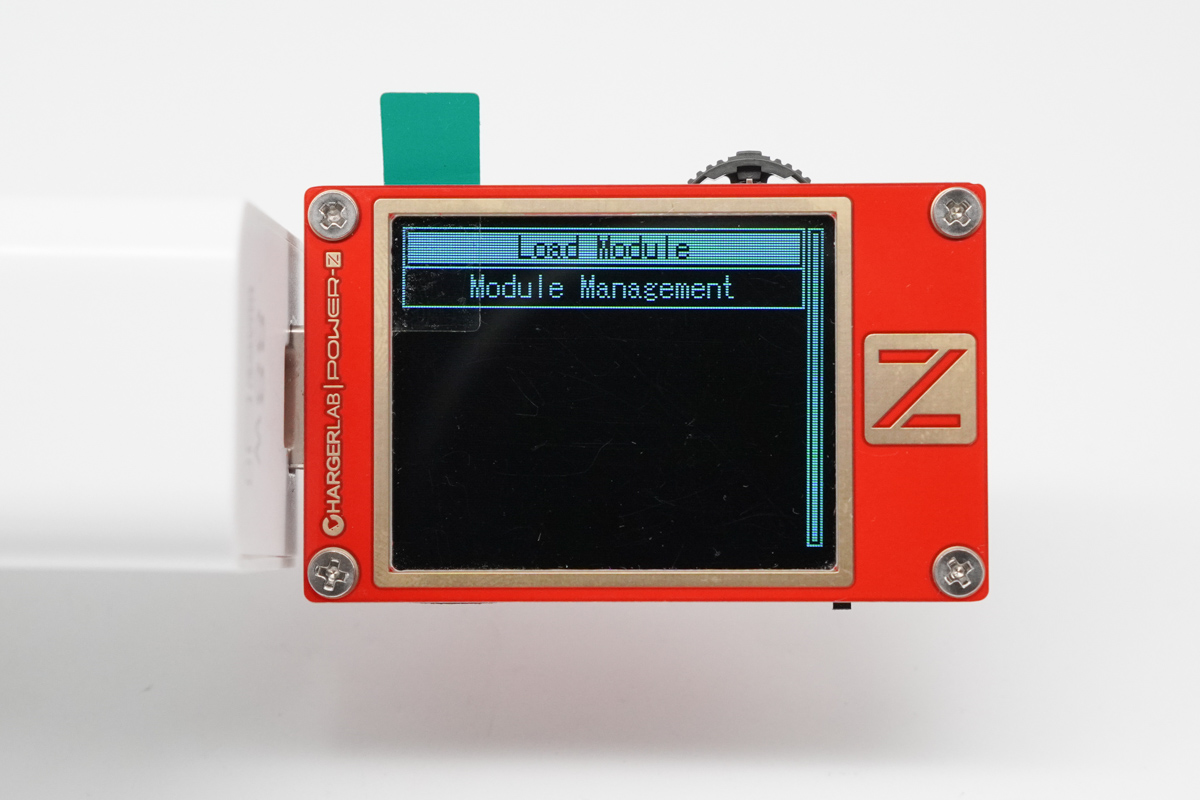 Pushing to the right takes you to the module page. However, for the time being, this feature is not officially available for purchase.
Long Press (About One Second)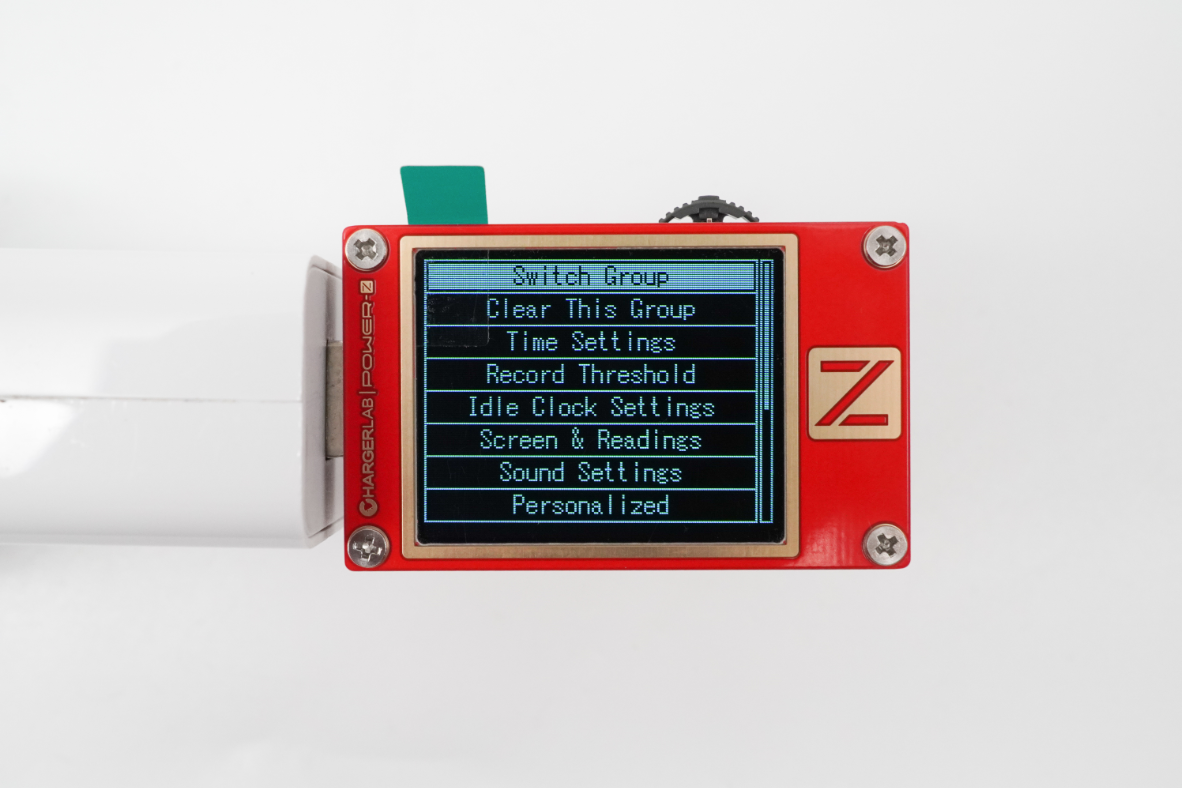 When you long press the button for a second, you enter the settings page, where you can set the tester's time, sound, language, developer tools, and factory reset, among other options.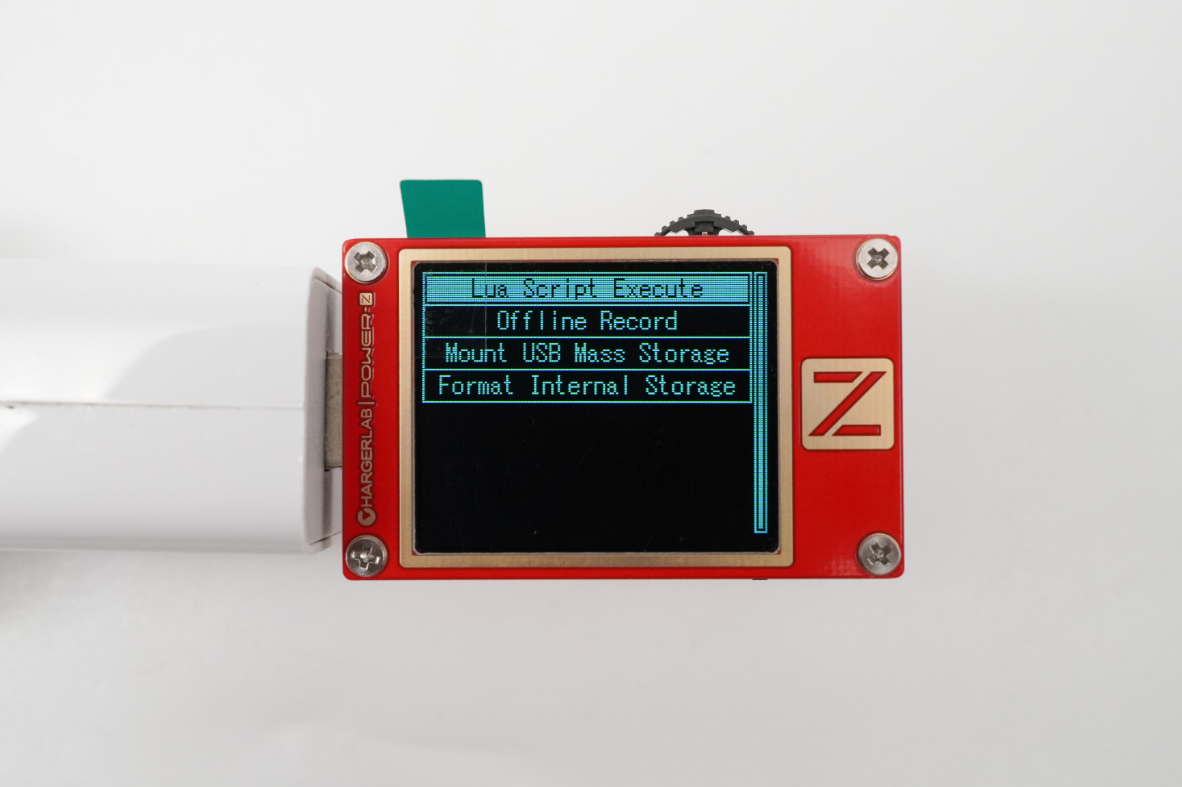 Pushing to the left for a second allows you to enter the storage page, where you can run Lua scripts, format storage, and perform other functions.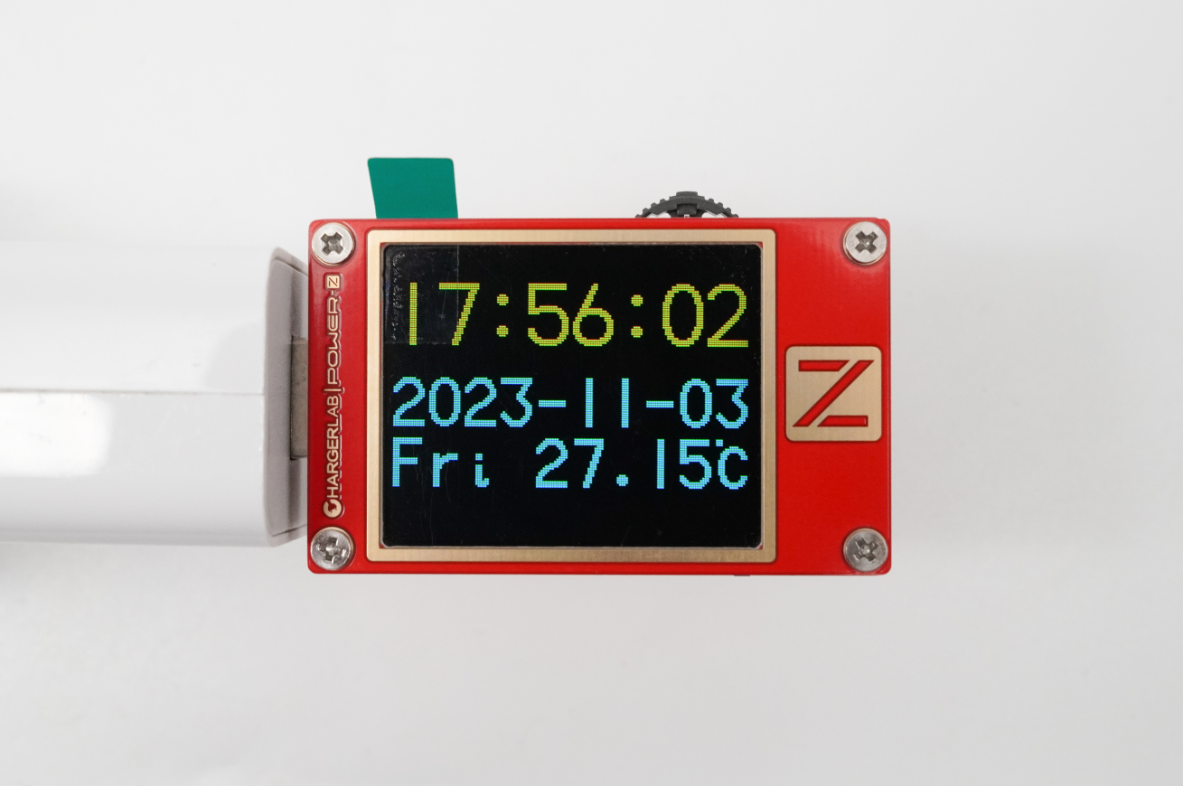 Pushing to the right for a second takes you to the standby screen, where you can check the date, time, and internal temperature. If the tester is left idle for a long time, it will also go to this screen. In fact, you can think of this feature as a fun electronic calendar or the standby mode on the iPhone, as it has very low power consumption.
Double Press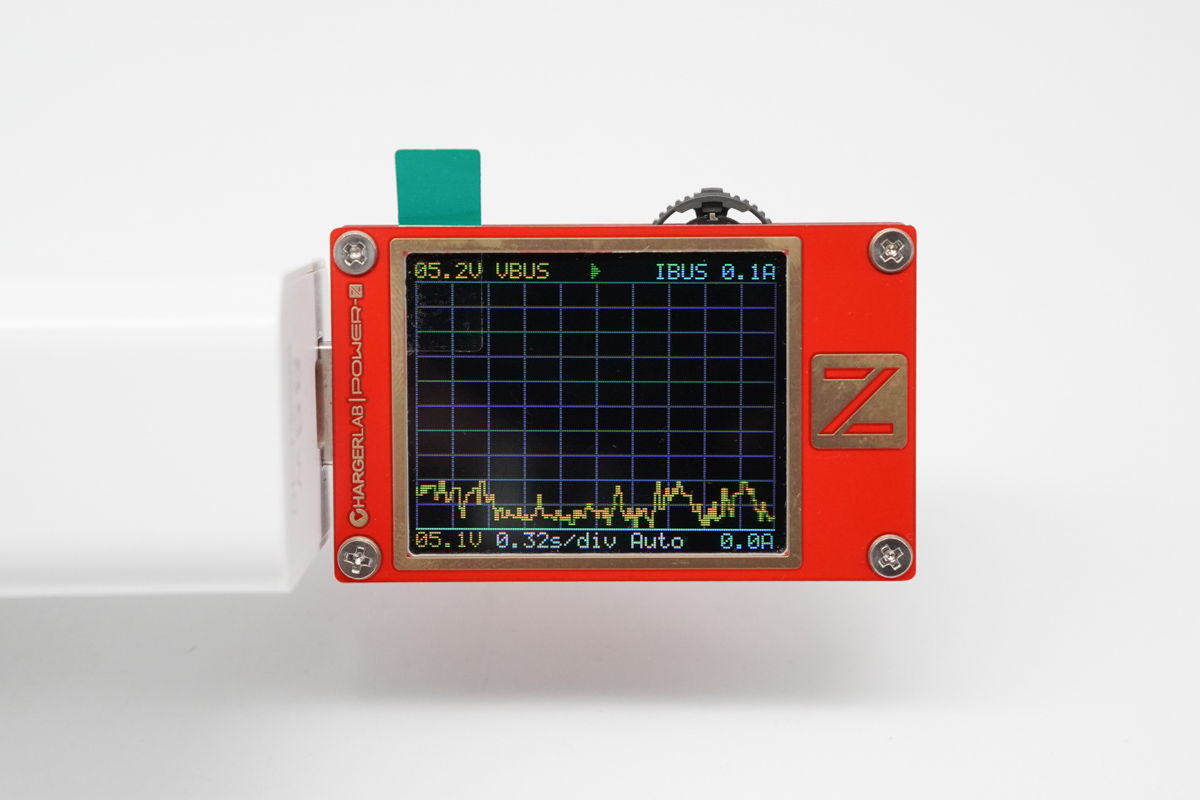 Finally, a double press allows you to observe the real-time data curve of VBUS/IBUS, just like the KM003C.
In this mode, a long press can also switch to D+/D-.
Test
Power Test
Next, we will perform some simple tests, starting with basic power testing.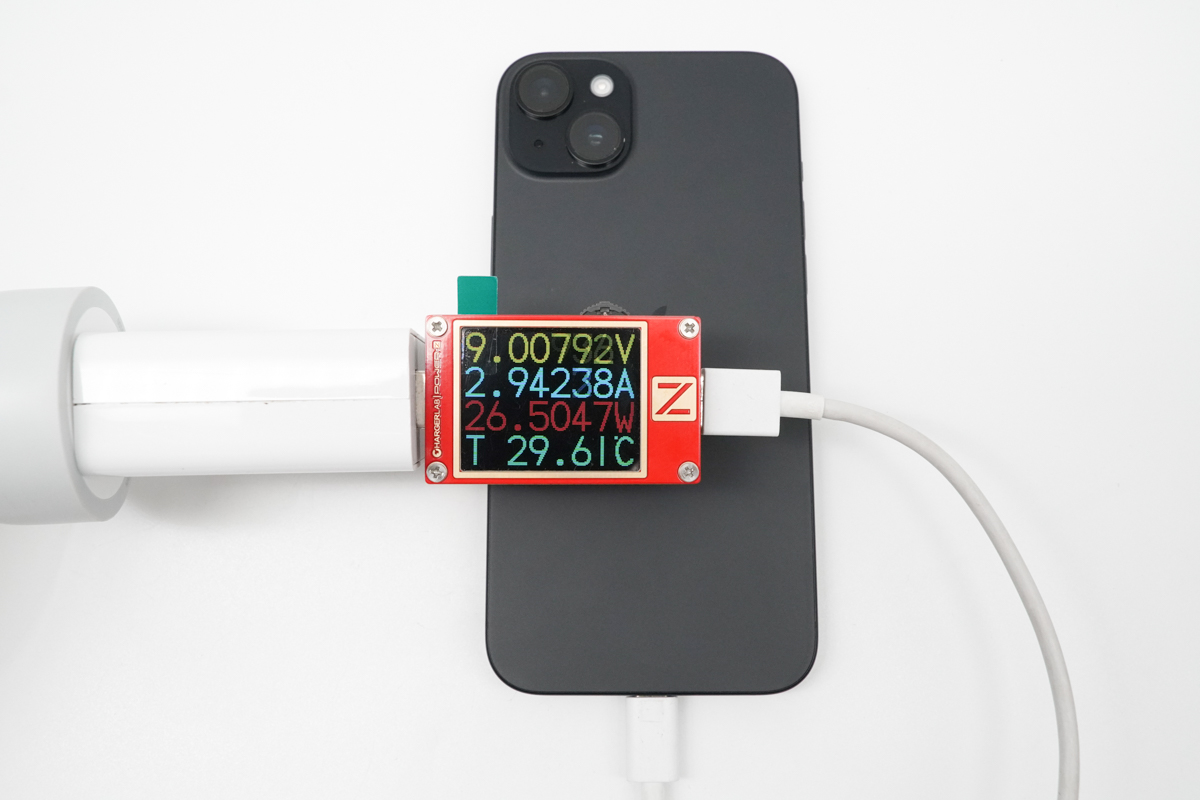 For a USB-A charger, like the Xiaomi 120W charger, you can simply use a USB-A to USB-C cable to charge the iPhone 15 Plus. The tester shows a power output of 26.5W. But what if you need to test a USB-C charger?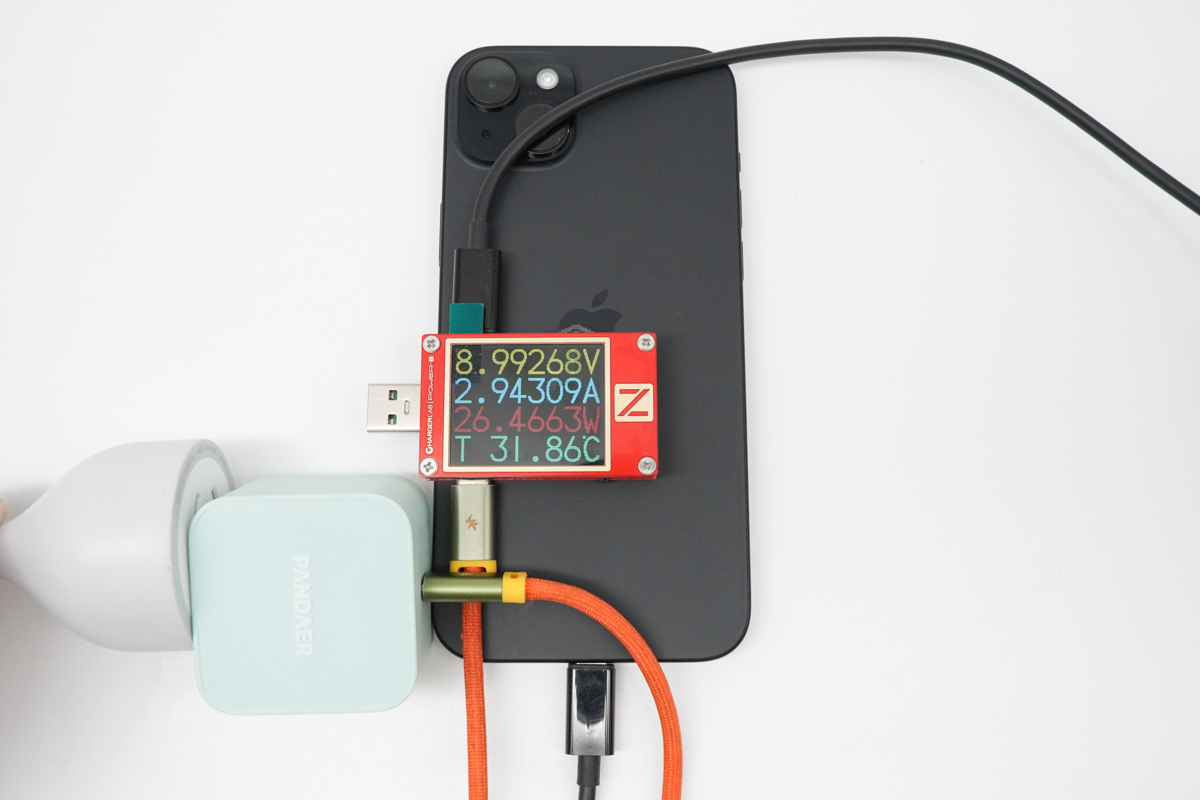 That's when the two USB-C ports come into play. With two USB-C cables, it can also test the power. And the power is around 26W with PD protocol.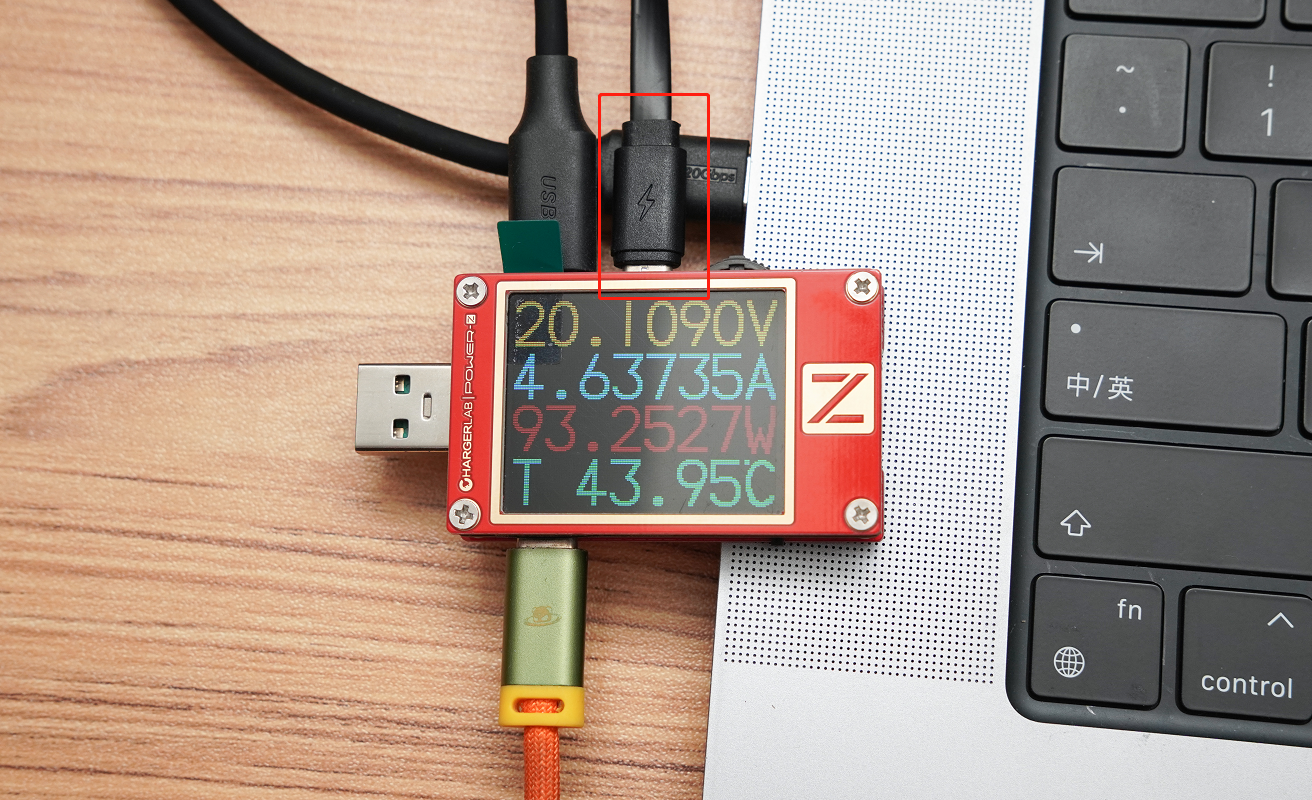 And you can use it to test the MacBook Pro. The power can reach 93W. By the way, the cable above is used to connect to the computer.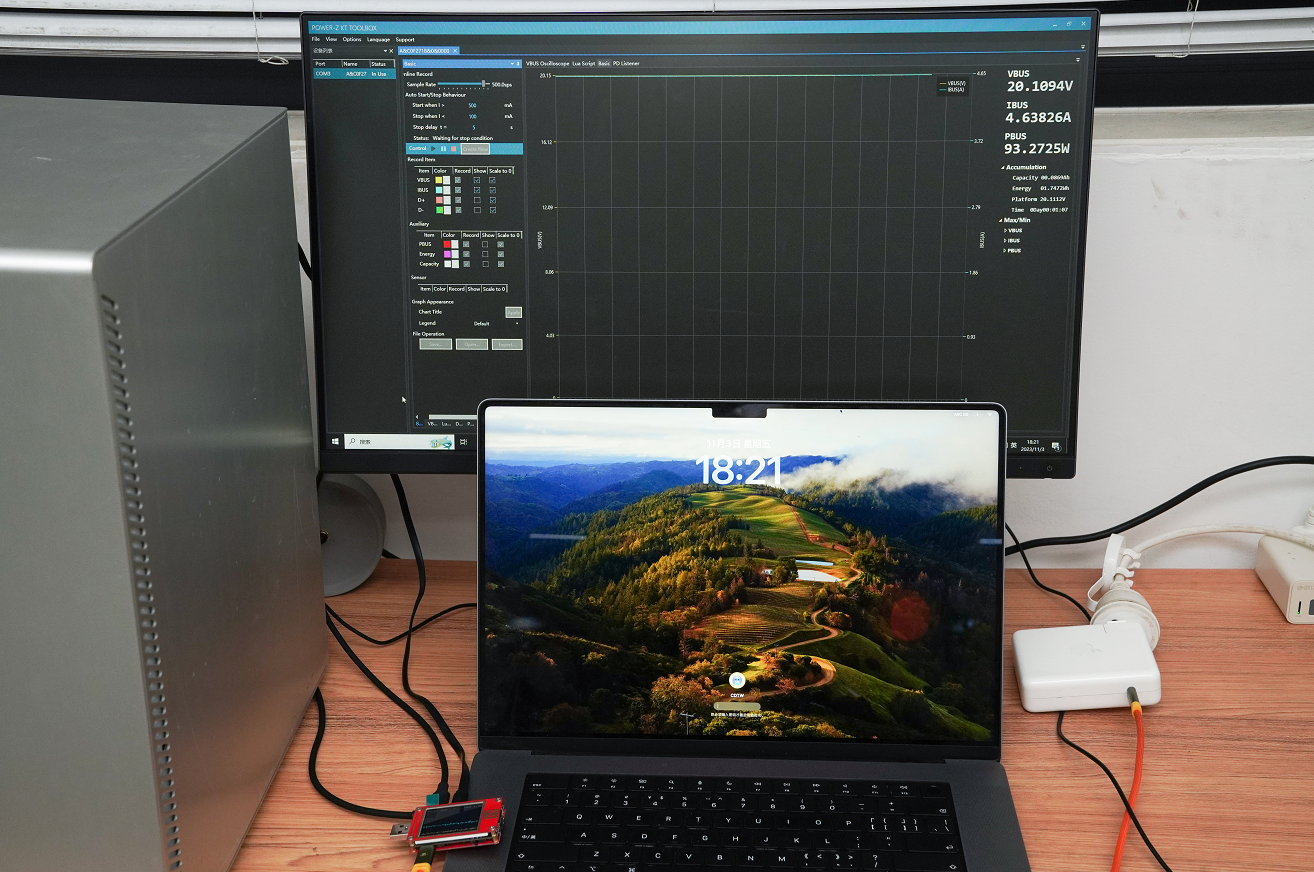 Just like KM003C, it also comes with a dedicated PC software - POWER-Z KT TOOLBOX; you can use it to observe and record test data intuitively.
Protocol Test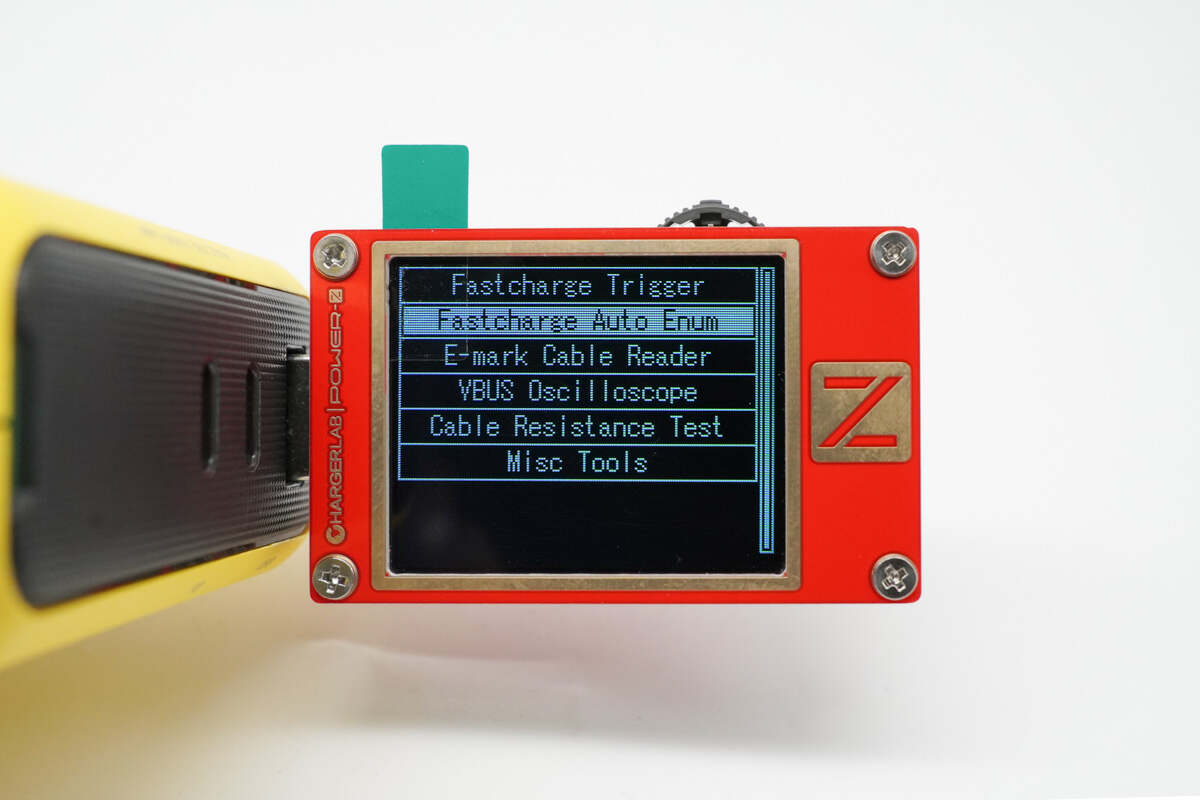 Next, let's take this AOHi charger as an example. You will find the "Fastcharge Auto Enum" option on the protocol trigger page, as we mentioned before.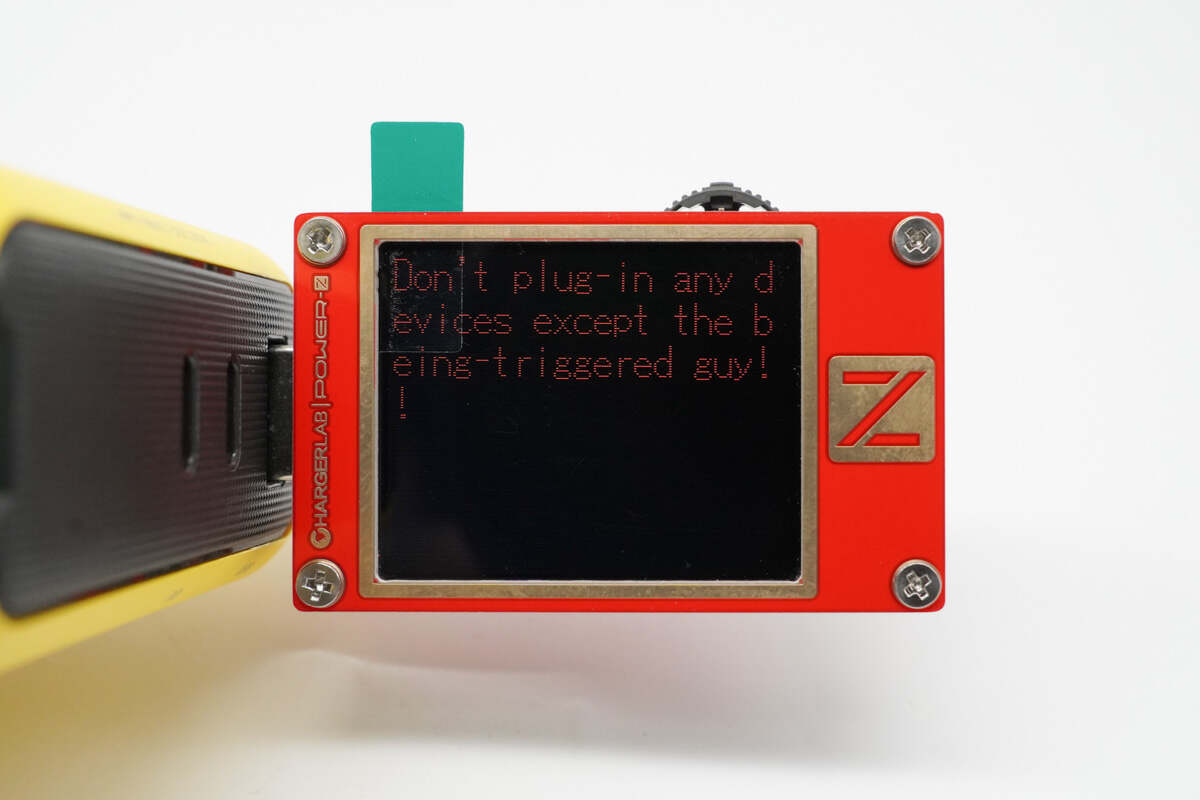 After selecting that, you will get this note. It basically means you need to disconnect any device connected to other ports, because the high voltage may burn your device.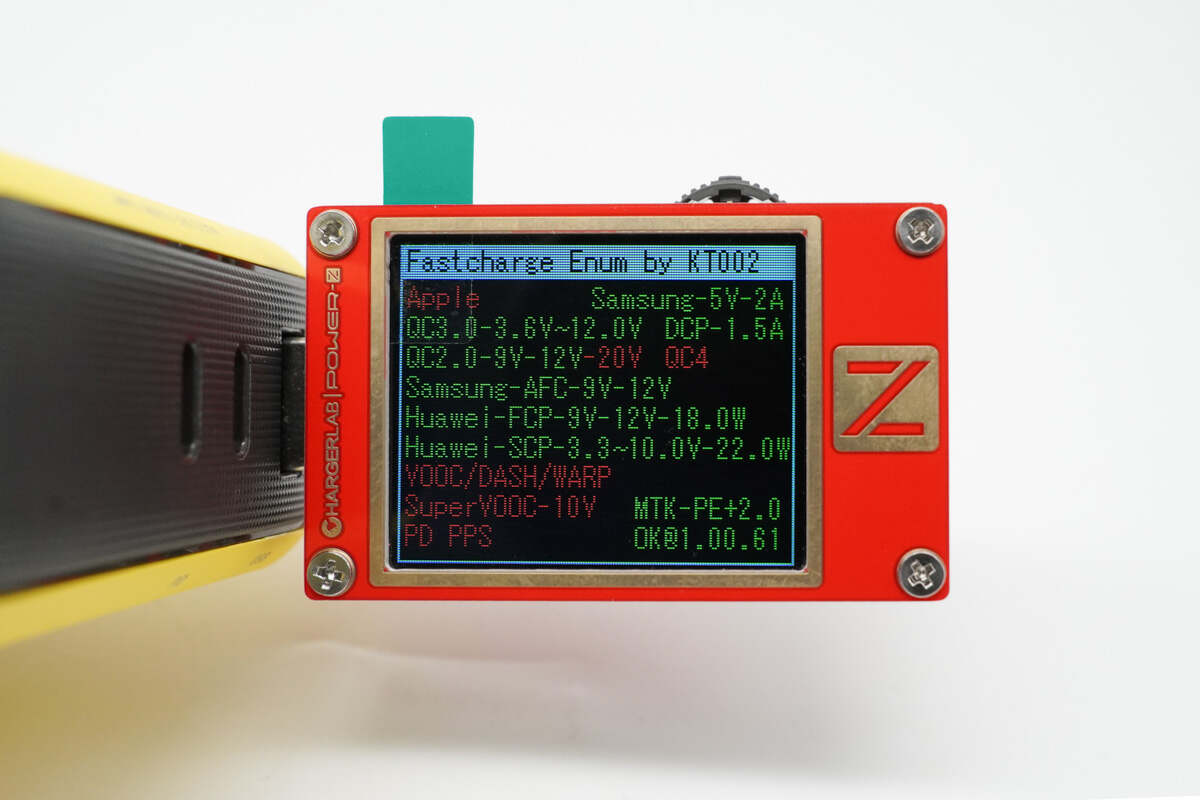 After a short wait, it will end with a beep, and the results will be presented in the form of a checklist. Specifically, the supported protocols will be displayed in green, while the unsupported ones will be in red, making it very intuitive. Since we are connected to its USB-A port, the supported protocols are QC3.0, QC2.0, AFC, FCP, SCP, MTK-PE, Samsung 5V2A and DCP.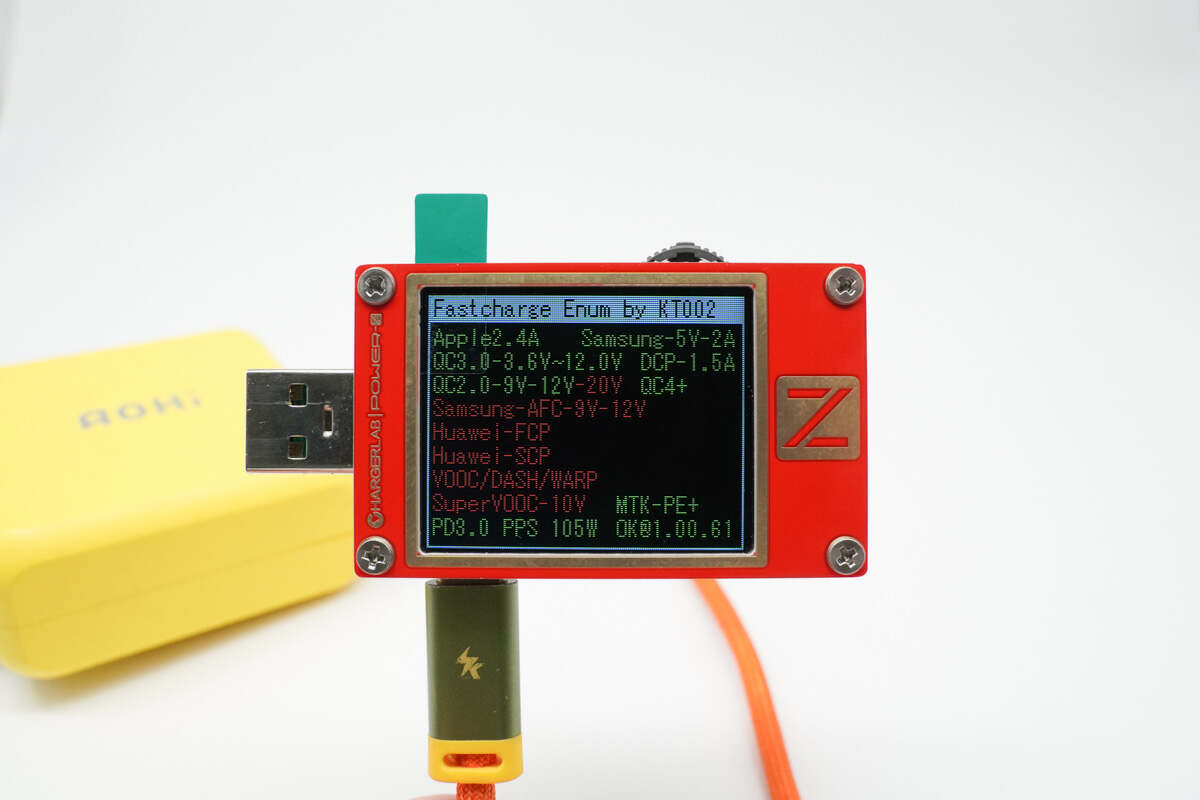 After switching to the USB-C port, you can see that it can detect PD protocols, specifically PD 3.0 and PPS.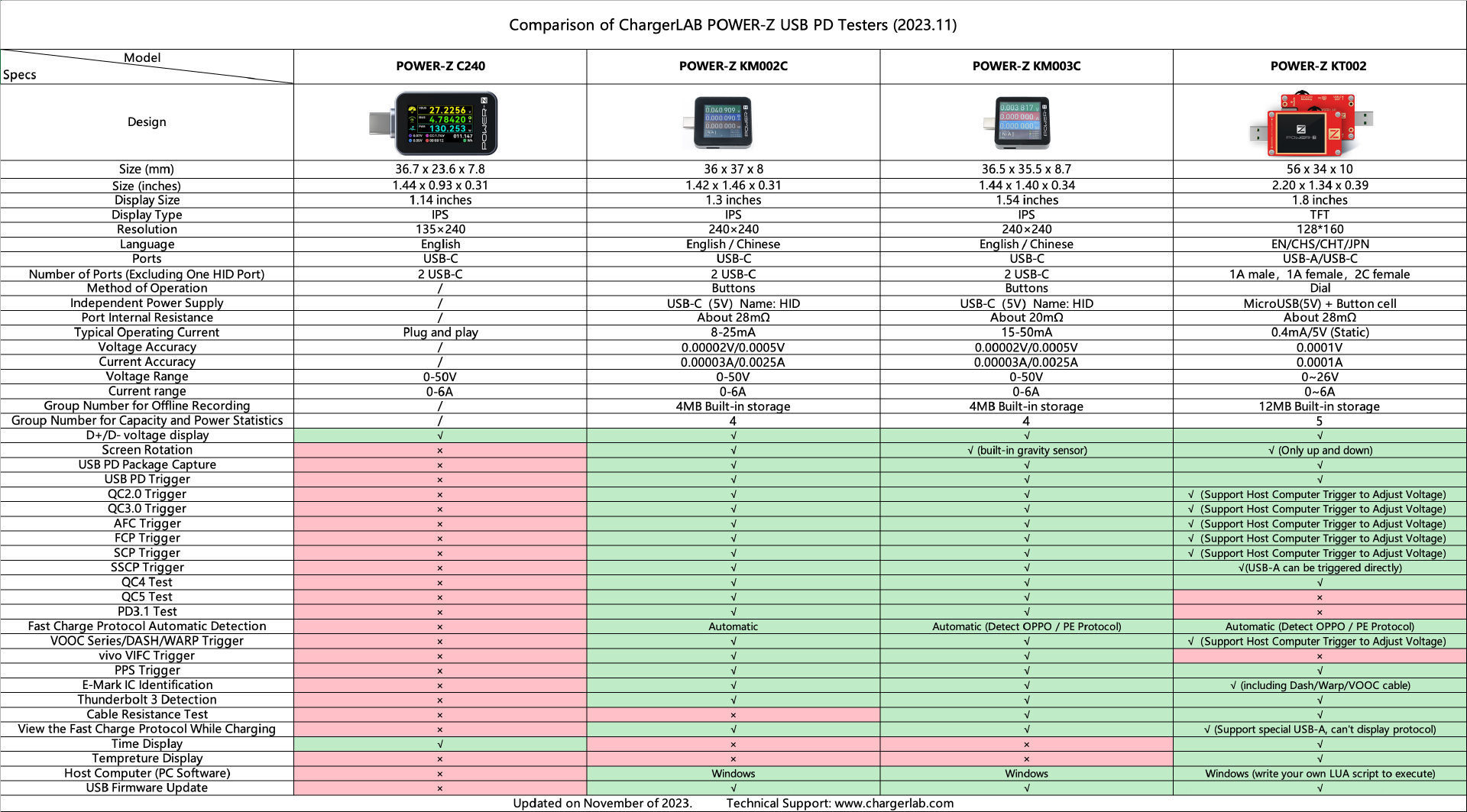 In summary, KT002 can be seen as a mid-range tester focused on USB-A devices. While it lacks support for the latest protocols such as PD3.1 and doesn't offer the same measurement precision as KM003C; It has a larger screen and comes at a lower price, especially when you consider that its price has been reduced from $69.99 to $49.99 now. If you have many USB-A devices or are on a tighter budget, the KT002 is definitely worth considering.
Related Articles:
1. Biggest Discount | ChargerLAB POWER-Z AK001 Now Supports iPhone 15 Series
2. 240W & PD3.1 | How to Use ChargerLAB POWER-Z C240 USB-C Tester
3. Unboxing | How to Use POWER-Z KM002C @ChargerLAB ​
The article is originally written by @
Joey
posted on Chargerlab. All rights reserved.