270W | Chargeasap Launched Zeus High Power GaN Charger With OLED Display
In September 2020, Chargeasap launched the Omega 200W GaN charger with a high power density of 0.98W/cm³, allowing consumers to get the charm of high-performance chargers, and reached a crowdfunding of 1.29 million dollars on kickstarter.
Recently, Chargeasap redesigned the Omega 200W GaN charger to create a Zeus 270W GaN charger with stronger performance and support for the new PD3.1 standard.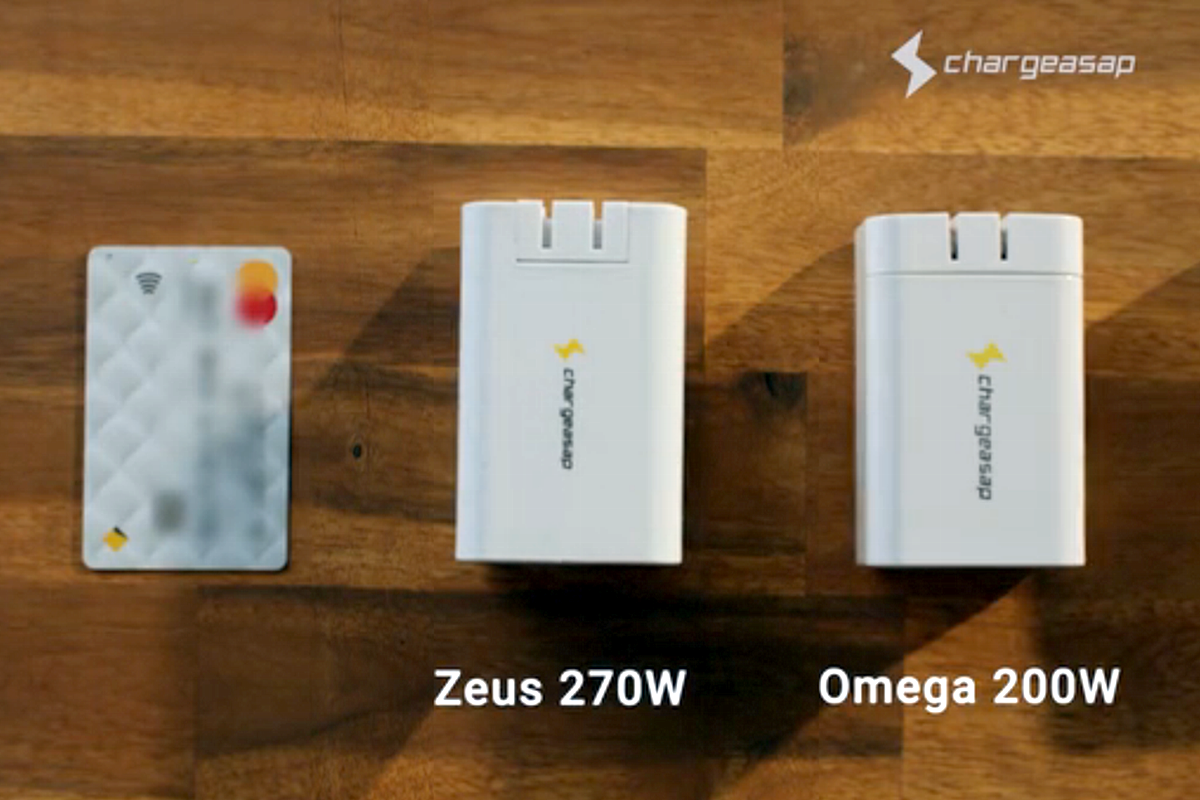 It is very similar to the Omega 200W GaN charger in appearance, with a low-key design style. The "chagerasap" name is printed on the white matte shell. They are both cuboid-shaped design with similar size.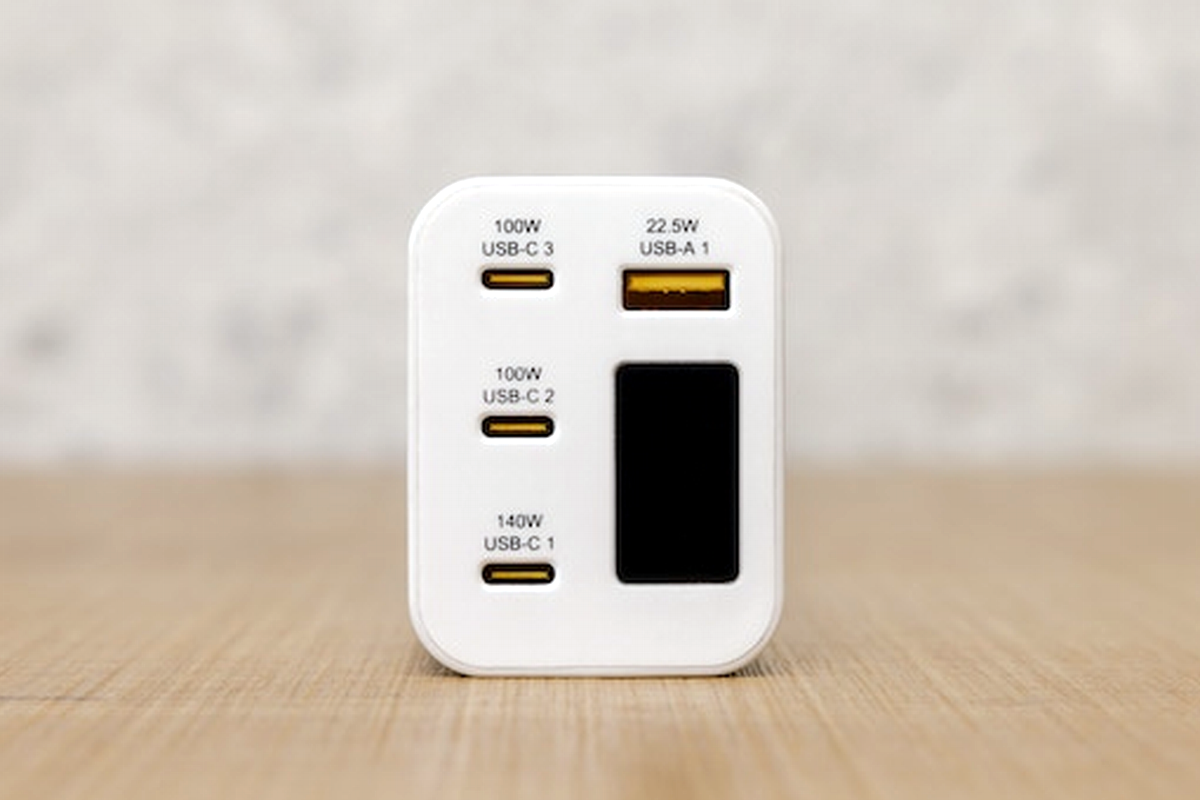 It adopts three USB-C, one USB-A port and a display screen. The maximum output power for each ports is printed next to them, USB-C1 supports 140W output, USB-C2/C3 supports 100W output, and USB-A supports 22.5W output.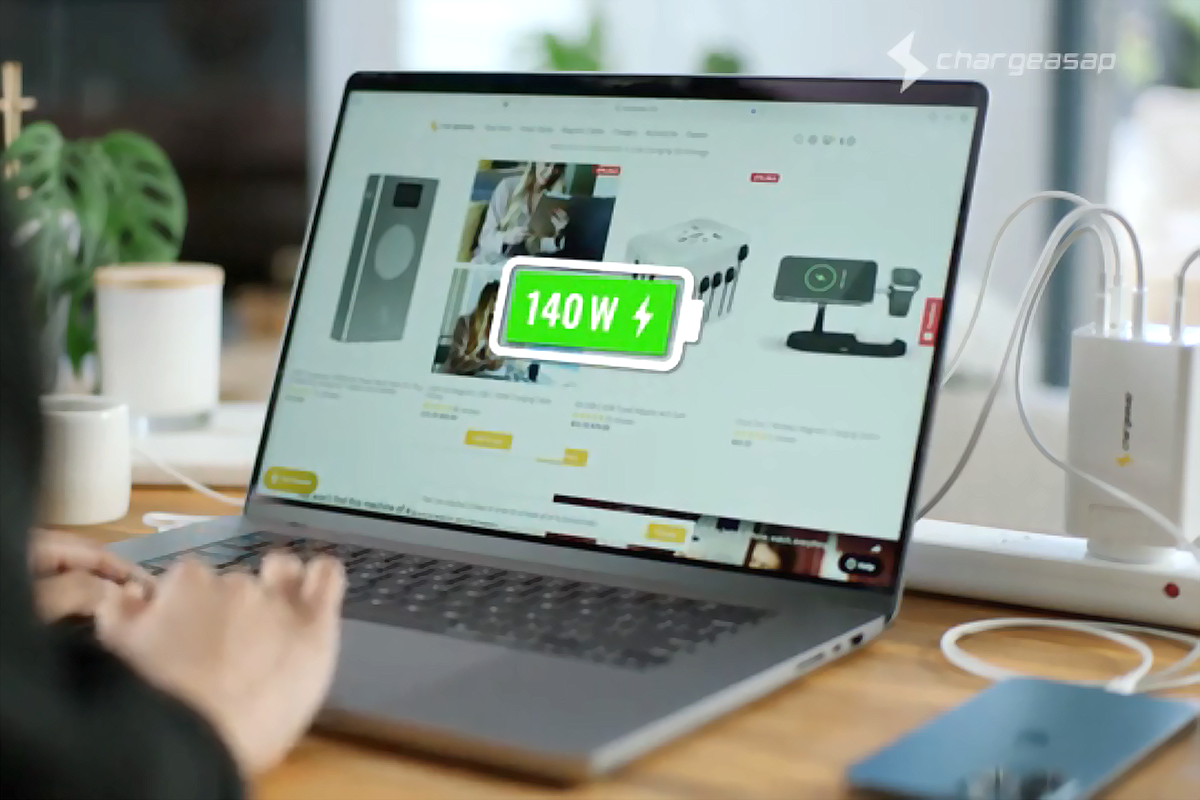 The USB-C1 is developed based on the latest USB PD3.1 fast charging standard. It can support up to 28V5A with the maximum output power of 140W. It is suitable for MacBook Pro 2021 and other compatible devices, and is also backward compatible with PD3.0 and PD2.0 protocols.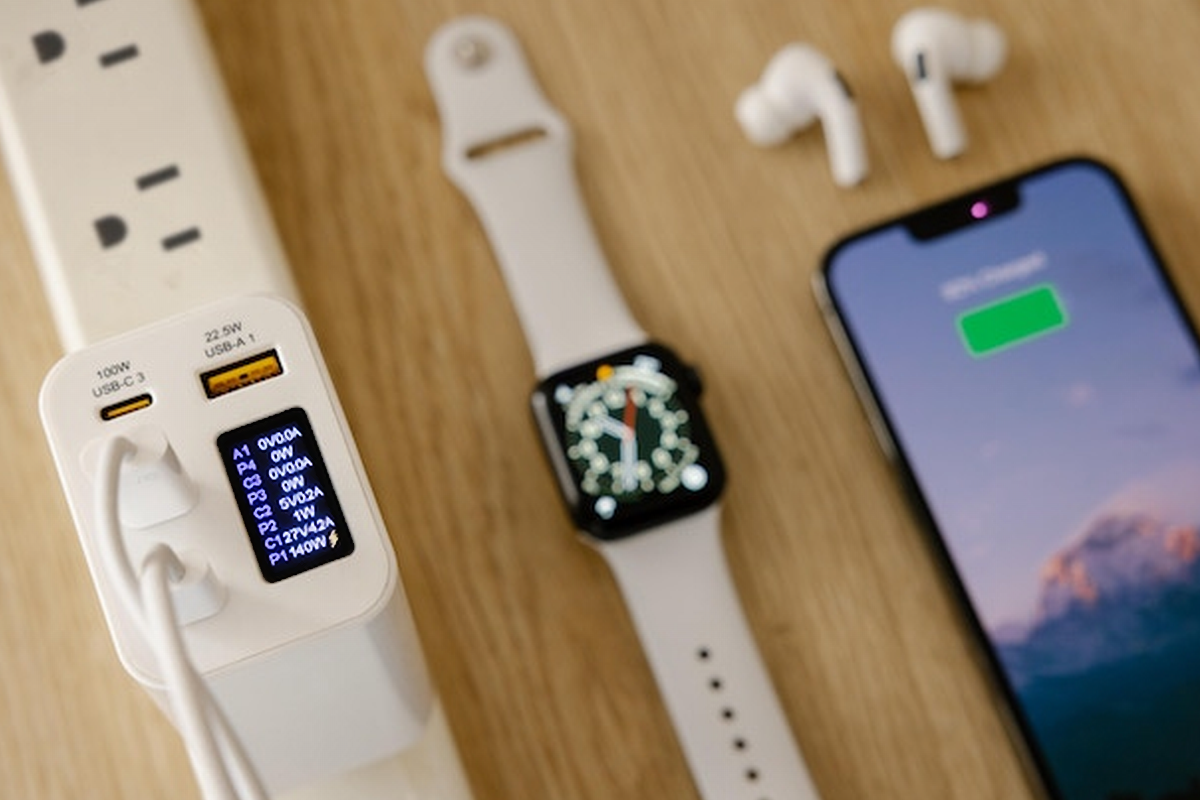 The 0.9" OLED display giving you real time info about the output from each port measured in Watts and Amps when charging with your devices. It's similar to four simplified POWER-Z testers built into one charger.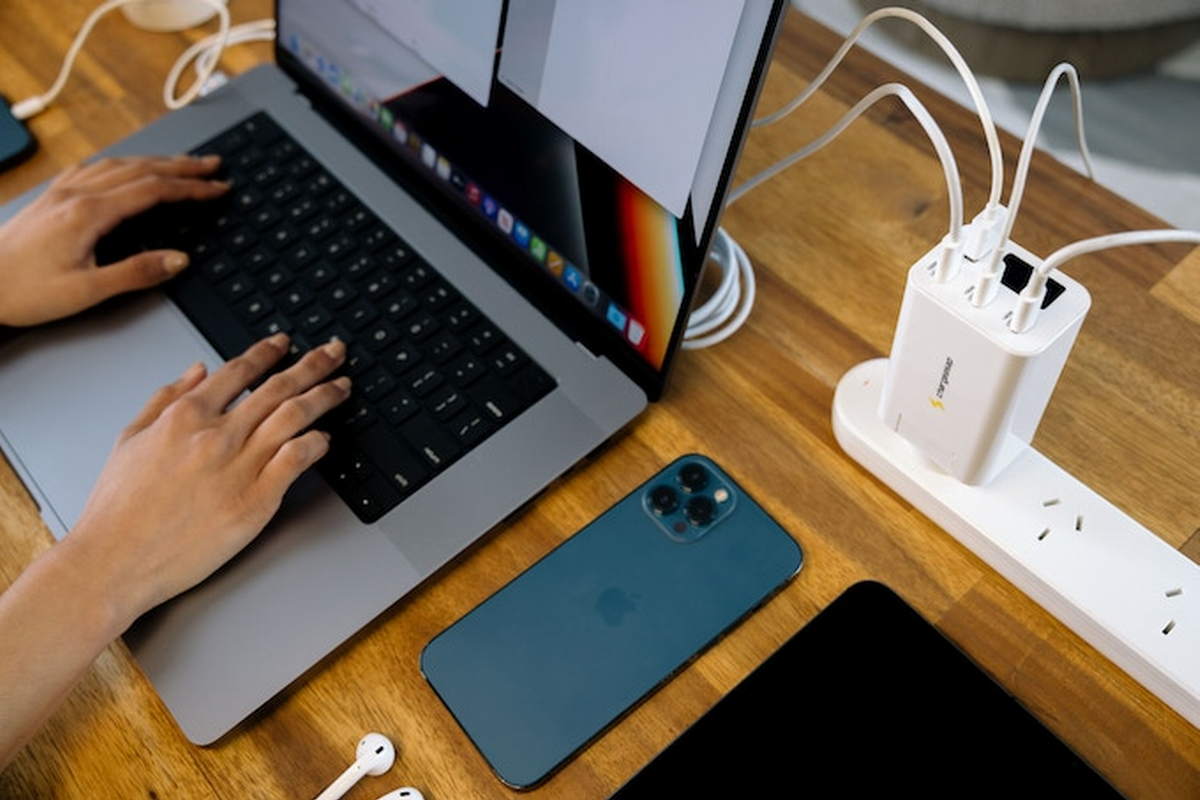 The USB-C1 port will be prioritised at 140W to ensure your major device like laptop will always charge as fast as possible and not be interrupted by other devices being plugged or unplugged.
And here is the power distribution in detail:
USB-C1 + USB-C2 or USB-C3 = 140W + 100W
USB-C1 + USB-C2 + USB-C3 = 140W + 65W + 65W
4 ports used simultaneously: 140W + 65W + 12W + 12W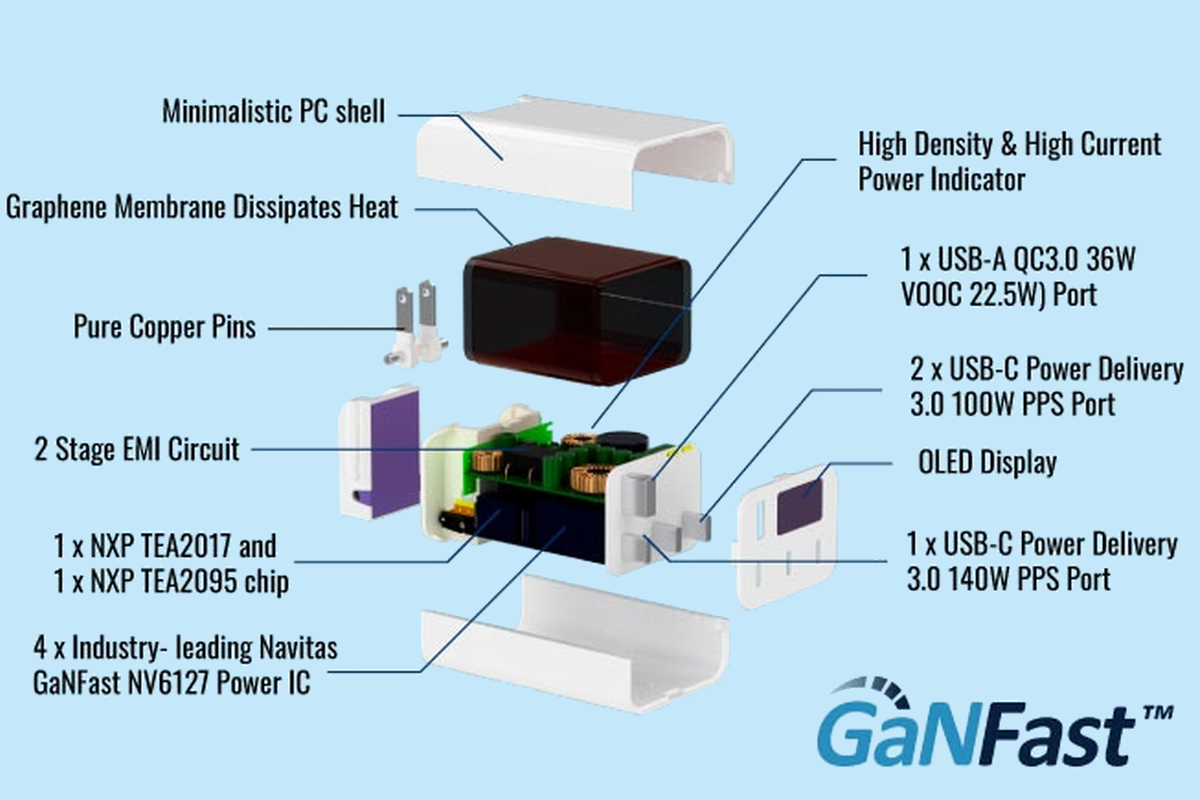 It adpots one NXP TEA2017 and one TEA2095 for PFC and LLC control and synchronous rectification, respectively. And it is the first portable charger in the world to feature four GaNFast NV6127s to maximise efficiency and ensure heat generation is controlled in a small form factor.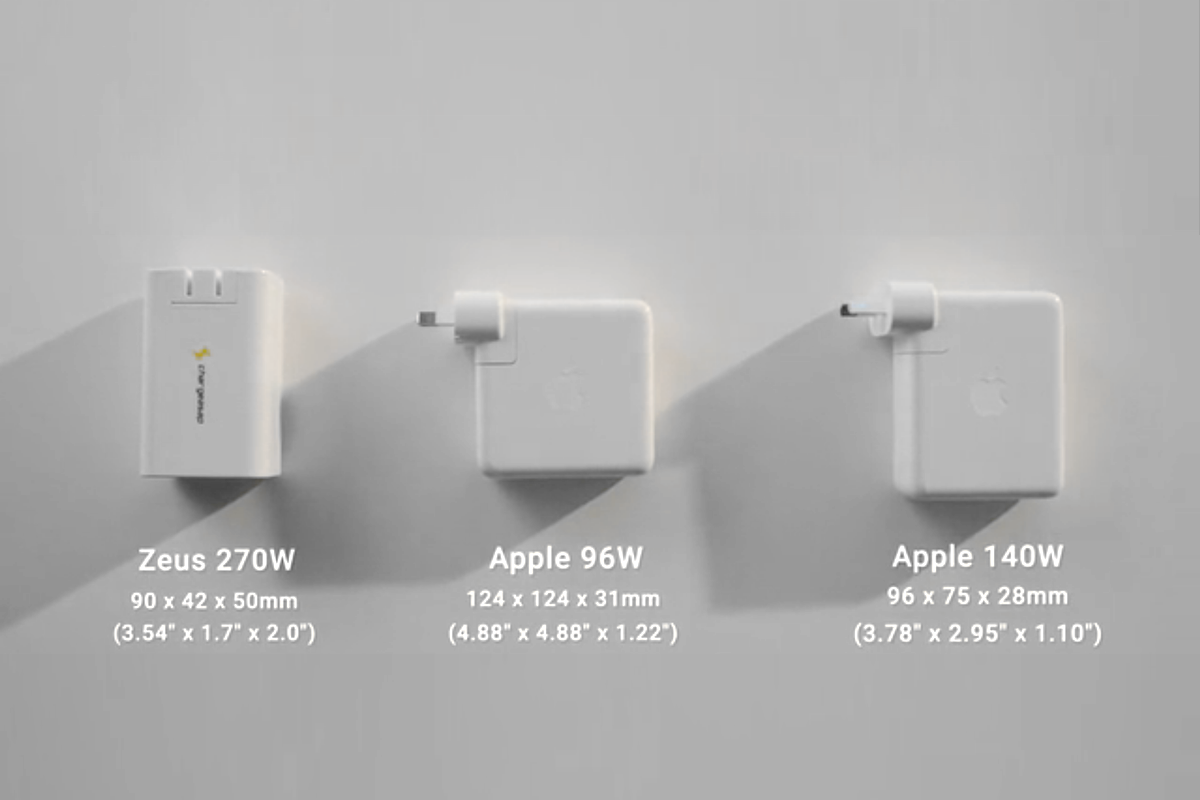 Thanks to the efficient scheme and the top tier components, the size of this charger is only 90 x 42 x 50mm (3.54 x 1.7 x 2.0inches). And the power density is as high as 1.43W/cm³. It's much smaller than the traditional chargers. The weight is only 320g (0.7lb), which is 45% lighter than the same level high-performance GaN charger.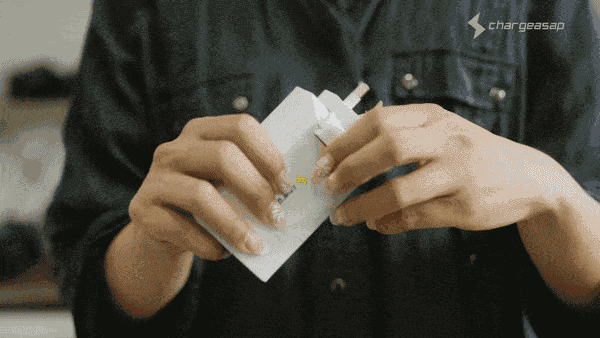 They're several travel adapters with unique slide and lock mechanism for the charger, so that you can use it all around the world. And it can support input of 100-240V ~ 50/60Hz 3A.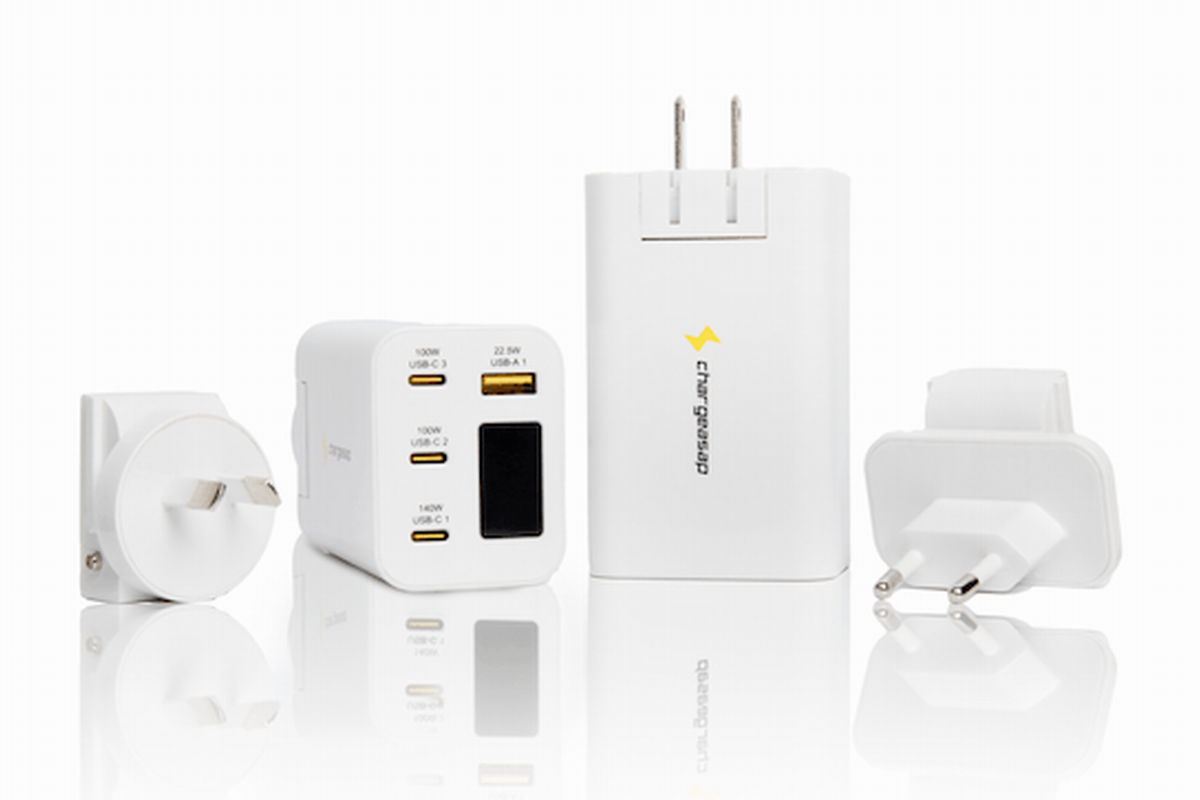 There are 4 plug converters (US/AU/EU/UK) in total. And the US converter adopts foldable prongs design, which is convenient for outdoor using.
Summary of ChargerLAB
The Zeus 270W GaN charger is not only one of the most powerful charger we've ever seen, but it's comes with a lot of practical features such as replaceable converter and OLED display for charging info.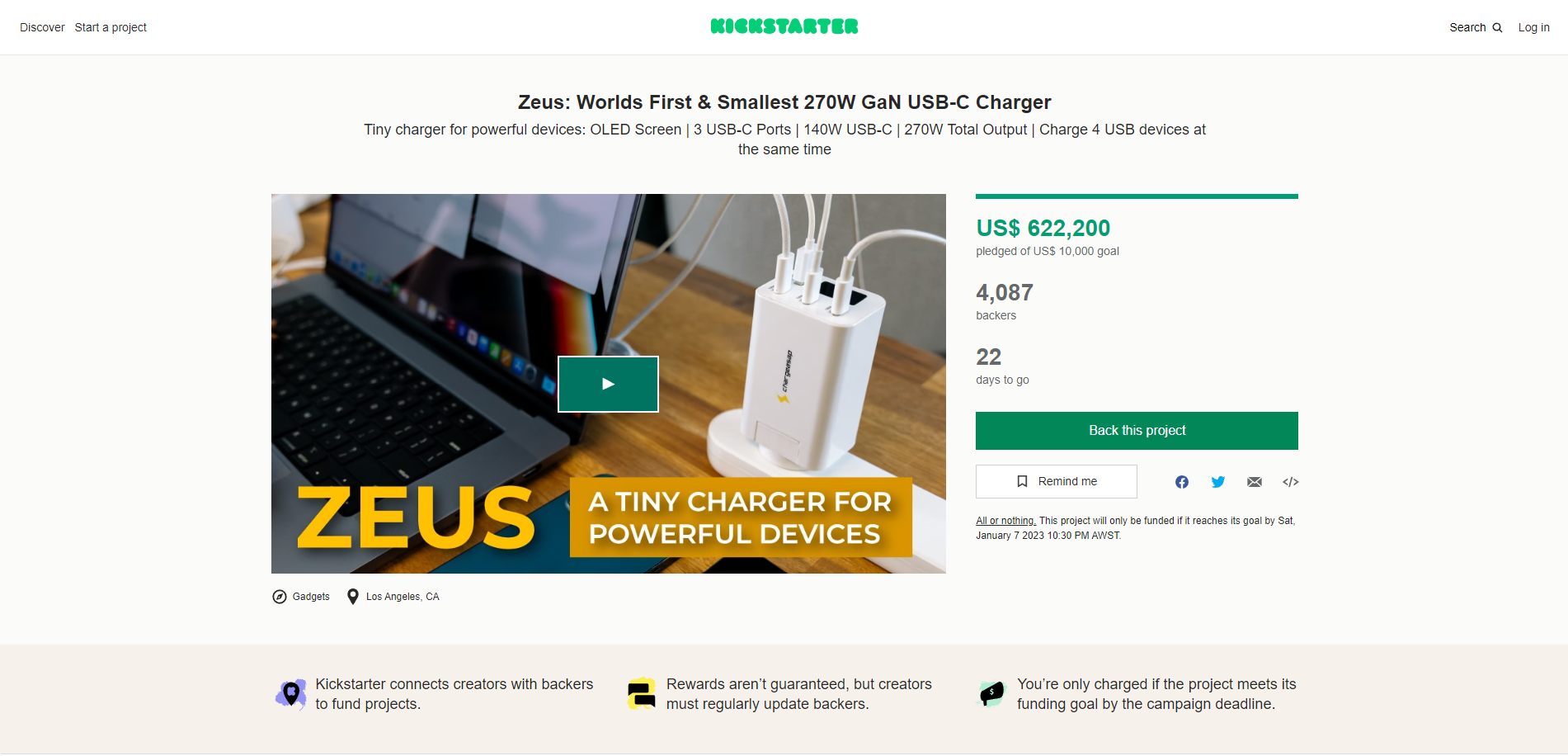 Chargeasap is a consumer electronics startup originating from Sydney who focus on charging industry. And they already had 10 previous successful campaigns, raising over 7 million dollars and delivering to more than 130 countries.
The early bird price for this charger is 119 US dollars, you can click this link chargeasap.com to learn more about chargeasap.
Related Articles: 
1. Fastest Phone Charger | Teardown of Xiaomi 210W GaN Charger (For Redmi Note 12 Discovery Edition)
2. Teardown of Anker 140W PD3.1 USB-C GaN Charger (717 Charger)
3. Charging Review of Apple 140W USB-C GaN Power Adapter
The article is originally written by @
Joey
posted on Chargerlab. All rights reserved.