We now have a wide range of PD chargers on the market with different wattages. But the choices for 90W-range chargers are still quite limited. For products from well-known brands, there's the Apple 87W PD charger, Dell 90W PD charger, the currently discontinued Anker PowerPort Atom PD 4 100W multiport charger, and that's pretty much it.
However, we do have some interesting 90W-range offerings from lesser-known brands. The 90W PD Charger with built-in cable from Nekteck, a company focusing on affordable mobile accessories, is particularly popular on Amazon with its aggressive price tag ($30) and USB-IF certification. Here's our quick review.
Our hands-on video:
I Unboxing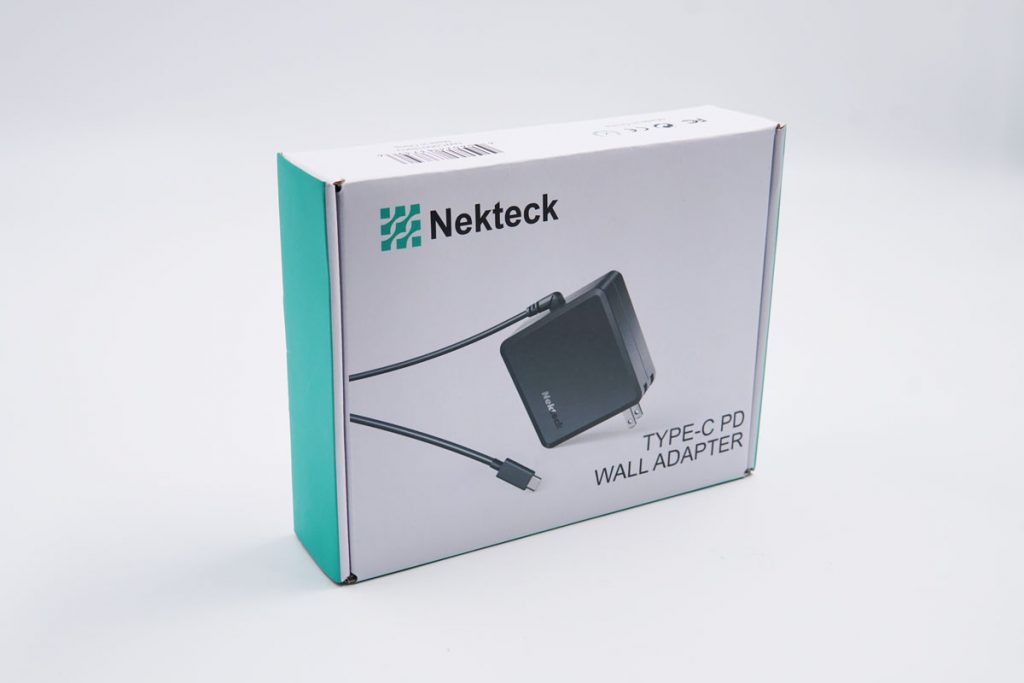 It comes with a clean cardboard box.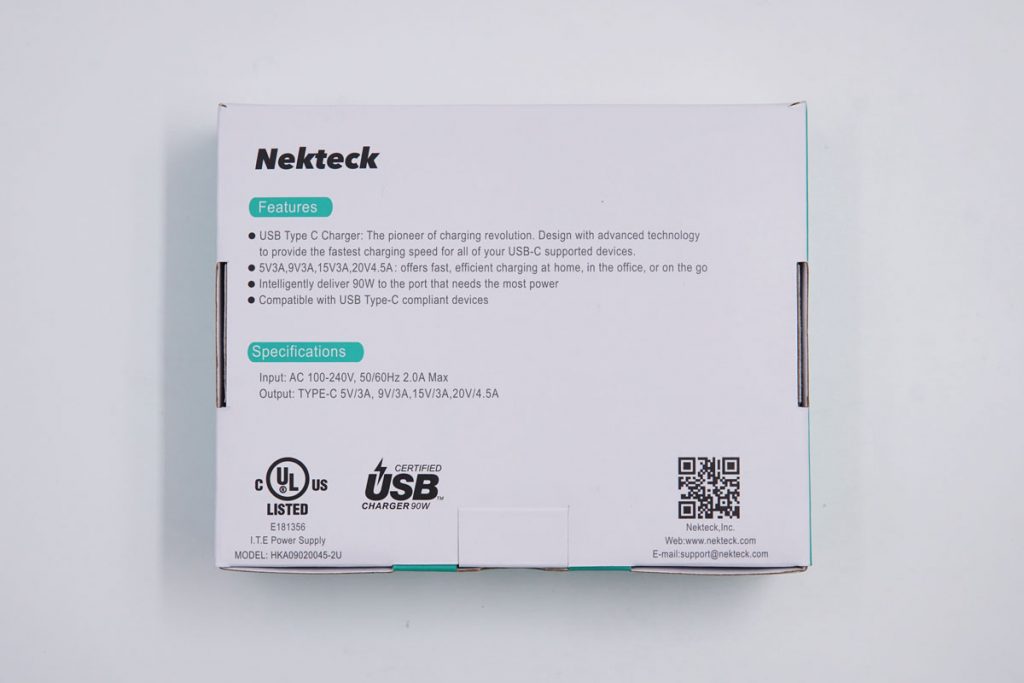 Specifications:
Input: AC 100-240V, 50/60Hz, 2.0A Max.
Output: 5V3A, 9V/3A, 15V/3A, 20V/4.5A.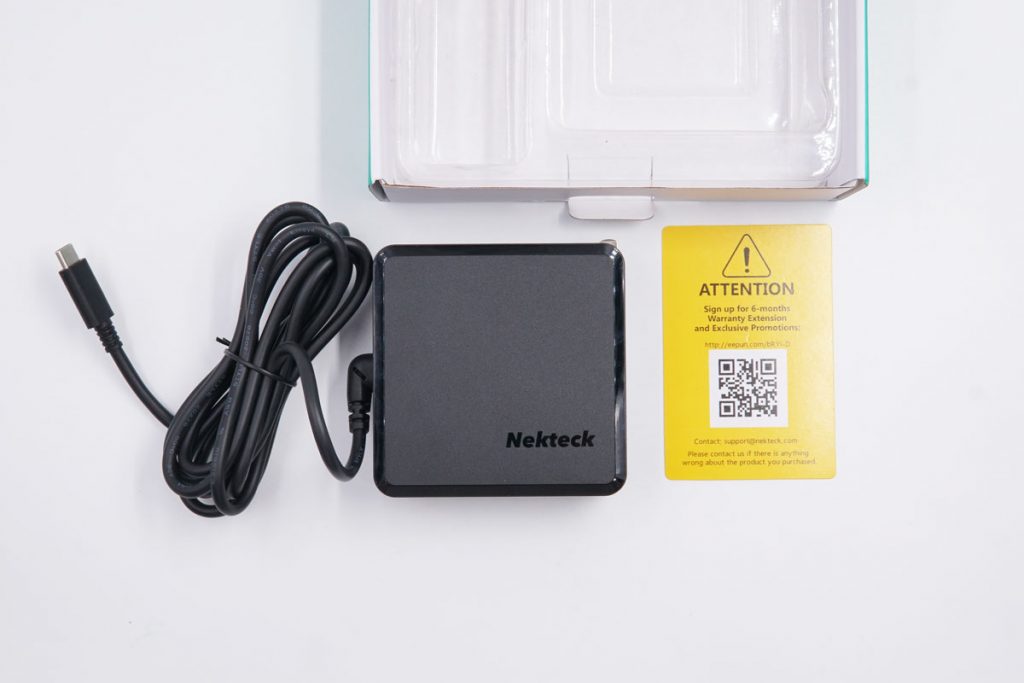 Package contents: charger, a warranty registration guide which extends the 12-month warranty to 18-month.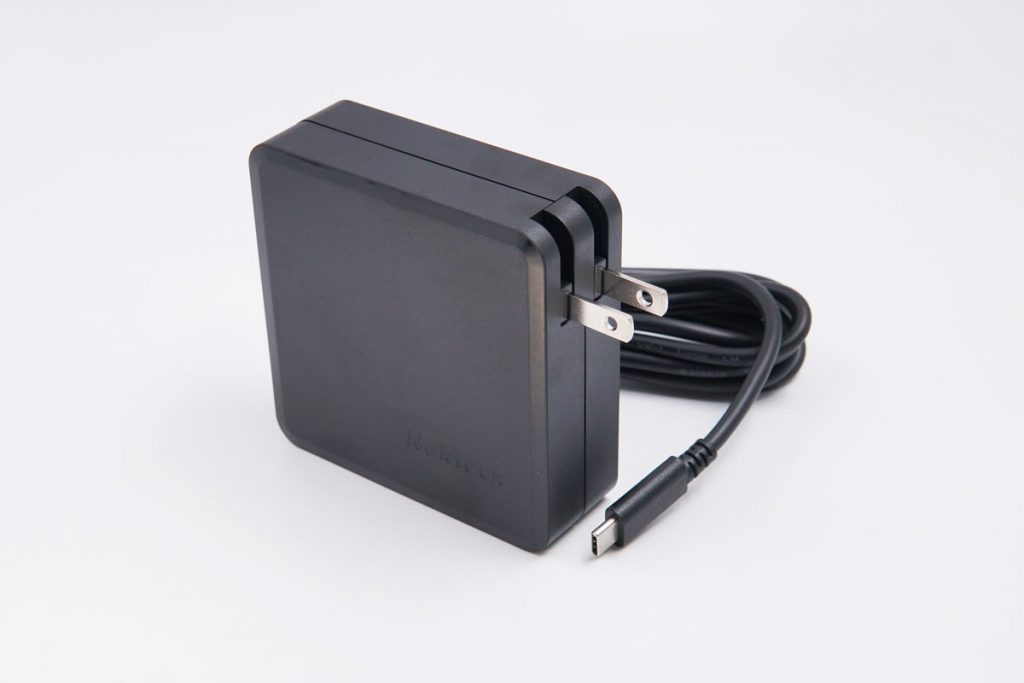 The charger with built-in 2m/6ft USB-C cable. It has a glossy finish around the edges.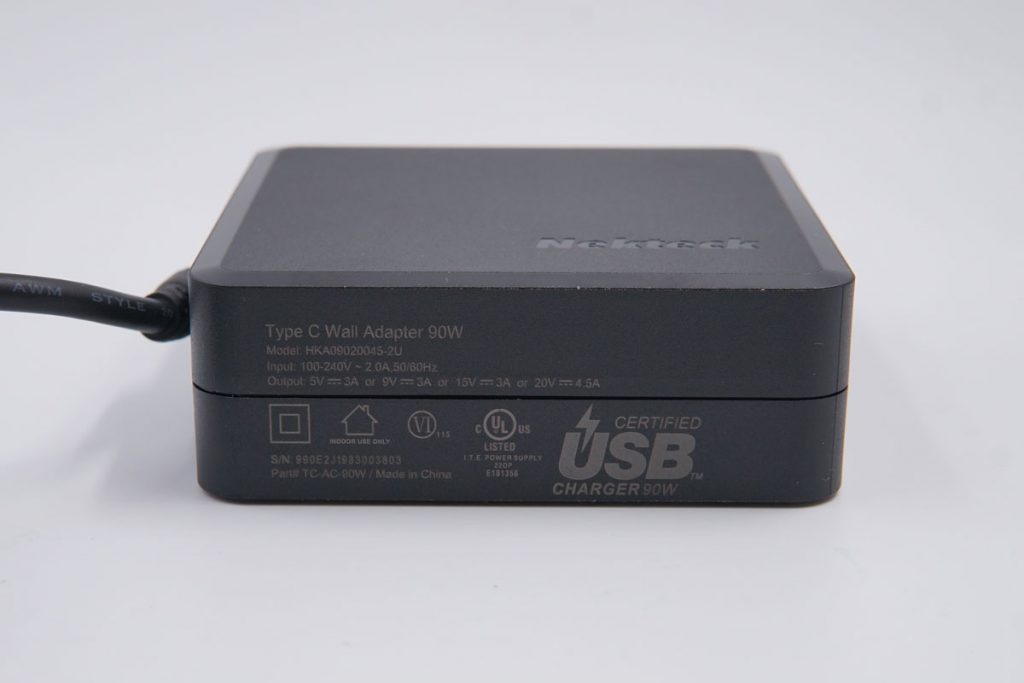 Specifications and certification logos. We can see it has an Energy Efficiency Level of 6 and is UL listed. And there is a big USB-IF certification logo on the right, which is its main selling point.
According to USB-IF, it "instituted a Compliance Program that provides reasonable measures of acceptability. The Compliance Program uses multiple test specifications along with a Test ID (TID) to track and define the test criteria used to evaluate a product. Products that pass this level of acceptability are considered USB-IF certified and are added to the Integrator's List and have the right to license the USB-IF Logos."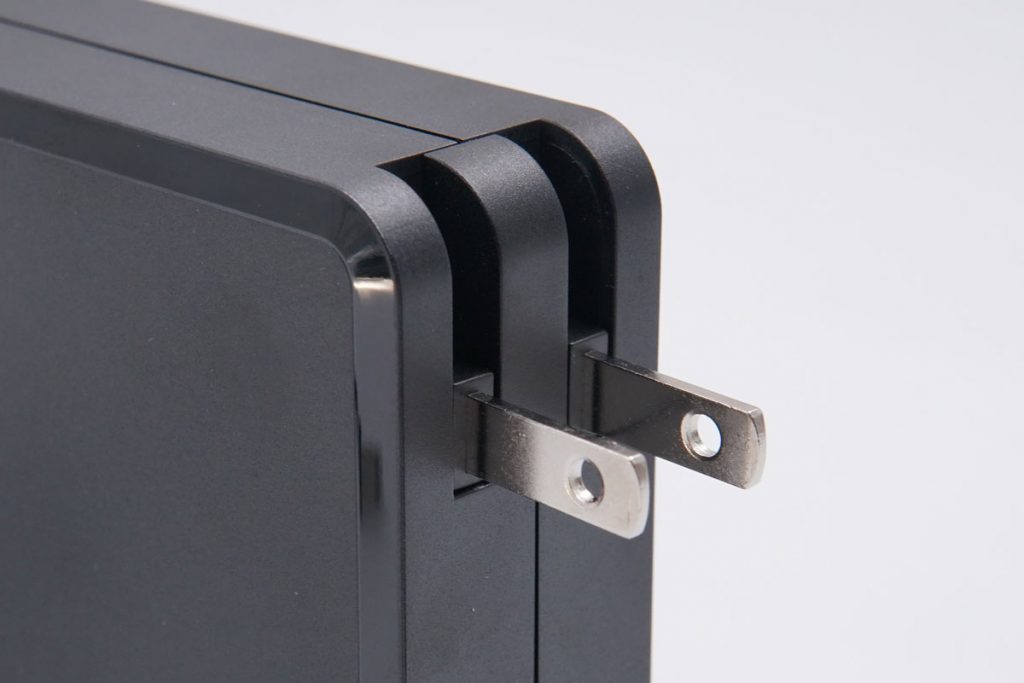 Close-up of the foldable prongs. US standard. The mechanism a nice tactile feel.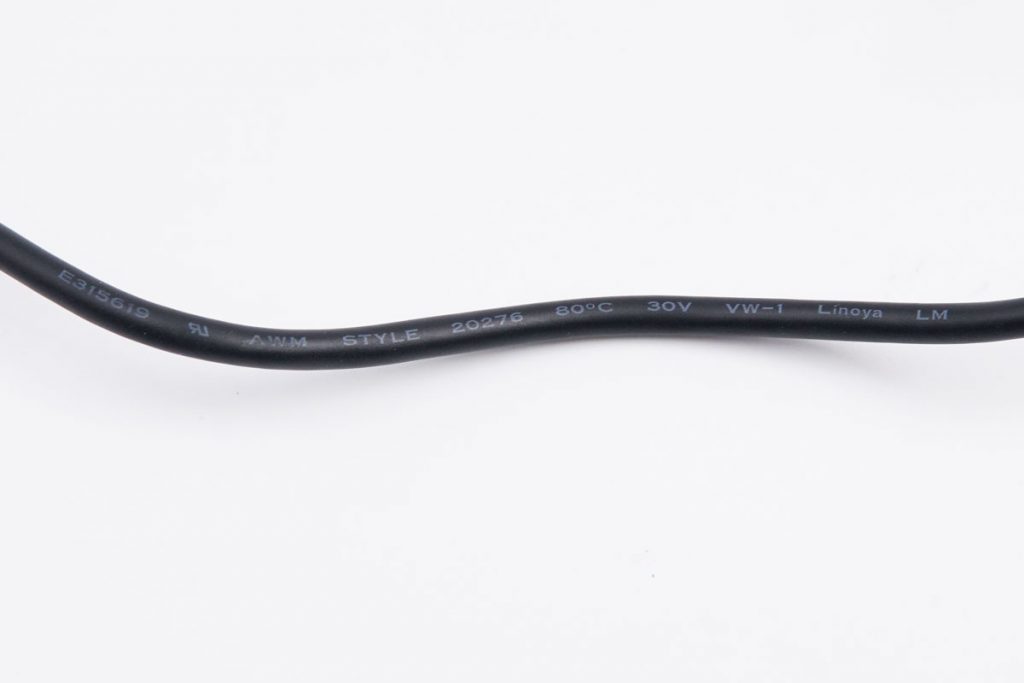 Specifications of the 2m/6ft cable. AWM Style 20276 80℃ 30V VW-1, UL approved, made by Linoya (E315619).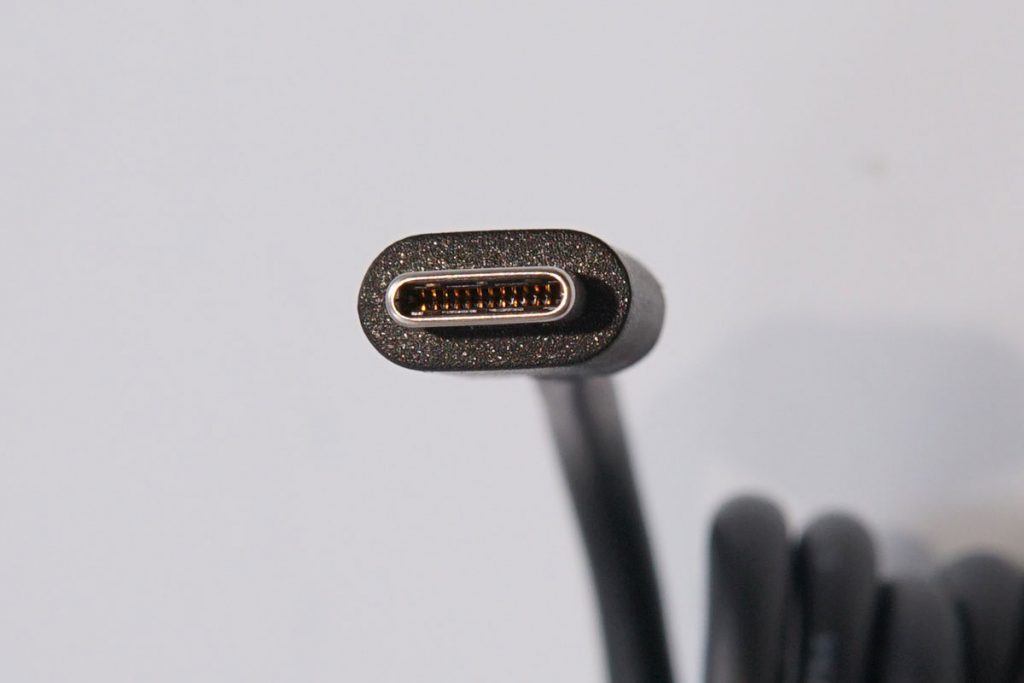 Close-up of the pins inside the USB-C connector. Full 24 pins. No corners cut here.
As we know, USB-C cables need built-in E-Mark chip to carry current that is more than 3A. But this charger does not have a built-in E-Mark chip inside its cable since for chargers with built-in cable, E-Mark chip is not necessary.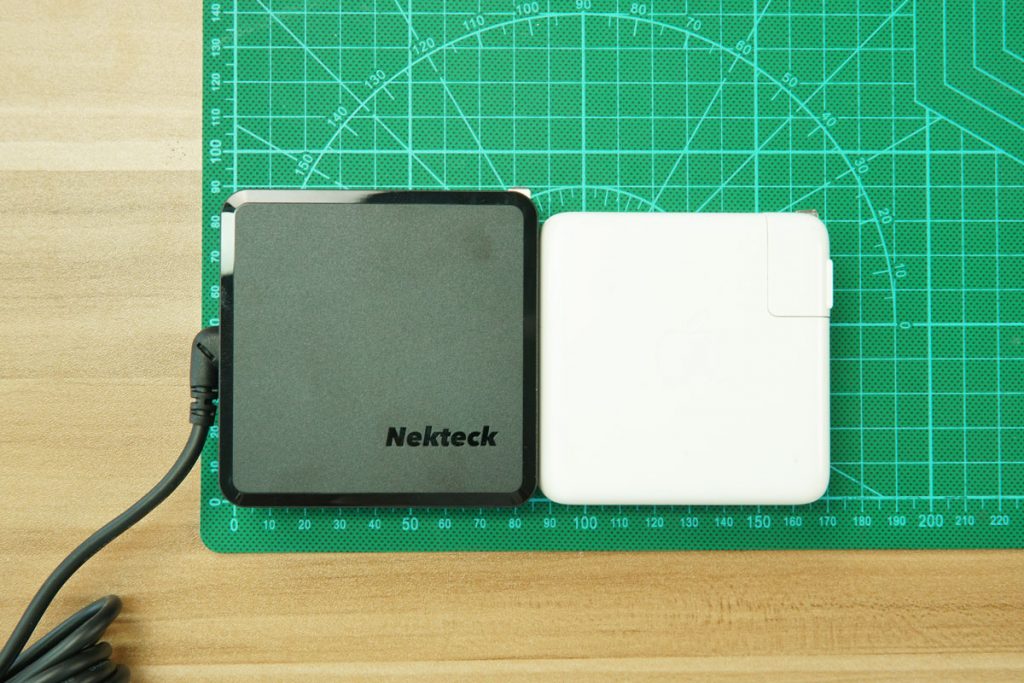 Size comparison (84.8×84.8×30.0mm / 3.34×3.34×1.18inch) with the Apple 87W PD charger (80.3×80.3×28.7mm / 3.15×3.15×1.1inch).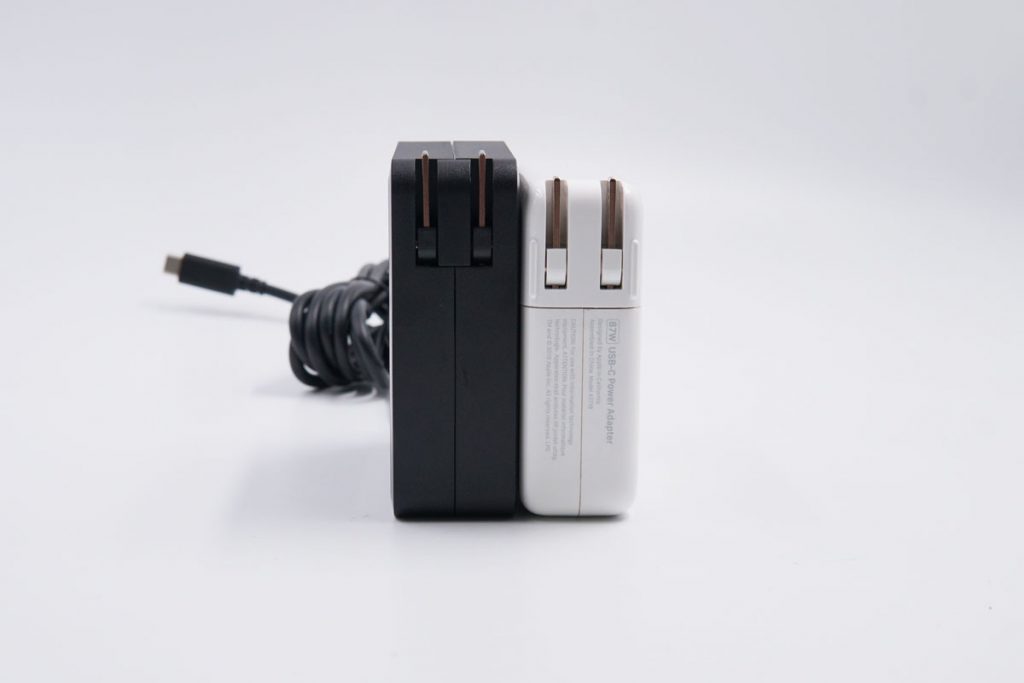 Overall slightly bigger than the Apple 87W PD charger.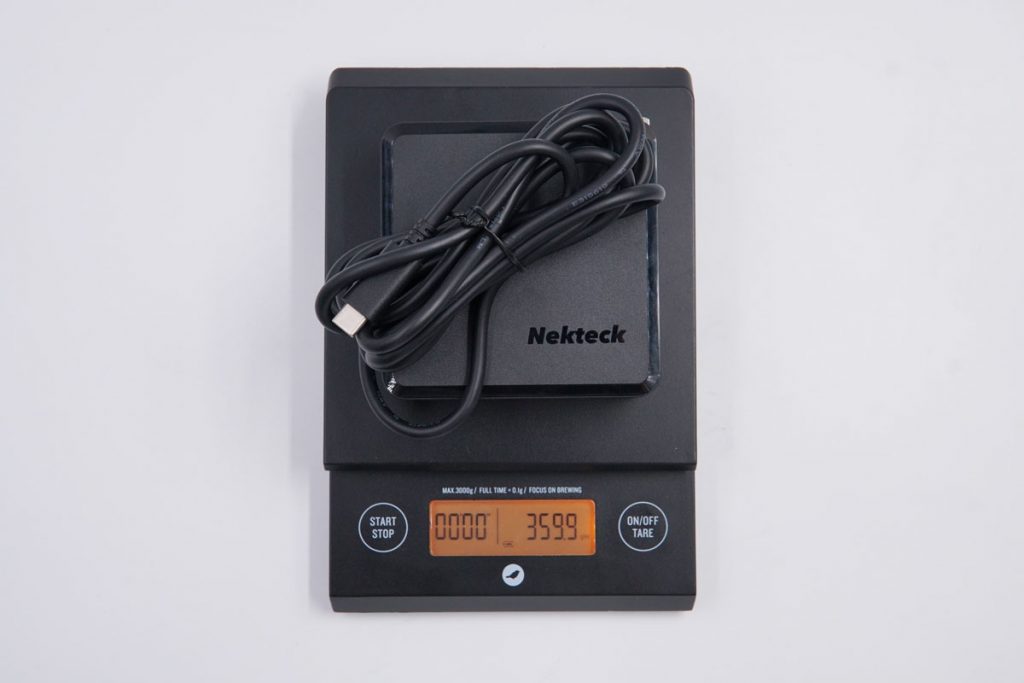 It weighs 359.9g/12.7oz. The Apple 87W PD charger (US prongs) weighs 295.7g/10.4oz.
II Test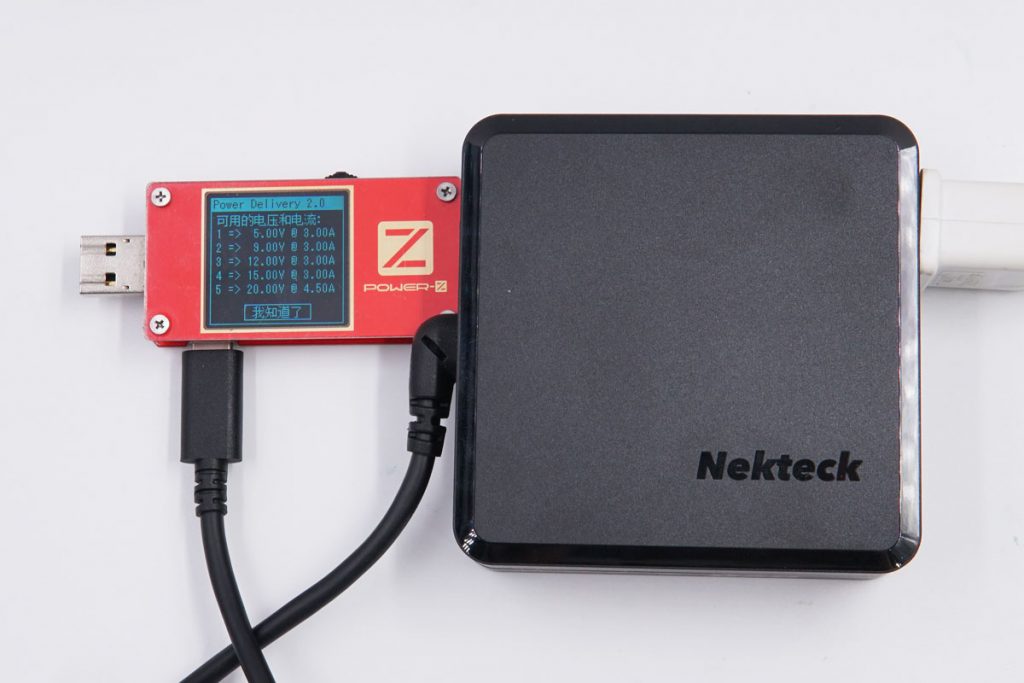 Using ChargerLAB Power-Z KT001 USB power tester, we know that it supports USB PD 2.0 only (USB-PD-protocol-only is a must for USB-IF certification). It supports output in 5V3A, 9V/3A, 15V/3A, and 20V/4.5A, max 90W.
Charging the iPhone XS Max, we are getting 9.04V 2.39A 21.56W, under PD protocol.
Charging the Samsung Galaxy S10+, we are getting 9.04V 1.64A 14.83W, under PD protocol.
Charging the iPad Pro 11-inch, we are getting 15.0V 1.60A 24.02W, under PD protocol.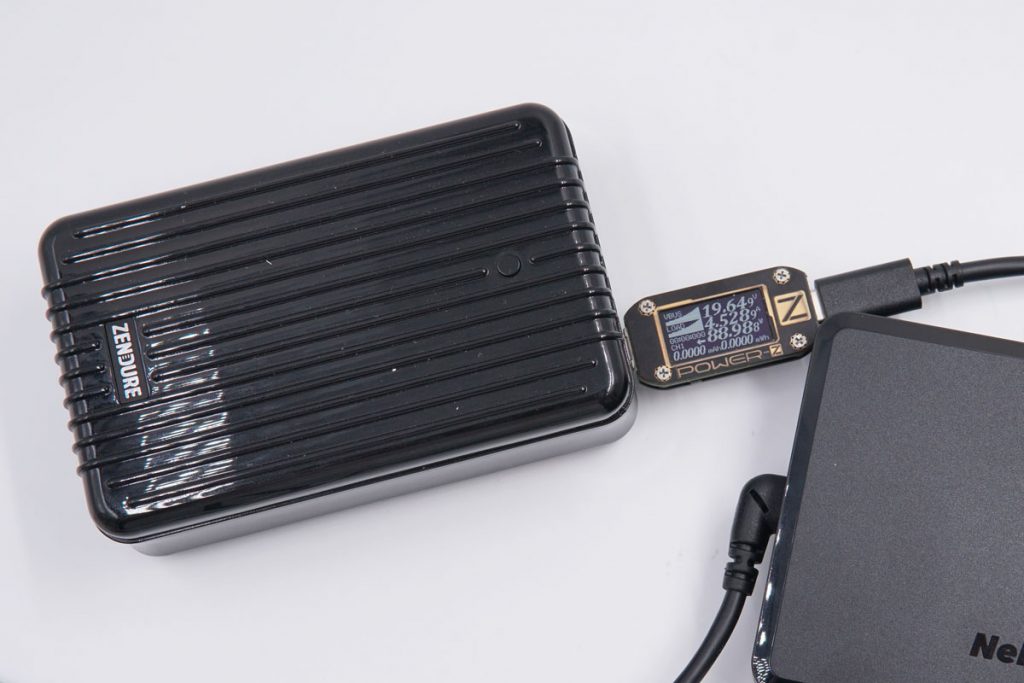 Charging the Zendure SuperTank 100W PD power bank (ZDA8PDP) which is capable of 100W max input, we are getting 19.65V 4.53A 88.99W, under PD protocol.
In terms of temperature measurement under maximum load, the Nekteck 90W PD charger runs hotter than the Apple 87W PD charger, but remained within an acceptable range.
III Initial Impression
The Nekteck 90W PD charger with built-in cable delivered solid charging performance during our brief test. It offers great compatibility with devices that support PD. The design of the charger is kind of generic but doesn't feel cheap – the foldable prongs have a nice tactile feel, and the build quality is good. Furthermore, for those who are hesitant to try an unestablished brand, the USB-IF certification may help to dispel most of the doubts.
The built-in cable sacrifices portability of the charger but also makes it a good value proposition for home and office use.
Stay tuned for our in-depth teardown review.
Note: ChargerLAB is reader-supported. Our editors independently research, test, and recommend the best products. We may earn commissions on purchases made from links on our site.