Review of UGREEN 12-in-1 Triple Display Docking Station
As the number of ports on business laptops has decreased in recent years and tended towards homogenization - with most only featuring Thunderbolt ports - major manufacturers have responded to user demand and introduced various types of docking stations to meet their needs. ChargerLAB received a 12-in-1 triple display docking station from UGREEN, which has 12 ports that can meet the expansion needs of laptops, tablets and even smartphones, and is equipped with an HDMI 2.1 port that supports up to 8K@30Hz resolution output. Let's take a closer look at the performance of this docking station.
Product Introduction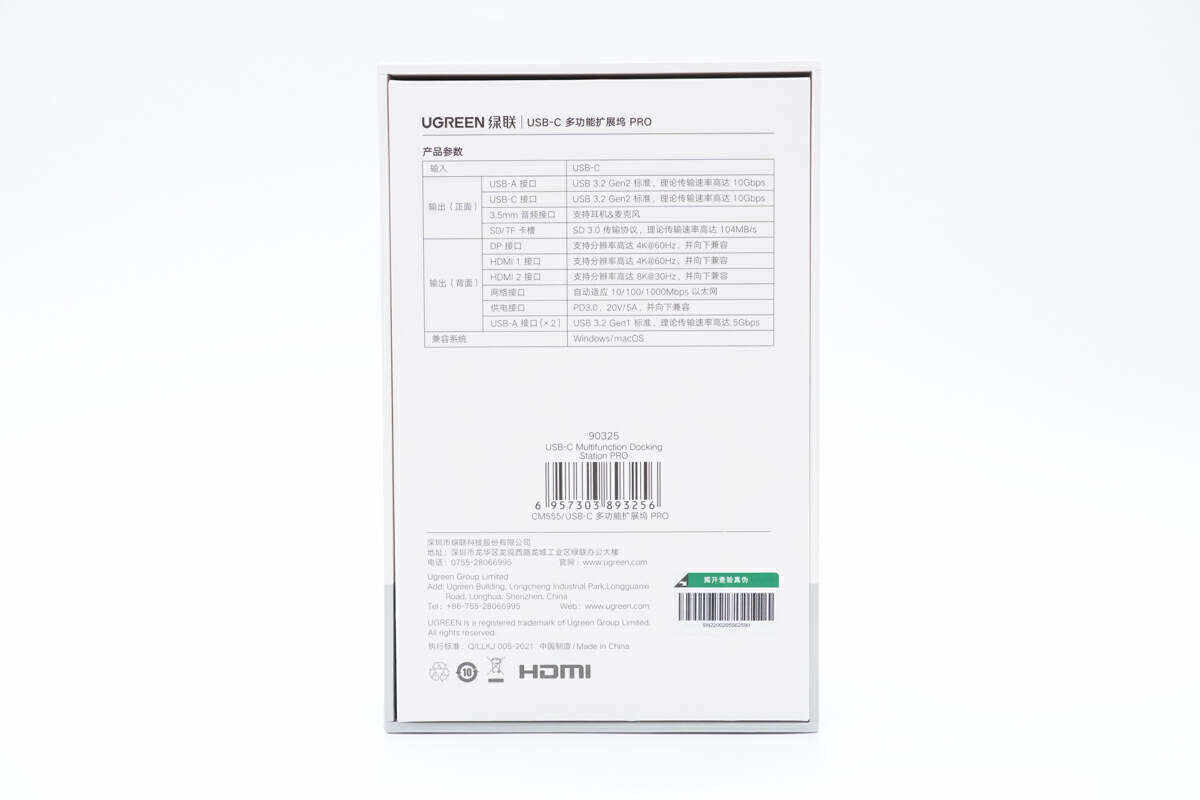 The back of the box features the docking station's specifications and product barcode label.
The input is USB-C. The output is divided into front and back, so let's take a look at the front first.
There is one USB-A and one USB-C on the front, both of which support the USB 3.2 Gen2 standard, with a theoretical speed of 10Gbps. One 3.5mm audio jack supports headphone/microphone and two SD and TF card slots with the SD 3.0 transfer protocol, with a theoretical speed of 104MB/s. The back has a DP port that supports resolutions up to 4K@60Hz, downward compatible, two HDMI ports that support resolutions up to 4K@60Hz and 8K@30Hz respectively, also downward compatible, one ethernet port that supports adaptive 10/100/1000Mbps Ethernet, one PD3.0, 20V5A downward compatible power supply port, and two USB-A ports with the USB 3.2 Gen1 standard and a theoretical speed of 5Gbps. It's compatible with Windows and macOS.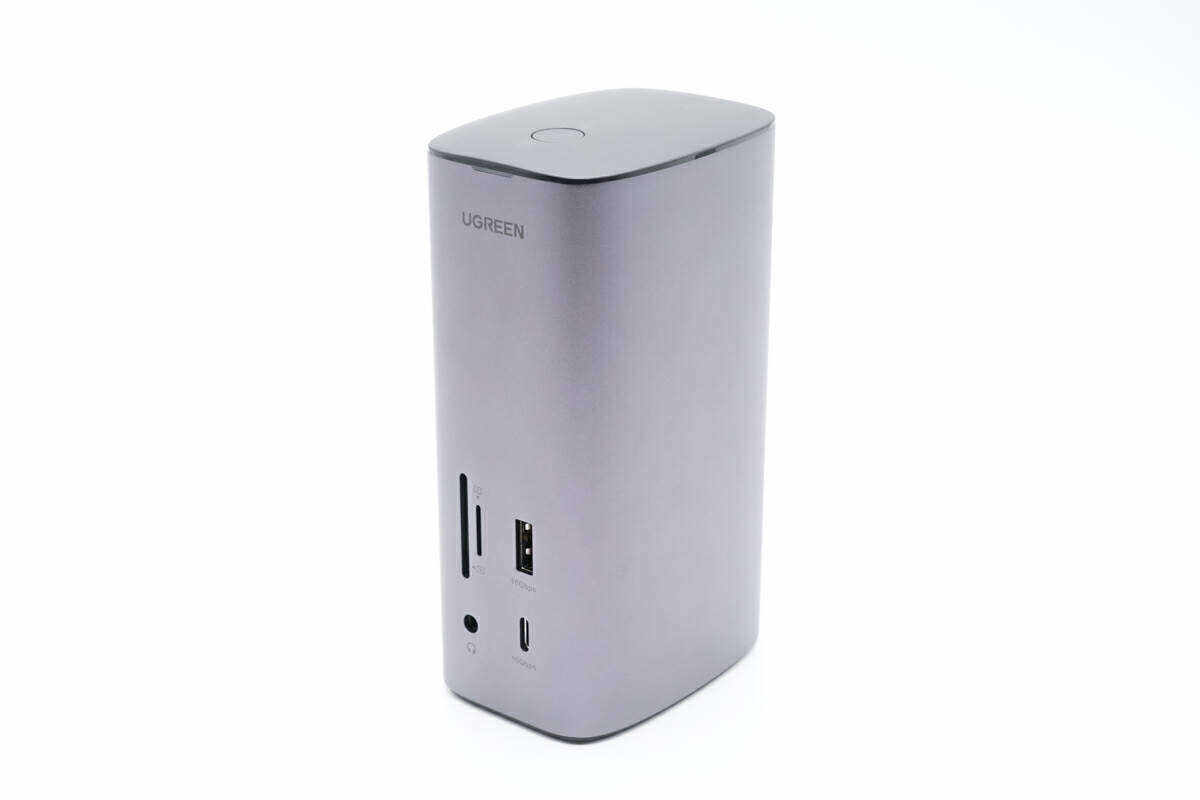 The UGREEN docking station continues the space grey color scheme, with a fire retardant PC material plus ABS material design on the top and bottom, and a one-piece aluminum alloy metal shell on the side treated with anodizing technology that feels cool and does not easily heat up even with prolonged use.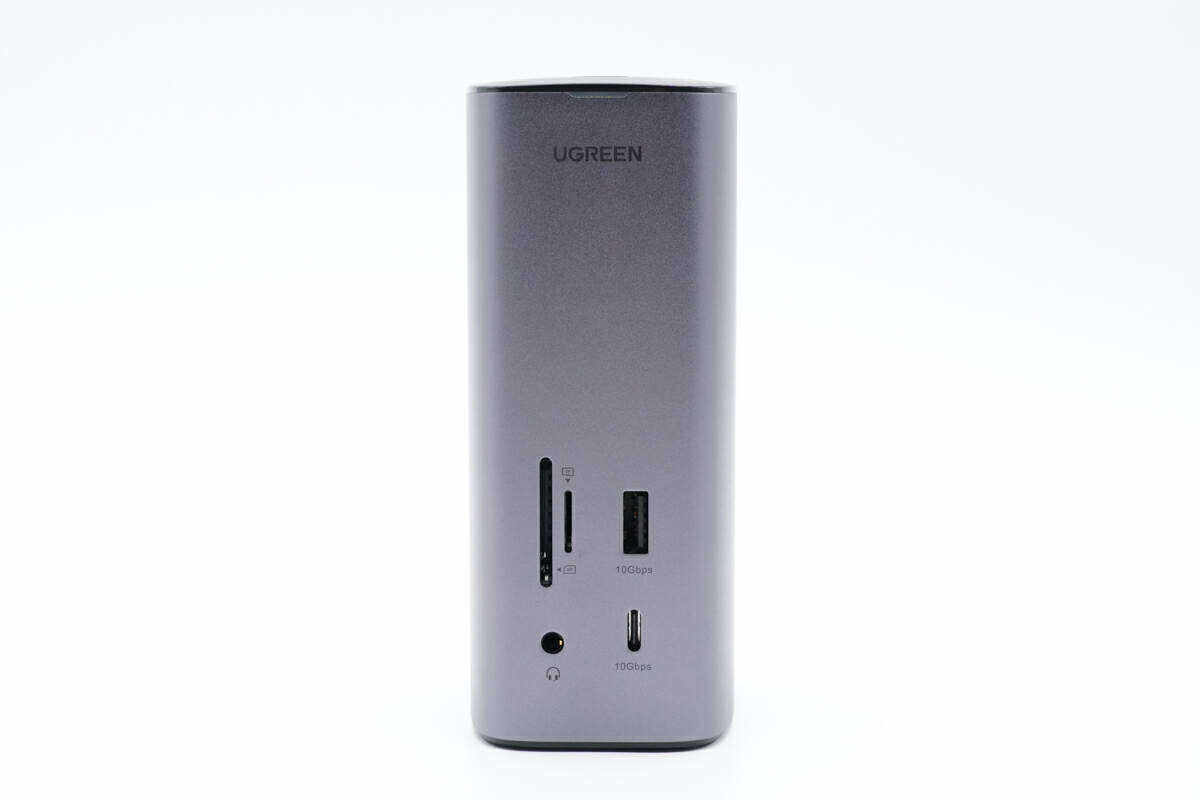 The front of the docking station has a 3.5mm audio jack, USB-C port, SD card slot, TF card slot, and USB-A port, each with their respective names and parameter indicators, which will be tested for actual speed.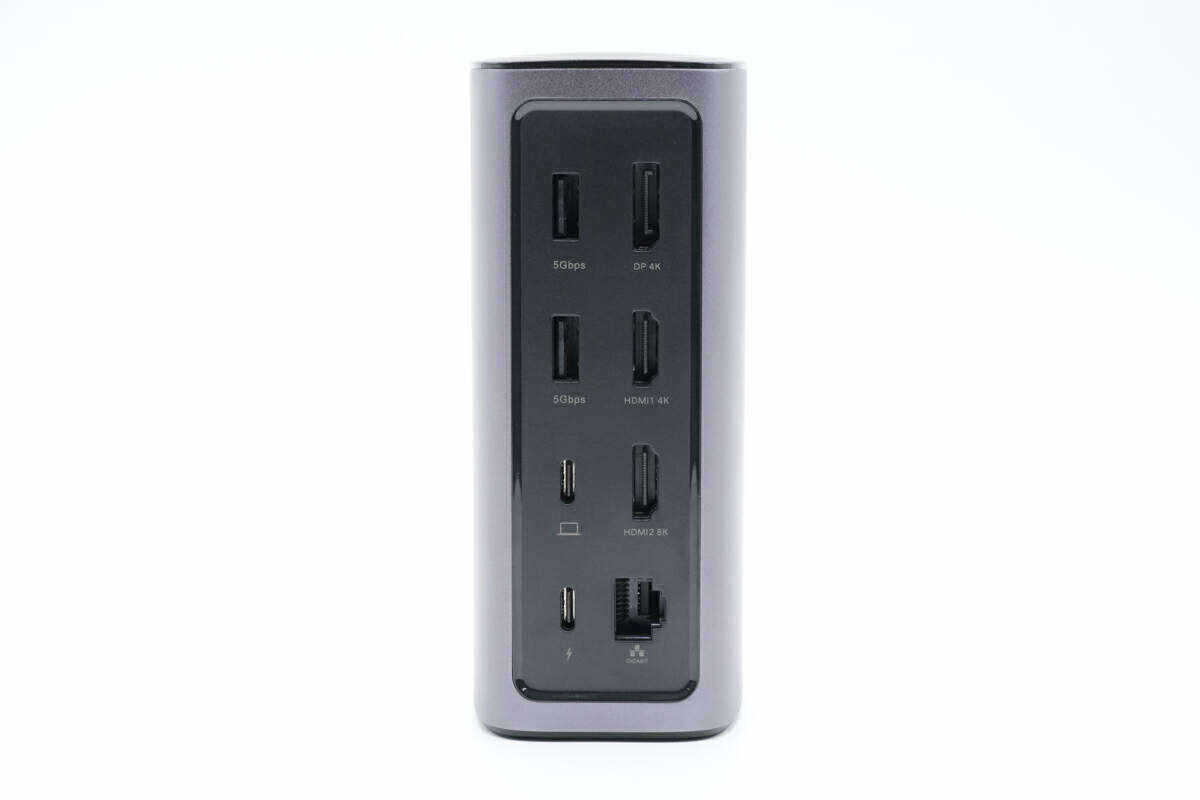 Compared to the front, the ports on the back are more abundant, they are two USB-A ports with black plastic sheet, USB-C port (for connecting the main device), USB-C power supply port, DP port, two HDMI ports and a Gigabit Ethernet port, all with their respective identification labels for user convenience.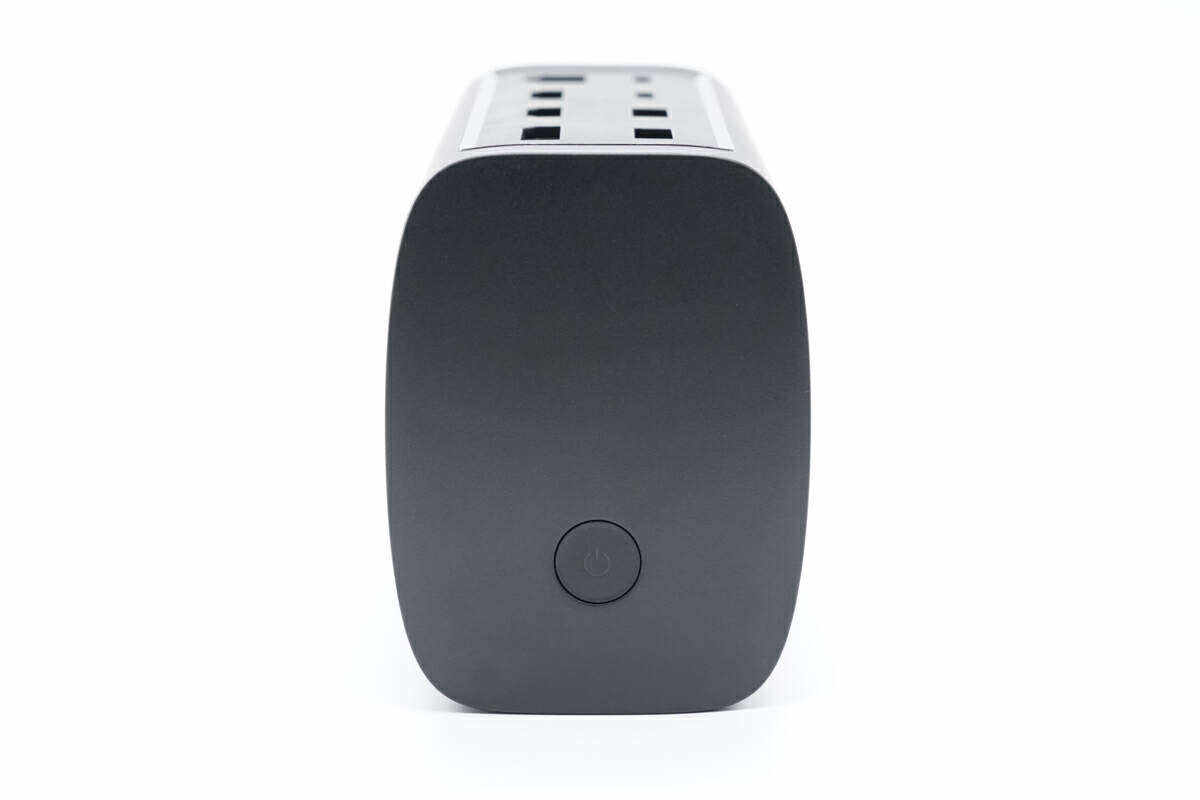 There is a circular power button on the top of the docking station; when the docking station is turned off, only the PD port can provide power to the laptop.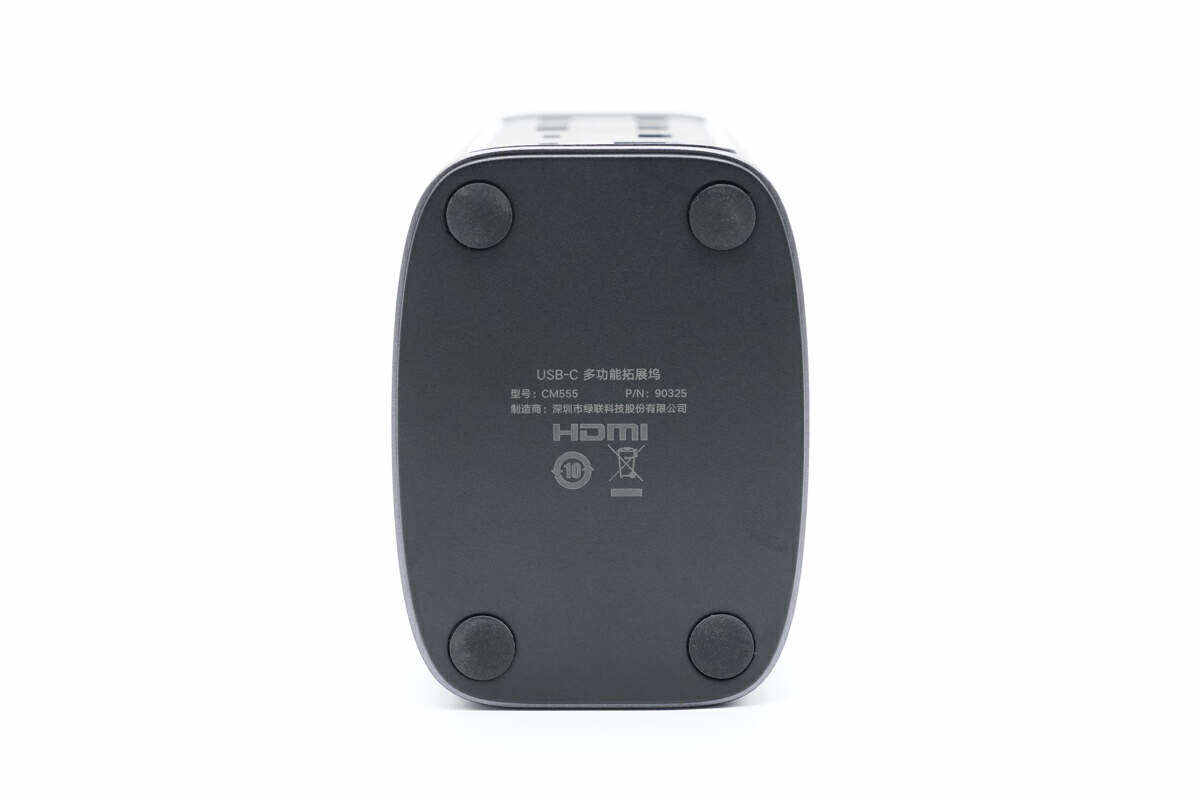 And there are circular rubber anti-slip rubber pad and docking station parameter information on all four corners of the bottom. Model is CM555, manufacturer is UGREEN.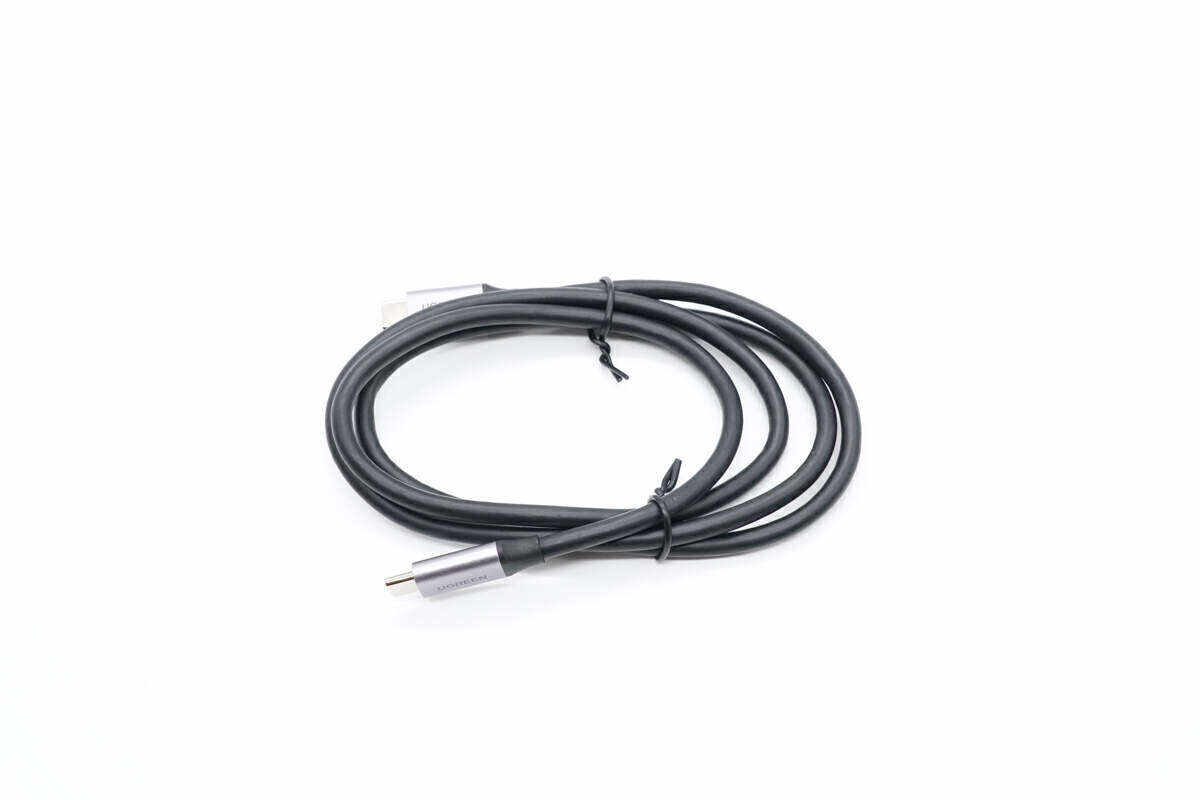 The USB-C cable included has a metallic paint design on the connector that highlights its texture, with the cable integrated through injection molding without burrs at the joint.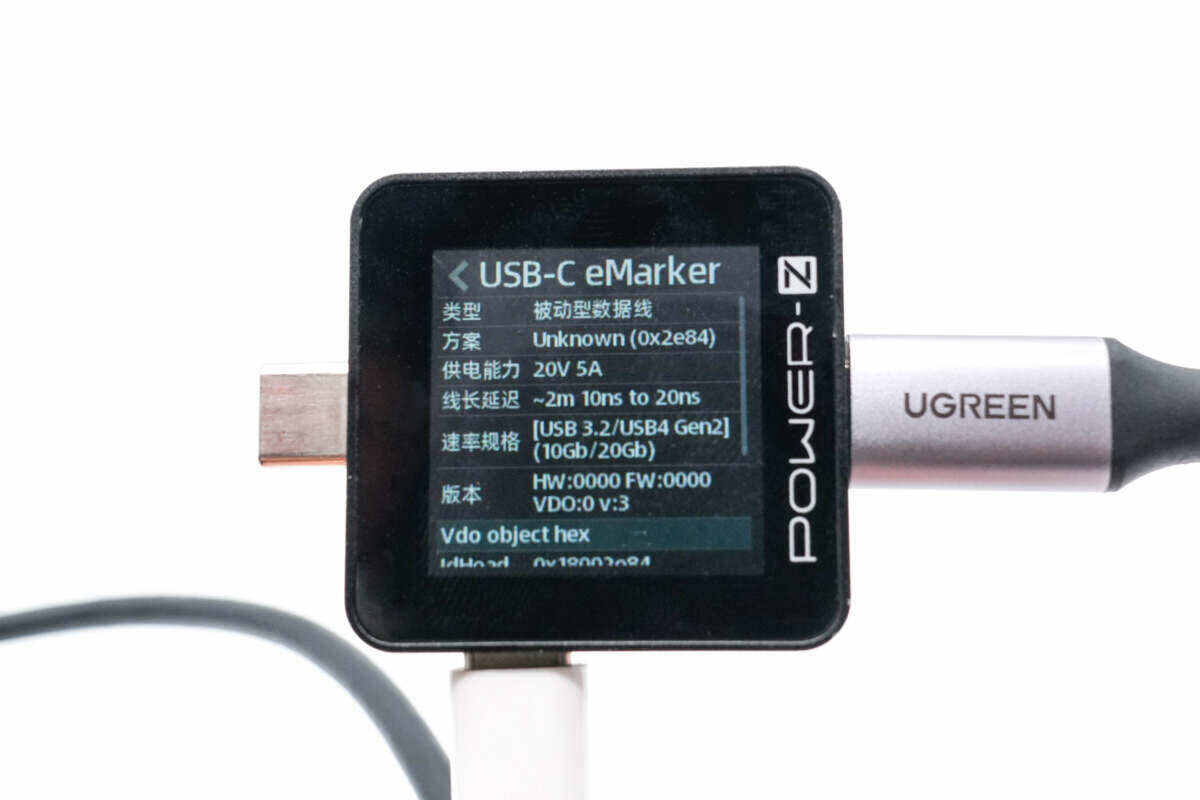 The POWER-Z KM002C shows the cable is equipped with an E-Marker chip, supporting a maximum 20V5A 100W PD fast charging power and the USB 3.2/USB4 Gen2 (transfer rate 10/20Gbps) transfer protocol.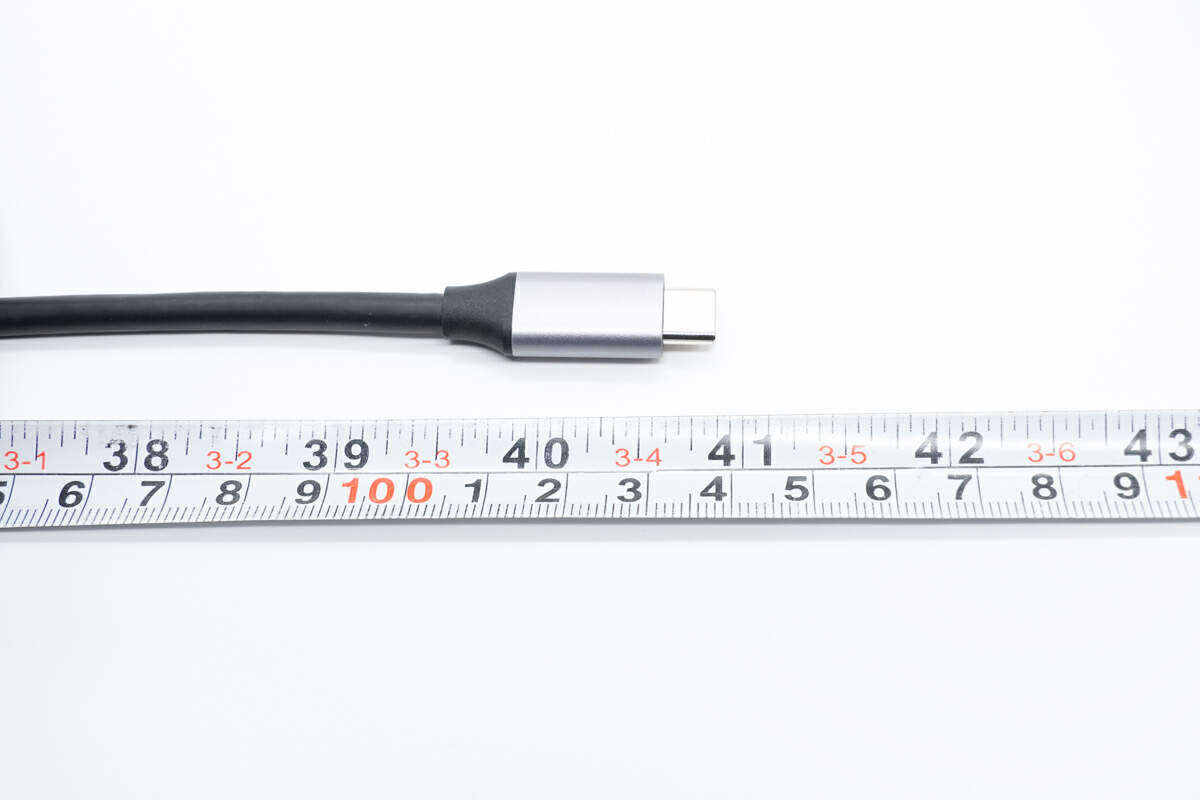 And the length of the USB-C cable included is about 1m (3.3 ft).
Performance Test
For the UGREEN 12-in-1 triple display docking station, independent power supply is required to ensure normal operation, and the PD output of up to 100W can be achieved when connected to the main device such as a laptop, providing power for the device to continue operation.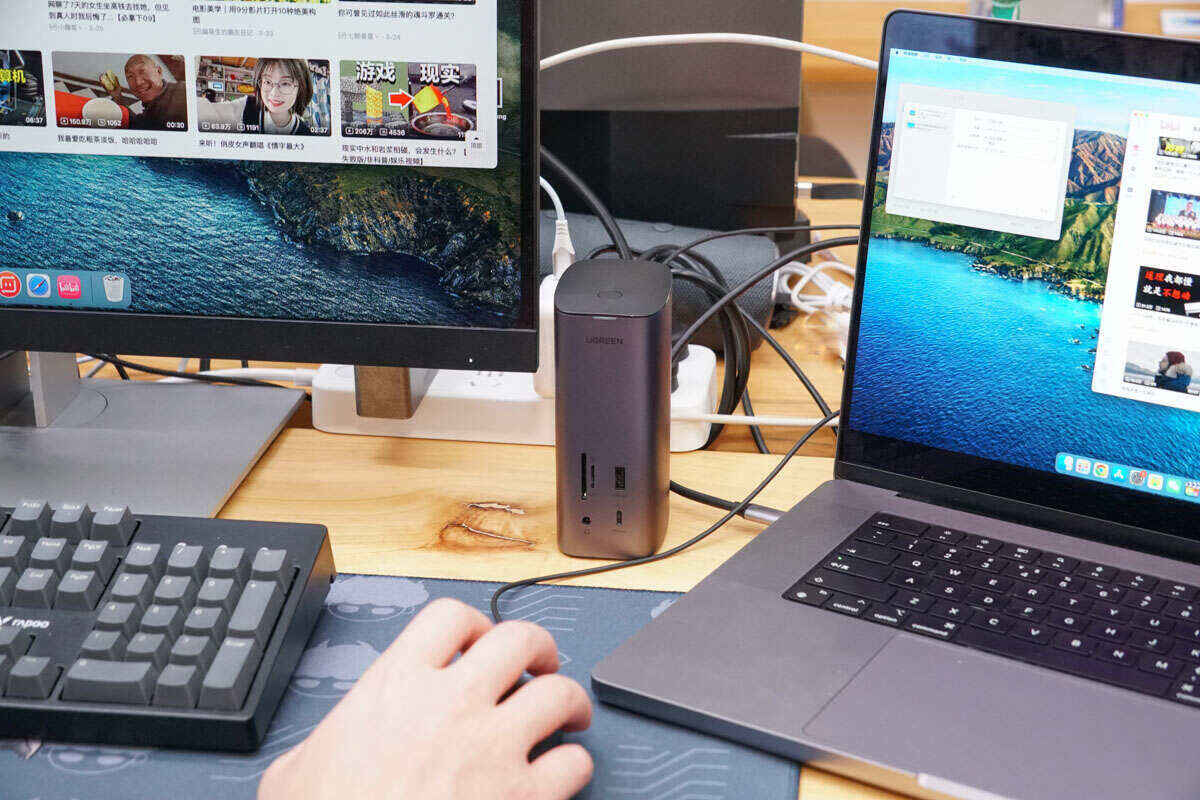 For most office workers, a laptop is the best tool for work. By connecting to a laptop's full-function USB Type-C port with a high-spec Thunderbolt cable, more functions can be achieved. Secondly, for users accustomed to mechanical keyboards or who are not used to Apple mice, the USB ports on the UGREEN 12-in-1 triple display docking station can accommodate multiple peripheral devices.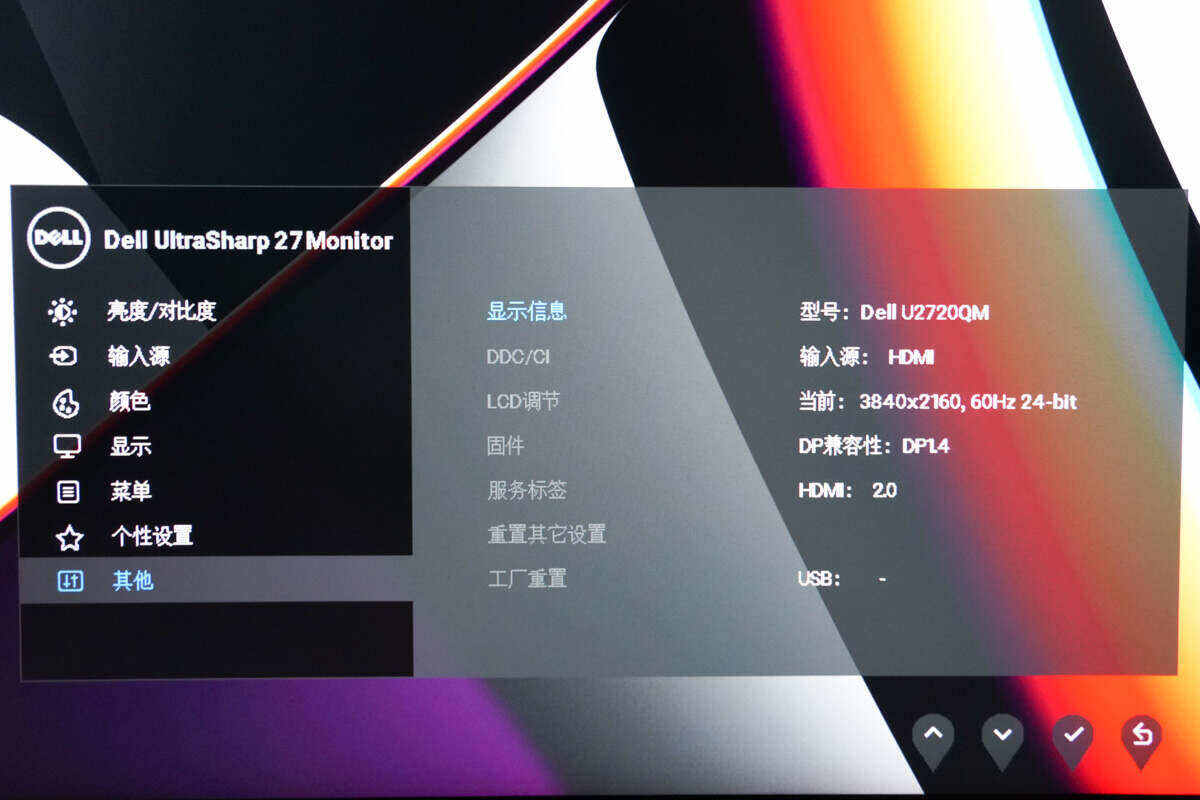 In addition, the UGREEN 12-in-1 triple display docking station has three video expansion ports - two HDMI, one DisplayPort, which can meet multi-screen display/extension operations. The DP and HDMI1 ports support resolutions up to 4K@60Hz and are downward compatible, while the HDMI2 port supports resolutions up to 8K@30Hz and is also downward compatible.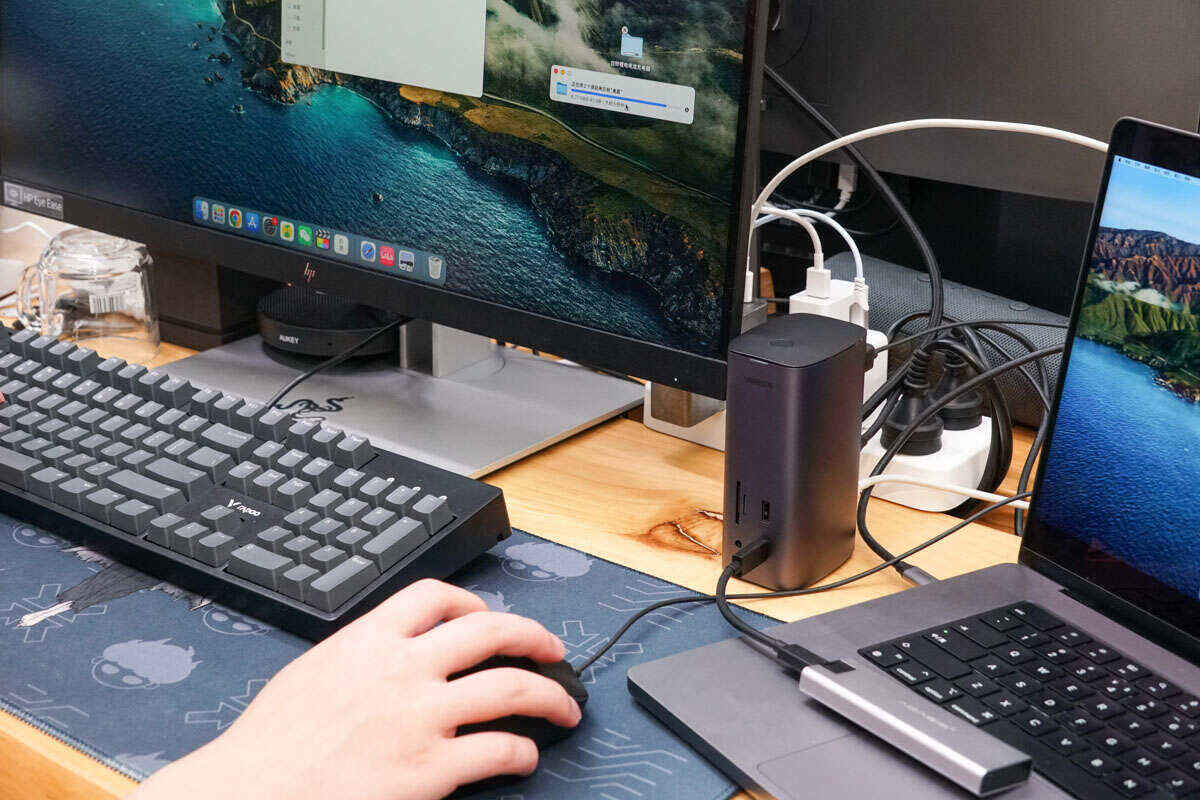 Furthermore, even if a laptop has only one USB-C full-function port, the UGREEN 12-in-1 triple display docking station is equipped with USB-C (10Gbps), USB-A (10Gbps), two USB-A (5Gbps), and TF/SD card ports to provide users with more options. When transferring a 6.65GB file, the total time was less than 5 seconds in the test.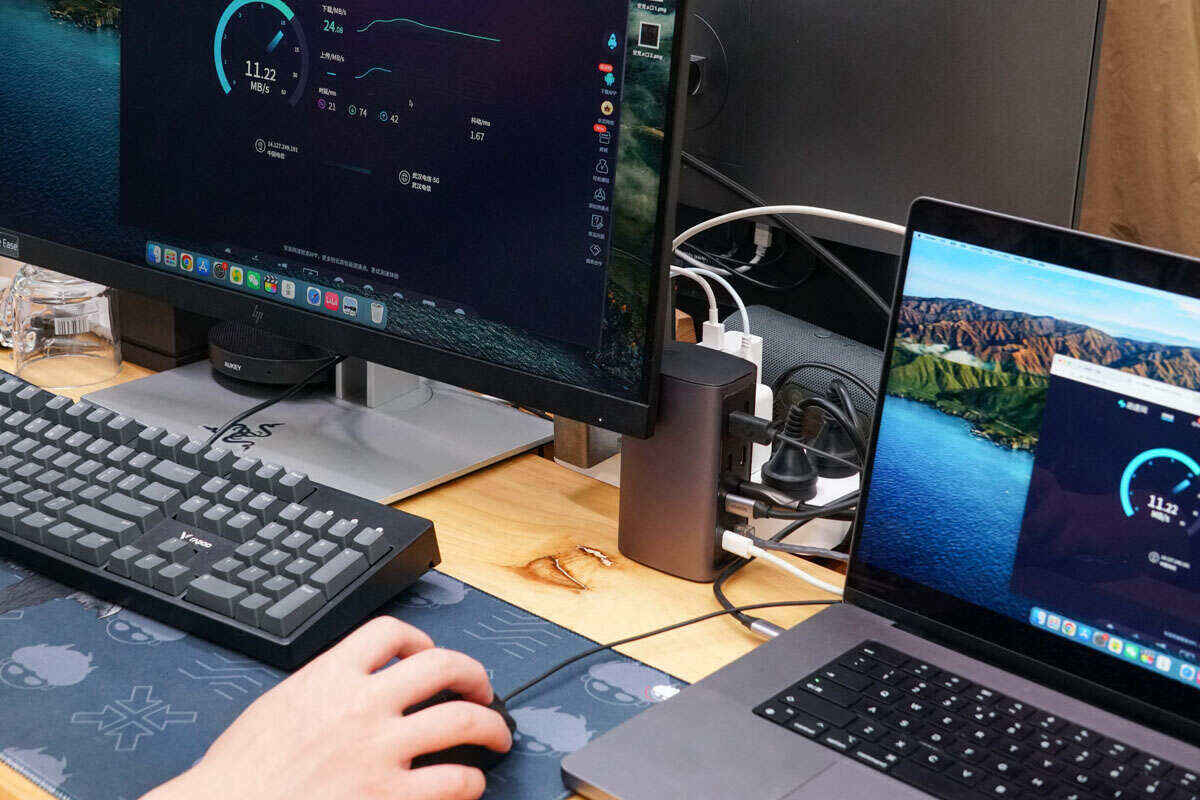 On the other hand, for users who want stable network connections, even in a 100mbps network environment, wired network speed tests with the UGREEN 12-in-1 triple display docking station yielded download speeds of around 25MB/s, which is almost the same as the transmission speed of the laptop's built-in ethernet port, and also conforms to the docking station's adaptive 10/100/1000Mbps Ethernet specification.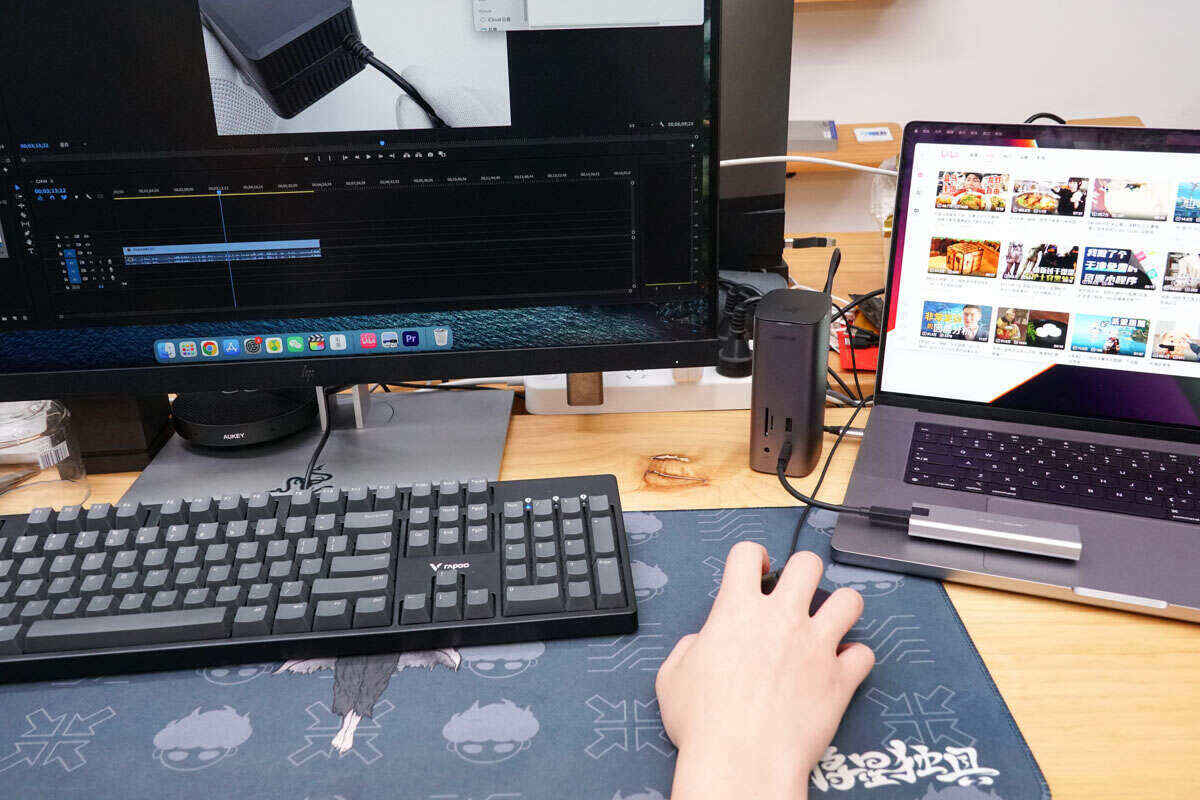 For users who need to collect massive video clips or whose laptop has insufficient storage, pairing the docking station with a Thunderbolt 3 hard drive enclosure as a medium can eliminate the need to transfer large video or image files in "GB" units to the internal storage, and can quickly open, edit and transfer them with software such as LightRoom, PR, and PS on external storage without worrying about port speed.
Summary of ChargerLAB
With 12 ports, the UGREEN triple display docking station almost meets all user demands for different expansion methods. From the expansion perspective, laptops with Thunderbolt ports in both the macOS and Windows camps can achieve 4K@60Hz video expansion through video transmission ports, with a maximum of 8K@30Hz, but driver programs need to be installed.
Secondly, when the various ports of the docking station are in operation, PD charging, data transmission, video expansion, internet surfing, and 3.5mm audio jack can all be performed simultaneously. In terms of performance, almost all requirements for daily use can be met.
Overall, the UGREEN 12-in-1 triple display docking station's expansion performance and speed can achieve nominal level, making it a work station with a high degree of port expansion for video editing people, full-time Youtubers, and other users. For enthusiasts, it can simultaneously expand work on four screens to fully enhance entertainment.
Related Articles: 
1. Review of UGREEN 100W DigiNest Pro 7-in-1 GaN Charging Station
2. 6-in-1 Charging Station | Charging Review of UGREEN 200W Nexode Desktop Charger
3. Teardown of Baseus 67W GaN5 Charging Station (With HDMI Port)
The article is originally written by @
Joey
posted on Chargerlab. All rights reserved.