Navitas Is Waiting for You at CES 2022
The Consumer Electronics Show (CES) is the world's gathering place for all who thrive on the business of consumer technologies. This is where the world's biggest brands do business and meet new partners, and the sharpest innovators hit the stage.
CES showcases companies including manufacturers, developers, and suppliers of consumer technology hardware, content, technology delivery systems, and more.
It also includes a conference program where the world's business leaders and pioneering thinkers address the industry's most relevant issues.
Last year, the CES had to be held online because of the COVID-19. And this year, it'll return to Las Vegas, NV, and run from January 5th-8th, 2022. ChargerLAB found the industry-leader Navitas is also going to attend this show.
Meanwhile, Navitas announced that it has been named a CES 2022 Innovation Awards Honoree for its next-generation GaNFast ICs featuring GaNSense technology before the CES 2022. And this year's CES Innovation Awards program received a record-high number of over 1,800 submissions. For specific details, you can click here: CES.tech/innovation.
The GaNFast integrated power ICs use next-generation GaN to replace legacy silicon chips and enable up to 3x faster charging and 3x more power in half the size and weight.
At CES 2022, Navitas will reveal how this technology has now been supercharged to address the challenges of next-generation solar, data center, and EV fast-charging applications.
Except for that, GaNSense technology enables even higher efficiency, autonomy and reliability through precision sensing of system current, voltage and temperature and real-time reliable operation; from detection to protection in only 30 ns. A 120W ultrafast charger using GaNSense technology achieves a power density of 1.4 W/cc and can charge a 4,500 mAhr smartphone from 0-100% in only 17 minutes.
High-performance mobile chargers from Lenovo, Xiaomi, Dell, OPPO, Amazon and many other companies will be displayed by Navitas at CES 2022, alongside GaN solutions for consumer, solar, data center and EV applications.
In-person CES attendees can discover GaN technology, the speed of GaNFast chargers, and see the future of next-generation applications while they have a chance to win a GaNFast charger.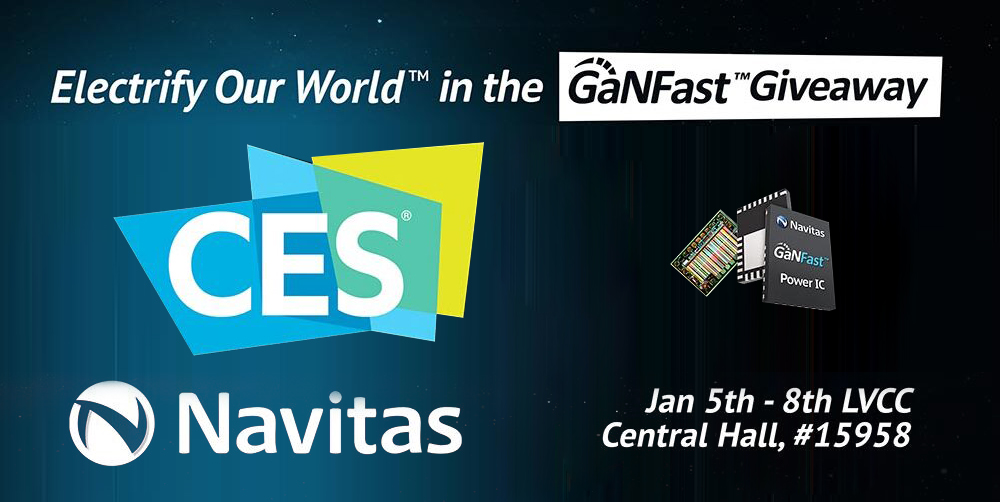 If you attend CES 2022, please remember that the Navitas booth is located in the LVCC, Central Hall, #15958.
To book a meeting with Navitas at CES, please Select a Day/Time you'd like via this link, and then call +1 ThinkGaNIC (844-654-2642), or email them at Info@NavitasSemi.com.
They look forward to meeting you in Las Vegas.
本文系作者 @
Yi
原创发布在 Chargerlab。未经许可,禁止转载。