Navitas GaN IC Is Found in Apple 140W PD3.1 Fast Charger
At the beginning of 2021, ChargerLAB reported that Apple will integrate GaN technology into its own high-power chargers to obtain higher conversion efficiency and reduce the size of the charger. It can facilitate the power adapter for high-performance notebooks to be miniaturized and easier to carry and accept by users.
The GaN IC has lower switching losses and faster switching speeds than traditional silicon IC. When applied to chargers, it can eliminate the reverse recovery of traditional silicon IC and greatly increase the switching frequency.
The high-frequency switching can reduce the size of magnetic components, such as the transformer inside the charger. Therefore, it can reduce the charger's heat dissipation requirement and further reduce the size of the charger.
Apple 140W PD3.1 charger is the first GaN charger from Apple and comes with the brand new MacBook Pro 16'. It can support 140W output power, which refreshes the single-port output power of USB PD chargers.
ChargerLAB has tested this charger before. It can only work with MagSafe 3 cable to provide 140W fast charging for the MacBook Pro. And the MagSafe 3 cable brings us back to the classic MagSafe era of the MacBook.
Except for charging, ChargerLAB has been trying to figure out the evolution of this charger's components all the time. So, we got another new 140W charger in 2022 and took it apart again. And we did find some updates. The model remains A2452, but the GaN IC inside the charger has been changed from GaNsystem to Navitas.
After taking it apart by cutting machine, we can see the internal components haven't changed significantly, compared with the previous charger. The circuit topology and component positions are very similar.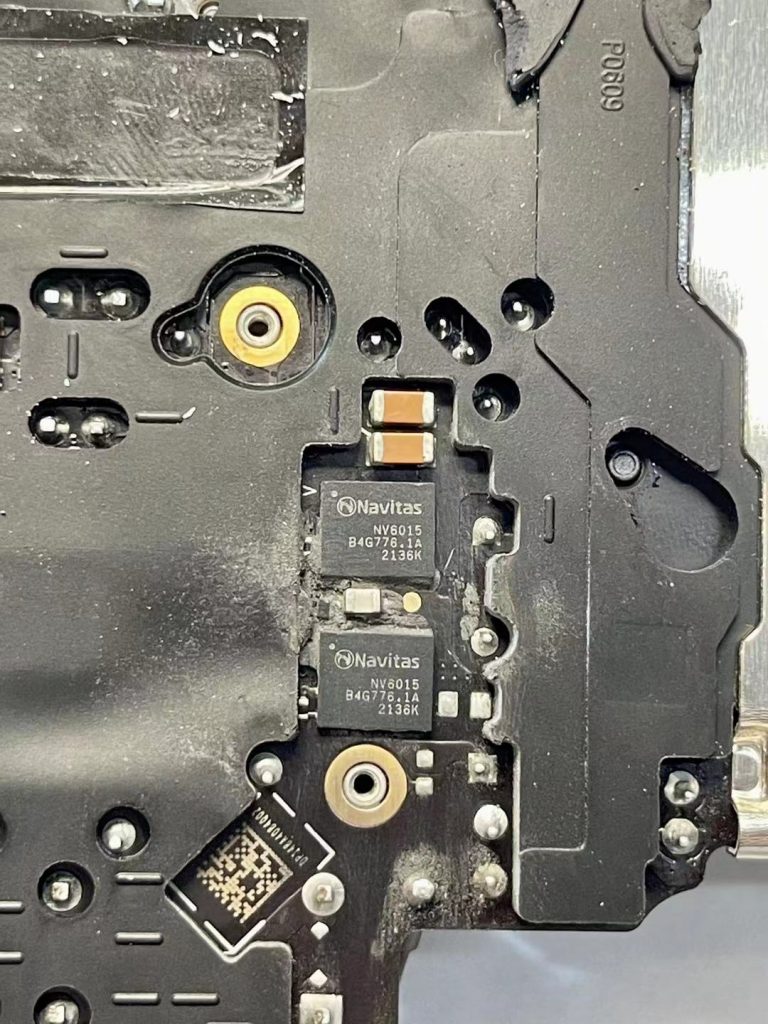 We can clearly observe two GaN power ICs in the LLC topology from Navitas and adopt the SMD package. The Model is NV6015. It's different from all previous models on the market. So, we guess it should be the customized model from Navitas for Apple.
We will publish more in-depth and detailed analysis of this quick product and technology update.
Summary of ChargerLAB
For users, the smaller size can improve the user experience. And for the industry, the PD fast charger with built-in GaN technology can significantly reduce the loss of the charger and improve the overall conversion efficiency. It is also in line with the global goal of low-carbon and emission reduction, helping to further protect our environment.
The article is originally written by @
Yi
posted on Chargerlab. All rights reserved.